There are many excellent reasons to remove clutter from your home and your life, perhaps the greatest of which is to cut down on stress! Yes, clutter is a source of stress...but did you ever consider that clutter could become a source of income? Decluttering for money? Seriously?
So. Serious.
Here are 10 ways cutting down on your clutter can make and save you major bucks!
10 Ways Decluttering Can Make You Money
1. Decluttering can make you money on eBay
You can sell all that old stuff on eBay and start making some major cash! Old T-shirts, vintage Pyrex bowls and cookware, Star Wars memorabilia, you name it! If you have it, I guarantee someone else out there wants it.
(Selling on eBay is easy and becomes really fun as well! I have already earned $10,000 selling my clutter on eBay…and I am STILL cashing in!)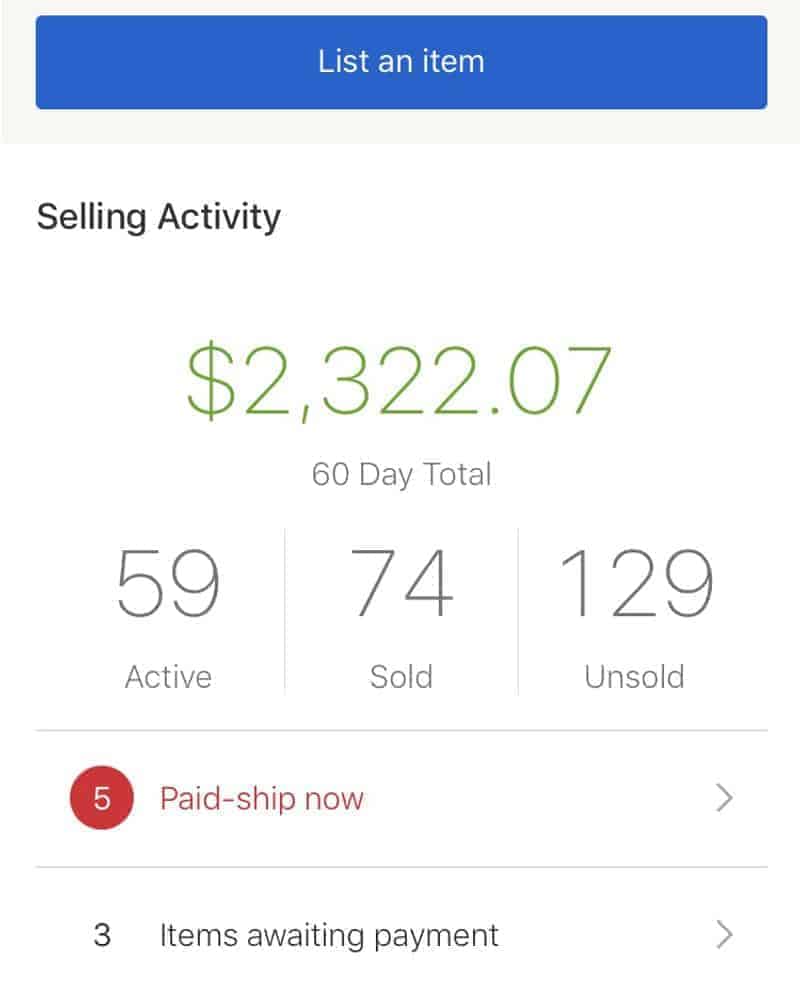 This post may contain affiliate links for your convenience. That means that if you make a purchase, I will receive a small commission at no extra cost to you. I only recommend products or services that I fully believe in and use myself. Read more here.
2. You won't spend money on toys
Kids are always demanding new toys. However, if you get rid of toys your kids don't want and implement a toy rotation system using the toys that they do play with, you won't need to buy many toys!
Get rid of those toys that simply get dumped on the floor (looking at you, Hot Wheels) and ignored in favor of ones that have many different uses and keep your child's attention engaged.
Aim for displaying 10-15 toys at a time and keep the rest out of sight out of mind. Then, just rotate through them! A bi-weekly or monthly basis is great
For example, this amazing Pets Super Toob from Safari LTD doesn't take up much space, and we have used the small plastic animals in many different ways, such as sorting activities, pretend play, sensory play, and even reading and memory games.
(We got rid of SO MANY toys when I decluttered with the KonMari method and my kids and I were much happier!)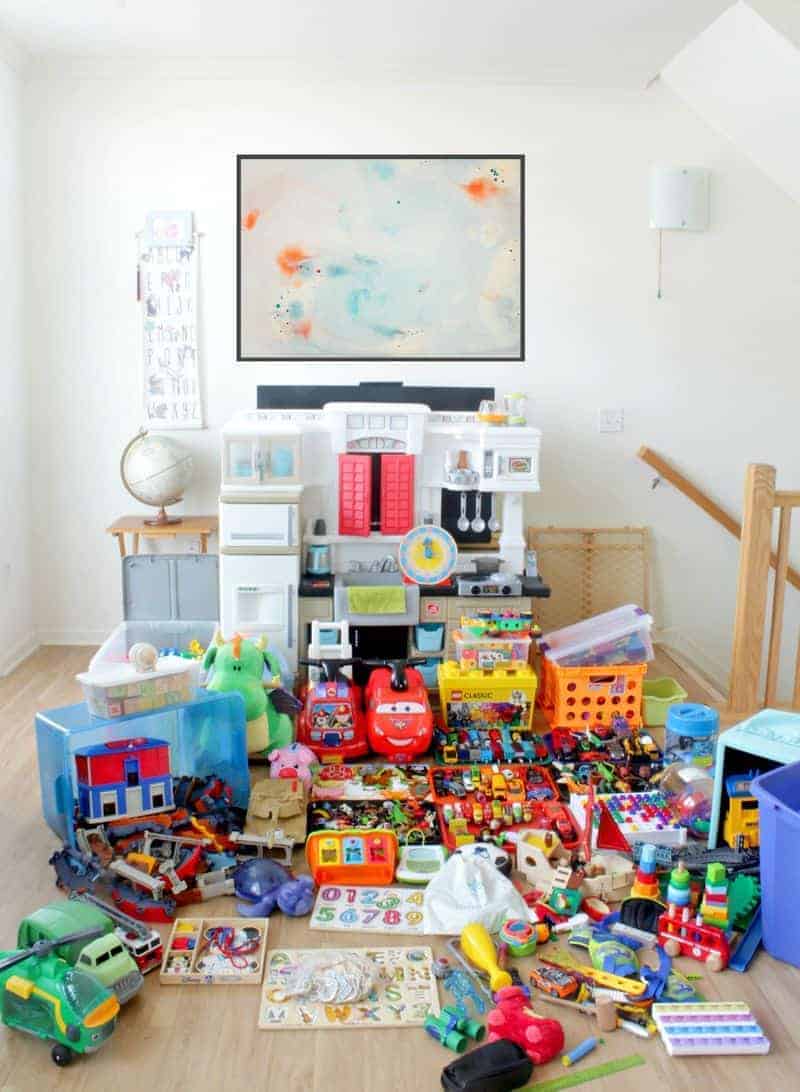 3. Less clutter means you won't forget what is in your refrigerator or pantry
How many times have you gone to the store without double-checking the far recesses of your pantry or fridge, only to discover, whoops! I actually already have a bag of salami, or a jar of salsa, or 5 more apples, etc.
Even your food and beverage items should be kept clutter-free. Otherwise, you risk losing the items you do want spoiling.
American's throw away about 40% of their perishable goods…do you want to take $4 out of $10 and just toss it in the trash? I didn't think so!
(I recently decluttered my kitchen and am LOVING all the extra space.)
4. Less clutter means no need to rent a storage unit
Despite the fact that our houses are bigger than they have ever been, Americans still don't have enough room for all their junk. Many of them are paying monthly for storage space just to keep a bunch of stuff they probably don't even want!
Decluttering can help you to get rid of all that excess baggage and free you from costly monthly storage rental fees.
5. You will be more positive and healthier with less clutter
Your house should be your sanctuary. Energy and movement should flow through your house freely; clutter becomes like little pools and eddies of negative energy.
Clearing the clutter will help you and your home feel much lighter and allow freedom of movement and energy.
When your space is clear, a more positive outlook will help you take better care of yourself.
6. You are less inclined to spend because you value the things you have more
When you value the things that you already own for the joy they bring, you will start to recognize when you truly don't need something.
When shopping, you will look at an item and think, "Does this have a place in my house?" You will start to think exactly where in your life this item will fit in.
If it doesn't, you will be able to pass it up.
You will get better at reducing impulsive spending and in turn staying on budget.
7. Less late fees since from losing track of payments and bills due to clutter
Late fees are the worst!
My bank charges $25 for each late payment for their credit card (I keep my credit card for rewards and points, but ALWAYS pay the full balance when due).
Utility companies, banks, medical bills, etc, they usually have monetary penalties if you fail to pay on time. Imagine all the money wasted on paying late fees if you aren't able to keep track of your bills and pay them on time.
If you reduce the clutter and keep an easy system for bills tracking and payment in place, you will be able to cut down on useless late fees and put that money towards other things!
8. Spend less time looking for things
How much of your life have you wasted looking for lost things?
I know I have spent FAR too much time hunting down small toys for my children, going upstairs, downstairs, under the couch, into the closets.
NO MORE!
Take back your time by decluttering…and time is money!
9. Less clutter means you can live smaller
Housing costs account for 33% of American household spending…but in higher cost areas like New Jersey, California, Seattle, etc you might need to budget even more! People are taking on more and more debt to be able to afford a home.
Stop drinking the McMansion Kool-Aid!
Most people don't use half of the living space in their house. If you reduce your clutter, you may find that you don't need such a large house to contain all your possessions. That means that you could get by with a smaller house or rental and put that extra money somewhere else.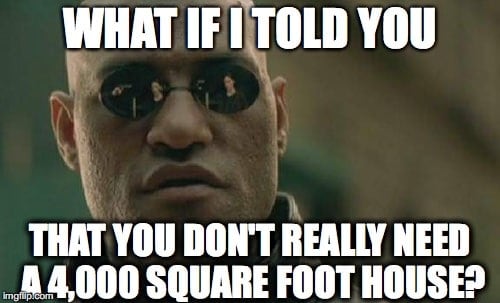 10. Collect charitable tax deductions for your donations
Before you drop your boxes of clutter at Goodwill or the Salvation Army, you should list the items that you are donating and have a good idea of its value.
Then when you drop off your donations, make sure that you ask for a receipt that you can keep for proof of your donation. You can claim those donations as a tax deduction!
You don't need to do all these things to start saving and making money by decluttering…maybe start with one or two that you think would make the most impact and then move on from there!
If you aren't sure where to start in your decluttering journey, I highly recommend The Life-Changing Magic of Tidying Up: The Japanese Art of Decluttering and Organizing by tidying guru Marie Kondo. It is truly LIFE CHANGING.
Good luck making money with decluttering!