Daylight Saving Time really threw us for a loop in 2018! It's amazing how one hour change can mess up a family so much…I'm talking eye bags, rooster hair, walking-like-a-zombie mess! But never fear, I am here to share with you the very best tips to bounce back and start to sleep better. That means you will fall asleep faster and stay asleep longer!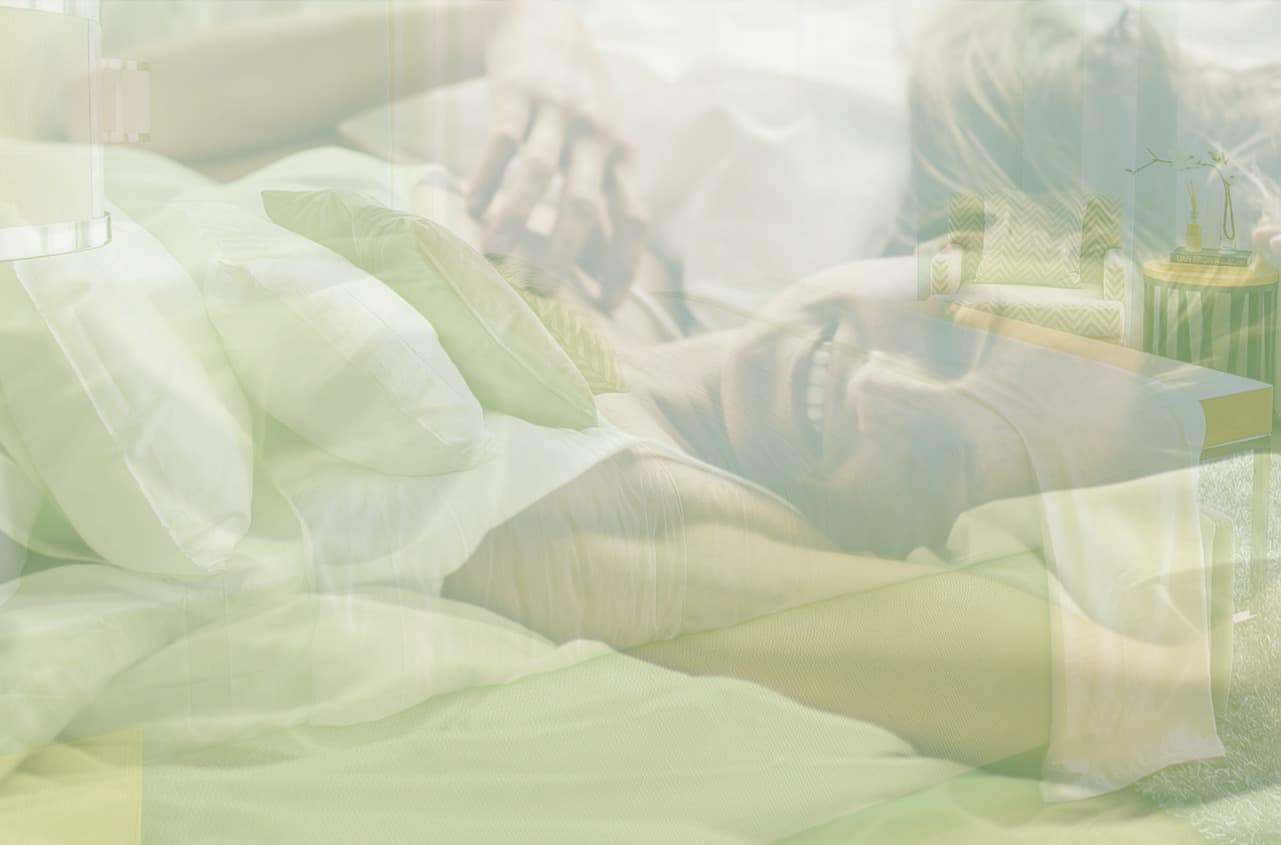 This post may contain affiliate links for your convenience. That means that if you make a purchase, I will receive a small commission at no extra cost to you. I only recommend products or services that I fully believe in and use myself. Read more here.
I always had trouble sleeping when I was a child.
I would lay awake for HOURS every night…probably the fastest I ever fell asleep was one hour.
Turns out, I'm not the only one! According to the National Sleep Foundation's Sleep Health Index™,
"Forty-five percent of Americans say that poor or insufficient sleep affected their daily activities at least once in the past seven days."
As I have grown and learned sleep techniques, my fall-asleep time has improved to around 30 minutes. I certainly won't beat Usain Bolt with that time, nor will I ever beat my husband (who can be snoring in five minutes flat), but it's huge progress compared to where I used to be!
So in (dubious) honor of Daylight Saving Time, I have compiled a list of my 15 best sleep tips that will help you fall asleep faster and stay asleep longer!
Number 1: Don't have kids…juuuuuust kidding 🙂 
The real Number 1: A clean slate
They don't say cleanliness is next to godliness for no reason! God probably sleeps like a baby, and if you keep you space clean, you can too!
All joking aside, it's a proven fact that clutter increases stress levels, especially in women. So it pays to keep your house clutter free and clean!
Number 2: Don't be a softy
I have found that I am unable to sleep well on really soft beds. Ditto for overly soft or thick pillows.
If you are unable to get a good night's sleep, your mattress may be to blame, especially if you wake up with back pain.
Try and experiment with mattress firmness (you could buy mattress toppers to make it harder or softer, for example). If you sleep at a family member or friends house regularly, notice if the bed makes a difference in your quality of sleep.
Number 3: Just add noise
I used to think that I needed perfect quiet to sleep. Then when we had our first son, I learned about the benefits of white noise for sleep. A little ambient noise helps, because it's predictable, monotonous, and boring.
I can personally sing the praises of this white noise machine, which has ten different fan sounds and ten ambient noise variations, including white noise, pink noise, and brown noise. I prefer the fan noises over the white noise, but there are twenty total variations to choose from – you can definitely find something that works for you!
This little baby has gotten my kids and I through Chicago nights with Wrigley Field games/concerts and drunks breaking bottles in the alley, through Chinese New Year in Shanghai with fireworks going off for hours, and through the celebrations in Berlin during the World Cup playoffs.
Trust me, this works!
(Note: as someone with a background in speech and audiology, you should NEVER increase the sound louder than 40-50 decibels and keep it at a decent distance…otherwise, it could cause problems with hearing! See more here. Basically, don't exceed the same level of loudness you would hear in the shower or moderate rainfall, and you will have no problem.)
Number 4: The light stuff
There is a reason that we sleep during the night and are awake during the day. We are not nocturnal creatures…even you night owls out there! To sleep well, it is important to minimize light in your room.
That could involve something as simple as making sure all the lights are shut off before you turn in. Or it could mean investing in lightblocking curtains (we have these, but in blue). Whatever it takes to get your room darker!
Number 5: Some like it hot
Temperature is suuuuper important if you want a good night's sleep. Your room should be cool, but not so cold that you are shivering.
Sleep experts say the ideal temperature is between 60-65 degrees Fahrenheit…personally, if the temperature dips below 70, my teeth are chattering and I can't sleep. As per the inscription at Delphi, "Know Thyself".
I know that I need to wear socks to bed. I don't like it, but that's what it takes for these poor circulation tootsies.
Number 6: That makes scents
There's a lot to be said about aromatherapy and its usefulness for sleep. If you want to use something like a pillow spray or eye mask, make sure to pick relaxing scents like chamomile or lavander…avoid invigorating scents like peppermint.
Save that one to sniff before you hit the gym!
Number 7: Unplug yourself
One of the worst things you can do is overstimulate yourself right before bedtime. You want to turn off your phone or TV at least an hour before it's time to sleep.
Electronic use before bedtime disrupts the natural sleep-wake cycle by exposing us to excessive amounts of light.
So do yourself a favor and turn off the cat videos.
Number 8: Just Breathe
This is perhaps one of my favorite tips; it's my go-to when nothing else works. I learned this as a form of meditation, used to guide one into a deep trance.
This isn't the full sequence that will put you into a trance, but rather a mindful breathing exercise that will help you relax and focus your mind, rather than having it run away with you.
It goes like this:
Breathe in slowly, to the count of 4. Think of nothing but the breath
Hold your breath, counting to 4 (in your head)
Then release, to the count of 4
Repeat this 3 times, counting to 4 silently each time
Repeat again, with 6 breaths and then 8 breaths, until you have completed the 4-6-8 sequence 3 times each
You should be relaxed and your mind should be clear
Number 9: Who let the dogs out?
The scientific community can't seem to agree about whether or not you should let your pets sleep with you.
But I can tell you from experience, if your Himalayan cat wakes up in the middle of the night on your pillow, sneezing boogers into your hair…your sleep will be disturbed! Very disturbed…and crusty.
If you experience rude awakenings like this one, it's best to kick Fido or Mr. Tickles out.
Number 10: Wrap it up!
Ever lay down and then realize that you need to go to the bathroom? Then you lay down again…and realize you forgot to start the dishwasher? Then lay down again…and guess what, you forgot to brush your teeth? Then you lay down again and…
Before you lay down that first time, take a moment to think about your routine. Double check to make sure you haven't forgotten anything. Then you won't have to get out of bed 13.5 times.
Number 11: Let it go, let it gooooo!
Are you one of those people who lays there, night after night, reliving every embarrassing thing you have done over the past 30-50 years? Yeah, me too.
That or mentally laughing about a Seinfeld rerun you watched earlier. Or listing all the things you need to do at work in the morning. Or trying to think of a snappy comeback to that troll you were fighting with in the political comments section.
These things are nothing to lose sleep over! Learn the art of letting go…and if you have trouble with that, refer to the breathing exercises in tip Number 8.
Number 12: The thirst trap
Nothing disrupts sleep mid-night quite like having to get up and use the bathroom. Then you have to fall asleep all over again!
If you have a tiny tree-squirrel sized bladder like me, you should be cutting off drinks at least 90 minutes before bedtime.
Instead, spread your drinking throughout the morning, afternoon, and early evening hours to make sure you are adequately hydrated.
Number 13: Early to bed
You don't have to go to bed at 7 pm…but you shouldn't be a night owl either! Make sure you are in bed before 10 pm so that you have enough time to fall asleep and get enough sleep before it's time to wakey-wakey.
Number 14: Do you even lift, bro?
A study in the journal Mental Health and Physical Activity found that people who engaged in 150 minutes of moderate to vigorous activity a week (the national guideline) noted a 65 percent improvement in sleep quality.
Number 15: A routine check-up
The last and best thing that you can do for your sleep is to make the good sleep habits that work for you into a routine!
Routines work wonders, for babies and adults alike! It's not too late to start changing your sleep routine for the better…so get started!
Happy snoring!
Pin it for Later!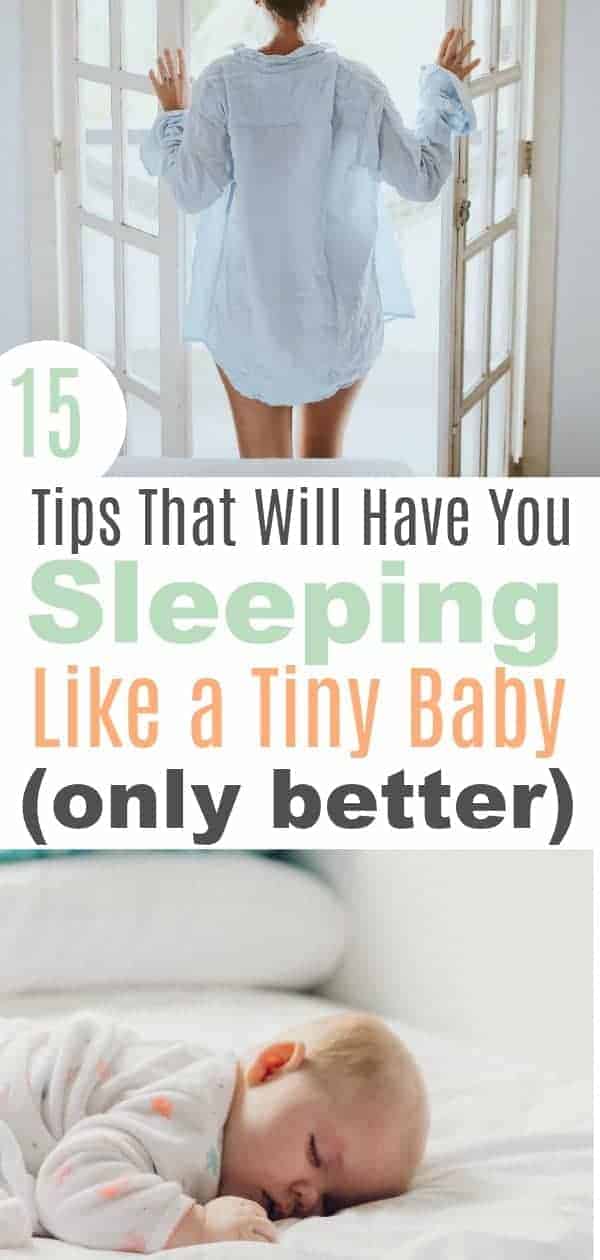 SaveSave
SaveSave
SaveSave
SaveSave
SaveSave