Looking to turn some of that household clutter into cold hard cash or make some money with thrift flipping but not sure what items sell well on eBay? Check out this list of fifty items that you can sell on eBay for at least $50; some are even worth hundreds or thousands! Start treasure hunting in your very own home today with this list of things to sell on eBay as a guide
50 Best Things to Sell on eBay
This list has been built from personal experience and from observing hundreds and thousands of listings on eBay. You can make a minimum of $50 with most of these 50 items, but some of them could be worth hundreds or even THOUSANDS of dollars.
All for stuff you just have lying around your house or find at your local thrift store.
Mind. Blown.
(If you don't believe me, just check out this post on how I made over $10,000 on eBay, selling stuff I didn't want anymore!)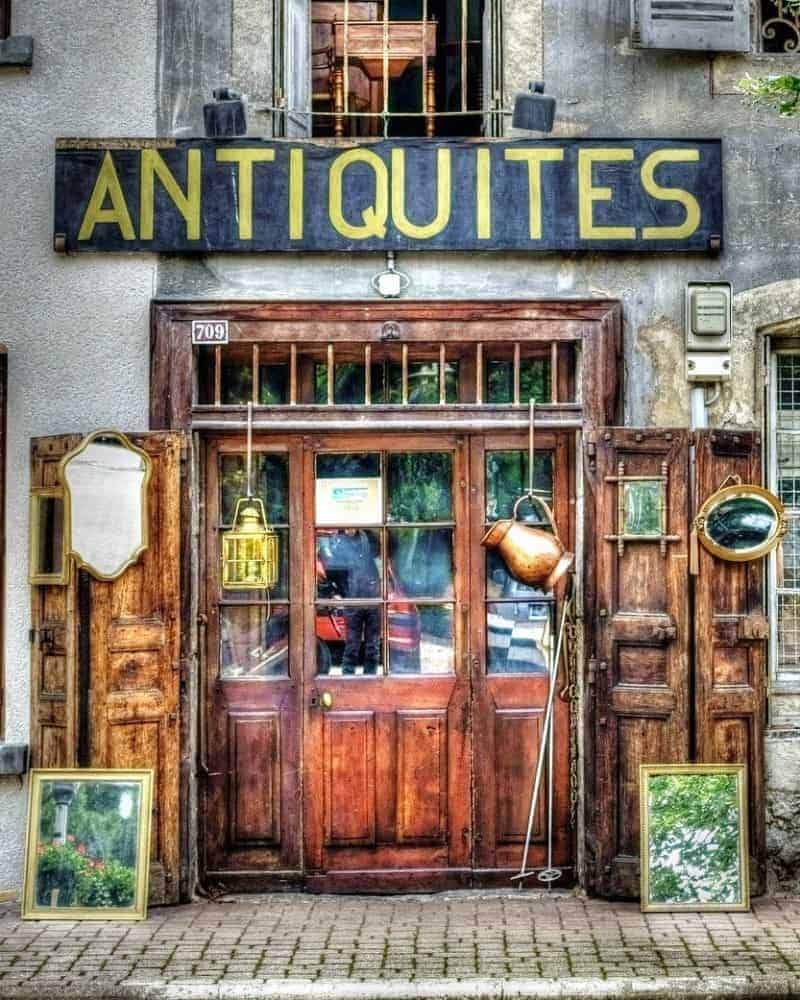 Pricing eBay items
It pays to do your research when it comes to eBay. You can check recent sale prices for similar items by going to the eBay search engine and clicking on "Advanced" in the upper right-hand corner, next to the search engine.
Once you click into the advanced search engine, enter your item name and check the box that says "Sold listings".
Some keywords you might want to enter:
Below, I ran a search for "max mara vintage camel coat". Your search should be specific to your item! Once you get the results, the selling price will always be in GREEN black!
Now, on to the list!
Here are 50 items you can sell on eBay for $50+
1. Head vases
Popularized in the 1950s, ceramic head vases can go for HUNDREDS on eBay; especially if you have a specific character (like Jackie Kennedy or Dorothy from the Wizard of Oz) or an ultra-rare head vase.
One of my most prized possessions is a head vase from my grandmother.
She sat on my dresser when I was a little girl and is currently hiding in a box in my closet (I didn't want her to get broken by my sons).
When I started selling on eBay, I decided to look her up, just to see what she is worth. Mine looks just like this one below.
My grandma's old head vase is worth $440!!! Can you believe it?
2. Baseball mitts
Start selling your old mitts in baseball season and you can make a pretty penny. Even vintage mitts can go for hundreds, depending on the make and model.
3. Sportswear
Both new and vintage name brand sportswear, such as Nike or Adidas, can go for over $100 on eBay! The condition is important; less wear is preferred.
4. Tableware
Names like West Elm and Better Homes and Gardens can sell for up to $50/plate.
5. Men's dress shoes
If you have unwanted leather dress shoes, those can sell really quickly. Names like Kenneth Cole, Cole Haan, and especially Allen Edmonds sell well on eBay.
6. Women's handbags
Name brand handbags in good condition, such as Coach, Louis Vuitton, and Kate Spade to name a few, can go for hundreds.
Louis Vuitton bags and others might even go for thousands!
7. Pack 'n Play parts
If you had kids, you probably have a Pack 'n Play laying around somewhere (one of the most useful baby shower gifts I EVER received).
After my two kids both outgrew the PNP, I took that bad boy apart and sold all the pieces individually: mat, bag, metal bars, frame, mobile strap and toys, inserts, etc.
I made more selling the PARTS of the PNP that it costs to buy one brand new!!!
8. Vacuum cleaner parts
Same idea as the PNP, if you have a defunct vacuum or upgraded to a new vacuum recently, that old vacuum is worth more in parts than it would be to sell as a whole.
9. Baby carriers
Again, pretty much all moms have owned some kind of wearable baby carrier (I had an organic Ergo). When you don't need it anymore, sell it on eBay!
10. Infant car seats and accessories
Even if you only have the base, you can make good money. Make sure that you know the manufacture date (should be somewhere on the car seat) because they have a limited shelf life (mine was a Chicco Keyfit 30, good for 8 years).
11. Book lots
It can be hard to make decent money with individual books on eBay, as the market is saturated. However, if you have a group of many books, like Stephen King horrors, the Harry Potter collection, or vegan cookbooks, your listing could do very well.
12. Toy lots
Again, selling toys one by one doesn't make much sense, but selling them in groups can be great! Melissa and Doug and other high-quality toys do especially well.
13. Formal dresses
New, used, and vintage dresses for prom, quinceañera, or weddings sell great! One of my best friends bought a Monique Lhuillier lace dress for her wedding from eBay for $1,500 — and she sold it after her wedding for the same price!
14. Humidifiers
Humidifiers are one of those surprise items that sell well. You can make good money selling these whole or part by part.
15. Swarovski crystals and crystal figurines
I had so many of these! Most of them will never be worth the original price, but you can get good money if you have fallen out of love with your crystals.
16. Barbies
My father used to buy Barbies for me because he thought they would be worth so much someday. I cringe thinking about what a poor investment that was. He would have done better investing that money in the stock market!
You can make money on Barbie lots and even Barbie clothing if you have enough!
I made over $100 with the complete set of Gone with the Wind Barbies, just like these.

17. Star Wars toys
Vintage Star Wars toys can be worth a lot, especially if they are still in the box. Lunch boxes with a Star Wars theme also do well.
18. Lululemon
Even preowned Lululemon leggings and tops can go way over $50! You would be surprised what people will pay for your gently used yoga wear.
19. Alo yoga wear
Like Lululemon, Alo yoga leggings can go for $60-80 for preowned and over $100 for brand new!
20. My Pillow
I think that My Pillow is the most uncomfortable pillow I have ever tried, but they sell really well on eBay.
21. Mimos Pillow
I had this pillow to help remediate my son's plagiocephaly (flat head). Because moms have enough to worry about outside of flat heads.
My used pillow went for $90 on eBay!
22. Harley Davidson items
If you have Harley Davidson apparel (especially leather boots and jackets) or collector's accessories like knives and jewelry, these sell great!
Harley Davidson people also seem to be some of the nicest people in the world to sell to 🙂
23. Old phones and phone accessories
If you got a new phone, you can sell your old phone…even if it isn't working! Some people buy broken phones specifically to flip.
Just BE SAFE and wipe your phone of all data before selling!
24. Vintage teacups
Teacups seem to be worth either nothing or a lot. Check the makers stamp on the bottom of your teacups and compare to the ones online.
One lady's teacup went for over $800! *Sips tea*
25. Levi's jeans
Levi's jeans are one of those niche things people seem to love. They are very popular in Europe. Vintage Levi's can go for over $100!
26. Disney DVD lots
If you have a bunch of old Disney movies you no longer want, sell them on eBay.
27. Vintage gaming consoles
If you are a lucky soul that has an original, working Atari or Nintendo, there is a great market out there for that. You can also sell the accessories and games.
28. Bike wheels
I don't get it, but bike wheels go for tons. Make sure you know the specific brand, size, etc.
29. Watches
Watches can go anywhere from a couple bucks up to tens of thousands of dollars! Read about the guy who bought a watch from Goodwill for $6 and sold it for $35,000.
30. Perfume and cologne
As long as you have more than 90% of a desirable type of perfume or cologne, you can sell it!
Highly valued and discontinued perfumes can go for even more.
31. Unused makeup and clean brushes
If you have some MAC eyeshadows you never used or Estee Lauder lipsticks, turn those into cash in a heartbeat.
Don't forget about the brushes!
32. Ray-Ban sunglasses
Enough said.
33. Timberland boots
The condition is important!
34. Vintage Playboy magazines
Not my thing, but these seem to do well on eBay. I know a guy whose dad had boxes and boxes of these! You could make a fortune.
35. Pendleton blankets and jackets
These high-quality wool products sell great!
36. Suits
Women's and men's suits do well, depending on the brand. I am more familiar with women's and see a lot of Kay Unger, Talbots, Tahari, etc perform well.
37. Cameras and accessories
Some are basically worthless and some can go for hundreds! Make sure you research your specific item…vintage cameras do well too!
38. Dress lots
If you are updating your wardrobe, sell a lot of dresses for the season you are in. Someone who is your size might be looking for a quick closet update.
39. Sleepsacks
If you have a few Halo sleepsacks or Zipadee-zips laying around, sell them in bulk for a quick profit.
40. Diaper bags and accessories
I still use my Ju-Ju-Be BFF diaper bag (you can pry it out of my cold, dead hands), but that and other brands like Petunia Picklebottom sell well.
41. Vintage My Little Pony dolls
If you have been holding onto those MLP dolls, maybe now is the time to let go. MLP nostalgia is high, and these go for a pretty penny.
42. Vintage He-Man and She-Ra dolls
Same as MLP; lots of these perform well.
43. Jewelry
Broken engagement? Unloved gift? Ring doesn't fit? Sell it!
44. Gold or silver by weight
If you have a lot of gold or silver items, you can also sell them by the oz on eBay.
45. Airplane amenity kits
No joke, these items that you get for traveling can be sold on eBay! The biggest profit will be for First and Business Class kits, especially names like United Polaris and Tumi!
46. Leather belts
Depending on condition and brand, these are easy to ship and do well.
47. Power tools
Vroom vroom! Especially good for drills.
48. Golf shoes
Both new, used, and vintage golf shoes can be sold quickly for the right price.
49. LEGOs
LEGO lots and collectible LEGOs (especially vintage and still in the box) are great items to sell. If you can find unopened vintage LEGO sets you could be sitting on a gold mine.
50. Vintage Pyrex
If you have some old Pyrex sets in good condition, especially turquoise and pink, you can sell them for a tidy profit.
There you have it! A list of 50 items you can sell on eBay.
But don't stop there…there are many, many more things that people want to pay you good money for! Take a look around your house and see what unwanted items you have that could be turned to cash.
Leave me a comment below if you were shocked by how much something sold for on eBay!
Pin for later!