Every time you make a purchase, you are buying because you think that item will make you happier. That your life will somehow be improved by that object. Yet science has proven over and over that possessions do not increase happiness in the long-term — so why do we keep on buying them?
If you have been struggling with clutter and feeling stressed out and frustrated, a minimalist lifestyle may be the answer — but what sort of minimalism might be right for you?
Find out how to detox your life of clutter and finally reclaim your time, money, and freedom with this list detailing the 18 best books on minimalism to guide you on your path!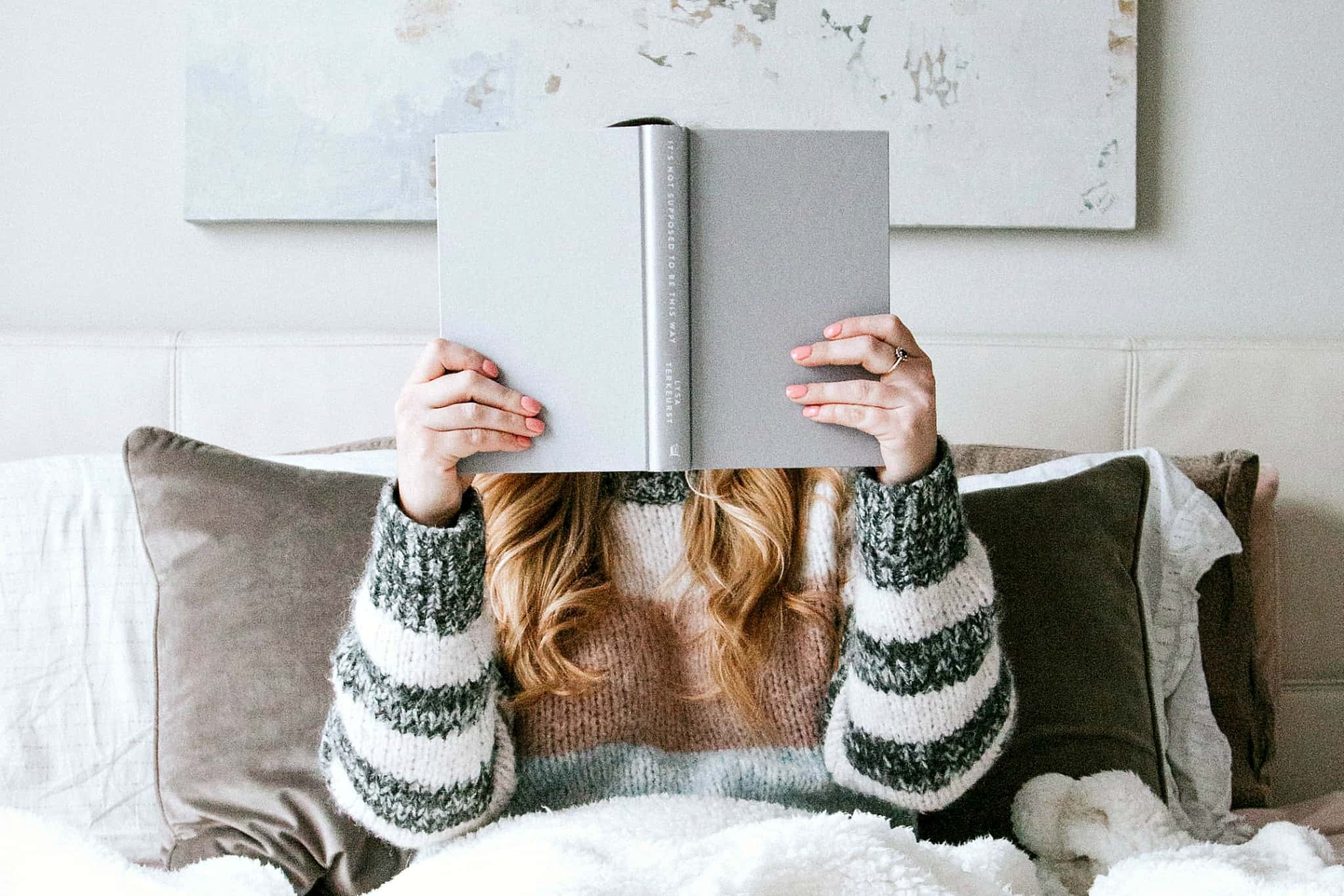 This post may contain affiliate links for your convenience. That means that if you make a purchase, I will receive a small commission at no extra cost to you. Read more here.
How these books on minimalism can help you
We as a society are dying of too much stuff.
While home sizes have nearly doubled in the last 40 years, the average number of family members per household has shrunk, and yet Americans have never had so much stuff — in fact, there are more storage units in the United States than there are McDonald's restaurants!
Stuff accumulation and hoarding have reached epidemic levels, resulting in more stress, more financial burden, less freedom, and decreased life-satisfaction; we are literally drowning in clutter.
Yet, as always, there is hope!f
If you have been feeling overwhelmed by all the clutter in your life, minimalism may be the answer.
In fact, our family of four recently decluttered our entire home down to 8 suitcases and moved overseas to Europe, where we now live a debt-free, stuff-free life in a tiny little one-bedroom apartment.
Read about each of these best-selling minimalism books in detail, with quotes from experts, star-rating based on reader reviews, and detailed descriptions to help you choose the perfect minimalism book for yourself (or someone else).
18 best books on minimalism
Arranged in no particular order, these minimalism books can help you find your way if you have been feeling lost and drifting aimlessly in a sea of clutter and stress.
You will find books on decluttering and minimalism, books on Japanese minimalism, books on how to be a minimalist with kids, and even books on how to curate a minimalist wardrobe!
Find the minimalist book that speaks to you and start your minimalist lifestyle journey in 2021!
If you want to keep book clutter to a minimum, remember you always have the option to borrow the book from the public library, donate your book after reading to any number of charitable organizations, or even sell it online!
---
Amazon Star-Rating: 4.5 out of 5 stars
Review: "An inspiring read for anyone wanting to downsize, finally park the car in the garage, or just clear out a few closets." – Rachel Jonat
Why you should read this book: This is a fun, systematic, and easy-to-follow guide to declutter your home and implement minimalism therein, with Joy sharing specific techniques for each room in your house.
The book is divided into four parts:
The philosophy of minimalism
The STREAMLINE decluttering system (an acronym for Joy's method)
A room-by-room approach to decluttering
Tips on how to declutter your schedule
With practical suggestions that are not too extreme, including decluttering tips for the entire family, this is a great book for fledgling minimalists who want to dip their toe into minimalism.
---
Author: Marie Kondo
Amazon Star-Rating: 4.4 out of 5 stars
Review: "All hail the new decluttering queen Marie Kondo, whose mess-busting bestseller has prompted a craze for tidying in homes across the world . . . one proper clear out is all you need for the rest of your life." — Good Housekeeping (UK)
Why you should read this book:
With over 11 million copies sold worldwide, this book sparked it's own titular Netflix series, became a global phenomenon, and catapulted Kondo to international celebrity status.
Hallmarks of the KonMari method include the concept of holding each item in your hands to see if it sparks joy, tidying by category versus location, and a unique vertical folding method.
With nearly 15,000 mostly positive reviews on Amazon, this book definitely lives up to the hype. In fact, Tidying Up holds a special place in my heart as it marked the beginning of my own minimalist journey.
Related posts on the KonMari method:
---
Amazon Star-Rating: 4.3 out of 5 stars
Review: "Zoë's perspective of minimalism is pure joy. She brings years of experience as a mother and a wife to the table, paired with an ongoing love of the simpler life."―Brian Gardner, Founder of No Sidebar
Why you should read this book:
I frequently hear complaints that too many minimalist books and accounts focus on young, single people living in tiny houses or traveling the world with only one backpack.
This book aims to help families explore how they can create stronger bonds and live happier lives through gentle minimalism and simple living practices.
Often the hardest part of implementing a minimalist lifestyle as a family is getting the rest of the family on board! Minimalism for Families also discusses how to handle members who may be resistant to the idea and how to gently encourage even children to embrace minimalism.
---
Amazon Star-Rating: 4 out of 5 stars
Review: "Sure, it sounds morbid, but it's actually a pretty smart idea. Death cleaning isn't about getting rid of all your stuff, but rather streamlining your life so you're only holding onto what makes you happy . . . it's about so much more than dusting and sorting." —Elle Decor
Why you should read this book:
The practice of decluttering in preparation for one's own passing in Sweden called döstädning, dö meaning "death" and städning meaning "cleaning"; this practice can be undertaken at any time, but the emphasis is on completing this death cleaning before someone else has to do it for you.
As someone who has lost many loved ones and spent literally decades carrying their mementos around with me, unable to let go, The Gentle Art of Swedish Death Cleaning has a morbid charm. When you consider the fragility of life, you may come to appreciate the experience of life itself rather than the collection of possessions.
---
Author: Fumio Sasaki
Amazon Star-Rating: 4.5 out of 5 stars
Review: "In his new book, Goodbye, Things, Fumio Sasaki shares the lessons he learned by going minimalist. . . . For Sasaki, minimalism isn't about how little you have, but how it makes you feel. Sasaki credits his minimalist lifestyle with helping him lose weight, become extroverted and proactive, and above all, feel happy and grateful for what he has." – Heeseung Kim, Cosmopolitan
Why you should read this book:
Fumio Sasaki is an everyman.
Until the point he discovered minimalism, he was just a regular guy with the same issues that most of us struggle with; being stressed out at work, dealing with insecurity, a "keeping up with the Jones'" mentality, and even health side effects, such as being overweight.
One day he decided enough was enough and went about reducing his possessions in an effort to improve his life. Now his mission is to help others realize the benefits of implementing a minimalist lifestyle while at the same time giving them tips and personal help in guiding them on that path.
---
Amazon Star-Rating: 4.6 out of 5 stars
Review: "Those of us attracted to minimalism often face a challenge: how do we invite our friends and family into this liberating way of life? With amusing stories and on-the-ground practical advice, Joshua explains how to make your minimalist journey a group endeavor. There are going to be a lot of happy children, spouses, and friends because of this book." – Dave Bruno, author of The 100 Thing Challenge
Why you should read this book:
If you are ready to clean less, worry less, and have less stress in your life, Joshua Becker is ready to help you.
"Maybe you don't need to own all this stuff."
Following a conversation with his neighbor in 2008, Joshua Becker realized he was ready to make a change in his life; he wanted to spend less time cleaning, organizing, and buying stuff they didn't really need. He and his wife decided to remove the nonessential possessions from their home and life and over time sold, donated, or discarded over 60% of what they owned.
Delve into the benefits of minimalism, troubleshoot common problems, craft a personal and practical approach to simplifying your life, and perhaps you might even find the dreams that have been hiding underneath all that clutter.
---
Author: Marie Kondo
Amazon Star-Rating: 4.6 out of 5 stars
Review: "If the first book was merely an introduction to Kondo's radical philosophy, known as the KonMari method, the new one goes deep into the details . . . the result is inescapable: a home, and a vision of life, that truly sparks joy." – Architectural Digest
Why you should read this book:
Those who enjoyed Marie Kondo's The Life-Changing Magic of Tidying Up will appreciate this follow-up book, in which the Japanese decluttering guru provides additional details regarding her KonMari method.
In this book you will find:
Step-by-step illustrated guides on how to fold clothing
Drawings with details about how to organize drawers and closets
FAQs about the KonMari method
There is also guidance on specific categories not covered in TLCMOTU, such as kitchen tools, craft supplies, and digital photos.
---
Author: Erica Layne
Amazon Star-Rating: 4.7 out of 5 stars
Review: "The beauty of this book is that you will finish with a clearer picture of the life you want to build―and how minimalist principles can help you get there. You'll walk away with actionable steps and a personalized plan to help you get there. This is a message we all need to hear again and again."―Joshua Becker, founder of Becoming Minimalist
Why you should read this book:
Layne shares her method for applying a minimalist mindset in every aspect of your life, from your home to your career, with gentle guidance and simple exercises and activities that can help you explore minimalism practically.
The Minimalist Way includes chapters on:
Home
Workspace and career
Family life
Finances and budgeting
Time management
Relationships
This book presents a plethora of habits and practices to simplify your life and find more joy in all its aspects.
---
Author: Joshua Becker
Amazon Star-Rating: 4.6 out of 5 stars
Review: "Clutterfree with Kids is a wonderful guide that any parent will find both practical and inspirational. If reducing clutter, creating more time and raising more aware children are your goals, this book is not to be missed." – Peter Walsh, author of It's All Too Much.

Why you should read this book:
Keeping clutter to a minimum and helping children learn that they don't need all the toys can be tough — as a parent and as a minimalist, from the bottom of my heart, I appreciate the depth of that difficulty.
Becker seeks to help parents change their thinking and that of their children so that they can lead happier lives with less stress and stuff — he encourages you to include your children in the entire process!
Section 2 touches upon especially helpful and difficult topics, such as:
Toys
Clothes
Artwork
Sentimental items
Collections
Screens
and more…
---
Authors: Joshua Fields Millburn and Ryan Nicodemus
Amazon Star-Rating: 4.3 out of 5 stars
Review: "This is the minimalism book everyone's been waiting for." – Intrepid Radio
Why you should read this book:
These guys are truly O.G. minimalists.
At age 30 these best friends both walked away from their six-figure corporate careers to try and eliminate excess to focus on the important things in life, namely health, relationships, passion, growth, and social contribution.
This book was published in 2011, which makes it one of the oldest minimalism books on this list. Some would call it a 'classic'.
It makes a great read if you want to explore the roots of two pivotal forces behind what would become today's minimalist movement in the U.S. and dive into the philosophy of minimalism.
---
Why you should read these books:
Two new favorite books that you have no idea how to pronounce!
The first book covers the topic of Hygge (pronounced "hoo-gah"), which is a Danish-born philosophy that is as much a mindset as it is a way of life; it encourages one to cultivate togetherness and delights at the smallest wonders. 
Lagom is all about finding balance in your life. It is described as a 'Goldilocks state' in which you have neither too little nor too much.
Grab these delightful little books, cozy up in your favorite sweater next to a flickering candle, and prepare to welcome Scandanavian sensibilities into your life.
---
Why you should read this book:
Aarssen argues that a "one-size-fits-all" approach to decluttering is doomed to failure; she then offers a cute little quiz that will help you discover your 'clutterbug' type and offers each of the 4 types of clutterbugs realistic insights and solutions based on their personality
The Clutter Connection examines:
The four various organizing styles + how they are related
How the space around us affects our motivation and happiness
Productivity, procrastination, and perfectionism (the 3 "P's" and how they are connected to your unique organizing style
How self-awareness can help you become clutter-free
If you are looking for an interesting and playful take on decluttering and would like to explore the different clutter personalities in your family, this is a great book!
---
Author: Joshua Becker
Amazon Star-Rating: 4.6 out of 5 stars
Review: "Joshua provides great tips on decluttering every room and inspires readers to think deeply about what really makes a house a home." — Francine Jay, author of The Joy of Less
Why you should read this book:
By now you have probably realized that Joshua Becker is one of the most famous and prolific minimalist writers on this list — and for good reason!
In this book, Becker offers practical guidelines for simplifying and streamlining our lives and homes.
He also addresses the underlying issues that contribute to the purchase and over-accumulation of clutter and stuff. There is even a special section referred to as the 'minimalism maintenance guide' to help you prevent slipping back into old habits.
---
Author: Bea Johnson
Amazon Star-Rating: 4.5 out of 5 stars
Review: "Waste not, want not isn't about penny-pinching. It's about gratitude and loving our lives. Bea Johnson doesn't just teach us to save the planet. She teaches us to save ourselves." – Colin Beavan, author of No Impact Man
Why you should read this book:
If you are interested in exploring minimalism as it pertains to sustainability and fulfillment, this is an excellent book.
It may shock you to know that Johnson and her family of 4 produce only one quart of garbage per year. They also report spending more time together, have cut their annual expenditures by 40%, and enjoy better health overall since committing to the zero-waste lifestyle.
Johnson discusses the process of going zero-waste, as well as shares easy tips for creating a sustainable lifestyle, from how to pack a waste-free kid's lunch to enjoying the holidays without consumers' guilt.
---
#15.

The Curated Closet (

Book

&

Workbook

)
Author: Anuschka Rees
Amazon Star-Rating: 4.3 out of 5 stars
Review: "Does your weakness for sales leave you with clothing you'll never wear? Do you love buying dressy clothes but seldom have an occasion to wear them? Do you have a full closet but still have trouble finding something to wear? Style blogger Anuschka Rees may have a solution for you. In The Curated Closet… .she outlines how to analyze your wardrobe and lifestyle. She counsels discipline, suggesting you make a list of the items you need and shop with that list in hand, looking for quality and durability."
– The Boston Globe
Why you should read this book:
If you are someone who loves fashion and has a tendency to overspend on clothing this is a great resource. Just because you are a minimalist doesn't mean you can't enjoy clothing! People who have pondered starting a capsule wardrobe but don't know where to start will find these resources helpful.
This book will help you:
Shop smarter and be more selective with your clothing purchases
Help shop around your budget without feeling broke
Master formulas to help you curate the perfect outfit
Tweak your wardrobe for work
And more…
---
Author: James Wallman
Amazon Star-Rating: 3.9 out of 5 stars
Review: "Stuffocation is a must-read. We think that more stuff will make us happier, but as the book nicely shows, we're just plain wrong. A great mix of stories and science, Stuffocation reveals the downside of more, and what we can do about it."—Jonah Berger
Why you should read this book:
Stuffocation might just be your new favorite buzzword. Wallman argues that stuffocation might be one of the most pressing problems of the twenty-first century.
Our homes have never been bigger and we have much more than we could ever need, and yet these habits aren't making us happy — in fact, they are bad for the planet, our homes, and our health.
Wallman traces the origins of modern consumerism back in time, interviewing anthropologists, economists, and psychologists about the effects of stuffocation on society. He also highlights ideas on how to shift our habits and transform our views and values on ownership and how to be more with less.
---
Author: Cait Flanders
Amazon Star-Rating: 4.2 out of 5 stars
Review: "Cait comforted herself with alcohol, binge eating, and compulsive shopping, then finally said, 'Enough is enough.' This isn't another book about how to live with less, but instead a heartbreaking and then a heartwarming story that shows us if we are willing to let go of the things we think we need, we can have a life we really want." — Courtney Carver, author of Soulful Simplicity
Why you should read this book:
The Year of Less is a deeply personal account of Cait Flanders' life and struggles to escape the cycle of consumerism.
In her late twenties she realized that even though she had worked herself out of nearly $30,000 of debt, she was still unhappy and overweight, comforting herself with alcohol and binge eating.
Flanders decided to set a crazy challenge for herself – buy nothing for an entire year.
This book follows along with her during that twelve-month spending freeze, during which she only bought the bare necessities (like food and gas for her car) and illuminates the struggles and triumphs she had along the way while learning that the less she consumed the happier and more fulfilling her life became.
---
Author: Cal Newport
Amazon Star-Rating: 4.5 out of 5 stars
Review: "Cal Newport's Digital Minimalism is the best book I've read in some time about our fraught relationship with technology… If you're looking for a blueprint to guide you as you liberate yourself from the shackles of email, social networks, smartphones, and screens, let this book be your guide." — Adam Alter, author of Irresistible
Why you should read this book:
Before I became a blogger I rarely used social media — I didn't even have an Instagram account! Now that my job literally revolves around technology and social media, I understand how digital habits can drain our time and happiness away. From falling into the comparison trap to the nagging battle hymn of "YOLO", the seemingly inescapable siren song of technology is all around us.
Newport is encouraging a movement towards digital minimalism, a world where people can engage in conversations around meals without obsessively glancing at their phones. If you are someone who struggles to balance the demands of friends, family, and work in a technology-saturated world with your need to 'unplug', this book can help.
---
I hope you enjoyed this list of the best books on minimalism!
Ready to take the next step towards a more minimalist lifestyle?
Then you should go take the 30-Day Minimalism Challenge and start declutter a happier, wealthier, healthier you!
You could also explore this list of 50 things we stopped buying when we became minimalists (seriously, we save so much money!)
Pin this list to read again!