Let me start off by saying this isn't going to be your typical review. I am sure that if you do a Google search for "Building a Framework review" you will turn up 1,001 reviews saying that Abby Lawson's Building a Framework: The Ultimate Blogging Handbook (BaF) is awesome…and it is!
(In fact, it's totally amazeballs for blogging newbs like me.)
But I don't want to just tell you how awesome it is…I want to show you EXACTLY how easy it is to fit BaF (and blogging) into your life.
Unfortunately BAF is no longer available. 🙁
First of all, who is this Abby Lawson?
Abby is the creative mind behind Just a Girl and Her Blog.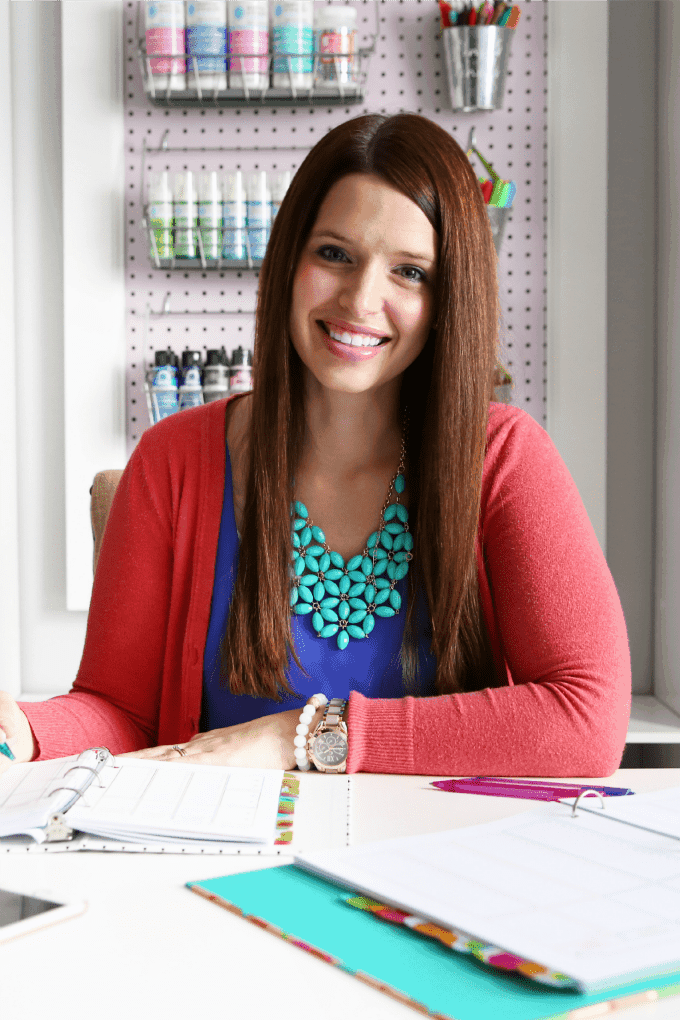 This post may contain affiliate links for your convenience. That means that if you make a purchase, I will receive a small commission at no extra cost to you. I only recommend products or services that I fully believe in and use myself. Read more here.
She started blogging on a whim in 2013 and quickly realized that she could turn what was originally meant to be a creative outlet into a legitimate source of income.
Now she and her tech savvy husband, Donnie, manage Just a Girl and Her Blog as the family business.
(Although they made the decision to stop publishing income reports, you can still view past income reports here. The last published income report showed their monthly income in December 2016 as $41,700!)
What is Building a Framework?
Building a Framework is a course that will take you from total blogging newb to total blogging pro.
Because of BaF I was able to:
Create my blog MYSELF from the ground up (with no technical background)
Build up my social media following on Pinterest, Instagram, and Facebook from absolute ZERO (I recently hit over 1 million monthly views on Pinterest)
Begin collecting affiliate income and sponsorship offers after only 3 months blogging
All thanks the excellent information and resources that Abby offers in her BaF course.
If you are anything like me, you're unsure if blogging might fit into your life.
After all, who has time to learn how to start a blog?
With two crazy boys and a husband that works ALL THE TIME I can barely find time to shower, let alone start a blog.
I am here to tell you that Building a Framework can fit into ANYONE'S life.
That is because Abby and Donnie have figured out how to pack an amazing amount of information into a super condensed package that you can breeze through very quickly.
They also make things easy for people who have no tech background to understand (like, what the heck is a widget, amirite?)
Here is what you get in the BaF course:
9 video modules (Concept and Branding, Setting Up the Technical Side, etc)
Multiple interactive tech training modules
A 30+ page worksheet to help you brainstorm and stay organized
Plus a bunch of super awesome bonuses
But what I really want to talk about is the HOW…that is to say, how in the world was I able to fit studying all that information into my busy #momlife?
So I thought it might be useful to share with you nine things I was still able to do while studying Building a Framework.
Because, let's face it, we are all busy people who have ninety-nine things we have to accomplish in a day that never seems to have quite as many hours as we need.
The good news? These lessons are quick and easy to understand.
So here are the things this multi-tasking mama was still able to accomplish while learning to blog.
I made dinner.
I was making dinner as Abby shared her super-inspirational story of how she fell in love with blogging in the Foundation Module.
I have to say, I really appreciate her discussing her personal experience with the ups and downs of blogging! Many blogging experts make it seem like blogging is so easy, but the truth is it is a lot more like riding a roller coaster!
She also gives a great reality check about how long it takes to actually create those amazing posts and images that you scroll through so quickly on Pinterest (this post took about 6 hours from start to finish).
(That night's dinner (Spicy Korean Pork Belly) tasted especially good with the hope I now had that I could actually create and launch my own (money making) blog!)
I folded the laundry.
It's great that I was folding laundry while watching the Content and Branding Module because it got me thinking about the colors and patterns that I saw in my own wardrobe that I would later want to incorporate when creating my blog!
You may notice that I use the colors orange and mint a lot. That is because these are colors that I love (see skirt from my decluttering post in the photo below) and that makes sense for my blog brand (squirrels = orange).
(Keywords that I thought of when I was creating the concept for my blog: bright, energetic, motivating, informative, and quirky.)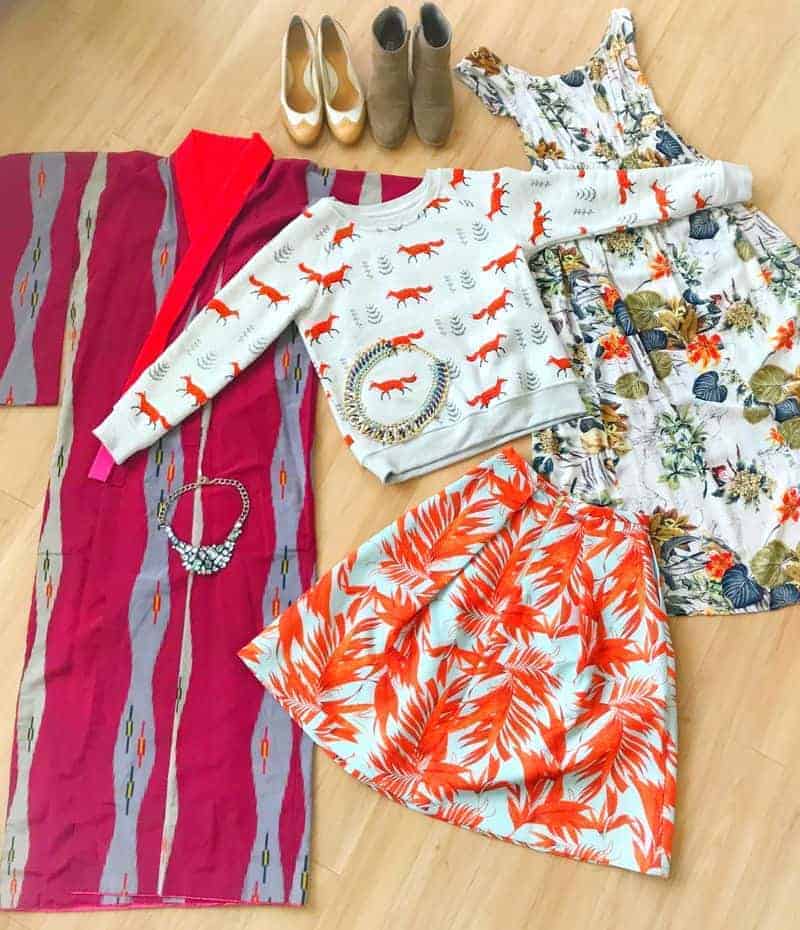 I ate lunch.
Module 2: Setting Up the Technical Side is super dense and jam-packed with useful information on how to actually set up your own blog yourself! As I was eating lunch I was jotting down notes with my other hand!
I especially appreciate how Abby compares the pros and cons of each blog hosting site.
I ended up going with BlueHost and have been extremely happy with them. Any issue that has come up they have solved for me in under 5 minutes. All you have to do is open up a chat window and BAM! They are there, faster than Superman.
I also decided to purchase a premium theme from the theme design company that she recommended (Restored 316).
I have been so impressed, both with the quality and design of their themes, as well as the fast and expert technical help that they provide should questions pop up (like how to add an affiliate disclosure link to your blog so you don't get pounced on by the FTC).
(In case you don't know what a theme is, everything you see RIGHT NOW on my blog is part of my theme, from the placement of images and color of text to my newsletter signup box. Squirrels of a Feather runs on the Delightful Pro theme.)
I cleaned the toilets.
Hey somebody's got to do it, right?
While I was cleaning toilets (three in total), I also listened to the Email Module.
I can tell you that cleaning toilets and discussing email lists used to elicit the same degree of excitement from me.
Which is to say, none.
Bloggers preach and preach about the importance of collecting emails, setting up great newsletters, staying in touch with your readers, but I just couldn't get myself motivated to focus on email.
In truth, it was fear that was holding me back.
What if people didn't read my emails? What if they unsubscribed after receiving them? What if I couldn't even GET people to subscribe in the first place?
So it was that I found myself listening to the Email Module while cleaning the toilets, having saved it for very last.
And by the end of the Email Module, I didn't feel afraid any more.
As Abby says, "Don't sweat unsubscribers" and that was just the advice I needed to hear.
(Now I totally adore creating newsletters tailor-made for my subscribers and have also created a cool Resource Library with freebies just for them (cuz I love each and every one of you)!)
I took a bath.
I took a nice, relaxing bath while listening to Module 4: Content (I know, I am amazed I found the time as well).
This was one module that I felt really confident about. After all, I had (and have) so many ideas about what I wanted to blog about.
But it turns out thinking up topics is only one component of creating a great post!
Luckily, Abby shares some great insights about:
How to establish that personal connection with your readers
How to master SEO (search engine optimization) so people can find your blog
How to take amazing pictures
How to edit your pictures to make them even better (I use and love PicMonkey for photo editing)
(If you want to know more about how to use Google and Pinterest to drive more traffic to your blog, check out my post on how I increased my organic search traffic by 588% in two months!)
Here is one of the long, vertical pins I created using PicMonkey that went viral on Pinterest!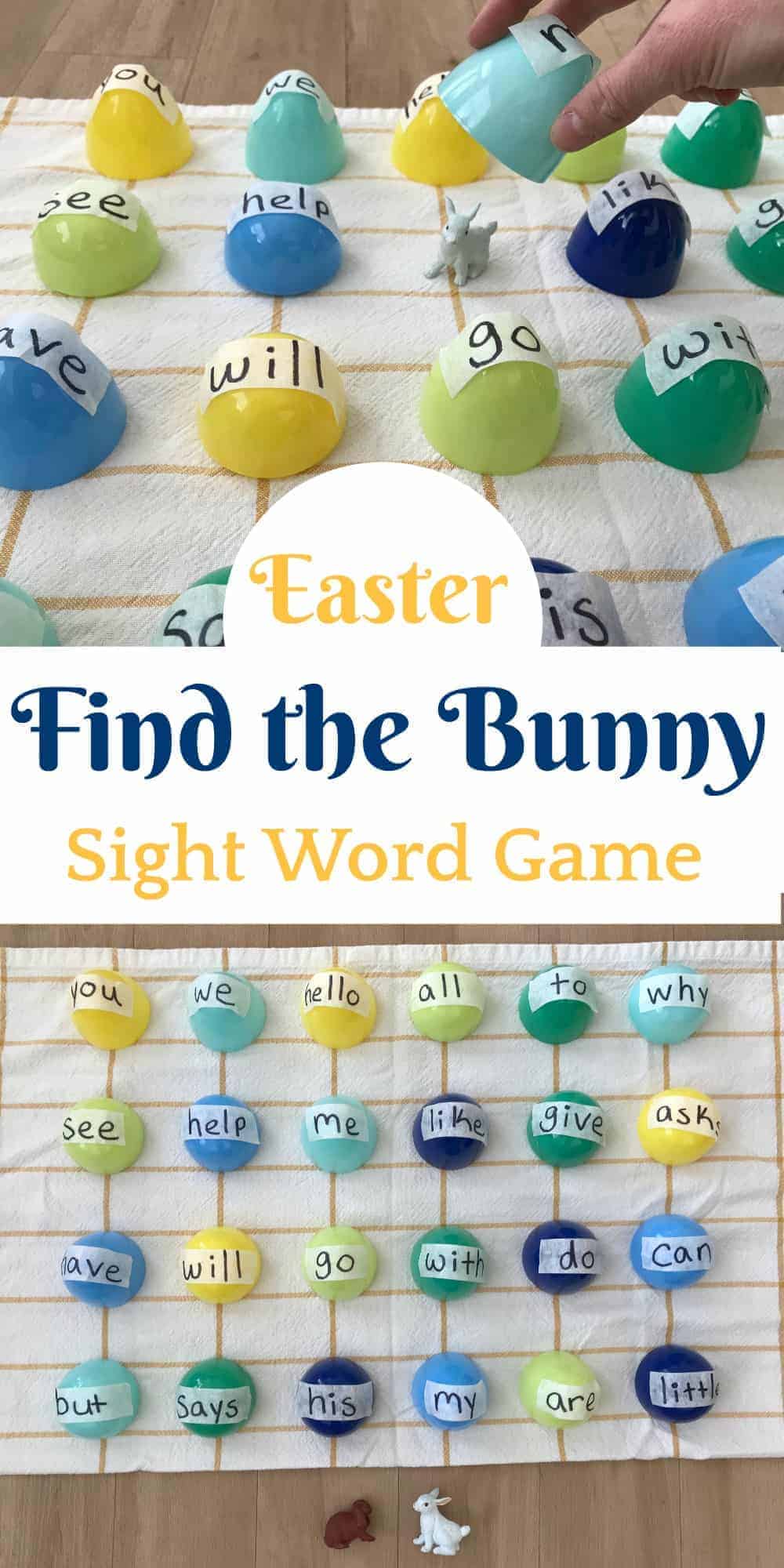 I did yoga.
While I was doing yoga I was soaking in all the advice about how to build relationships with other bloggers.
Make sure you take the time to do this! It's so important!
One of the (many) great things about Building a Framework is that after purchasing you will have access to their Facebook community.
I have met some amazing bloggers though that community that are now my very good friends.
Julie from My Wee Abode always gives me the best social media and style advice; she is light years ahead of me when it comes to Instagram!
Also, the very fist person to welcome to me to the BaF Facebook community, Ameera from Monkey and Me Kitchen Adventures, is now a great friend who also happens to create and photograph some of the most beautiful food I have ever seen (her recipes are delicious and healthy).
I shredded some paper.
Social media was never my jam; I used Pinterest, but rarely went on Facebook. I didn't even HAVE an Instagram account until I decided to start my blog (and yes, I am a 35 year old dinosaur).
Abby's Social Media Module was a lifesaver for me.
I sat mindlessly shredding papers as I listened raptly to all the great information on the Big Four of social media: Pinterest, Twitter, Facebook, and Instagram. (Afterwards, I even set up my own YouTube channel!)
I especially appreciated the tech tutorial on using Tailwind. I was able to get my monthly Pinterest views up to 1 million in less than three months using all the great advice provided there! (More on how I did that to come in a later post!)
(Make sure you follow me on Pinterest by clicking HERE.)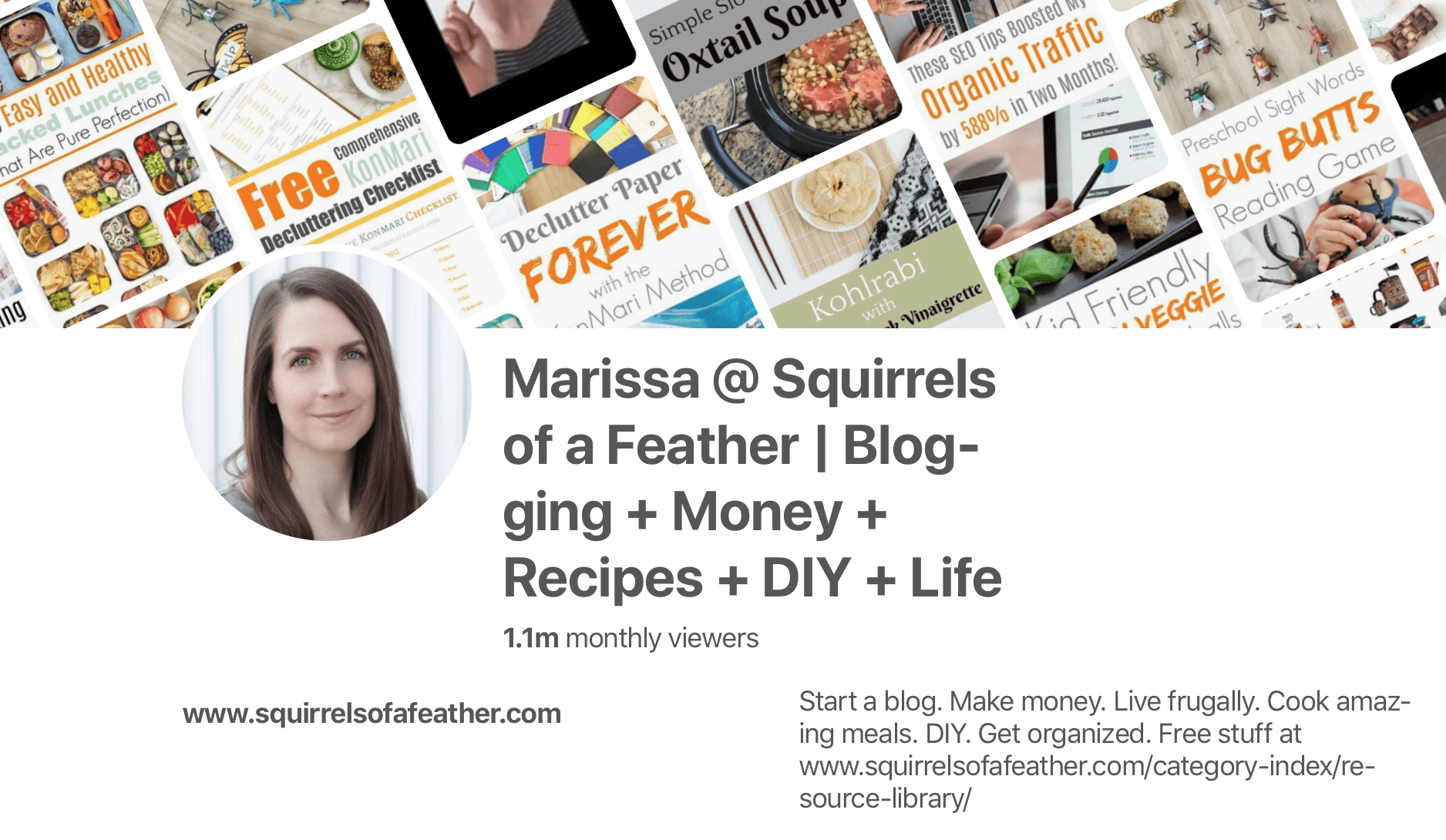 I put aways the groceries.
While putting away the groceries I was listening to the Monetize Your Blog Module.
This is a big one!
After all, most of us would like to eventually turn our little blog into something that we can earn a full-time income from.
As I put away groceries, I listened to all the great advice on how to start turning a profit from my blog (in fact, my blog is already generating income, primarily via affiliate marketing).
I have made the conscious decision not to start using ads until I get to a target number of monthly pageviews. When I do start using ads, I will try to make them as streamlined as possible and Donnie's excellent supplementary lesson on inserting ads with Google AdSense makes it so easy!
I decluttered my closet.
Like Abby, I am a huge fan of decluttering.
I had already started my blog and was working on decluttering clothing when I began listening to the Getting Organized Module.
Oh, the irony. 🙂
There are some truly excellent strategies discussed in this module, like setting up an editorial calendar and time blocking.
I started out with the very ambitious schedule of posting new content three days a week.
Which was great in the beginning for building up my content when my site was brand new, and I got a lot of traffic very quickly.
But I also got overwhelmed very quickly..
You see, I underestimated the amount of time that I would need to spend on other "busy" work, like social media, promoting my blog, creating newsletters, etc.
I now am posting twice a week (Tuesday and Friday) and sending a weekly newsletter. That is the schedule that works best for me and my family.
The most important thing is to be consistent!
The advice that Abby gives in this module was spot on…I had to experience it in real-time to appreciate how truly valuable it was!
So there you have it! Nine things I was still able to do while learning how to start my blog.
I hope that this review has helped you in some way if you are exploring starting your own blog!
Building a Framework is awesome, and I am so glad that I purchased it!
It truly gives you all the tools that you need to create your own blog from scratch.
That's why I have no hesitation recommending Building a Framework for both new and established bloggers alike! There is always something you can learn 🙂
Pin this for Later!
SaveSave
SaveSave
SaveSave
SaveSave
SaveSave
SaveSave
SaveSave
SaveSave
SaveSave
SaveSave
SaveSave
SaveSave
SaveSave
SaveSave
SaveSave
SaveSave
SaveSave