Are you tired of staring at those gross spots on your refrigerator? Have you tried to clean your stainless steel oven with soaps, vinegar, and store-bought cleaners, all to no avail? Fear not, today I am showing you an easy way to clean your stainless steel appliances in less than five minutes!
How to Clean Stainless Steel Appliances in 5 minutes, Flat!
Impossible you believe? Well, much like the Queen in Alice in Wonderland, I am here to make you believe in impossible things!
As the Queen herself said:
Why, sometimes I've believed as many as six impossible things before breakfast."
Check out the before and after shot!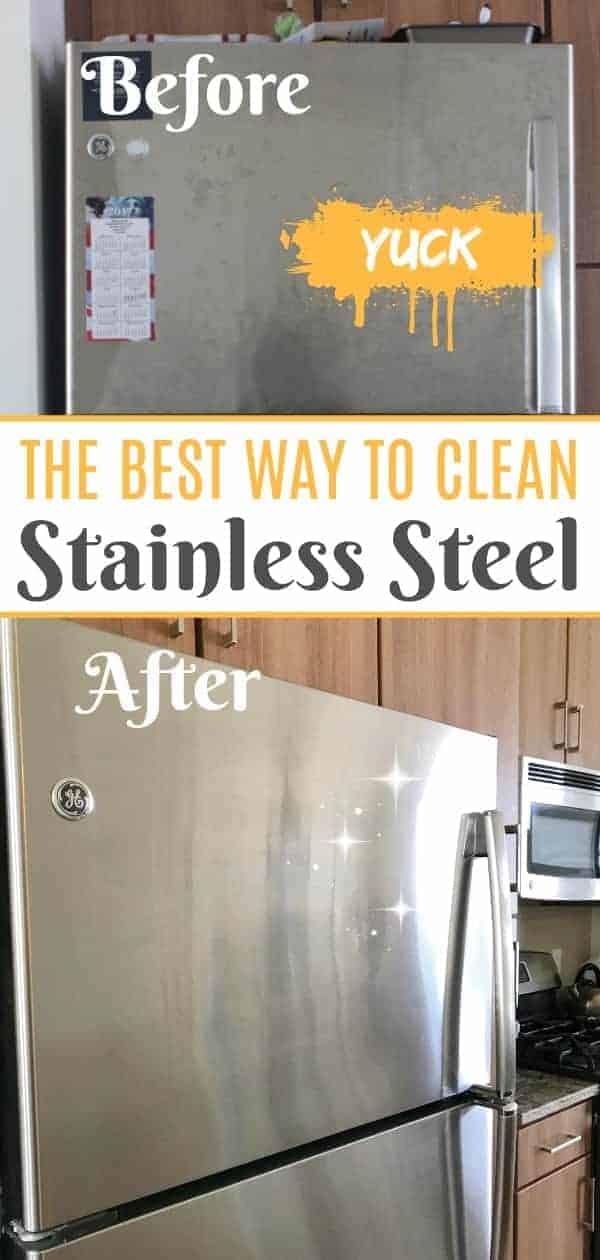 This easy hack cleans all stainless steel appliances!
This tip will help you clean:
Stainless steel refrigerators
Stainless steel dishwashers
Stainless steel microwaves
And more!
Let me show you how to get your stainless appliances sparkling clean in less than five minutes.
Today, my lovely stainless steel refrigerator will be modeling for us (the oven and microwave wanted in, but were unfortunately too clean).
First, let's take a look at the before picture of my fridge.
See all those spots and gunk and that general glaze of grossness? I promise that isn't all from us!
In fact, most of those spots we inherited from previous owners. That's because we are currently renting at teeny-tiny 1400 square foot townhome; the spotted stainless appliances were complimentary, of course!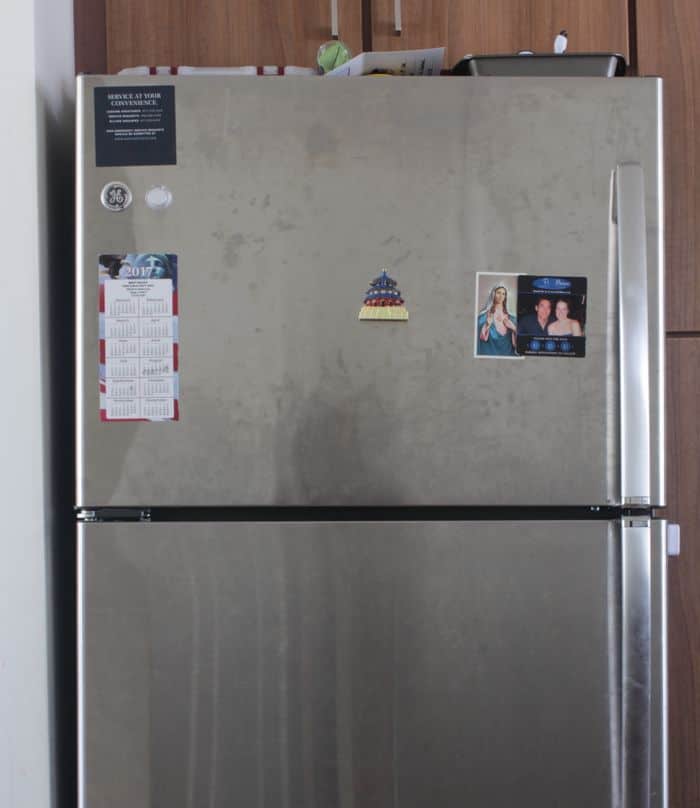 This post may contain affiliate links for your convenience. That means that if you make a purchase, I will receive a small commission at no extra cost to you. I only recommend products or services that I fully believe in and use myself. Read more here.
Can vinegar and water clean stainless steel?
I tried to clean the fridge gently with some vinegar and water spray, but those stubborn spots weren't budging.
Color me unsurprised…luckily, I knew just what to do!
I learned this handy trick to clean stainless steel appliances when we were staging our Chicago condo for sale.
I can't remember if it was our realtor or a handy neighbor who suggested this hack, but whoever they are they have my eternal appreciation!
What you need to clean your stainless steel appliances:
A white rag
A spray bottle with half white vinegar, half water solution
That's it!
Now you are ready to start cleaning.
Stage 1: Vinegar spray
I know that I said the vinegar spray is ineffective in cleaning the worst spots off the fridge, right? So why are we using it?
We want the vinegar spray to wipe off the run-of-the-mill dirt and oils that have accumulated so that we can get down to the real nitty-gritty of cleaning the fridge.
I always keep a spray bottle handy with a vinegar-water solution in my kitchen.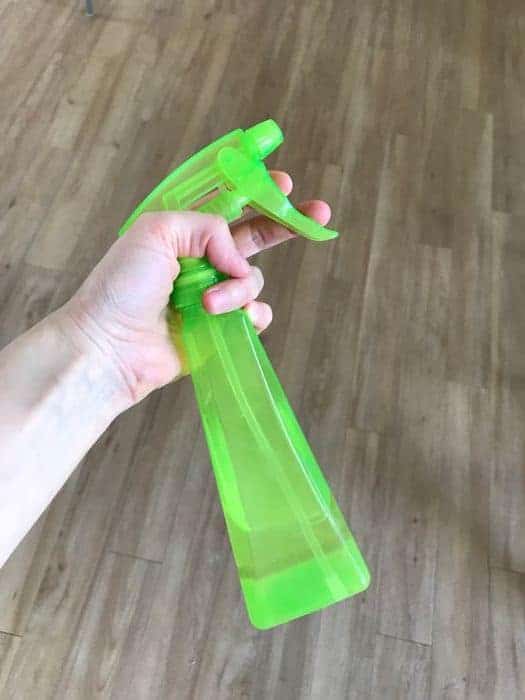 Remove any magnets or papers from your fridge and spray liberally with the vinegar-water mix
Wipe down with the white rag.
Pro-tip: All stainless steel refrigerator doors have a "grain" that runs through it. Make sure you ALWAYS wipe in the direction of the grain! You reduce the likelihood of scratching and marks showing.
See grain here for example.
Stage 2: WD-40 Spray
If for some reason you have rugs or carpet underneath your fridge, remove or cover them; you want to protect the floor from drips!
WD-40 drips are TOUGH to get out of fabrics….ask me how I know. 😉
Once your floor is clear or protected, set your WD-40 can to the "spray" setting (not stream, spray).
You want to spray the WD-40 quickly and fairly evenly over the surface of your fridge.
It will begin to drip immediately.
Take a dry side of your white rag and begin to wipe down the stainless steel doors.
Pro-tip: Don't forget to wipe with the grain of the steel! 
(I didn't put in a picture of me wiping because I am sure you know how to do that. Wipe like the wind!)
Stage 3: The final wipe down 
If you are now singing Europe's The Final Countdown in your head, don't worry — I am too!
Take your white rag and refold it so that you have a dry side again.
Wipe one more time to remove any excess oiliness.
Stage 4: Rejoice!
Now behold the shining marvel that is your stainless steel!
Check out the result of my cleaning!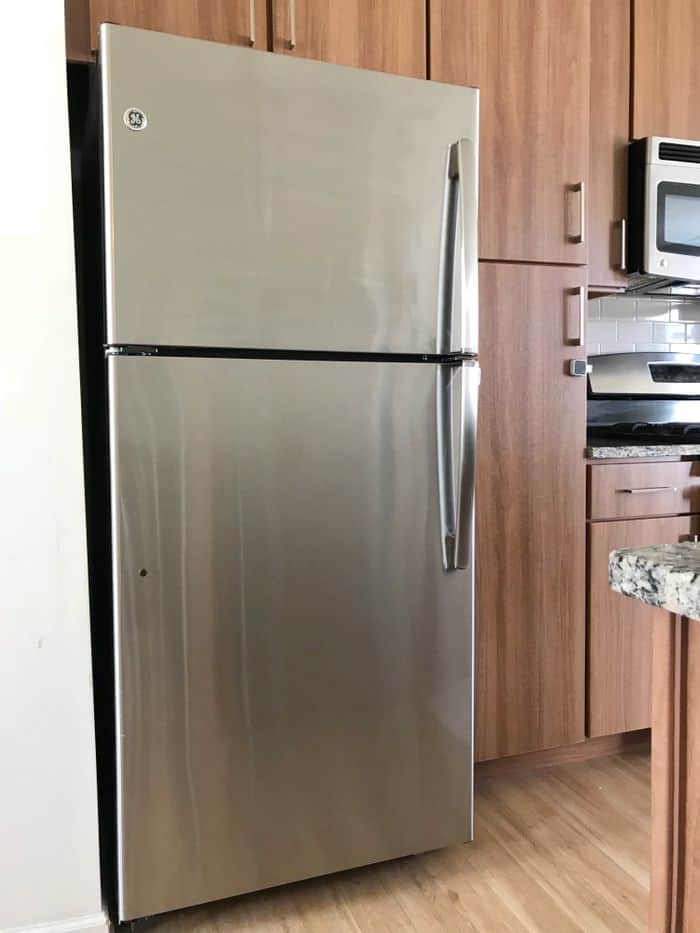 Hopefully that cleaning didn't reveal any scratches on your fridge…unfortunately, mine did *le sigh*.
Here is a close up.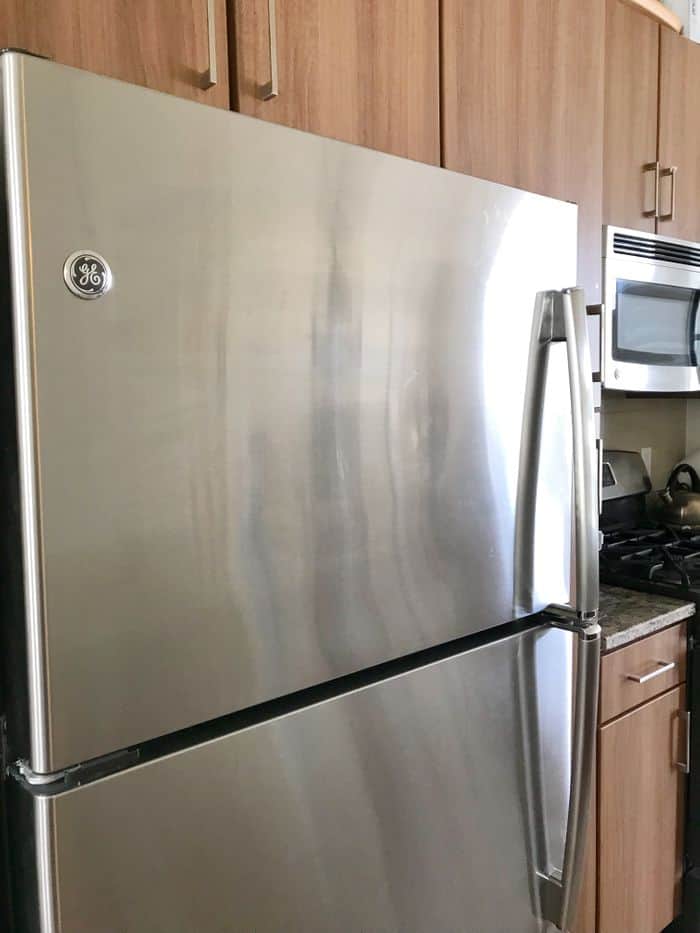 I hope that you enjoyed my five-minute hack for cleaning your stainless steel appliances!
If you tried it out, let me know how it went in the comment section below. 🙂
Want more ways to clean your home? Check out the following posts:
Pin it for Later!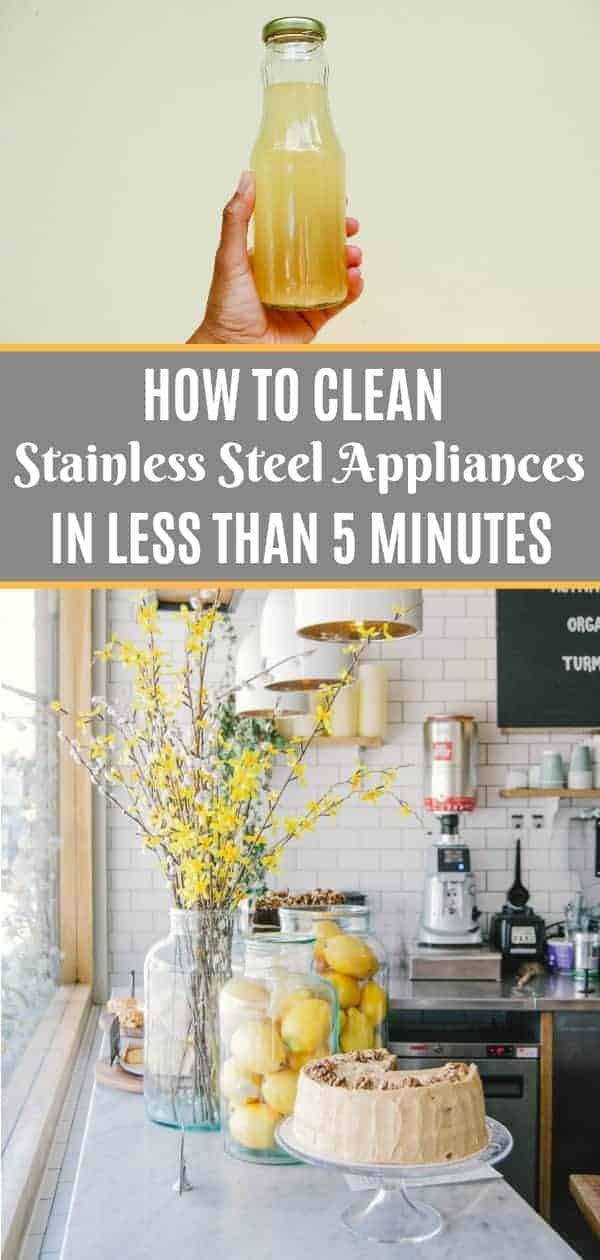 SaveSave
SaveSave