Here is Part II of The Ultimate Guide to Selling on eBay. In this post, I will be teaching you how to make money selling on eBay by creating a fantastic listing that makes people want to pay top dollar to buy your item.
UPDATE! Read this updated complete guide to selling on eBay and start making an extra $1,000/month in your spare time.
How to create an eBay listing that sells
There are many components to creating an eBay listing that just begs people to buy. Here is how to get started.
This post may contain affiliate links for your convenience. That means that if you make a purchase, I will receive a small commission at no extra cost to you. I only recommend products or services that I fully believe in and use myself. Read more here.
Write a search-friendly title
If no one can find your item, you certainly aren't going to make money from selling it!
It is important that you use words to describe your item in ways that are going to appease the SEO gods (search engine optimization) and you only have 80 characters to do it, so you need to be strategic.
Important descriptors: brand, style, color, size, fabric/material, etc.
Words to leave out: cute, amazing, adorable, best, etc.
Great title: Banana Republic Snow Leopard Italian Wool Cashmere Blend Shrug Bolero Small.
Not so great title: Super cute and comfy Banana Republic Cover-up for Shoulders Small
One great trick I have is to check on how searchable my item as if I was a customer.
After listing, just pretend you are a regular buyer looking for something like your item and run a search, then see how close to the top of the results your item displays.
If you can't find it at all, or it is really low in the results, you need to modify it.
If you do a good job, your image will not only appear high in eBay search rankings but also in Google search rankings!
Take great pictures for eBay
Get in touch with your inner photographer and try and make the pictures of your items beautiful.
Think about what you like to see in a picture when buying a product. You want the image to be clean, bright, focused, and clear of clutter, with a pleasing background (usually a light, neutral color like white).
Now is not the time to have your cat hair floating in the background or to have your lingerie hanging on a rack behind the item.
If you want to sell clothing, it really helps to get a mannequin to display the clothing.
After I had sold a few things, I reinvested some of that money into buying this torso mannequin from eBay, for about $30 (I actually regret not investing a little more and getting this mannequin, because sometimes friends give me clothes to sell and they don't always fit my mannequin).
Laying the item flat on the floor or hanging from a hanger are the other most common ways to display clothing.
I DO NOT recommend that you model it yourself.
People could either get grossed out (they don't want to be reminded someone else has worn it) or you could open yourself up to creepers.
Write a great eBay description
For the description, you are going to go into even more detail about the item you are selling. Restate all the information from your title in more detail.
For example, if the items are pre-owned, state that, as well as any flaws or lack thereof.
Is it in like new condition? Does this coat have a small tear in the lining of the seam? Do the boots have a tiny scratch in the leather?
THEN SAY SO!
Stalk other similar listings to see what kinds of details they put into their description.
You want to be TOTALLY honest with your buyers so that when they receive the item, they get exactly what they are expecting.
This will decrease the possibility of a return as well as negative reviews to your account.
Trust me, small flaws WILL NOT prevent a buyer from purchasing an item…for the right price.
Decide the what eBay listing type to use
When you list your item, you will have a choice between listing it as an auction or buy it now; however, there are also subcategories, such as having a "Buy it Now" option for your auction or adding a "Best Offer" option to your "Buy it Now" listing.
Here is what that means:
Auction: begins and ends at a time predetermined by you. Buyers will bid on the item over the course of 1-10 days
Buy it Now: listing will be shown for up to 30 days and when a buyer comes along they can purchase it at their discretion
Best Offer: if you add the best offer option within an auction-style listing, that means buyers can message you with an offer (probably lower) that you can then choose to accept or not.
Make sure the price is right
Make like Bob Barker and be sure the price is right!
People on eBay are looking for a deal and they know enough not to overpay if they can get the same item for $10 less from a different seller.
(Especially if you are a new seller and starting off with zero feedback, your price needs to be at or lower than your competition. Until you build up your seller status at least!)
You should ALWAYS see what the SOLD PRICE is for similar items before listing your items.
You do this by going to the "Advanced" search option in the top right corner of your eBay dashboard.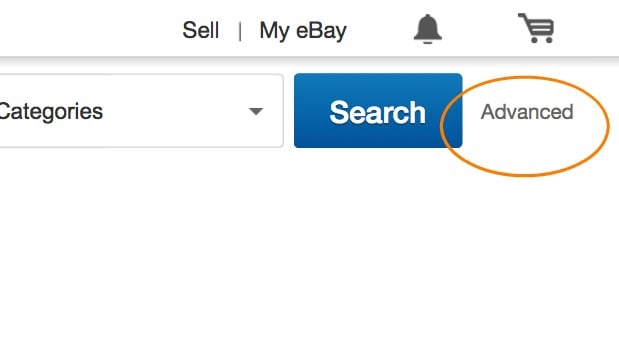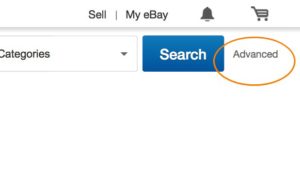 Once you click the link, fill out a title in the search engine similar to the item you want to list (in my example it's "max mara vintage camel coat" and scroll down to click the box marked "Sold listings".
This should bring up a number of final sale prices for items similar to yours that have ACTUALLY sold. The price will be listed in green black (updated to reflect eBay changes 7/18/2018).
If you see a strikethrough the price, that means that the seller accepted the best offer lower than that price.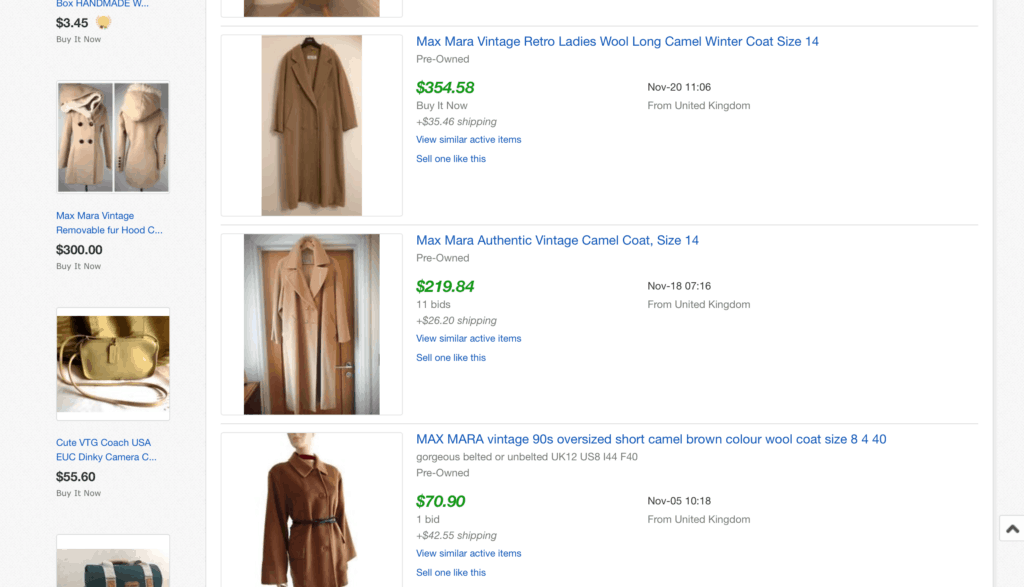 Anyone could charge anything on eBay. I could charge a million dollars for that Max Mara coat…but doesn't mean anyone will buy it.
So make sure your price is right, especially when you are a beginning seller.
Enter shipping information and double check everything
Before you hit "List", make sure all of your information is correct.
Make sure you have all fields filled out and everything looks good before hitting that "List" button.
(Go back to Part I if you need a refresher on shipping.)
Make sure you receive payment BEFORE sending the item
Depending on how you sell, auction versus Buy it Now, you may have someone with payment pending (for auction style).
So, although they have won the item, they still need to pay for it.
Wait until you see the "Paid-ship now" notice (it will be RED and marked "Paid-ship now") in your app before you send.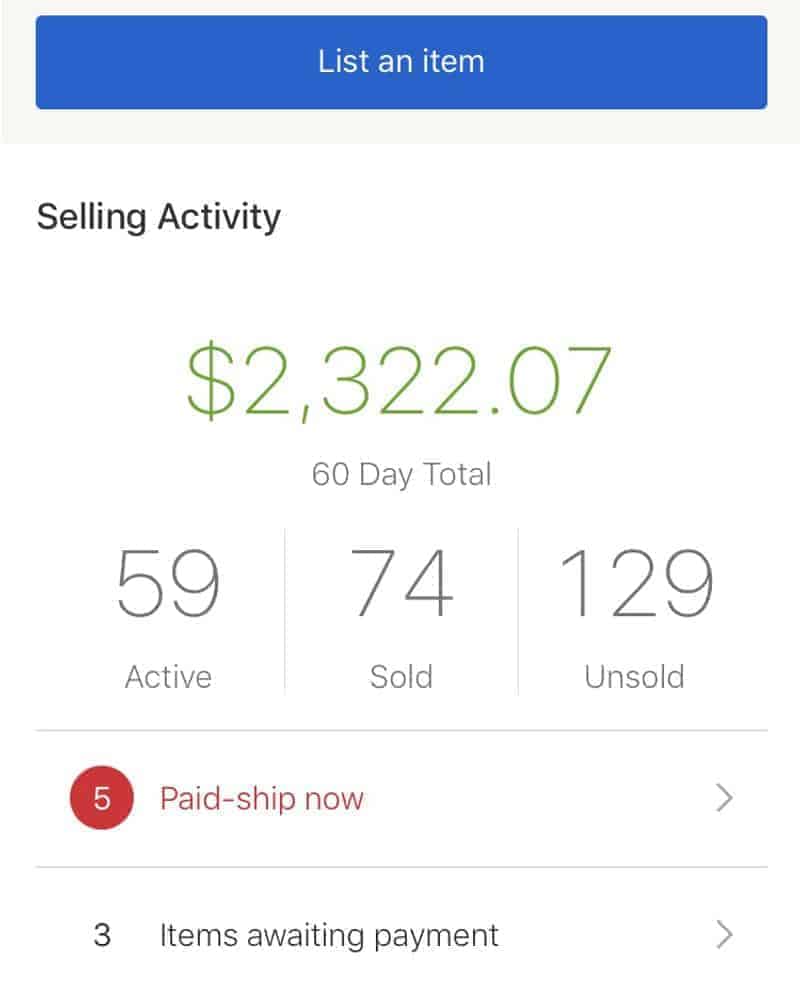 SO THAT'S IT!
Now you know how to create an amazing listing that makes people want to buy from you.
Let me know some of the cool things you have sold on eBay and if you were surprised by how much you made!
Pin it for later!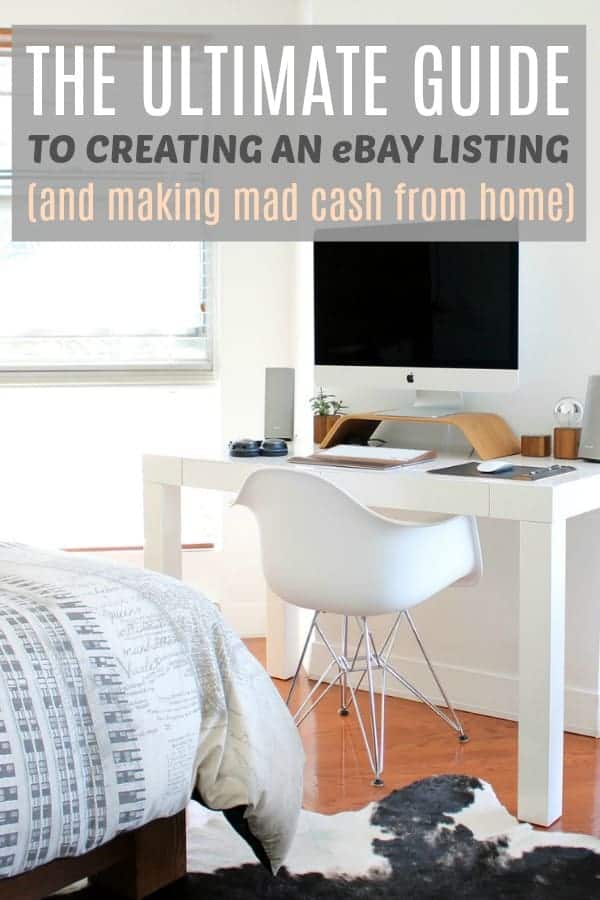 SaveSave
SaveSave