If you have been trying to find a stylish yet affordable camera bag for your blog or business without success, you are in luck! Today I am going to share with you an easy hack that can turn any bag into a camera bag…for less than $20! Using this easy camera bag hack, you can turn a bag you already love into a camera bag quickly and easily.
(Want to see it all on video? Check out this video tutorial to see how I turned two different bags into camera bags with my easy camera bag hack!)
Cheap and Easy Hack Will Turn Any Bag Into a Camera Bag!
This post may contain affiliate links for your convenience. That means that if you make a purchase, I will receive a small commission at no extra cost to you. I only recommend products or services that I fully believe in and use myself. Read more here.
Affordable and stylish camera bags are hard to find!
When I began blogging, I quickly realized that I was going to need a camera bag that would fit all of my equipment!
Shoving it into my purse simply wasn't going to cut it.
After all, this is expensive equipment we are talking about here!
I needed a camera bag that would fit:
So, I did what any modern girl would do…I asked Google.
Google "camera bag" and you will end up with results for $200-$300 camera bags!
No. Thank. You.
I mean, camera equipment is already expensive enough without having to fork over several hundred dollars for a camera bag!
Luckily, I found an awesome accessory that can turn any bag into a camera bag…for under $20!
Thank. You. Amazon.
The insert that can turn any bag into a camera bag.
This is literally the easiest hack ever…all you have to do is purchase an insert that you can place in almost any bag to turn it into a camera bag.
Here is what the insert looks like: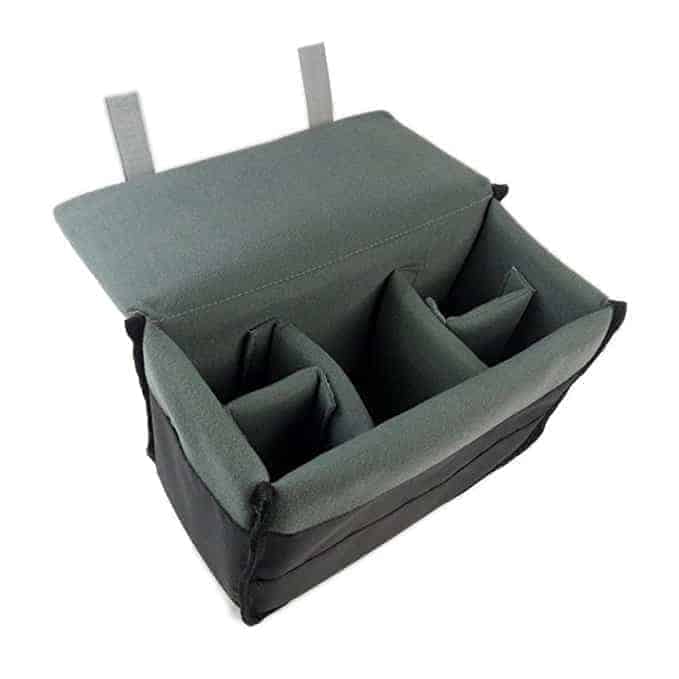 Here are the features of the camera bag insert:
Material: high-density nylon that is rain-proof, anti-wrinkle, and scratch resistant
Fuzzy soft interior for extra padding and protection
Thick, padded, removable dividers
Dimensions: 11 L x , green, and red
The insert is like a highly structured box, with great shock-proof padding that will keep your camera and camera accessories safe and secure inside.
I really like the fact that you can take out the dividers and reconfigure them to your specifications.
I currently have compartments for my camera, an extra lens, my camera's battery charging pack, and extra space for my wallet.
Check out below how I have mine set up.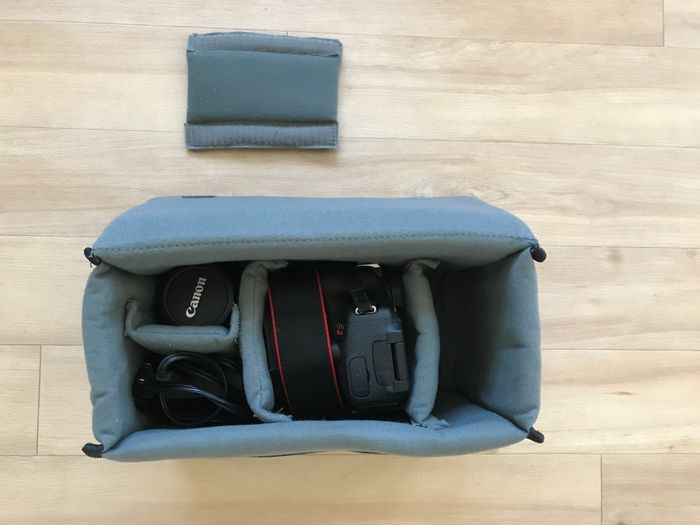 That small piece next to the bag insert is an extra divider.
The velcro holds the divider very securely in place once it is attached to the walls, allowing you to easily divide the camera bag into compartments. You can move it around to your own specifications.
Now let's see the camera bag insert in action.
I am going to show you how the insert works in two different bags.
A diaper bag
A canvas messenger bag
If you are a mom, you probably have a diaper bag…which is GREAT because diaper bags are the PERFECT type of bag to convert to camera bags.
They have a lot of space, plenty of pockets, and rectangular bottoms which work well with the camera bag insert.
They also already have some padding, which gives an added layer of protection!
My JuJuBe BFF diaper bag is over 5 years old (sorry, that color isn't available any longer).
I got it at my baby shower and have used it every day since my oldest was born.
It is practically indestructible, with its Teflon-coated material and padded sides.
The metal "feet" that hold it off the floor are also an excellent feature that helps you bag stay clean when you set it down.
Check out how perfectly the camera bag insert fits into my BFF.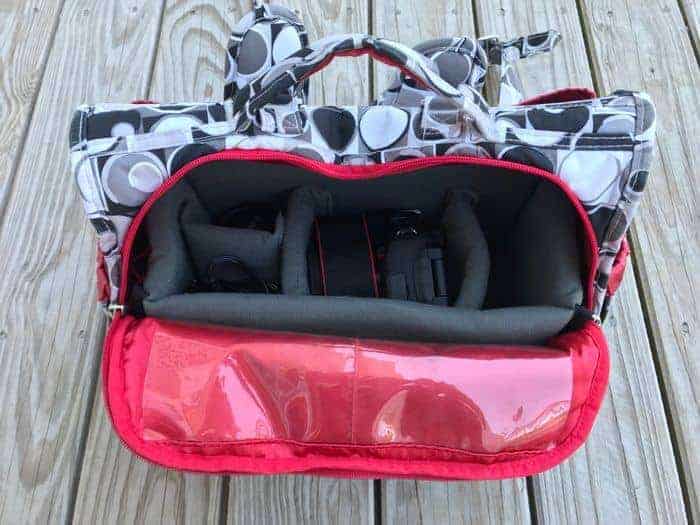 As you can see, the rectangular dimensions of the camera bag insert fit perfectly into the space of the BFF.
Here is what my diaper bag looks like once I have the insert in place inside.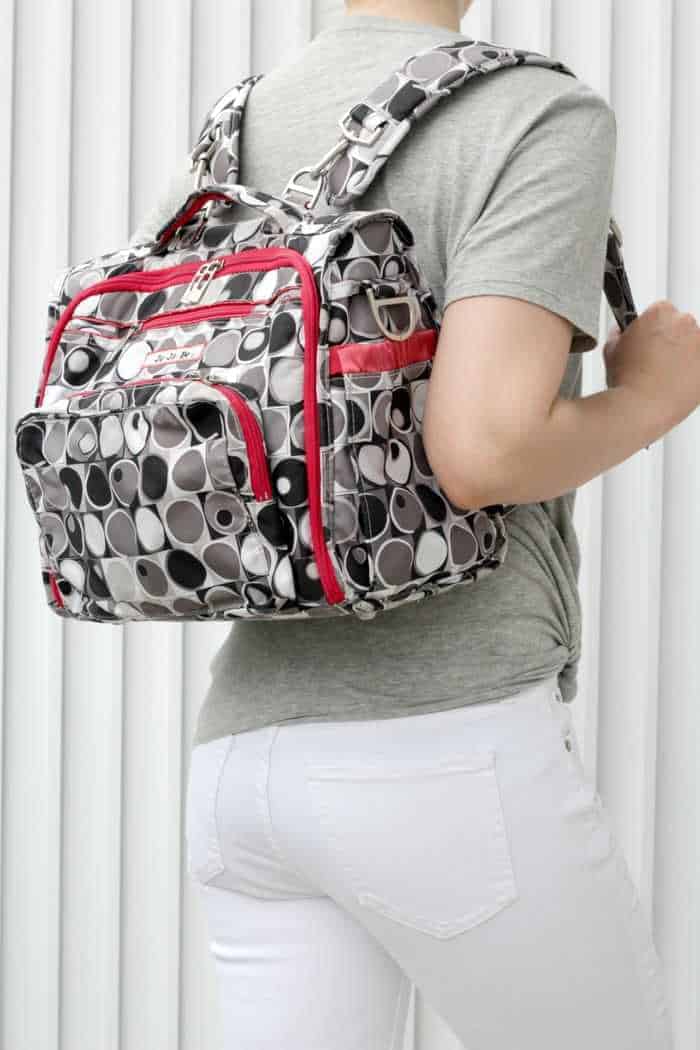 (If you are looking for a diaper bag, I highly recommend the JuJuBe BFF…this new nautical-inspired bag series is so cute, I almost want to buy a new one myself!)
(If you have a JuJuBe BFF bag that needs to be cleaned up a little bit, make sure you check out my tutorial on how to get your bag sparkling clean again!)
Messenger bags are another great option.
If you are not a mom with a diaper bag, you can still make this camera bag insert work for you!
Check out how the camera bag insert fits into my messenger bag.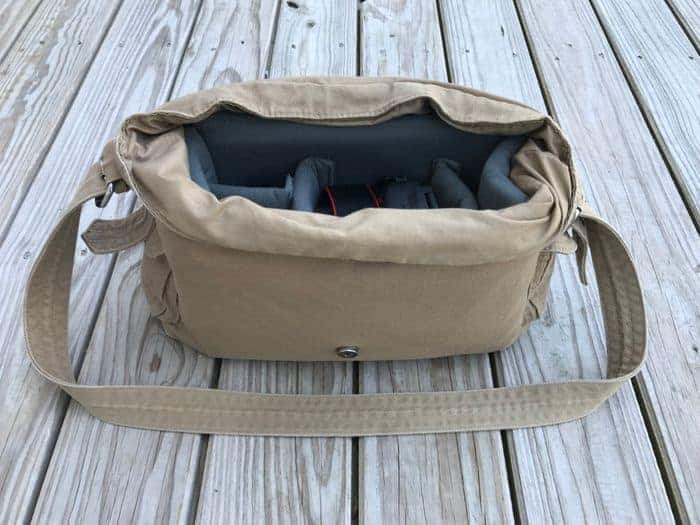 Here is what it looks like all closed up.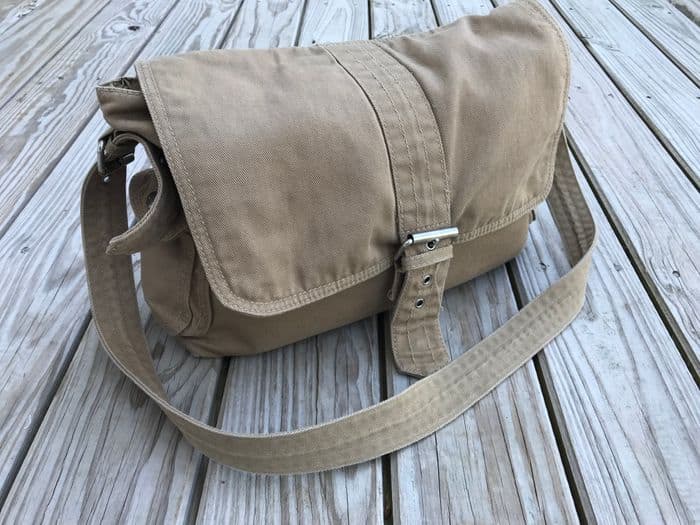 (Can you believe I have had this bag since I was eighteen years old? Canvas bags rule!)
Note: although the interior dimensions of my messenger bag are not 11 x 5.5 x 7, the insert still fits well inside…that's because there is a little bit of "give" on the sides.
Basically, as long as you have a bag or purse with interior dimensions that are similar, you can make this work!
(Messenger bag was 14 L x 3 W x 11 H. If you would like to find a similar bag, this canvas bag might be a good option. It is slightly larger than my bag, so the insert might fit in even better.)
The bottom line is, this camera bag insert can save you hundreds of dollars.
I'm not even a "bag" person who has dozens of purses and bags lying around and I was still able to find several bags that worked with this insert.
It can also be used inside backpacks, briefcases, or satchels!
I hope that you found this tutorial on how to save money on camera bags helpful! Leave me a comment in the comment section below and let me know what kinds of bags you have and if you think this hack might work for you!
Pin it for Later!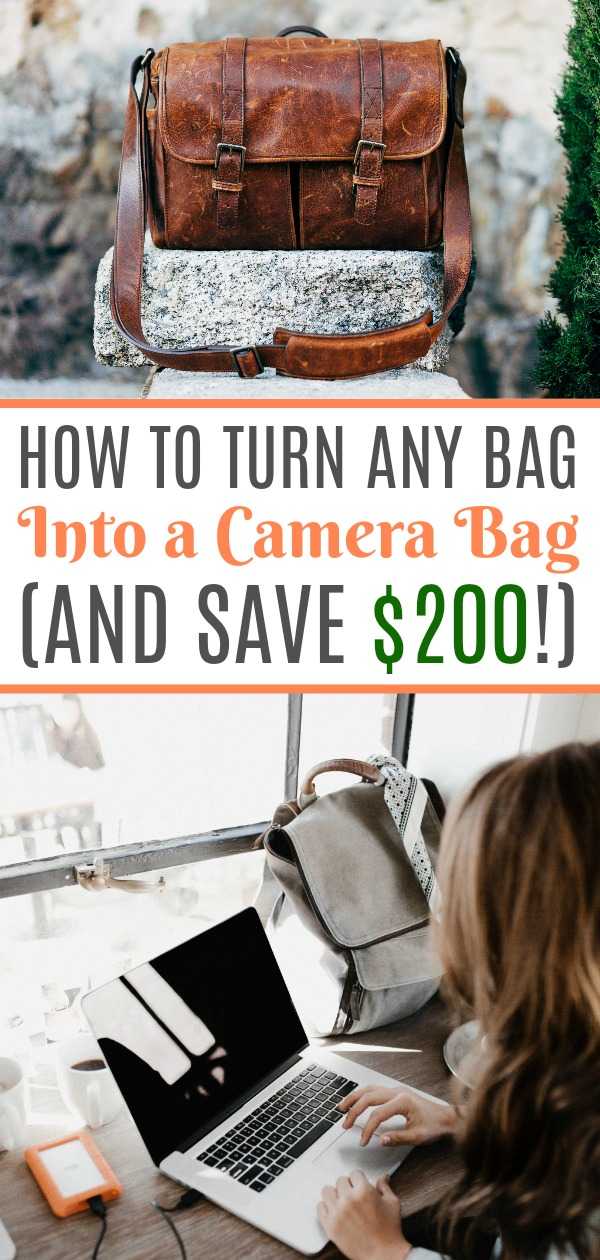 SaveSave
SaveSave
SaveSave
SaveSave
SaveSave
SaveSave
SaveSave
SaveSave
SaveSave
SaveSave
SaveSave
SaveSave
SaveSave