Letting go of your possessions is rarely easy. It can be made especially difficult if those possessions remind you of loved ones you are still grieving the loss of.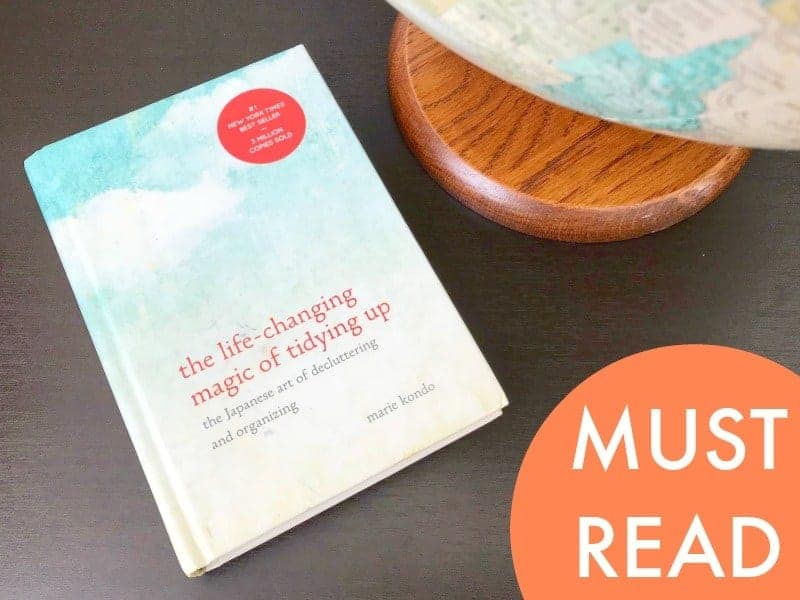 This post may contain affiliate links for your convenience. That means that if you make a purchase, I will receive a small commission at no extra cost to you. I only recommend products or services that I fully believe in and use myself. Read more here.
Here is how the KonMari Method is helping me move on after decades of grief; my hope is that by sharing this, others might also find relief from their grief as well.
Unless you have been living under a rock (or are my husband, one of the two), you have probably heard of declutting guru Marie Kondo's book The Life-Changing Magic of Tidying Up: The Japanese Art of Decluttering and Organizing (which I will refer to henceforth as The Life-Changing Magic).
I was a little late jumping on the KonMari bandwagon, but was INSTANTLY enamored.
I have read it front to back at least three times and can't stop talking about it to my friends and family members.
Or even complete strangers. 😉
In fact, it was one of the big reasons that I decided to start my blog!
* Update: you can read all my previous posts about the KonMari method, including:
So what can the KonMari method offer you?
In a word…freedom. 
Marie Kondo offers what many minimalists before her have also addressed. The ability to let go.
Yes, The Life-Changing Magic teaches how to let go, the joy of decluttering and freedom from possessions that it bring…but it is also more than that.
It is allowing yourself the freedom to be happy!
You see, whereas most other minimalist philosophies focus on the getting rid of part, the KonMari Method is all about mindfully choosing to keep things that spark joy.
By focusing on what to keep rather than on what to discard, the process becomes positive and empowering.
Part of the KonMari Method is also thanking those possessions you choose let go; after all, they once brought you joy!
By thanking them, you acknowledge their part in your life and free them to move on, perhaps to bring someone else joy. Many of your items can be donated, recycled, or sold.
(If you are interested in learning more about the KonMari Method of decluttering, check out my KonMari 10 Step Guide and see if it may be right for you.)
For me, the KonMari Method also meant freedom from grief.
If you are someone who lives with grief, maybe you can't imagine being free of that grief.
You probably carry it around in your heart every day.
Maybe (like me) you are also carrying it around from home to home, year after year.
Stuffing it in your garage.
Throwing your grief into drawers and boxes.
Leaving it to sit in the darkness, where you don't have to face it.
My mother passed away when I was nine from cervical cancer (Gardasil is now offered for girls and boys, and prevents many strains of HPV which cause cervical cancer and SAVES LIVES) and my father died when I was 21 from alcohol-related damage to his liver (alcoholics, please get help).
In between my parent's deaths, I lost many, many relatives and friends.
For years I have been carrying around all these things like an albatross around my neck. Then I read The Life-Changing Magic.
Suddenly, it all made sense.
Many of these things that I have carried around with me for years have brought me no joy…only pain. I felt that I couldn't let them go, because that would be disrespecting the memory of my loved ones.
Does this resonate with you?
But ask yourself this!
Wouldn't the ones you lost want you to be happy? Wouldn't they want you to live your life with joy and freedom?
An important part of the KonMari Method is also thanking those things that you choose to let go.
After all, at one point, they probably brought you joy, right?
But if you don't find that spark anymore, it is OK to let them go. Maybe they can move on to bringing someone else joy!
I actually found great joy donating and selling my items on eBay — I prefer eBay, because my experience has show that people who are willing to pay a little more for something will also treasure it more.
(I couldn't bear the thought of old, beloved items sitting unloved on some Goodwill shelf!)
For example, one gentleman who purchased an old pewter Harley Davidson pendent that belonged to my father was so thankful and kind, it almost brought me to tears.
You will likely never entirely let go of your grief. Some scars never heal completely.
However, if you let go of those possessions that no longer bring you joy, you can lighten the burden.
Mementos from past boyfriends, lost loved ones, out-of-touch friends…it's okay, you can let them go.
The time you had together was precious, and still in your memory. But unless the mementos you have from them still bring you joy, just let them go.
I am just beginning my KonMari journey, but already I feel so much relief from the process.
If you feel that you are ready, join me in using the KonMari Method to fill our homes with

only

the things that bring us joy.
You can download the most comprehensive KonMari Checklist ever if you feel you are ready to begin.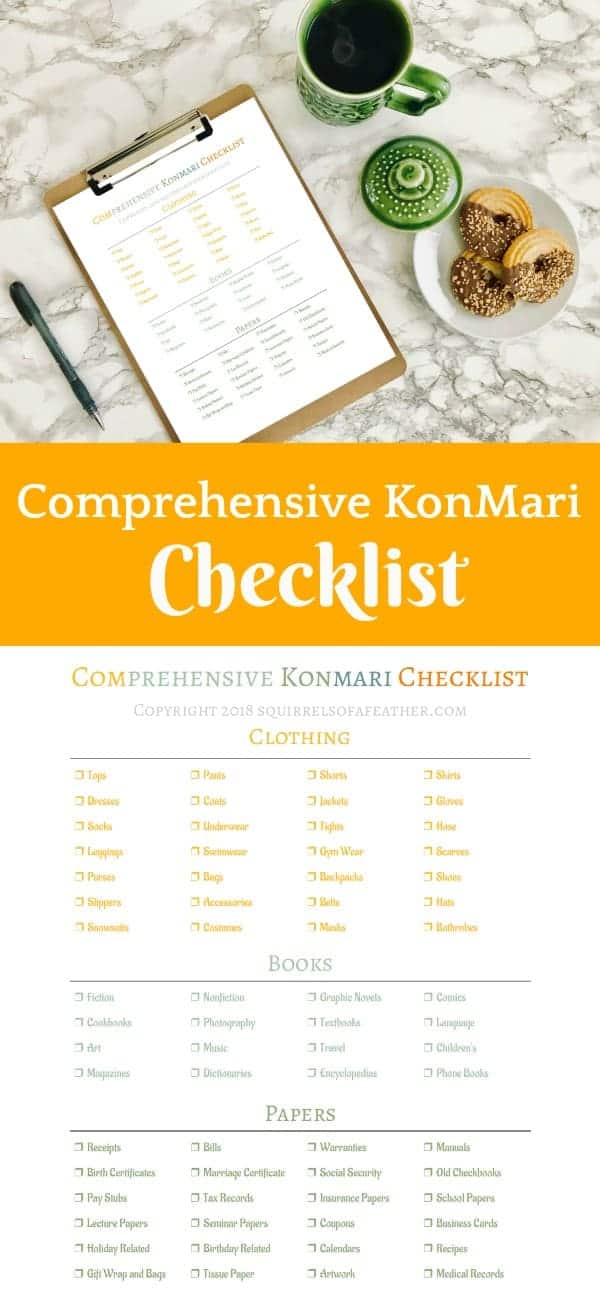 We can do this. Let's do it together.
If you have anything you want to share with me about your journey to freedom from possessions or grief, leave me a message in the comment section below.
SaveSave
SaveSave