Congratulations! If you found this page, you are taking the first step on your journey to becoming fluent in the beautiful, difficult, and fascinating language that is Mandarin Chinese!  There are many schools of thought and methods when it comes to learning a language, but I am going to show you the method I used to ACTUALLY teach myself Chinese!
Most people think that to become fluent you need to take college-level Chinese courses or pay for a Mandarin tutor! Unfortunately, for most people time or budget constraints may not allow them to do so.
This post may contain affiliate links for your convenience. That means that if you make a purchase, I will receive a small commission at no extra cost to you. I only recommend products or services that I fully believe in and use myself. Read more here.
What level did I reach?
I am very happy with the level that I have reached with this method, which would be considered B2, or upper-intermediate. By using the following method, I taught myself enough Chinese to be able to communicate readily with native speakers, on both basic and complex topics without difficulty.
Best of all, I didn't need to spend thousands of dollars on pricy schools or private lessons. 
(*Disclaimer: as learning to read and write in Mandarin does not help you in learning the spoken language, I only describe learning to comprehend and express through oral communication. If you want to teach yourself to read and write Chinese, my good friend recommended these books to me for a starting point: Volume 1 and Volume 2.)
I like using this chart to explain language proficiency level, as the standard test to measure Chinese proficiency (Hànyǔ Shuǐpíng Kǎoshì or HSK) relies heavily upon knowledge of written characters, which I obviously never learned. Just substitute "Chinese" for "English", and you can get an idea of what it takes to be considered proficient for each of the levels.
Phase I: Pimsleur Mandarin
I credit Pimsleur with laying the foundation for my excellent "Beijing standard" accent. Seriously, I get compliments on my accent all the time…our Mandarin-speaking friends marvel that MY accent is better than my Chinese husband's (to his credit, he does speak four languages and grew up in Germany, so give him a break ;).
I was lucky enough to have a friend gift me with my Pimsleur program after she was done with it, but you can purchase it here at Amazon or look for used copies on eBay.
Chinese is what's known as a tonal language. That means that your pronunciation is very important in Mandarin…using the wrong tone can mean the difference between calling your mom "mother" or "horse"!
Mandarin has 5 tones: high (1st), rising (2nd), falling-rising (3rd), falling (4th), and neutral (5th) tones. The pronunciation of tones 1-4 are illustrated in the following Wikipedia chart; the 5th tone is not illustrated, as it takes on the properties of the tone preceding it in conversation. See Wikipedia for more on the tones.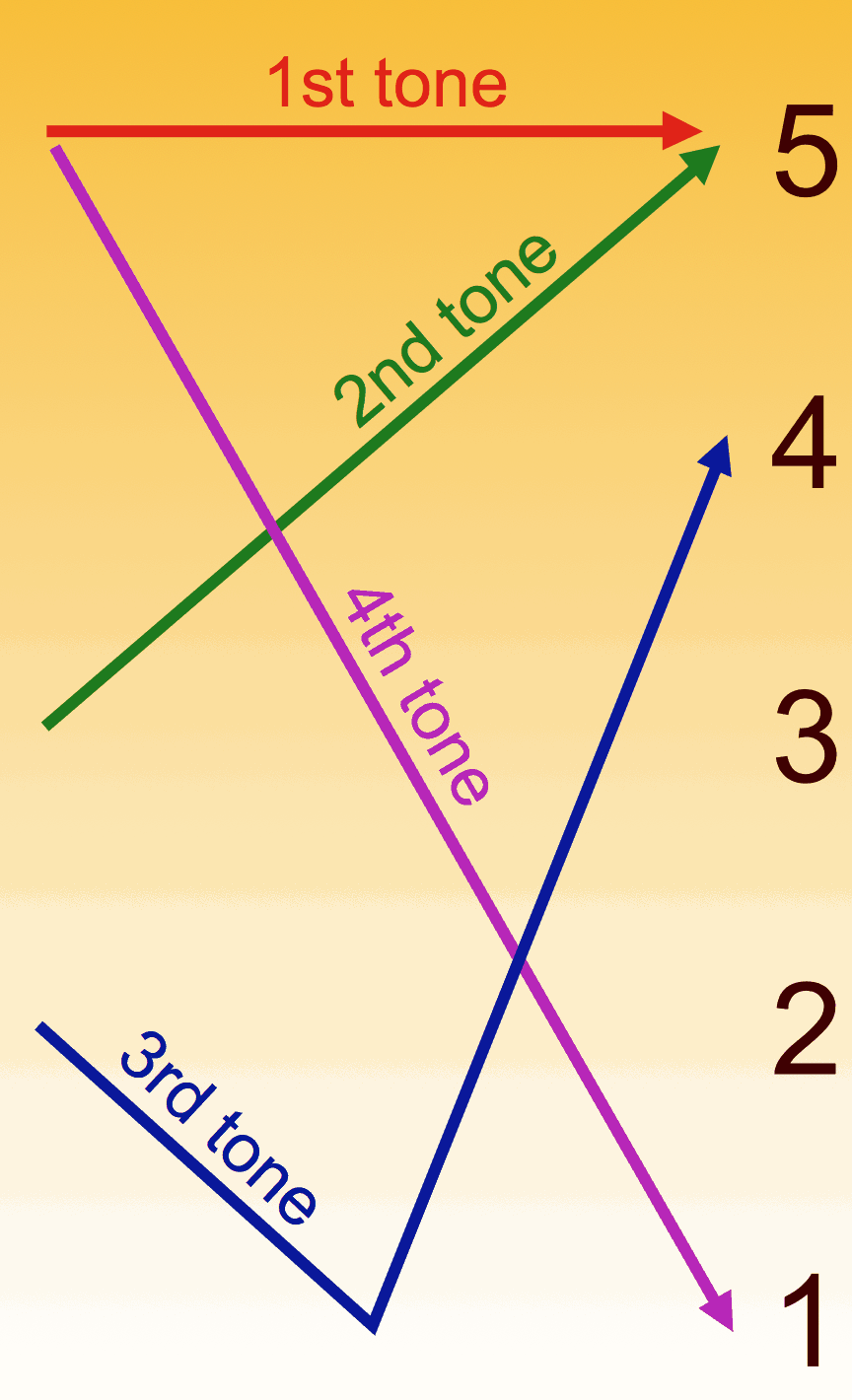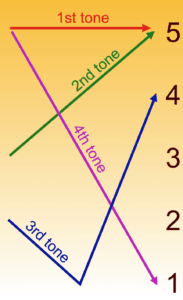 1st/High tone: mā (mother)
2nd/Rising tone: má (hemp)
3rd/Falling-rising tone: mǎ (horse)
4th/Falling tone: mà (to scold)
5th/Neutral tone: ma (particle indicating a question, not pictured)
When I started learning using Pimsleur, I was commuting an hour each way in Chicago. Pimsleur made it really simple to start listening and learning while driving, teaching through interval training. Because tones are so important in Mandarin, the audio-focused method that Pimsleur uses is EXCELLENT for establishing an "ear" for the language.
Make sure you repeat OUT LOUD…thinking to yourself just isn't going to cut it. If you have any Chinese speaking friends, you can ask for their feedback on your pronunciation. It's always good to have someone else listen, as we don't always catch our own mistakes.
Being audio-based, it does not have any text accompanying it, so that is perhaps the only drawback. I completed only Pimsleur Mandarin I, then moved to the next phase.
Phase II:  Assimil and FSI Chinese
At this point, my ear was trained to hear the difference in the tones and I had a good vocabulary foundation. I wanted to challenge myself more with more connected conversations and increase my vocabulary.
Assimil Chinese with Ease (Volumes I and II)
Assimil Chinese with Ease is great for taking your Chinese from Basic to Intermediate Level…I ordered mine from Amazon but used copies also come up on eBay sometimes!
MAKE SURE that you purchase the book AND the audio CD…you need both. There are two volumes.
If you use the links below that should take you to the right place, but be sure to double check!
My method for using Assiml was this:
Listen to the audio, without looking at the text. See how much you understand.
Listen to the audio, while looking at the Chinese text (you need to learn to read pinyin). See how much you understand now.
Listen to the audio, while looking at the English translation. Write down any vocabulary you don't know on flashcards. Check the notes at the bottom of the pages.
Read the entire conversation out loud yourself.
Drill flashcards until proficient, also trying to create your own sentences with the words.
I ignored the drills and exercises at the end, instead just using the conversations. Assimil Chinese with Ease 1 is pretty slow, which can drive you a little crazy, but the pace picks up later and flows nicely in Chinese with Ease 2.
FSI Chinese
*If you were only going to pick one method for learning Chinese or don't have money to spend on learning, FSI Standard Chinese is the program I would pick! *
FSI has many languages available FOR FREE on its website. You want to open Standard Chinese, which has 9 Modules and several optional Modules and download the audio and text to your computer.
FSI Chinese is the closest thing to having an actual Chinese teacher that you can get with an audio/text course. This is because they have a workbook in which you have drills as well as interactive activities in which to practice your Chinese.
For example, they will give you a map and ask you to give them directions from Location X to Location Y. You should say what you think the answer is OUT LOUD. Then they will give you the answer. You can always pause to give yourself more time. Keep in mind, there may be more than one answer depending on the situation, so you must remain flexible, and be able to figure out other solutions since FSI can only give one response.
Drawbacks…because it is an older program, some newer things (like computers, cellphones, email, etc) won't be discussed.  Also, when I was learning, the audio and/or text at times was very difficult to understand…as in it staticky or muffled and text cut-off or blurred. They may have improved this, as I see the website has changed since I studied.
Phase III:  Conversation Partner and Audiovisual Programs
Conversation Partner
When I finished Assimil Chinese with Ease I and was part way through FSI Chinese, I decided it was time to try and find a conversation partner. It's easy to sit there and repeat sentences, but actually having a dynamic conversation in real-time is a huge step towards fluency!
If you have a helpful friend or partner, you could enlist them. As my husband has no patience for teaching (and a crappy accent anyway lol) I decided to use conversationexchange.com.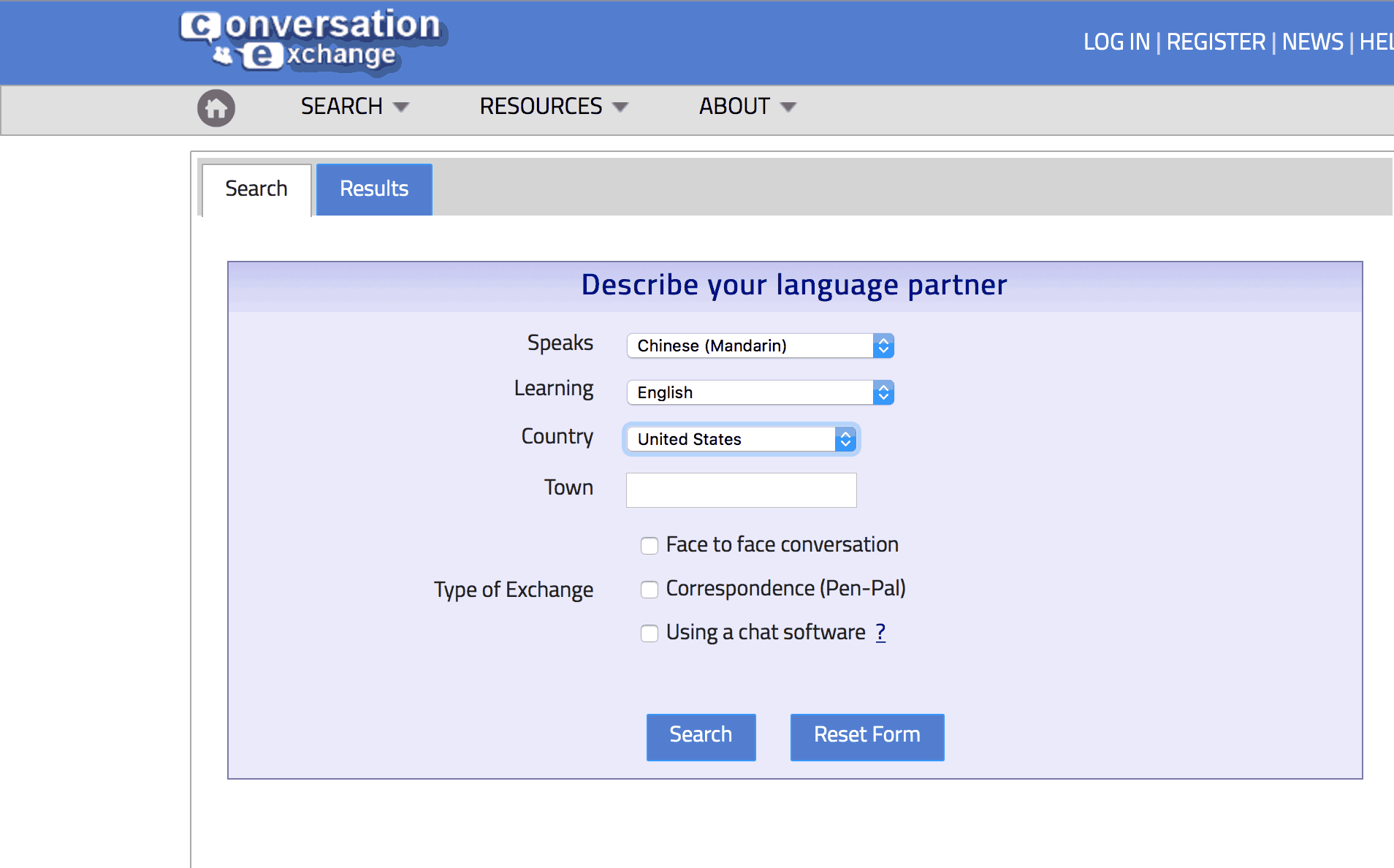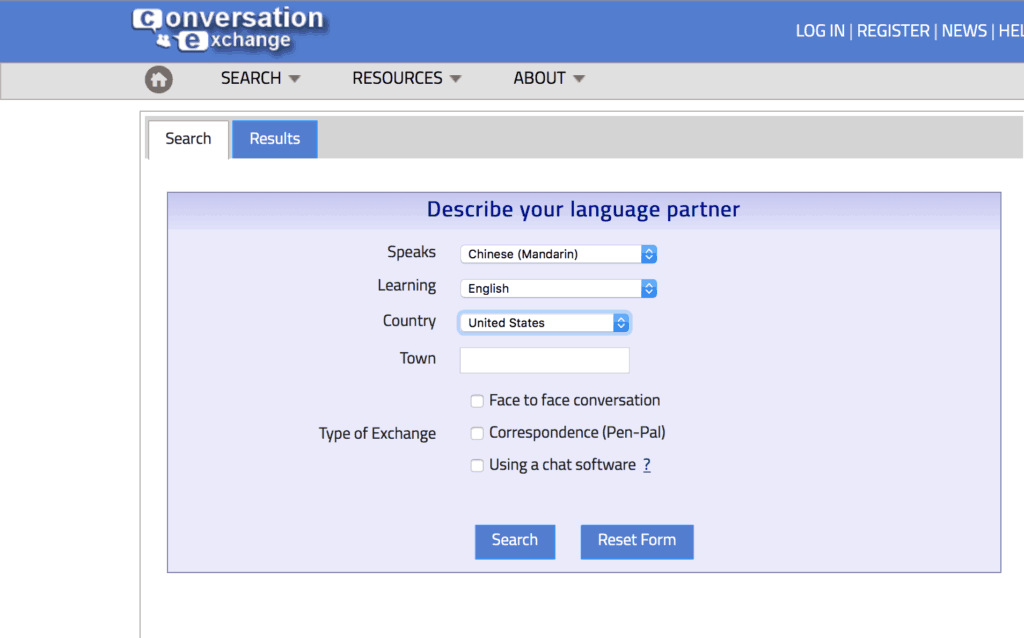 This website is *so* awesome because it allows you to connect with people who speak your target language and want to learn the language that you speak, and enables you to connect from anywhere! For free! There are dozens upon dozens of languages.
You can also narrow search results…for example, I am an in-person kind of girl, so I only wanted partners who could meet up for face-to-face sessions in Chicago. I also wanted to find only female partners, so I narrowed my search with those specifications. You could also connect via chat software like FaceTime or Skype. Always be safe when you are first getting to know someone and meet in a public place, like a library or cafe…at least in the beginning.
I found a conversation partner that I am still friends with to this day! She ended up connecting me with another conversation partner, who also turned into a long-time friend. So Conversation Exchange can expand your social circle as well 🙂
Audiovisual Programs: Tv, Movies, and Radio
At home if I was cleaning, cooking, or had some free time, I would listen to Mandarin radio stations. Now, many of these stations were beyond my level, but it was great for developing an ear for speed and rhythm of native speakers.
There are many resources nowadays, all you have to do is run a Google search for "Mandarin Chinese radio stations" and you will come up with tons of hits. Find something that works for you. I liked to listen to story radios and music stations 🙂
Regarding TV programs, go with what you like. If you are interested in sports, you can watch that, if you like historical dramas, watch those (just know they are probably using a lot of "high" Chinese which is über hard…similar to English speakers using "thou" and "thine" kind of archaic).
My go-to Chinese program that is most useful for the early learner and daily use is the CCTV Happy Chinese Series. Make sure you start with Episode 1, which is on page 6. If you can get over the goofy plot, this is a great learning program with real-life applicable dialogue. You can also find some good stuff on YouTube.
If you want to learn watching movies, more power to you. I found that Chinese movies made me cry too much, so I stopped watching them (looking at you Dream of the Red Pavillon and Lust, Caution).
Phase IV: Move to China
Just kidding! I know not everyone can do this, although if you get the opportunity or can make the opportunity, take it! You could try teaching English or go for a two-week language vacation.
If you can't move to China, try to immerse yourself as much as possible by continuing to meet up with Chinese speaking friends, watch Chinese TV, listen to Chinese radio, etc. Try thinking or talking to yourself in the language throughout the day. Out loud is best.
We had the wonderful opportunity to move to Shanghai, China for an expat assignment which really helped my learning experience. I found the people there to be very friendly, and once they found out I could speak Chinese, natives were usually up for a chat! Expats have a reputation for not being able to speak decent Mandarin, apparently 😉
China is a part of me, a part of my family. Its language is as diverse, beautiful, and complicated as the country itself. Although it has a reputation for being difficult, it is so worth learning! So get started 🙂