Today on this episode of Chopped — I mean Squirrels of a Feather, the secret ingredient is LAVENDER! Culinary lavender or lavender essential oil; which lavender reigns supreme? Find out in this bake-off featuring lavender essential oil versus culinary lavender. The medium? Lavender lemon mini tarts!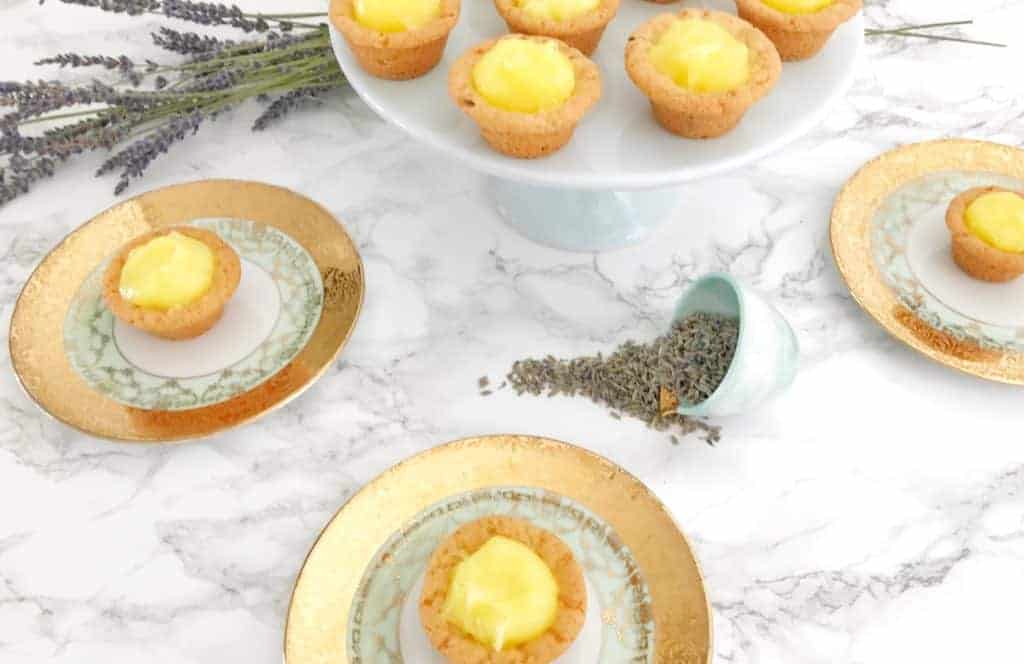 This post may contain affiliate links for your convenience. That means that if you make a purchase, I will receive a small commission at no extra cost to you. I only recommend products or services that I fully believe in and use myself. Read more here.
Does lavender essential oil or edible lavender taste better?
I wanted to try my hand at a lavender recipe for spring.
I knew right away that I wanted to try making lavender lemon mini tarts…but I wasn't sure if it would be better to use culinary lavender or lavender essential oil.
So I decided to pit them against each other in the ultimate taste test!
*Insert loud WWE-style announcer voice*
In this corner we have the challenger, lavender essential oil.
In the opposite corner, the defender, culinary lavender!
Let's get ready to rumble!
Lavender lemon mini tarts
Since my focus was more on finding the ideal flavor of lavender rather than creating a lemon tart from scratch, I decided to modify this ingenious lemon tart recipe that uses store-bought sugar cookie dough for the crust!
Because I was making two different kinds of lavender lemon tarts, I split the dough in half; one half for culinary lavender and one half for essential oil.
You will not need to do this. 
Because lavender buds beat essential oil hands down!
That's right!
In the face-off between culinary lavender and lavender essential oil, the culinary lavender came out the knock-out favorite! 
Lavender essential oil mixed into the lemon curd was overpowering…even with only two drops, it felt like we were drowning in medicinal lavender!
(Get the culinary lavender that I used for this recipe here. Taste testing provided by my 3 year old, 5 year old, and myself.)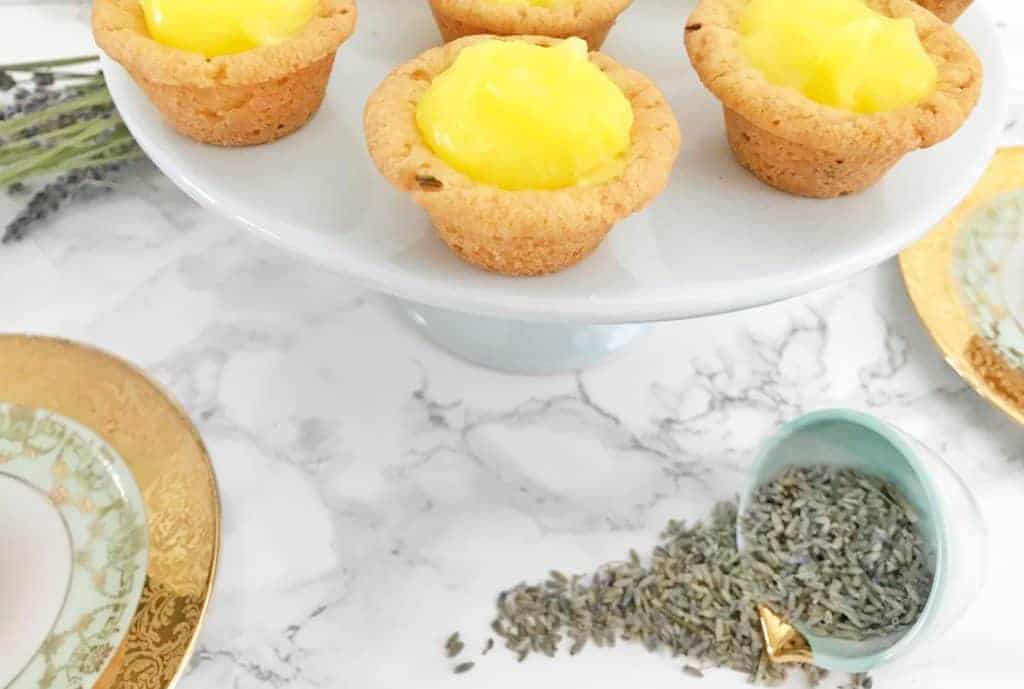 However, the culinary lavender proved a little challenging to work with.
At first, I wasn't sure how to add the lavender into the lemon tart.
The lavender essential oil mixed smoothly into the lemon curd, but I couldn't see that working as well with lavender buds.
After all, most people don't want to just bite into some flowers floating in lemon curd!
Then — flower fairies whispered the secret in my ear. 
The super-secret patented technique that I used to add the lavender buds to the lemon tarts was this:
Put it in the dough!
I couldn't get a good picture because my hands were coated with dough, but basically what you need to do is add the lavender buds to the sugar cookie dough and smoosh/roll it around until the lavender is incorporated evenly throughout the dough.
To prepare the dough:
separate the dough into 24 evenly sized pieces
roll each into a ball
flatten each ball into a disc
press the discs evenly into a mini muffin pan (this is the mini muffin pan that I use)
Hiding the lavender in the dough worked like a charm.
You get that hint of lavender, without running into potential texture problems with flowers floating in lemon curd!
They are totally hidden within the crust.
Watch out — the dough does get sticky. 
I found that if the dough started sticking to my hands too much, rinsing with cold water, drying well, and starting rolling again yielded better results.
Try to keep the dough very thin when you press it into the cups!
Don't panic if it puffs up too much…it does go down a bit.
I didn't press my dough thin enough and it puffed up A LOT. I was still able to get a nice amount of lemon curd into the sugar cookie cups.
It is done when it looks nicely browned like this.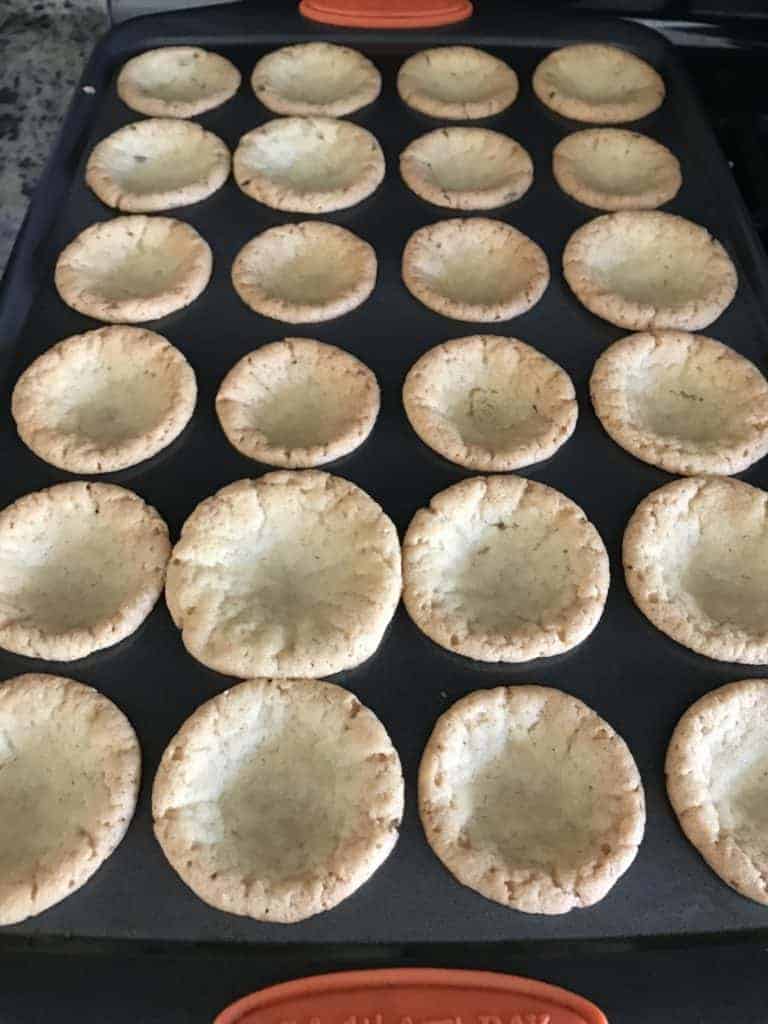 Allow the cookie cups to cool, add the lemon curd, and refrigerate until ready to serve!
Then, allow yourself to float away of lemon-lavender clouds of bliss once you bite into them 🙂
Pin it for later!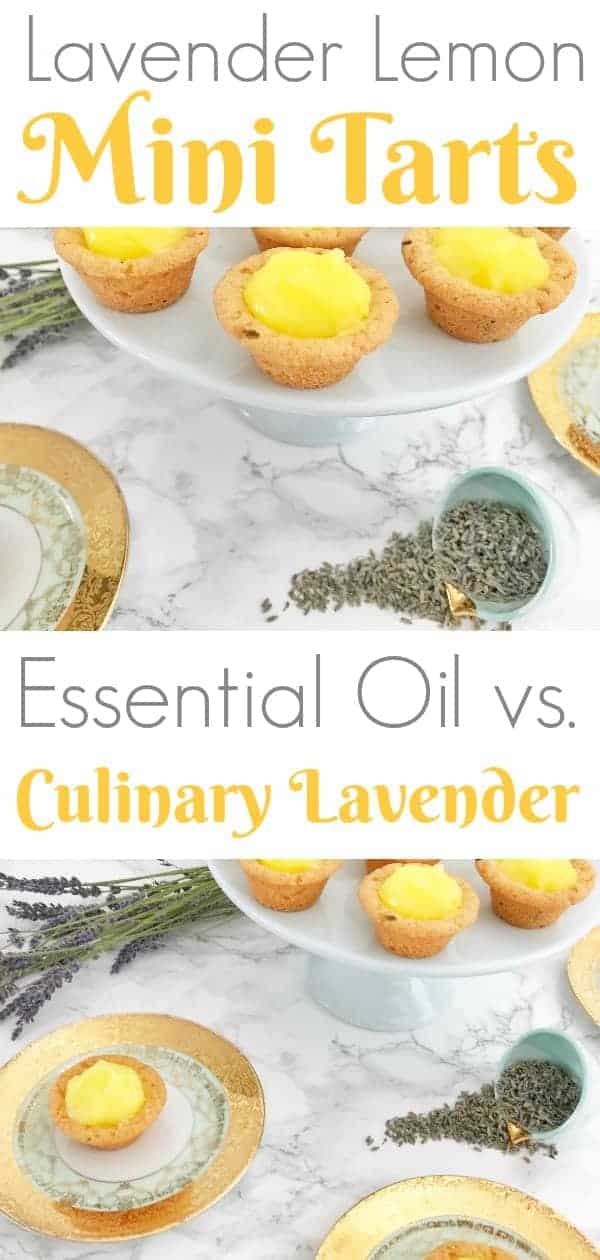 Lavender Lemon Mini Tarts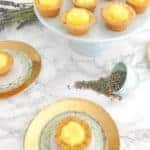 Float away on a cloud of lemony lavender bliss! These mini tarts are a new twist on the classic lemon tart, featuring a hint of lavender.
1 roll packaged sugar cookie dough
1 tsp culinary lavender (stick and leaves removed)
1 can lemon curd
cooking spray (I used canola)
Preheat the oven to 350 F and spray your mini muffin pan with nonstick spray.

Remove any sticks or leaves from the lavender buds. (Hey, sticks happen).

Remove the sugar cookie dough from its wrap, flatten it, and add the lavender buds to the cookie dough. Mix and roll around the dough until the lavender is evenly incorporated into the sugar cookie dough.

Cut the sugar cookie dough into 24 even pieces, about the size of 1 tablespoon.

Roll each piece into a ball and flatten between the palms of your hands into a thin disk. Press the sugar cookie discs into the mini muffin pan, squishing them down and bringing the dough up the edges to the top of the pan. Make sure there are no breaks in your dough.

Place the cookie pan in the oven and bake for 10-13 minutes (it was 13 minutes for mine, but your oven may be slightly different). Remove once the cookie dough is evenly browned.

Allow the cookie cups to cool. Remove by spinning in the mini muffin pan and pulling up to remove.

After the cookie cups have cooled, open the lemon curd can and use a small spoon to fill each of the cups with lemon curd. Put in as much as you can. You may have some lemon curd left over, which you can use in another recipe.

Refrigerate until ready to serve. Enjoy.