If you are a blogger – especially a new blogger – link parties are a great way to get yourself out there, meet other bloggers, as well as grow your own blog. Find out why you should be participating in link parties and get a link party master list, with link parties for each day of the week.
Grow Your Blog with Link Parties
Okay, so link parties might be able to help you get more traffic and grow your blog…but, what the hey-doodle is a link party?
A link party is just what it sounds like; a party hosted at a blog on a specific day and time where other like-minded bloggers come to share their own links and take a look at other people's links.
Link parties often have catchy names like Saturday Sharefest and Morning Cup of Joe (two of my favorites) and mostly occur on a weekly basis, at the same day and time every week. There are some link parties that occur on a monthly or seasonal basis.
Each link party has its own specific rules and themes. Some link parties are for sharing crafts and recipes and others are just for fashion. Certain link parties allow you to share anything under the sun. There are link parties for books reviews, crafts, home decor, parenting, fitness, beauty — you name it and there is probably a link party for it.
When you begin to visit link parties, you need to read and adhere to the rules of that link party. The rules are usually shared in the introduction of the link party each week. You can view all the hostesses (sometimes there are multiple) at whose blogs the link party occurs each week.
Here are some examples of rules that I have seen:
This link party is for crafts/recipes only
No more than three posts per blog
Make sure and visit/comment/share at least two other links in this party
If it is your first time linking up, make sure to comment and introduce yourself to the hostess and community. Not only is it polite, but it's also a good way to get to know more seasoned bloggers!
Why are link parties important?
There are many ways link parties can help your blog, particularly if you are a new blogger just starting out. Link parties can help you:
Meet other bloggers in your niche
Increase your reach
Grow your blog
Get more comments and pageviews
Improve your domain authority, which helps SEO
Link parties are typically hosted at more established blogs with a larger readership. The more people linking up, the more eyes on your posts and the more potential to have your post seen and shared by a wider audience.
If your post is particularly good and fits what the link party host is looking for, you also have a chance to be featured the following week. That means that your post will be put at the top under the "featured posts" section with a larger image. The host may also pin your post to their Pinterest boards and share across their social media accounts.
In fact, that is how my Find the Bunny post (pictured below) ended up going viral in my very first month blogging!
(Make sure to read my posts about how to increase your chances of going viral and get more views on Pinterest.)
Getting featured at a link party
Getting featured should be your goal! Make sure you have bright and beautiful photos that will catch people's eyes…link party links are typically seen as small, square thumbnails. You need images and colors that POP for a chance to get featured.
Not only will you get more comments, pageviews, and shares, but being featured by a bigger blogger also has the added benefit of increasing your domain authority and improving your SEO. Domain authority is basically a score of how "cool" your blog is in Google's eyes. The higher the domain authority, the higher the chances you can rank in Google searches and the more organic traffic that is driven to your blog.
Basically, when a bigger "more important" blogger links back to your blog, that link is telling Google, "Hey, this chick/dude is awesome, you should be their BFF!"
Simply linking up to the link party isn't enough to do this, you need to get featured. Obviously, the bigger the link party is the more potential it has — but it's also much more competitive! My advice is to find a nice mix of bigger and smaller link parties that fit your niche, so that you have a broader chance of getting features and shares.
(Find out how I increased my SEO fivefold in less than two months and my secret weapon for making Google AND Pinterest love my blog.)
Link Party Master List
It can be hard to find current link parties; many link party lists are out of date and riddled with broken links and bygone link parties. Once blogs grow to a certain size, many of them stop hosting link parties to focus on other tasks.
This is the most up-to-date link party list currently available.
I am not sharing every link party on the Internet. I did look for link parties of a certain size for this list. If you feel that your link party should be added to this list, feel free to send me an email for consideration and I will add your link party to the list.
I will also update with more link parties if I stumble upon them.
Link parties are listed by start date. Many link parties like Saturday Sharefest actually open for linking on Friday; if you show up on Saturday, not as many people are going to see your link and you risk losing out on traffic. Best to try and get there as early as possible when the link parties open. If I know the start time of the link party, you will see it listed in Eastern Standard Time.
Link parties that I have participated in have been bolded and *starred.
Monday Link Parties
Tuesday Link Parties
Wednesday Link Parties
Thursday Link Parties
Friday Link Parties
Saturday Link Parties
Sunday Link Parties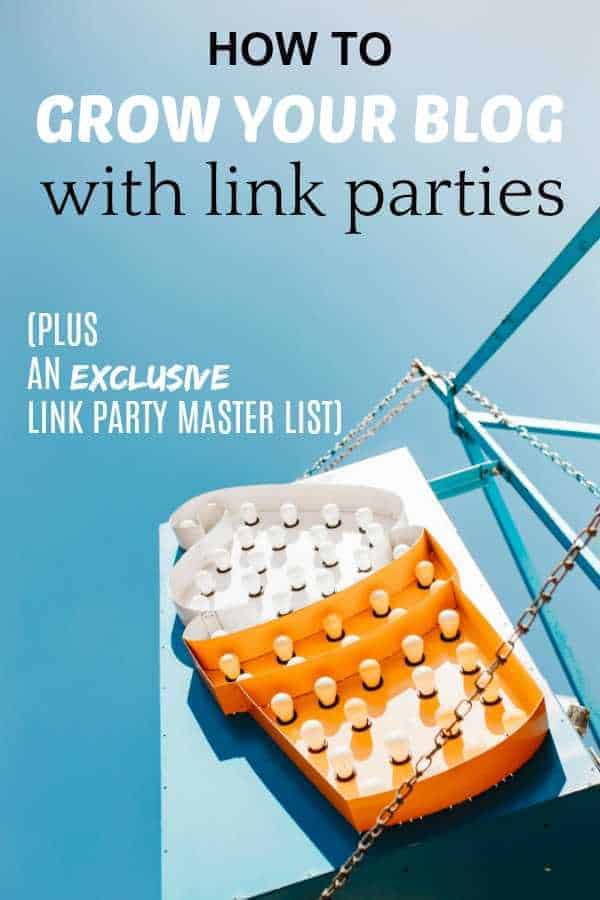 SaveSave