If you are planning a Mid Autumn Festival party — but you have no idea where to start — look no further! This handy guide lists everything you need to plan the perfect Moon Festival party, so you can have an amazing time celebrating under the moon with your family.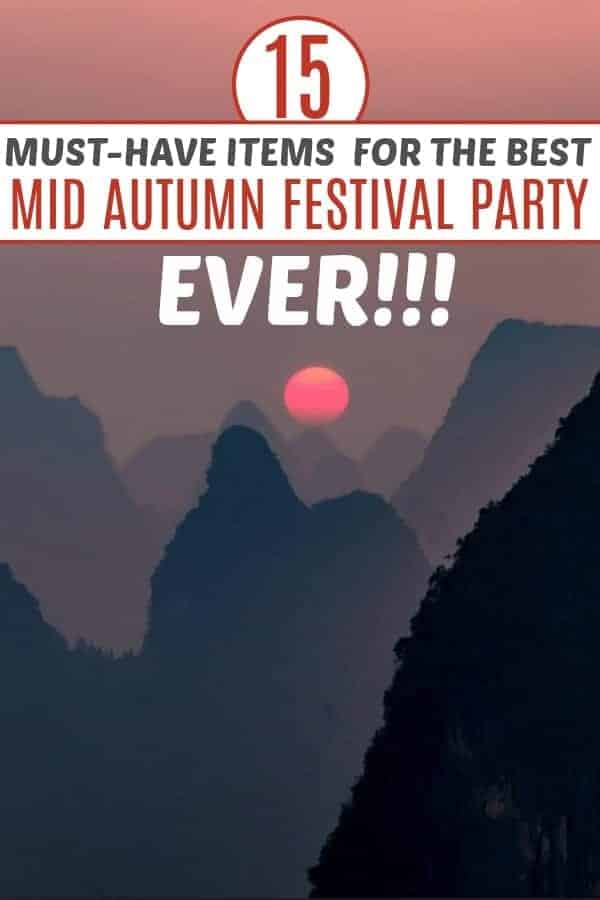 This post may contain affiliate links for your convenience. That means that if you make a purchase, I will receive a small commission at no extra cost to you. Read more here.
The best Mid Autumn Festival Party Ideas
Also known as the Moon Festival or Zhōngqiū Jié (中秋节) in Mandarin, this festival is all about bringing the family together to celebrate the harvest moon, coinciding with the autumn equinox, when the moon is at its fullest and brightest in the fall.
It's a time to reunite as a family, to eat mooncakes, to drink tea, and to appreciate the moon, the symbol of harmony and unity.
As a multicultural family, we like to try and honor my husband's rich Chinese heritage by continuing the tradition of celebrating the Mid Autumn Festival. It is important for us to pass traditions on to our children. 🙂
Awesome ideas to make your Moon Party a sensation!
No Mid Autumn Festival is complete without mooncakes! If you are the DIY sort, here is an awesome mold to create hand-pressed mooncakes, made with love.
If your kids aren't fans of the traditional mooncake (mine aren't) this silicone mold makes it easy to make mooncakes that are more kid-friendly, using ingredients like Jello or agar agar (people also enjoy using it to make soap).
The moon is best viewed outdoors, wouldn't you say?
Wrap yourself up in a comfy jacket and spread out this fantastic picnic blanket so you and your family have a nice space to sit and celebrate. Pay attention to the size (59 inches by 51 inches) — if you have a bigger family, you might need multiple picnic blankets!
We love how this one folds up and zips for easy storage! It's also great for daytime picnics.
If your family is more glamorous than mine (read, neat and tidy) you might prefer this gorgeous heavyweight yoga blanket for a "glamping" feel…that's "glamorous camping" for the newbies out there.
Confession time: I use this lamp in our house all the time.
I hate floor lamps and we don't have overhead lights in our bedrooms, so this portable lamp makes it SUPER easy to brighten up our room during the night when searching for lost stuffed animals (#momlife).
Bonus! It's fully rechargeable and the battery lasts for ages!
Here is something that the kids will enjoy when you are out at night celebrating the moon.
My kids aren't of the sort that sit quietly contemplating the moon, but give them a couple of glow sticks and they will run around happily until the cows come home (or Jade Rabbit, lol).
The family party won't be complete without some delicious dumplings to eat!
This is hands down the best dumpling recipe cookbook I have found, but you will also appreciate the recipes for buns (bāozi) and Chinese BBQ (chā shāo).
Related recipes:
Sipping tea, gazing at the moon — fragrant tea is the quintessential moon party drink! Pairs perfectly with mooncakes. 🙂
These blooming tea flowers will make your Moon Festival party extra special.
This beautiful tea set can be used with loose leaf tea or with blooming tea flowers. The glass makes the blooming tea flowers ever more spectacular.
You can cook delicacies or keep your teapot fresh outside if you have a portable induction cooktop. The induction-style is safer if you have kids running around, but still, make sure to keep the cooktop attended and safe at all times.
Lanterns to light up the night in the luckiest color of all…RED!
While red is the luckiest color, gold also helps to bring good fortune to you on the Mid Autumn Festival.
This book is so adorable, my kids love it! Just a sweet children's story about celebrating the Mid Autumn Festival together as a family.
Not necessarily just for the Moon Festival, these Chinese and English nursery rhymes are fun to listen to and sing along with your children during any family occasion.
My kids especially like the silly Chinese classic, Liǎng Zhī Lǎohǔ (Two Tigers).
If, as a last resort, you are unable to make mooncakes yourself or buy them nearby, you can order some online! After all, no Mid Autumn Festival would be complete without mooncakes!
I hope that you enjoyed this Mid Autumn Festival guide and feel inspired for celebrating your own Mid Autumn Festival!
Let me know what part of the Moon Festival is YOUR favorite in the comment section below!
Related posts: