There are a lot of gimmicky claims out there about the cost to start a blog…you know the ones! They claim that you can start a blog for only $3.75 RIGHT NOW! Well that's true…and it's not.
The whole truth is, if you want to start a blog with the serious intention to grow and potentially make money from it (don't we all wish!) sometimes it's better to invest a little more money into its creation. Usually, those ultra-low price claims have that sneaky little "*" and in the fine print will tell you the real cost 🙂
So today, I am going to tell you the real ABSOLUTE MINIMUM you can put into a blog, with the expectation that it has the tools and ability to grow and monetize. I will also compare it with MODERATE – MINIMUM spending, which will give you a little more mileage in terms of style and long-term planning.
I am going to assume you have these things already if you are thinking about starting a blog:
Computer
Camera and/or phone with decent picture taking capabilities
A moderately firm grasp of your blog's target language 🙂
This post may contain affiliate links for your convenience. That means that if you make a purchase, I will receive a small commission at no extra cost to you. I only recommend products or services that I fully believe in and use myself. Read more here.
Cost #1: Domain hosting and domain name registration
Range: $33 – $196.20
This is what people are usually talking about when saying you can start a blog for $2.75. This is the cost for the lowest domain hosting package offered by Bluehost (the hosting group that I currently use).
See the chart below for all tiers of their hosting packages currently offered.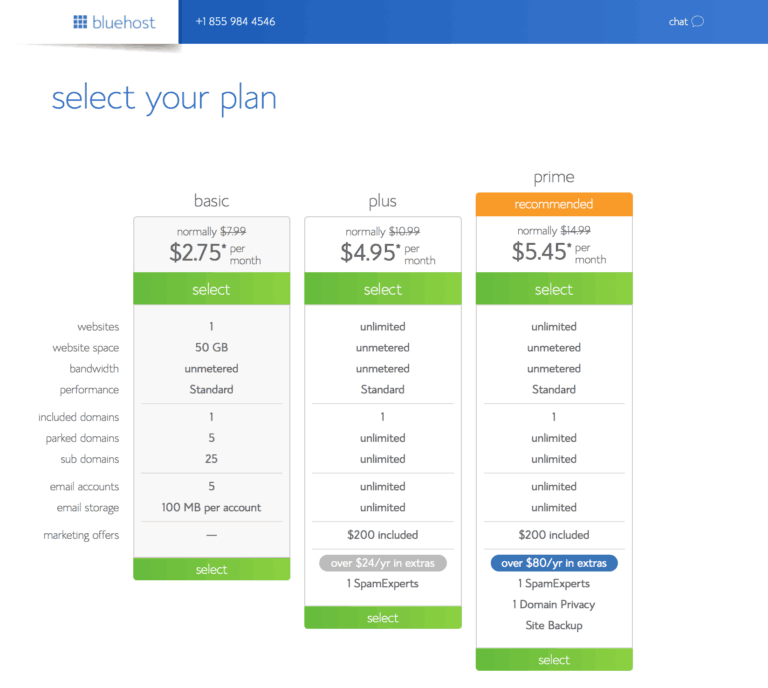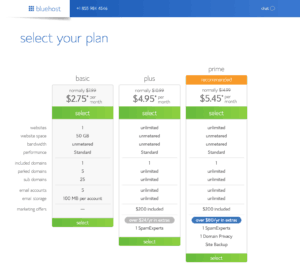 As you can see, Bluehost does offer a package for $2.75 per month…however, you must pay up front, for AT MINIMUM an entire year of hosting. So, your total then becomes $33. After that, you have the option of continuing to pay on a monthly basis.
However, if you compare what you get for the $2.75 package to the amenities offered by the prime package at $5.45/month (like unlimited bandwidth and Site Backup), I think that the $5.45 package is a better deal. You don't want your big plans of growing your blog mucked up by slow loading speed or or lack of storage capacity.
If you decide to pay for 36 months (3 years) upfront, that comes out to $196.20. You spend a little more, you get a lot more! This is what I chose, and I am happy with everything so far! I have only had to contact Bluehost twice for questions, and both times they were quick, helpful, and courteous in their response. My speed is good so far for the traffic I get, so no problem there! Also, if you choose to cancel at any time, they will refund you the remainder of your package. Neat huh?
There are alternatives to Bluehost, but they are usually more expensive in comparison; you can think about switching once you get enough traffic and start making some income to cover the cost.
Cost #2: Themes
Range: $0 – $135-ish
Getting a domain name and hosting package is just the first part of starting a blog; you will have to get something called a "theme".
Basically, a theme is a collection of files programmed as the graphic interface that allows the reader to use and navigate your blog. This includes your fonts, colors, layout, overall style, location of menus and navigation tools, etc.
Pretty much anything you see when looking at a website is part of it's "theme".
Once you get a hosting package, you then need to install WordPress. After installing WordPress, you can install and activate a theme.
The good news? You can get a theme TOTALLY FREE from WordPress! The bad news? That free theme won't include much…it won't have many of the bells and whistles that a typical blog might offer. However, if you are strapped for cash, you can totally make it work! Two of my favorites of the free WordPress themes are Obliquie and activetab.
Think about what the focus of your blog is going to be when choosing your theme. Is it going to be image heavy or text heavy? Fashion related or a mommy blog? You would probably choose very different themes for these two different blog niches.
If you want to pay for a theme, you have many, many options. You may even chose a "parent" theme and add on a "child theme" to make a more custom blog. A parent theme will act as the foundation that you will build your blog upon, similar to the free themes…and like the free themes, it will look very basic. By adding a child theme, you can infuse a little more personality and quality into the overall appearance of your blog.
I loved the feminine themes offered by Restored 316, so I went with their Delightful Pro child theme. I found the technical (and emotional lol) support that Restored 316 and their community has offered me has been priceless.
The tutorials allowed me to do 99% of the installation myself, and between their tech support and extremely helpful Facebook community, I was able to get the other 1% done! It's a BIG DEAL being able to set everything up yourself when you are trying to start a blog on a budget…paying for custom set up an programming would be major $$$! While Restored 316 does offer installation and custom set-up services, I found their tutorials and support to be so excellent that I didn't need them.
The Restored 316 themes require the Genesis Framework to run upon, so I also had to use that. In total, I spent $59.95 for my Genesis parent theme, then another $75 for the Delightful Pro child theme from Restored 316; these are one time fees, and then you have those themes and their files forever. Total: $135.
Cost #3: Editing software
Range: $0 – $240
Once you have your blog set up with your theme in place, you are going to need somewhere to edit your pictures. Few people have the knowledge and skill set to take a perfect picture every time. Sometimes it's too dark, the perspective may be wrong, you may need to tweak the color, etc.
That is where online editing software comes into play. The big players that I am familiar with are Photoshop (paid), PicMonkey (paid), Canva (free and paid), and Snapseed app (free).
The first free option is Canva. Here is a chart with the prices.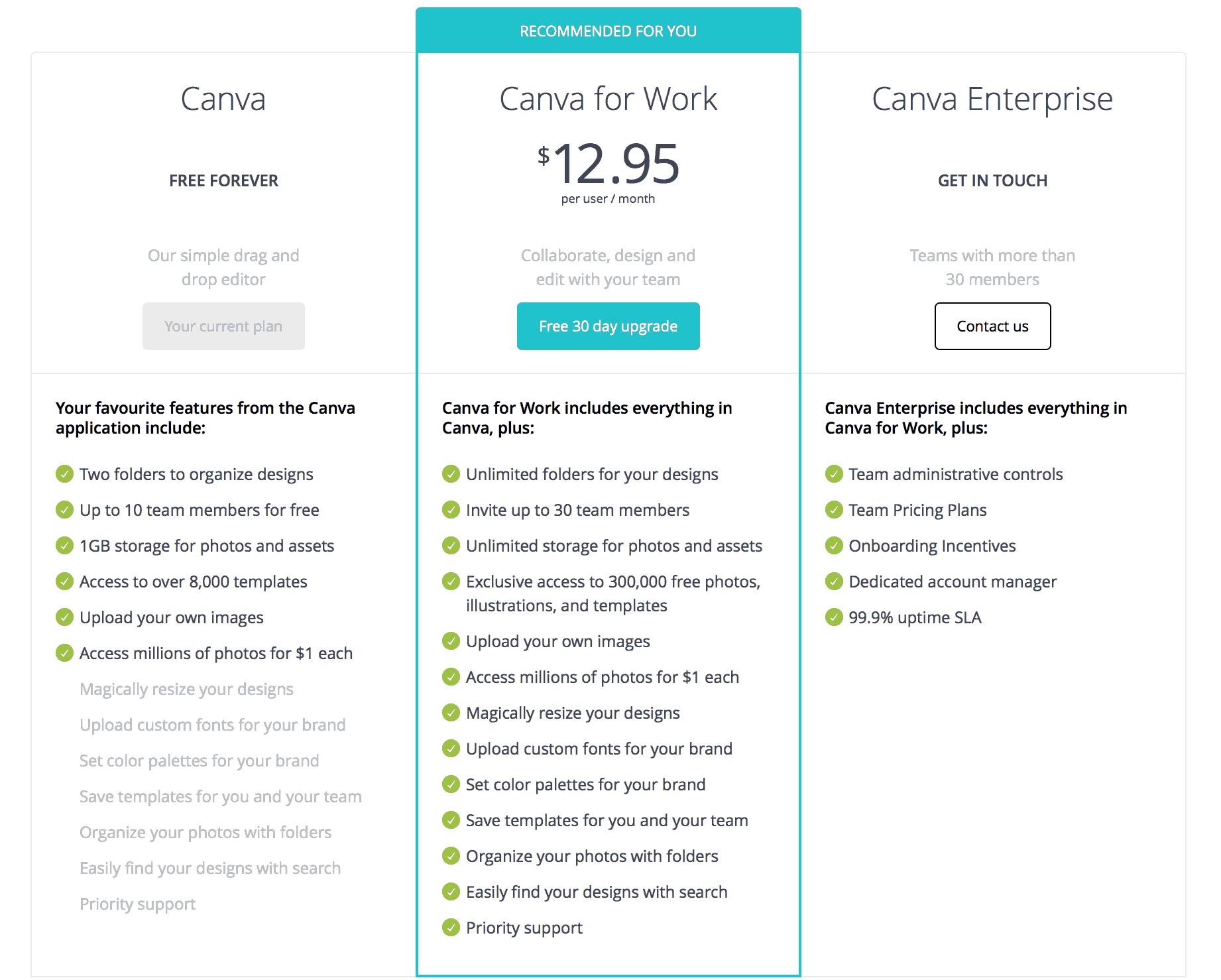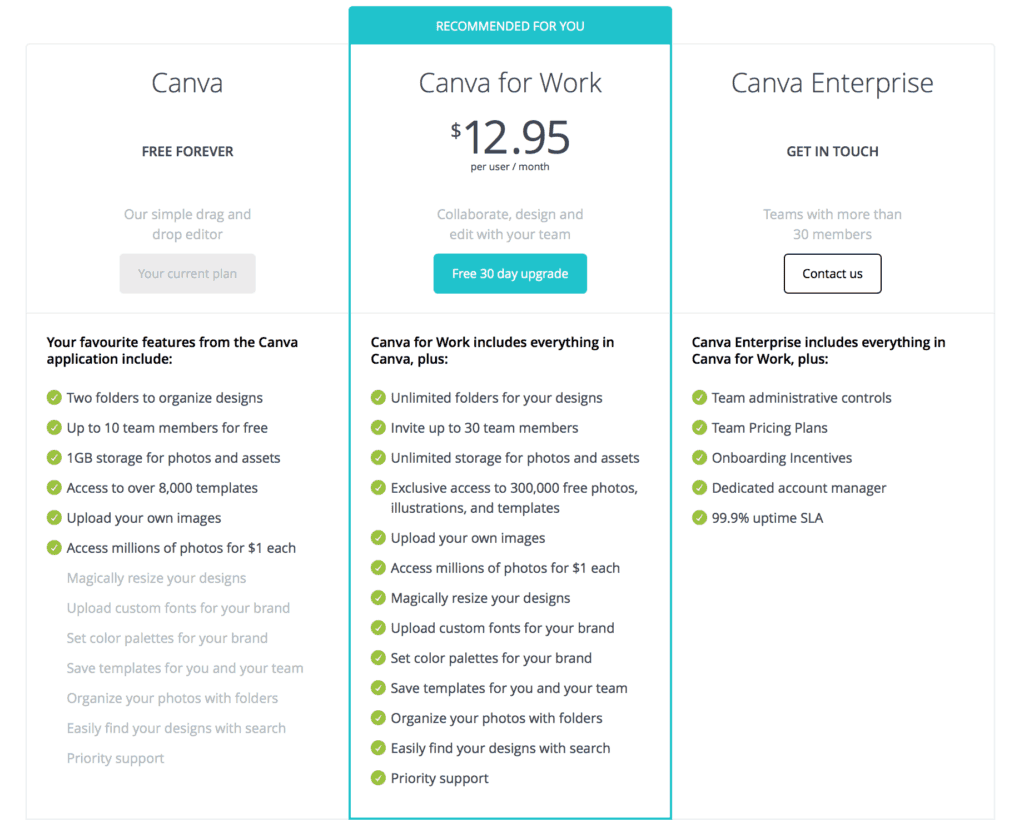 I haven't used Canva, and I don't know much about it; however, I know that there are many bloggers who do, and you could always start out with the free option!
Photoshop is now paid on a monthly basis, and runs from $240-$600 per year. That works out to about $20-$50 per month.
I use PicMonkey and am love, love, love their services. You can try out the free trial first, and if they impress you a subscription for one year is $71.88, equivalent of $5.99 per month.
Here is a Pinterest friendly long photo that I created with PicMonkey (if you want to use Pinterest, long photos are really important…but that's a whole 'nother blog post).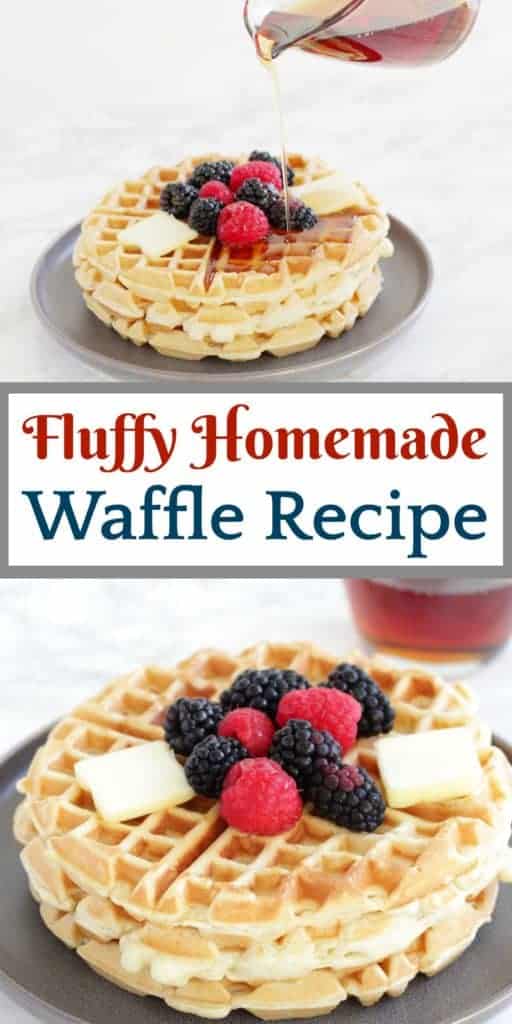 The reason I show you that is so I can compare it to the Snapseed app.
Snapseed is a free app that is great for editing photos. In fact, I think it is even better than PicMonkey for editing the photos themselves! Sometimes I edit the photo brightness and color in Snapseed, then use PicMonkey to create the featured images and Pinterest friendly images for my blog.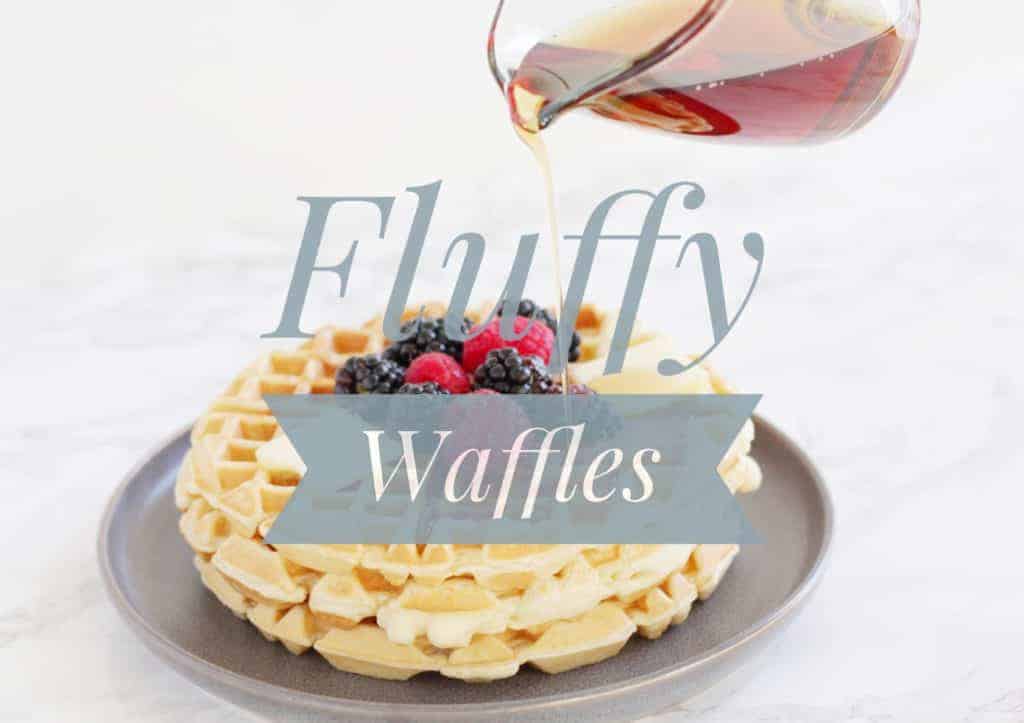 What Snapseed is NOT good at is creating images that are optimized for Pinterest, like long vertical pictures or ones with text overlay. You can see above that the text is pretty boring and blocks the best part of my waffle picture. Canva, PicMonkey, and Photoshop do a much better job in this respect.
However, if you are are on a tight budget, you could totally start with Snapseed and then think about investing in other editing software later! Especially if you are using your phone to take pictures, all the tools you have are in once place! You can photograph and edit right there on your phone.
Final Cost Total
Range: $33 – $571.2
If you plan on only purchasing the bare minimum, with a one year package from Bluehost, using free themes and free editing software such as Snapseed on your phone, the lowest you could spend is $33! Not too shabby!
If you want to go with higher budget items, your high-end cost could run up to $571.2 with premium themes and Photoshop.
You could always go midrange (like I did) and do a combination of these things; my total cost for 3 years of Bluehost, PicMonkey, and Genesis + Restored 316 themes was $403.88.
There are always other potential costs to consider though, such as:
Photography prop (backgrounds, lighting, objects, etc)
Blogging guides and tutorials
Tailwind and other scheduling apps
Blogging conference costs
Project material costs (i.e., home decor or DIY projects)
Email marketing packages (like ConvertKit)
I am sure there are other hidden costs that I am not thinking of; however, it IS possible to start a blog on a tight budget if you are resourceful and plan ahead. Then, when you start making money, you can reinvest that back into your blog and grow it even further. 🙂
Leave a comment below to let us know other costs that have come up in the course of your blogging journey!