The Montessori-inspired letter cards are easy to make and teach your child their letter with tactile and visual feedback using the Montessori Method. Find out how to make your own DIY Montessori letter cards today using puffy paint!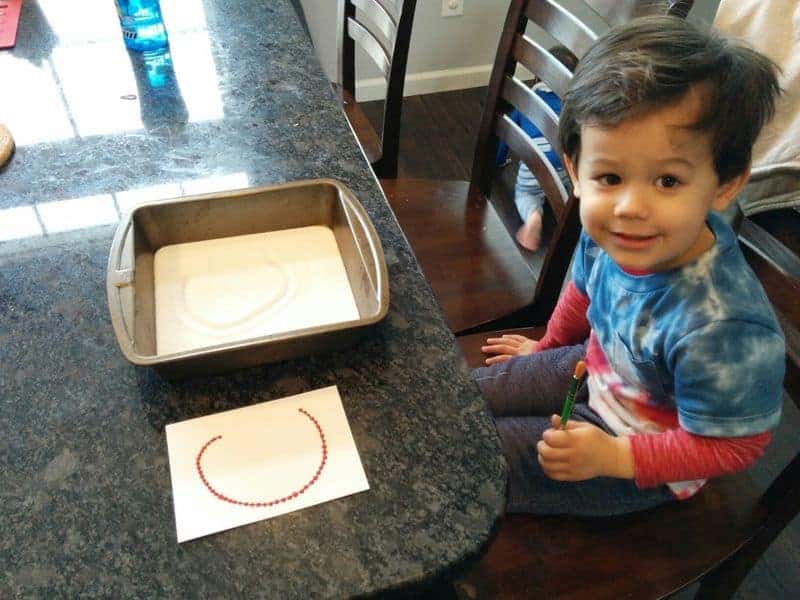 This post may contain affiliate links for your convenience. That means that if you make a purchase, I will receive a small commission at no extra cost to you. I only recommend products or services that I fully believe in and use myself. Read more here.
DIY Montessori-Inspired Letter Cards with Puffy Paint
When we lived in Chicago, my oldest attended a Montessori school there part-time. It was FANTASTIC, definitely the best school we have had the pleasure of attending in any of our towns.
If you aren't familiar with the Montessori Method, the basic premise is this:
It is a view of the child as one who is naturally eager for knowledge and capable of initiating learning in a supportive, thoughtfully prepared learning environment. It is an approach that values the human spirit and the development of the whole child—physical, social, emotional, cognitive. Wikipedia.
If you are interested in finding out more about the Montessori Method, I highly recommend this book by Tim Seldin. It's a really great read, full of helpful tips, and so aesthetically pleasing that my children even liked to sit down and flip through it 🙂
At its heart, the Montessori method is child lead.
A true Montessori school has many "iconic" educational toys; the pink tower, wooden cylinders, and of course, tactile letter cards.
Montessori Letter Cards
Now, the letter cards at our school were high-quality wood plaques with sandpaper…and they are suuuuuper expensive if you want to buy the real ones from Montessori-affiliated websites.
I figured I could make something similar from craft stuff I had sitting around the house and I came up with these.
I like them because they are sturdy enough to stand up to the destructive hands of my boys, but also easy to make and pretty cost effective, if I do say so myself.
*A note on my method: I used some card stock leftover for my letter cards, but because I laminated them, it made them so thick that there was a lot of "air" between the paper edge and the laminate. In hindsight, I would have just used regular paper and relied on the lamination process to make it thick enough. So that is what I am recommending here!
You could also just put the puff paint directly onto card stock, but I found that those got destroyed too easily in my house. If your children have gentle hands, you could do that instead.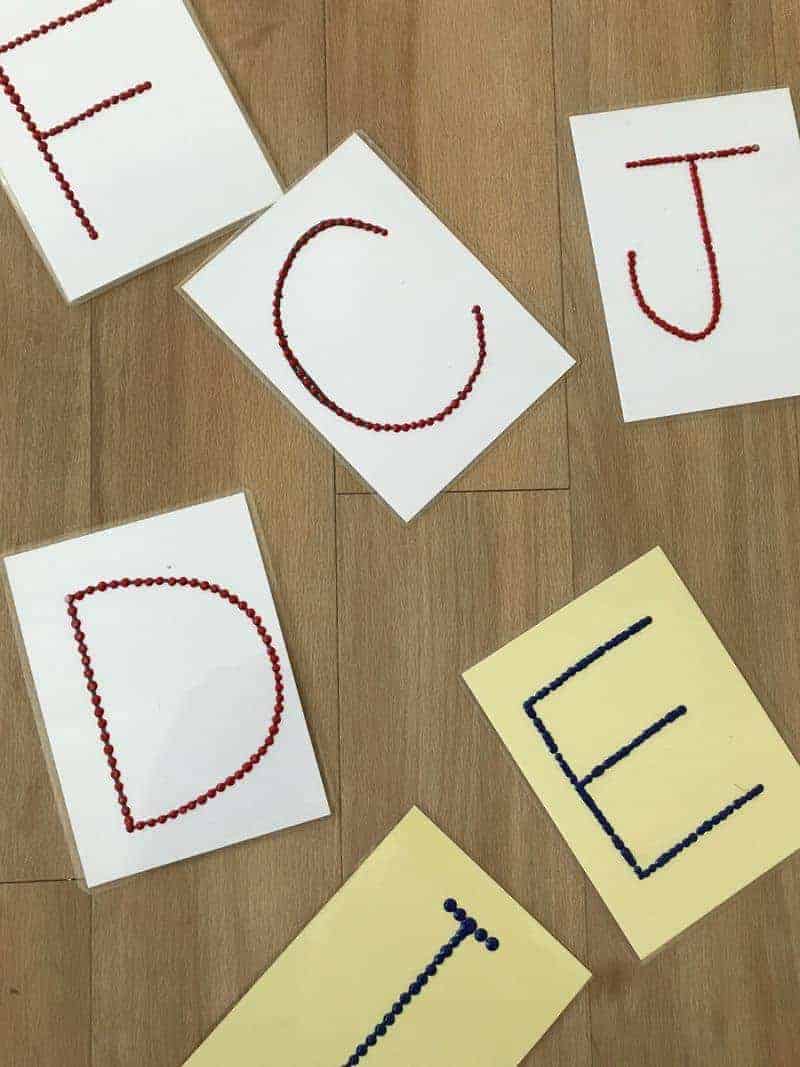 How to make your own Montessori cards:
Here is what you need:
Regular white paper, cut into 4″ x 5 1/2″ rectangles (you could also choose to make smaller or larger, but this was the size of mine. Keep in mind how you are going to fit them into the laminating paper…you don't want to waste to much laminate!)
Laminating sheets (I used the ones included with my laminator, prefer the 5 mil)
Yellow highlighter
Ruler
Puffy paint, in red and blue (use a coupon and go to Michael's!)
Safe, flat drying surface (I used an oven sheet that I could place high out of reach)
Step 1: Create your cards
Assemble your cards created from white paper, you should have 26, cut to the correct size. Write the letters of the alphabet on the cards, one letter for each card, until all are filled. I used a Sharpie at the time, but I think a yellow highlighter is better because it shows up less afterward. Use the ruler if you have crappy handwriting like me.
Step 2: Laminate your letter cards.
Put the paper cards into the lamination sheets…I was able to fit four per page. Make sure you leave enough space BETWEEN the cards and the edges that the lamination is able to melt properly around them and seal the edges.
Since I used card stock, I had a lot of "bubbles," which is why you should use regular paper.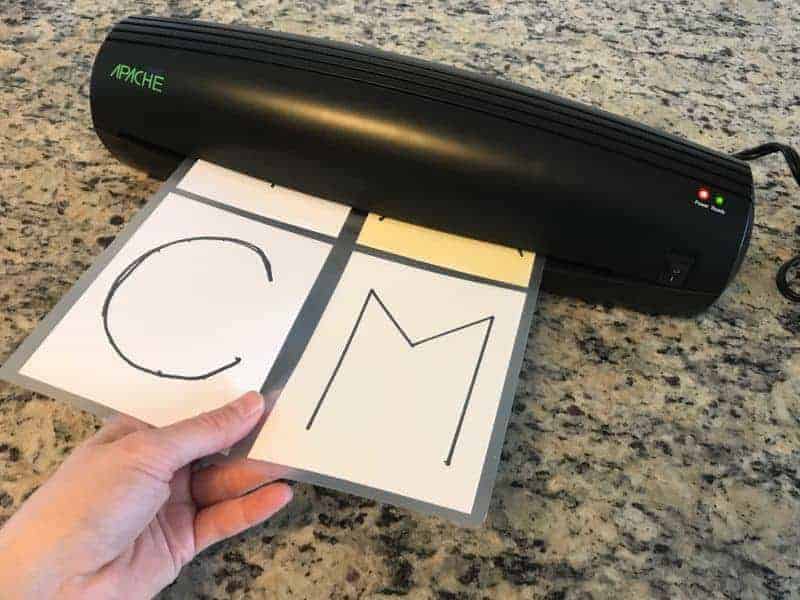 Step 3: Cut out your cards
Cut out the cards, leaving some space around the edges and corners so it doesn't pull open. I HIGHLY advise rounding out the corners. They are really sharp, I cut myself once, so I wanted to make sure my kids didn't repeat the mistake.
Step 4: Add the puff paint
Special note: In accordance with the Montessori method, I used BLUE puff paint for VOWELS and RED for CONSONANTS. I further highlighted the difference between vowels and consonants by using yellow cardstock for vowels and white for the consonants; however, that is optional.
Lay out several letter cards at a time. I recommend doing 4-6 at a time, in groups of vowels and consonants so you don't mix them up.
Lay on your drying surface.
Dot by dot, keeping them relatively close, trace the letter with puff paint on each card. You can experiment with the sizes of the dots, spacing, by making them larger and farther apart or smaller and closer together.
I liked the feel of small and close, so that's mostly what I used.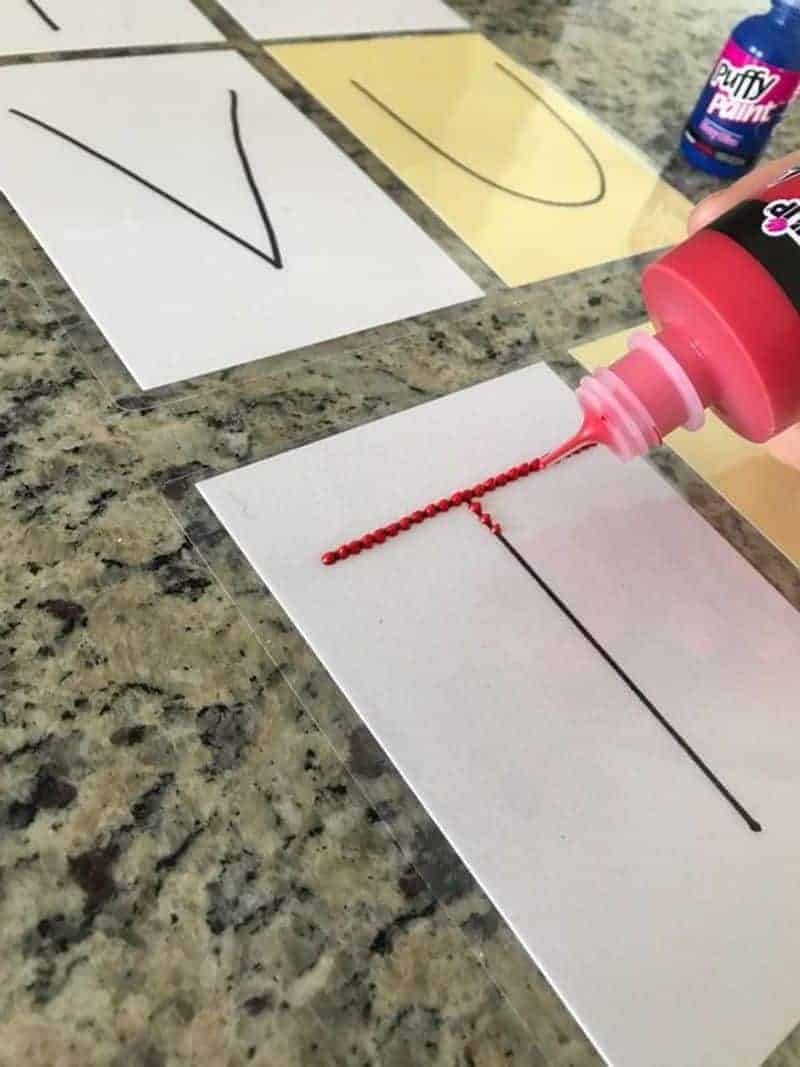 Step 5: Place to Dry
Once you have finished a group, store them aways keeping them safe and UNTOUCHED for 24-48 hours…I like 48 just to be safe.
Repeat until you have all cards filled out! Then you can use them for a variety of activities, like tracing letters in salt!
Pin this!