If you are someone who puts off taking your Christmas tree down until July, dreading sore and torn fingers from tugging at those metal hooks that anchor it in, have I got the solution for you! This Christmas tree hack is so easy it could make you cry.
Today, I will show you how to take down your Christmas tree easily without having to, without having to suffer. It used to take me 45 minutes to take down my tree…after figuring out this trick, it takes only fifteen!
This is for artificial Christmas trees that have those metal joints that "hook" the branches in to the center pole. If you have a different kind of tree, you are on your own 😉
All you need is a miniature "hammer". Really, it doesn't even need to be a really hammer…I employed a small wooden mallet that we used for hammering crabs at the seashore in Ocean City. I have also used a large spoon in the past. You can get creative, as long as it it slightly heavy and has a handle. Below is a picture of what I used.
After removing the top of the tree, you are left with the color-coded "joints" that hook into the pole that make the branches of the tree.
Starting at the top, firmly hold the hammer in your dominant hand and the branch with your non-dominant hand. From underneath, use a strong and quick tap to hit upwards and try to knock the hook up and out of its socket. This may take one or several hits.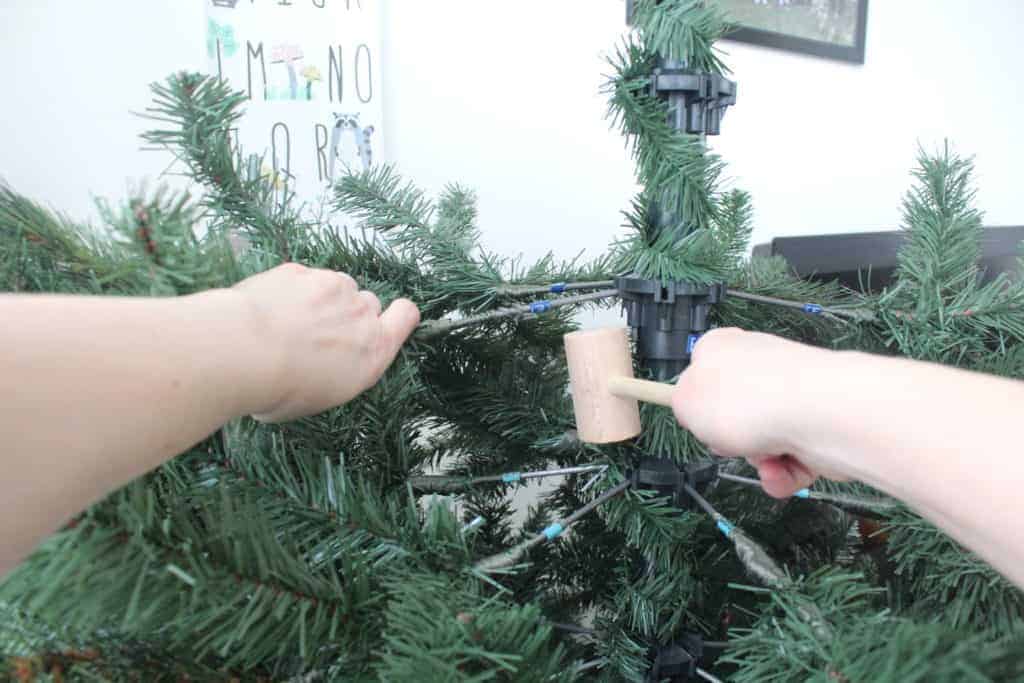 At that point, the branches should release easily and you can pull them out, fold the branches down, and place in your Christmas tree box.
SO SIMPLE! Now go take down that tree!