I always despised upside-down cakes when I was younger. My grandmother was a phenomenal cook and baker, but when she made upside-down cakes (typically for Easter) with their canned pineapples and their cherry bulls-eye centers, that was the one food I always passed up.
I just found it too heavy and cloyingly sweet. But trust me…you won't have that problem with this plum upside-down cake recipe!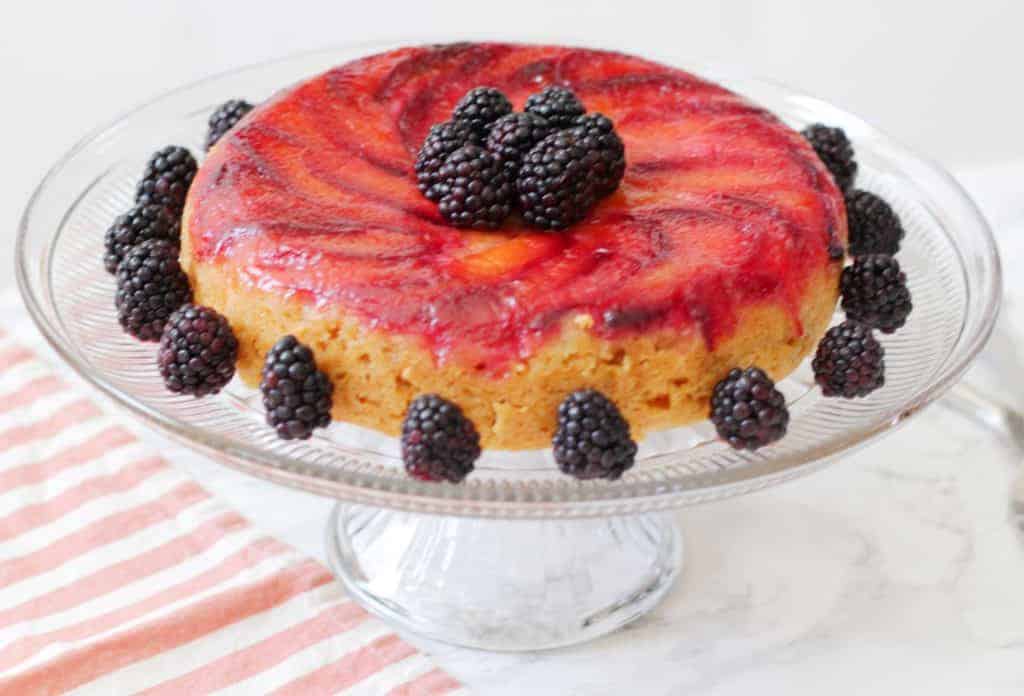 This post may contain affiliate links for your convenience. That means that if you make a purchase, I will receive a small commission at no extra cost to you. I only recommend products or services that I fully believe in and use myself. Read more here.
This rice cooker cake recipe is so easy!
That makes me dance my happy dance, because I don't need to have a special cake pan taking up more space in my kitchen. Our tiny little townhome is only about 1,400 square feet total, and believe you me I need every inch of it!,
Of course, if you already have a cake pan, this plum upside-down cake recipe will also work in those as well.
I am a firm believer in using what you have and making it work! You just need to make it in the oven per your usual temperature and time.
I like my rice cooker, because I just pop the ingredients in, hit the "Cake" setting, and then I am done diddly. Obviously, you will need to have a rice cooker with a "Cake" setting! The good news is, most of the newer "fuzzy logic" rice cookers have this function!
I have a Japanese Zojirushi rice cooker that I just lurve. Besides rice, you can make cakes, mac and cheese, soup, even amazing Japanese-style giant pancakes!
No checking, no poking to see if the cake is cooked through. Just perfectly cooked upside-down cake every time 🙂
For this recipe, I used some leftover sour plums that we had in our fridge. No one could eat them because they were so sour…my mouth is puckering just thinking about them haha!
But sour plums are perfect for this recipe, as the sourness of the plums will be offset with sugars when preparing the jammy compote, and also by the dense sweetness of the cake. It's the perfect mixture of sweet and sour!
To cut the plums to the correct size, take a knife and cut around the plum in a circle from the stem, to bottom, and back to stem and then pull apart so that you have two halves. Remove the seed, and slice each of the halves again in half, and those halves into three pieces, each about 0.5 inches thick.
So each half was cut into 6 wedges. My plums were pretty small, so if you have larger plums you many need to slice more wedges to get them to the desired thinness.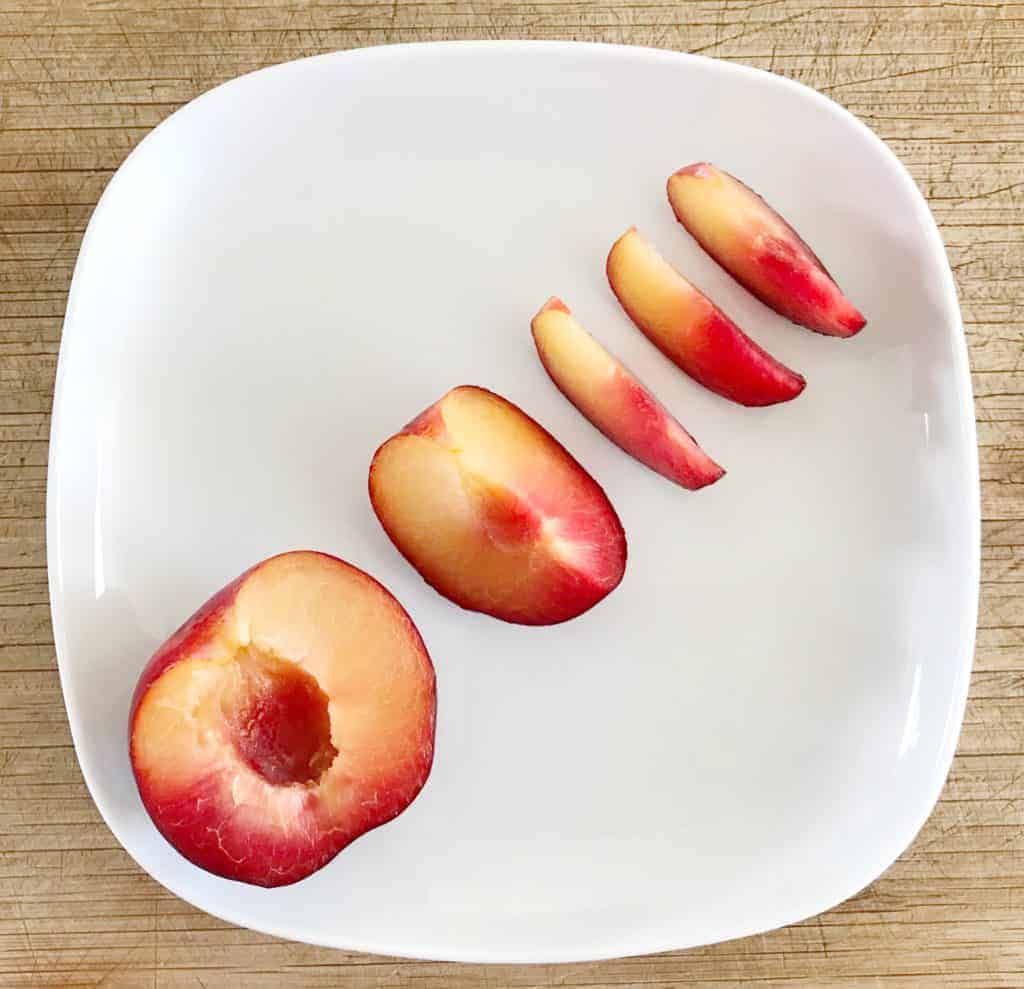 In order to be able to easily remove the cake from the rice cooker after it is done, you will need to cut a circle out of parchment paper. This is placed at bottom of the inner pot.
You can do this by taking a parchment paper square and folding it in half from edge to edge, then in half again, and repeat until you have a small, long triangle of folded parchment paper.
Take that triangle and put the pointy part on the removable pot of your rice cooker, dead center. Cut the edge where the rice cooker pot ends, curving to stay flush with the rice cooker.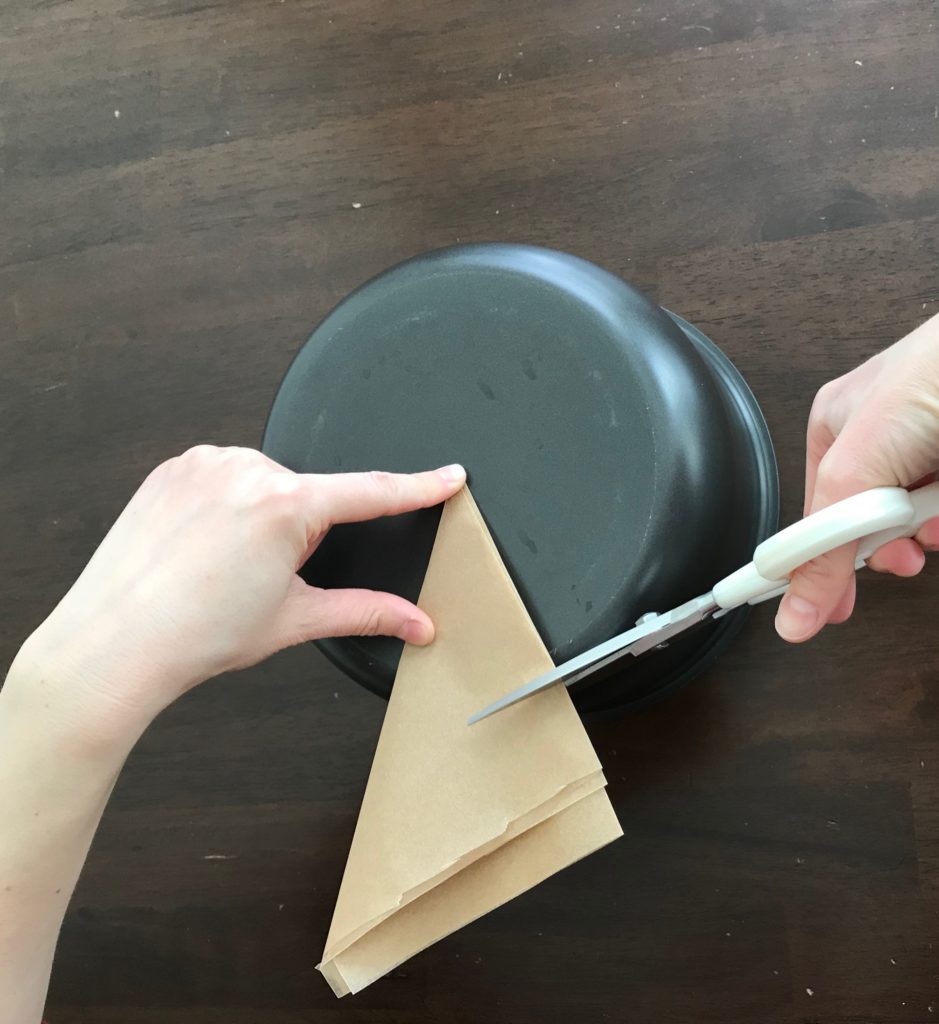 Then, unfold the parchment paper circle and place it in the bottom of your rice cooker's inner pot and you will be ready to add your fruit compote.
You can just dump it in there or try to make a pretty spiral like mine…well, sort of pretty 😉 Spoon any of that extra saucy jammy goodness on top of the fruit!
I also like to put a little cooking oil spray down by the paper, so that when the batter rises it will not stick to the edges. Even if your rice cooker pot is nonstick, add a little just to be safe!
Add the batter on top of your compote. Then, spread it out so that it covers the jam from edge to edge. Put the inner pot back in the rice cooker and hit the "Cake" setting.
And that's it! Now make some tea, kick back, and let your cake steam for about an hour. Mine cooked for 65 minutes exactly.
After the cake is done cooking, open the lid and allow to cool until you are able to handle the inner pot. You also want the compote to be cooled enough that it has "jammed up". That way, it doesn't run off while you are trying to remove the pot.
My trick to remove this is to take a smaller plate and stick it on top of the upside down cake, and then invert the pot and use the plate to pull the upside down cake down while pulling the pot up.
If you find it is sticking, take a knife and VERY GENTLY (trying not to scrape the sides of the pot) try and pull the edges so that they release from the side of the pot. Then, try the inverted plate trick again.
Ta-da! Now you have a beautiful plum upside-down cake ready to be devoured! I didn't even get to photograph it sliced, because my husband and sons ate it too quickly 🙂
Bon Appétit!
***Update – I made another one two days later at my husband's request, with mangoes around the outside. Unlike plums, the mangoes do not need to be cooked! Just place them in a ring around the outside 🙂
Pin it for Later!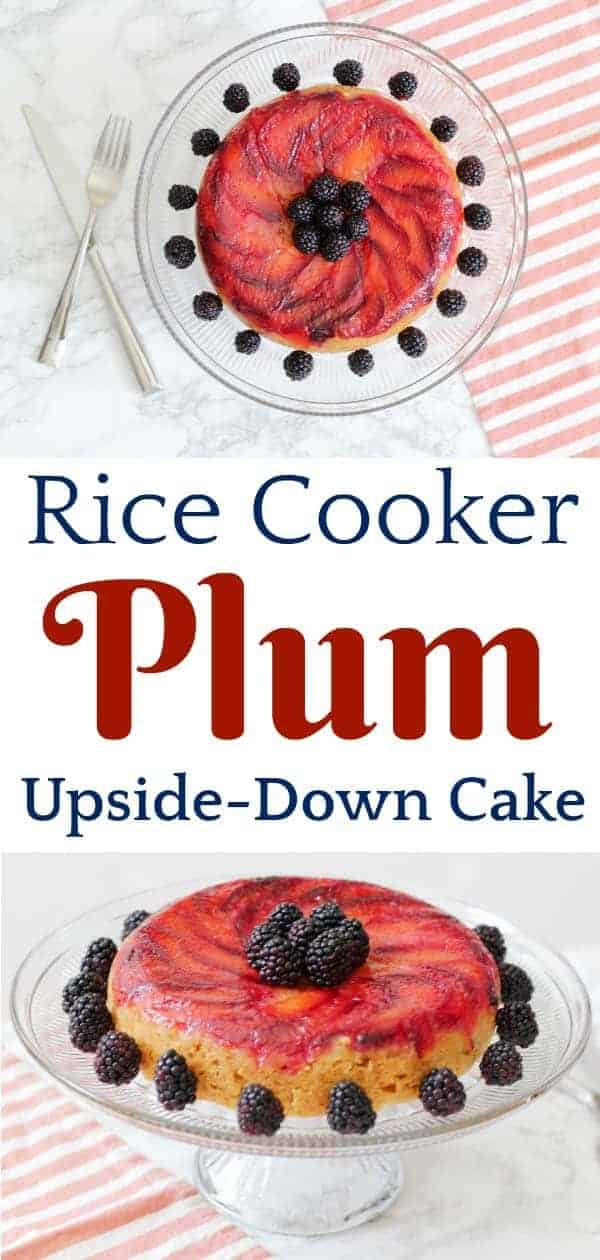 Rice Cooker Plum Upside-Down Cake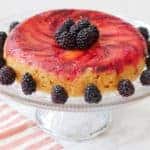 This plum upside-down cake is the perfect mixture of sweet and sour. Even better, it easy to make in the rice cooker!
Fruit Compote
5 small plums (or 3 large, sour perferred )
1/4 cup white sugar
1 Tbsp butter (at room temperature)
Batter
1 cup flour (all purpose)
1 tsp baking powder
1/2 tsp baking soda
1/4 tsp salt
1 egg
2/3 cup sour cream
1 stick butter (1 Tbsp removed for compote)
1/2 cup sugar
1 tsp vanilla extract
Prepare the fruit compote
Wash and slice each plum into wedges, about 0.5 inches thick.

Heat a pan over medium high heat. Add 1 Tbsp butter. After melted, add the plum wedges and 1/4 cup sugar. Stir to combine.

Cook for about 5-8 minutes, stirring intermediately, until the sugar is dissolved and the plum has been cooked, with the juices reduced to thick syrup.

Remove from heat and allow to cool enough to handle.
Batter
Combine all the dry ingredients in a medium bowl and mix to combine.

Place the remaining butter in a high sided bowl or mixer and add 1/2 cup sugar, mixing until creamed.

Combine all other wet ingredients (egg, sour cream, and vanilla) and stir to combine.

Add the sour cream mixture slowly into the creamed butter, and mix. Then add the dry ingredients to the wet, mixing until just combined.
Place in the rice cooker
Line the bottom of your rice cooker inner pot with parchment paper circle (see above for instructions).

Place the plum wedges in a spiral at the bottom of the pot, on top of the paper circle. Spoon any remaining juices over the plums evenly.

Spray low around the circle with cooking oil spray.

Add the batter on top of the plums and spread to cover completely with a spatula.

Close the rice cooker and hit the "Cake" setting.

Once cooked, allow to cool until able to handle for removal. See instructions above for tips on how to easily remove!
SaveSave
SaveSave