Even before I started a blog, I always enjoyed reading other blogger's income and progress reports, dreaming of the day that I might succeed myself. Now I am so excited to share my own blog reports with you! I will tell you what worked, what didn't, and share my best blogging tips so that you can learn from my successes and mistakes. Welcome to the Squirrels of a Feather September 2018 blog report.
Why share a blog report?
You might have read articles from bloggers who began blogging on a whim and one day woke up and realized that their blogging income had exceeded the income they earned from their full-time job.
This is not one of those blogs.
For years I have read income reports from my favorite bloggers and thought to myself, if only.
Then one day I saw a quote:
Everything you've ever wanted is on the other side of fear."

— George Addair
I started Squirrels of a Feather, not only as a creative outlet to share exciting ideas and projects but also as a way to make money.
I am no stranger to side hustling, and I wanted to build a successful blog that could eventually deliver a full-time income. I'm not there (yet) but I'm on my way! After all, blogging is a journey.
(Right now I am dreaming of the day when I can replace my husband's income and retire him. Then I can come home to HIM and ask him why the house isn't clean. 😉 )
Avoid comparing yourself to other bloggers
In last month's blog report, I wrote that the reality is that most bloggers don't see immediate success and have to build their blogs SLOWLY (i.e., $10k in your second month of blogging is probably not going to happen. Sorry.)
Even bloggers that have "made it" have their own struggles.
Chasing Foxes recently wrote that their revenue was cut in half when Google decided it no longer wanted to bid on ads for their site, as it viewed curated content (mostly roundups) as unoriginal content.
There have also been several roundup-only sites that have been denied by MediaVine on the same basis recently.
What you should take away from this information is to focus on creating your own unique content and work on growing your blog authentically, even if it means doing so slowly.
Related posts:
My pageviews DOUBLED from August to September – 36,000 pageviews!
I am beyond ecstatic that I was able to double my pageviews from August 2018 to September 2018!
Honestly, I was expecting that once I got to a certain point it would be unsustainable to expect continued 25-50% monthly growth as I have seen in the past. Imagine my total glee when I saw a 100% increase in pageviews month-over-month! (Yeah, turns out it WAS unsustainable!)
(Don't mind me, just over here dancing a jig around my laptop.)
Take a look at the graph.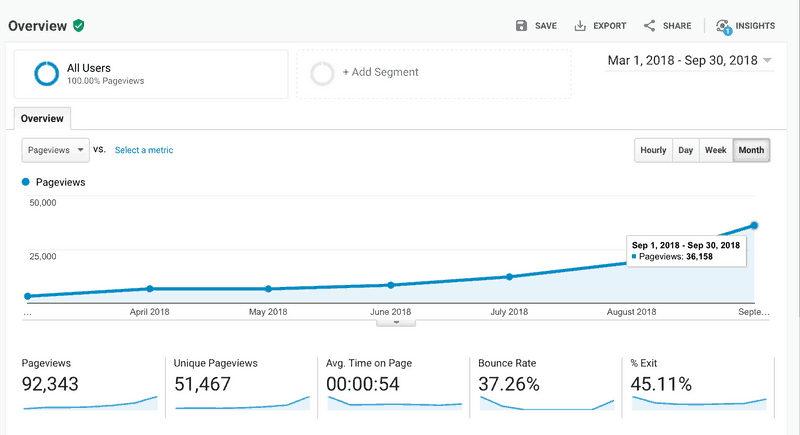 It's a little tough to see the numbers on the chart, so here is a breakdown of the month-to-month growth in pageviews.
As you can see, I had slower growth, in the beginning, followed by zero growth in May when Pinterest tried to kill me, followed by a large leap in pageviews, which has now doubled since last month! I ended September 2018 with 36,158 pageviews.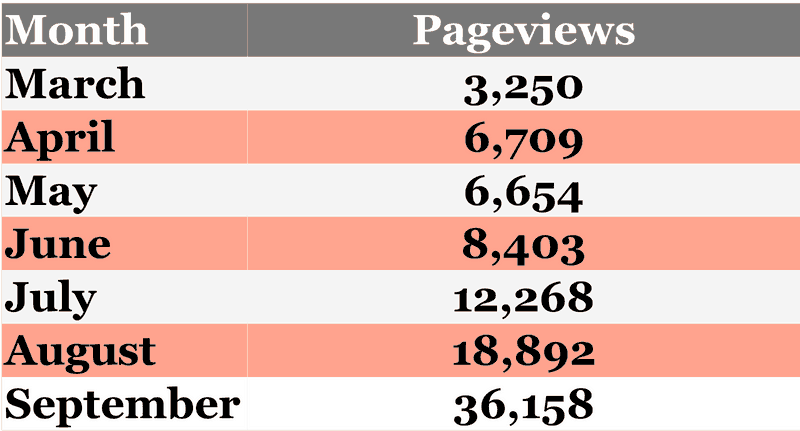 This post may contain affiliate links for your convenience. That means that if you make a purchase, I will receive a small commission at no extra cost to you. Read more here.
The strategies that help my blog grow 25-100% per month
As always, I am aiming for 100% transparency when it comes to the strategies that I use to grow my blog. All the strategies I recommend here I would (and do) recommend to my friends.
Start with a self-hosted blog
If you haven't started a blog yet, or you have but you are using a free platform, I would suggest switching to a self-hosted blog.
A self-hosted blog gives you the most control and independence than a free hosting platform. For only a few dollars a month you can choose and upload any theme, customize it to your personal taste, and monetize much easier as compared to a free hosting platform. In fact, many free hosting platforms do not allow you to insert third-party advertisements or monetize with sponsored posts or affiliate ads.
Want to test the waters and see if you have what it takes to succeed?
Go with the hosting company that I started out with! Not only does Bluehost offer excellent hosting and tech support, but they are also risk-free! If you decide blogging is not for you or grow to the point that you need to switch to a different hosting platform, Bluehost will refund you for the unused months of your package. You can start a blog today with Bluehost for this special low-price offer of $3.95/month.
Know what the heck you are doing
Do yourself a favor and get a great blogging resource.
Starting a blog without a guide is like trying to climb to the top of Mount Everest in only your underwear and flip-flops.
If you don't get a blogging guide, I guarantee you are going to be "that guy" asking a billion questions in FB blogging groups and waiting for someone to HOPEFULLY answer all your questions one by one.
It's the height of inefficiency.
Time is money and if you don't want to waste either, do yourself a favor and invest in a good blogging resource that will teach you all the things, from how to set up your blog to monetizing.
But hey, don't listen to me! Listen to Abby, who as of her final published income report in September 2016 was making 40k+ per month from her blog (it's probably way more now).
Abby's Building a Framework: The Ultimate Blogging Handbook is the resource I used to literally build my blog from the ground up. I HIGHLY recommend it for newer bloggers who don't know a widget from a plugin.
*Update: Abby is closing her BaF course, unfortunately. If you are looking for a complete blogging course this is the only one I would recommend.
Focus on SEO and Pinterest
In my last blog report, I noted that I wasn't seeing enough ROI (return on interest) focusing on Facebook and Instagram, so I was going to reduce my time spent on those platforms in favor of Pinterest and Google.
Happily, that strategy seems to have paid off! The two programs that I use are Tailwind and Tasty Pins. I can't stop raving about these apps because I love them so much! These two babies can make your life soooo much easier. Here is what they do.
Tailwind is a scheduling app that allows you to schedule your pins to rotate out on Pinterest at different times throughout the day, so that you don't have to constantly glued to your phone or desktop pinning mindlessly. You literally set it and forget it!
Best of all, this program is super smart! Not only does it suggest the best times for you to pin by creating a Smart Schedule based on the times that your audience is engaged and pinning on Pinterest, it also gives you access to all sorts of data, like which pins are the most popular, repin counts, how well your various boards are performing, etc.
(You can try Tailwind RIGHT NOW free for one month and get a $15 credit with Tailwind by using this link.)
Now, Tailwind is great for Pinterest but it is no help when it comes to optimizing for Google and organic search traffic. That's where Tasty Pins comes in.
Tasty Pins is a nifty little program that helps you optimize for Google AND Pinterest searches simultaneously — it's my secret weapon for getting my blog in the top searches on Google and Pinterest time and time again!
With Tasty Pins you can also:
Hide Pinterest-specific images with a click of a button — no coding required!
Easily disable pinning on certain images
Automatically add a hover button to pinnable images
Funnel users to pin only the best images
(Get all of that plus lightning fast speeds, unlimited tech support, and a 15-day money-back guarantee right now!)
If you want to know more about how I hack Pinterest and Google you can check out the following posts:
Other accomplishments in September 2018
When you are a small blogger, each success is measured and celebrated — as it should be! Here are some of the other successes I had in September.
I am excited to FINALLY announce that I was accepted as part of the Creative Team at Kenarry! In fact, my first post for Kenarry just went live!
Not only do I get to learn from and work with the other awesome Kenarry Creative Team members (and get paid to do so), but my blog will also benefit from backlinks from Kenarry, which helps increase my domain authority.
Score, score, and score some more!
Several posts went viral
I stuck to my special formula for creating viral pins and this month I got multiple hits when several of my Halloween posts went viral!
One of my posts got pinned over 30,000 times alone!
Brands are starting to contact ME
Not crappy brands either — brands that I actually would be interested in working with! (I know I wrote a goal last month that I was going to start contacting brands but meanwhile Big Brother got sick three times in less than a month and it just wasn't in the stars.)
But now they are reaching out to me! Boy, does that feel good. 🙂
If all goes well, hopefully, you will be seeing some sponsored content here soon!
Blog income for September 2018
I doubled my pageviews from August to September! Does that mean that my income also doubled?
In truth, because I have been more focused on increasing traffic and pageviews than on income, I wasn't putting much emphasis on monetization. I also wasn't good about tracking my income for the first six months, so I just quickly calculated that in the first six months of blogging I earned a total of $324 — that is from affiliate income and ad income combined.
This month I was a little bit better about tracking and segmenting my income. Here is my total income for September 2018:
Total blog income = $130.30
I know, you have to pick your jaw up off the floor after seeing those staggering numbers. This is what REAL growth looks like, guys!
Given that in my blog's entire first six months I made a total of $324, I would say that $130.30 in one month is a step up! I am definitely not making anywhere close to what my blogging idols are making, but I get tickled every time I log into my accounts and see even $1 new there!
I have a feeling that October will be even better, but it's hard to predict where it will land.
Why have I been focused more on pageviews that monetization? I have been aiming to qualify for MediaVine so I can increase my ad income. As MediaVine requires 25k sessions per month, I was working on hitting that number.
I am pleased to say that I did reach my goal and applied for MediaVine (fingers crossed).
Continued blogging strategy and goals
Clearly stating your goals and strategies is a key way to guide yourself to success. Here are the exact strategies I plan to employ to continue to grow my blog.
Other strategies:
Posting – Continue to create quality content 2x/week and use Pinterest and SEO to drive traffic.
Email — I need to get better about growing my email list. I am not tech savvy AT ALL and so trying to create and embed snappy email subscription boxes in strategic places is not my forte. I am going to be working on this for October, lord help me!
Instagram – Post only twice on Instagram each week when I release a new post, but continue to update my stories daily. Stories — so hot right now.
Facebook – Share every once in a while when something strikes my fancy. Will not post 5x/day anymore.
Twitter – Meh. That is pretty much my strategy.
Photography – Continue to try and improve my photos.
Brands – Work in progress. Wish me luck…feel free to check out my media kit if you need some inspiration!
Feel free to leave any comments or questions below and I will try to answer them! Let's try and build money-making blogs together, shall we?
Pin this!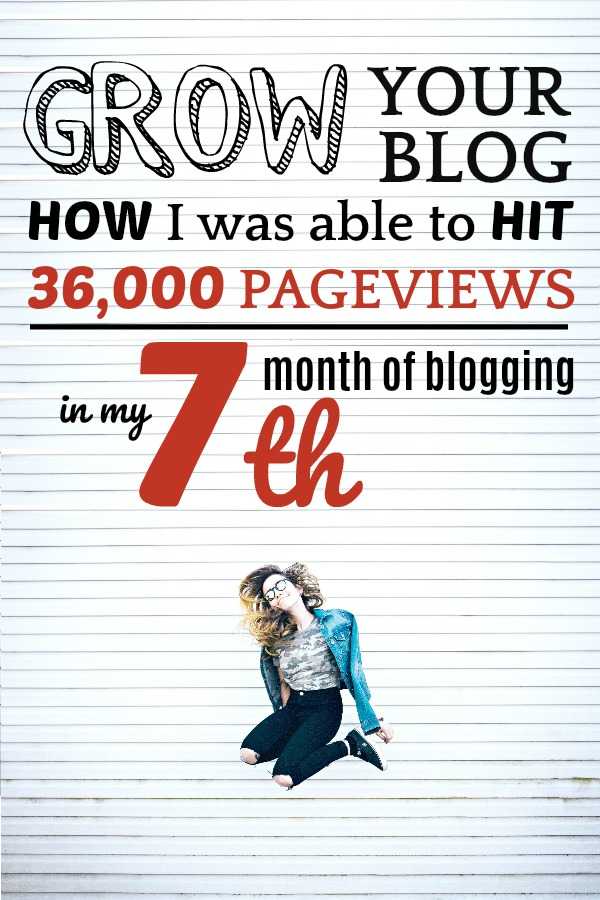 SaveSave