As a new blogger working on growing my small business, I have always appreciated reading other blogger's income and progress reports. Today, I would like to share what has worked for my new blog, what hasn't, as well as set some new goals for myself in this  blog report on my first six months.
I hope that by sharing this information I will not only hold myself accountable, I can help other new bloggers who are looking to grow their blog quickly, just like I am.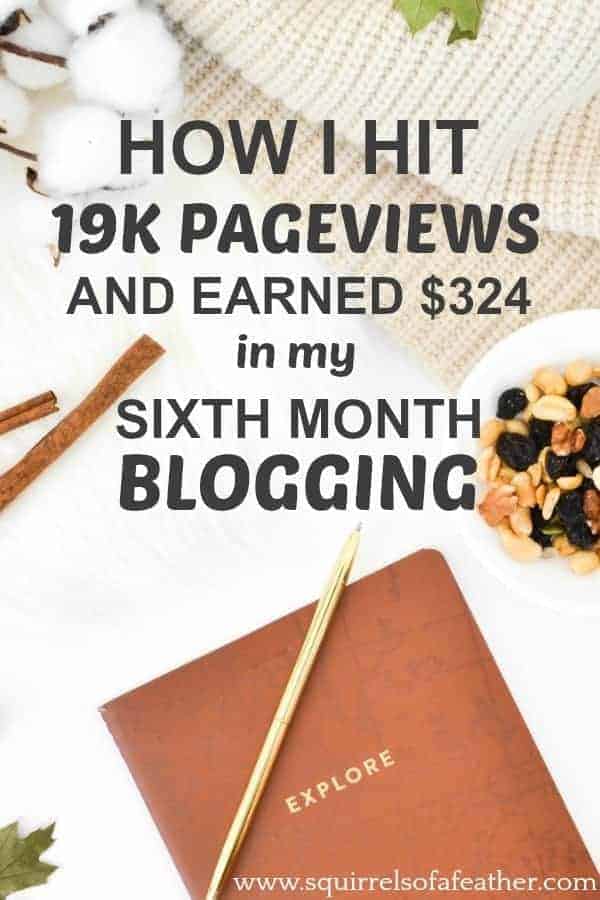 One million pageviews my first month blogging!
KIDDING! 😉
We are pals, and so I want to get totally real with you here.
Like many other bloggers, I have been sucked in by posts with titles like "How I Got 100k Pageviews My Very First Month Blogging" or "How I Made $20,000 in my 10th Month Blogging".
What I have come to realize as a new blogger is that these posts are COMPLETELY unrealistic for most of us.
(I mean, I kind of knew before, but I was hopeful!)
Now that I am more experienced with the blogging scene, I have realized there seem to be two trends in blogs that experience exponential growth right off the bat.
Blogs that grow insanely quickly appear to:
A – Be run by a blogger who has years of experience blogging, but decides starts a new blog — often related to blogging. In addition to their experience, they usually have large social media accounts or followers to leverage for immediate growth.
B – Operate solely to "curate" information. That is to say, focus on creating compilations of content and churning out one or two posts every day with this method — which is easier, as they are not creating their own content per se.
Neither of these methods are "wrong" or "cheating" by any means!
However, if you are a blogger in such niches as home decor or crafting (at which you will be creating your own content) and/or you have zero experience blogging, you will probably experience slower growth.
The good news is you are like me and we can both succeed…slowly. 😉
Growing pageviews as a new blogger
Before we get into the "how" and they "why" of growing my blog, let's take a look at the numbers.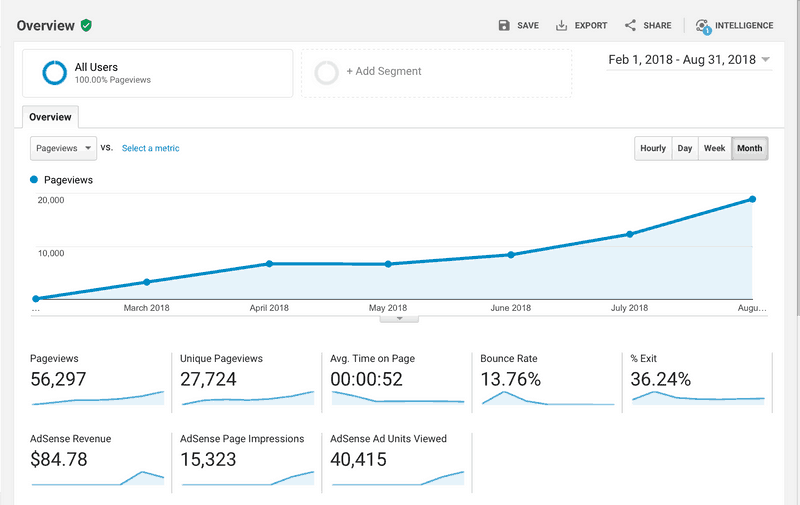 It's a little tough to see the numbers on the chart, so here is a breakdown of the month-to-month growth in pageviews.
As you can see, I had small growth in the beginning, followed by zero growth in May when Pinterest tried to kill me, followed by a large leap in pageviews, with 50% month-over-month growth from July to August!
I ended August with 18,892 pageviews — yes I rounded up to 19k. The OCD in me cringed at the non-round number in a title. I figured it was close enough. 😉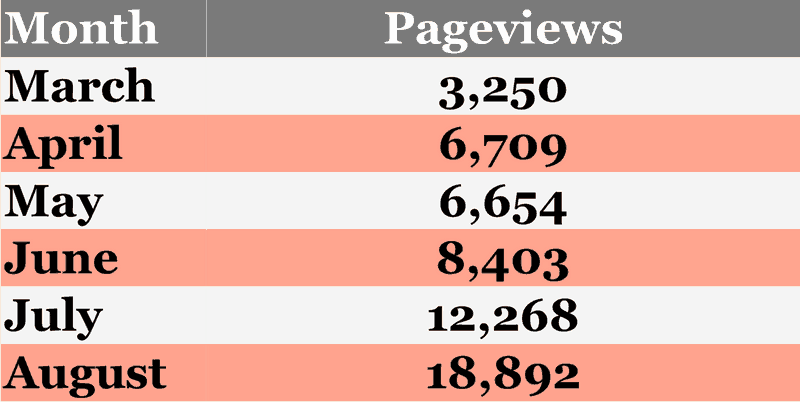 This post may contain affiliate links for your convenience. That means that if you make a purchase, I will receive a small commission at no extra cost to you. I only recommend products or services that I fully believe in and use myself. Read more here.
Growing social media as a new blogger
As far as social media, I started out with zero followers on Facebook, Pinterest, Instagram, and Twitter….I basically had no knowledge of how to use any platform prior to starting my blog.
(Yes, I am a 35 year old grandma…I know, I know.)
As it currently stands I have:
Pinterest   – 945 followers
Instagram – 470 followers
Facebook  – 161 followers
Twitter      – 107 followers
Pinterest has been by far my fastest growing platform and a HUGE part of my blogging strategy. You can tell that I have barely focused any energy at all on Twitter; however, it is still a necessary social media platform.
My blogging successes
For a new blog with a fairly low domain authority and page authority, I have been very successful with search engine optimization and getting excellent rankings in Google searches — particularly for image searches, which someone might use when looking in particular for recipes, crafts, or home decor.
Posts that rank well in Google searches and drive organic search traffic include:
In fact, my fall pillow post has already resulted in 23 sales, despite it being a very recent post! That is by far the most traffic going to my Amazon affiliate page – all because of good SEO!
Since all of the items are under $10, the commission is very small, but hey — I'm still smiling! 🙂
The five most popular posts on my blog include:
As you can see, many of my top posts also tend to rank well for SEO!
However, my top performing post (365 Easy Healthy Lunch Box Ideas) is purely driven by Pinterest traffic and results in a massive amount of pageviews every day.
Likewise, my post with Pinterest tips also sends me a nice amount of traffic, solely from users on Pinterest!
Other blogging successes include:
Being featured on the HomeRight DIY blog
Earning $324 in affiliate sales and ad income
Getting a paid blogging collaboration opportunity (more details soon)
Growing my email list to 151 followers (I appreciate every single one of you <3)
Another truth about growing your blog quickly
If you are trying to build an authentic and successful blog and you think you can do it for only $3.95, I have some bad news for you.
You can't.
Honestly, when it comes to blogging, it pays to invest in yourself right off the bat.
Like they say, sometimes you gotta spend money to make money. I am NOT saying go crazy and buy all the things…however,  there are some programs that will make your blogging life easier.
I often get the comment from my followers that they think I have been blogging for YEARS when they first come to my blog…then they read posts like the one on how I doubled my blog's pageviews and realize I have only been around for a handful of months!
Programs that have helped me grow and monetize my blog:
Here you can see the before and after comparison from when I first posted my recipe, to when I got better at photography and graphic design. Yikes!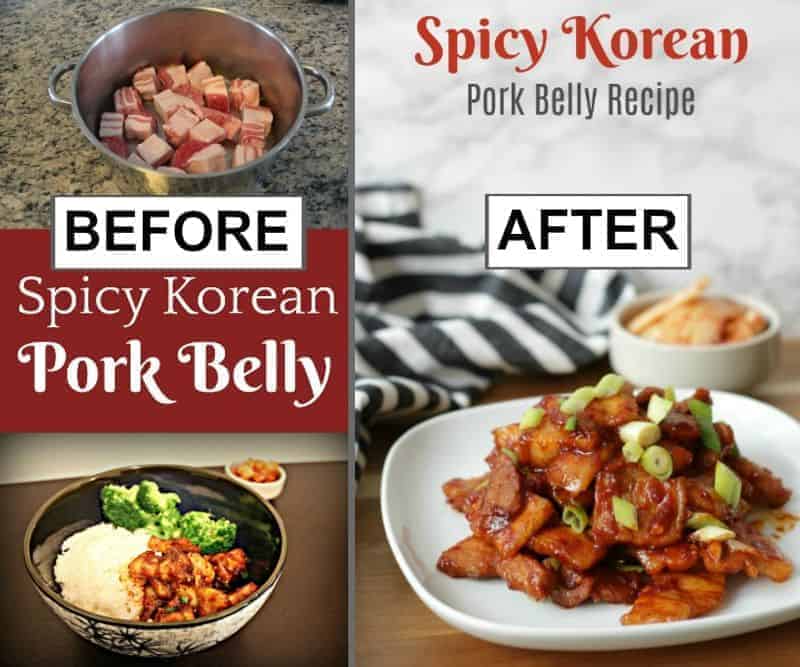 If you want to invest more in your blog, but are strapped for cash you can check out my side hustle that made me 10k and more than funded my blogging endeavors)
Short-term blogging goals and strategies
I am going to focus more on Pinterest and SEO in the following months, as those two drive the bulk of my traffic. The plan is to maintain my pinning schedule and ratio, while also trying to get into more/better group boards.
I am going to put less emphasis on link parties, as those do not drive a great deal of traffic for me.
Don't get me wrong, link parties were great for getting to know other bloggers in my niche in the beginning. I absolutely recommend them if you are very new!
But now that I know my peeps, I am going to focus on other areas.
I have drilled down into my Analytics report and found the link parties that drive the most traffic for me — I will be focusing on those in the coming months.
Link parties that I will continue to participate in:
As an aside, I haven't really found it as easy to connect with frugal living/personal finance bloggers as I do with home decor/craft/DIY bloggers.
I have two good friends (looking at you, Jacob and Renee) and some other newer bloggers I like to read (Ms Frugal Asian Finance is one), and quite a few idols, but I haven't really found a community like I have with my other niches.
If you are a PF/FL blogger and you find me, tell me where you guys hang out, mkay?
Other strategies:
Posting – I was trying to up my posting schedule from two/week to three/week, but with my son now starting kindergarten I see that isn't going to be possible. I will focus on continuing to create quality content 2x/week and use Pinterest and SEO to drive traffic.
Instagram – I will post only twice on Instagram each week when I release a new post, but continue to update my stories daily. Stories are what is hot right now on Instagram.
Facebook – A bug has prevented me from scheduling videos recently, which has driven my engagement way down, but there isn't really anything I can do. Other bloggers also have had this issue and it eventually went away, so I am going to keep sharing five times a day like I have been doing, with two of my own posts and the rest from other bloggers.
Twitter – Meh. That is pretty much my strategy. 😉
Photography – Continue to try and improve my photos.
Brands – I am going to start reaching out to brands for sponsored posts. Wish me luck…feel free to check out my media kit if you need some inspiration!
I hope that you found this write-up of my first six months blogging and strategic plan helpful! 
Let me know where you are at in your blogging journey in the comment section below!
If you enjoyed this post and want to see more in the future, let me know!