April showers bring May flowers! Or so the saying goes…but you may not miss those flowers as much after seeing this colorful kids spring painting activity! This April showers drip painting activity is a STEM art project that creates a marvelous work of art while also teaching kids about gravity.
As children use plastic pipettes to drip colorful water, they are also learning about physics!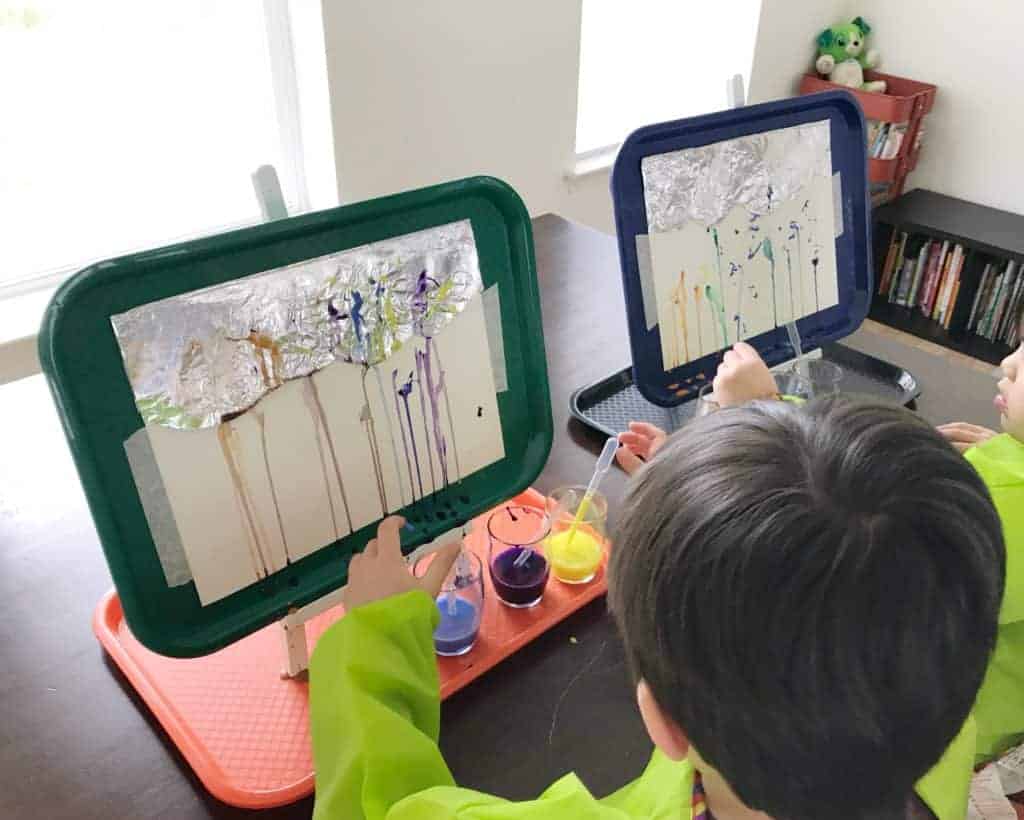 This post may contain affiliate links for your convenience. That means that if you make a purchase, I will receive a small commission at no extra cost to you. I only recommend products or services that I fully believe in and use myself. Read more here.
STEM Art Project for Kids
Before you start this experiment, take some time to talk to your kids about gravity.
My five year old already knows enough to tell me that gravity is what holds people and things to the Earth and keeps them from floating away into space!
My three year old was able to understand that gravity is what makes things drop…such as toys when you throw them at your brother 😉
For this art experiment you will need:
Watercolor paper (regular paper might work too, but it may get more saturated)
Waterco paints
Plastic pipettes (I got mine in the soap making aisle at Michael's; you can also buy here)
Lunch trays or something to contain the mess; cookie sheets would also work (Just clean really well after)
An easel or something to prop up the tray
Scissors
Cups
Reynold's Wrap
Painter's tape
Glue
Take your watercolor or plain paper and measure a rectangle of foil that will fold over the top of the paper. You want the rectangle to end about 1/4 of the way down from the top of the paper. This foil will become our clouds!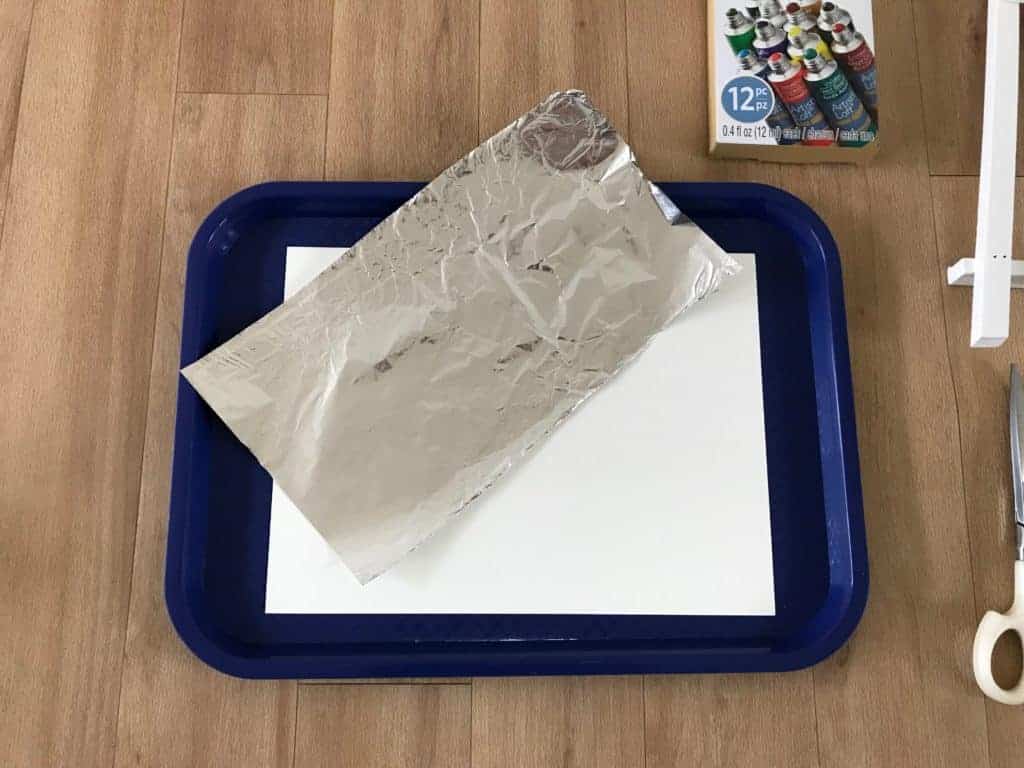 Don't worry if there is excess around the sides. You can just fold it around the back. Foil is very forgiving!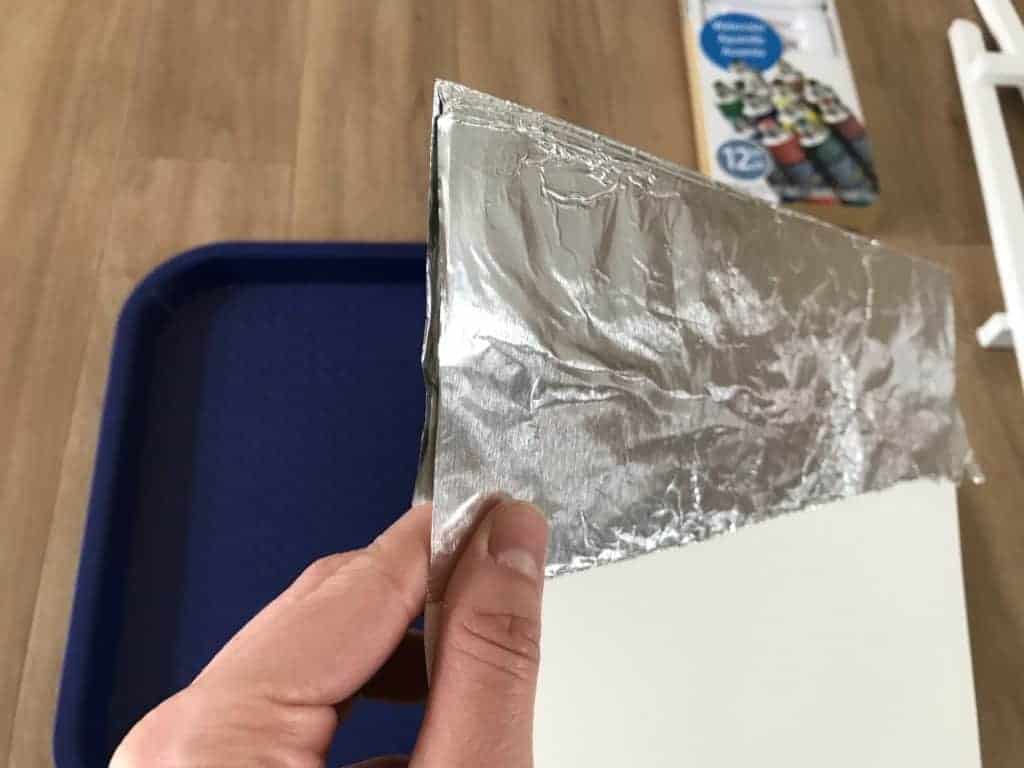 After you have measured the foil across the top of the paper, slide it off again and use the scissors to cut out a cloud effect at the bottom of your foil. Supposedly this helps make your scissors sharper too, so it's a win-win!
After you have it exactly like you want it, lift the foil slightly to glue it into place. Press the foil down and let the glue set.
While the glue is setting, it is time to mix up your paints! Add a generous amount of paint to a SMALL amount of water.
You don't need very much water, because you want the tracks of the paint to stand out and not allow the paper get overly saturated.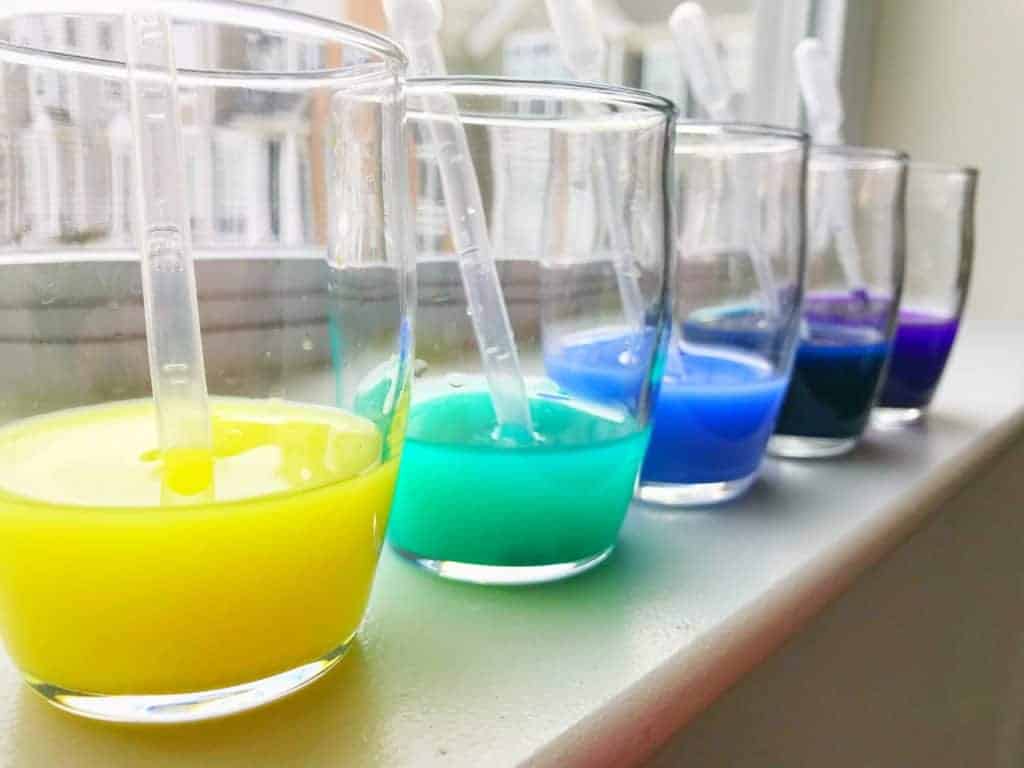 Use the painter's tape to tape the paper to the lunch trays and stand the trays upon the easel (or prop them up with whatever you are using…just make sure it's waterproof).
You will also need another tray or cookie sheet underneath! That is because there will be a lot of liquid dripping down, and you want something to catch it. We like messes…just not on our dining room floor 😉
Now you are ready to let them start drip painting! Remind your kids about gravity and how it pulls objects down towards the Earth. Then, give them the pipettes and let them start dripping away!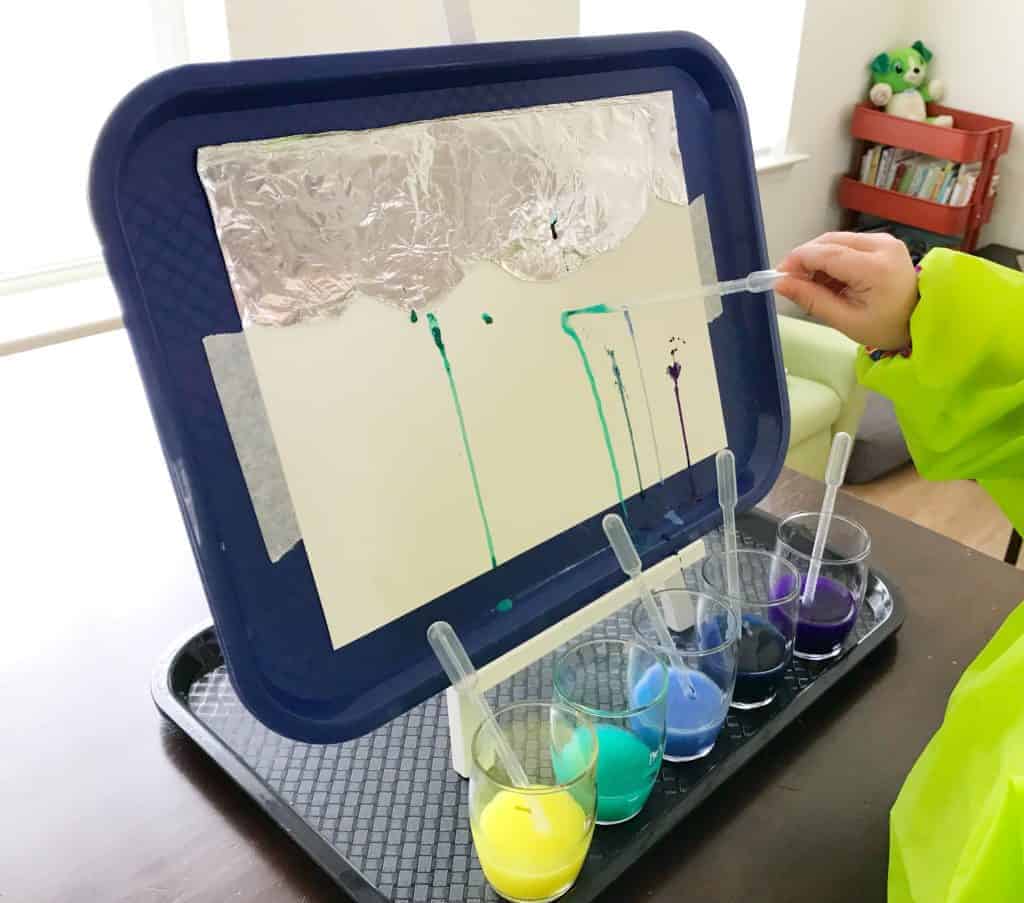 Don't worry if they get some paint on the foil…it's really easy to wipe off with a moist paper towel if you want to tidy it up!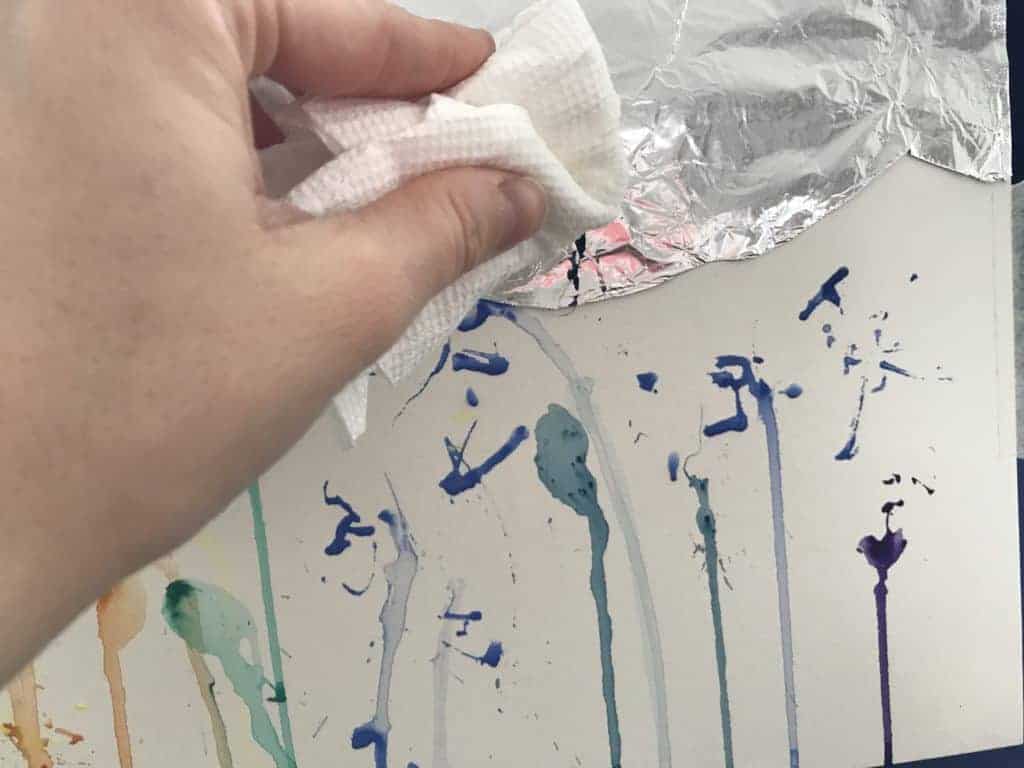 My boys loved putting the pipettes into the water to suck it up, and then letting it drip down the paper. They experimented with different quantities of liquid, and noticed how more water ran down faster than the tiny droplets, which just stuck in place.
We also experimented with different angles of the tray, to see which made the water run down faster and which made it run down more slowly.
The final result? A beautiful watercolor rainstorm that would make Claude Monet weep technicolor tears of joy!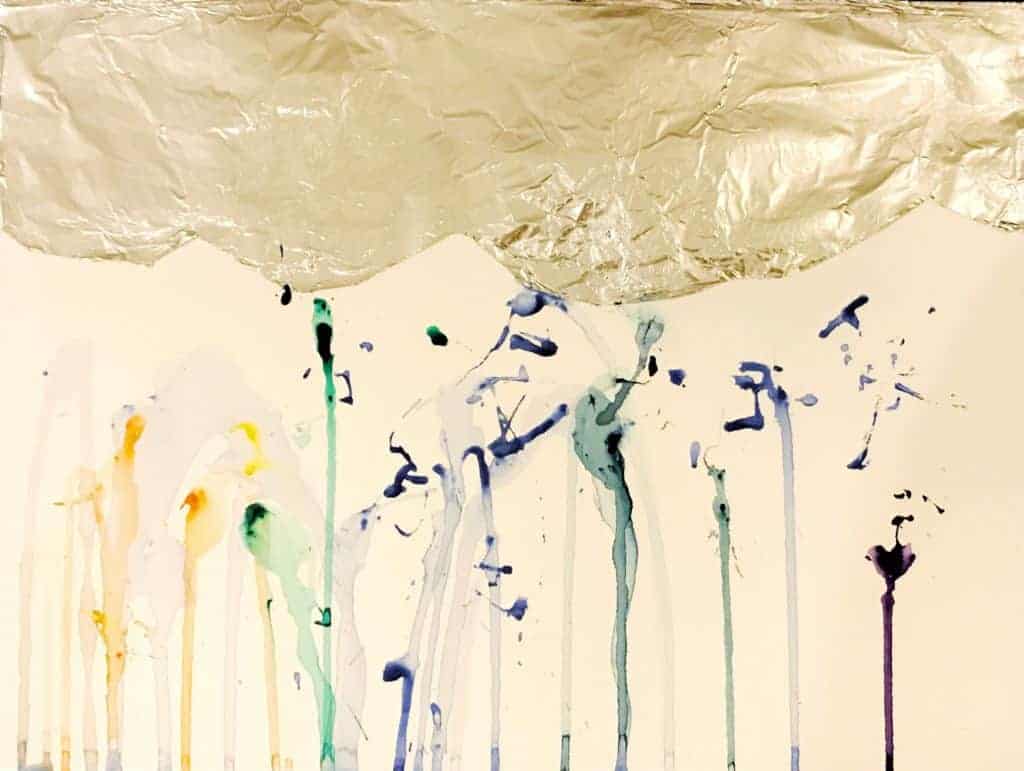 Hopefully this painting activity is enough to brighten your day! Our April showers haven't brought us flowers yet, but I think I like this art project just as much 🙂