If you are looking for a way to increase traffic to your blog, rank higher in search engines, and finally start getting more pageviews, I have good news for you! There is a plugin that can help you do all of that — and more.
Read on to find out how Tasty Pins can drive massive traffic to your blog, whether it's brand spanking new or even well-established!
This is why you need Tasty Pins
Even if you are a new blogger, you need to think about search engine optimization (SEO), right off the bat.
If you don't, you are putting yourself and your blog at a distinct disadvantage.
Search engine optimization basically means formatting your blog post in a specific way that will make Google like you — by that I mean Google will, like, totally want to be your BFF and you can hold hands and skip off into the sunset together while eating ice cream in tandem.
What search engine optimization (SEO) and why is it important?
Here is a little more information from Professor Wikipedia:
Search engine optimization (SEO) is the process of affecting the online visibility of a website or a web page in a web search engine's unpaid results—often referred to as "natural", "organic", or "earned" results.
Want to get more traffic without having to pay major advertising bucks? Having excellent SEO is the way to accomplish that goal!
True story time (don't you love these?)
I have a dear blogger friend who gets 1 million pageviews per month on her blog.
A few days ago she was happily pinning images to Pinterest when BANG!
Her entire Pinterest account disappeared like it never existed. Hundreds of thousands of pins — nearly six years — gone *poof*.
She watched her real-time traffic drop from hundreds to dozens.
After she finished nearly having a heart attack, she went to write up an angry email to Pinterest, but lo and behold, before she could even finish her account magically reappeared.
Talk about a wake-up call!
As they say, don't put all your eggs in one basket.
My friend has realized the importance of SEO and is working hard to improve her blog.
The benefit of having strong SEO is that even if your Pinterest account (or even Pinterest itself) suddenly disappeared, you could still count on organic search engine traffic to bring in pageviews and money to your blog.
Start off on the right foot and work on SEO now! *Mic drop*
Tasty Pins 2020 update – over 1 million pageviews
Now that I have been using Tasty Pins for over a year, I figured I would come back and update this post.
I STILL love Tasty Pins and all the features it offers, which you can read more about below.
Here you can see the month-to-month progress of my blog; as you can see, there has been a slow but steady rise until last month when I achieved nearly 200,000 pageviews in October!
That's over 1.2 million pageviews total in the course of a year — I am sure next year will be even better!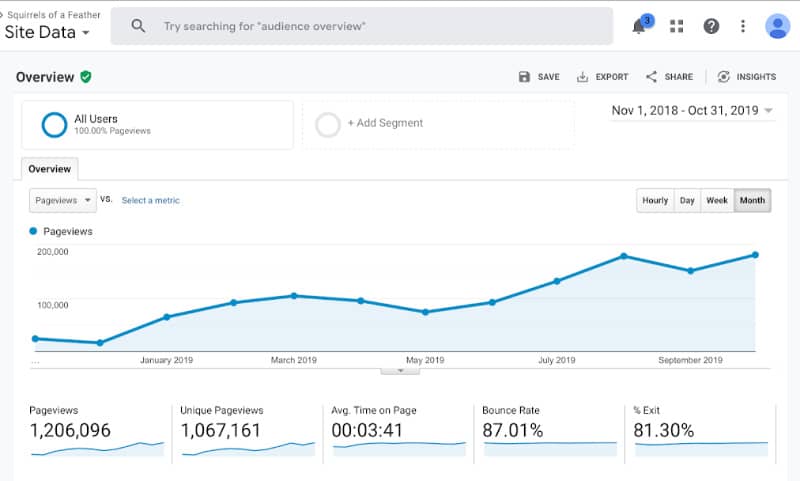 This post may contain affiliate links for your convenience. That means that if you make a purchase, I will receive a small commission at no extra cost to you. Read more here.
An SEO strategy that works for Google and Pinterest
If you want traffic from Google and Pinterest, SEO is EXTREMELY important.
When developing a Pinterest strategy, many people might assume that Pinterest is a social media site, like Instagram or Twitter…and most people would be wrong.
Pinterest is not a social media platform — it is a search engine.
That's right!
Like Google, Pinterest is a search engine.
However, the ways in which Pinterest and Google read and utilize data is totally different.
If you optimize your images for Pinterest, you risk losing out on that sweet, sweet organic search traffic from Google.
The reverse is also true; by optimizing for Google, you run the risk of losing out on Pinterest traffic!
The key is alt-text.
Alt-text and why it's important for SEO
Also known as "alternative text", alt-text was designed as a way to describe an image that you can't see.
This is especially helpful for visually impaired users who require screen readers that read text off a site for them.
Still not sure what alt-text is?
Think of when you see a broken image link — you see an empty box with a question mark, a highlighted box around it…the alt-text is what would show up in place of that image.
What you have to realize is that Google can't "see" your site — it doesn't have eyes, after all!
When search engines enter your site and take a good look around (which is called crawling), they are looking at the alt-text.
Alt-text helps you inform search engines what your images are in a way that will let people who are searching for what you are writing about find your site.
As Hamlet would say, there's the rub.
You see, when you enter the alt-text in a way that makes it SEO-friendly for Google, it makes it less-than-appealing for Pinterest.
If you are using the alt-text as Google intended and describing the image, that description is going to look pretty ugly on your Pinterest-optimized pin.
So instead of a drool-inducing description for a chocolate chip cookie recipe like this one from Pinch of Yum —
The BEST Soft Chocolate Chip Cookies – with more than 250 reviews to prove it. no overnight chilling, no strange ingredients, just a simple recipe for ultra SOFT, THICK chocolate chip cookies. <3 "
— you would see instead a description at the bottom with:
chococolate chip cookies and a glass of milk"
That second description isn't exactly click-bait, is it? (See a video demonstration with this exact example here.)
So how can you solve this seemingly unsolvable problem? That's where Tasty Pins comes in.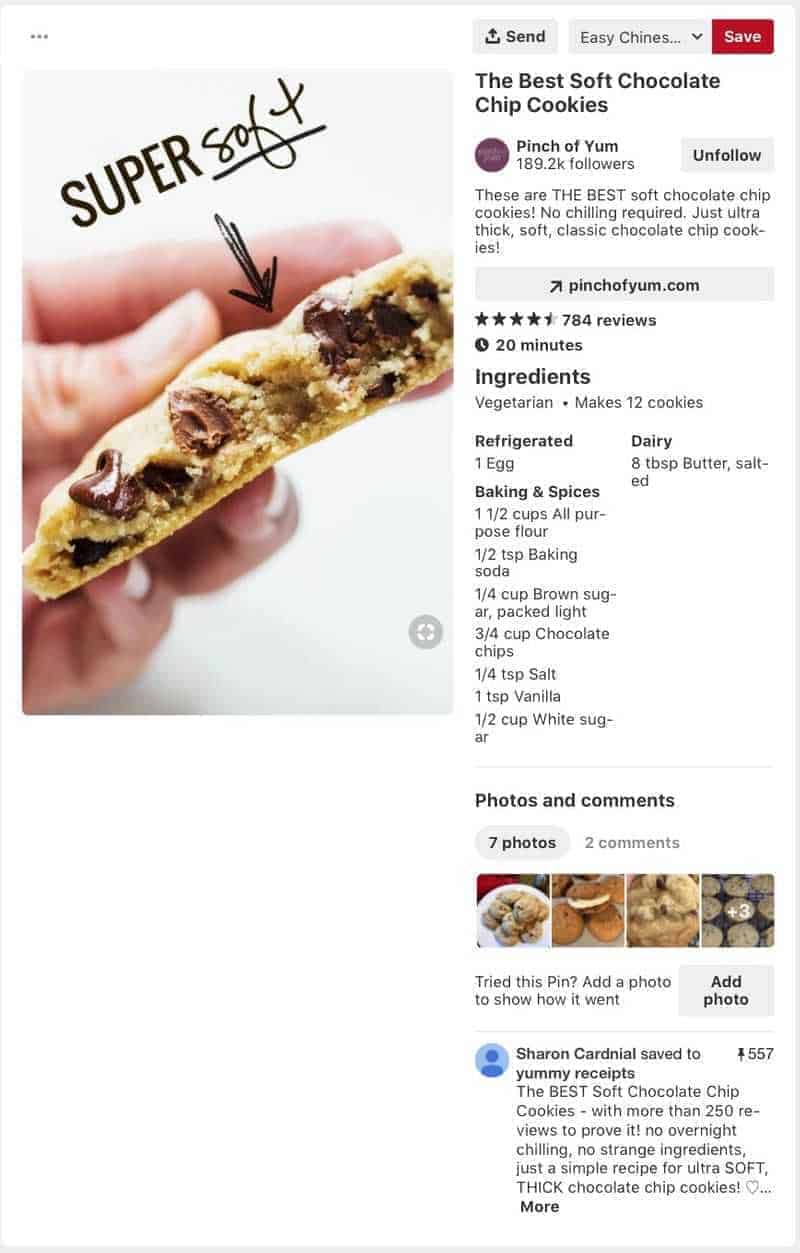 How Tasty Pins solves this SEO conflict
You want to be BFFs with Google — but you also want to be BFFs with Pinterest!
You quickly realize Google and Pinterest don't really get along.
They can't agree — they want totally different things; is there any way you can you make this three-sided friendship work?
Tasty Pins is the friendship bracelet that is going to band the three of you together.
Developed by the talented bloggers at Pinch of Yum, Tasty Pins is a way to optimize your images for both Google and Pinterest.
You see, over time Björk at Pinch of Yum noticed the disconnect between the way that Google and Pinterest read and use data, namely via the alt-text.
The creators of Tasty Pins figured out how to "hook" the information in a way that gives Google the descriptive alt-text it needs, while at the same time maintaining a visually appealing Pinterest-friendly description at the bottom of your images.
By doing this, your images will be optimized for Pinterest and Google at the same time, which in turn allows you to rank higher in search results on both platforms.
Tasty Pins before and after results on Pinterest
I purchased Tasty Pins in my third month of blogging and my results have been absolutely insane!
I wish I had bought Tasty Pins when I first started my blog — I might have grown even faster.
Probably one of the best (and most affordable!) investments I have made in my blog thus far, with an extremely high return on interest (ROI).
I was able to dig up some images that clearly illustrate the before and after results of Tasty Pins. Here is an example of what my image looked like before I started using Tasty Pins.
As you can see, the descriptive text at the bottom of the image for my DIY Lavender Earl Grey sugar scrub was pretty bland.
The "before" description simple reads DIY Lavender Earl Grey Sugar Scrub and received a whopping total of 87 impressions, 3 saves, and 1 click.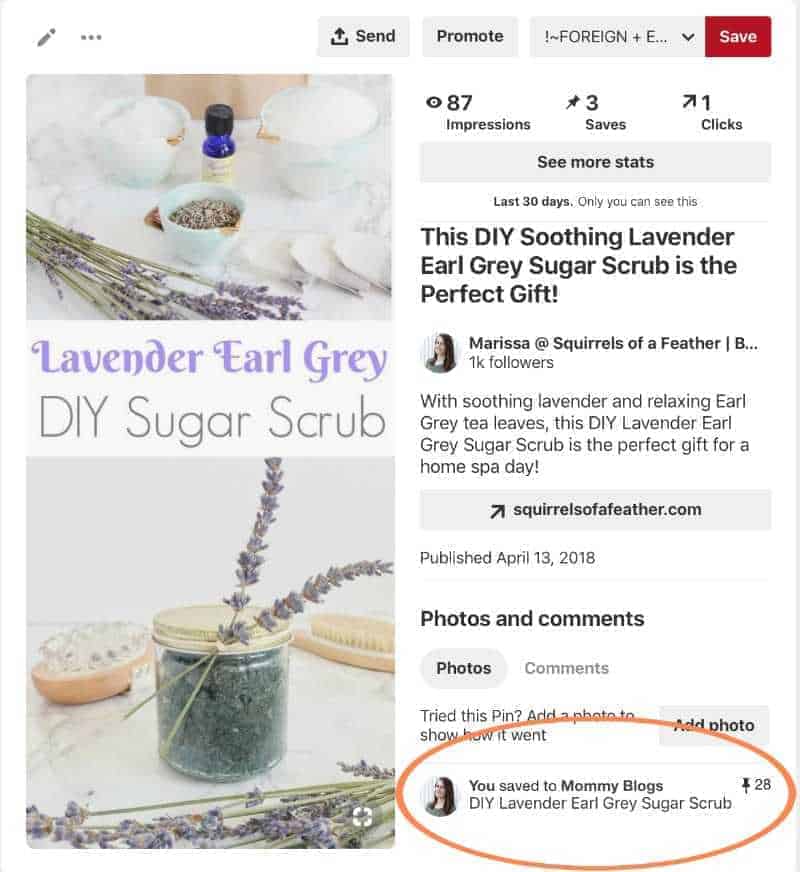 The new description, by contrast, is loaded with Pinterest-optimized keywords, uses appealing language that just begs you to click, and even includes hashtags!
This image that used the Tasty Pins plugin earned 1.8k impressions, 3 saves, and 4 clicks. Obviously, my reach was vastly improved with Tasty Pins!
Using hashtags on Pinterest
Pinterest recently announced they were rolling out the use of hashtags, and guess what happens if you search for #sugarscrub on Pinterest?
You see this!
That's right — since I just pinned my sugar scrub it ranks TOP ROW in the search results!
Hashtag use will result in a chronological sequencing of your Pinterest pins, bypassing the Smart Feed should someone choose to search for a query by using a hashtag.
However, it won't stay at the top.
Depending on the volume of people using the same hashtag, it may be gone in an hour or a matter of seconds!
However, if you keep repinning the image it will appear at the top of the feed again and again.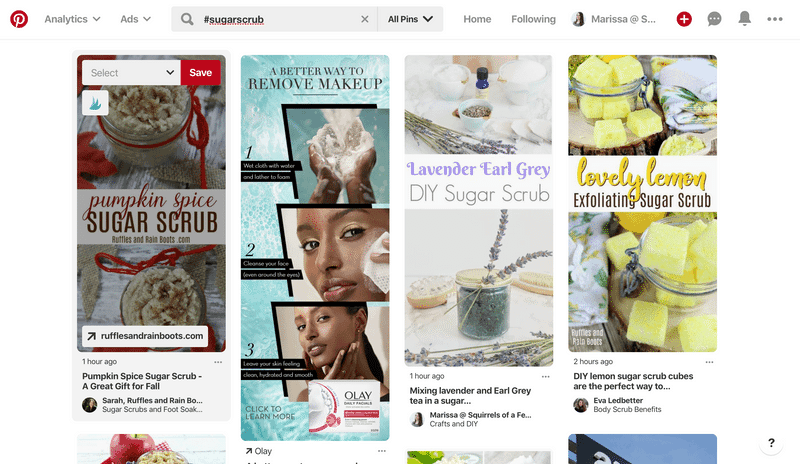 Tasty Pins before and after results on Google
Besides improvement for reach on Pinterest, you can also expect improved ranking in Google searches.
For example, if you search for "KonMari checklist", despite the fact that my blog is very new, I currently hold position four position three on Google for KonMari checklists — you can read all about how Tasty Pins improved my organic search traffic more than fivefold here in detail.
My blog also performs very well in image searches.
Here you can see a snapshot of the post I mentioned above, with my images shown in the first and second rows of the image search results.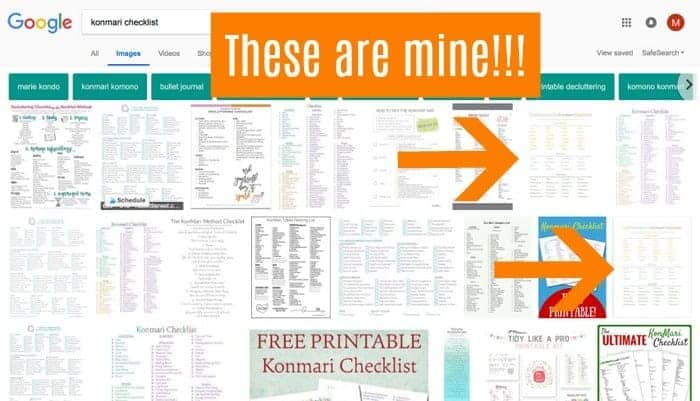 What else can Tasty Pins do for you?
As if optimizing for Pinterest and Google wasn't enough, Tasty Pins also offers other cool features that will make your life 100x easier.
Other Tasty Pins features:
Hide Pinterest-specific images with a click of a button — no coding required!
Easily disable pinning on certain images
Automatically add a hover button to pinnable images
Funnel users to pin only the best images
Set Pinterest descriptions for multiple images with preferred keywords and hashtags
All this with lightning-fast speeds, unlimited tech support, and a 15-day money-back guarantee!
Try Tasty Pins now and get your SEO game on point!
Are there any issues with using Tasty Pins?
After having used Tasty Pins for one year, I have only noticed two issues.
For me, the pros vastly outweigh the cons, but for full disclosure I want you to know some potential issues you might run into while using TP.
Tasty Pin issues:
Hidden images are not "read" by Tailwind*
Alt-text is randomly deleted from hidden pins
*Update! They now have a fix for the hidden image issue; see this post for the directions to mitigate this issue. Contact your theme support if you are worried about doing this yourself.
The second issue also seems to have been corrected with updates.
The funny thing is, not everyone seems to have these issues; I ran a poll in a Facebook blogging group that I belong to for users of Tasty Pins, and it seems only 50% of the users experience these issues.
I would also like to add that Tasty Pins DID try and fix the alt text deletion issue for me, but were unable to replicate the issue on my blog themselves — but I can say they responded quickly and made a genuine effort to try and help!
For me, these issues are no big deal.
I know to watch out for it and go back after saving/before publishing a post to make sure all my alt text is in its proper place. 🙂
Got Tasty Pins questions?
Let me know if you have any questions related to Tasty Pins in the comment section below!
Pin this!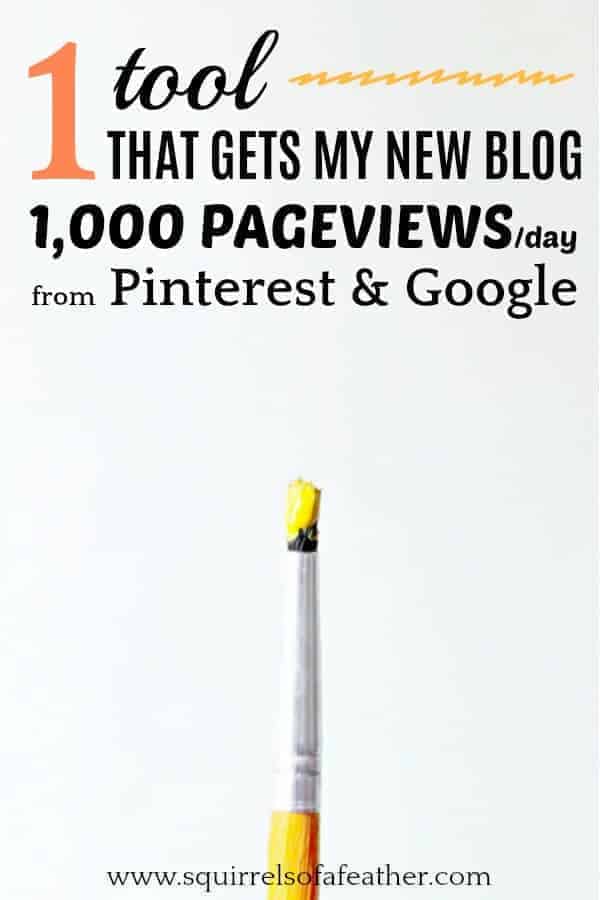 SaveSave
SaveSave
SaveSave
SaveSave