Watercress is the most amazing super green vegetable that you have never heard of! This aquatic leafy power vegetable's stems are hollow tubes, which allows it to float in water. It also has lots of vitamins and nutrients, making it a calorically light choice that packs a healthy punch! Much like its nutrient content, this watercress with lemon-miso dressing recipe packs another punch…of flavor!
Best of all, it's super easy to make, as it requires only 7 ingredients! Lucky!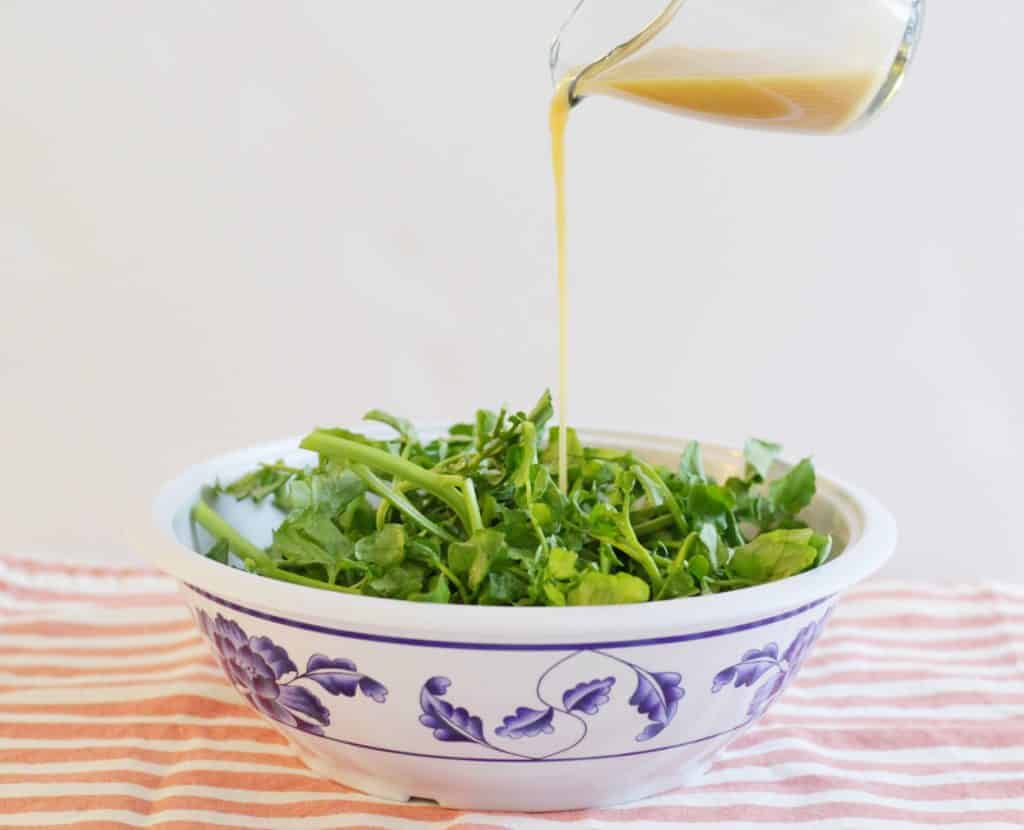 This post may contain affiliate links for your convenience. That means that if you make a purchase, I will receive a small commission at no extra cost to you. I only recommend products or services that I fully believe in and use myself. Read more here.
According to Wikipedia:
Watercress is 95% water and has low contents of carbohydrates, protein, fat, and dietary fiber. A 100-gram serving of watercress provides 11 calories, is particularly rich in vitamin K, and contains significant amounts of vitamin A, vitamin C, riboflavin, vitamin B6, calcium, and manganese.
If you have trouble finding watercress at your local grocery store, the farmer's market or Asian food stores are great alternative resources.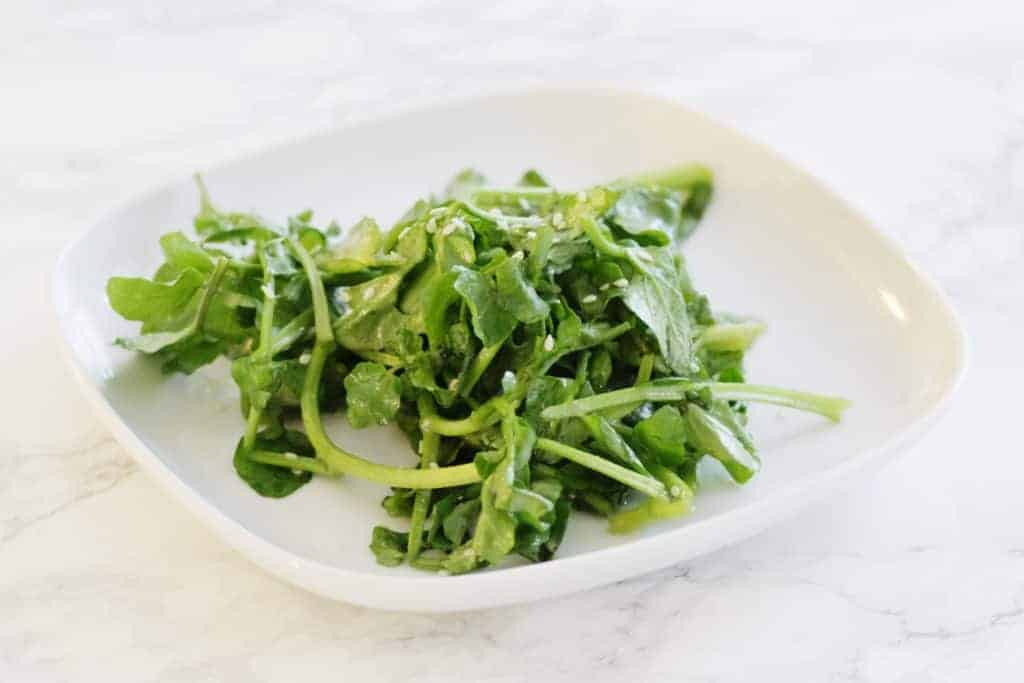 Watercress may look like a dainty veggie, but it's flavor is larger than life.
It's got a peppery kick of flavor that is similar to arugula. For this recipe, I kept my salad very light and didn't add any other "goodies" because my kids don't appreciate them 🙂
However, this salad could be dressed up any number of ways, by adding things like blue cheese, smoked salmon, pears, walnuts, etc.
The secret is in the sauce!
Actually, it's the dressing. This dressing contains various acids, which when combined with the saltiness of the aka-shiro miso and some sweet agave or honey make the perfect counterpoint to the peppery watercress.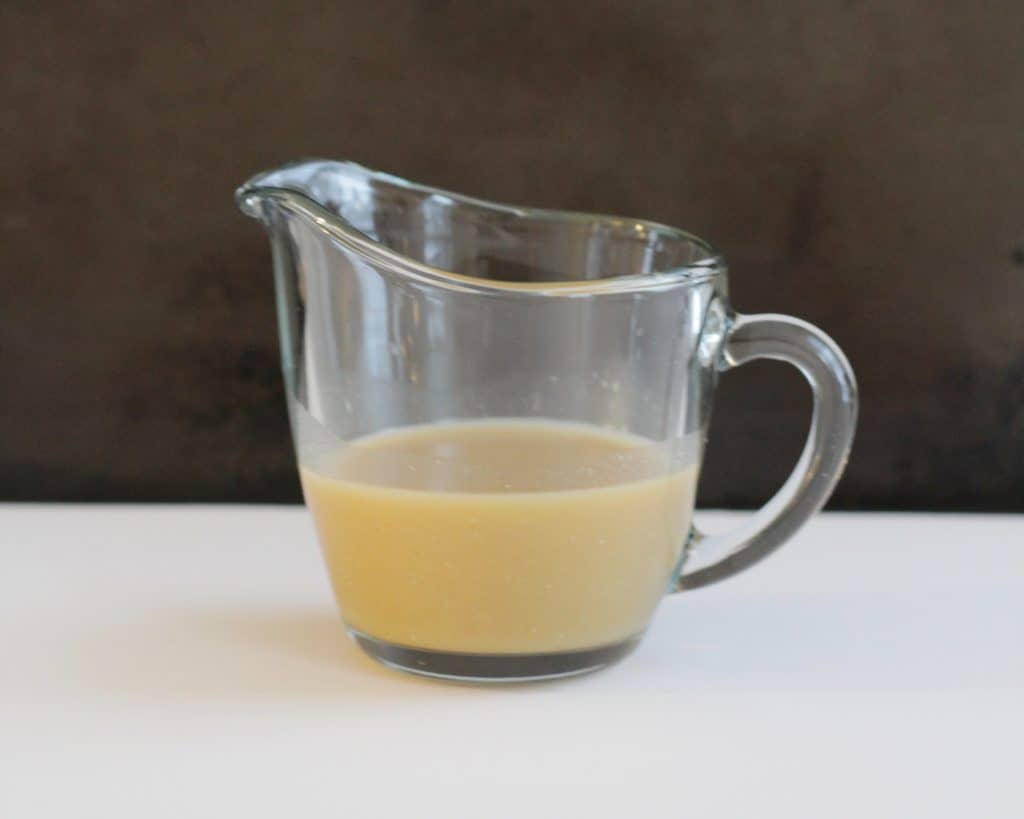 Aka+Shiro miso is a mix of aka (red) and shiro (white) miso. I find it to be the most versatile miso (I use the Awase brand), and have used it in various soup recipes and dressings. Again, Asian stores are the best place to find miso, although you may strike gold at your grocery store as Japanese cuisine has become more mainstream.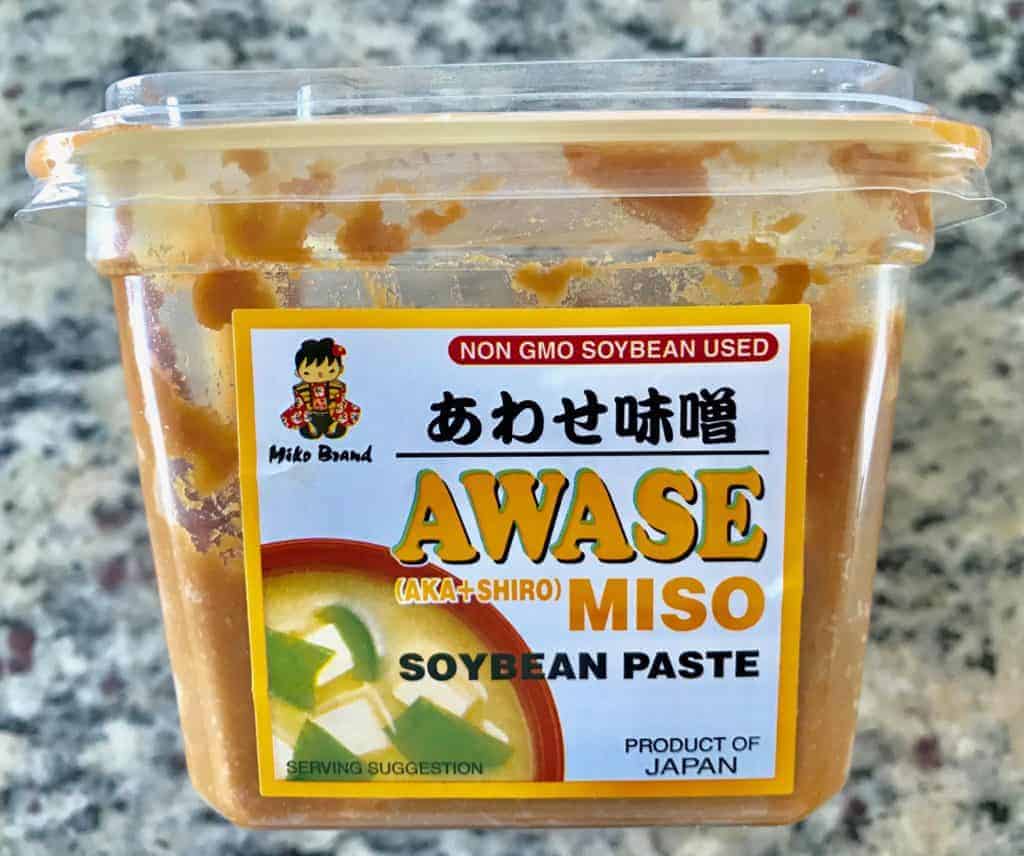 All the ingredients in this recipe are staples that you should keep in your kitchen pantry! Now, on to the recipe!
Watercress with Lemon-Miso Dressing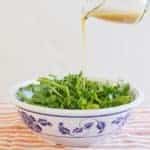 Leafy "super green" watercress packs a powerful punch of flavor when combined with my lemon-miso dressing! Best of all, it uses very few ingredients and only takes 5 minutes to make!
1 bunch watercress (rinsed and drained)
Dressing
1 Tbsp miso (aka-shiro )
2 Tbsp rice vinegar
1 Tbsp agave or honey
2 Tbsp lemon juice
1/2 Tbsp sesame oil
1 Tbsp canola oil (or other neutral oil)
Garnish
Mix the dressing
Take all dressing ingredients (miso through canola oil) and combine. Mix well until all combined and oils are emulsified. You may like to put it in a small lidded jar and shake to do this.

Place the clean watercress in a medium serving bowl. Drizzle with the dressing and toss to coat.

Serve immediately or chill until ready to serve.