If you are looking to reduce clutter, get organized, and improve the functionality of your home, you need the KonMari method of decluttering in your life! I am halfway through my own amazing decluttering journey, and today I am going to share with you nine tips that will help you declutter your kitchen with the KonMari method.
***WARNING! Side effects of decluttering may include excessive joy, an intense awareness of spaciousness, and a sudden feeling of contentment and peace!!!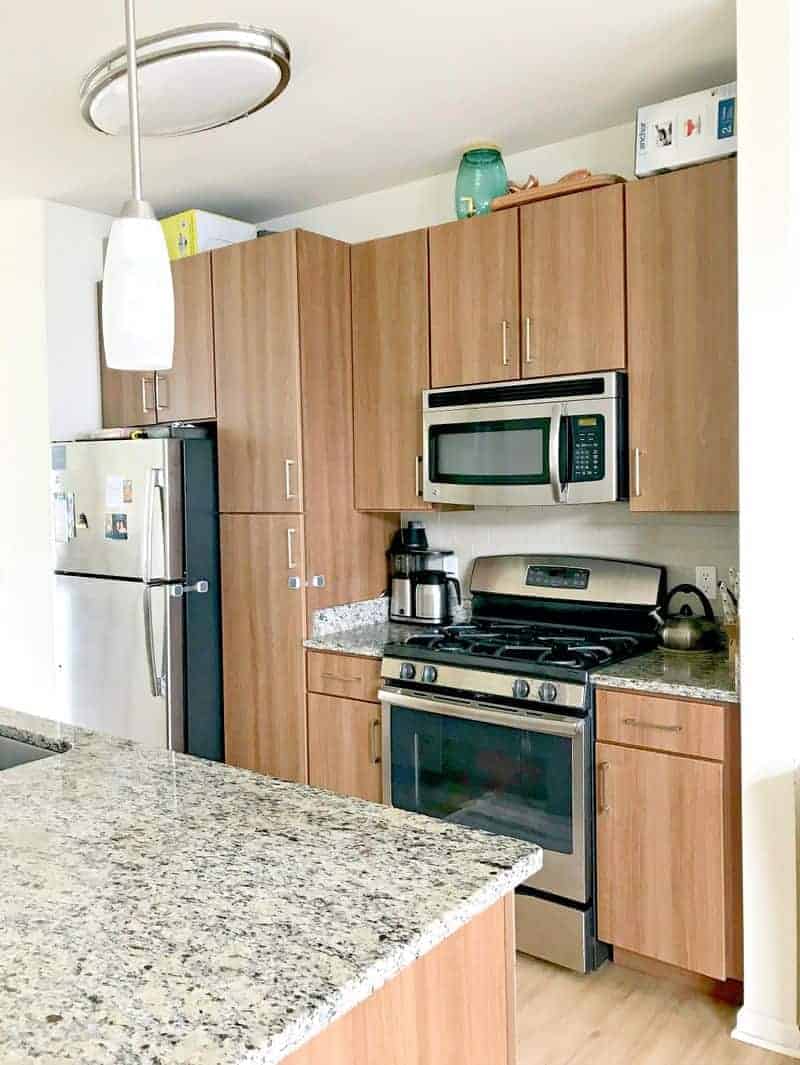 This post may contain affiliate links for your convenience. That means that if you make a purchase, I will receive a small commission at no extra cost to you. I only recommend products or services that I fully believe in and use myself. Read more here.
Why use the KonMari method to declutter your kitchen?
In my opinion, the greatest thing about the KonMari method is that it focuses on what to keep versus what to discard.
You see, whereas most other minimalist philosophies focus on the getting rid of part, the KonMari method is all about mindfully choosing to keep things that spark joy.
By focusing on what to keep rather than on what to discard, the process becomes positive and empowering.
Additionally, for those of us who live with the day-to-day challenges that small homes bring, the KonMari method is ideal for reducing clutter and improving functionality. We live in a 1,400 square foot townhome, spread out over three floors, and I can tell you every square INCH of our cabinets counts!
Considering that Marie Kondo comes from Tokyo, where kitchens are roughly the size of the average American bathroom, she definitely knows a thing or two about squeezing a lot of space out of a tiny place.
(If you are new to the KonMari method of decluttering I highly recommend you check out Marie Kondo's book, The Life-Changing Magic of Tidying Up: The Japanese Art of Decluttering and Organizing. It's called Life-Changing for a reason; it has literally changed my life and helped me move on after decades of grief.)
How to declutter your kitchen with the KonMari method
Here are my nine tips for decluttering your kitchen with the KonMari Method!
1. Clean your kitchen before you KonMari
Did you know KonMari can be a verb?
Well, it can. 😉
Although this isn't a tip that Marie Kondo shares, I myself have found that it is better to start with a clean kitchen so that you don't get distracted by the dirt, allowing you to focus on the clutter. It's like starting with a clean white canvas before painting a masterpiece!
Here is what my kitchen looked like before; cluttered, but clean!
(Check out my awesome tip for getting your stainless steel appliances sparklingly clean in five minutes, flat!)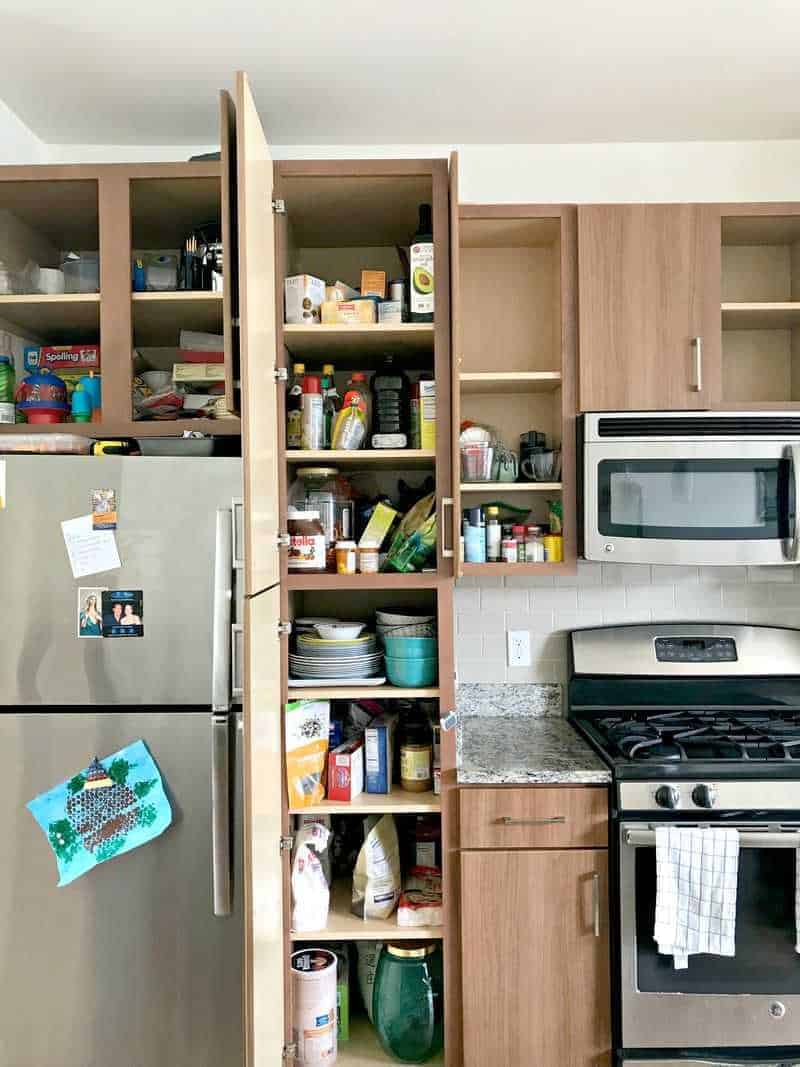 2. Have boxes ready to help sort your clutter
It really helps streamline the process if you have boxes ready to collect the clutter as you discard it.
I had cardboard boxes at the ready, which I labeled:
Any old cardboard box will do!
Items that are in good condition and highly desirable (read: antique glasses, vintage Pyrex, anything high-end (think West Elm), etc) can be sold on eBay, Facebook Marketplace, or Craigslist — even if the condition is not perfect!
(Read how I have made more than $10,000 selling my old clutter on eBay and check out this list of 50 items that can make you $50 or more! I found out my grandma's old head vase was worth $400+!)
3. Remove everything and place it on the floor
Take all of the items out of your cabinets and place them on the floor or counter for sorting. Depending on the size of the space you are working with you may end up with items here or there, and that is okay!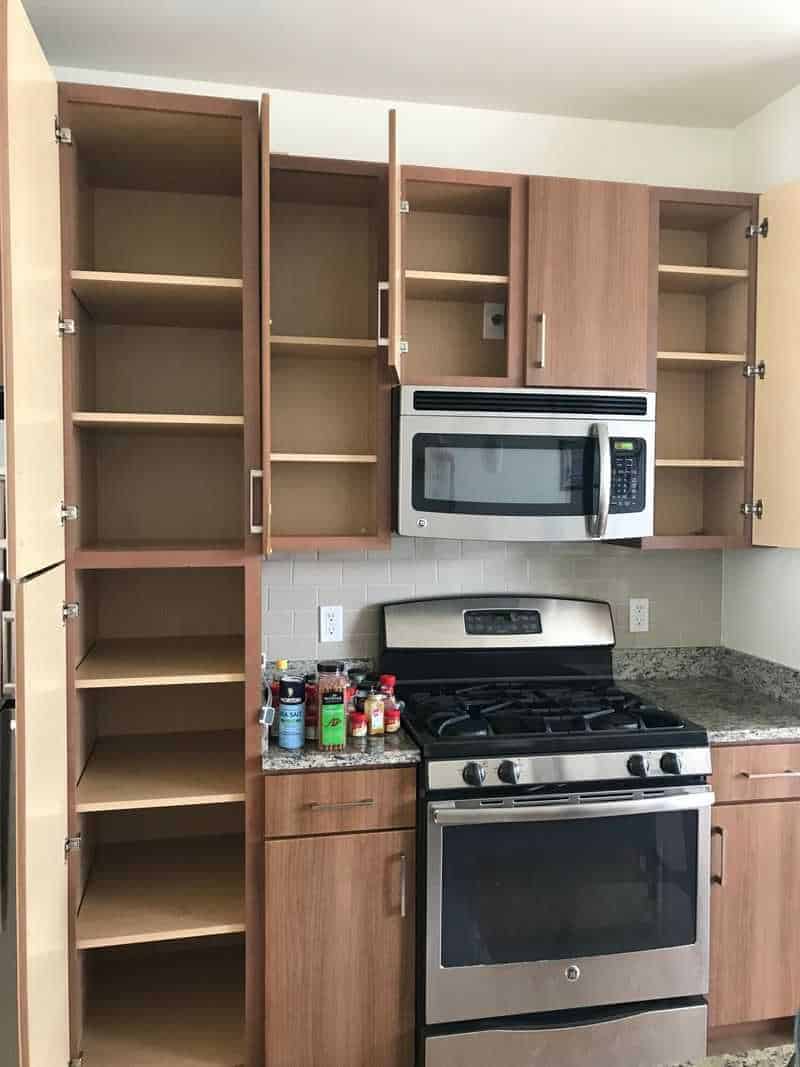 4. Don't forget to KonMari food items
Items in your pantry and refrigerator are supposed to be sorted as well.
I did decide to save the fridge for another time, but all the dry food items, spices, and condiments were removed and placed on the floor or counter.
In fact, don't forget anything by signing up to get your FREE KonMari Checklist! It's five pages of pure decluttering joy.
5. Handle everything; recognize attachment versus joy
Here is where things start to get really exciting! You need to hold every item in your hand and ask yourself, "Does this spark joy?"
If the answer is no, then adiós it shall go! Place it in its proper discarding box.
Not sure what your joy might feel like? Marie Kondo advises starting with an item that you feel very strongly about — an item that you know will be a definite yes! Choose a kitchen item that you know is going to give you that sensation of joy and begin from there.
In my case, I began with some of my mother's old places and pots. This helped me tune into the feelings of "joy" while decluttering my kitchen!
(A note about joy; it feels different for everyone. For me, the feeling is similar to the sensation I get in my throat/chest when riding a Ferris wheel or roller coaster, just less intense.)
Make sure you focus on joy versus attachment; attachment does not equal joy.
Did you know it's incredibly easy for people to form attachments to mundane items? In one study, people who handled coffee mugs for a longer period of time were willing to pay 60% more for those mugs later!
The more you handle an item, the more attached you become to it….that does not mean that it brings you joy!
Here is an example: I found myself overly attached to a bottle of olive oil — pretty odd, right? This bottle of olive oil had been in my husband's possession since I met him. Every time we went and got large bottles of olive oil, we would refill this smaller bottle with it. I felt like I couldn't part with it; it was like part of our family!
I was like Overly Attached Girlfriend…over a crusty old bottle of olive oil! Attachment is weird, guys! (I did get rid of the bottle, btw. 😉 )
By now I am guessing that your floor is looking pretty cluttered. AWESOME, in that case, you are #doingitright.
Here are all of the items that have been removed from my kitchen cabinets and placed on the floor.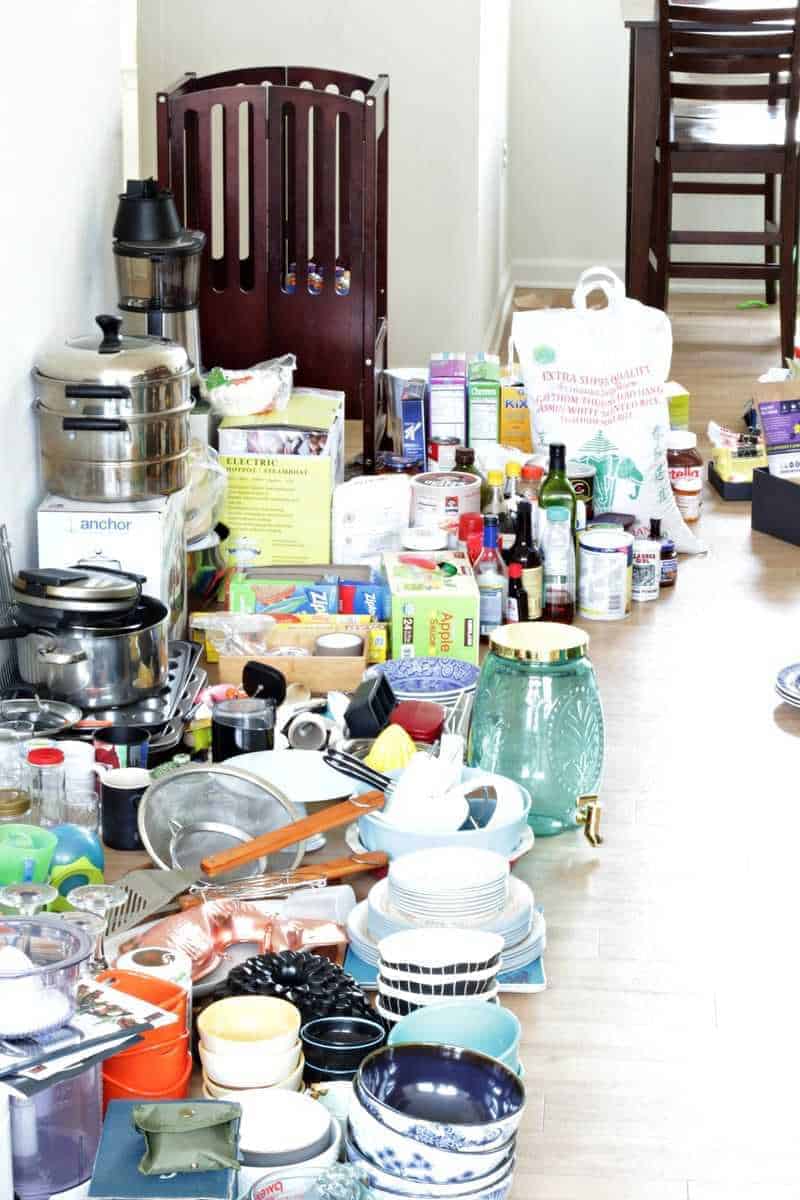 6. Clean your cabinets once they are empty
When are you going to get another chance like this?
Take a moment and use a hand vacuum to sweep out your cabinets and wipe them down with a vinegar and water solution. Allow them to dry completely.
Rejoice at the cleanliness.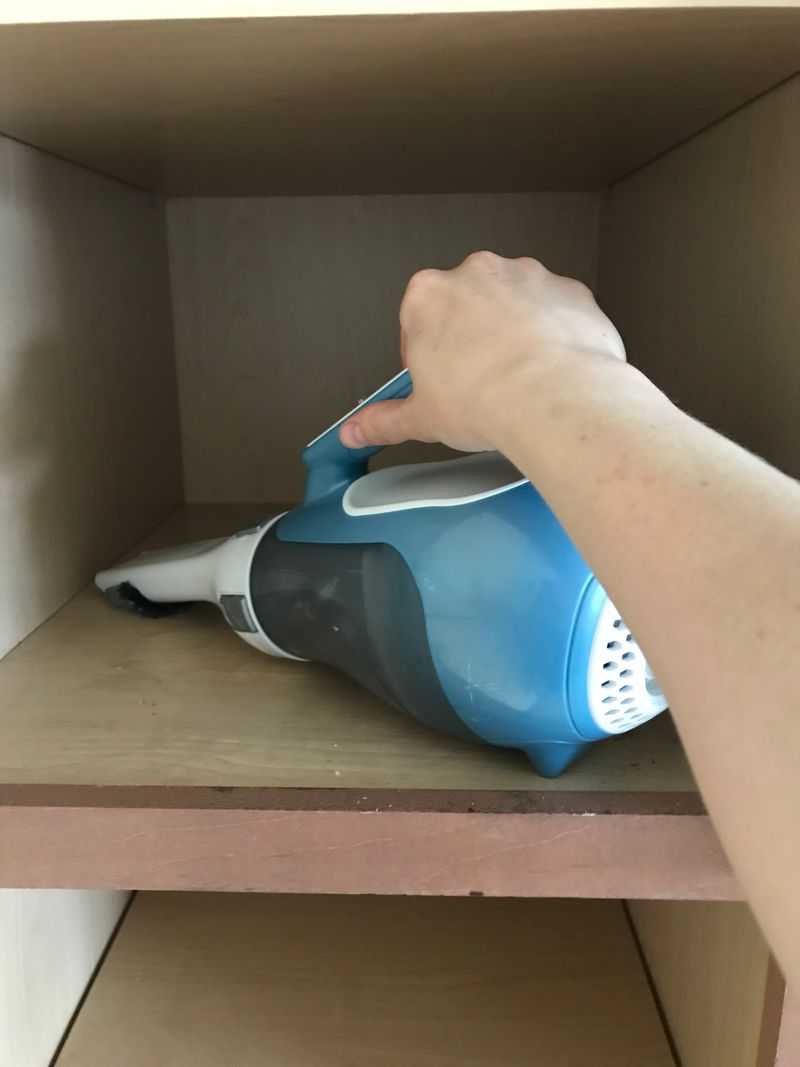 7. Play Tetris while you replace
If you have done everything correctly, you should have less items to return to your cabinets. After getting rid of so many items, you need to completely rethink how they are arranged in your cabinets!
It's kind of like a game of Tetris (and if you don't know what I am talking about, that makes me feel really old).
I find the best method is to start with the items that you KNOW have only one place in your kitchen.
For example, my large All-Clad wok and skillet can only fit inside my oven; I put those back first, along with the hot pot and a few other things that can only fit on top of my cabinets.
Once you replace those items, reassess everything else. Don't be afraid to move things around and experiment!
8. Use vertical storage if necessary
Marie Kondo mentions this tip in her book and I totally agree; vertical storage is a MUST for an efficient kitchen.
Here is a picture of one of the two expandable storage shelves that I used in our cabinets. It lifts up a pie plate and some utensils and gives me just a bit more space on the bottom.
Don't you feel happier just looking at this?
I know I do.
(Notice how I used the metal pan and the blue bundt cake pan to help organize some accessories…more on that in the next tip!)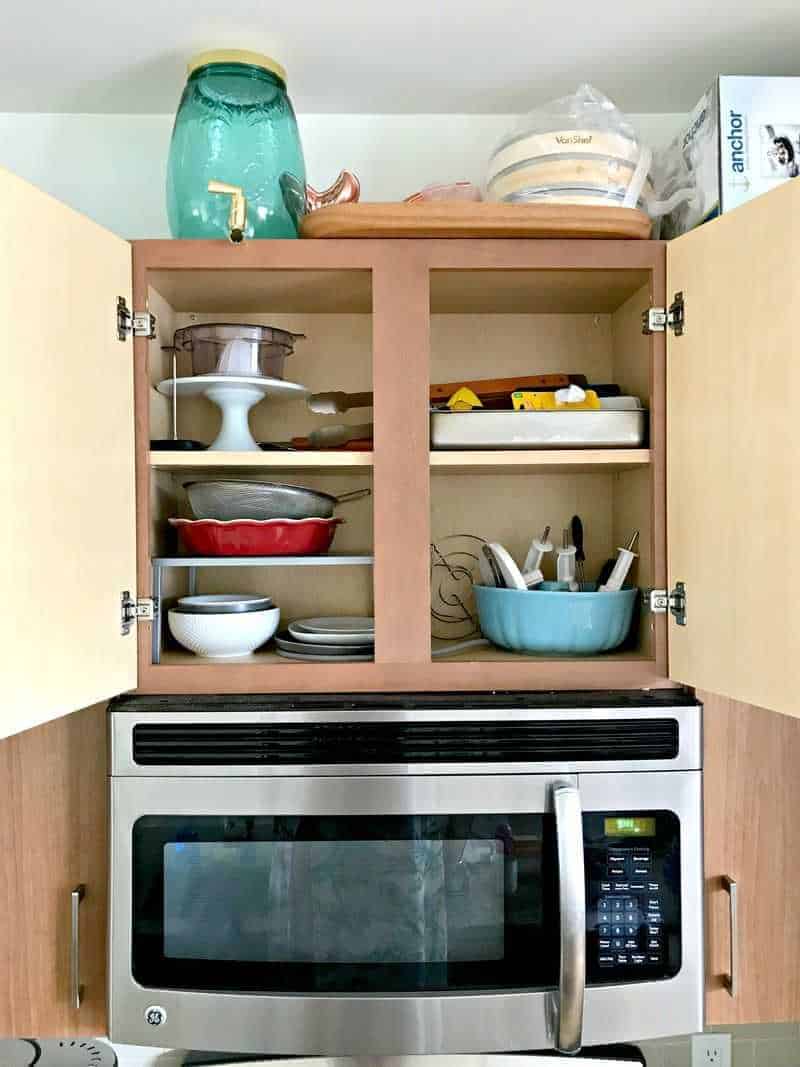 9. Use what you already have to corral clutter
One thing I loooove about Marie Kondo is that she makes decluttering accessible to everyone. She emphasizes that you don't need fancy containers to have neat and tidy cabinets.
In fact, she encourages you to use boxes and things you have just laying around!
(However, if you find fancy glass apothecary jars and jauntily labeled containers spark joy for you, I say go for it!)
One problem I frequently encounter in my cabinets is what I call "the floating bag phenomenon". Bags of sugar, bags of snacks, bags of flour, so many bags just floating around, being pushed here and there.
My solution? Shoeboxes! Which also happens to be one of Kondo's favorite organization tools. 🙂
I gathered a few shoeboxes, which I then used to store the bags neatly, arranged front to back from smallest to largest.
Instantly my cabinets felt more organized! Even better — I didn't need to spend an extra dime!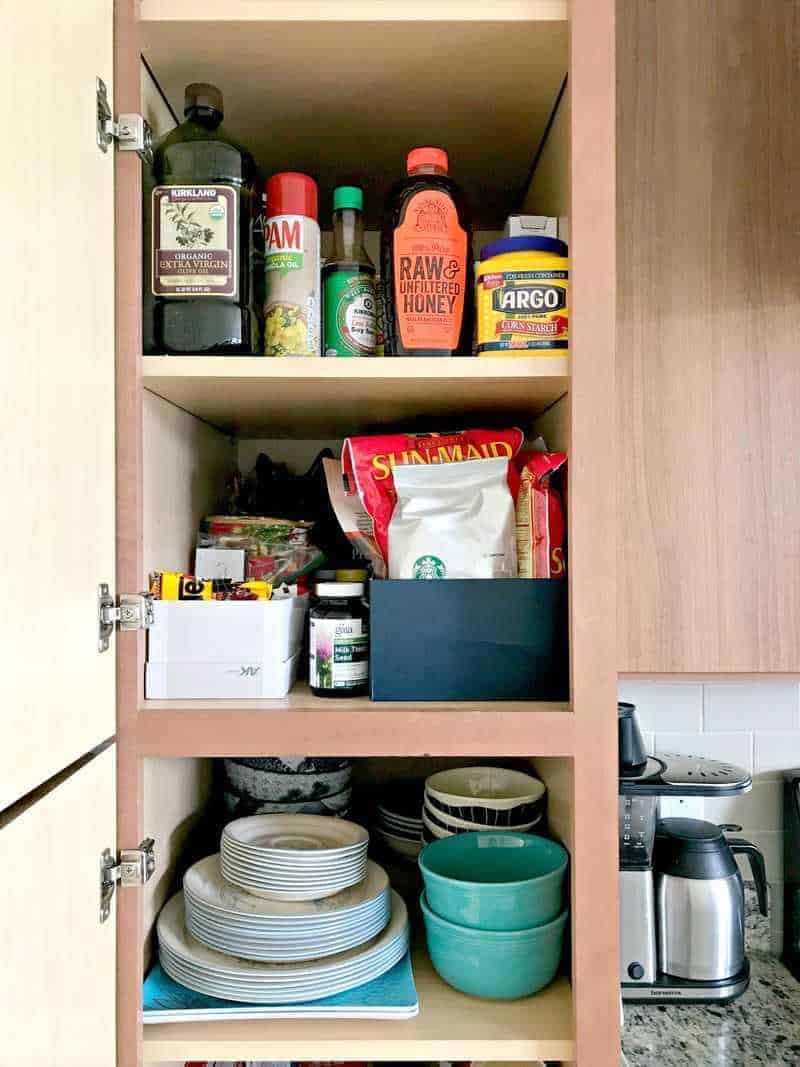 Now you are ready to declutter your kitchen KonMari-style!
I hope that you enjoyed this tutorial of how to declutter your kitchen with the KonMari method.
Please leave me a comment in the comment section below if you have any questions…or if you have a funny story about something silly you found yourself attached to!
* Update: you can read all my previous posts about the KonMari method, including:
Want to make money by selling your clutter?
I have made over $15,000 just by cashing in on my old junk — find out more here!
Pin it for later!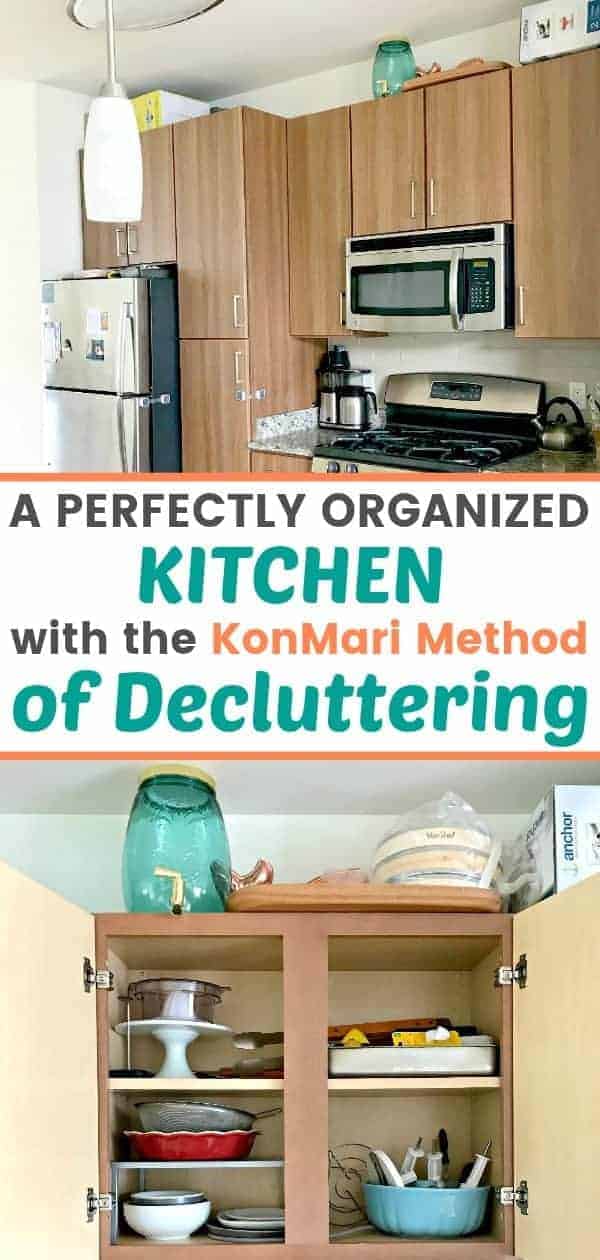 SaveSave
SaveSave
SaveSave
SaveSave
SaveSave
SaveSave
SaveSave
SaveSave
SaveSave
SaveSave