After reading Marie Kondo's The Life-Changing Magic of Tidying Up: The Japanese Art of Decluttering and Organizing, I wanted to get started right away clearing out my clutter and sparking joy. But being a little perfectionistic, I felt something was missing. A comprehensive KonMari Checklist, if you will.
* Update: you can read all my previous posts about the KonMari method, including:
Why I love the KonMari method
The KonMari method is FANTASTIC in regards to the mindset ones needs to correctly and completely declutter (focusing on what to keep versus what to discard…pure genius!), but it identifies items in each category in very broad strokes.
There is not a complete list of items to sort in each category.
A Comprehensive KonMari Checklist
I searched around for a checklist to use, but all the checklists seemed to have a lot of items missing in each category.
I was afraid I would forget something!
That's why I decided to create my own checklist!
This FREE Comprehensive KonMari Checklist has everything you've thought of (and loads of things you haven't) in each of the KonMari categories:
Clothing
Books
Papers,
Komono
Mementos
Because the amount of items covered by komono (the KonMari term for miscellany) is so broad, I further sub-divided komono into the following categories:
Komono: Office and Family
Komono: Kitchen and Pantry
Komono: Bath and Laundry
Komono: Tools and Garage
Komono: Children
Komono: Animals
As you can see, there are plenty of items that fall under the broad umbrella of komono!
Sometimes we busy mothers just need to divide and conquer. 😉
At the end of this post, you will find a newsletter sign up box.
Just enter your name and email to sign up for my newsletter and get access to my exclusive Resource Library with this awesome free printable KonMari Checklist!
It's five pages of pure, unadulterated decluttering joy in checklist form!
If you haven't read the book yet or you aren't sure how to get started, my KonMari 10 Step Guide is a great place to begin!
Make sure you print this checklist first to get started on your own KonMari journey!
(Remember, you have about 6 months to complete the process!)
Make sure you tune in here for updates on my own KonMari journey and share your own progress in the comments section!
Pin it for Later!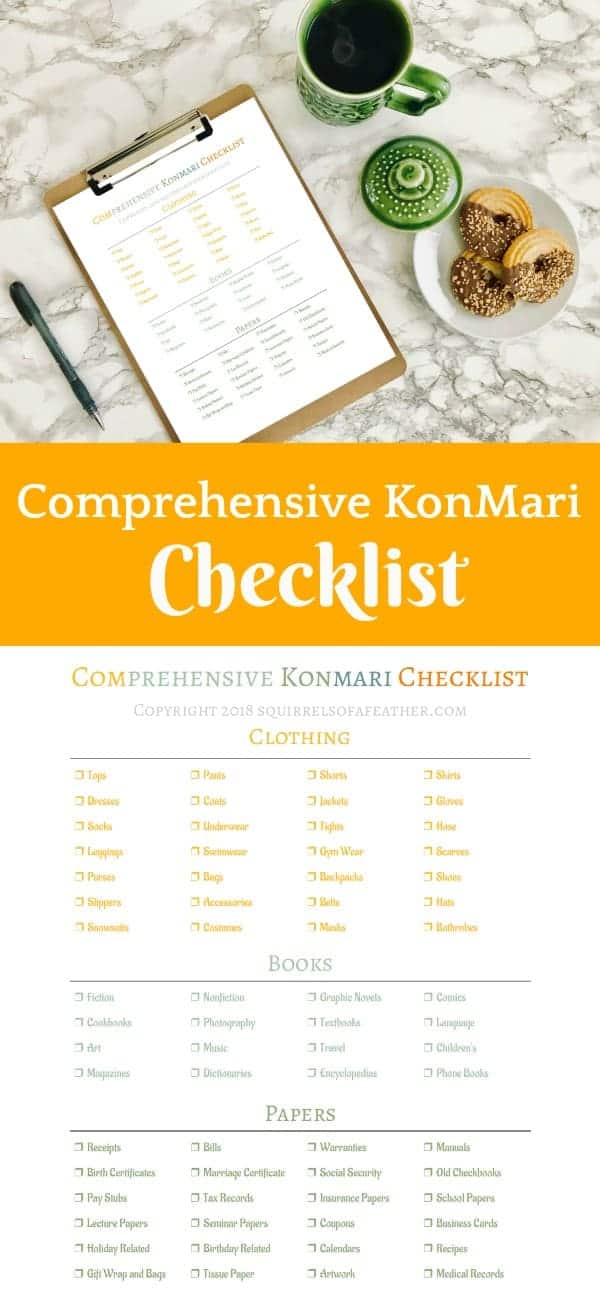 Sign up for my newsletter in the box below to get your password for my FREE printable Monthly Expense Tracker sheet!
SaveSave
SaveSave
SaveSave
SaveSave
SaveSave
SaveSave
SaveSave
SaveSave