When my husband and I got engaged, I have to admit I was a little worried about how I would fit into his family. In particular, I was worried about getting along my Chinese mother-in-law! In many Chinese dramas, you see the mother-in-law and daughter-in-law constantly at each other's throats.
And after all, we had language barriers, cultural barriers, generational barriers, distance barriers, you name it!
Well, I have been happily married to a Chinese man for nearly ten years and am here to tell you that I have an amazing relationship with his mother.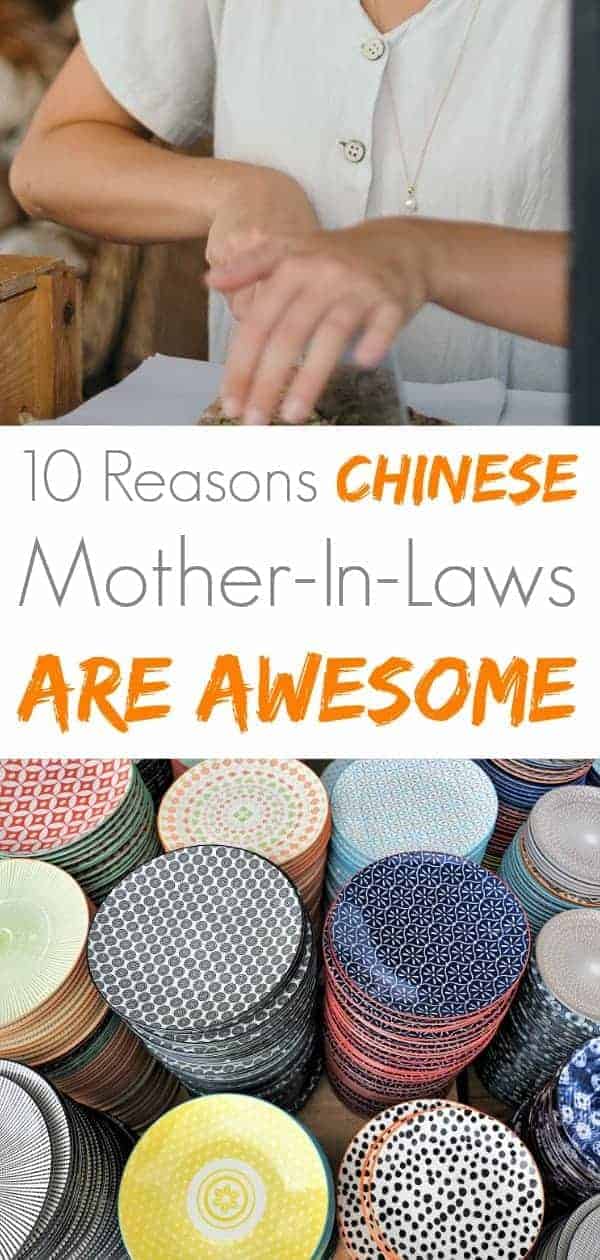 Chinese mothers-in-law are awesome…
As long as you are willing to put in effort in fostering a good relationship yourself!
After all, relationships are like a two-way street. You can expect to get out what you put in, in equal measure.
Even if you run into roadblocks along the way!
(One of the best resources for information about being a yangxifu – a foreign daughter-in-law – is Speaking of China, written by blogger Jocelyn Eikenburg. Check out this link to find out more about building a better relationship with your Chinese mother-in-law. Jocelyn's blog was an invaluable resource for me when I found myself becoming part of a Chinese family!)
So in honor of Mother's Day here are 10 reasons why Chinese mothers-in-law totally rock!
You might be saying "not all mother-in-laws" and that may be true. The same applies to Western mothers-in-law.
After all, mothers-in-law (and people) are like snowflakes; no two are exactly the same.
However, by and large, many Chinese mothers-in-law (MILs) have these positive traits in common.
Reason 1: They can really cook
No one can cook like my Chinese mother-in-law!
She knows how to prepare epic meals to feed our huge family (her five children/their spouses, eight grandchildren, plus themselves) each holiday.
Or even just for lunch or family dinner 😉
Just don't ask your Chinese mother-in-law for ingredient measurements…she probably doesn't measure anything!
(Find out what this has to do with three things my Chinese husband would NEVER say to me!)
Reason 2: They are tough
My mother-in-law is the toughest lady I know.
She was able to raise a family of seven out in rural China, in a two bedroom home, with no running water or modern amenities!
If they needed water, she had to carry it from the stream on her shoulder in buckets. If they needed a fire to cook food, well, got to go climb the mountain to collect some firewood!
Young MIL probably could have beaten me to a pulp, if she so desired!
Reason 3: They care about your health
Chinese mothers-in-law care a great deal about the health of their family. Here is my MIL making us vinegar eggs to eat. She had heard of the amazing health benefits of vinegar eggs and made sure to make my husband a ton of those eggs (spoiler: they are totally gross).
Your Chinese mother-in-law will always be looking out for your health. Try and reciprocate; gifts of vitamins and supplements are prized in Chinese families.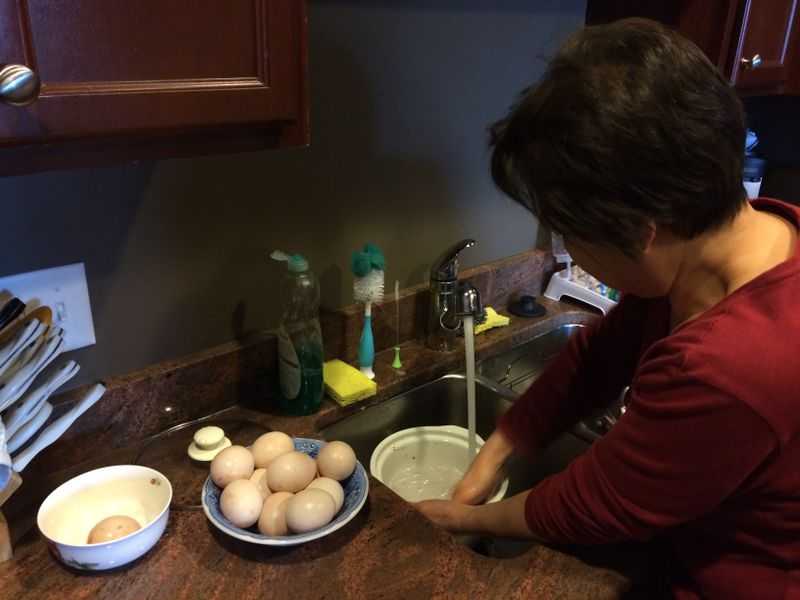 Reason 4: They are fit
Probably fitter than you. This goes hand in hand with caring about health.
My Chinese mother-in-law is over 75 and can put both her palms flat on the floor to stretch, walks, and exercises every day.
She is #goals for me!
Reason 5: They love their family
Who doesn't love their family, right?
Ok, maybe that's questionable 😉
But Chinese mothers-in-law really love their family, and the moment you marry into that family, you are part of it. That doesn't mean to say that they will always go along with everything you say or do because…
Reason 6: They will call you out on your crap
Don't get me wrong, Chinese mothers-in-law are nice. But they are not afraid to call you on your B.S.!
I always get a kick out of my mother-in-law scolding my husband and father-in-law when they say something ridiculous or over-indulge themselves.
In the past, I have been called out by my mother-in-law as well, and it was always appropriate (if sometimes unintentional on my part).
You can appreciate the fact that your mother-in-law will be honest with you, even if you don't always agree!
Make sure you are always honest in return.
Reason 7: They are generous
Maybe to a fault.
If you have gone to visit your in-laws, make sure you check your luggage for gifts that they have hidden so that you can't refuse them.
I said before that relationships are a little like a two-way street, and that's true. But sometimes your Chinese mother-in-law might drive over the meridian 😉
I once mentioned I had seen some cute pictures of Chinese infants in fancy Chinese brocade fur trimmed suits and I wanted to look for one for our first son. My MIL went right out and bought one for me!
Always be thankful and generous in return!
Reason 8: They are patient
My mother-in-law is the most patient person I know. My husband doesn't even have the patience to listen to me speaking in Chinese. But my MIL does!
Whenever I am stumbling over my words, discussing difficult or unfamiliar topics in Mandarin, my MIL always says, "Marissa, wǒ lǐjiě nǐ."
Marissa, I understand you.
(If you want to know more about how I taught myself Chinese check out this post.)
My MIL is someone who always makes an effort to listen to and try and understand me, even across language barriers and cultural barriers!
We may not always understand each other perfectly, but we are always willing to try!
Reason 9: They are always willing to help
Your Chinese mother-in-law will always be willing to lend a hand for cooking, cleaning, and watching children. Even if you tell her to relax, she'll probably be right there, cleaning crumbs off the floor as your kids spill them. (I may or may not be speaking from experience).
We used to live in Chicago, far away from any family help. Also, as my own parents died a long time ago, we were not sure how we were going to manage to have my husband accompany me to the hospital to have our second son…who was going to watch son #1?
Enter my angel mother-in-law. She came from Germany to Chicago to help us out with the birth and afterward.
What a life-saver!
10. They raise amazing sons
You probably know this 😉
After all, if you found this article, I am betting you are dating or already married to a wonderful Chinese man.
My MIL and her family went through many hardships, but through patience, hard work, determination, and wit managed to overcome them all to become a very successful family.
You can make your relationship with your mother-in-law a success too, as long as you are willing to try.
Can you think of any reasons I missed? If so, leave a comment in the comment section below about why Chinese mothers-in-law rock.
SaveSave
SaveSave
SaveSave
SaveSave