These lush blue curaçao drinks are not only stunning but also delicious, with recipes that will quench your thirst for awesome year-round — not just during summertime!
With yummy favorites like the Blue Hawaiian, mermaid lemonade, and a blue martini, this list of the BEST blue curaçao drinks is sure to stun and refresh.
15 Blue Curaçao Drinks That Will Quench Your Thirst for Awesome
These lush blue curaçao drinks will have you OBSESSED!
Pick your perfect blue drink with curaçao to sip poolside, including favorites like the Blue Hawaiian, mermaid lemonade, and blue glowtinis!
Photo Credit: momontheside.com
Just one sip of this mermaid cocktail will have you flipping your tail in glee! The lovely layers in this blue drink will remind you of relaxing days by the ocean -- no travel required!
Photo Credit: www.thisolemom.com
This blue curaçao shark drink will have you in a feeding frenzy! It's easy to make with Powerade, blue curaçao, and ice. The adorable gummy shark on the glass is an added bonus!
Photo Credit: www.thepurplepumpkinblog.co.uk
This Blue Hawaiian cocktail is a fulll-on tropical experience, made with two kinds of rum, blue curaçao, pinapple juice, and cream of coconut. It's the perfect alocholic blue drink for summer parties or a luau!
Photo Credit: momfoodie.com
This bloody good cocktail is perfect for Shark Week, with layers of blue and red for just a touch of creepiness -- perfect for those who like their fun with a little BITE!
Photo Credit: www.orwhateveryoudo.com
This blue Hawaiian Long Island drink packs a big punch! Find out how to make the perfect blue Long Island for your party and just how much Sprite to use.
Photo Credit: momfoodie.com
This drink only LOOKS exotic, but it's oh-so-simple to make and even easier to sip on poolside.
Photo Credit: www.withablast.net
This drink is the Blue Hawaiian version of a pina colada cocktail -- find out how to make it to satisfy your tropical craving, today.
Photo Credit: www.withablast.net
This simple blue drink uses only 4 ingredients and yet is super refreshing! Get the recipe for this blue curaçao drink with vodka.
Photo Credit: www.mightymrs.com
We are going to call this curaçao blue-green, reminiscent of cool lagoon waters! This drink uses only two ingredients but packs a super-powerful punch of lusciousness.
Photo Credit: www.thefrugalsouth.com
If you love everything Disney, this slightly fruity and sweet vodka-based martini is for you! It comes with a glow cube that you can customize to any color -- see the secret at The Frugal South.
Photo Credit: www.smells-like-home.com
Who said blue drinks are only for summer? This blue winter cocktail is here to shake up the cold season and remind you that winter won't last forever, with an icy blue color prettier than freshly fallen snow.
Photo Credit: bakeplaysmile.com
This cheeky cocktail is served up with a rim of white chocolate for an extra-indulgent experience!
Photo Credit: ourcraftymom.com
This fizzy blue alcoholic drink is sipalicious anytime, not just the Fourth of July! The bubbles and blue curaçao will lift your spirits up higher than any fireworks!
Photo Credit: homemadehooplah.com
This vibrant blue drink is extra sultry with a lick of ravishing red at the bottom. It's an elegant drink that can be dressed up or down for any party.
Photo Credit: www.becomebetty.com
It's electric! This lemonade with blue curaçao in is sure to make your summer party sizzle. Brenda also shares great ideas for making this cool blue drink into a slushie or even customizing it to be diet-friendly!
You might also enjoy these recipes:
Pin this!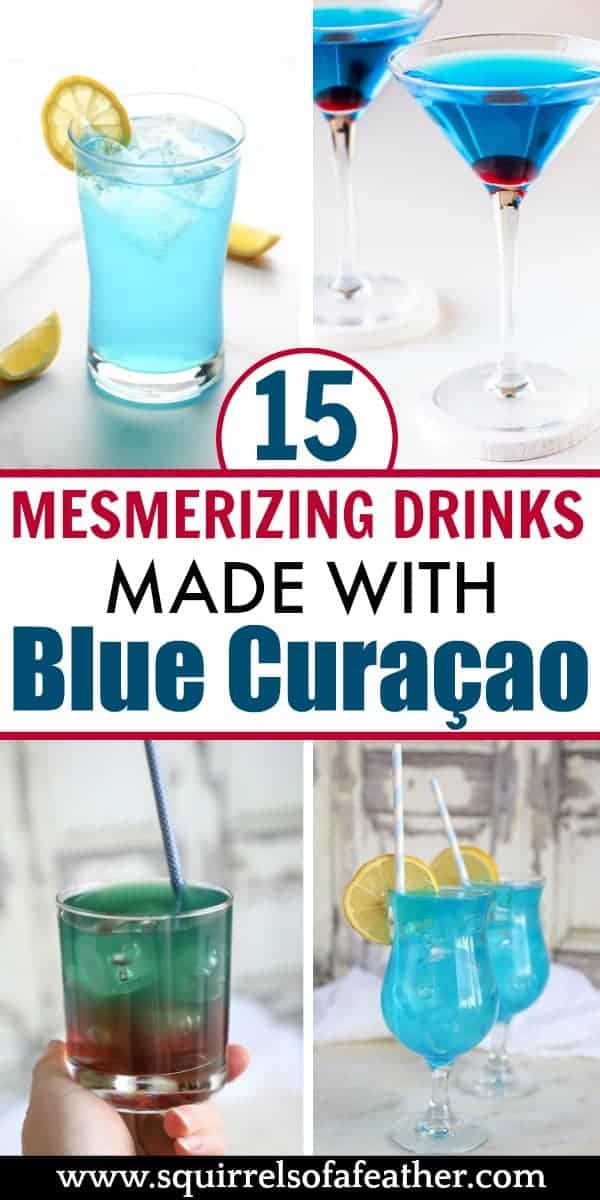 This post may contain affiliate links for your convenience. That means that if you make a purchase, I will receive a small commission at no extra cost to you. Read more here.