Prepare to identify with these 51 minimalist quotes on a spiritual level! These beautiful, thought-provoking, and even funny quotes about minimalism are perfect for people who just want to stop feeling overwhelmed by stuff.
Turns out there's even a word for that: stuffocation. 
Read on to find out more and get inspired to start living more minimally today.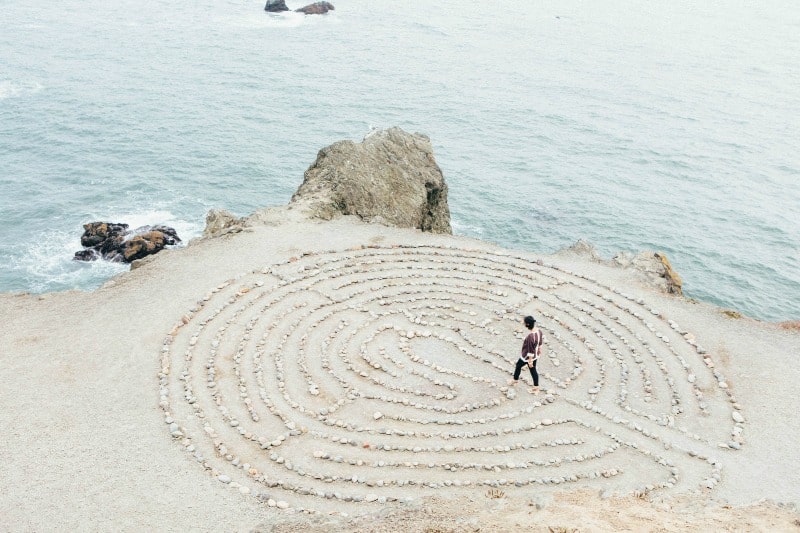 This post may contain affiliate links for your convenience. That means that if you make a purchase, I will receive a small commission at no extra cost to you. Read more here.
51 Minimalist quotes to awe and inspire
Get inspired to simplify your life and be the change; these minimalist quotes and sayings will help.
I have also created a few minimalist quote printables to go along with a few of my favorite quotes and sayings on the topic of minimalism.
Please feel free to save, download and print them off if you wish so that you can continue to be inspired to live minimally every single day!
Remember, it's never too late to start living minimally.
No one is born a minimalist.
Just as we learn to admire, attach meaning to, and collect objects, we must also learn how to unlearn this behavior.
(Hey, there is a new minimalist quote right there!)
A minimalist lifestyle has many benefits, including reducing stress and anxiety, helping you save more money, and even can improve physical health.
If you aren't convinced, just read about how much our lives improved after we completed an extreme decluttering session four our entire home!
I also selected the lines I consider the top ten best minimalist quotes of all time from this list and compiled them in this zen YouTube video.
Enjoy!
10 PROFOUND MINIMALIST QUOTES TO LIVE BY | Minimalism Quotes You Will Relate to on a Spiritual Level
My journey to a minimalist lifestyle started with the KonMari method and I adapted and improvised from there!
So let's kick off these minimalism quotes with a word from the decluttering queen herself.
The best way to find out what we really need is to get rid of what we don't.
#2. Alison Faulkner
Enough is a decision, not an amount.
#3. Newsweek
The average American spends 55 minutes a day looking for things they cannot find.
#4. Henry David Thoreau
The price of anything is the amount of life you exchange for it.
#5. Peter Walsh
Inexpensive is not a good reason to buy something, & expensive is not a good reason to keep something.
#6. Louise Smith
You can't reach for anything new if your hands are still full of yesterday's junk.
#7. Nathan Morris
Edit your life frequently and ruthlessly. It's your masterpiece after all.
#8. Will Rogers
Don't let yesterday take up too much of today.
#9. The White Rabbit, Alice in Wonderland
The hurrier I go, the behinder I get.
#10. Ludwig Mies Van Der Rohe
Less is more.
#11. Najahyia Chinchilla
Minimalism is not the lack of something. It is simply the perfect amount of something.
#12. Benjamin Franklin
For every minute spent in organizing, an hour is earned.
#13. Don DeLillo
The more I threw away, the more I found.
#14. Cait Flanders
More was never the answer. The answer, it turned out, was always less.
#15. Melissa Russel
Decluttering is my favorite form of self-care.
#16. Joshua Becker
Minimalism is the intentional promotion of the things we most value and the removal of anything that distracts us from it.
#17. Bertrand Russel
It is preoccupation with possession, more than anything else, that prevents men from living freely and nobly.
#18. Marie Kondo
I have yet to see a house that lacked sufficient storage. The real problem is that we have far more than we need or want.
#19. Henry Rollins
The more you own the more it owns you.
#20. Unknown
Look around.

All that clutter used to be money.

All that money used to be time.
#21. Katy Wells
External clutter is internal clutter on display.
#22. Bryant McGill
Minimalism means not trying to improve perfection.
#23. Unknown
Value is not indicated by volume.
#24. Katrina Mayer
Get rid of clutter and you may just find it was blocking the door you've been looking for.
#25. Francis Jourdain
One can furnish a room very luxuriously by taking out furniture rather than putting it in.
#26. Epictetus
People are not disturbed by things, but by the views they take of them.
#27. Marie Kondo
We should be choosing what we want to keep, not what we want to get rid of.
Minimalism is built around the idea that there's nothing that you're lacking.
#29. Imam Ali
What is yours will find you.
#30. Melva Green
Just because something made you happy in the past doesn't mean you have to keep it forever.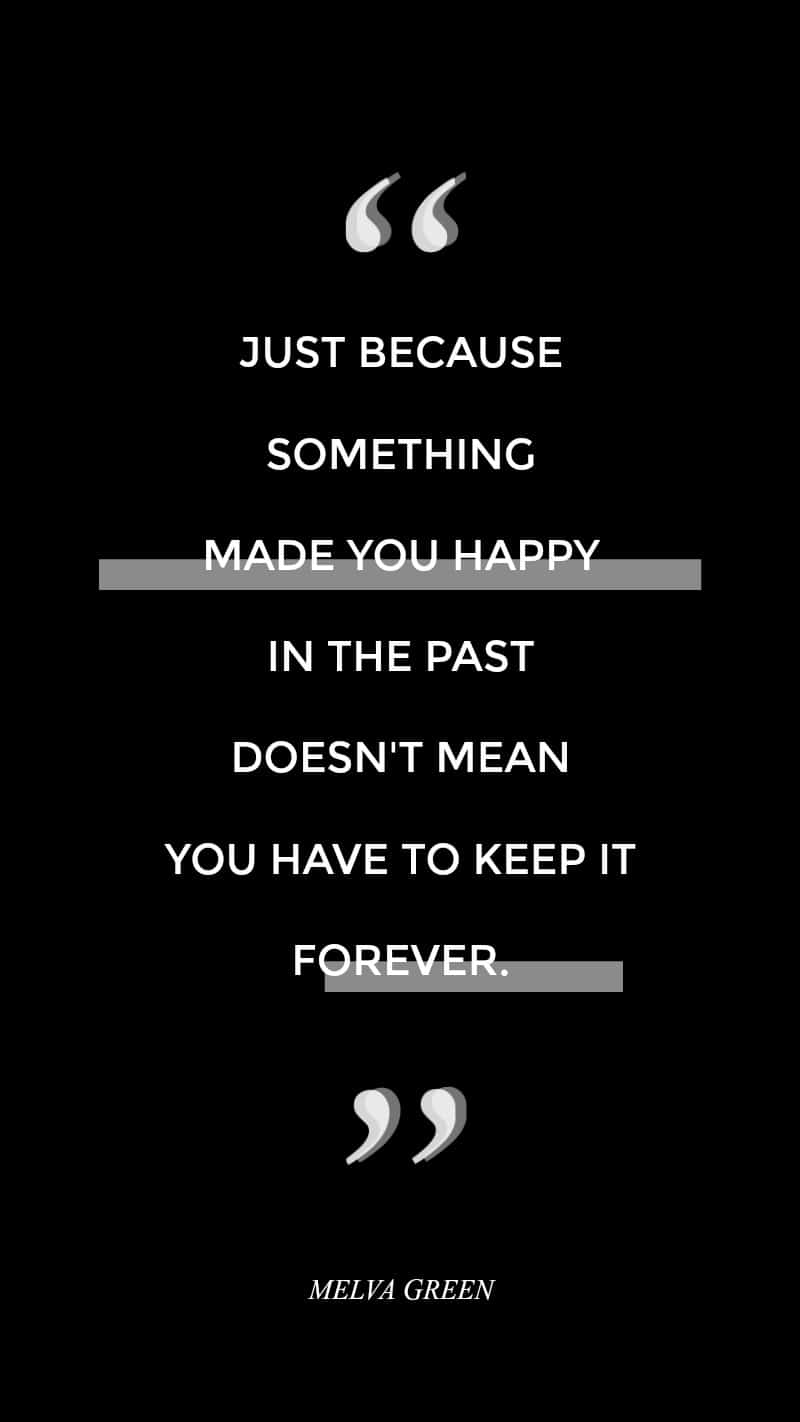 #31. Rabbi Hyman Schachtel
Happiness is not having what you want. It is wanting what you have.
#32. naramdil
There is no 'right time'.

There is just time and what you choose to do with it.
#33. Joshua Becker
Owning less is better than wanting more.
#34. Roy T. Bennett
If you aren't grateful for what you already have, what makes you think you would be happy with more?
#35. Mother Teresa
The more you have, the more you are occupied. The less you have, the more free you are.
#36. Margaret Atwood, The Handmaid's Tale
We were a society dying of too much choice.
#37. Allie Casazza
You buy stuff with your time, not just your money.
#38. Mia Danielle
Too often people will overcomplicate the process of decluttering their belongings because it's easier to create a complex organization system than to actually let things go.
#39. Unknown
If you don't love or use it, it's clutter
Stuffocation: an oppressive feeling of stress and anxiety caused by owning too much junk.
#41. Leonardo Da Vinci
Simplicity is the ultimate sophistication.
#42. Courtney Carver
The simpler my closet got, the more interesting and colorful my life got.
#43. Amber, Delighted on a Dime
What if you already have your dream home and it's just hidden underneath all your extra stuff?
#44. Vivienne Westwood
Buy less, choose well, make it last.
Your home should be the antidote to stress, not the cause of it.
#46. Francine Jay
My goal is no longer to get more done, but rather to have less to do.
#47. Joshua Becker
Stop trying to impress others with your stuff and start trying to impress them with your life.
#48. Maya Angelou
We need much less than we think.
#49. Paulo Coelho
If you're brave enough to say goodbye, life will reward you with a new hello.
#50. Julia Cameron
Clutter is the enemy of clarity.
#51. Unknown
Collect moments, not objects.

I hope that you enjoyed these minimalist quotes and sayings!
Remember, it's never too late to get started living minimally and there are plenty of experts who would love to help you find your way.
You can also sign up to take the FREE 30-Day Minimliasm Challenge to get started uncluttering your entire life.
On that note, I am going to leave you with one final quote, from Chinese philosopher Lao Tzu:
The journey of a thousand miles begins with one step.
Pin this to read again!