Want to know how to prepare a whole fish Chinese-style but have been too intimidated to try? Then you will LOVE this easy recipe for Chinese whole baked fish with ginger and scallions.
This easy fish recipe looks amazing and is the perfect dish to prepare for Chinese New Year or other Chinese holidays!
Read on to find out how to make this simple baked fish and get a few tips on how to make this extra lucky whole baked fish recipe. 😉
Chinese Whole Baked Fish with Ginger & Scallions
Unlike my Chinese husband, I did not grow up eating fish. Until I met him all my meals were eaten sans heads and eyeballs, true American-style.
The only fish I ever ate was in stick form!
Then I met my husband and went to celebrate the New Year with his family.
Guess what? All the dishes had heads! Ducks with heads, fish with heads, shrimp with heads, you name it!
(Needless to say, I learned to love and appreciate the flavor that comes with preparing meat and seafood whole. 😉 )
This Chinese fish recipe is similar to how my Chinese mother-in-law prepares her fish, modified for baking rather than steaming.
The only bad thing about learning to cook from your mother-in-law? Trying to learn her recipe when she doesn't take measurements (she laughed when I asked her to tell me the measurements for all the ingredients years ago!)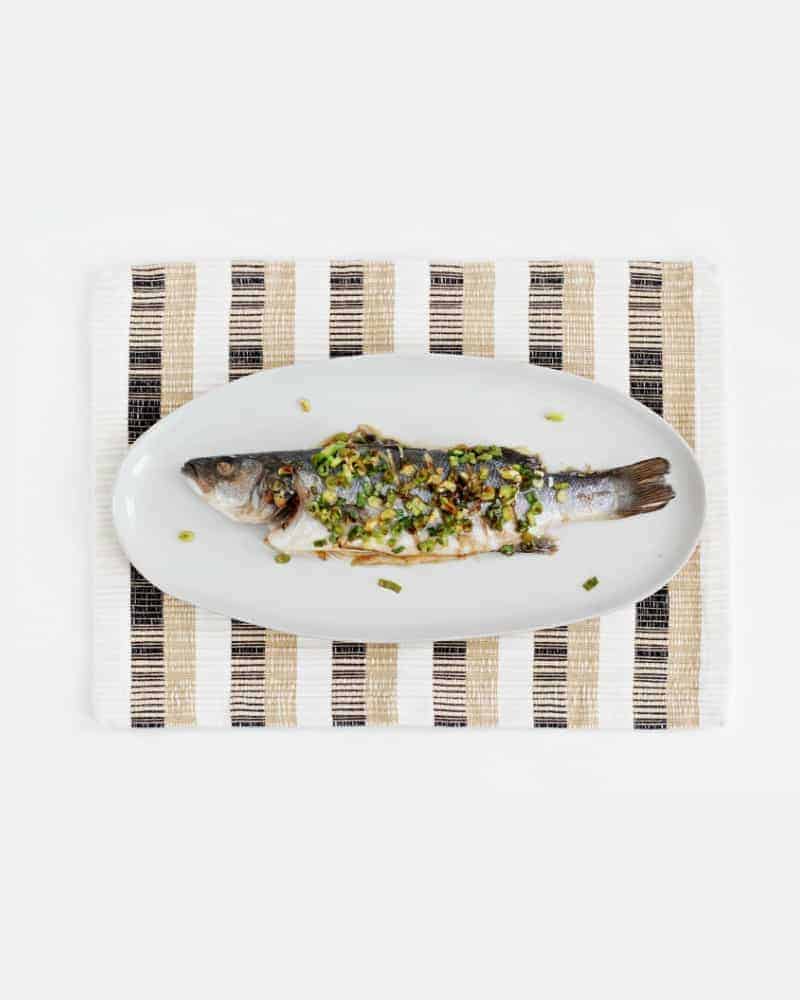 This post may contain affiliate links for your convenience. That means that if you make a purchase, I will receive a small commission at no extra cost to you. Read more here.
Chinese fish; a must for a lucky Chinese New Year
When celebrating Chinese New Year whole fish is a must! (FYI, Chinese New Year (CNY) is also called "Lunar New Year" as other countries other than China also celebrate this holiday).
That is because fish is one of the seven lucky foods to eat during Chinese New Year.
In Chinese, the word for fish (鱼/yú) sounds like the Chinese word for surplus, meaning that if you eat fish for the New Year you may be blessed with a surplus in the coming year.
Besides being our family's super-secret good-luck recipe, this fish dish also requires very few ingredients, is very easy to make, looks impressive, and packs a punch of flavor.
🧧 LUCKY TIP: If you are preparing this fish for Lunar/Chinese New Year, make sure that you leave some over for the next day! It may be tempting to eat the whole thing, but having enough leftovers to eat the next day is ESSENTIAL for having good luck and surplus for the rest of the year!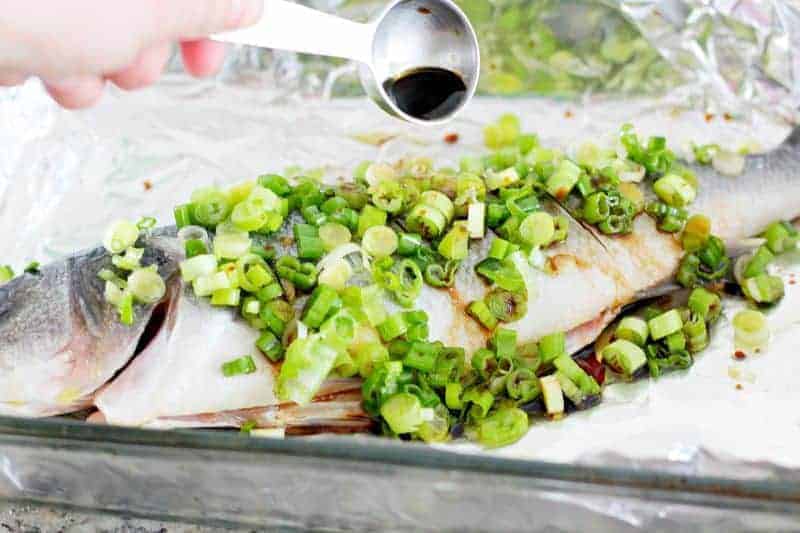 Ingredients to make Chinese fish
Here are the ingredients you will need to make Chinese whole fish:
Whole fish (branzino, gutted and descaled
Salt
Olive oil
Soy sauce
3 green onions
Ginger
In addition, you will need a glass or ceramic bakeware dish (mine is three-quart sized) for cooking the fish. If you are feeding a large family, you can fit two fish in this dish easily.
We ended up making two for New Year's Eve this year. My husband didn't line his pan with foil…guess who had to clean up THAT mess? 🙂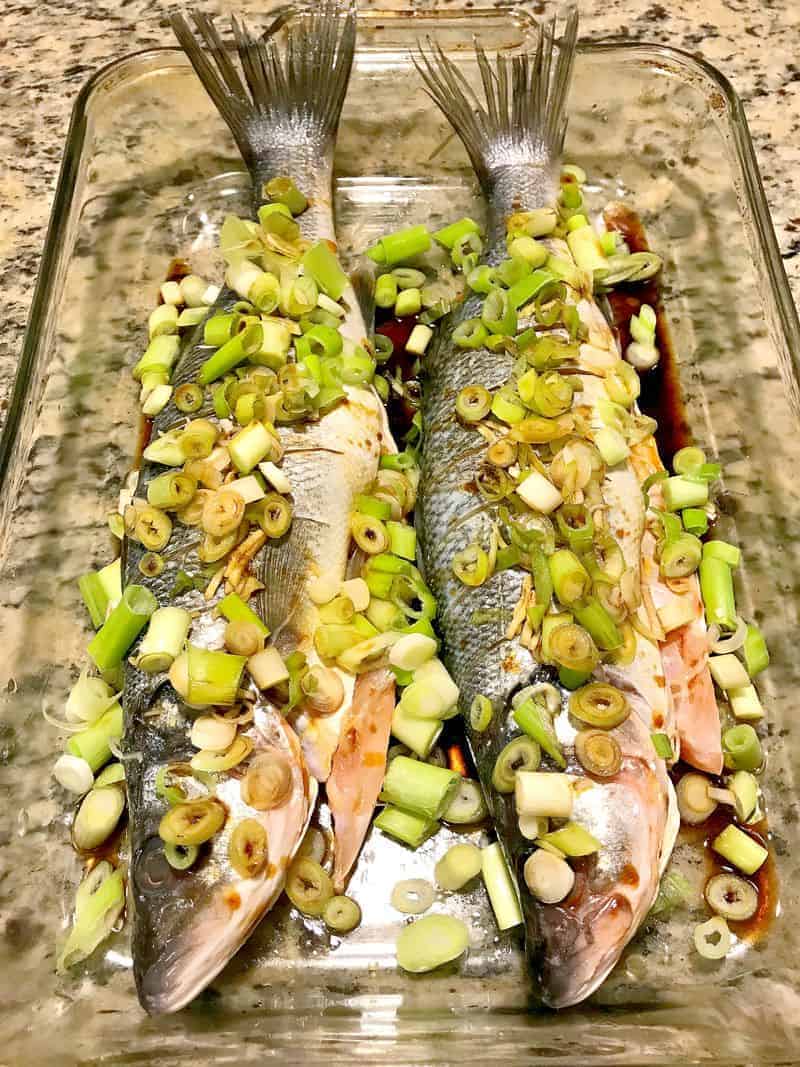 Have a good-sized and very sharp knife on hand for the cutting!
This fish is whole, which means that there will be fish bones inside. Make sure to watch out for small, translucent bones when gobbling down your fish dinner.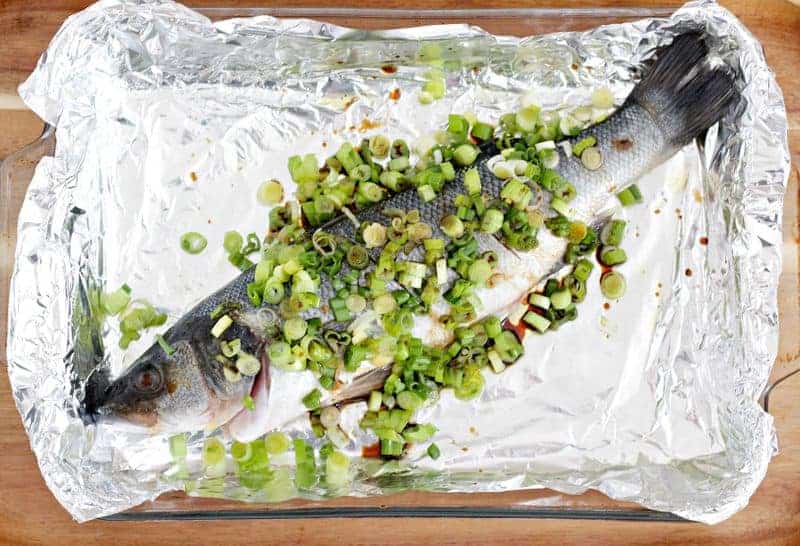 Choosing your fish
My favorite place to buy branzino fish is from Costco. They come already descaled and gutted which is less trouble and mess for you!
If you have to choose the fish yourself, make sure you check it's freshness.
Here are some tips for choosing fresh fish:
Eyes – should be bright and clear, never cloudy
Gills –  should be red and not pink or gray
Smell – neutral, fresh, and slightly briny
Skin – metallic, healthy, shiny, and firm to the touch
I have found the eyes and the smell to be the best indicators of freshness.
If the eyes are clear and there isn't a strong smell you should be good to go!
Any stinkiness and the fish should be tossed. I have opened fish from Costco (cut salmon, not branzino) that stunk and I immediately dumped it in the garbage.
Don't take a chance with stinky fish!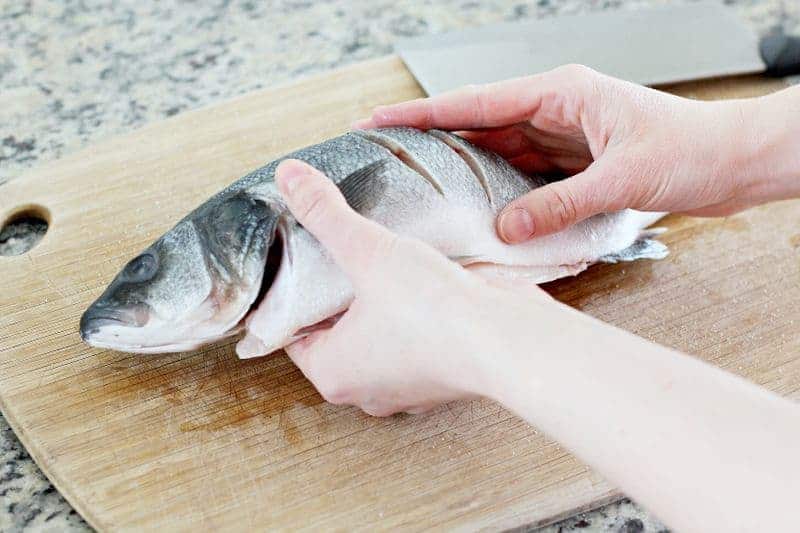 Get this Chinese fish recipe
Get the recipe for this whole baked Chinese fish below! If you try this recipe please feel free to leave me a comment or review.
Any questions? Drop me a line in the comment section below!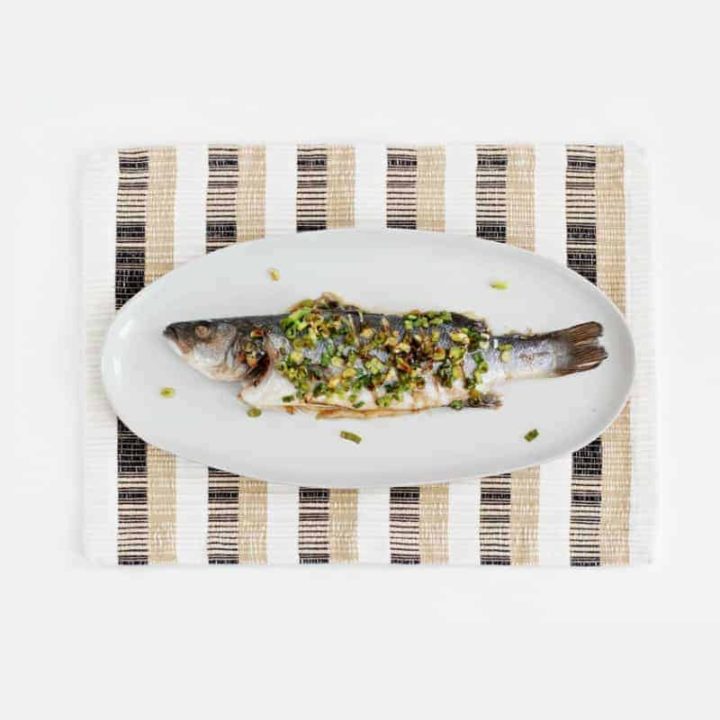 Chinese Whole Baked Fish with Ginger and Scallions
Total Time:
2 hours
45 minutes
Want to know how to prepare a whole fish Chinese-style but been too intimidated to try? Then you will LOVE this easy recipe for Chinese Whole Baked Fish, with savory soy sauce and flavorful ginger and scallions.
Ingredients
2 whole branzino fish, gutted and descaled
3/4 tsp salt
1/4 cup olive oil
2 tbsp low-sodium soy sauce
3 green onions, sliced into rounds
1 inch ginger, julienned
Instructions
Preparing the fish
Make sure your fish is fully defrosted prior to preparation.
Two hours before you plan on cooking the fish, rinse it with water in the sink and pat dry with paper towels.
Lay the fish flat, use a sharp knife make diagonal cuts across its sides (BOTH sides), running vertically from dorsal fin to belly at a slight angle (see the image in the post for reference). Go deep enough that you hit the bones.
Sprinkle the salt all over the fish, inside and out, rubbing it in. Take the julienned ginger and insert some pieces inside the cuts on the fish's sides and inside the belly.
Allow fish to rest for 2 hours.
Cooking the fish
Preheat the oven to 375 F. Mix the green onions and the olive oil in a bowl and set aside.
Place the fish in oven safe, low rimmed cookware (I always put foil in the bottom for easy clean up). Drizzle the oil on top of the fish, turning to get both sides. Lay the fish back flat and add the green onions on top of the surface.
Finally, drizzle soy sauce evenly across the top of the fish.
Place in the oven and cook for 25-30 minutes or until done. Allow to rest a few minutes before serving whole.
Recommended Products
As an Amazon Associate and member of other affiliate programs, I earn from qualifying purchases.
Nutrition Information:
Yield:

6
Serving Size:

1
Amount Per Serving:
Calories:

163
Total Fat:

11g
Saturated Fat:

2g
Trans Fat:

0g
Unsaturated Fat:

8g
Cholesterol:

34mg
Sodium:

508mg
Carbohydrates:

1g
Fiber:

0g
Sugar:

0g
Protein:

16g
Pin this recipe!