These delicious baked meatballs are a winner with adults and kids alike. They are chock-full of hidden vegetables and packed with flavor! Now "eat your veggies" doesn't need to be followed by a chorus of loud groans! Read on to find out how to make these kid-friendly meatballs.
The best baked meatballs
When my son was a toddler, I struggled to get him to eat his veggies. At that time, the only vegetable he wanted to eat was broccoli.
I came up with a creative solution; hide vegetables in whatever food I could. Thus, these healthy baked meatballs secretly stuffed with veggies were born!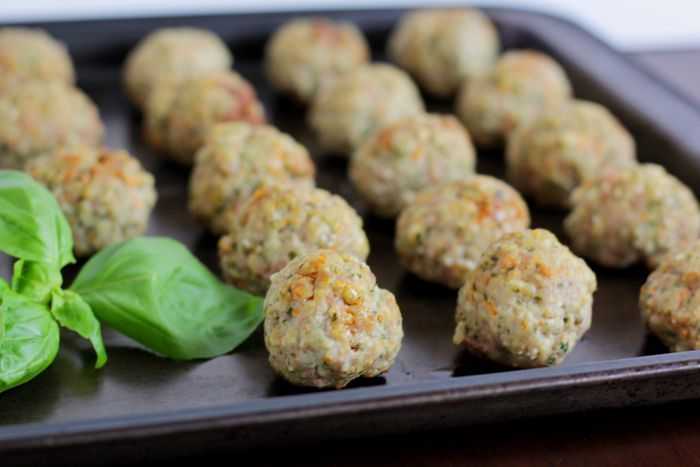 This post may contain affiliate links for your convenience. That means that if you make a purchase, I will receive a small commission at no extra cost to you. Read more here.
An egg-free baked meatball recipe
Besides being a veggie-hater, my son also had an egg allergy. I created this recipe specifically for kids who suffer from egg allergies. Although my son has since recovered from his allergy we keep the eggs out of our meatballs.
Trust me, you won't miss the eggs; this baked meatball recipe is delicious without them!
While this recipe is safe for kids with egg allergies, you DO need to make sure you buy panko that contains no eggs! Most panko does not have egg in it, but it's always best to double check when buying.
This is a healthier baked meatball recipe
These meatballs are lightened up by using half ground pork, half ground turkey in addition to the vegetables.
The lower fat content of the turkey helps reduce the overall fat content of the meatballs, with the ground pork helping it maintain that full, meaty flavor that you crave.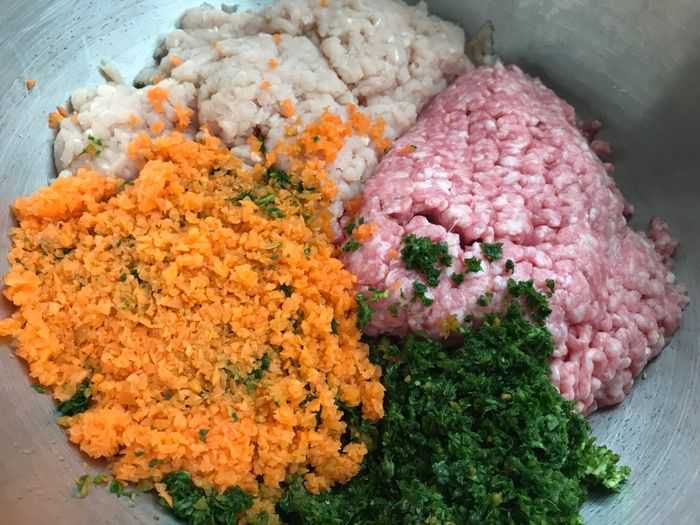 Baked meatballs versus fried
Baking is always a healthier alternative to frying. By baking them rather than frying them in the pan, you also cut down on fat and mess.
I like to line my baking sheet with foil and give it a quick spray of canola oil to cut on the mess.
Just look at all those vegetables that you know your kids wouldn't otherwise be eating 😉
A good food processor will help ensure you get the vegetables chopped finely enough in the meatballs (this is the newer version of my own. Food processors are amazing…I use them for everything from making meatballs to preparing kimchi.)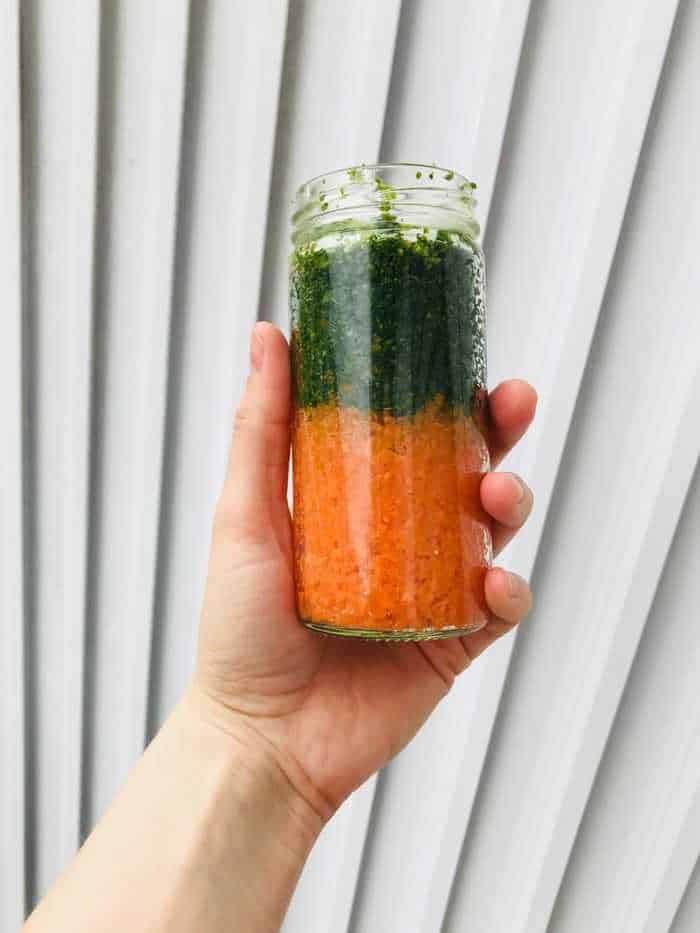 Putting vegetables in meatballs
This recipe uses carrots, baby kale, cilantro, and garlic to impart flavor, but you could also substitute any other veggies you have on hand. I have used broccoli and zucchini in place of the kale, which also tastes amazing and gives it that "green" kick!
Don't drop the cilantro, it really gives it that extra oomph of flavor!
Now my toddler is 5 years old and these meatballs are still one of his favorite meals!
These meatballs are easy to make and super versatile.
Here are some of the many ways we have eaten them:
Over pasta with spaghetti sauce
On a meatball sub
Over rice with teriyaki sauce
Floating in ramen soup
As appetizers with toothpicks
The possibilities are endless!
This recipe makes enough meatballs for a dinner for four, lunch the next day, often with leftovers after that.
Freezing leftover meatballs
If you find that you are lucky enough to have meatballs left over, simply pack the extras away in the freezer until you are ready to eat them again.
Defrost in the refrigerator and then reheat. I personally prefer to heat them in the microwave with a wet paper towel covering them, as baking them in the oven a second time can make them too dry.
Let me know how you get your veggie-hating kids to eat their veggies in the comment section below!
Here are some other great family-friendly recipes you may enjoy:
Pin for Later!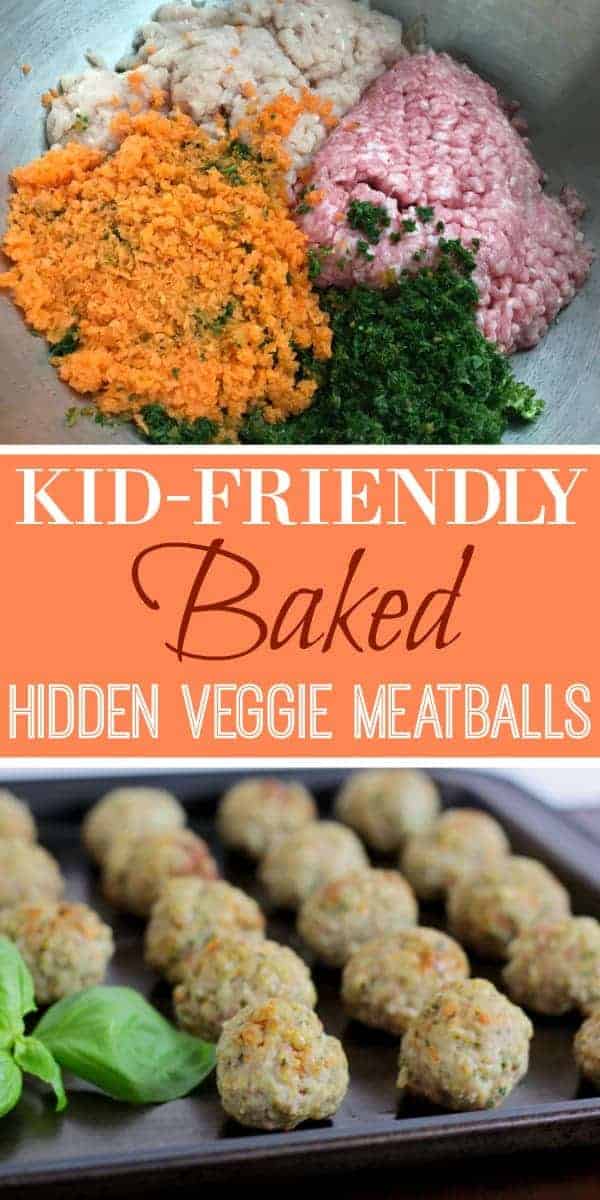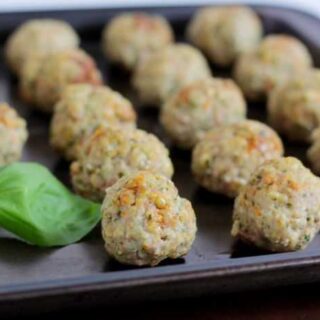 Kid-Friendly Hidden Vegetable Baked Meatballs
These delicious kid-friendly baked meatballs are a winner with adults and children alike. They are chock-full of hidden vegetables and packed with flavor!
Ingredients
1.3 lbs lean ground turkey
1.3 lbs ground pork
1 cup carrots, chopped
2 cups loosely packed baby kale (or kale, zucchini, broccoli)
1/4 cup cilantro (tightly packed)
3 cloves garlic (loosely chopped)
1/2 tsp onion powder
1/2 tsp garlic powder
1 tsp italian seasoning
3/4 tsp salt
1/2 cup panko breadcrumbs
Instructions
Preheat the oven to 425° F. Lay out a large cookie sheet or baking sheet. Line with foil if you wish for easier clean up and spray lightly with canola oil spray.
Ensure both ground meats are fully defrosted. Place in large mixing bowl.
Put the carrots, kale, garlic, and cilantro in a food processor and chop at medium-high speed until finely chopped. Add the chopped veggies to the ground meats
Combine all the seasonings (salt, Italian seasoning, garlic and onion powder) and mix. Sprinkle over the top of the meat and veggies and mix with your hands until everything is combined.
Add the panko crumbs and mix again with hands until combined.
Begin to remove the meatball mixture and roll into golf ball sized balls. Place each ball on the oiled tray, making sure to leave a little space between each one. Continue until all the meat has been rolled into balls.
Place the meatballs into the oven for 15-20 minutes, depending on your oven. Begin checking at 15 minutes. The meatballs will be done when the center is cooked all the way through and you will start to see the juices browning underneath the meatballs on the pan.
Remove and allow to rest 5 minutes. Serve as desired.
Recommended Products
As an Amazon Associate and member of other affiliate programs, I earn from qualifying purchases.
Nutrition Information:
Yield:

35
Serving Size:

1
Amount Per Serving:
Calories:

98
Total Fat:

6g
Saturated Fat:

2g
Trans Fat:

0g
Unsaturated Fat:

3g
Cholesterol:

33mg
Sodium:

94mg
Carbohydrates:

2g
Fiber:

1g
Sugar:

1g
Protein:

9g