What if I told you could make money online without ANY effort, just by shopping like you normally do, buying the things you normally buy? Sounds too good to be true, right? That's what I thought at first when I first started reading Ebates reviews saying I could MAKE MONEY by shopping.
So what is the truth? Is Ebates a scam?
Read on to find out if Ebates is a legitimate way to make money online.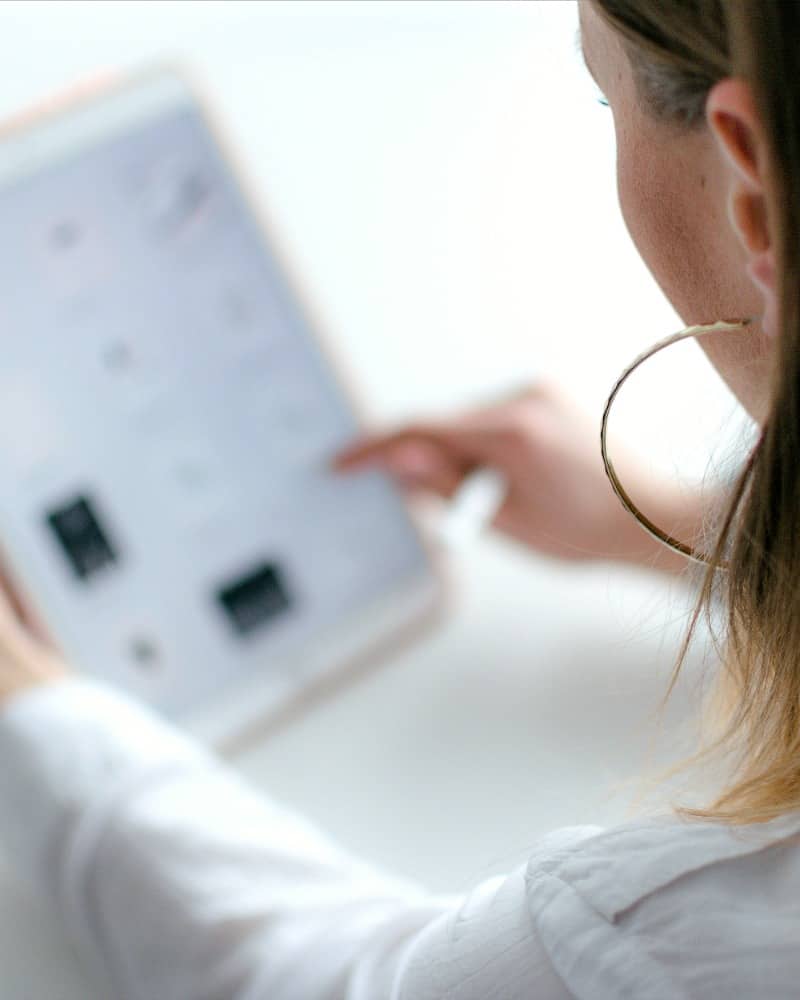 What is Ebates?
Before we get into the scam versus not scam question, let's dive into what Ebates actually is.
Ebates is one of the most widely used and successful cashback websites.
It was started in California by two former deputy district attorneys.
When it first started Ebates was much smaller, offering anywhere from 0% up to 25% cashback from around 40 online retailers.
Since that time, Ebates has grown significantly, and over the years has helped save its members over $1 billion in Cash Back!
Here it is, directly from the Ebates About Us page:
Since our founding in 1999, Ebates has helped its members — 10 million and counting — earn over $1 billion in Cash Back at their favorite stores. By connecting these savvy shoppers with America's best brands, we give them a hassle-free way to save money on the things they buy every day, while our retail partners find loyal new customers and drive record sales. That's how we've become one of the largest free-membership loyalty programs in the U.S., with an A+ rating from the Better Business Bureau.
But what does that mean for you?
What is this information telling you?
Let's read between the lines here a little bit.
Lots of people – literally, millions – love Ebates
Their method is hassle-free – you don't have to go out of your way to save money
They are huge – that's why they can offer you great deals at top stores
They have an A+ rating with the Better Business Bureau – their service must be top-notch
What is Rakuten?
In 2014 Ebates was acquired by the Japanese company, Rakuten, and they finally rolled out a complete name change in 2018.
Thus, Ebates is the old name for what is now known as Rakuten.
While many people were left feeling anxious about the transition and what it would mean for their savings, almost nothing changed about the website except the name!
Ebates, Ebates Rakuten, Rakuten Ebates, and just plain old Rakuten are used interchangeably to refer to the store formerly known as Ebates.
How many stores are offered on Ebates?
Ebates has partnered as an affiliate with over 2,500 companies to help customers save money.
They basically act as a middleman to help both you and online retailers make money.
Here are some of the most popular stores that offer cash back when you shop at Rakuten Ebates.
Walmart
Macy's
Kohl's
Amazon
Best Buy
Sephora
Home Depot
Groupon
To see if your favorite store offers money back when you shop at Ebates Rakuten, head over to their website — even if you don't see it on the homepage, you can run a search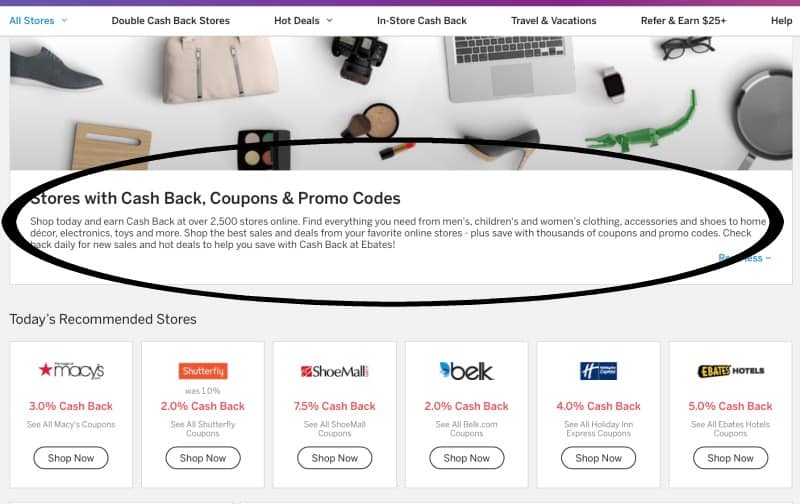 This post may contain affiliate links for your convenience. That means that if you make a purchase, I will receive a small commission at no extra cost to you. Read more here.
How does Ebates work?
Rakuten, formerly known as Ebates, uses what is known as affiliate marketing to offer discounts to it's customers.
As an affiliate partner, Rakuten Ebates first refers people to a website where they want to buy stuff via an online link.
They click the link and head to the website — that is when the magic happens.
If a customer clicks through an Ebates link and chooses to make a purchase, that store will return a commission to Ebates. Ebates gives half of their affiliate commission back to you and that is how you make money on Ebates Rakuten!
Remember, you will not start earning money back until you actually make a purchase.
Simply signing up to be a member of Rakuten Ebates is not enough.
Once you start purchasing items through the Ebates website you will begin to see the cashback money accumulating in your account!
How much money can you earn on Ebates?
As an example, let's look at Gifts.com, which as of this writing is gearing up for Black Friday and the holiday season.
It is currently offering Ebates members a whopping 10% cashback on their purchases!
You can click on each company's portal to see their offers in more detail.
Right now the Gifts.com cashback percentage is up from 4% to its current 10% and the average person gets $19 back from their purchases from Gifts.com!
You will see offers anywhere between 1-10% cash back on Rakuten.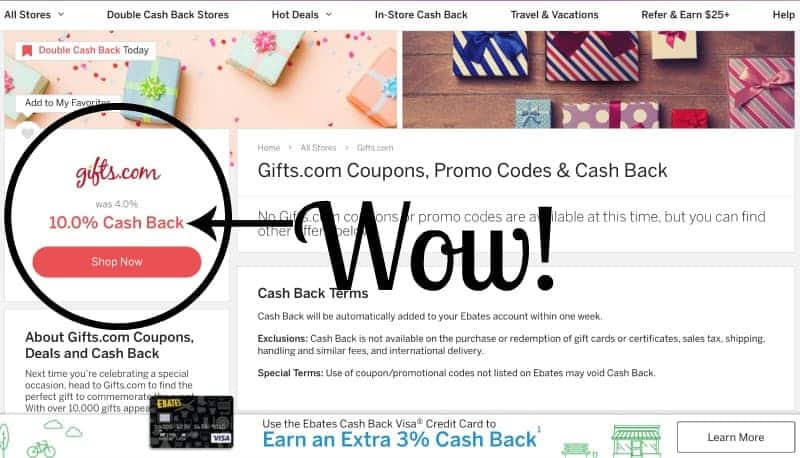 Does Ebates cost you any money?
No, nope, negative!
Ebates will not cost you any money, not for their membership and when you make purchases with Rakuten Ebates online.
You can only make money with Ebates.
Ebates is FREE for everyone and they literally just give you money back for buying something that you were already planning to buy.
You can even earn money back on top of other sales!
For example, if you were planning to buy something from Kohl's and you have a coupon you can still use that coupon and you will earn cash back from Ebates on top of that coupon's discount!
What if the store is offering a 50% off sale?
Same.
The Ebates cash back will offer you money back on top of the normal discounts.
It's like icing on a cake.
Tasty, easy, delicious icing made of dollar dollar bills.
How long does it take to receive money from Ebates?
After navigating through Ebates to the store of your choice and making a purchase, you will see the cash show up as registered to your account within seven days.
Once the cash has been in the account for 60 days you will be paid via Paypal according to the following schedule:
February 15th
May 15th
August 15th
November 15th
Have you used Rakuten yourself?
Yes, and I am a huge fan!
My husband (who is the hardest person in the world to buy gifts for, by the way) recently told me he wanted a Fitbit as an early Christmas present.
I was honestly ecstatic, because instead of having to try and guess what the heck he wanted, he flat out told me — and P.S., this is the man who has returned 9 years of Christmas presents because he wasn't happy — even when he picked them out himself.
Ok, my husband wants a Fitbit, my husband gets a Fitbit.
So I logged into Ebates and checked to see if Fitbit was an Ebates affiliate and, BINGO!, they are!
So I ordered the Fitbit, my husband was happy, and we got 4% cashback on our purchase!
Not only that, right now Ebates is offering a $10 Welcome Cash Back bonus when you sign up to be a free Ebates member!
Update: last night I got an amazing deal on a 50% off children's winter coat from Land's End, paying $87 instead of the normal $175 and then on top of that received an additional 4% cashback by activating my Ebates offer!
Sweet deal.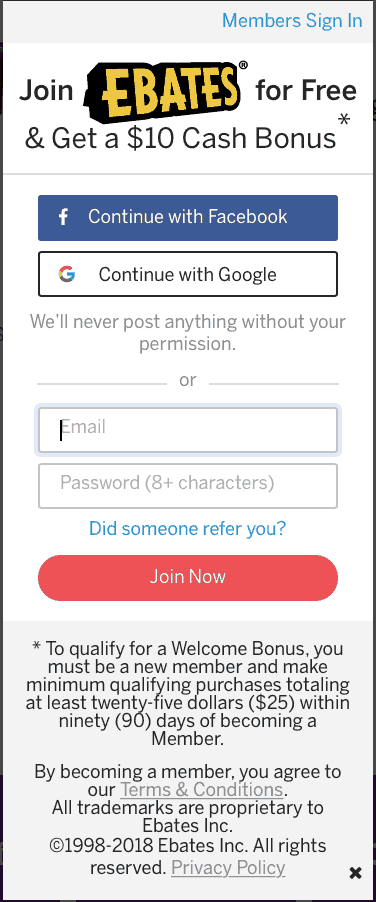 How to use Ebates
If you want to start making money back on your purchases, the first step is to sign up for Ebates.
Go to the Ebates website and click the "Join Now" button located in the upper right-hand hand corner.
Once you have signed up and logged in, you will notice a lot of the various store names and their current cashback offers.
Finding a store on Ebates
If you don't see the store you are looking for, you can type the name into the search engine and search for it that way.
Going back to Gifts.com, if you go to the search engine and enter "gifts.com" right away you will see a drop-down selection for Gifts.com and that they are currently offering 10% cashback right now.
Click through to the Gift.com link and at that point you will hit the "Shop Now" button in red to take you the actual website to start shopping.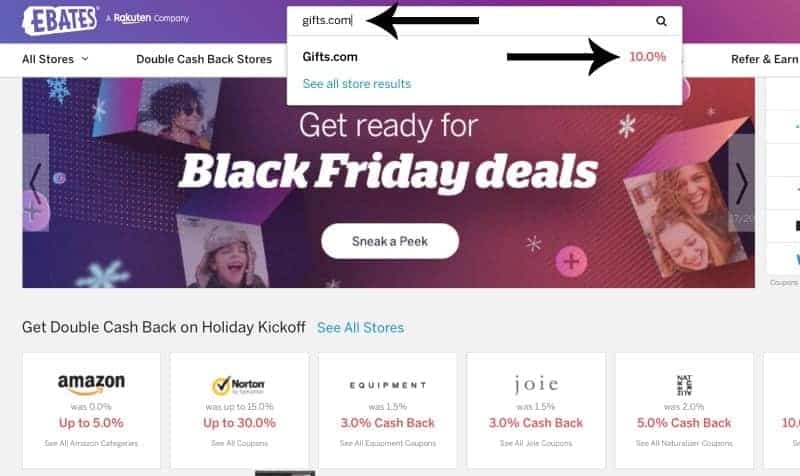 What if you forget to shop through Ebates?
I get it.
Seriously.
Like Jay-Z, you have ninety-nine problems right now and don't want to make logging onto Ebates every time you need to shop the final one.
In that case, Ebates has really got your back.
There are two ways that you can make sure that you never miss out on your cashback.
The Ebates Browser Extension
Lucky for you, Ebates has a browser extension that you can install on your desktop browser.
After you sign up for Ebates all you have to do is install this button on your desktop browser and every time you enter an Ebates-affiliated store, you will see a little popup notification that will prompt you to "Activate ___ Cash Back" at the top right-hand corner.
This extension only works for desktop browsers; it will not work on your mobile phone!
When to use the Ebates mobile app
If you plan to use your phone for online shopping you should download the mobile app first.
Certain stores don't work with the browser extension (Amazon is the biggest one) and it does help to familiarize yourself with which ones do and do not.
This information can be found on their website.
Contacting the Ebates Help Center
Let's say you make a purchase and — oopsie — you realize that it was from an Ebates qualified store and you could have gotten money back on your purchase!
Don't sweat it!
In that case, all you need is your confirmation email with your order number from the store that you purchased and you can log into the Ebates Help Center and submit a request for "Missing Cash Back".
I recently submitted a Missing Cash Back request myself, in fact.
I don't know if I forgot to log in through Ebates or something failed, but I missed out on a qualifying purchase from Amazon.
I went to the Help Center and pulled up the Missing Cash Back form and filled out the information as follows:
Store
Purchase date
Order number
Order subtotal
Copy + paste of my confirmation email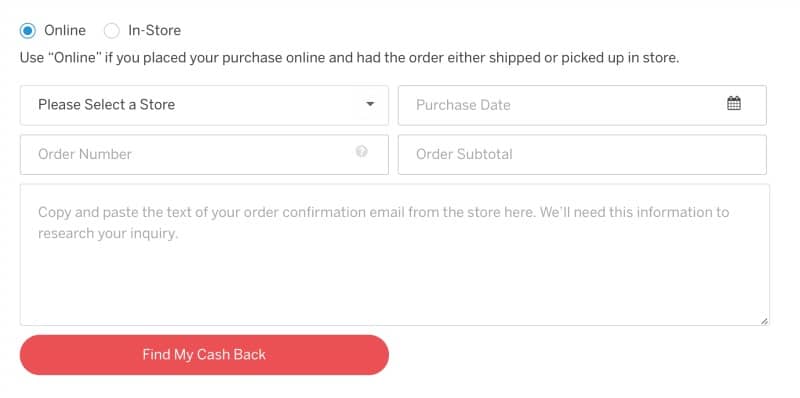 I got an immediate confirmation stating that not only did they receive my request, but they also immediately refunded me so that I didn't have to wait!
I was super impressed by their service, to say the least.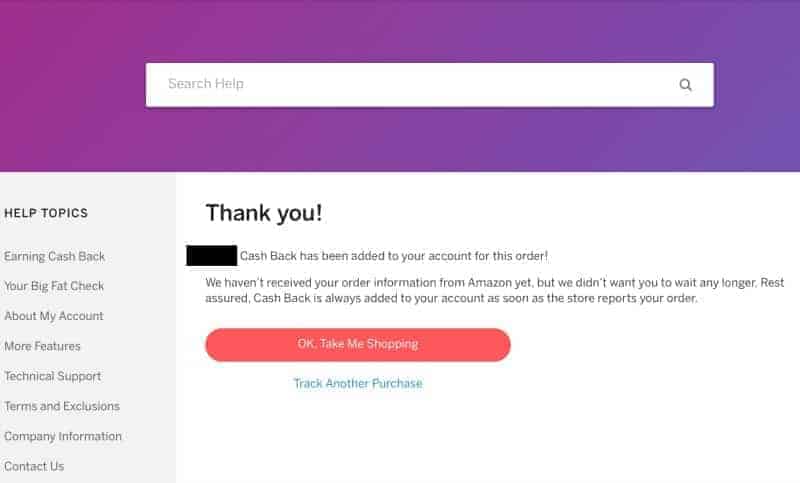 Ebates special offers
On top of saving money on your day-to-day shopping, Ebates also offers you other ways to make money.
Right now until 12/31/2019, they have a special offer; if you refer someone to Ebates you can earn $25 yourself once they start buying things on Ebates!
If you end up loving Ebates you can refer your friends and family to also start making money with Ebates and get a little cash back yourself for your referral.
You don't need a website, a business, nada — just email your friends or put them on blast on Facebook and you can earn a quick $25 if they sign up!
Pretty epic, right?
For every single person, you refer to that signs up to Ebates and starts buying stuff you get $25 back.
Click here to sign up and start making money with Ebates today!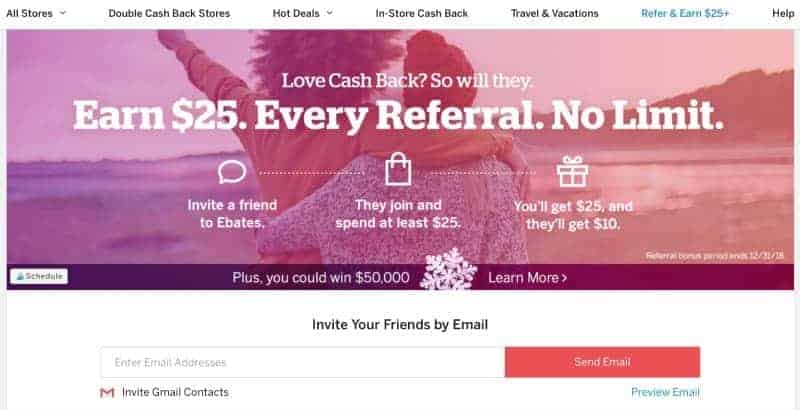 Is Ebates a scam?
I think by now you know the answer to that question. 😉
No, Ebates is not a scam.
It's a totally legitimate way to make money — good money — online with no hassle, just doing the things you normally do.
They have great cashback offers and excellent customer service which keeps them at an A+ ranking with the Better Business Bureau.
***Hot Ebates update: Black Friday and holiday shopping deals!
As I was writing this post I noticed that Ebates has already started gearing up for the holiday season by offering huge cashback incentives, like their Double Cash Back on Holiday Kickoff deal and Black Friday and Cyber Monday deals!
If you sign up now you can get a sneak peek at participating Black Friday and Cyber Monday deals that will be dropping on 11/21/2019!
If you start now you can plan ahead and find some great deals that will keep you ahead of the game for your holiday shopping!
I don't know about you, but I would 500% rather sit in the comfort of my own home and earn money back online than wake up at 3 am to stand in a long line to get into a store, risking being trampled or getting sucker-punched by a someone's grandma.
Is Ebates worth it?
If you want to make money just by shopping online with very little effort, yes Ebates is worth it.
I have had excellent experiences with Ebates and plan to do all my shopping through them in the future.
Pin this!