If you are looking for an easy DIY teacher gift for that special teacher in your child's life, look no further! This is a super simple DIY gift for teachers that can put together in just a few minutes. Even better, it's a gift that is easy on the wallet!
DIY teacher gift for under $10
I was able to create this gift for under $10! Which is awesome if you have more than one teacher to gift (we have two).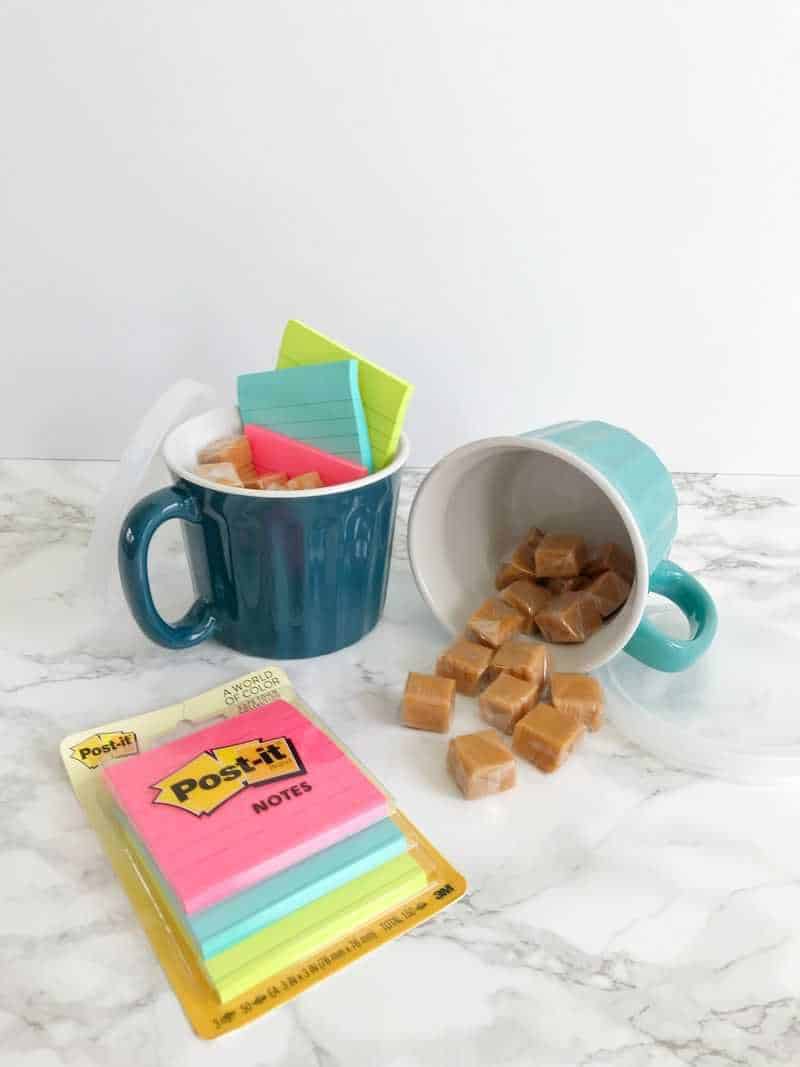 This post may contain affiliate links for your convenience. That means that if you make a purchase, I will receive a small commission at no extra cost to you. Read more here.
Last Minute Teacher Appreciation Week Gift
I am ashamed to admit that I almost forgot about Teacher Appreciation Week!
It's one of those things where you are going along, minding your own business and then BAM! Teacher Appreciation Week gifts all over Pinterest.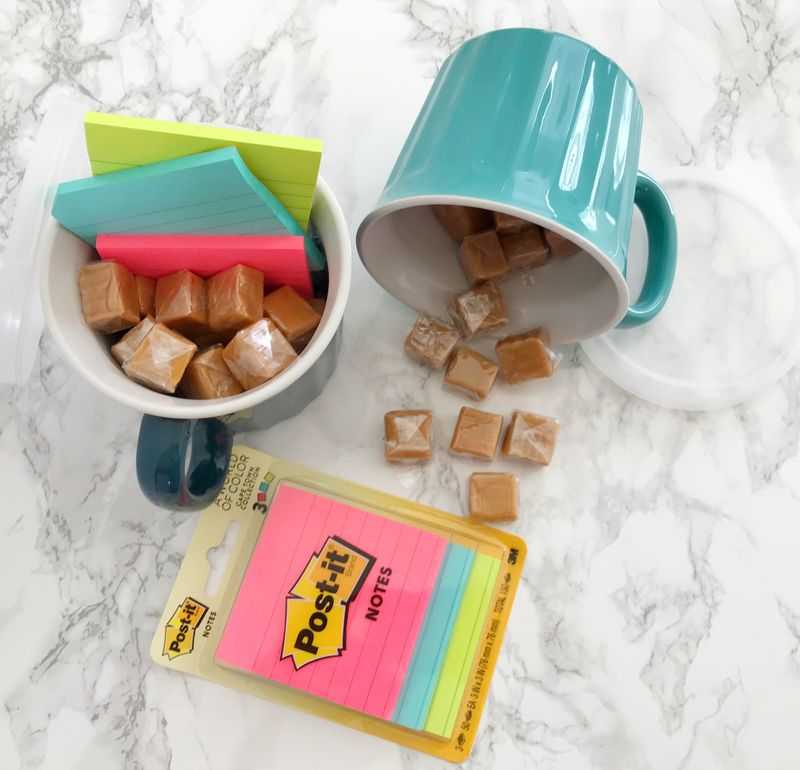 Cue "scream face" à la Edvard Munch!
I was trying not to panic as I dropped my kids off at school. I headed to the grocery store, figuring I could find some ideas there.
On the way, I tried to think about the kinds of things that teachers would like to receive as a gift.
Having worked in the school system myself, I know that teachers enjoy things that:
Are efficient
Are thoughtful
Are practical
Let them eat food quickly!
Are you laughing at that teacher gift criteria?
It's true!
Teachers often find themselves having to scarf down food in a short 30-minute window, usually while multitasking.
Lunch is served alongside paper grading or lesson planning.
At my local grocery store, I was able to pick up all of the components for this gift for a grand total of $11.85 — that works out to $5.93 per teacher!
#nailedit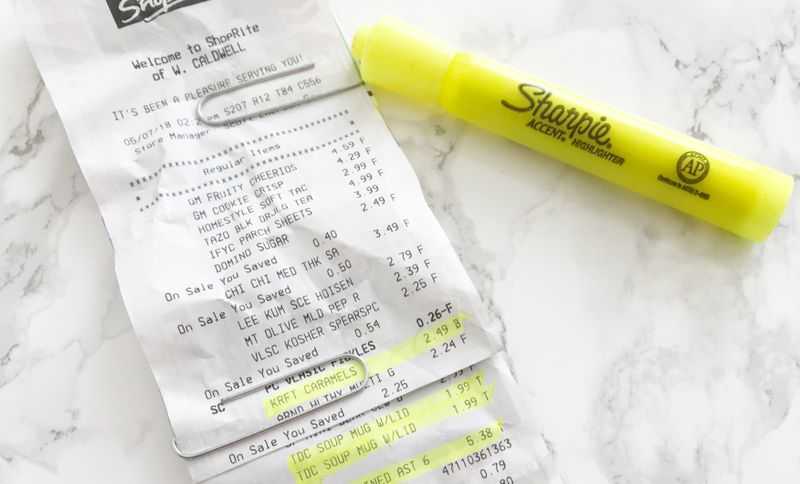 At home, the gifts were assembled and closed up in under 5 minutes.
To make this DIY teacher gift you will need:
I recommend using individually wrapped candies to keep things sanitary. There's not much worse than receiving a messy and sticky gift 😉
Where to buy the materials for this project
While I have given you links for finding these items online, the best deals are usually at your local supermarket.
I got my lidded mugs for $1.99/each.
Compare that to this Corningware lidded mug and you will find you can save a significant amount of by shopping locally.
As far as candies, you can just choose whatever candy happens to be on sale — take your teacher's candy preferences into account, if you know them!
How to assemble this teacher gift
Basically, all you need to do is put the post it notes in the center of the mug to act as a divider, and then fill in either side with some candy.
Here is a picture from above.
See how I put the caramels on one side and mixed candies on the other?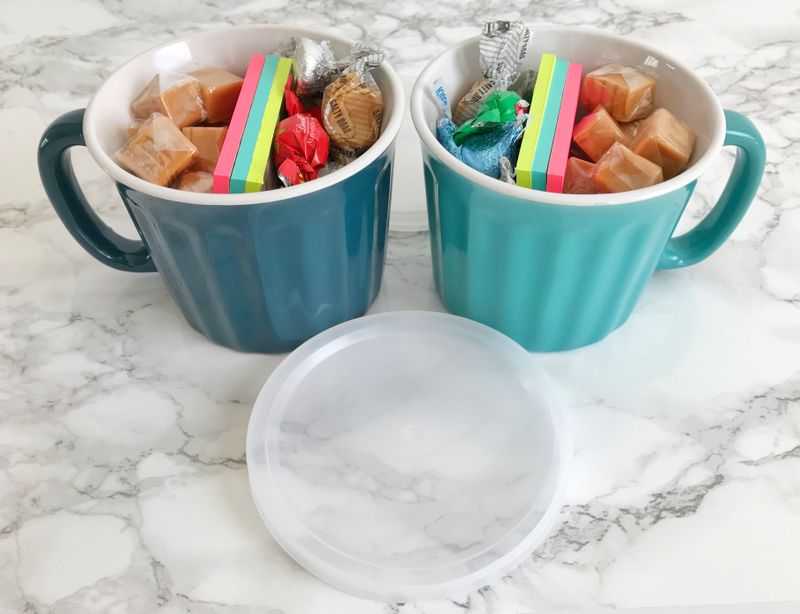 Then give the gift to your teacher!
Then, just close them up, wrap them up if you wish, and give to your child's teacher!
A gift that is practical, thoughtful, budget-friendly, with a nice sugar pick-me-up?
Check, check, and checkmate.
Now Teacher can use this mug again and again for coffee, soup, or even some nice hot chocolate 🙂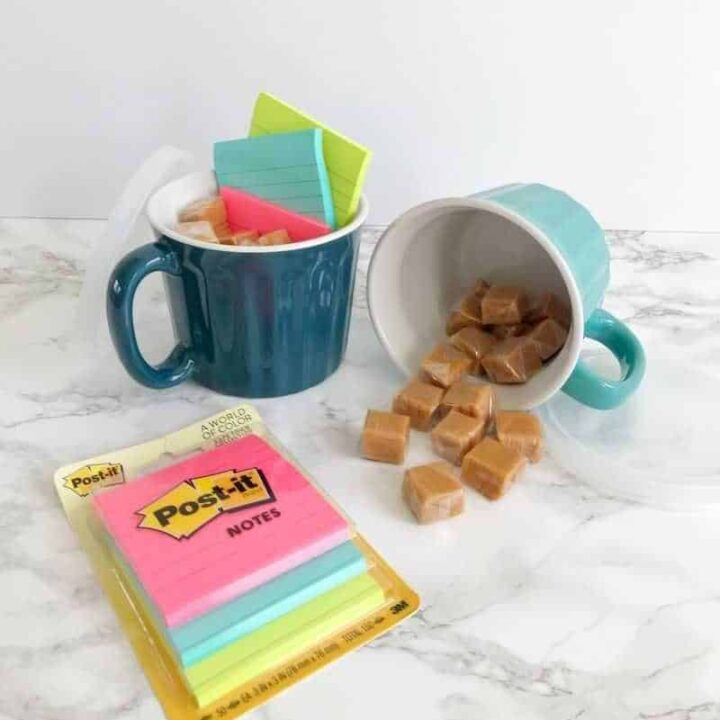 Easy DIY Teacher Gift for Less Than $10
This is a super simple DIY gift for teachers that can put together in just a few minutes. Even better, it's a gift that is easy on the wallet!
Materials
lidded mug
Post-it notes (3x3)
assorted wrapped candies
Instructions
Open the mug and insert the Post-it notes in the center of the empty mug.
Fill each side of the mug with wrapped candies.
Close the mug, wrap, and give as gift to teacher.
Recommended Products
As an Amazon Associate and member of other affiliate programs, I earn from qualifying purchases.
Pin it for Later!