Is dear old Dad tired of getting the same lame gifts year after year? Well, my friend, this gift guide for dads is here to save you time and money! These amazing gifts not only work for cheap Father's Day gifts but are also great for Valentine's day, Christmas, birthdays, you name it!
With budget-friendly options for two price points: under $25 and under $50!
Warning: these gifts are for cool dads ONLY!
Best Cheap Father's Day Gifts of 2020 (That Still Rock)
Growing up, every year without fail my sister and I gave our father socks for Father's Day. Granted, he was a landscaper/firefighter and he went through socks like crazy. But, it was still laaaame.
Here are 24 gifts that dads will actually WANT to receive on Father's Day. Heck, you might even want to buy some of these for yourself 😉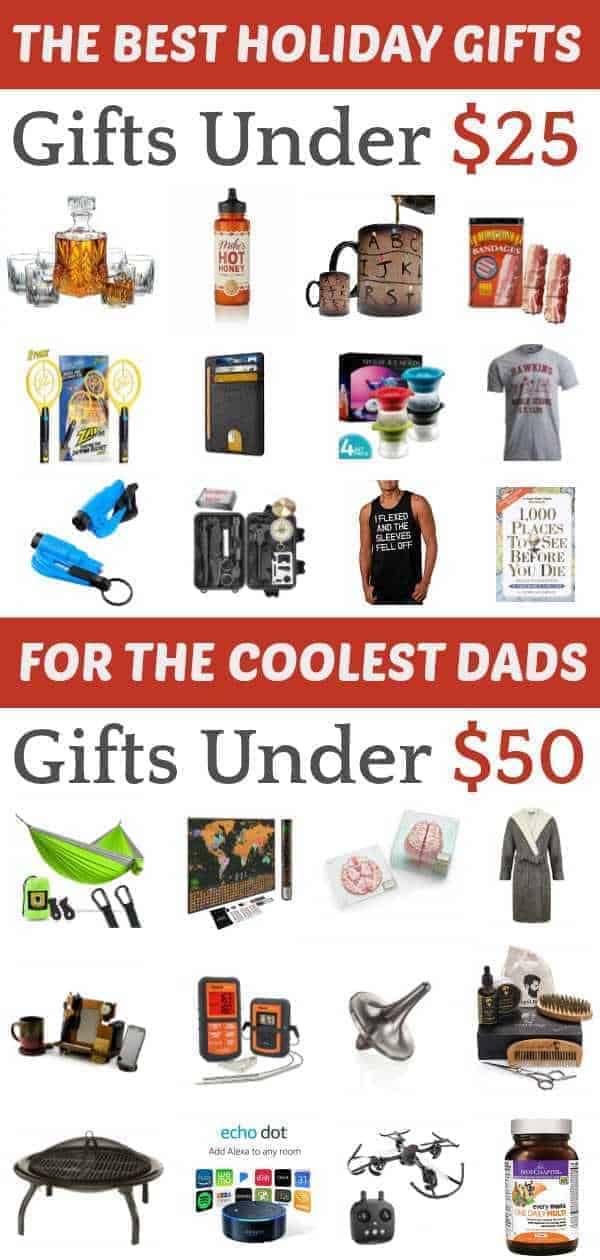 This post may contain affiliate links for your convenience. That means that if you make a purchase, I will receive a small commission at no extra cost to you. Read more here.
Father's Day Gifts Under $25
Here are 12 great ideas for gifts to give dads, husbands, and grandpas on Father's Day that are under $25!
Just look at the gorgeous detail on the glass and that super fancy bottle stopper!
2. A set of 4 spherical ice molds that will have Dad totally chillin'.
Go ahead, borrow them for yourself to make jello balls or chocolate sculptures; I won't judge. (You can also use them for epic Jello or Halloween recipes!)
3. A pack of 2 Zap It! bug zapper rackets so you and Dad can bond over bug-bashing while singing "Another One Bites the Dust".
Because someone's gotta keep Mom safe from them skeeters, amirite?
Better than slapping steak on a black eye!
He will think you are an eleven out of ten if you get this for him.
6. A 12 oz jar of Mike's Hot Honey to show Dad variety is the spice of life.
Put it on everything from pizza to chicken wings.
This little baby can cut through a seatbelt and break open a car window in case Dad needs to make a quick escape.
Oh, the places Dad will go!
9. A funny workout tank for the dad that you think is totally swole.
Attitude sold separately.
Because every dad knows the zombie apocalypse is only minutes away at any given time.
11. A slim, minimalist leather wallet for the dad who knows less is more (except when it comes to money).
This wallet definitely won't make his butt look big.
Because nerds rule and jocks drool.
Father's Day Gifts Under $50
Here are some budget Father's Day gift ideas that will keep you under $50 — without sacrificing quality or coolness!
He will never give you the cold shoulder again.
Talk about a clean slate!
Because it's better to hang by a parachute than hang by a thread.
Check it out!
4. A ForeverSpin titanium spinning top for the dad who has watched Inception 100 times but still isn't sure if he is really awake.
Is this the real life? Is this just fantasy?
All joking aside; this brand of vitamins is AMAZING!
6. A Holy Stone flying drone with tons of cools features so Dad can just go out and totally wing it.
Because Dad knows he is pretty fly.
With this, he will be ready to beard the lion.
I got these for my sister the nurse…she's the brains of the family. She totally loved them 🙂
Scratch that country off the list.
Check it out!
10. A portable folding fire kit for the dad who gets fired up about cooking.
Now he can fire something besides insults!
11. An echo dot so Dad can have a device that lets him be a hands-off kind of dude.
AI have to hand it to her, that Alexa is pretty smart.
No bones about it, this one is a winner!
Check it out!
Happy Father's Day to all the amazing dads out there!
Related posts: