Looking for a fun and spooky recipe to make for your Halloween party? Look no further than these Halloween deviled eggs! Find out how to make this deliciously rotten egg recipe for a Halloween appetizer that will totally creep out all the guys and ghouls at your Halloween party.
It's SCARY easy.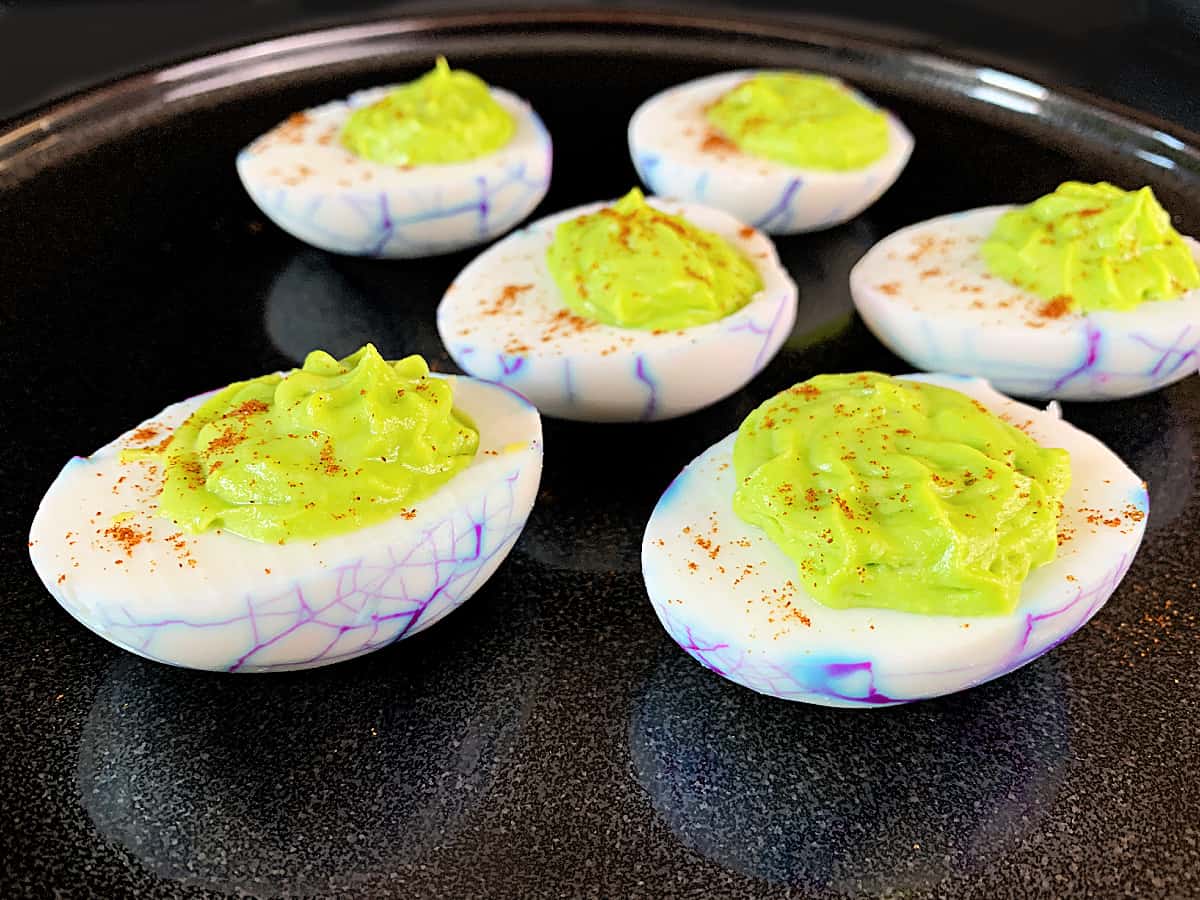 Spooky Halloween Deviled Eggs Recipe
This spooky egg recipe was inspired by the Chinese tea eggs we ate during the two years we lived in Shanghai. After we returned home, I found myself missing them, so I asked my Chinese mother-in-law how to make them myself, and she happily shared her recipe with me.
One day I was making Chinese tea eggs close to October when I realized this was the PERFECT Halloween egg recipe!
All I needed to do was change up the ingredients a bit, and BOO-yah! I had myself a spooky Halloween appetizer.
These deviled eggs are made by first hard-boiling eggs. Once they are cooked, the shells are gently cracked all over, and then the eggs are soaked in a mixture of water and food coloring for anywhere from 3 hours to as long as overnight.
It's so simple!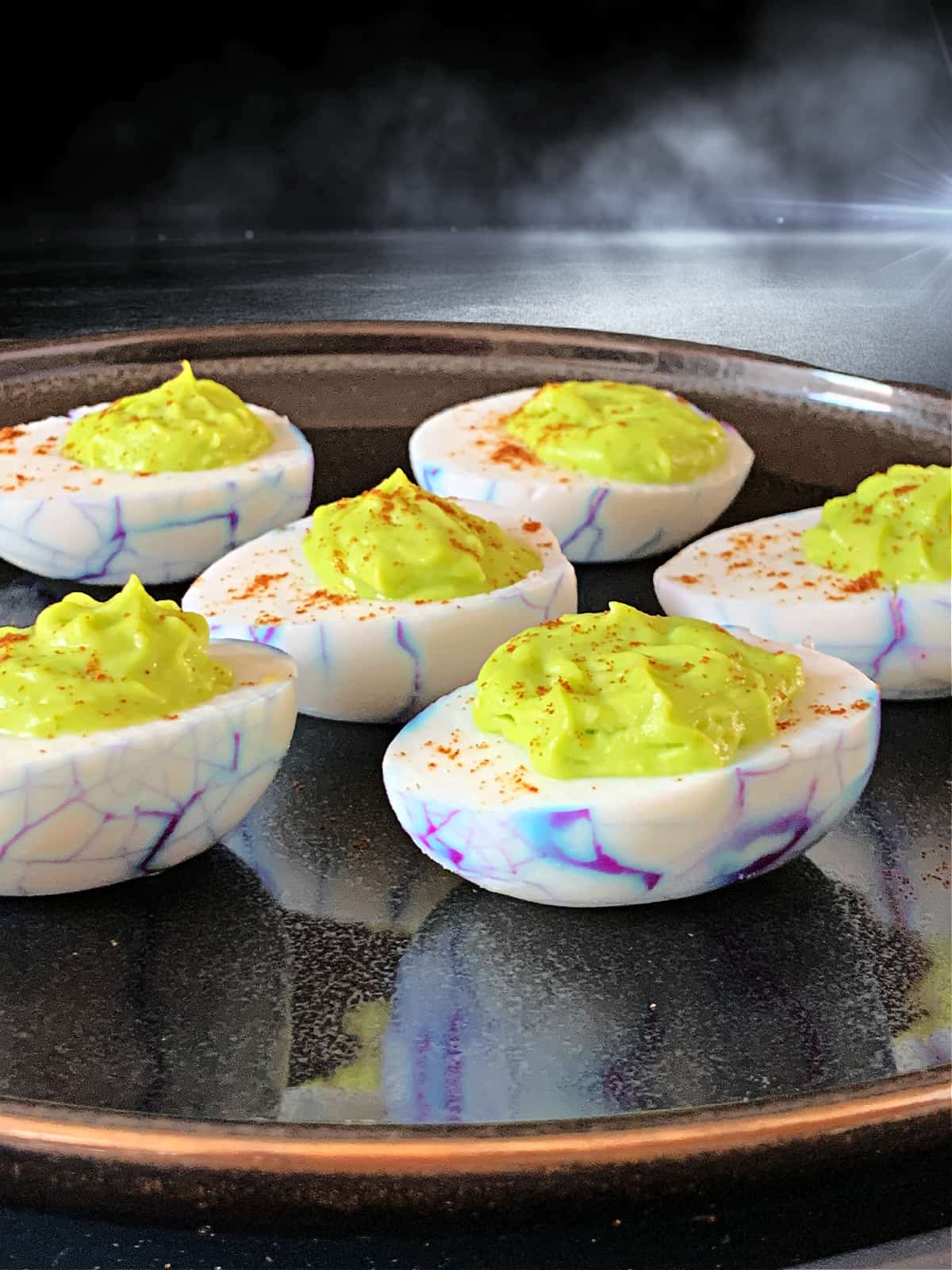 How to Make Halloween Deviled Eggs
The key to this recipe is to have perfectly hard-boiled eggs. You want to ensure the egg yellows are cooked all the way through for the deviled egg yolk mixture, and the shells should peel away perfectly.
It doesn't matter if you boil them, steam them, or use an electric egg steamer, or whatever – just use whatever method yields you the best results for hard-boiled eggs!
I have my own secret method that I hope to share in the future, but if you need help with this right now, check out this post that dives into great detail about how to boil eggs that peel easily.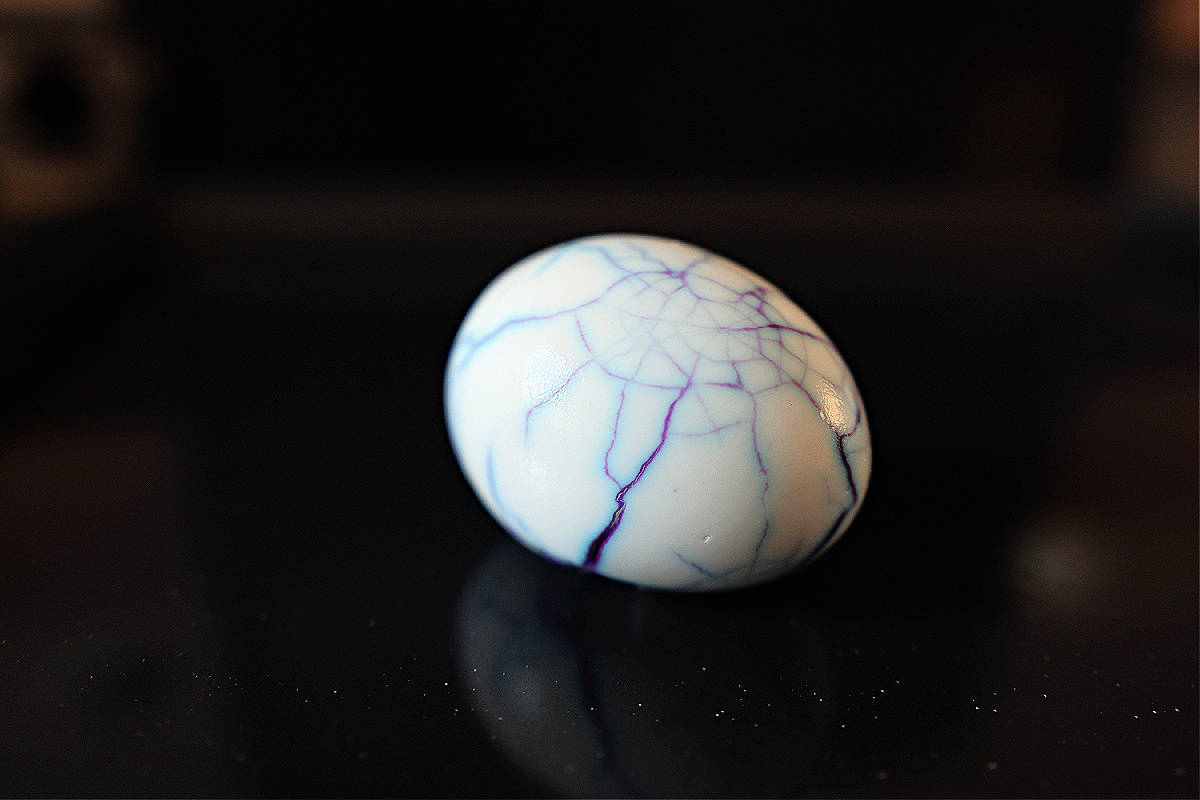 Spiderweb eggs vs. evil eggs vs. dinosaur eggs
This Halloween egg recipe is also great for themed parties outside of October! Depending on how you crack your eggs, they could look like spiderwebs or even dinosaur eggs.
Here are a few ideas on what to call your eggs to match your Halloween party theme.
Purple food coloring
Halloween deviled eggs
Purple dinosaur eggs
Spiderweb deviled eggs
Witch eggs
Red food coloring
Fire imp eggs (great for Harry Potter parties)
Salamander eggs
Dinosaur eggs
Demon eggs
Green food coloring
Toad eggs
Basilisk eggs
Dinosaur eggs
Swamp eggs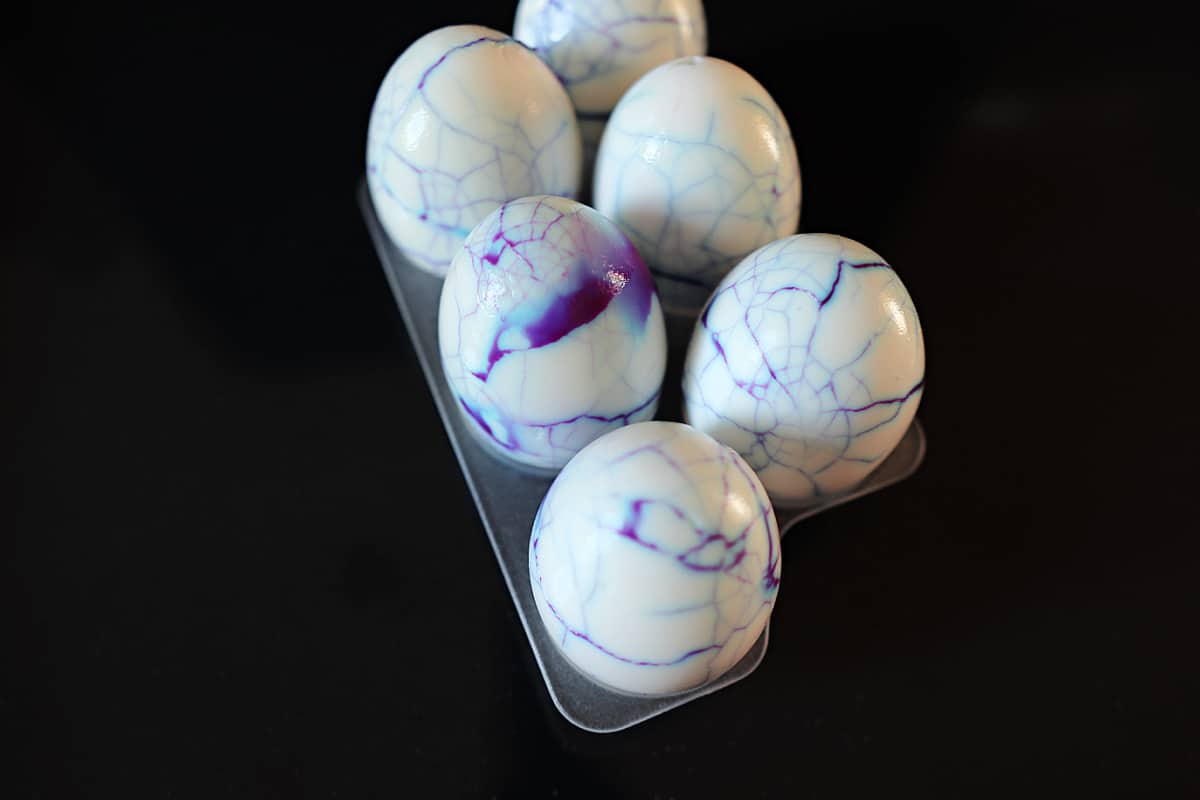 Halloween Eggs Tips and Hacks
Here are a few more tips and cooking hacks to get the best results for your Halloween eggs.
1. How to crack the eggs
You can either use a spoon and gently but firmly tap the eggs hard with the convex part of the spoon, or you can crack them on the counter and roll them.
You might like to experiment with cracking more or less to see how you like the pattern. A little tap goes a long way; a small spiderweb crack in the eggs here and there makes a stunning effect against the egg white!
2. What color to use for Halloween eggs?
You can use any color you like for these Halloween eggs, but the standard Halloween colors are black, purple, neon green, and orange.
Of course, as mentioned above, red works great for certain party themes.
For this recipe I used purple food coloring for the white part of the rotten eggs and neon green dye for the deviled egg yolk.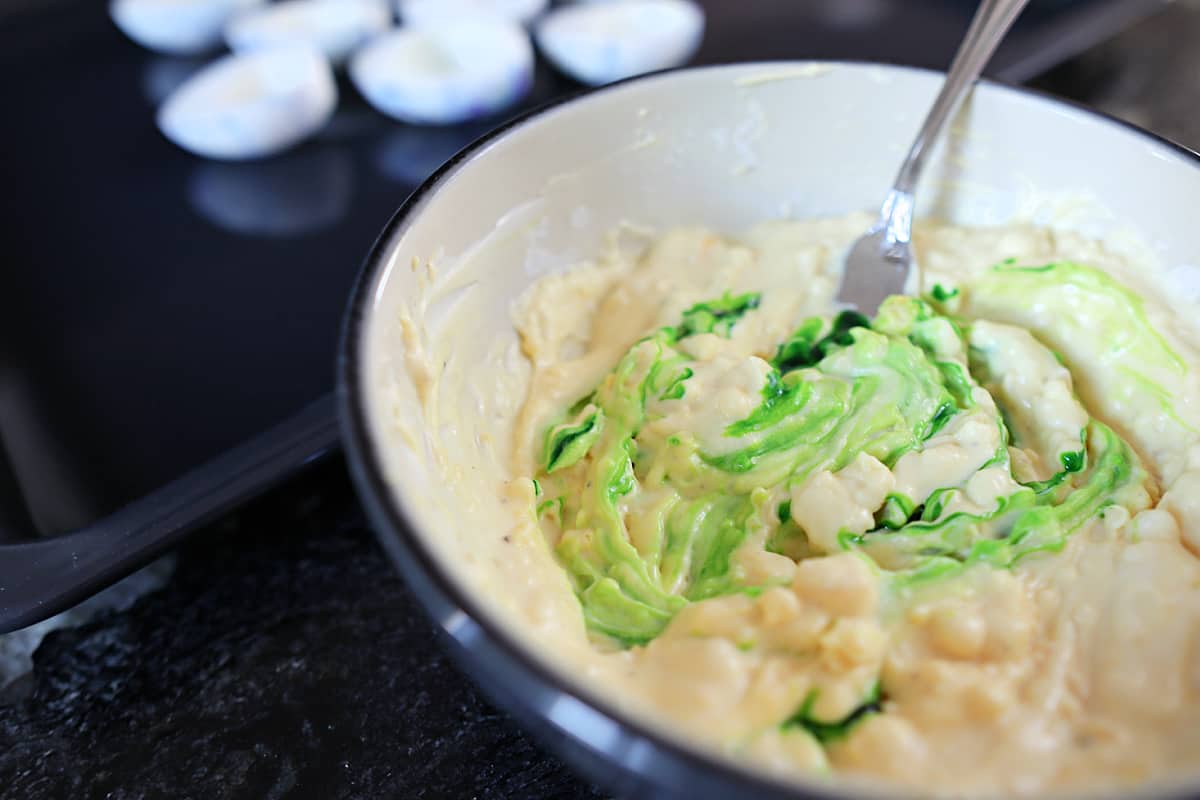 3. Best way to dye eggs for Halloween
The process of dyeing these Halloween deviled eggs is slightly different from how you go about dying Easter Eggs.
Crack the eggs and then place them in a mixture of water and food coloring and then refrigerate 3+ hours until you are ready to prepare them.
I found that a lidded glass container works very well for this – WATCH OUT, because if it spills, this can damage your rugs or towels.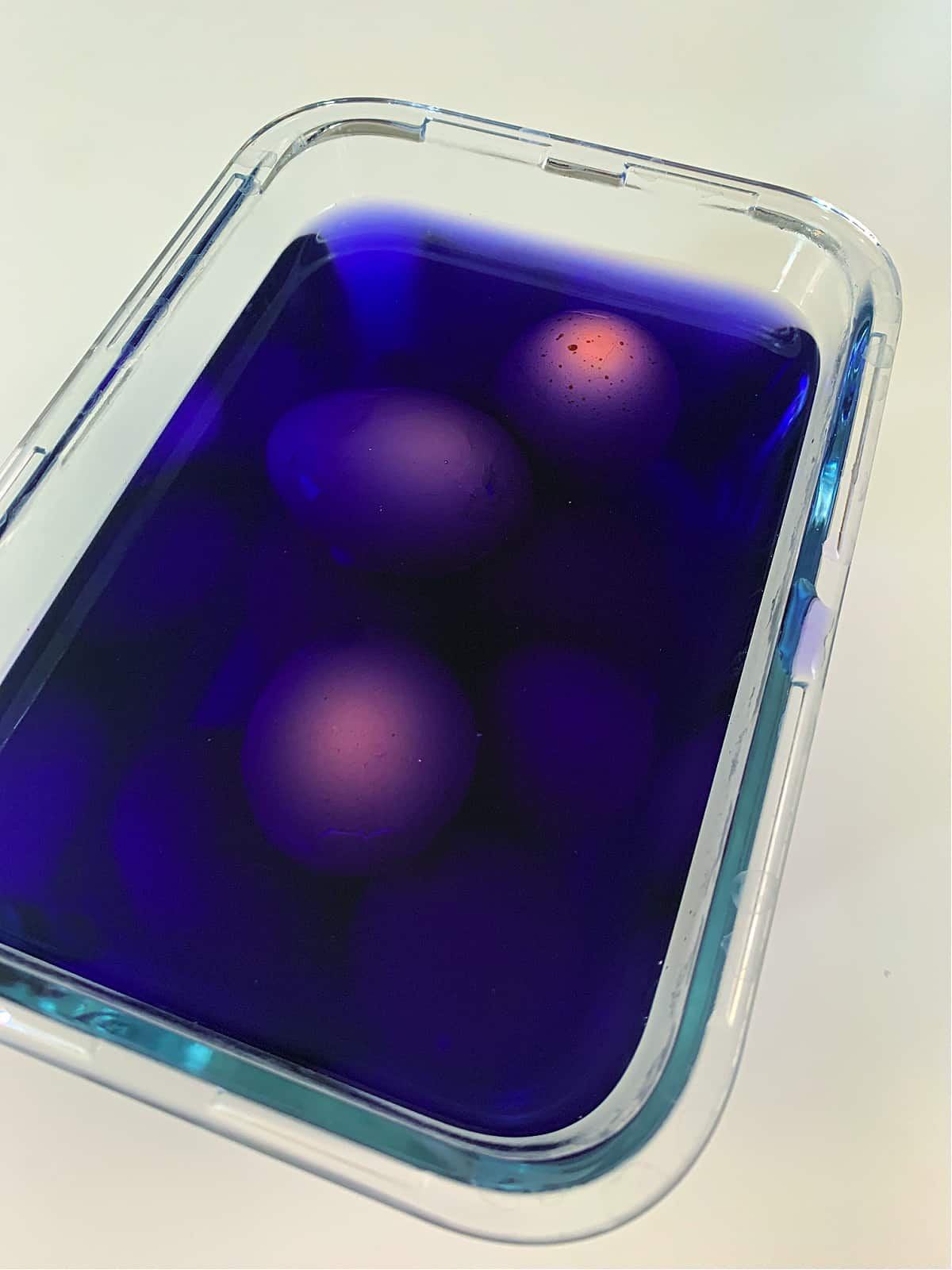 4. How long to soak the eggs?
As a rule, the longer you soak the eggs, the darker the color will be along the cracks of the Halloween eggs.
Soak for at least 3 hours or as long as overnight.
5. How long do Halloween deviled eggs last?
After you make this Halloween eggs recipe it can keep in the fridge for around 3 days, as long as you cover it TIGHTLY. However, you might find that the lines on the whites of these rotten eggs become less clear and sharp with time.
The longer you keep the eggs, the more the color will "soften," to the point where it will look more like a tie-dye effect rather than spiderweb eggs.
All in all, these eggs are best when enjoyed as soon as possible after making them!
More recipes to go with these Halloween eggs
We have plenty of other great Halloween recipes to enjoy if you love Halloween – check them out down below!
Pin this recipe for Halloween deviled eggs!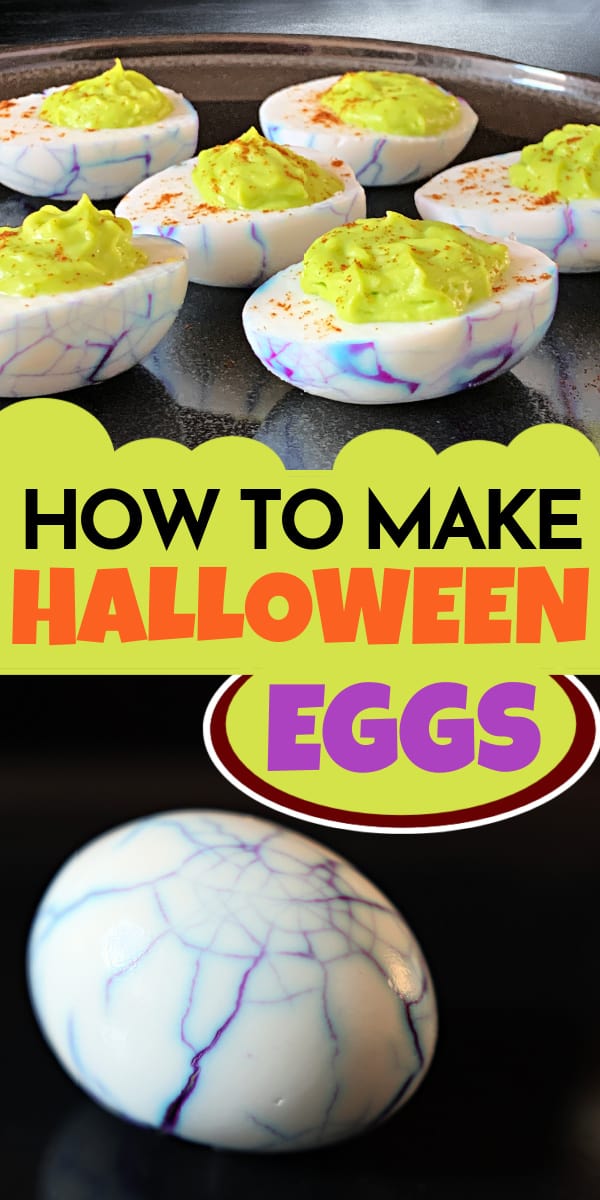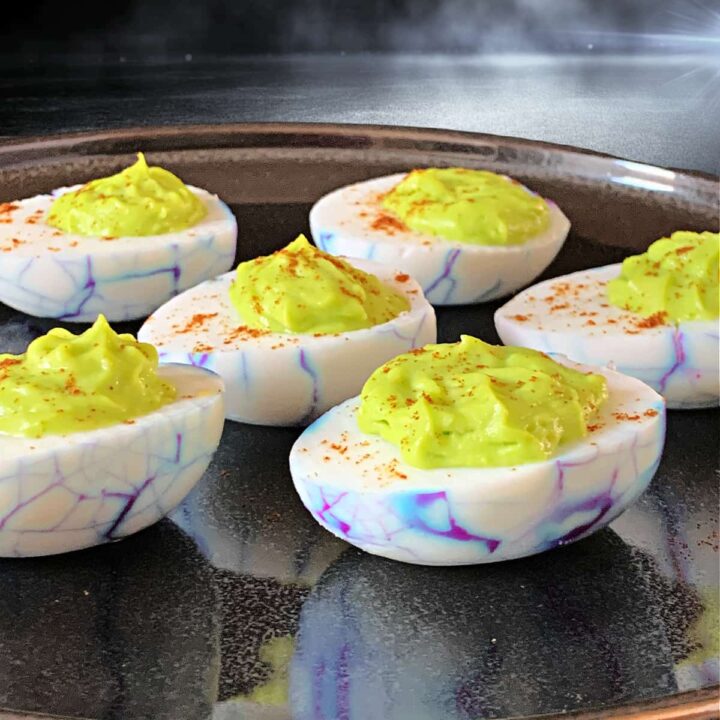 Halloween Deviled Eggs Recipe That's SUPER Spooky!
Total Time:
3 hours
15 minutes
This recipe for Halloween devilied eggs is sure to be a sensation at your Halloween party! All the guys and ghouls love this spooky Halloween egg recipe and it's so easy to make it's SCARY! Find out how to make rotten eggs as an appetizer or use them as dinosaur eggs, spider eggs, and more!
Ingredients
6 hard-boiled eggs
food coloring (black, purple, green, or other)
water (to cover eggs)
splash of white vinegar
3 tbsp mayonaise
1 tsp mustard (Dijon or yellow)
1 tsp apple cider vinegar
pinch of salt
pinch of pepper
Sprinkle of paprika, chia seeds, or parsley (optional)
Instructions
Gently but firmly crack the eggshells with the convex side of a spoon or by rolling on the countertop. Leave the cracked shells on the eggs.
Put approximately enough water to cover the eggs in a container and add the food coloring. Stir to mix.
Place the cracked eggs in the container with the colored water. Add more water if necessary to cover the eggs completely.
Put a lid on the container or cover it with plastic wrap.
Allow to soak for at least 3 hours or up to overnight in the fridge.
After the eggs have soaked for the desired amount of time, remove them and rinse them with water and a splash of white vinegar to set the color.
Peel the eggs carefully. Discard the shells.
Slice the eggs in half and carefully remove the egg yolks (yellow part). Place the yolks in a mixing bowl.
Add the mayo, mustard, apple cider vinegar, salt, and pepper to the yolks and mix well. Add food coloring to color the egg yolks to the desired color.
Spoon the egg yolk mixture into the egg white halves or use a piping bag to fill.
Garnish with a sprinkle of paprika, chia seeds, or parsley if you like a pop of color.
Serve chilled.
Recommended Products
As an Amazon Associate and member of other affiliate programs, I earn from qualifying purchases.
Nutrition Information:
Yield:

12
Serving Size:

1
Amount Per Serving:
Calories:

68
Total Fat:

6g
Saturated Fat:

1g
Trans Fat:

0g
Unsaturated Fat:

4g
Cholesterol:

95mg
Sodium:

70mg
Carbohydrates:

1g
Fiber:

0g
Sugar:

0g
Protein:

3g
Nutritional information for the recipe is provided as a courtesy and is approximate only. We cannot guarantee the accuracy of the nutritional information given for any recipe on this site.