Rice pancakes are a delicious and easy way to use up leftover rice, and they make a great breakfast, lunch, or dinner option. Not only does this rice pancake recipe save you money by using cheap ingredients almost everyone has in their kitchen, but it also cuts down on food waste by making sure you use up old rice that you might not be sure what to do with.
This rice pancake recipe is a keeper, and if you love rice pancakes, you might also like this recipe for giant rice cooker pancakes.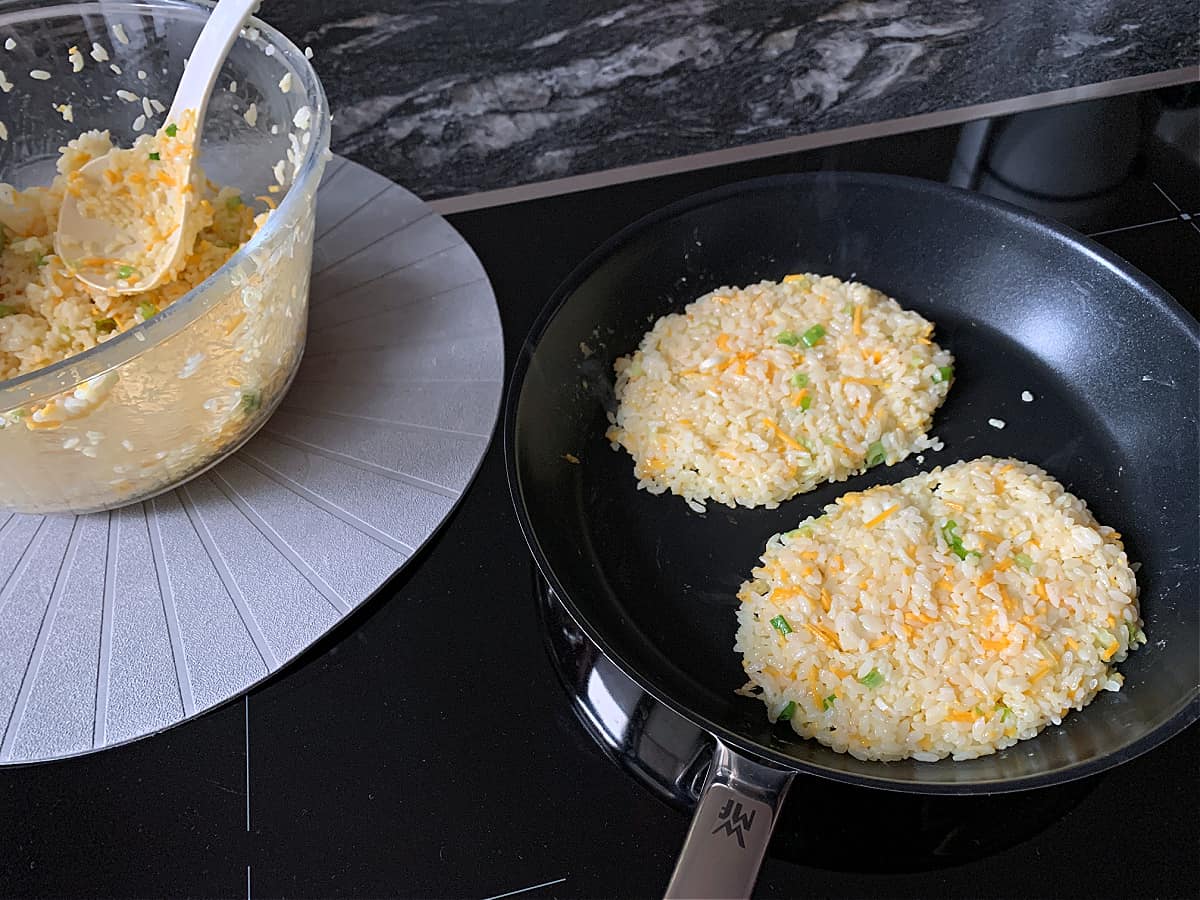 How to Store Leftover Rice
This recipe is best with leftover rice that's been properly cooled and stored. Storing leftover rice properly will help ensure that it stays fresh and safe to eat.
Here are a few tips for storing leftover rice.
Cool the rice as quickly as possible: After cooking, transfer the rice to a shallow container and spread it out in an even layer. This will help it cool down quickly, which will reduce the risk of bacterial growth.
Refrigerate the rice: Once the rice is cool, transfer it to a clean, airtight container and store it in the refrigerator. Refrigerated rice should be used within 3-4 days.
Freeze the rice: If you don't think you'll be able to use up the leftover rice within a few days, you can also freeze it. Transfer the cooled rice to a freezer-safe container or zip-top bag and store it in the freezer for up to 3 months. To defrost, transfer the frozen rice to the refrigerator and let it thaw overnight.
RELATED POST: 35 Easy Cheap Dinner Ideas to Make Your Mouth AND Wallet Happy
Rice Pancake Ingredients
The main ingredients for rice pancakes are rice and eggs, but you can customize the rest of the ingredients to make them sweet or savory, depending on what you are in the mood to eat.
It's also a good way to use up small amounts of leftovers, such as leftover bacon or ramen noodle seasoning!
Below you can find a few more ideas on how to flavor your rice pancakes with things you already have in your kitchen or pantry.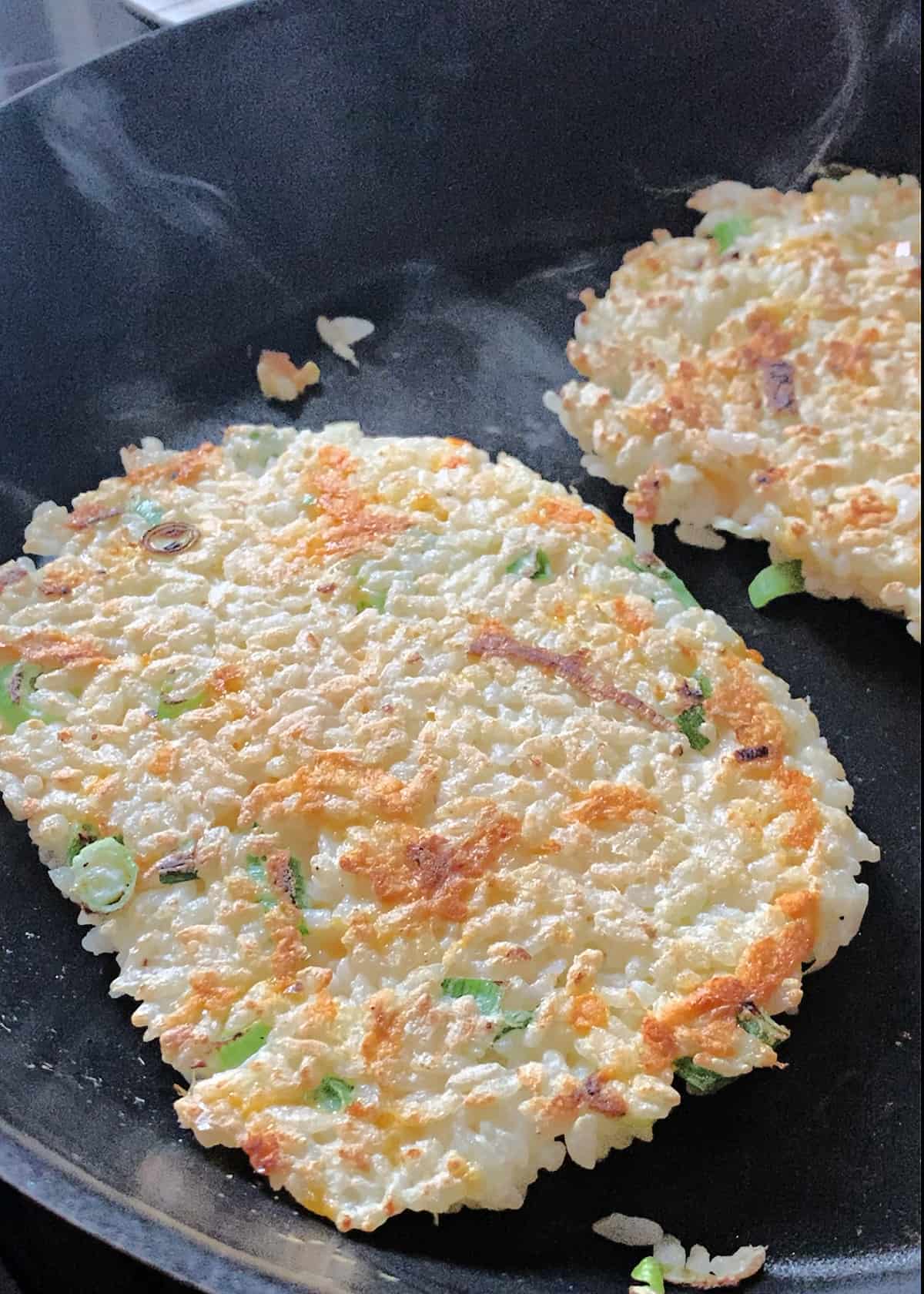 How to Flavor the Rice Pancakes
Rice pancakes are a delicious and versatile recipe, and there are many different ways you can flavor them to suit your tastes. The possibilities are endless, and the only limit is your imagination!
Here are a few ideas for adding some extra flavor to your rice pancakes:
Herb and cheese: Stir in some chopped fresh herbs, like basil or cilantro, along with a bit of grated cheese for a delicious savory pancake.
Spicy: Add a little bit of diced jalapeno or a sprinkle of chili flakes and paprika to the pancake mixture for a spicy kick. You can also top the finished pancakes with some salsa or hot sauce for extra heat.
Sweet: For a sweeter twist on rice pancakes, ditch the green onions and cheese and try adding a spoonful of honey, maple syrup, chopped dates, or your favorite fruit preserves to the mixture. You can also top the finished pancakes with some sliced fruit and a drizzle of maple syrup.
Savory: Try adding some diced cooked bacon, ham, or sausage to the pancake mixture for a hearty, savory twist. You can also top the finished pancakes with a fried egg or a sprinkle of crumbled bacon for extra flavor.
You may need to add an extra egg if you eliminate the cheese in your recipe, as the cheese helps with binding the rice together. If the rice mixture isn't sticking together, more eggs can help with this!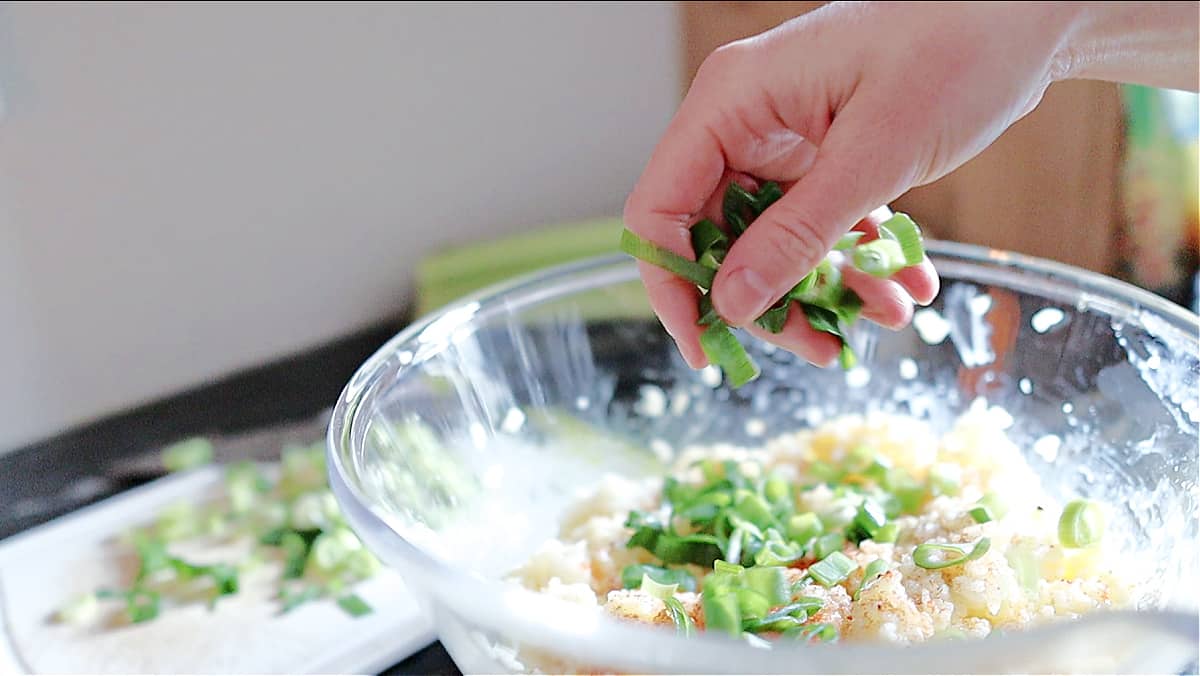 The possibilities are endless, so don't be afraid to get creative and come up with your own unique flavor combinations. Enjoy!
More recipes to enjoy:
Pin this how-to-make rice pancakes recipe on Pinterest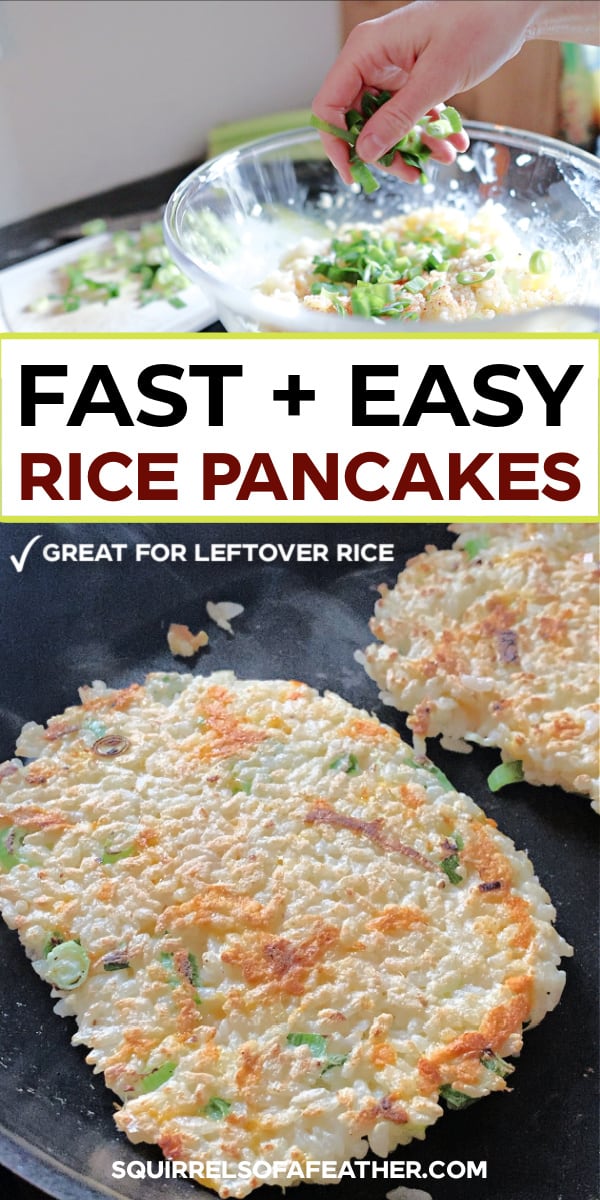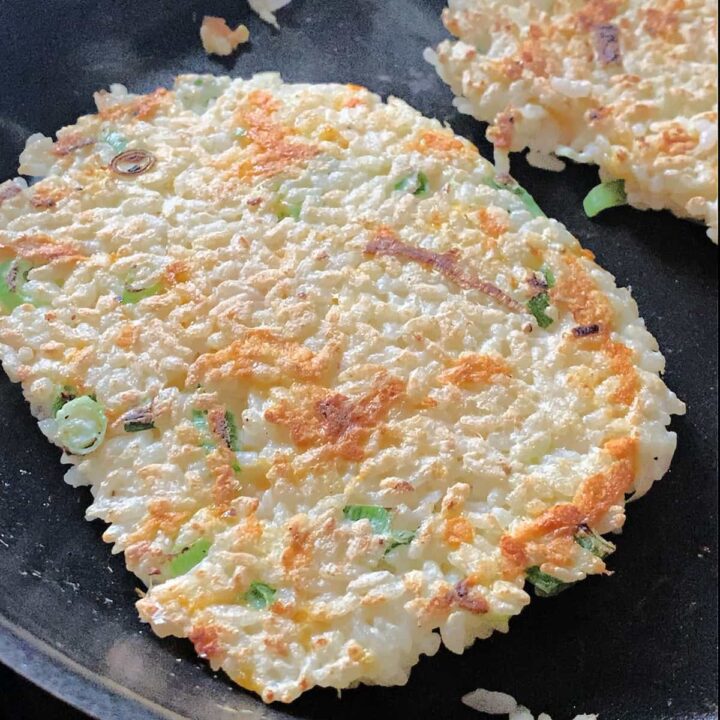 Easy Rice Pancake Recipe
Looking for a delicious way to use leftover rice? Try our mouthwatering rice pancake recipe! These savory rice pancakes are cheesy, crispy, and packed with flavor. Perfect for breakfast, brunch, and lunch, these pancakes are sure to become your new favorite way to repurpose leftover rice.
Ingredients
2 cups leftover cooked rice
2 eggs
1/4 cup finely diced green onions
1/4 cup grated cheese (cheddar, mozzarella, and gouda work well)
1/4 teaspoon salt
1/8 teaspoon of pepper
Instructions
Place the rice in a large mixing bowl.
Crack the eggs over the rice and discard the eggshells; mix to combine.
Add salt and pepper and stir into the rice mixture.
Add the green onions and cheese into the rice mixture and stir to combine.
Heat a large nonstick skillet over medium heat.
Once the skillet is hot, spoon in about 1/4 cup of the rice mixture for each pancake. You should be able to fit 2-3 pancakes into the skillet at a time. Use the flat surface of your spatula to press the rice mixture down and shape it into an oval shape of around 1/2 inch thickness. (You may need to scrape the edges back towards the center to help the pancake keep its shape.)
Cook the pancakes for 2-3 minutes on one side or until they start to turn golden brown.
Carefully flip the pancakes and cook for an additional 2-3 minutes, or until they are cooked through, until both sides are golden brown and crispy.
Repeat with the remaining rice mixture until you have used it all up.
Notes
Serve the rice pancakes hot or cold, topped with a little bit of guacamole, salsa, mayonnaise, or whatever kind of topping you like!
They're delicious on their own, but you can also serve them with a side of sour cream or salsa for dipping.
See the blog post for more ideas on how to change the flavor of your rice pancakes to make them sweet or savory. Enjoy!
Recommended Products
As an Amazon Associate and member of other affiliate programs, I earn from qualifying purchases.
Nutrition Information:
Yield:

6
Serving Size:

1
Amount Per Serving:
Calories:

113
Total Fat:

3g
Saturated Fat:

1g
Trans Fat:

0g
Unsaturated Fat:

2g
Cholesterol:

67mg
Sodium:

144mg
Carbohydrates:

15g
Fiber:

0g
Sugar:

0g
Protein:

5g