Admit it, eyeballs freak you out — and rightly so! Nothing says "eww, gross" quite like an oogley, squishy, staring, disembodied eyeball. That's why this eyeball jello shots recipe is the PERFECT Halloween party dessert, sure to delight and disgust your guest at the same time.
Make sure to read the instructions of this post carefully before moving on to the recipe to get all the best tips and tricks so that your eyeball recipe turns out perfectly, every time.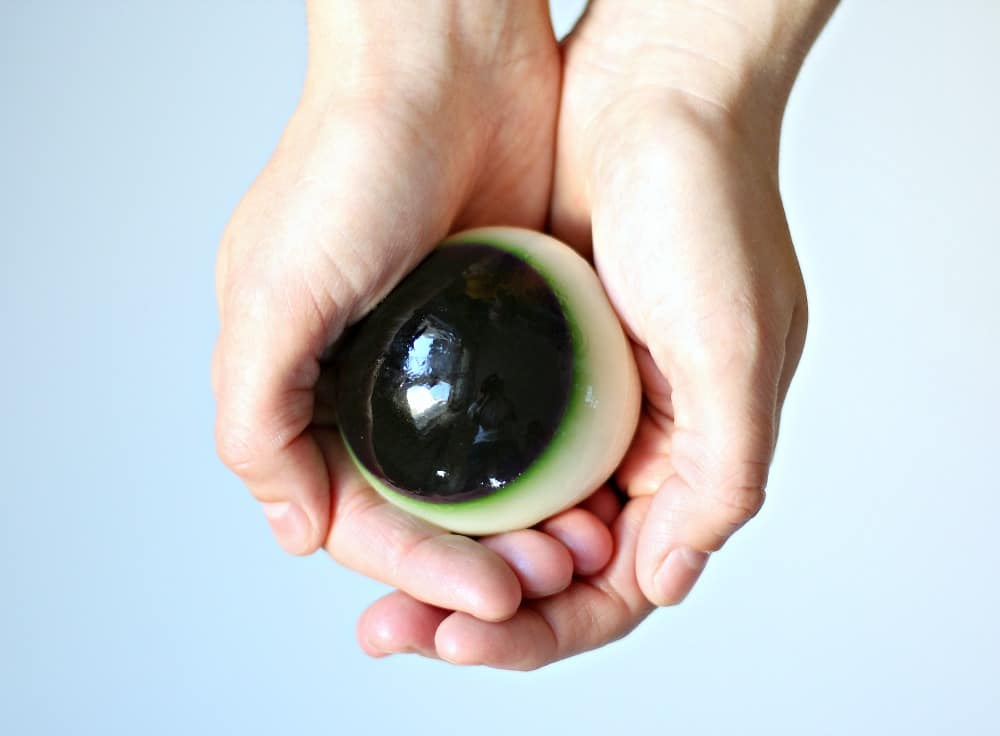 This post may contain affiliate links for your convenience. That means that if you make a purchase, I will receive a small commission at no extra cost to you. Read more here.
Halloween Eyeball Jello Shots to Freak Out Your Party Guests
This is the number one most requested recipe that I get from my readers.
While they LOVED the original eyeball recipe, they wanted something alcoholic to serve with the creepy food and drinks at their adult Halloween party.
To that, I said: "Game on."
To get that lovely white color on the eyeball, I decided to use coconut and pineapple to make piña colada flavored eyeball jello shots.
Take note, this recipe is a double shot! Keep that in mind when you are consuming it. 😉 This is also more of a hands-on recipe, meant to be jiggled and wiggled — I suggest serving in small cups with a spoon for maximum delight!
In honor of this recipe, I lovingly composed a Jimmy Buffet-inspired Halloween poem
Call it an "ode to eyeballs," if you will:
If you like piña coladas,
and creepy food for Halloween 
then try these tasty eyeballs,
but please try not to scream.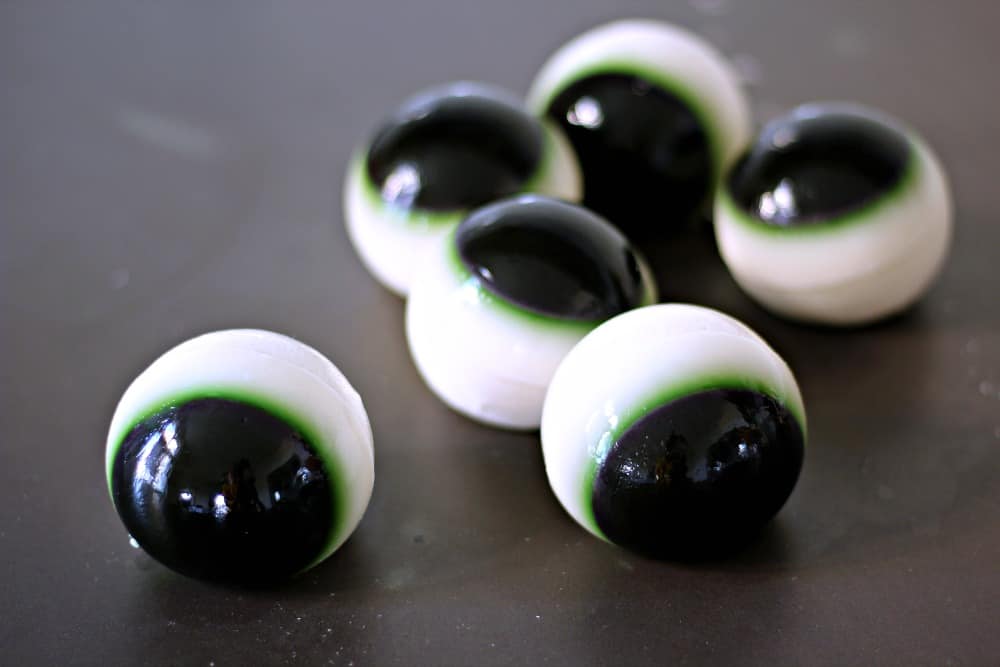 Eyeball Jello shot tips and tricks
Here are a few important tips and tricks to make sure this gelatin shot eyeball recipe turns out perfect, every time:
Water to Jello ratio
In order to keep its shape, this jello double shot recipe is slightly thicker than the in-the-cup variety.
These eyeballs just beg to be touched and played with, after all.
Therefore, keep the water-to-gelatin ratio at around 1:1; that means that for every ONE PACK of gelatin you will need around one cup of liquid.
Allow the gelatin to bloom
Unlike dry mix Jello brand gelatin, unflavored gelatin needs to "bloom" first before use.
You achieve blooming by putting the unflavored gelatin in liquid and then waiting a 2-3 minutes before use.
We will be adding the dry gelatin packs into the coconut milk.
How to get the shots out of the jello eyeball mold
Before you add the liquid gelatin into the jello molds, take the time to spray them lightly with a cooking spray and wipe it in with a paper towel.
The spray will help stop the Jello from sticking to the mold and the wiping will help make sure the surface of your jello is smooth since the little droplets of cooking spray can cause indentations in the jello shot.
However, even with the spray beforehand jello can still stick to the mold!
To prevent Jello from sticking, run the molds under warm water for around 10-15 seconds — cover the hole in the top of the mold with your finger while doing so.
After doing this, you should then be able to gently tip your jello shots out into your hand.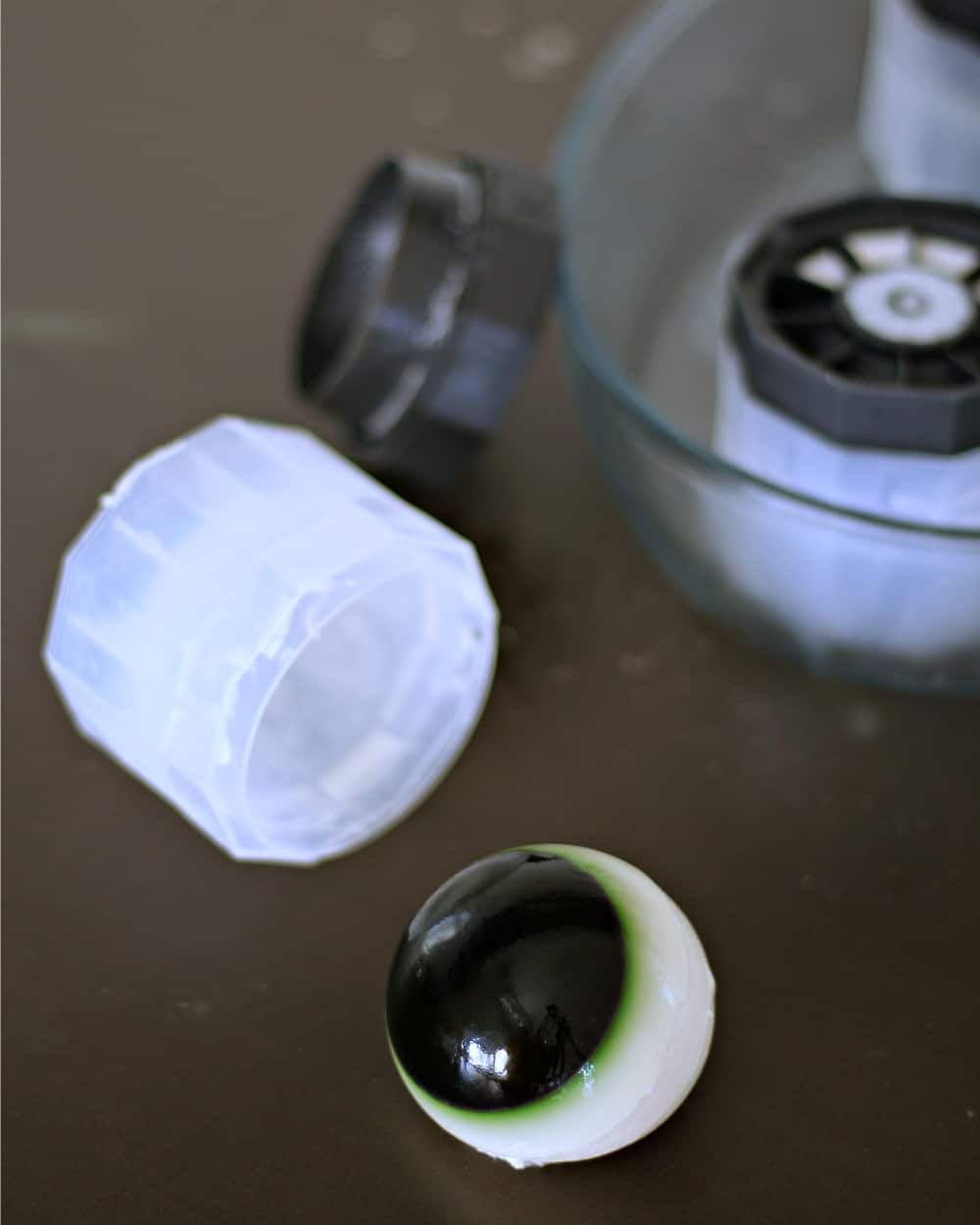 How to prevent bubbles in jello
After adding the liquid jello to the mold, make sure to pop any bubbles with a toothpick or scoop them out with a spoon.
If you don't, those bubbles will remain and you will get holes and divets in the top of your eyeball jello shot (While this doesn't have an impact on the taste, it can make it look uneven.)
How to store these eyeball jello shots
To store these shots (and any other kind of Jello) place it in a tightly sealed container in the refrigerator; it should last 7-10 days this way.
However, with any multi-colored gelatin, you may notice the colors start to "bleed" into each other the longer you wait.
This will be noticeable in the white part of this eyeball shot recipe.
How to make this Jello eyeball recipe kid-friendly
If you want to make edible jello eyeballs for the kids to enjoy along with the adults, simply make the same recipe but substitute water for the coconut rum.
So simple!
You may just need to add a little bit of extra sugar, give it the taste test while it's still in liquid form.
You also have the option of making the original eyeball recipe using agar agar, but since you already have the items for the Jello version on hand I think that will be easier.
Jello eyeball shots recipe + tips
This recipe can be doubled or tripled, just remember that you need a rest period for the jello eyeballs to set and you can only make six at once unless you purchase additional molds.
To make these giant jello eyeball shots you will need the following items.
Jello eyeball ingredients:
Why you can't use fresh pineapple juice for this jello
Again, these jello eyeball shots are basically piña colada jello — that means you NEED pineapple juice.
Unfortunately, the enzymes in fresh pineapple juice can break down the binding molecules in jello — those same enzymes that are probably the reason your tongue hurts after eating too much fresh pineapple!
That means you need to get canned or boxed juice from the store — don't buy the freshly cut pineapple-in-juice from the produce section, you won't get the same results.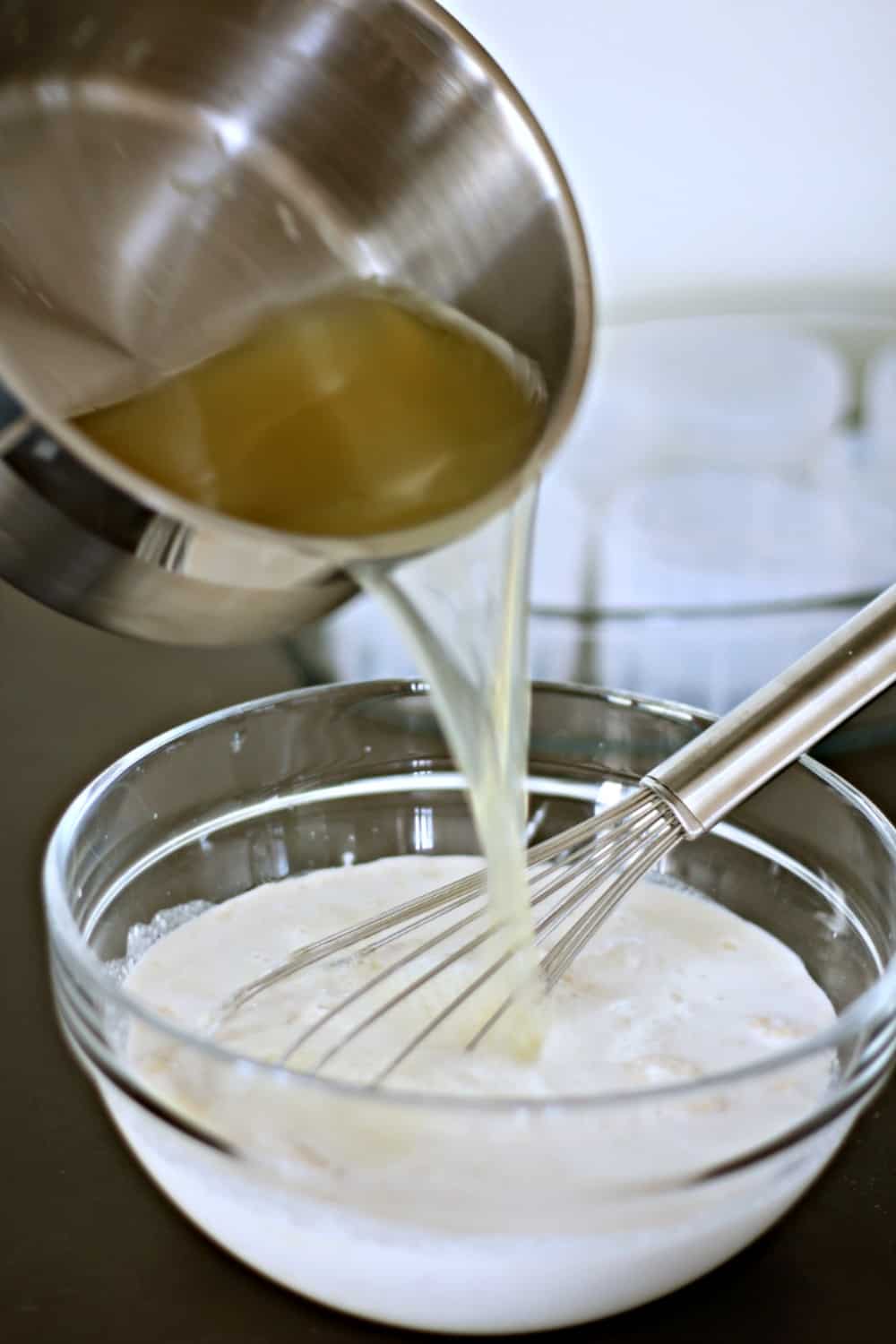 How to make black food coloring for jello eyeballs
Ah, black food coloring — that elusive and fickle hue.
For this eyeball recipe, you will either need to purchase or make your own black food coloring.
Several of my readers have told me that they prefer to buy black food coloring, but for those of you who want to DIY black food coloring yourself at home from the standard colors pack, there is a solution.
That solution is R, G, B; red, green, blue.
To make black food coloring yourself you will mix equal parts red, green, and blue food coloring (I used a pea-sized amount for this recipe) and add the liquid.
The more liquid you add, the more food coloring you may need to add.
I like to use gel food coloring because gel tends to result in a more intense color using much less food coloring.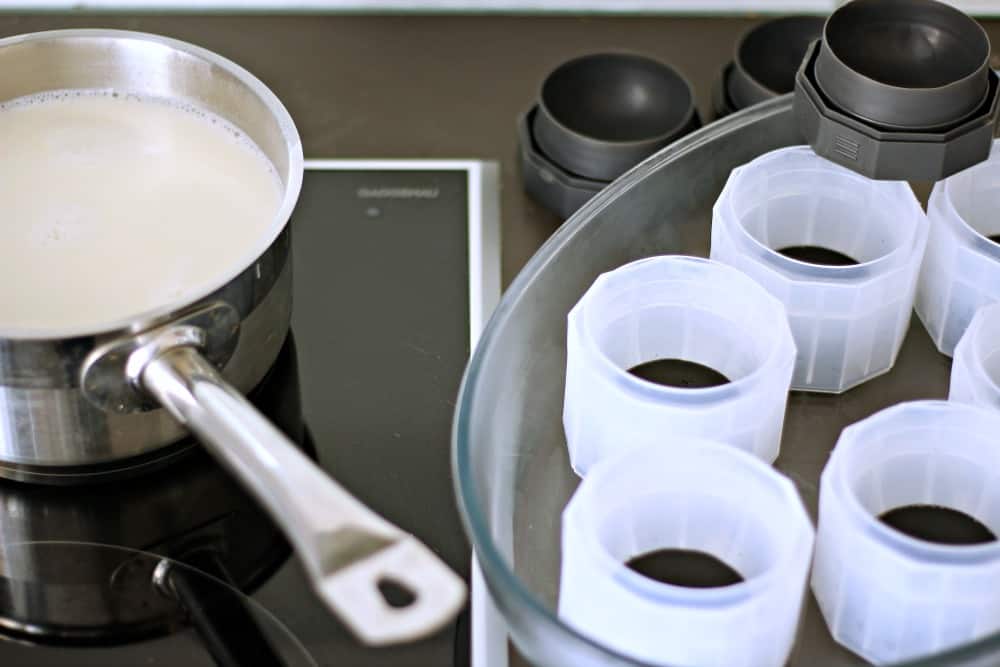 Adjusting the color of your black food coloring
Sometimes you may notice that your black food coloring is leaning a little bit more toward one side of the color spectrum, such as in the picture below.
As you can see in the picture of my mixed black food coloring below, it was leaning a little towards the purple side (meaning it had too much blue and red).
To adjust it I added more green — however, you will notice in my eyeballs that I added a little too much green and ended up more on the green end.
To adjust black food coloring color, just add the opposite color on the color wheel a little at a time until you get the right color!
Don't worry if your black food coloring is not perfect; the color is going to bleed into the white a little bit anyway, and it will just look like a natural iris (the colored part of an eyeball).
You can even purposely add a smidge more red, green, or blue to get different-colored eyeball jello! I've also used them for this monstrous deviled eggs recipe, which turned out fabulous (and super creepy.)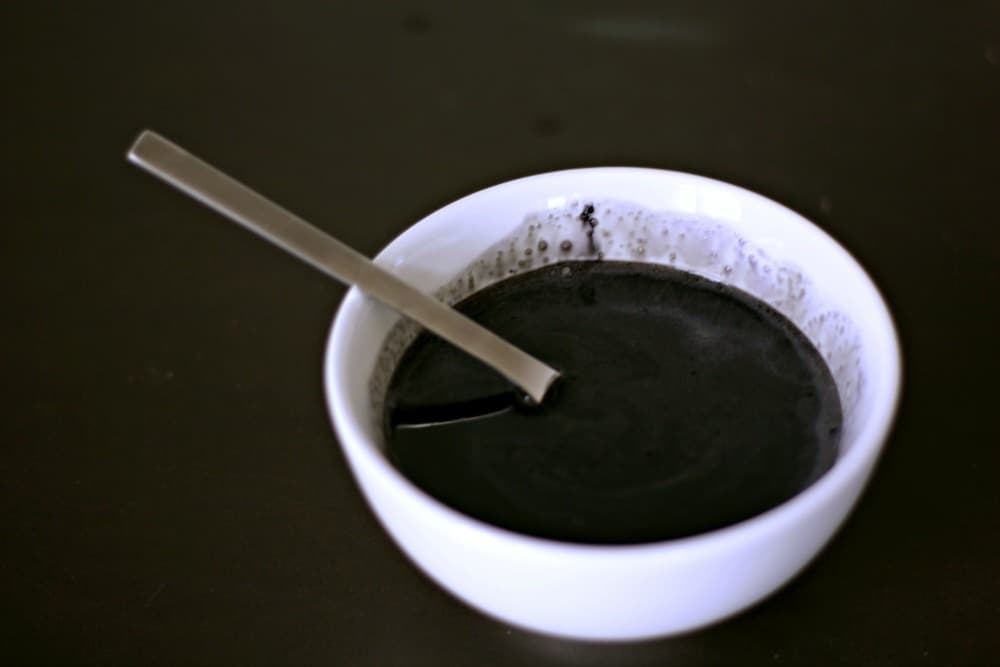 Jello eyeball supplies:
A nice whisk
Cooking spray
A cookie sheet or baking pan (for easy moving)
A whisk is definitely better than a fork for whisking this recipe.
After the gelatin blooms and you add the hot liquid to the gelatin mix, you might notice chunks that don't break up easily with a fork. I needed a whisk to get everything nicely combined.
The cooking spray will help the jello eyeballs release from the mold easier and the baking pan will help you move them quickly and easily all at once.
Jello eyeball molds
The most crucial supply here is, of course, the sphere molds.
I never purchase something that is a "one-and-done" use item for my kitchen. That's why I chose these sphere molds above any other ball mold or Halloween mold — they are my absolute FAVORITE kitchen accessory!
I use them for literally everything, ice, jello, you name it.
In fact, when I pull out my sphere molds my kids go crazy because they know something fun and/or delicious is on its way. 🙂
What is it about food in ball form that makes it tastier?
Here are some other recipes using the same molds
Try these other amazing sphere mold recipes!
Finally, on to the recipe!
These piña colada-flavored jello eyeball shots will have you and your guests singing with joy – or howling at the moon, one or the other.
Bon appetit!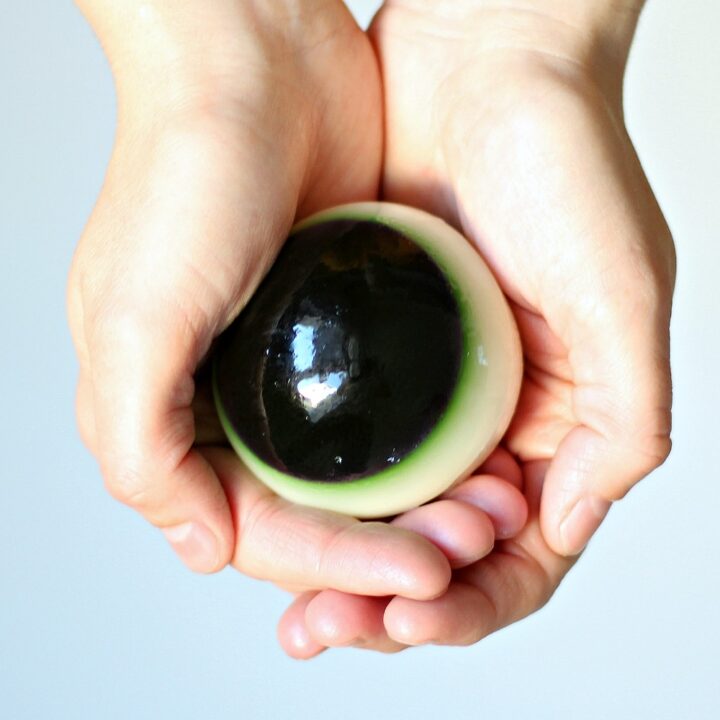 Freaky Halloween Eyeball Jello Double Shots Recipe
Total Time:
3 hours
8 minutes
Nothing says "eww, gross" quite like an oogley, squishy, staring, disembodied eyeball. That's why this eyeball jello shots recipe is the PERFECT Halloween party dessert, sure to delight and disgust your guest at the same time.
Ingredients
1 can coconut milk (13.5 oz)
3 packs unflavored gelatin mix
1 cup pineapple juice
1 cup coconut rum
1/4 cup sugar
1/2 cup water
Black food coloring
Instructions
Prepare the black food coloring
1. If you are mixing your own black food coloring, prepare per instructions in post above and set aside.
Prepare the Jello
Place 1 cup of pineapple juice and 1/2 cup water in a small pot and heat over medium-high heat. Heat until just below boiling and lower heat. Add 1/4 cup sugar and stir until dissolved. Remove from heat.
While the other liquids are heating, place the coconut milk in a mixing bowl and add 3 packs of dry gelatin mix. Allow to bloom 2-3 minutes and then whisk until mixed.
Add the hot liquid into the gelatin mix, whisking briskly until all of the gelatin has completely dissolved (around 2-3 minutes).
Stir the coconut rum into the gelatin mix. Taste a small amount and add more sugar if desired.)
Remove 1/4 + 1/8 cup of gelatin mix and add into the black food coloring, stirring until combined. Adjust color if necessary.
Add one tbsp of black jello shot mixture into each of the six oiled jello eyeball molds. Add more or less to even our and make larger or smaller black "pupils". Pop any bubbles.
Place the jello molds in the fridge to cool for around 30 minutes to 1 hour, until black gelatin is firmly set.
While the black gelatin mixture is cooling you can also place the white mixture into the fridge to cool faster. This is a bit of a Goldilocks situation -- you need the white to be cool enough that it does not melt the black when you add it, but not so cool that the two colors don't stick together.
Once the black pupils are set and the white is cool but not cold, add the white mixture evenly into all jello molds until completely filled. Close gently with the lid - the liquid will be displace upwards and out the tiny hole on top.
Chill 3-4 hours or until fully set; serve chilled.
Recommended Products
As an Amazon Associate and member of other affiliate programs, I earn from qualifying purchases.
Nutrition Information:
Yield:

6
Serving Size:

1
Amount Per Serving:
Calories:

263
Total Fat:

14g
Saturated Fat:

12g
Trans Fat:

0g
Unsaturated Fat:

1g
Cholesterol:

0mg
Sodium:

18mg
Carbohydrates:

23g
Fiber:

0g
Sugar:

19g
Protein:

4g