Looking for some delicious Instant Pot recipes to try? Here is a list of the 26 best Instant Pot recipes that have over 1 million shares, one for every letter of the alaphabet!
The best Instant Pot recipes 
I finally got an Instant Pot recently and started testing it out…well I LOVE IT! I have started cooking up some great Instant Pot recipes that I plan on sharing with everyone soon, but I felt inspired to look for the very best Instant Pot recipes on the Internet, and list them out from A to Z.
These awesome Instant Pot recipes have hundreds upon thousands of repins on Pinterest between them and rank top on Google as well! Some of these recipes have OVER 100,000 repins alone — all together these Instant Pot recipes have been repinned a million times!
Check out the best Instant Pot recipes from A to Z.
Look for the letter in the corner of the picture and click the link that corresponds to the recipes listed below!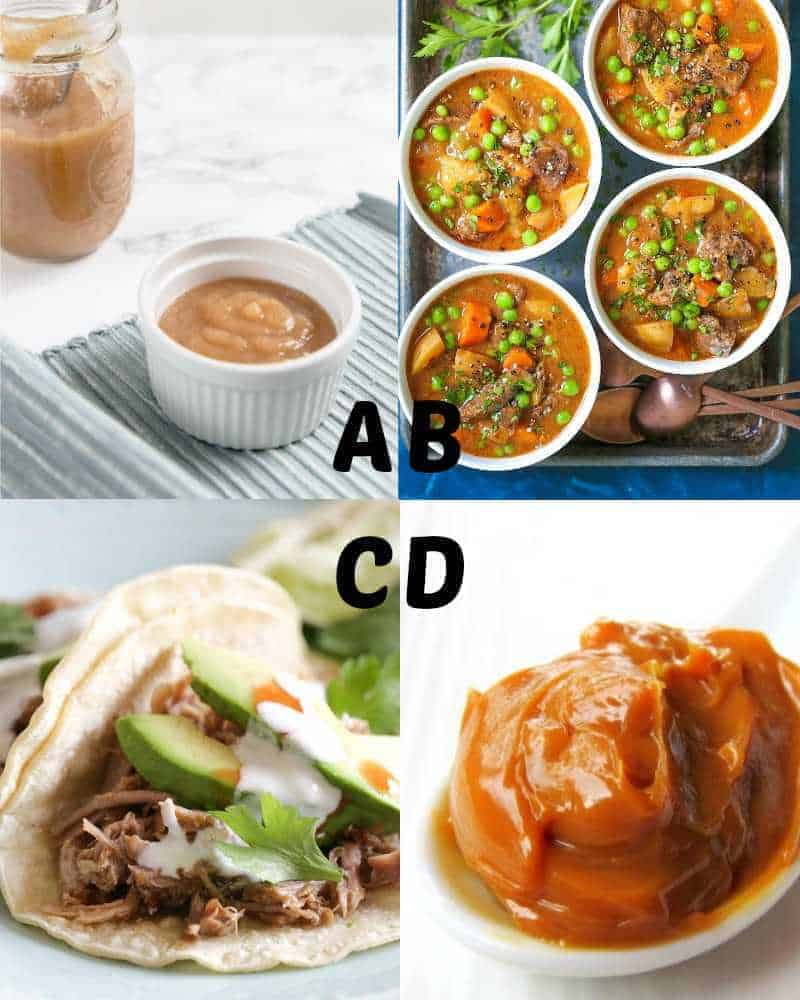 A is for Instant Pot Applesauce
Applesauce in the Instant Pot is one of those hallmark recipes (but beware the splatter!) This recipe from Amy and Jacky at Pressure Cook Recipes is spiced just right and oh-so smooth!
B is for Instant Pot Beef Stew
I don't think I have ever met a recipe from Damn Delicious that I didn't like! Chungah gives us a feast for the eyes and the stomach with this hearty beef stew recipe… love the pop of color from those peas!
C is for Instant Pot Carnitas
When I saved this recipe to my Instant Pot board my followers went wild! It spread like wildfire all over Pinterest. Gina from Skinnytaste really nailed it with this flavorful recipe!
D is for Instant Pot Dulce de Leche
Dulce de leche is a notoriously finicky recipe. This recipe from Hip Cooking takes the dulce de leche cooking time from three hours down to 15 minutes…no time-traveling required!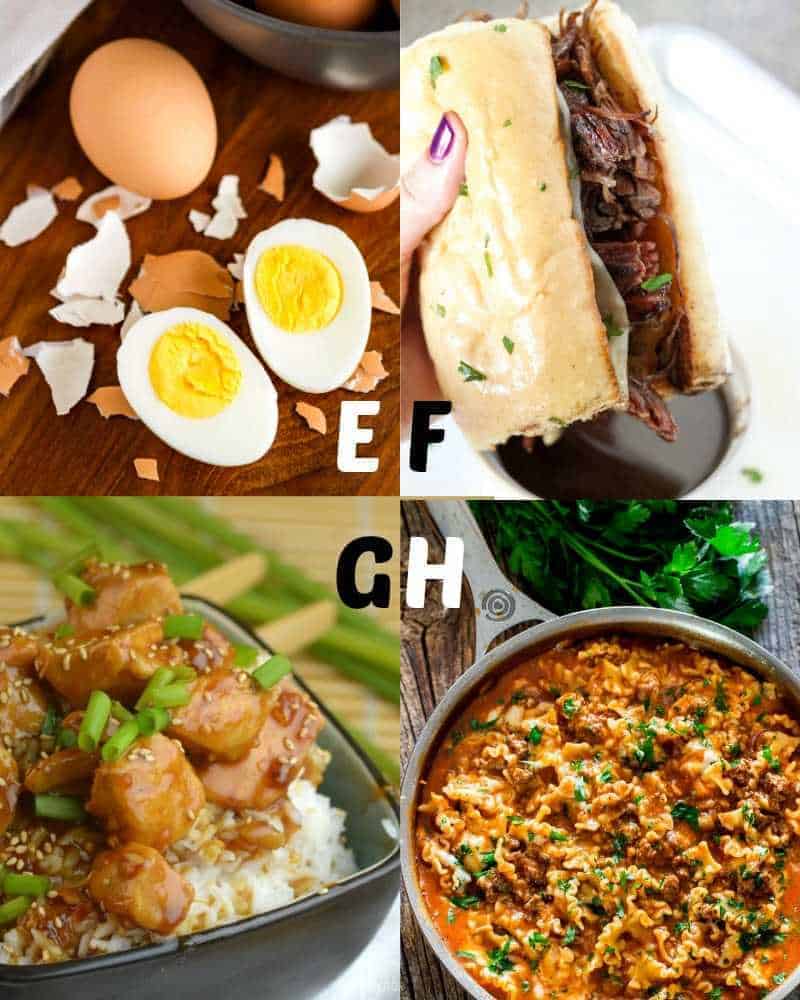 E is for Instant Pot Eggs
Want to make perfectly cooked hard-boiled eggs but don't know how? Give up that boiling water and use this Instant Pot recipe from Unsophisticook instead!
F is for Instant Pot French Dips
Melissa from No. 2 Pencil created this dipalicious Instant Pot French Dip recipe! You'll be slam dunking these babies in some delicious sauce and marveling at the flavor!
G is for Instant Pot General Tso's 
You say "so" I say "sow". No matter how you pronounce it, General Tso's is one of the most popular American Chinese recipes out there.
If you like Chinese food, why not take in this better-than-takeout recipe from Adventures of a Nurse in all it's yummy glory?
You'll be Tso glad you did (I kill myself, lol).
H is for Instant Pot Hamburger Helper
Confession time: I am not a Hamburger Helper fan. But I am a fan of Jo Cooks and this Instant Pot version that she made looks 1,000x better than the original, boxed junk from the store.
I am going to hamburger help myself. 🙂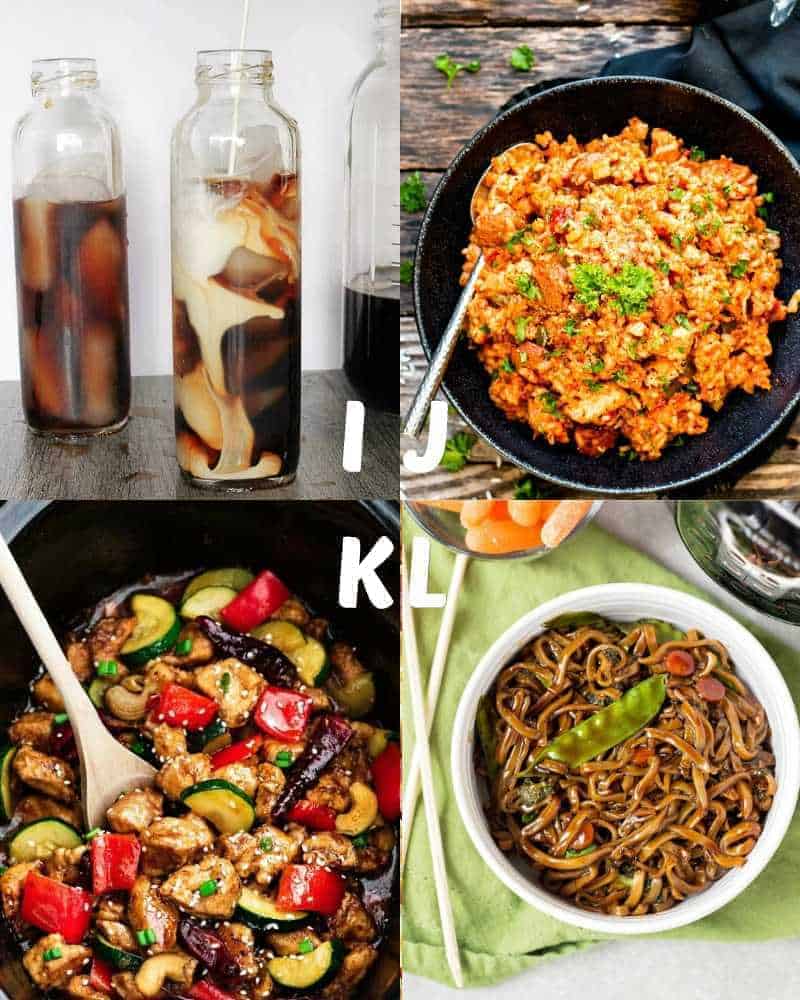 I is for Instant Pot Iced Tea
This recipe makes me want to clutch my pearls and speak in a Southern accent, Y'all.
Kudos to Ally at Crave the Good for coming up with this pearl-clutchingly good iced tea recipe!
J is for Instant Pot Jambalaya
I ain't Jamba-lyin' when I say that this chicken and sausage Jambalaya recipe from London at Evolving Table is a healthier version of the original.
It's gluten and dairy-free!
K is for Instant Pot Kung Pao Chicken and Korean BBQ Ribs
Kelly from Life Made Sweeter shares this kung pao recipe, which is an easier, healthier version of your local Chinese place's takeout.
Forget Kung Pao…this is Kung WOW!
I also shared my delicious Korean Instant Pot spicy BBQ ribs recipe that is finger-licking-tongue-burningly good!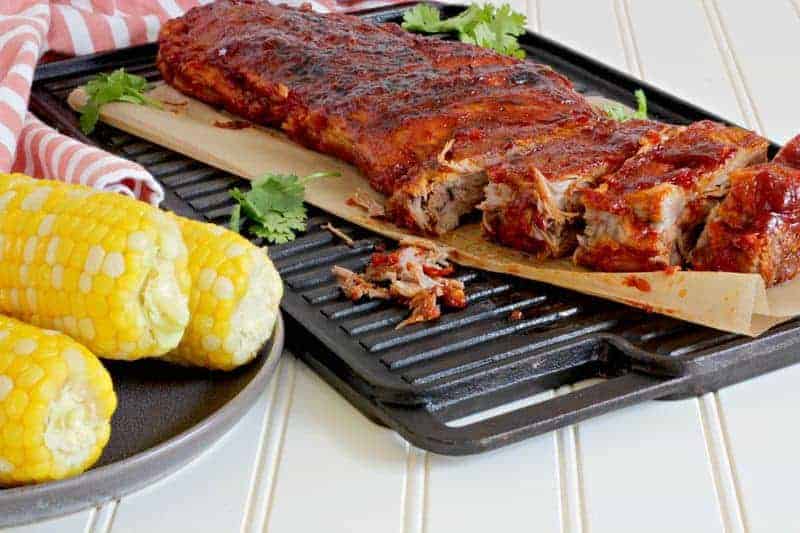 L is for Instant Pot Lo Mein
This veggie-loaded lo mein recipe from Sadie at Slap Dash Mom is vegan and Weight Watcher friendly! Great for Meatless Mondays or times when you need a light dinner in a hurry.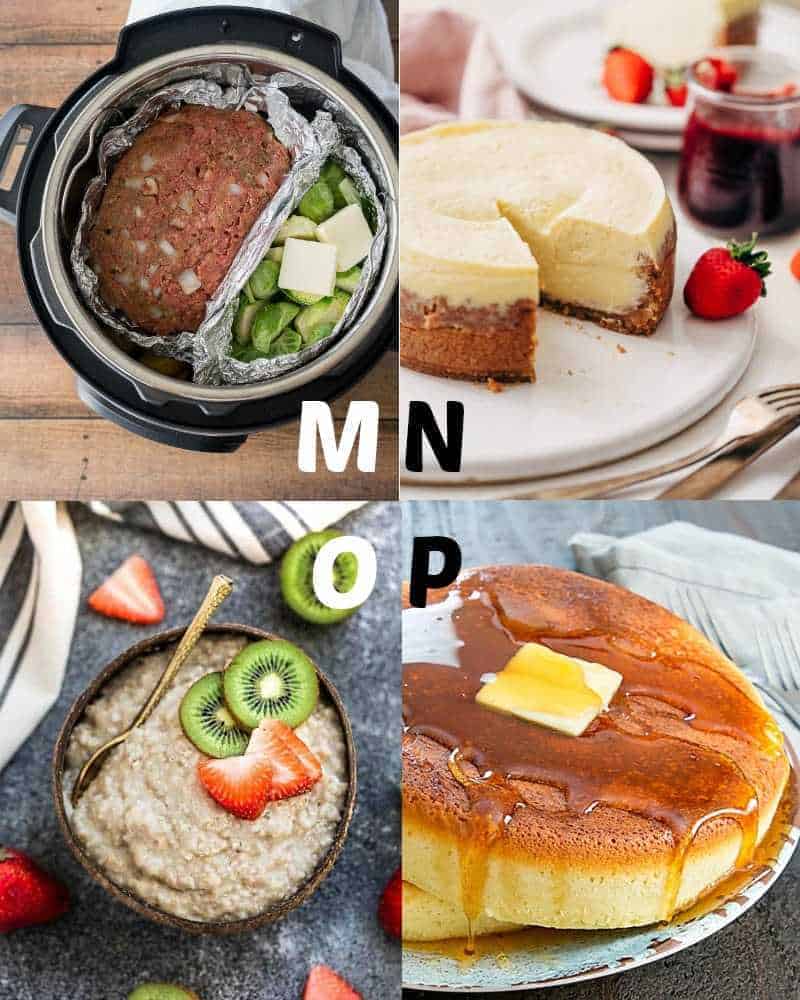 M is for Instant Pot Meatloaf
You won't believe this clever hack that Shawn from I Wash You Dry used to get a complete meal out of her Instant Pot — without having to switch inner pots!
Meatloaf, potatoes, even Brussel sprouts…seriously, check it out, it's beyond genius.
N is for Instant Pot New York Style Cheesecake
Cheesecake? From an Instant Pot? Yaaaaas!
This recipe from Marzia at Little Spice Jar is so much simpler than the oven version and tastes just as awesome!
O is for Instant Pot Oatmeal
Who said breakfast has to be boring? Another great recipe from Life Made Sweeter…customize your oatmeal any way you want, with fruits, syrups, or honey!
Bonus O! Instant Pot Oxtail Soup
You might also like this Instant Pot Oxtail Soup recipe by Squirrels of a Feather.
P is for Instant Pot Pancakes
Giant pancakes that is!
These monstrous pancakes are the brainchild of Kirbie's Cravings — bring your appetite and your A-game if you want to take on these fluffy wonders.
(Need more breakfast ideas? My homestyle waffles are also easy to make and taste amazing!)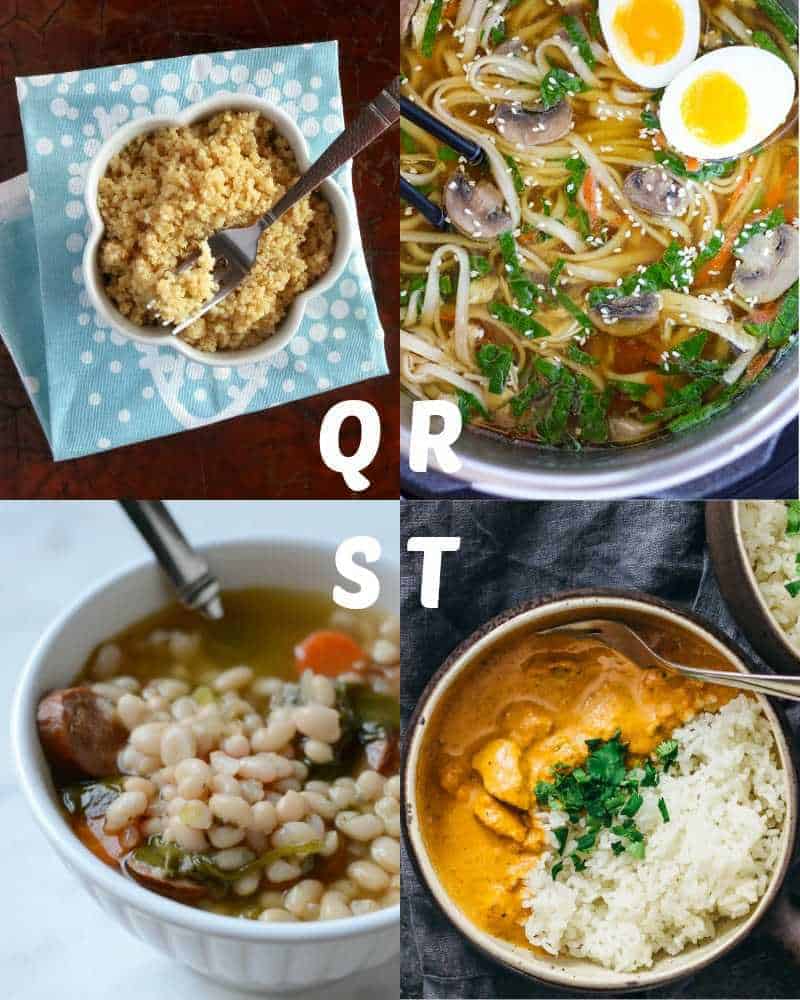 Q is for Instant Pot Quiona
Quinoa (pronounced "keen-wah") is a gluten-free, protein-packed superfood.
This Instant Pot quinoa recipe from Hip Cooking gives you perfectly cooked quinoa, which can serve as a base for many different recipes.
R is for Instant Pot Ramen
I never was a cheerleader, but I go rah-rah-rah for ramen!
You will be cheering too once you try this ramen recipe from No. 2 Pencil…so much tastier and healthier than that store-bought junk!
S is for Instant Pot Smoked Sausage Soup
This recipe from Alyssa at Good + Simple has been pinned over 95,000 times! It's no wonder, who doesn't want a simple soup full of smoked sausage? (Now try and say that five times fast. 😉 )
T is for Instant Pot Tikka Masala
My kids are FINALLY starting to like Indian food as they get older, so I can't wait to share this Tikka Masala dish (from Julia at Savory Tooth) with them!
The sauce! The spice! The simplicity! It's a must-try for sure.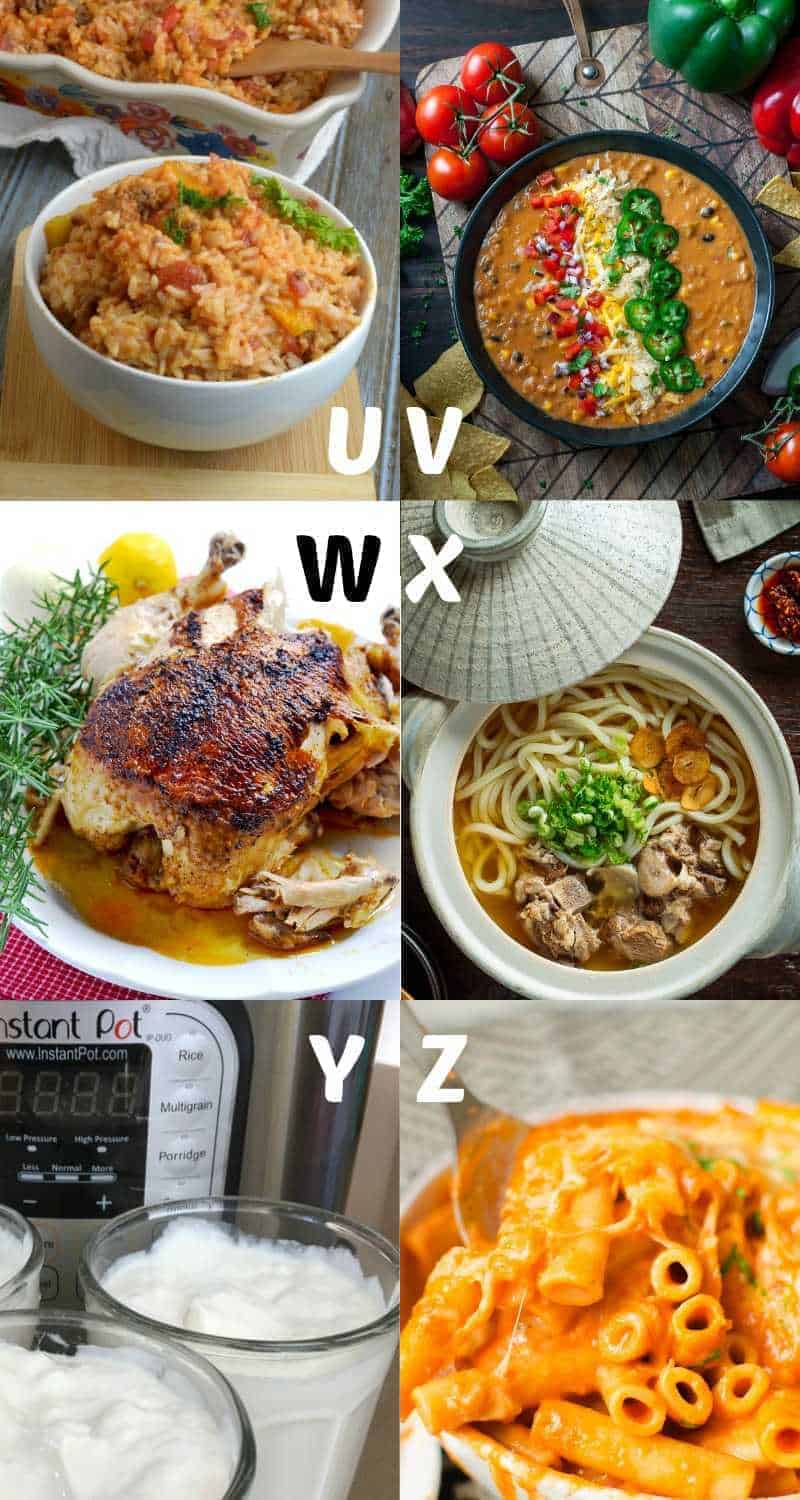 U is for Instant Pot Unstuffed Peppers
Yet another recipe from Adventures of a Nurse, this unstuffed pepper recipe is surely an adventure!
It's like stuffed peppers…deconstructed!
V is for Instant Pot Vegetarian Lentil Soup
If I ever become a vegetarian, I swear I am going to eat this lentil soup from Peas and Crayons once a week! It's just so colorful and creamy-dreamy!
W is for Instant Pot Whole Rotisserie Chicken
You no longer need to be intimidated by the idea of cooking a whole chicken…Marjorie from A Pinch of Healthy has you covered!
Give her recipe for a whole rotisserie chicken a try. You will be glad you did!
(Cornish hens are another great alternative to whole chicken!)
X is for Instant Pot Oxtail Udon
Ok, I know it doesn't EXACTLY start with an "x", but this oxtail udon recipe from Nami at Just One Cookbook is so good, I promise you won't mind!
It's exciting, extraordinary, and extremely delicious!
(Here is another amazing recipe for oxtail soup that you can make in your slow cooker.)
Y is for Instant Pot Yogurt
Yogurt is one of those things I would have never thought you could make in the Instant Pot…but, oh man you can!
Check out this thick and creamy Greek yogurt recipe from You Make It Simple; you will be glad you did!
Z is for Instant Pot Ziti
Everything Karli from Cooking with Karli creates is totally golden!
This awesome ziti recipe is no exception…don't you just love dump and start meals?
So there you have it! Twenty-six awesome Instant Pot recipes, one for every letter of the alphabet.
Let me know if you have a favorite Instant Pot recipe in the comment section below!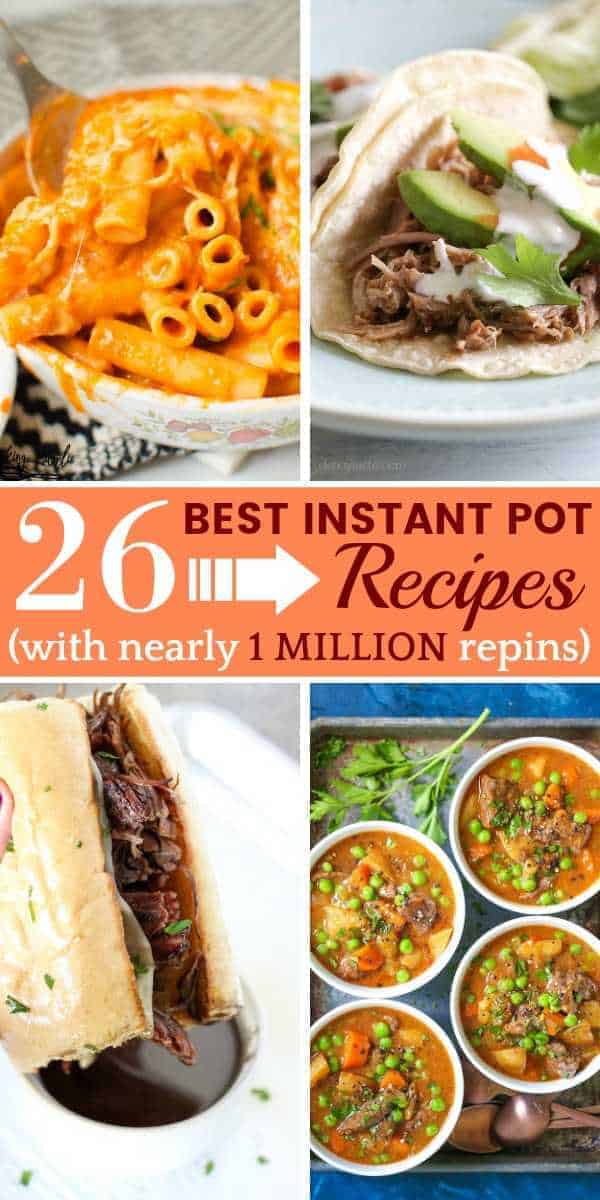 This post may contain affiliate links for your convenience. That means that if you make a purchase, I will receive a small commission at no extra cost to you. I only recommend products or services that I fully believe in and use myself. Read more here.