If you are here, I am betting that you aren't happy with your blog's traffic. It may be good — oh, but you know it could be so much better! I am going to teach you the strategies I used to DOUBLE the pageviews on my brand-spankin' new blog so you can replicate my results and start driving more traffic to your own blog!
Find out how I doubled my new blog's pageviews
The proof is in the pudding, they say. So here is the pudding…I mean proof. 😉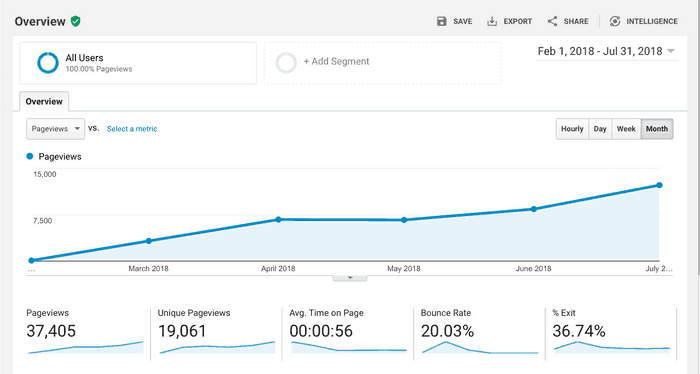 This post may contain affiliate links for your convenience. That means that if you make a purchase, I will receive a small commission at no extra cost to you. Read more here.
It's a little hard to know the numbers just looking on the graph, so let me break it down month-by-month for you.
April: 6,709
May: 6,654
June: 8,403
July: 12,268
As you can see, I just about doubled my pageviews between April and July!
I am beyond excited about these results!
Update: Find out how I hit 140,000 pageviews in my eighth-month blogging and why that didn't excite me that much.
Why pageviews are important for your blog
Several years ago, I was working as a rehab hospital speech-language pathologist.
But with changes in healthcare documentation, insurance coverage, an increasing number of clients with decreasing hospital budgets, and crazy productivity requirements, many SLPs are now getting quickly burnt out.
I didn't want that to be me.
I wanted to become my own boss and do something that I love.
Now I wake up every day excited to work!
I knew I wanted to be one of those bloggers that makes $2,000-$3,000 per month from their blog; I didn't want it to be just a hobby.
(Dare I say, I would like to make $10,000/month? Who wouldn't, right?)
That's why pageviews are important to the new blogger; more pageviews means more ad revenue.
Why did my pageviews NOT grow from April to May?
I want to address this issue quickly as a cautionary tale to you all! My traffic didn't grow in April because I got locked in Pinterest jail.
But not the door-slamming-Pinterest-suspended variety of jail…it was the insidious kind of jail where you don't even notice the barred doors closing around you.
(This is why paying attention to your Google Analytics and Pinterest Analytics is key!)
I noticed that I had an inexplicable drop in my Pinterest traffic — I emailed Pinterest support about it.
ONE MONTH later I heard back; they said they corrected the issue.
When I asked what the issue was in the first place, I never heard back, even after following up.
The moral of the story is, know your blog, know your traffic, and be on your toes if you notice something amiss!
How I doubled my blog's pageviews
Let's take another look at my monthly pageview graph, now with some important dates inserted.
So what did I do to double my pageviews?
I starting blogging smarter instead of harder!!!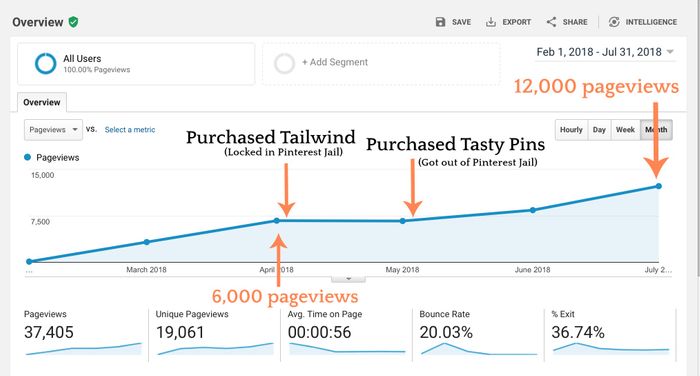 I got Tailwind and Tasty Pins!
If I had a nice, tall mountain handy, I could just sing the praises of these two plugins while dancing in a field à la The Sound of Music.
Instead of working harder, I made my life 1000x easier by getting these two plugins!
Tailwind is a scheduling tool that allows you to put your Pinterest pinning on autopilot and pin at strategic times throughout the day.
I have some night owls who love to come to my blog from Pinterest at 2 am…you can be sure I am not up at 2 am pinning for them (if you are one of those night owls, welcome!).
Back when I was pinning manually, I STRUGGLED to pin 30 pins a day.
I was trying to fit them in between cooking, cleaning, childcare, etc and it was HORRIBLE to try and sit there and manually pin all those pins, waiting a few seconds or minutes between each one.
It just seemed ridiculously inefficient.
I am sure you have better things to do and sit around all day, manually selecting pins and pinning them to specific boards.
Especially if you have lots of group boards (I have 35 or so) it can be difficult to remember where and when you manually pinned!
Enter Tailwind!
I purchased Tailwind on April 4th and was unfortunately locked in Pinterest jail not long after, so it took a while to start seeing results.
However, once I broke out of Pinterest jail, one month later my account and blog went wild!
With Tailwind I am now able to schedule out 40 pins per day (50% my own, 50% other people's) to my own and my group boards.
After one day of pinning, the next day I go and manually pin other people's pins from the group boards that I pinned to (if you are in group boards, please do this…it's just good Pinterest etiquette).
That keeps me at about at 2:3 ration of my pins to other people's pins.
(If you guys want to know more specifically about my Tailwind pinning strategy, leave me a comment in the comment section below. I have been thinking about writing a post on that topic, and wanted to make sure people are interested.)
Related posts:
Why you should definitely try Tailwind
It's zero risk — you can try it for free with this special code!
It's smart — it suggests the best times for you to schedule based on data collected from your followers
It's Pinterest approved — another scheduling tool (Boardbooster) recently got shut down; Tailwind is safe since it has the Pinterest seal of approval!
You get access to all sorts of interesting analytics to see if your Pinterest strategy is working
You can now use it to schedule to Instagram as well!
This is what my Tailwind dashboard looks like.
As you can see, I have 40 pins scheduled out for today; half go to my own boards and half go to my group boards.
I love Tailwind so much because I can set it up at the beginning of the week and then totally step away! It schedules and automates everything for me!
Seriously, give it a try with the free trial…if you don't like it you can always cancel. If you end up loving it like I do it is only $9.99/month for a yearly plan.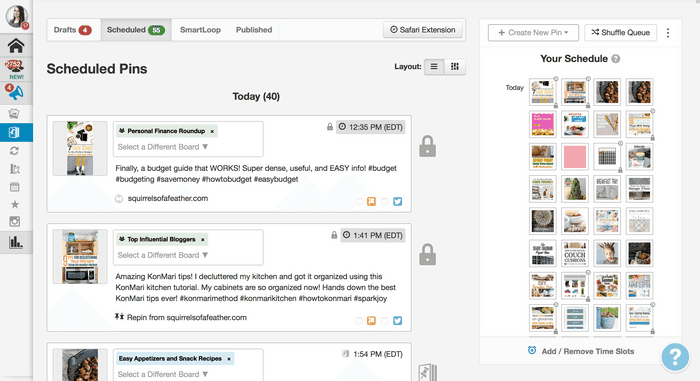 If you were excited about Tailwind, you are going to love Tasty Pins just as much or even more!
Tasty Pins is AMAZING because it gets you the best traffic from both Google and Pinterest. No joke — my organic search traffic went up 588% when I got Tasty Pins!
(Organic traffic means I didn't have to pay a dime to get that sweet, sweet Google traffic.)
Tasty Pins allows you to optimize search engine (SEO) traffic for both Google and Pinterest.
First, what is SEO?
Here is what Wikipedia has to say:
Search engine optimization (SEO) is the process of affecting the online visibility of a website or a web page in a web search engine's unpaid results—often referred to as "natural", "organic", or "earned" results."
So basically, if you do everything correctly with SEO, your blog has a higher chance of ranking on Google's front page for your topic (good SEO is how I am able to rank front-page on Google, even though my blog is very new).
Say you are a personal finance blogger and you want to write a post on early retirement for millennials (would love to read that, btw).
If someone goes and searches for "early retirement for millennials" and your blog is on the front page of Google you could get crazy-insane traffic from that one post!
It all depends on an excellent SEO strategy!
Google and Pinterest both rely on SEO…they just read it in totally different ways.
Google = text-based search engine
Pinterest = visual-based search engine
When you optimize for Google, your Pinterest-optimized pins may suffer.
Visa versa, if you optimize for Pinterest, you might not rank as highly in Google's search engine.
Tasty Pins is amazing because it does the following:
Optimizes the text in images for pinning on Pinterest
Optimizes the alt text in images for Google searches
Allows you to easily create hidden pins — without having to code HTML!
Make certain images "unpinnable" with one click so that readers can only pin the most pertinent images
For a one time fee of $29, all that Tasty Pins has to offer is yours!
(If you want to read in more detail the "how" behind why Tasty Pins works so well, check out this post.)
Here is what one of my most popular pins looks like when optimized with Tasty Pins.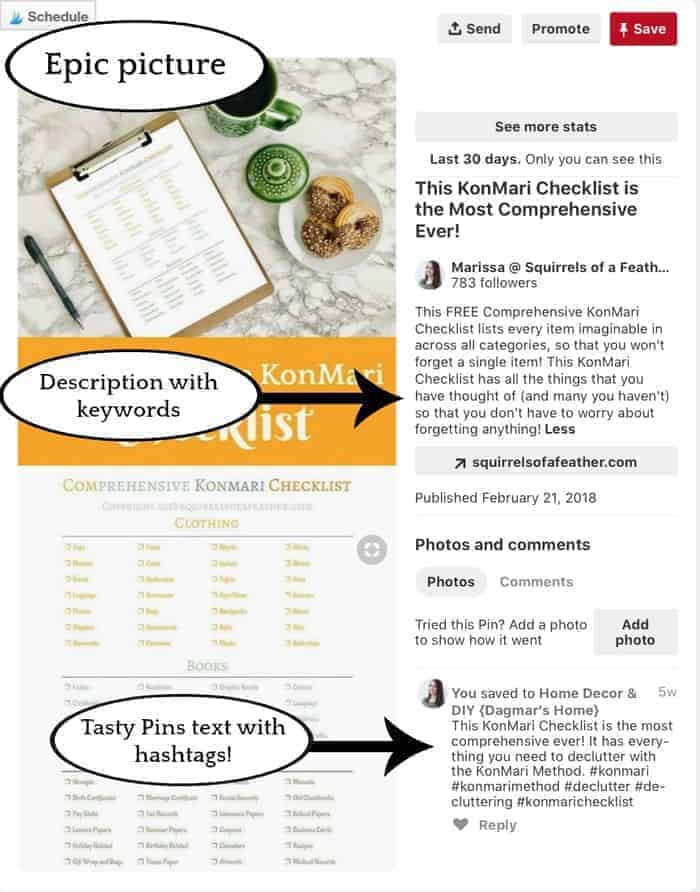 Obviously, this strategy is working FANTASTICALLY for me
These two plugins are the reason my blog is growing so fast!
Like I said, if reaching a full-time income from your blog is a goal for you, then growing pageviews should be an important part of your strategy.
If you want to start seeing results like mine, make sure you check out Tailwind and Tasty Pins!
Let me know if you have any questions about Tailwind or Tasty Pins that I didn't answer in the comment section below!
Pin it for later!