This is the BEST waffle recipe for homemade fluffy waffles, made simply using only eight ingredients! Even better? It's a double batch fluffy waffle recipe so you can have plenty of yummy leftovers! Read on to find out the secret to making perfect waffles in your waffle iron, today.
Homemade Fluffy Waffle Recipe
If you want to fluffy waffles made from scratch then this homemade waffle recipe is for you. These waffles are easy to make and taste great.
Not only are these great breakfast waffles, but they also make great BFD — you know, Breakfast for Dinner!
They are also a big hit with kids for school lunch served up with boiled eggs and blueberries.
Plus, I am going to clue you into the biggest waffle making lie out there and how you can stop it from destroying your waffles.
This post may contain affiliate links for your convenience. That means that if you make a purchase, I will receive a small commission at no extra cost to you. Read more here.
The biggest waffle mistake you can make
About nine years ago, my husband came home with a gift for me…a $30 Cuisinart waffle maker he saw at Target!
He loved waffles, and wanted me to make some homemade waffles for him…so was the gift really for me or him, hmm?
My first waffle making experience was a total FAILURE!!! With a capital F! In fact, all caps on that one.
The batter stuck to the hot waffle iron like glue…it took me forever to scrape that stuff off!
Therefore, that waffle iron was banished to the back of our cabinets for years. Until I found it decluttering one day and decided to give it another go.
Success! (Here is my exact waffle iron! It sure has stood the test of time!)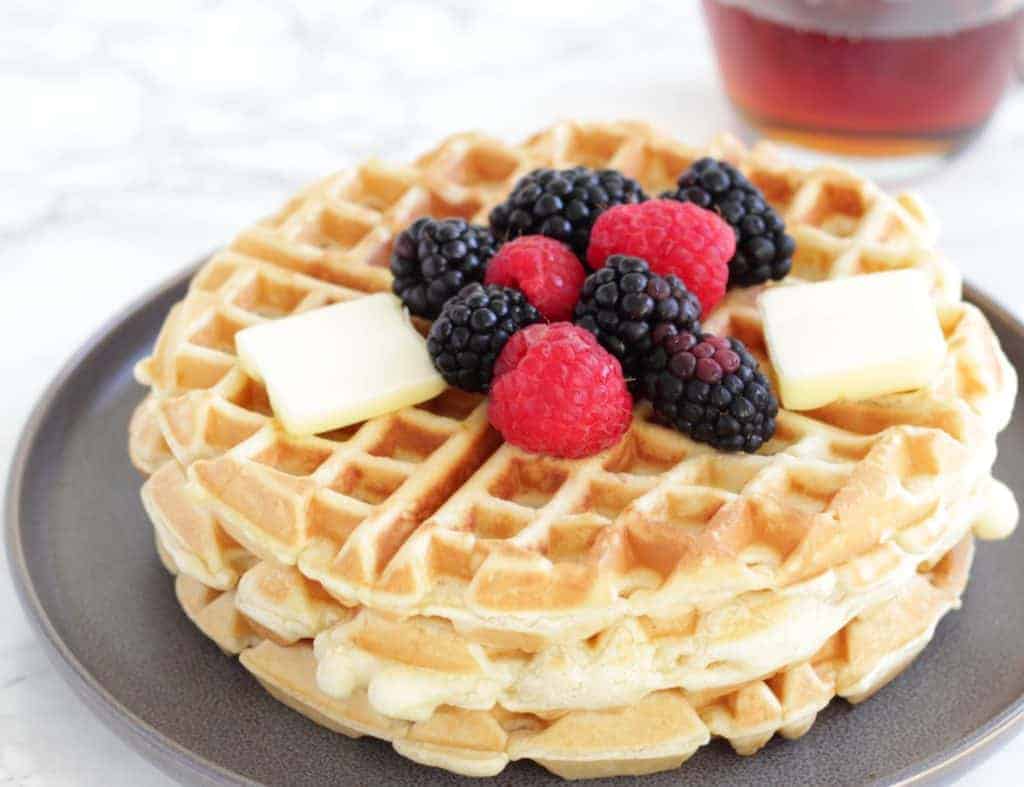 How to get perfect waffles, every time
I have experimented with different batters and techniques over the years. At one point my oldest son had an egg allergy, so at that time I would make vegan waffles, with applesauce substituted for eggs and agave for sugar/honey.
He got over the egg allergy, so I decided to start using eggs again..but kept the agave as the sweetener!
This amount of milk should be perfect, but if you think your waffle batter seems a little dry, start by adding a splash of milk, stirring, and checking the consistency then.
The batter should be like a slightly thick pancake batter; you don't want it too thin or it will run right off the waffle iron!
Dirty little waffle lies
You MUST oil the waffle iron. The directions that came with our waffle iron said not to oil our iron…lies, I tell you, LIES!!! (Yes, I screamed that in a Frau Farbissina voice.)
I ALWAYS use spray oil on both the top and bottom sides of the waffle iron. Canola oil is preferred, as it has a higher burning point and milder flavor.
I can make around 3 waffles on my iron before needing to spray again to prevent sticking.
You should also allow your batter to rest 5-10 minutes after mixing before placing it on the hot iron. This rest period allows the starch molecules to better absorb the liquids and makes your waffles more fluffy and puffy.
You'll know this is happening when you start seeing the bubbles in your batter.
Filling your waffle iron
Another tip I have is to not overfill the iron. I use 1/4 cup + another 1/8 cup put directly in the center of the waffle iron, and that is the perfect size for my waffles!
How long to cook waffles
My iron has a timer so that you don't have to guess when it's done.
The light is red when it is cooking and green when finished! I would suggest getting a waffle iron with a timer like this…it makes life (and waffle making) much easier.
I keep my setting in the middle between 3-4, for softer, fluffier waffles. Then, use a fork to gently remove the waffle when it is done and voilà!
You now have super fluffy homemade waffles!
This recipe makes a DOUBLE BATCH.
The benefit of making a double batch of waffles is that you will have leftovers to reheat quickly even on busy mornings!
If you want to know the best way to freeze and reheat waffles you can go check out this handy guide! You can also try this chocolate chip waffle recipe if you are feeling extra fancy.
Enjoy!
Like what you see?
Sign up for our newsletter in the subscription box below to stay in touch with up-to-date easy recipes, fun DIY projects, helpful organization tips, and creative side hustles for creating extra income — all so you can build the balanced lifestyle of your dreams!
Pin this recipe!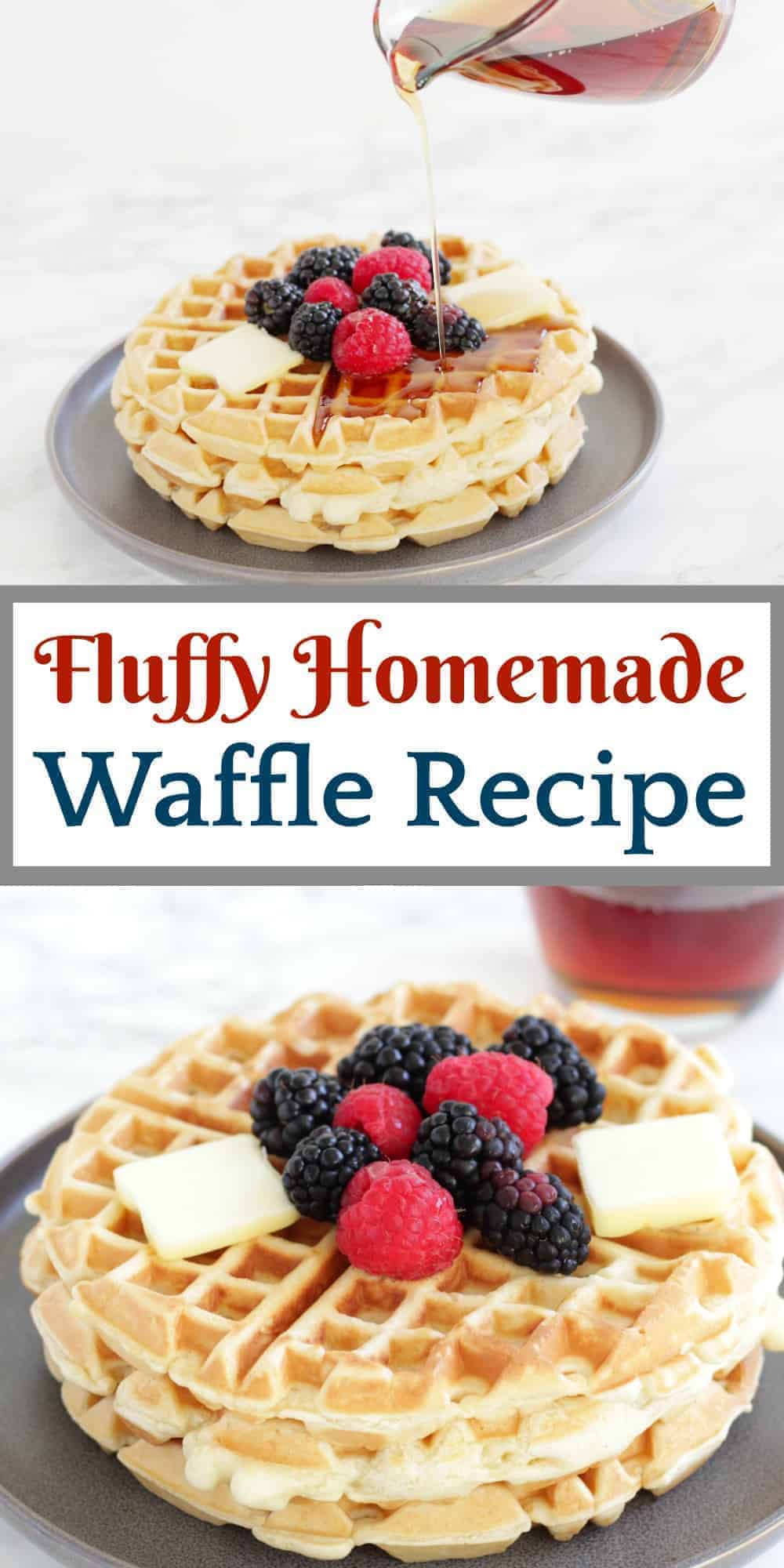 *Calorie data is approximate. This data was calculated using Nutritionix on 5/4/2019.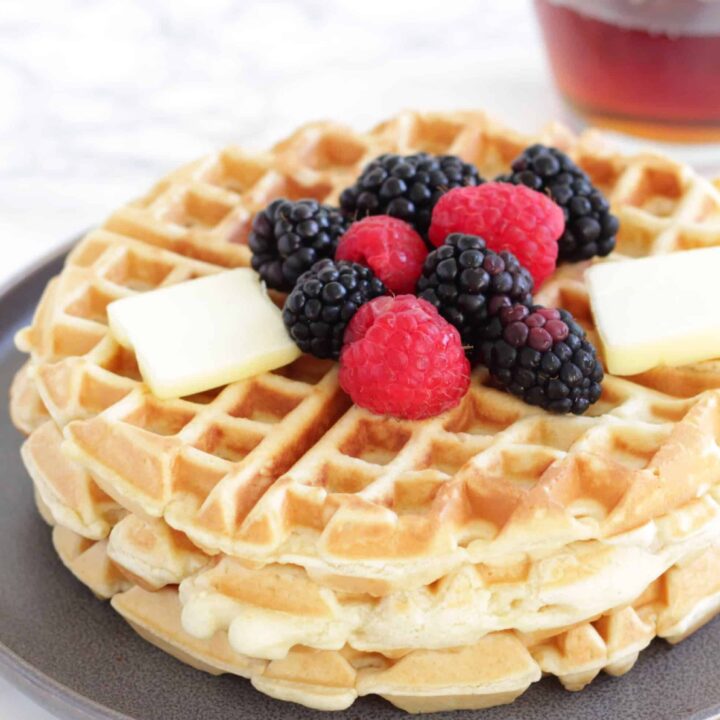 Best Fluffy Homemade Waffle Recipe (Double Batch)
These fluffy homemade waffles are easy to make and use only 8 ingredients! Top with fruit, butter, syrup, or nutella for a dreamy breakfast. This is a DOUBLE BATCH, so you can freeze the leftovers for later, and have waffles at the tips of your fingers, anytime.
Ingredients
4 cups flour
2 Tbsp baking powder
1/2 tsp salt
3 1/2 cups whole milk
2 eggs
4 Tbsp white sugar
1 Tbsp olive oil
2 tsp vanilla extract
Instructions
Measure out the first three dry ingredients (flour through salt) into a large mixing bowl and stir to combine.
In a separate bowl, measure out the milk. Crack the eggs into the milk and whisk until eggs are beaten.
Add the sugar, olive oil, and vanilla to the wet mixture and mix to combine.
Add the wet mixture slowly to the dry mixture, using a handheld mixer or vigorous whisking to combine.
Allow mixture to rest 5-10 minutes.
Oil your waffle iron with a spray and then fill with the desired amount of waffle batter (I use 1/4 + 1/8 cups for each waffle). Close the lid and heat until cooked through or timer goes off.
Remove gently with fork. Continue until all waffle batter has been cooked.
Recommended Products
As an Amazon Associate and member of other affiliate programs, I earn from qualifying purchases.
Nutrition Information:
Yield:

16
Serving Size:

1
Amount Per Serving:
Calories:

177
Total Fat:

3g
Saturated Fat:

1g
Trans Fat:

0g
Unsaturated Fat:

2g
Cholesterol:

29mg
Sodium:

288mg
Carbohydrates:

30g
Fiber:

1g
Sugar:

6g
Protein:

6g