This body scrub uses fine white sugar, hydrating coconut oil, real lavender buds, and soothing lavender essential oil, combined with Earl Grey tea leaves to create a relaxing spa experience…right in your very own home! Best of all, this soothing Lavender Earl Grey Sugar Scrub makes an impressive DIY gift.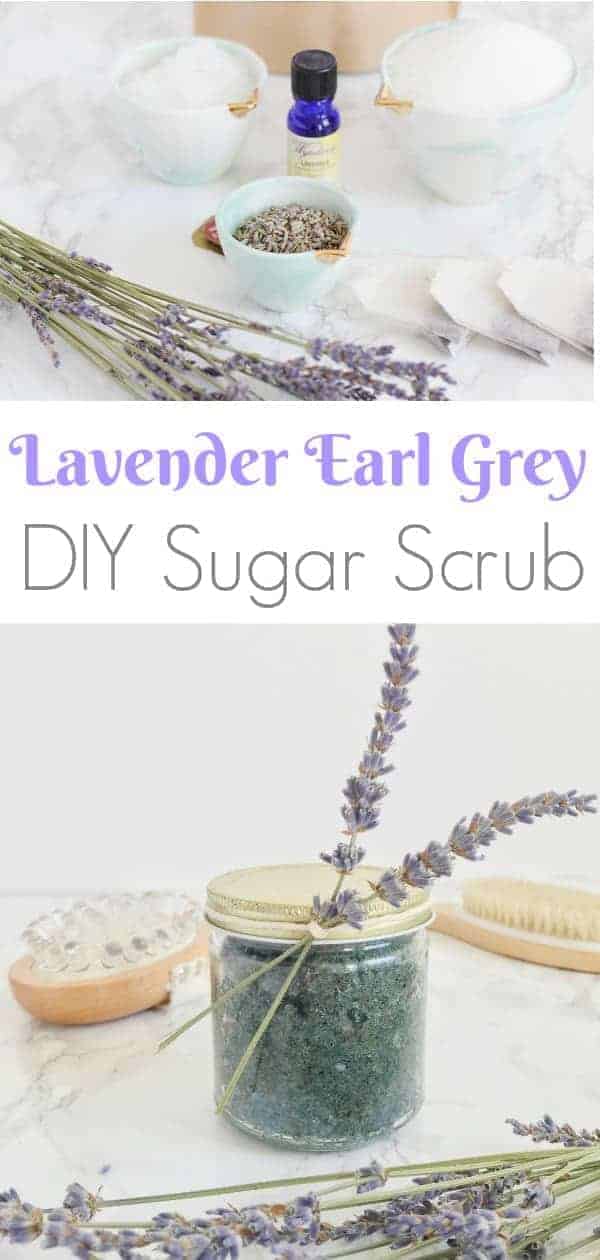 A perfect DIY gift
For Mother's Day, birthdays, or anytime you just want to make someone smile and say "Ahhhh…"
Please do keep in mind that this scrubs is for the body, not the face!
I have found that when creating sugar scrubs, you need to pay attention to the size of the sugar granule. Larger granules are used for rougher areas and finer for more sensitive areas.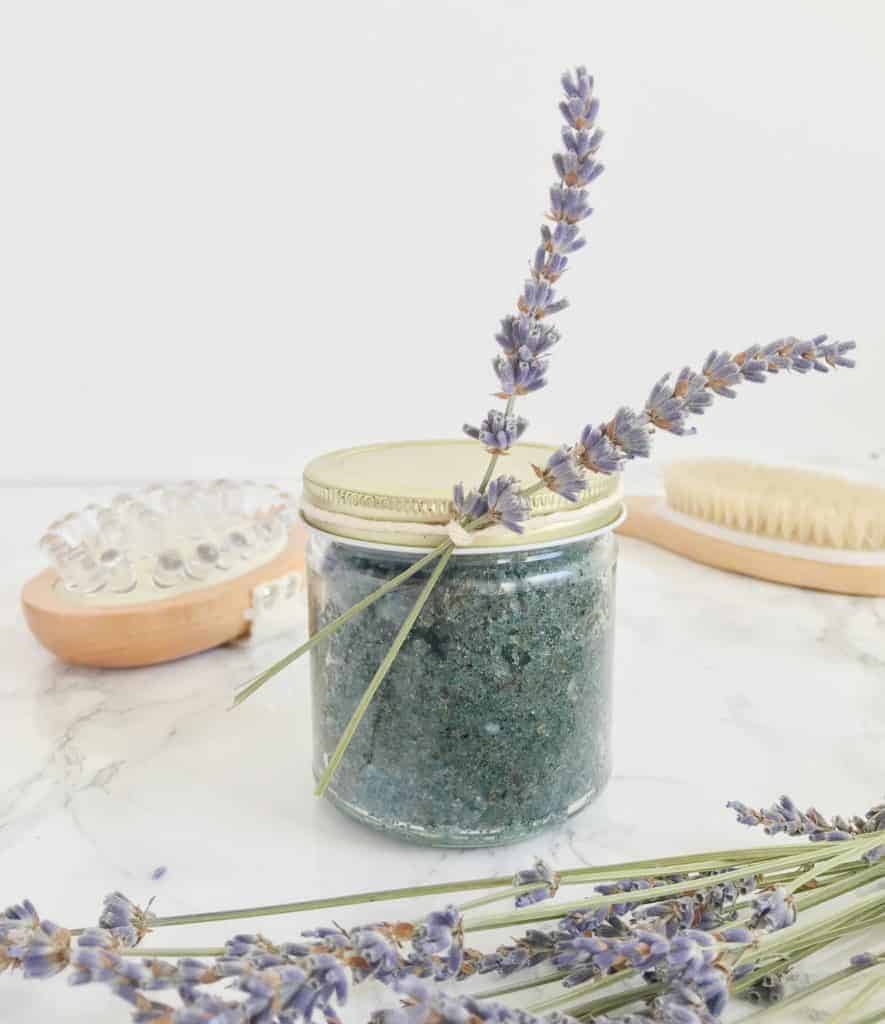 This post may contain affiliate links for your convenience. That means that if you make a purchase, I will receive a small commission at no extra cost to you. I only recommend products or services that I fully believe in and use myself. Read more here.
What sugar to use for face, body, and feet?
Fine powers or sugars for face scrubs
White or brown sugar for body scrubs
Raw or coarse sugars for foot scrubs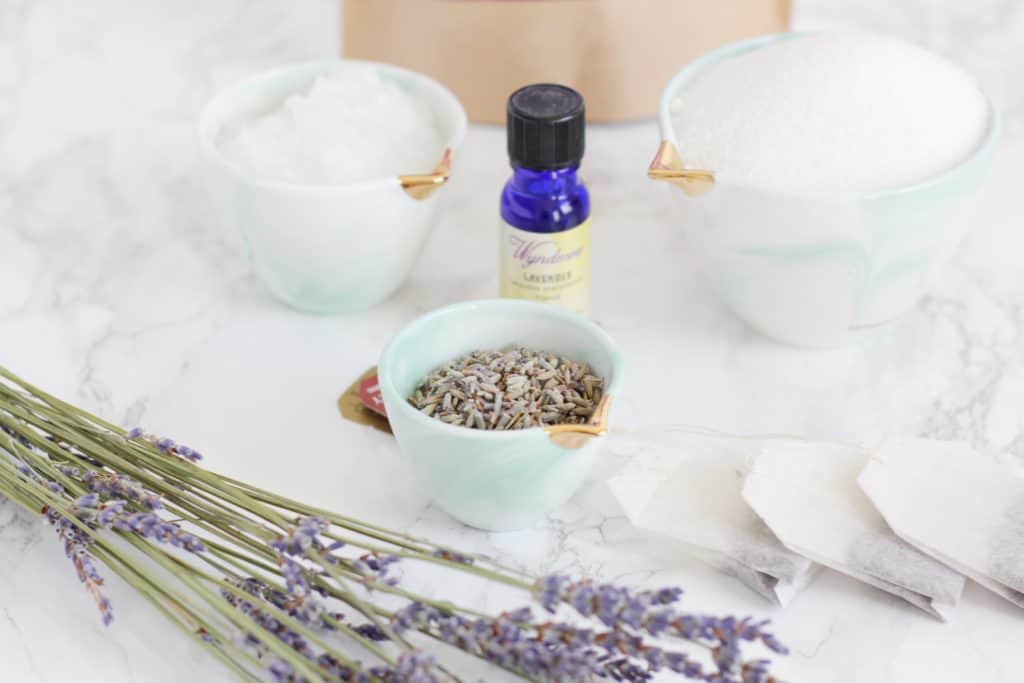 When I decided that I wanted to make a sugar scrub, I quickly decided on lavender for the scent. After all, few scents are more soothing than lavender!
Because I am cheap thrifty it helped that I already had some lavender essential oil on hand.
Get it? On hand! 😉
But I wanted to go a step further and incorporate ACTUAL lavender buds, and I figured it was worth investing in edible lavender for some other cool DIYs I have been cooking up!
I found these organic lavender flowers from Feel Good Organics, cultivated in South France!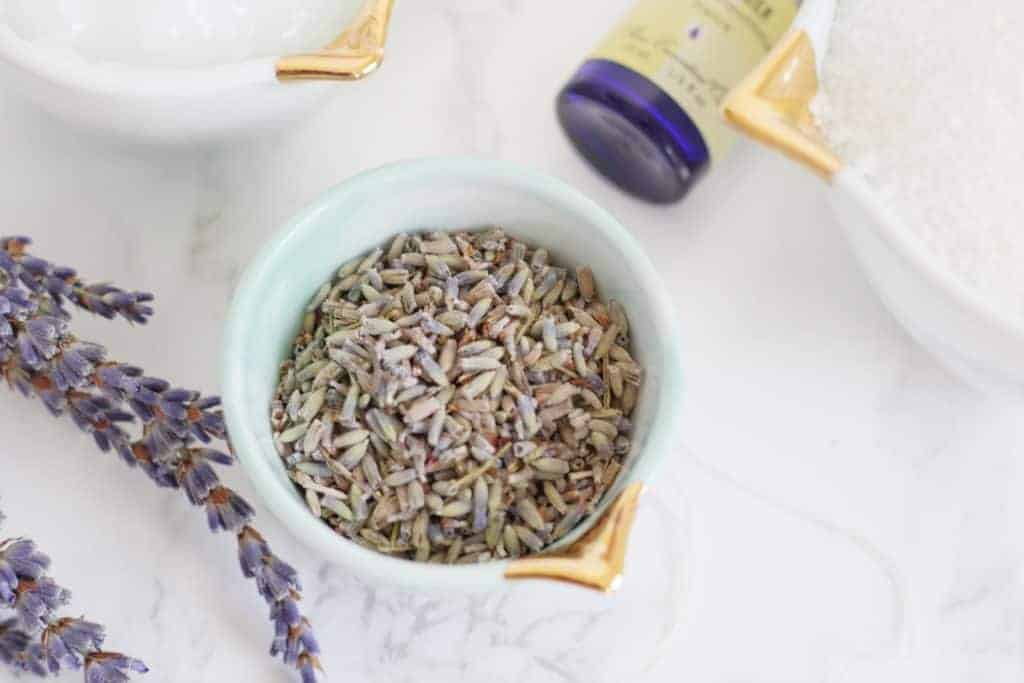 You can use this lavender to make tea as well!
While making this sugar scrub, I actually went ahead and made myself a cup of tea with some of the organic lavender buds and one Earl Grey satchel.
Wow, talk about soothing! The fragrance steaming gently from the cup made me feel like I was at an English tea party set in a lavender field!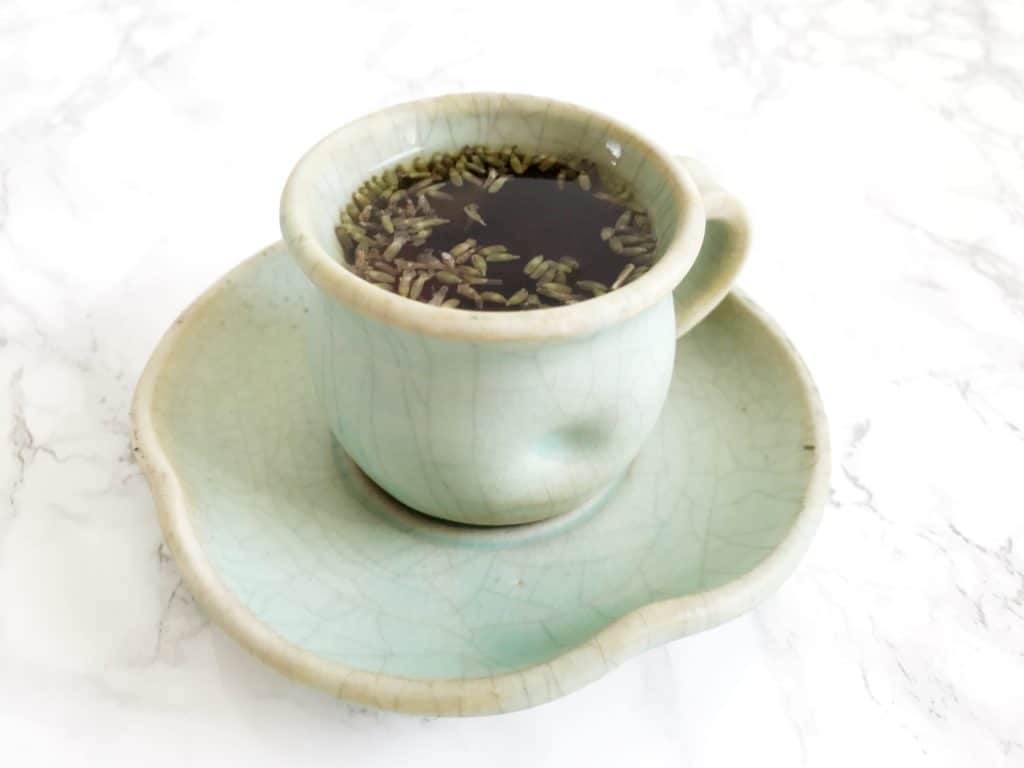 All that was missing was the cucumber sandwiches! Thinking about it, I could have put some cucumbers on my eyes too 😉
I will say in my exuberance, I went a tad too heavy on the lavender; for lavender tea, you only need a pinch of lavender buds!
Ok, on to the scrub.
To make this scrub you will need:
1 cup white sugar
10 drops of lavender essential oil (or more, to personal preference)
2 tablespoons of lavender buds (whole or crushed with mortar or coffee grinder)
3 bags of Earl Grey tea or 1 tablespoon loose leaves (whole or crushed)
1/2 cup coconut oil
An airtight jar (I used a Better Than Bouillon jar I cleaned up! Thrifty!)
* Purple food coloring – optional
This "recipe" makes two 8 oz jars of sugar scrub.
Perfect amount…one to gift, one to keep!
Place the sugar in a medium bowl and add the lavender buds and Earl Grey tea. Mix.
If the coconut oil is not in liquid form, place it in a different bowl and microwave it in 15-second intervals until it is liquid.
Add the food coloring at this point, if you wish to add coloring (mine turned out more blue than lavender, but meh, still looks great).
Add the lavender essential oil to the coconut oil and mix well.
Finally, add the coconut oil mixture to the sugar mixture and stir to fully combine.
After you have everything mixed up, place in an airtight jar for storage. And that's it!
Now make someone ridiculously happy by gifting them with this fantastic present.
***Update – Because my bathroom is about the same ambient temperature as Antartica, the coconut oil becomes solid and the scrub gets crumbly. If that happens to you, simply make sure that the lid is closed TIGHTLY and let the scrub warm up a little with you in the bath or shower before use 🙂
SaveSave