Choosing a theme for your blog is a lot like falling in love — and it's one of the most important decisions a new blogger can make! Your theme is basically your audience's window into the soul of your blog.
Now that I have been blogging for over 18 months and test-driven two blog themes from Restored 316, I wanted to share an honest review of my Restored 316 Designs themes and tell you why I consider R316 themes the BEST WordPress themes (especially for female bloggers).
This post may contain affiliate links for your convenience. That means that if you make a purchase, I will receive a small commission at no extra cost to you. Read more here.
Restored 316 Designs theme review
Restored 316 Designs is a company that creates gorgeous themes for female entrepreneurs.
Their feminine designs are the go-to theme for many successful bloggers and online business owners.
How to choose a blog theme
I said that choosing a theme is like falling in love, which is absolutely true!
There are tons of factors that influence falling in love: attractiveness, desirability, similarity, need fulfillment…like the ability to lay down a hardwood floor, perhaps?
A girl can dream, can't she?
(Let's just say I didn't marry my husband because of his handiness around the house. 😉 )
Anyway, my point is when people come to your blog, you want them to fall a little bit in love with you.
If they do, there is a good chance that they will come back again.
Then again.
And hopefully again and again, until you are such good buddies that you share inside jokes together in the comment section.
I want US to be friends like that.
Why good blog theme is so important
Multiple studies have shown you only have around 7 seconds to make a first impression.
Don't you want a reader's first impression of you to be BRILLIANT? In fact, if they aren't impressed, you risk them clicking away, never to return!
So how do you capture their attention with your blog theme?
Actually, it's really simple!
You need a theme that is:
Attractive
Clean
Easy to use
Responsive (for mobile especially)
Of course, you can't just think ONLY about your readers!
You also to think about yourself.
If you are trying to turn your blog into a full-time business, you also need a theme that supports you, something that is easy to install, and that you can customize to your specific needs.
Here are all the reasons you should fall in love with a Restored 316 theme
#1. Restored 316 themes are beautiful
If you take a glance around my blog, you will find that everything is very harmonious.
From the social media buttons at the top, right down to the color of my links, everything is consistent.
Here are some of the words that my readers have used to describe what they like about my blog:
Bright
Clean
Gorgeous
Rich
Easy to use
Organized
Which is literally everything that I wanted to exude when I was brainstorming for my blog!
#2. Restored 316 themes are customizable
Here is what the basic version of my blog theme originally looked like.
As you can see in the picture above, my blog has the same layout — I just changed things up a bit!
(Update: I changed my theme to a SECOND R316 theme; more below!)
I created my logo myself in PicMonkey and customized the colors to my brand (coral, mint, green, red, and yellow).
(My theme, Delightful Pro, is actually one of their LEAST popular themes, believe it or not (more on that in a minute).
However, if you are a blogger with a lot of niches, like moi, I find that Delightful Pro works really well, as you can easily fit 5-6 categories on the home page.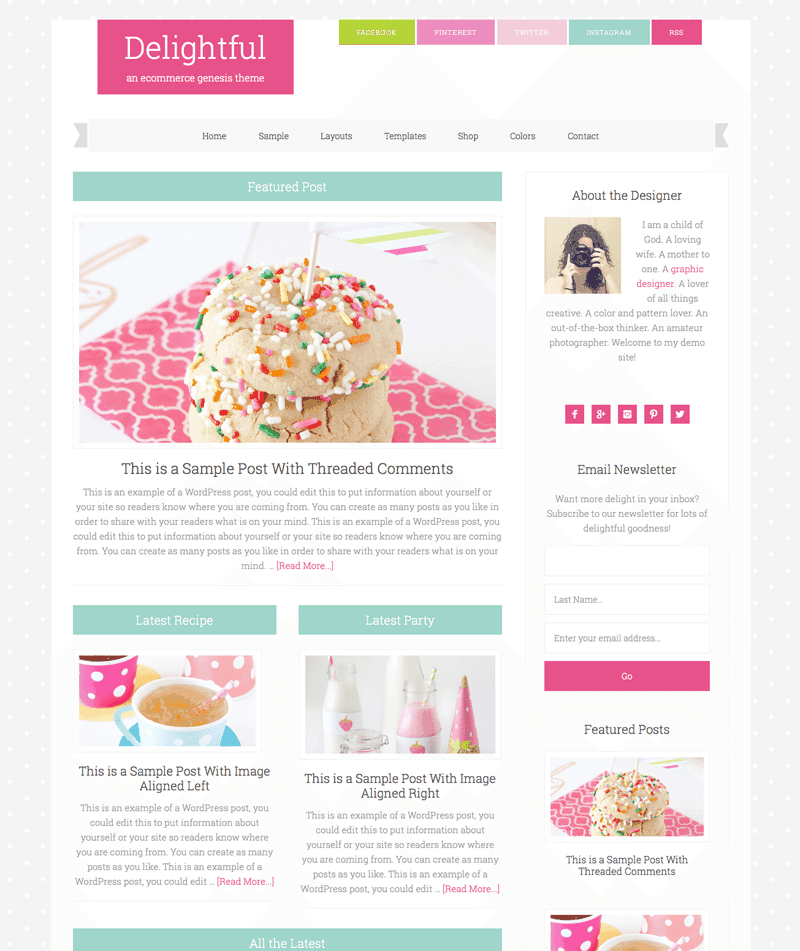 Like other Restored 316 themes, it comes with options like:
Customizable color
Auto installation of all necessary plugins
Custom Categories
WooCommerce Ready
Above Header Ad Space
Category Index for organization
Ability to upload your own logo
Mobile Responsiveness
You can even change up things like the font, which just requires a little extra work and coding.
#3. Restored 316 themes are responsive
That means that your blog is going to look fabulous no matter who is viewing it on what device.
It doesn't matter if it's Joe Schmoe riding the train while reading on his iPhone or Grandma Lois peering at it on her desktop, surrounded by cats.
Your theme will fit itself to every screen automatically, be it desktop, tablet, or mobile.
I had a girl complaining to me on Facebook the other day that she spent three hours on her blog — only to realize that she had purchased a non-mobile responsive theme and had to start over from scratch!
Don't be that girl.
#4. Restored 316 themes are easy to navigate
No matter what page you land on, it is easy to navigate to my homepage or anywhere else on my blog.
My theme has menus, secondary menus, a category index, a topical search index, and monthly archives!
All Restored 316 themes also come with a search box that allows readers to run a search on your blog using keywords.
That comes in handy if someone remembers they saw something on your blog, but are having a tough time locating it.
For example, let's say they remembered reading a post here about how I started making $1,200/month as a stay-at-home mom, but they haven't visited in ages and forgot to save it.
A quick search using any of those keywords is going to turn up that post likety split!
#5. Restored 316 Designs offers easy step-by-step instructions and technical support
Before I started my blog, my knowledge about computers and technology was pretty much at absolute zero.
Can a person be negative knowledgable?
If that's possible, I was; the words "widget" and "theme" were not really in my vocabulary!
Even a technologically challenged person like me was able to set up 95% of my blog BY MYSELF using the excellent step-by-step instructions provided by Restored 316 on their website.
That includes written instructions and also video tutorials for when things get really hairy — I'm looking at you, email integration.
The other 5%?
If I encountered an issue I wasn't able to figure out myself, I had the option of putting in a support ticket or posting a question in their active Facebook community and usually had the answer within hours.
#6. Restored 316 Designs are popular
Tons of huge bloggers use Restored 316 Designs themes.
I reached out to Lauren Gaige, the owner of R316 and asked her which of her themes are the most popular.
Their most popular themes, in order, are:
They even offer a quiz if you aren't sure what theme would be right for you!
Here is their new number three theme that is quickly rising to the top of the ranks, Anchored.
*Note: if I had ONE complaint about my Delightful Pro theme, it would be that it doesn't have a sticky announcement bar with a button link at the top. I NOW know that these types of bars with buttons directly convert more email subscriptions. (FYI, don't get hung up on the bar too much…there are plugins that can do this, or you could also have one custom coded.)
***Update 01/15/2019 – I switched to Captivating and got my sticky announcement bar and I love it SO MUCH!!! If you are thinking of switching your blog theme, it only took me four hours to do, my subscription rates have DOUBLED, and I have started making $2,000/month since then! DO IT!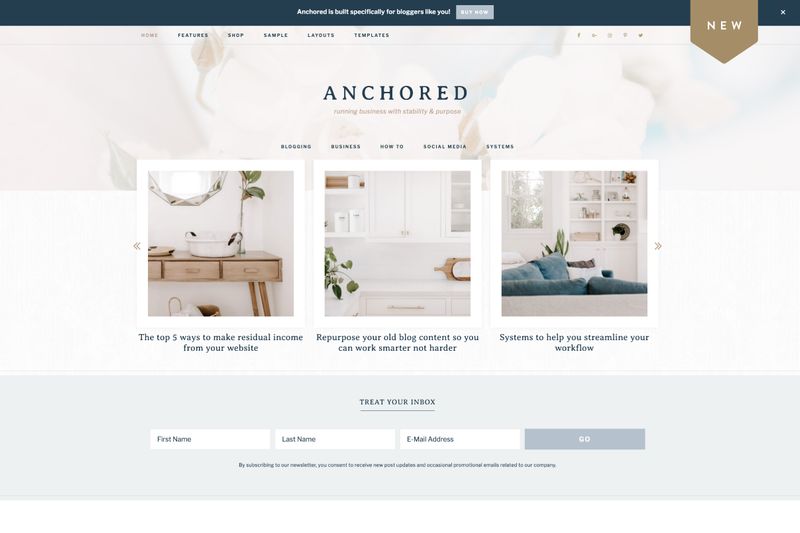 #7. Restored 316 can even set up your blog for you!
If you are just not confident in your ability to set up your blog yourself or don't have enough time, they even offer installation services for both new and existing blogs.
The packages are called Sparkle and Sparkle and Shine, and they are priced at $147 and $297, respectively.
Great for people who don't have a lot of time to try and do it themselves!
How to get started with a Restored 316 theme
To run an R316 theme, you will first need the Genesis Framework.
The R316 themes are built upon the Genesis Framework, much like a house is built upon a foundation.
The Genesis theme would be considered the "parent" theme and the R316 theme is the "child" theme.
Many themes are built upon the Genesis Framework, as it is very versatile and intuitive.
If you are ready to get started blogging, here is a quick run-down of the steps you need to take before purchasing a Restored 316 theme:
Choose a blog name
Register for domain and hosting (I recommend starting with Bluehost)
Login to your new blog
Choose your Restored 316 theme
Purchase and download the Genesis Framework and your desired R316 theme
Install and start blogging!
Now get out there and START BLOGGING!
I hope that you found this guide useful!
Leave me a comment in the comment section below and tell me what YOUR favorite Restored 316 theme is!
Pin this!