"Make money blogging" is a high volume keyword that thousands of people enter into Google each month, scouring the Internet for answers. You might be one of those people; maybe that very query led you to me.
Today I want to show you how to find the secret buying signals your audience is sending you, which will help you make more money by blogging smarter, not harder.

What is a buying signal?
Buckle up, Sherlock, because buying signals are a clue; they are a clue into the mind of your customer. For bloggers, their customers are the people that read their blog.
Realtors look for buying signals from families touring the house they are trying to sell, car salesmen are trying to weed out the tire kickers from the customers with ready wallets, and buying signals can even be found by smart investors watching the stock market!
I like this definition of buying signals from MBA Skool (yes, that spelling is correct):
Buying Signals are the signals usually sent by the customers or buyers to the sellers. These signals show the intention of buying the product by the customers.
So what is a buying signal as it relates to your blog?
Related posts:
Why bloggers should pay attention to buying signals
As a blogger, when you write a post you should be writing for your customer (your readers). When you share advice, you should be aiming to solve one (or more) of your customer's problems.
And when you share a review or a recommendation of a product in your blog post, you are trying to convert the customer reading your blog into a buyer. Unless you are blogging as a hobby, your goal is to turn your readers into buyers.
So how do you go about doing that?
Well, first of all, you should be sharing excellent information that will help your readers solve their problems, whether it's teaching them how to create a budget, sharing easy and healthy lunch ideas, or showing them how to make money blogging (crash — that was the sound of the fourth wall breaking!)
Always, always, ALWAYS blog in an ethical manner; don't recommend items and products you wouldn't use yourself. Savvy readers can smell your bull poop a mile away! If you don't come off as genuine people aren't going to trust you and they certainly aren't going to buy something from you!
So cut the poop and keep it real. 😉
If you do all of these things correctly, then you can start paying attention to the buying signals your customers are sending you and help them solve their problems even better, which in turn has the potential to help you make more money!
Happy readers = happy (and wealthy) you!
Buying signals your readers are sending you
Buying signals are like an S.O.S; your readers are hollering "Help me!" You need to pay attention and give them what they want!
Here are five secret buying signals your readers are sending you that means they are ready to spend money on your blog.
#1: Asking for more information is a buying signal
Do you have people commenting and asking you questions on your blog post? If so, congratulations! That means you have people who are engaged and invested in some way in the information you are sharing on your blog.
If you have people asking you for more information that is a clear buying signal that they like the smell of what the Rock — I mean, what you — are cooking. (Sorry, bad WWF joke there.)
Here are some buying signal questions you might see in various niches.
Personal finance bloggers:
What kind of ROI have you gotten from this product?
How much does this product save you on average each month?
How much money can I make from this product?
DIY bloggers:
Can you tell me about ____ step in more detail?
I can't find that ____ in my area, what do I do?
I don't like lavender…what other oil can is substitute??
Home decor bloggers:
Oh, where did you get that mirror?
What color of paint is that on the wall? (Hear this all the time on H.D. blogs)
Where did you get that wooden votive stand??
Frugal living bloggers:
Isn't this a little expensive for a "frugal living" blogger? (Hint: they want to be convinced!)
I already do all of these things, do you have any more ideas for saving money on food?
Is ____ product really worth the cost?
Food bloggers:
What are some other great recipes for an Instant Pot?
I am allergic to ___ can I substitute something else?
That's an awful tiny hole in the top of that sphere mold? How do you get the liquid in? (Yes, this is an actual question from one of my readers. And a GOOD one, glad they asked!)
This post may contain affiliate links for your convenience. That means that if you make a purchase, I will receive a small commission at no extra cost to you. Read more here.
#2: Viral pins are a buying signal on Pinterest
The cat was let out of the proverbial Pinterest bag long ago and bloggers now know that Pinterest can drive massive traffic to your blog. The question is how?
Entire blogs and companies have been created to answer this very question, dude. One thing I can tell you for certain?
Viral pins are trying to tell you something about the habits of your Pinterest audience! They are whispering the secrets of Pinterest to you…you just have to be able to study them properly to try and figure out exactly what that secret is.
Have you had a pin go viral or semi-viral? Even newer bloggers often can tell when they have posts that are getting more hits on Pinterest!
Also, newsflash! It doesn't even have to be your own pin!
Even if pins from other bloggers go viral after you pin their post to your account they can tell you more about what your audience wants on Pinterest. (You can check your "notifications" tab in Pinterest and see what is getting multiple hits on Pinterest.)
I recommend that you create a secret Pinterest board just for pins that you notice going viral. When you see a pin getting pinned repeatedly, that is a clear indication that your readers like something about that pin — it's your job to figure out what!
Which takes us to our next buying signal.
Related posts: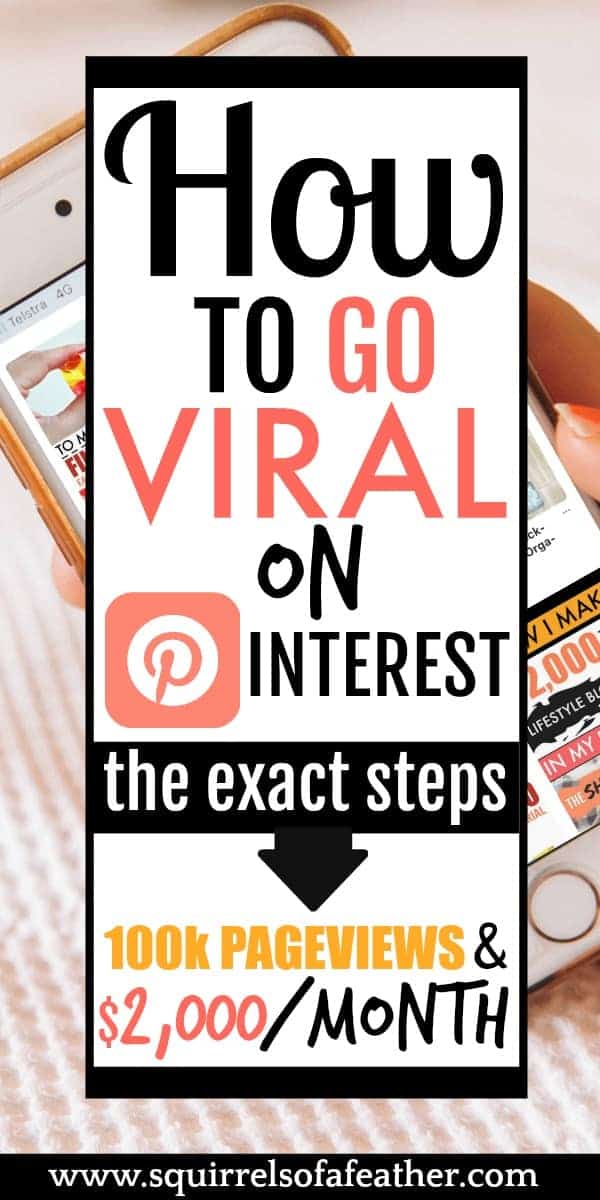 #3: Attention given to similar images and text are buying signals
So you've noticed a pin going viral on Pinterest or it seems to be bringing a lot of visitors every day from other sources, be it organic searches, Twitter, Facebook, whatever. You have pinned it to your secret Pinterest board or saved it through some other method and are ready to dig in and try and suss out its secrets.
This is where you need to whip out your thinking cap, Sherlock. Look for the clues that tell you what your audience loves about this particular post.
Some factors to observe:
Common imagery (images with people versus without)
Common colors (most data shows that people like red, orange, and yellow toned pins on Pinterest, but your audience might have an affinity for something else — say, pink?)
Common text (do they like script font better? If you use the word "easy" will that image get shared more?)
Common numbers (some bloggers have readers that go crazy for the number "7")
Something about these images is making them get shared over and over. More shares mean more traffic and more traffic means more ad income and potential sales for you! Study the images and try and see what it is that is driving the traffic to your blog. Try and replicate it to increase your chances of getting even more viral posts!
#4: Asking the price is a BIG buying signal
Every salesman worth his salt knows that one of the biggest buying signals is asking the price. Prepare to get extra salty.
If you have readers asking you about the price of an item that is a clear buying signal in the interest of that item! They are telling you that they are ready to pull out their wallet, they just need a little more convincing.
Just be careful! For some affiliates, such as Amazon, discussing the exact price is against their TOS (terms of service).
If you aren't sure about the TOS of the affiliate in question, you can always play it safe and direct the reader to click the link and explore the item themselves further on the affiliate website and return to you with any further questions or recommendations for similar items.
#5: Asking for more!
Besides asking for the price of an item, asking for more of something is an excellent buying signal that shows you that your audience is liking what you are putting on the table and they want MORE!
Sometimes they will do this in the comment section; you can even encourage them to tell you what they want to see more of!
For example, in a recent post, I discussed how Tasty Pins brings my relatively new blog a whopping 1,000 pageviews per day from Pinterest and Google.
I heard other newbie bloggers loud and clear in the comment section.
They wanted to know more about the strategies I use to increase traffic to my blog each month, so I wrote up my entire blogging strategy in my September 2018 blog report (my seventh-month blogging), sharing an honest review of what worked and what didn't.
I always love when a blogger opens up about the real struggles of blogging and making money blogging, so I personally always strive for complete transparency myself (blogging is legit hard, guys…hard but FUN!)
Related posts:
So now you know five big buying signals your audience is sending you!
Now that you know what kind of buying signals to look for that your audience is sending you can start collecting an analyzing the data that will help you make more money blogging — even with a small number of visitors! Blog smarter, not harder!
I hope that this list of buying signals has been helpful! If you have any questions leave me a comment below!
SaveSave
SaveSave
SaveSave
SaveSave
SaveSave
SaveSave