Here is a collection of twenty of the very best Korean recipes out there! It features authentic Korean recipes, Korean-fusion recipes, with classics like kimchi and gabli, as well as some dishes that you may not have heard of (samgyupsal anyone?). Read on to see twenty must-try Korean recipes.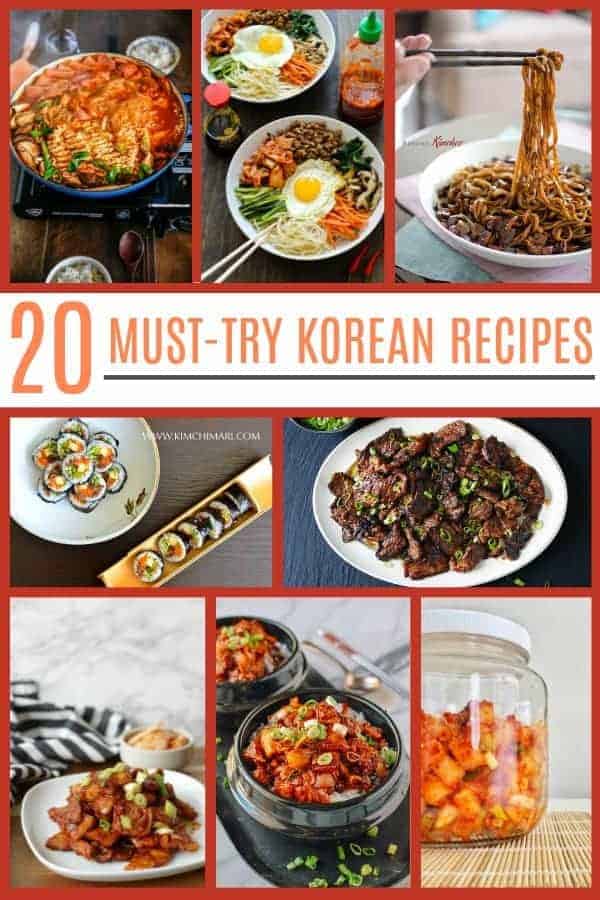 Get hooked on Korean recipes
I fondly remember the first time I tried Korean food. My not-yet-husband took me on a date to a little Korean place in Chicago.
The parking lot was so small that only a few cars could get in at a time! But the food! Oh, my was it fascinating and delicious. You could order pre-made dishes or you could cook it right there on the tabletop stove in front of you.
The room was filled with noise and the smoke of cooking meat.
I was hooked!
(If you live in Chicago the restaurant is San Soo Gab San…try it out for sure!)
Here are the twenty BEST Korean recipes to spice up your life!
This recipe has been pinned over 36 THOUSAND times! That's when you know something is legit…and with a name like "Mom's Kimchi", how could it not be?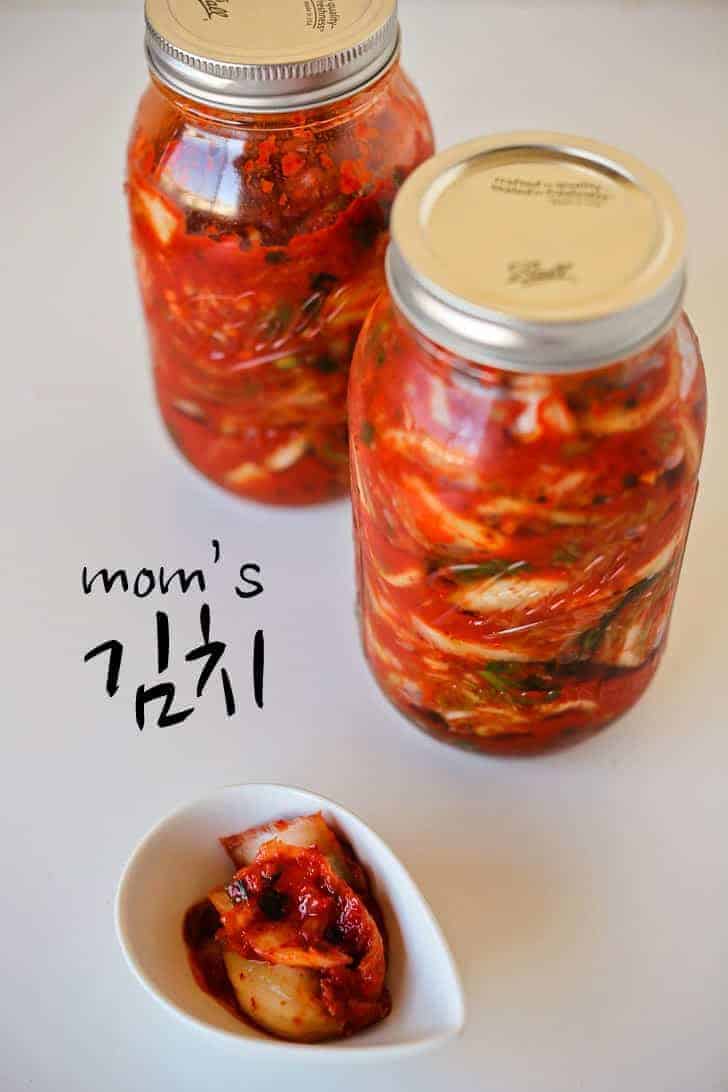 30 Minute Korean Bibimbop Recipe – The Girl on Bloor
This easy version of bibimbap comes together in 30 minutes and is super simple to make.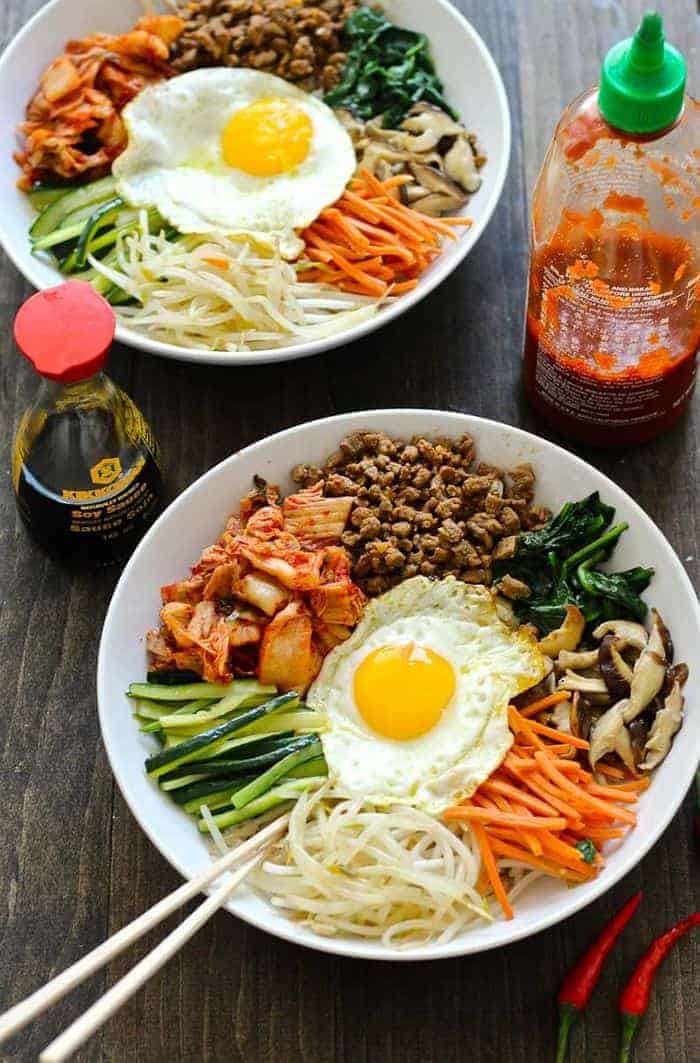 Jap Chae (Korean Stir Fry Noodles) – Chew Out Loud
These noodles are made using sweet potato starch, and they have a texture unlike any other noodle I have ever tried!
Super chewy with a mesmerizing translucency…give this dish a try!
Tteokbokki (Spicy Stir-fried Rice Cakes) – Korean Bapsang
Don't let the word "rice cakes" fool you! These spicy little devils aren't like the sweet, fluffy cake you know…it's more like the consistency of Japanese mochi.
Eater beware! These are massively addicting.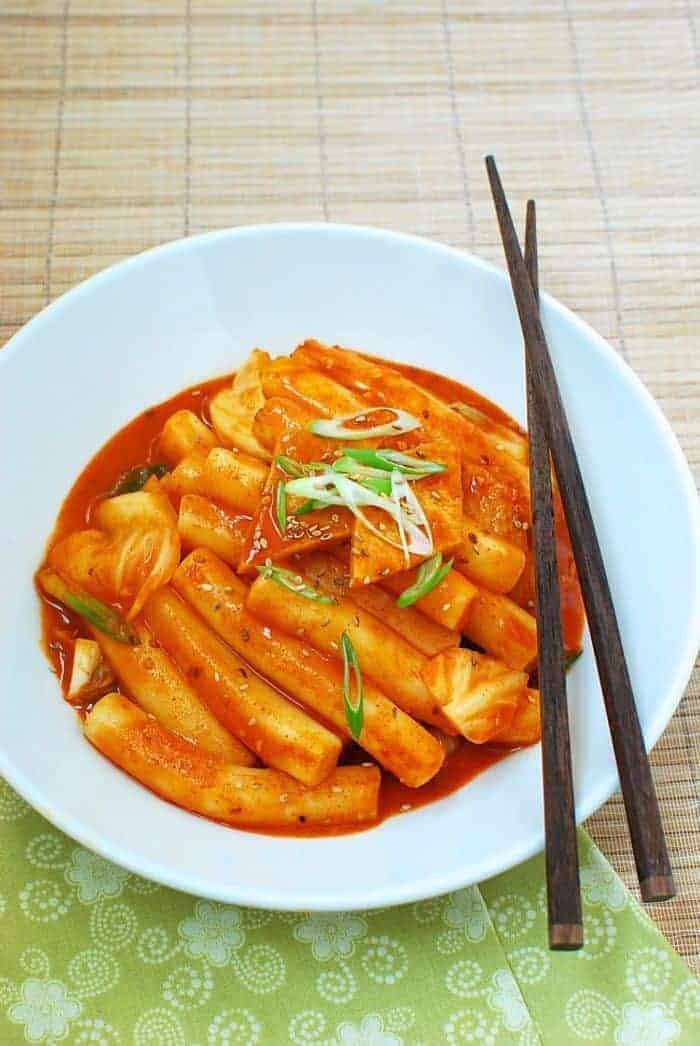 10-Minute Korean Crispy Pork Belly Kimchi Bowls – The Woks of Life
The Woks of Life has some of the best recipes on the Internet. This Crispy Pork Belly Kimchi Bowl is no exception (I have some serious bowl envy just looking at this picture).
Even better? This recipe only takes 10 minutes to make!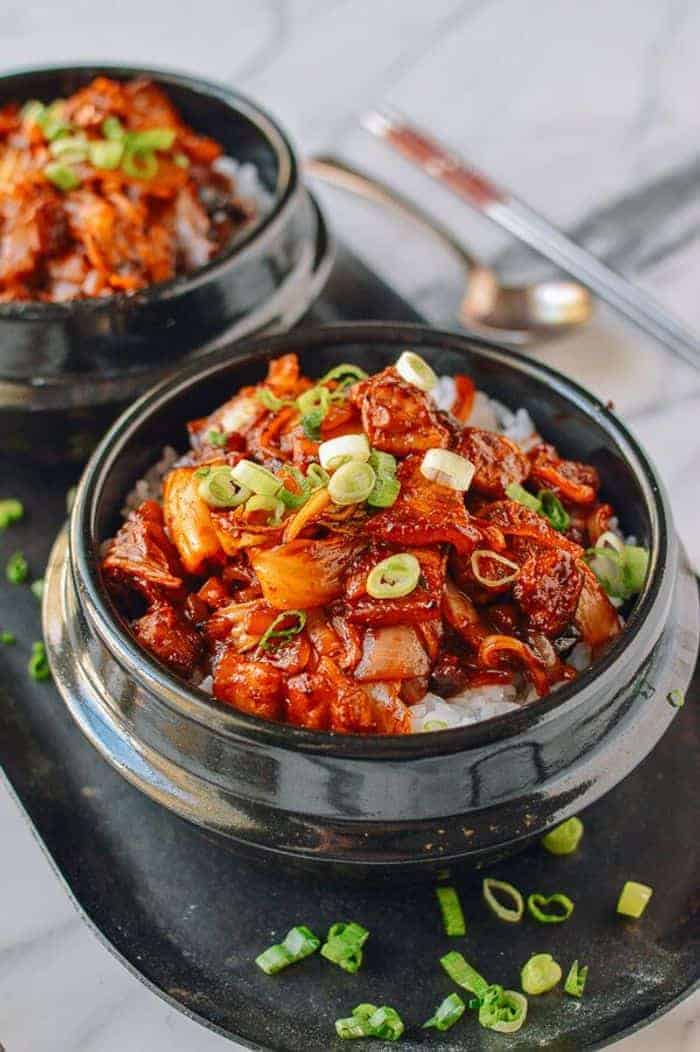 Pajeon was one of those foods that I loved to get at my local Chicago Korean restaurant! One of their signarture dishes was haemul pajeon (seafood scallion pancakes).
This is a great veggie-packed version that is vegetarian-friendly. Vegans can use this recipe too (just sub flax egg for the egg and agave for honey in the sauce).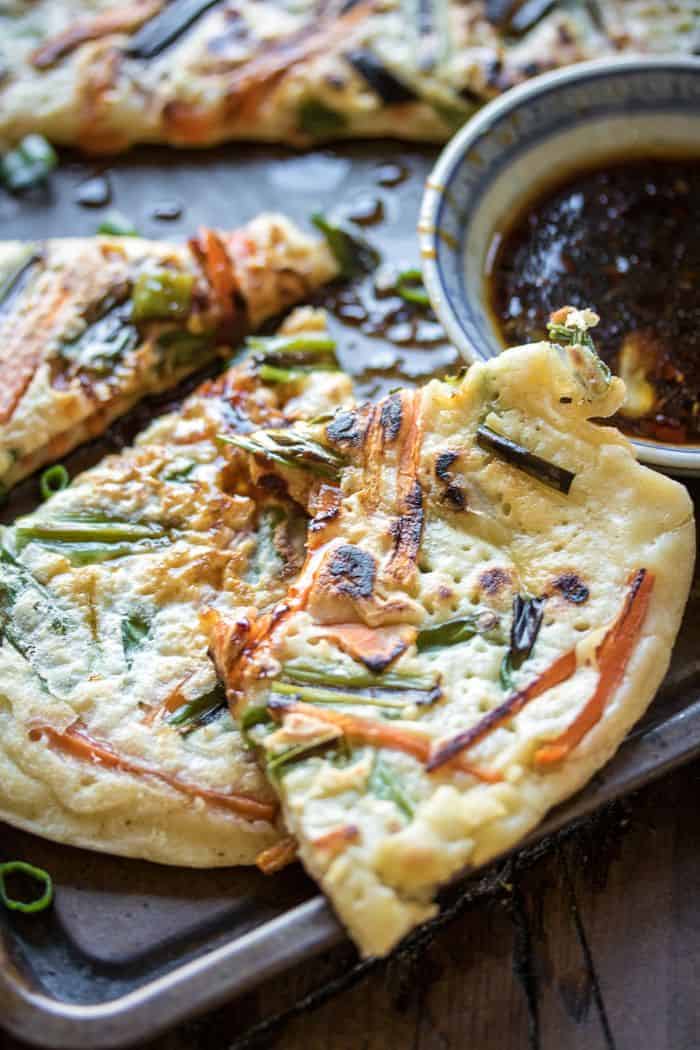 Korean Barbecue Beef Short Ribs – The Yummy Life
Also called galbi (or even kalbi — I have seen it spelled both ways), Korean beef short ribs are one of those quintessential dishes that practically everyone orders when going out for Korean.
They are typically grilled for that extra caramelized goodness.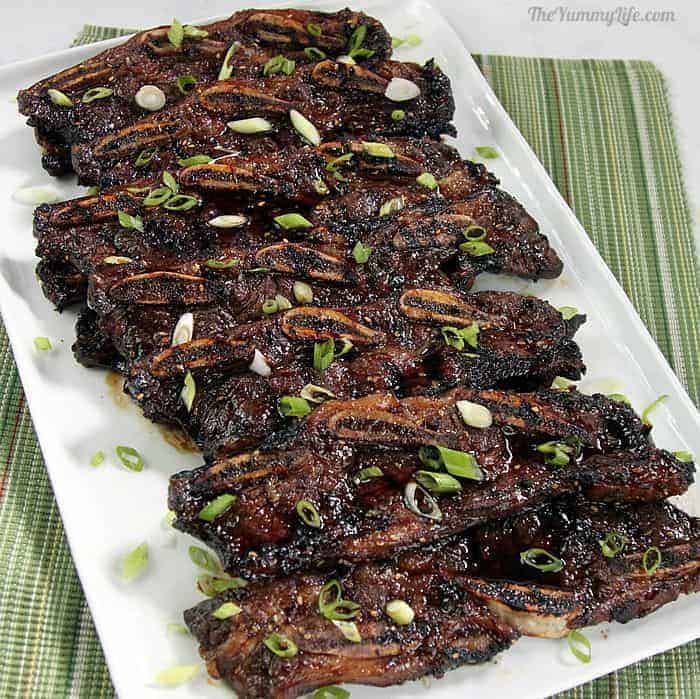 Kimbap – Seaweed Rice Roll – Kimchimari
Kimbap is basically the Korean version of sushi.
You can make Kimbap with just about any ingredients under the sun, as long as you keep the rice and the seaweed paper to wrap it in.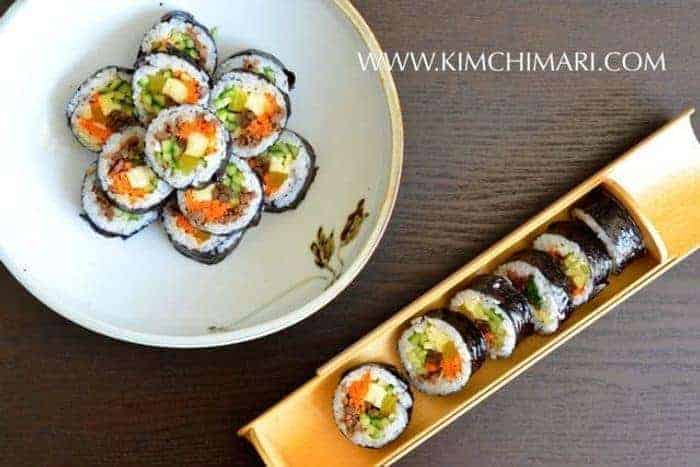 This kimchi is made with daikon instead of cabbage for the ultimate kimchi crunch! It goes great with any Korean main course — you can even put it on top of pizza for an extra spicy twist!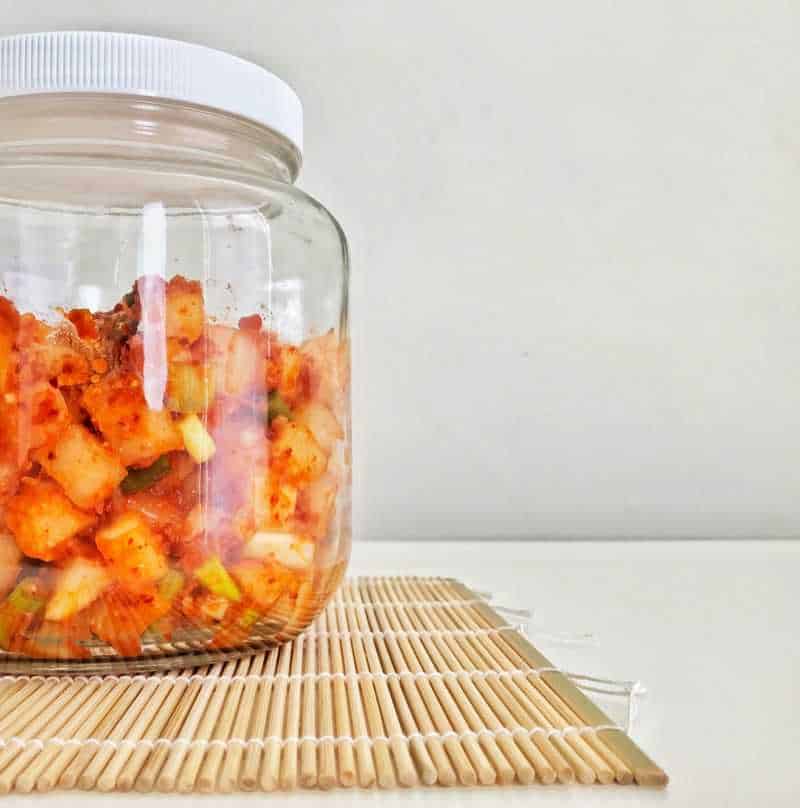 Hotteok (Sweet Korean Pancakes) – DRAMAFEVER
DRAMAFEVER is a great place to catch up on some great Korean Dramas…they also share this recipe for sweet Korean pancakes, which features a gooey, sugary center.
Snacking on these and watching K-dramas? Sounds like the perfect weekend!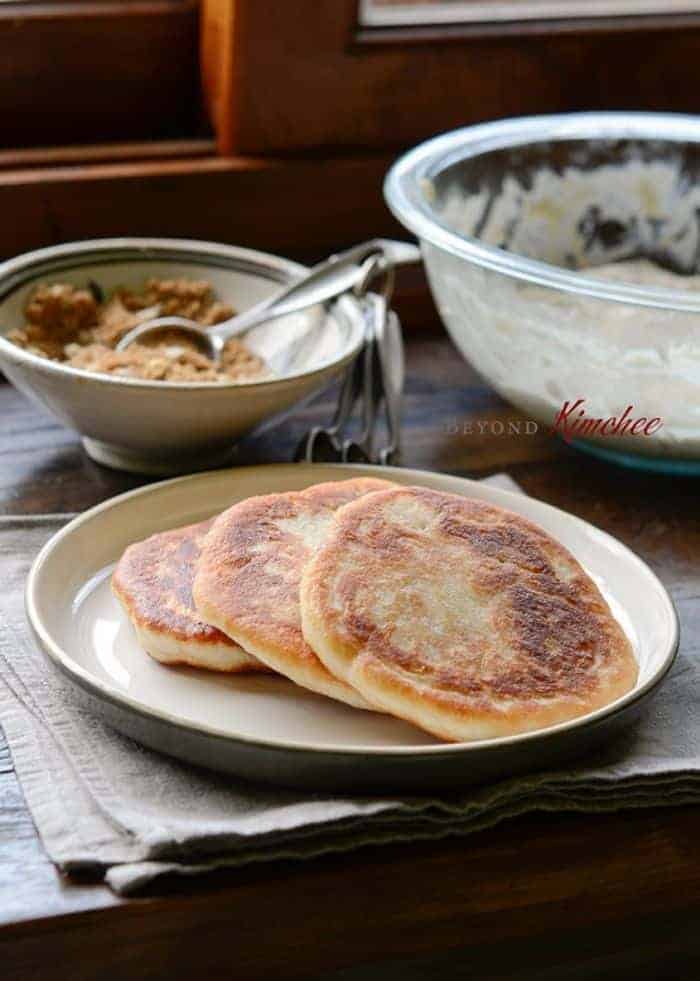 Korean Steamed Egg (Gyeran Jjim) – My Korean Kitchen
Now for something a little lighter! These light-as-clouds steamed eggs have a pudding-like consistency. The author give you three different ways to steam the eggs, and you can choose the method that you prefer.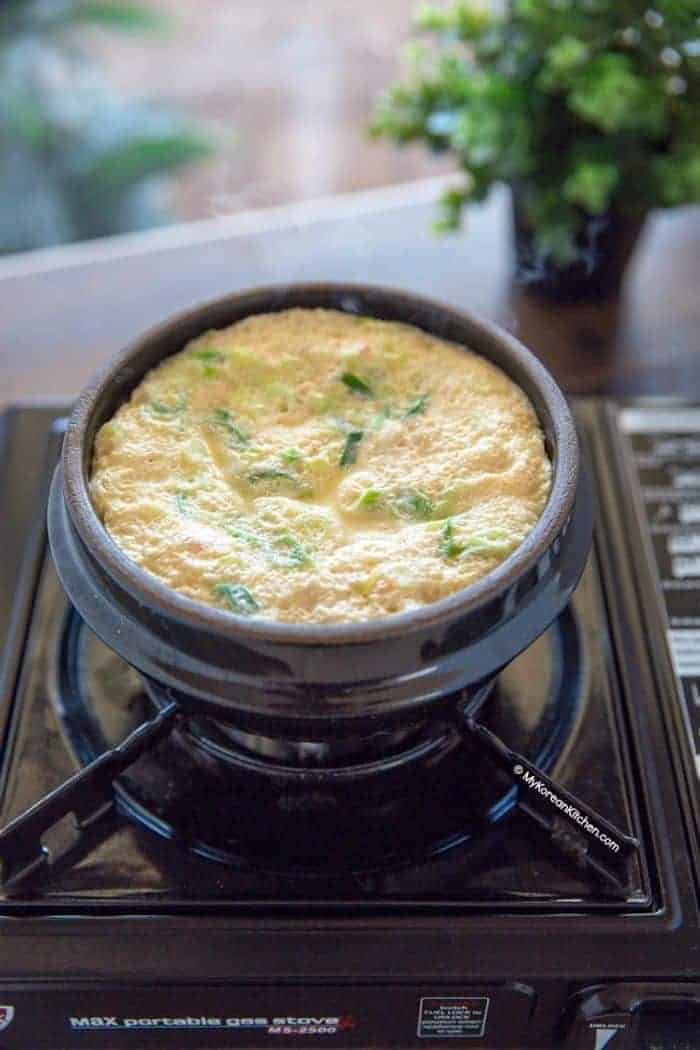 Basic Bulgogi Recipe – Bon Appetit
This is another one of those "must-know" recipes that will become a staple in your kitchen. Bulgogi can be made with beef, pork, or chicken…it's very versatile!
Here is a beef version.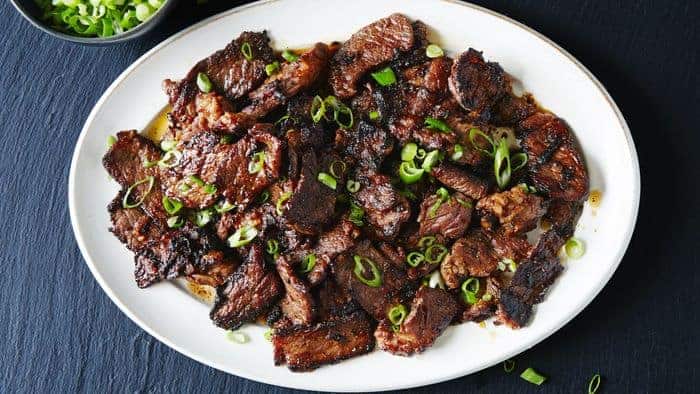 Don't just skip straight to the recipe — take the time to read the history behind this stew. It's absolutely fascinating!
It may surprise you to know that service in the Korean military is compulsory for males (not for females, although they can choose to enlist). Even Korean celebrities are not exempt!
Luckily, you don't need to enlist in the Korean military to try this fantastic hot pot!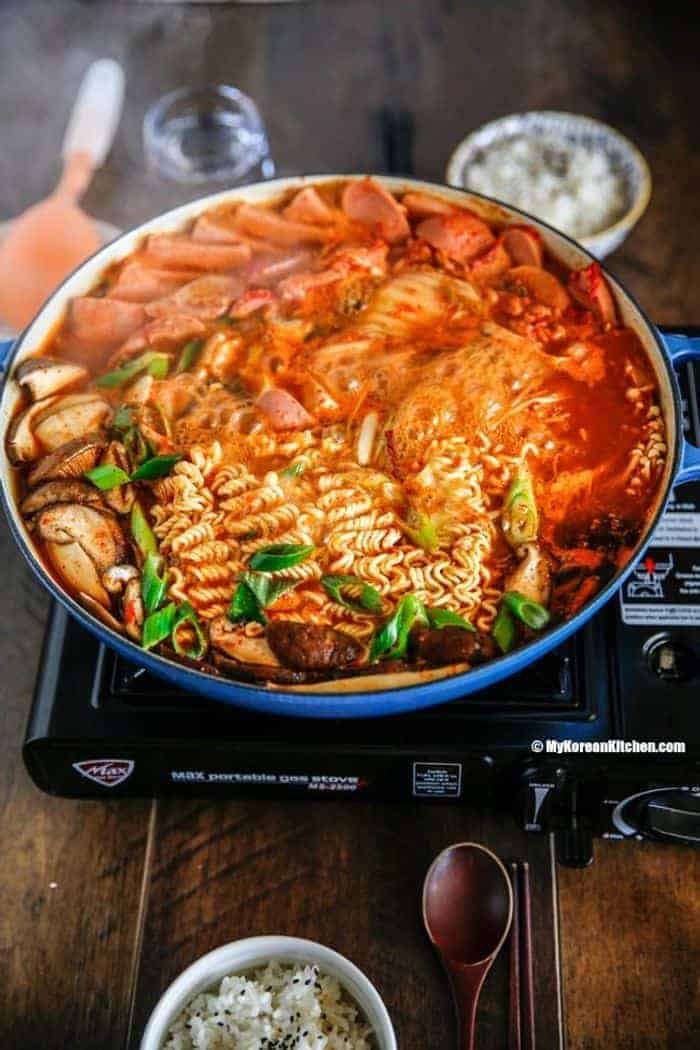 Spicy Korean Cucumber Kimchi Refrigerator Pickles – Jeanette's Healthy Living
Who doesn't love pickles? Here is the Korean version, great as a side dish to any main course or as a tasty snack!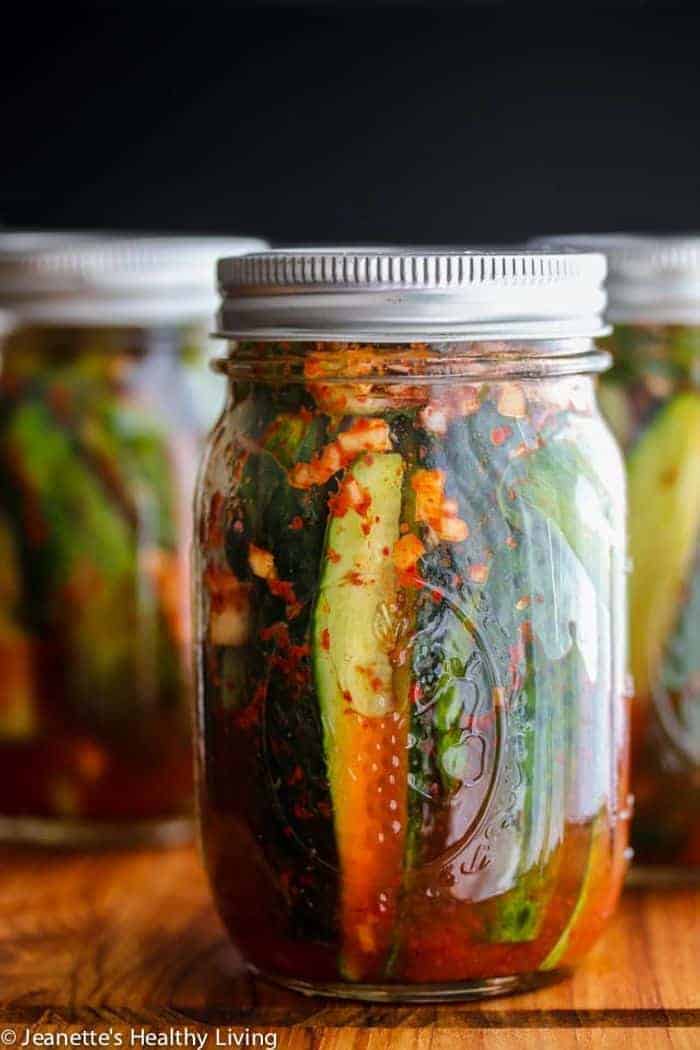 This recipe is actually a fusion between Chinese twice-cooked pork and Korean samgyupsal. If you want a spicy pork belly dish that simply melts in your mouth, you have GOT to check out this dish.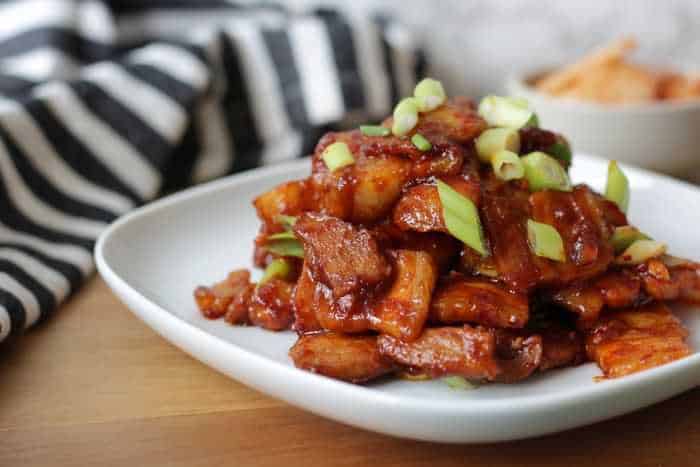 Fried rice is a great way to use leftover rice and reduce waste. This recipe only takes 15 minutes to whip up and uses kimchi to spice up fried rice.
It's a total keeper!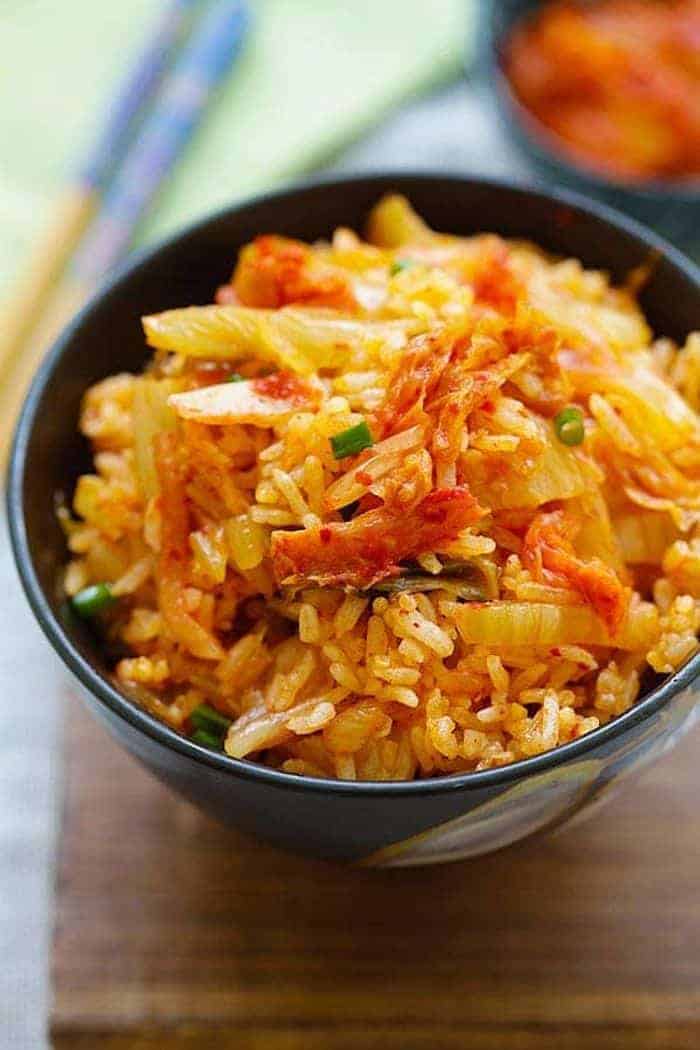 Pan Fried Tofu with Spicy Korean Sauce – Season with Spice
Here is another recipe that is great for vegetarians! This crispy pan-fried tofu is drizzled with spicy Korean sauce that shows you that you don't need meat to satisfy a craving for good food.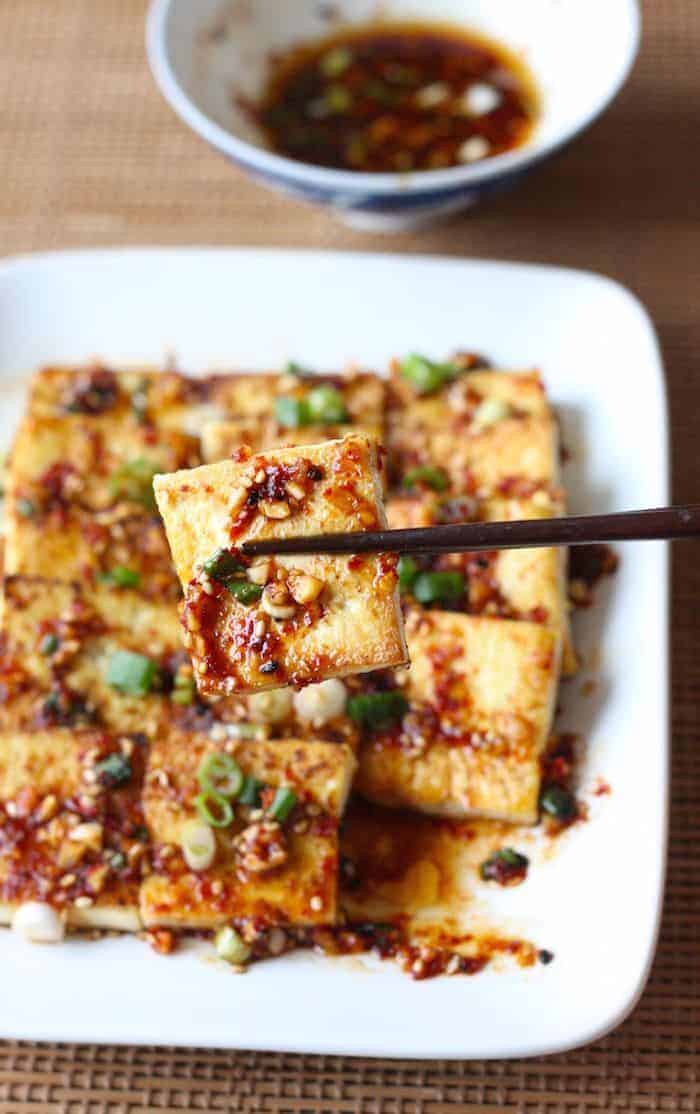 Korean Sticky Chicken Recipe – Pickled Plum
I love all of the recipes from Pickled Plum, and this sticky chicken recipe is no exception!
This is the ultimate easy Korean comfort food recipe!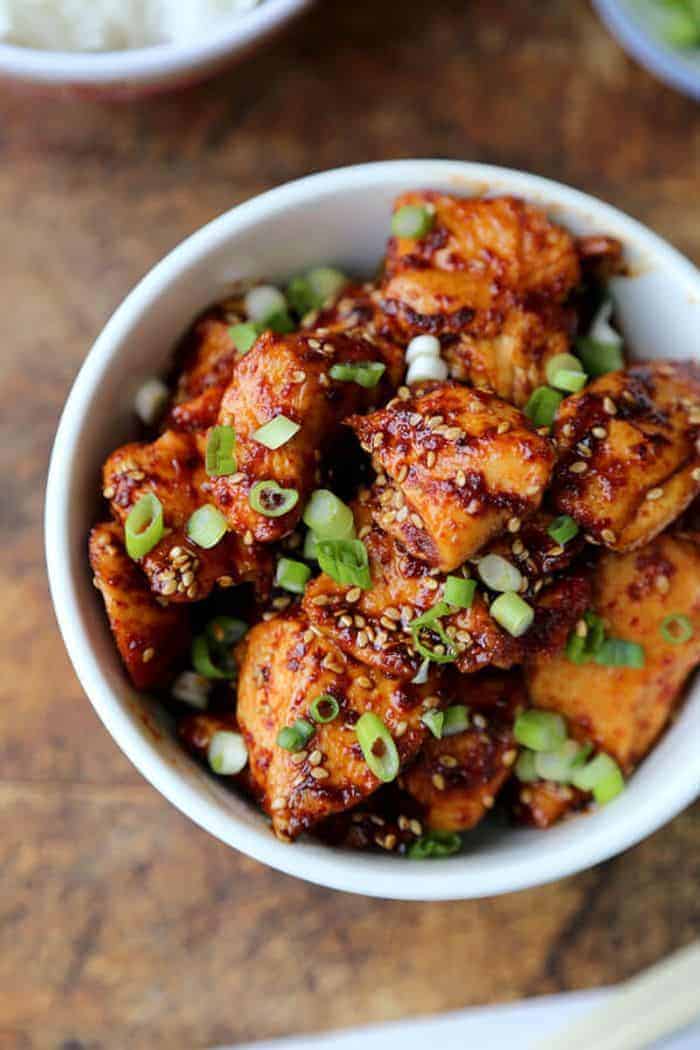 Sundubu Jjigae (Korean Spicy Soft Tofu Stew) – My Korean Kitchen
Another great tofu recipe that is paired with seafood to create a rich, deliciously spicy stew.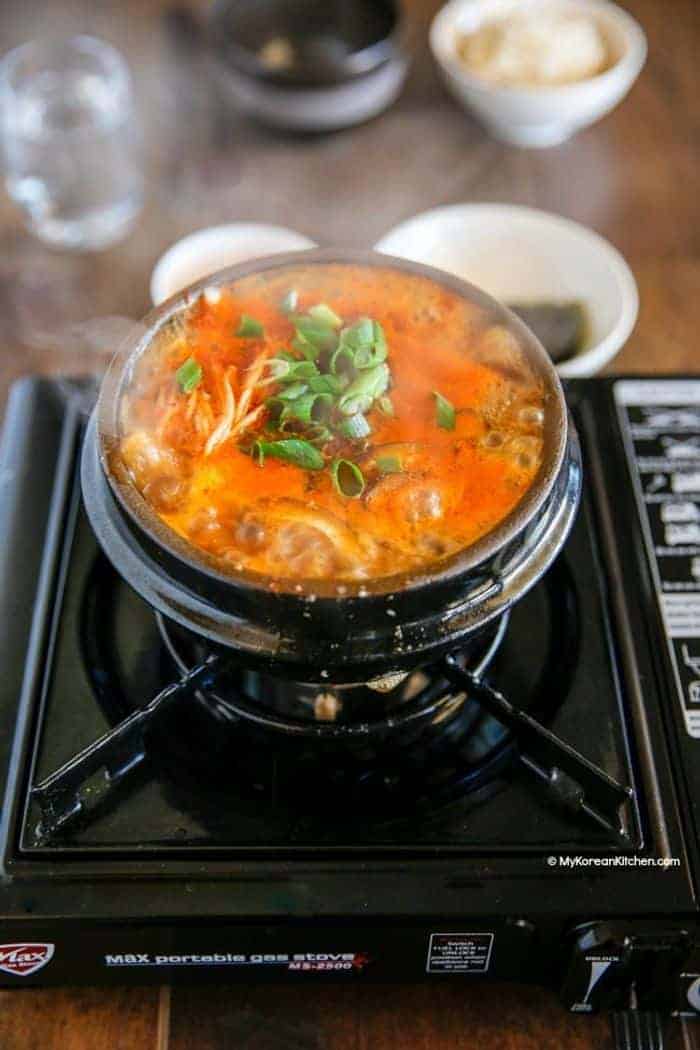 Jjajangmyun (Korean Black Bean Noodles) – DRAMAFEVER
For the last dish, I give you the slurpalicious jjajangmyun — Korean black bean noodles.
Pairs great with any Korean drama! A must-try recipe for sure.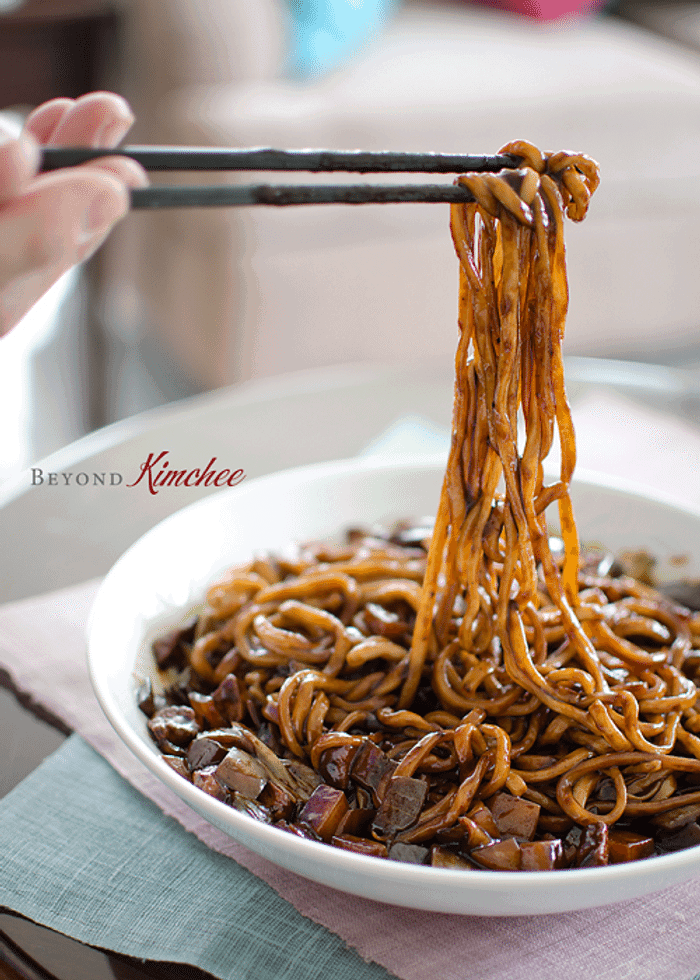 There they are, twenty of the best Korean recipes!
Let me know what YOUR favorite Korean dish is in the comment section below! Bonus if you tell what your favorite K-Drama is as well. 😉
(Make sure you also check out my Spicy Korean BBQ ribs — made in the Instant Pot!)
Pin these recipes!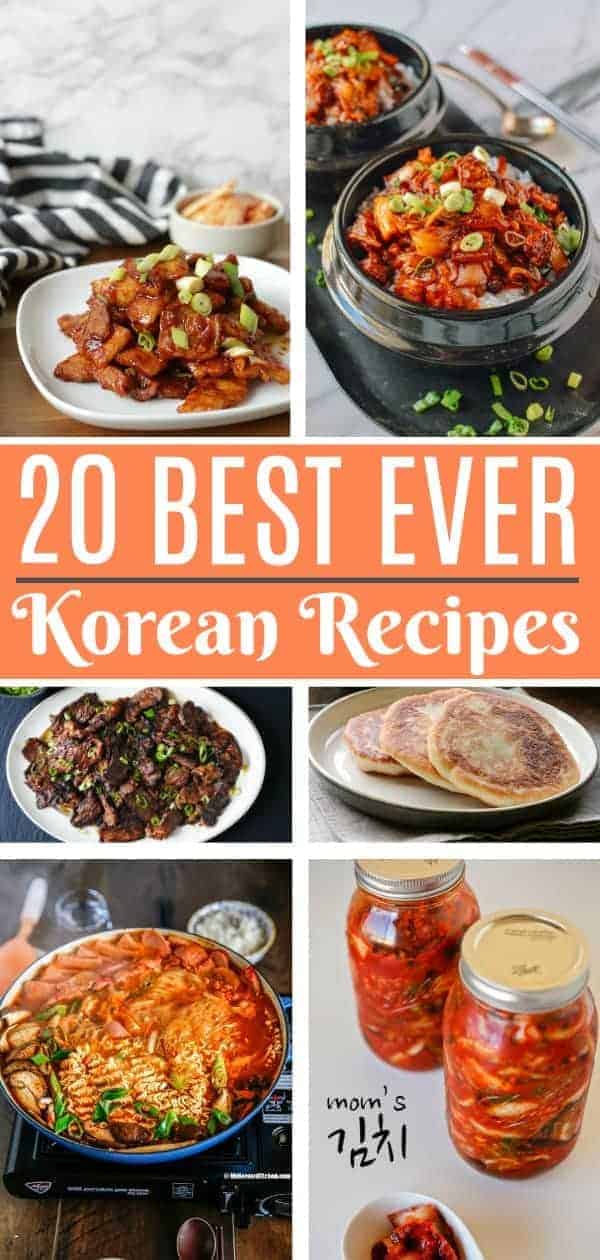 SaveSave
SaveSave
SaveSave
SaveSave
SaveSave
SaveSave
SaveSave
SaveSave
SaveSave