This spicy Korean Radish Kimchi is salty, crunchy, and oh-so-satisfying, with gut-healthy probiotics and ingredients that boost your metabolism! Find out how to make this simple kkakdugi kimchi yourself!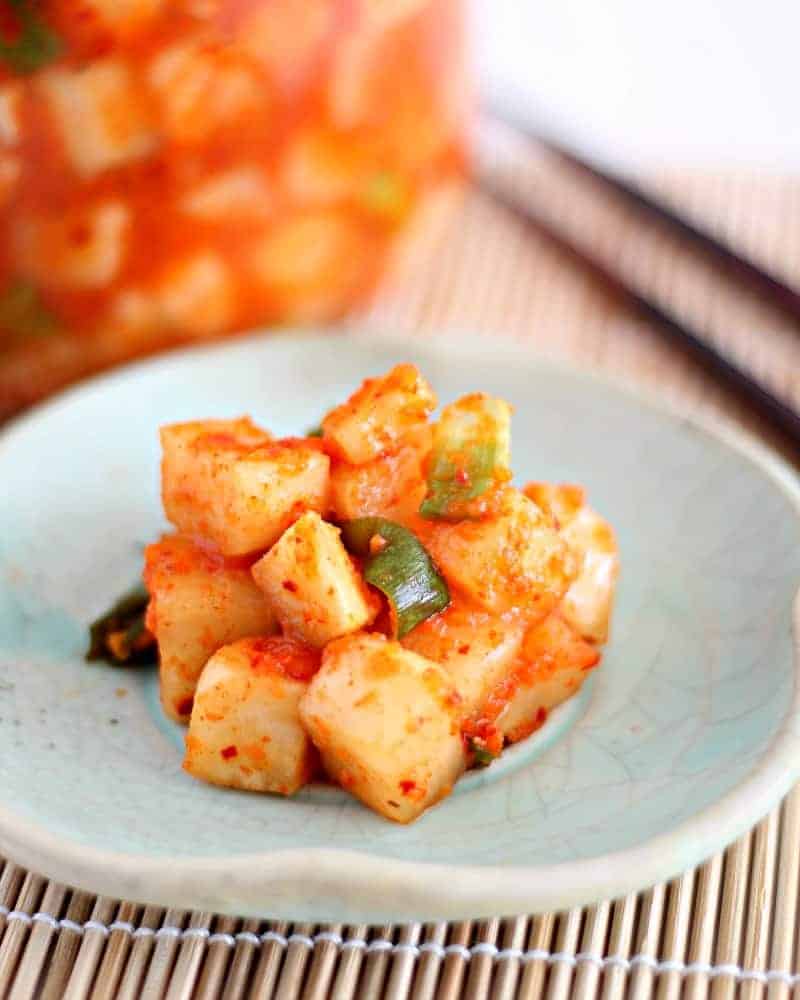 Korean Radish Kimchi Recipe
Also known in Korean as "kkakdugi", this kimchi uses cubed daikon rather than the standard cabbage kimchi. This side dish, or banchan, is great served alongside fattier Asian meals, such as Spicy Korean Pork Belly.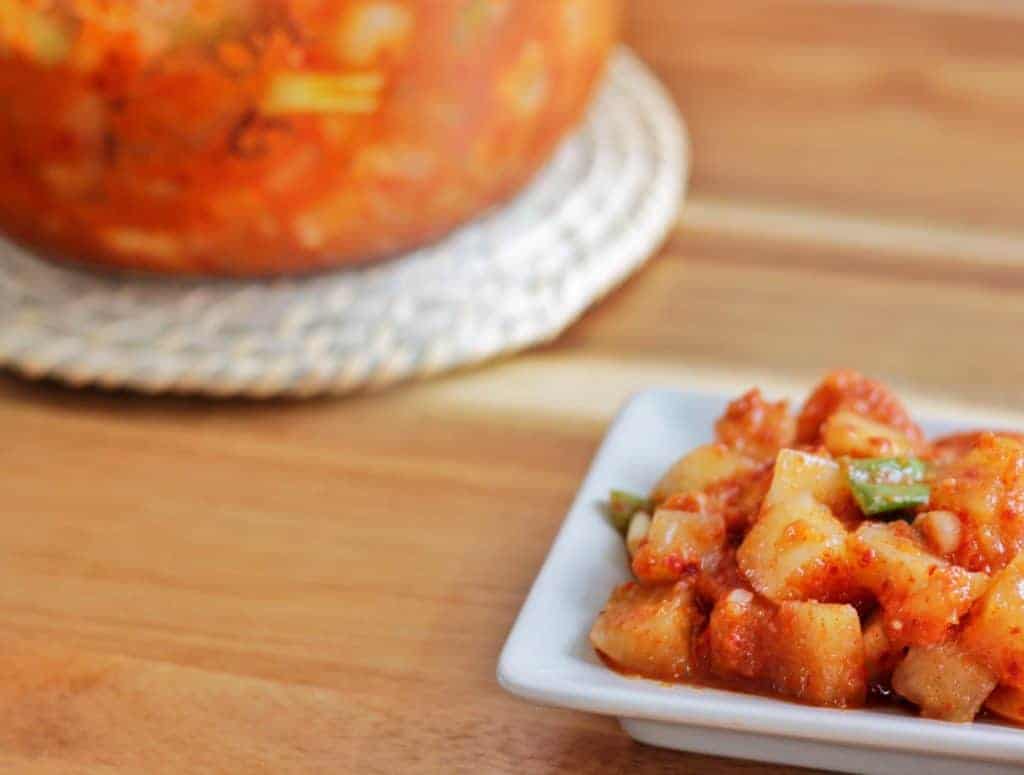 This post may contain affiliate links for your convenience. That means that if you make a purchase, I will receive a small commission at no extra cost to you. I only recommend products or services that I fully believe in and use myself. Read more here.
Types of kimchi
The most common is probably cabbage kimchi, which you can find at most Asian grocery stores.
However, my very favorite kimchi is kkakdugi, the spicy radish kimchi, as it has more of a satisfying "crunch" than the cabbage variety.
There are several variations of radish kimchi. Some variations use more sugar. Others incorporate shrimp. This was the recipe I used when I first started making kimchi, which I then changed up a bit to suit my taste.
Can kids eat kimchi?
Because this is our family kimchi recipe, I have purposely made it a little milder and slightly less sweet…my whole family love this stuff, including my 3-year-old and 5-year-old!
They actually beg for it when I have a jar in the fridge. I would have never guessed in million years that kimchi would be one of my kids favorite foods, but there you go!
So the answer is, yes, kids absolutely can enjoy eating this radish kimchi! Even my kids who don't like spicy food in gerneral gobble this stuff down!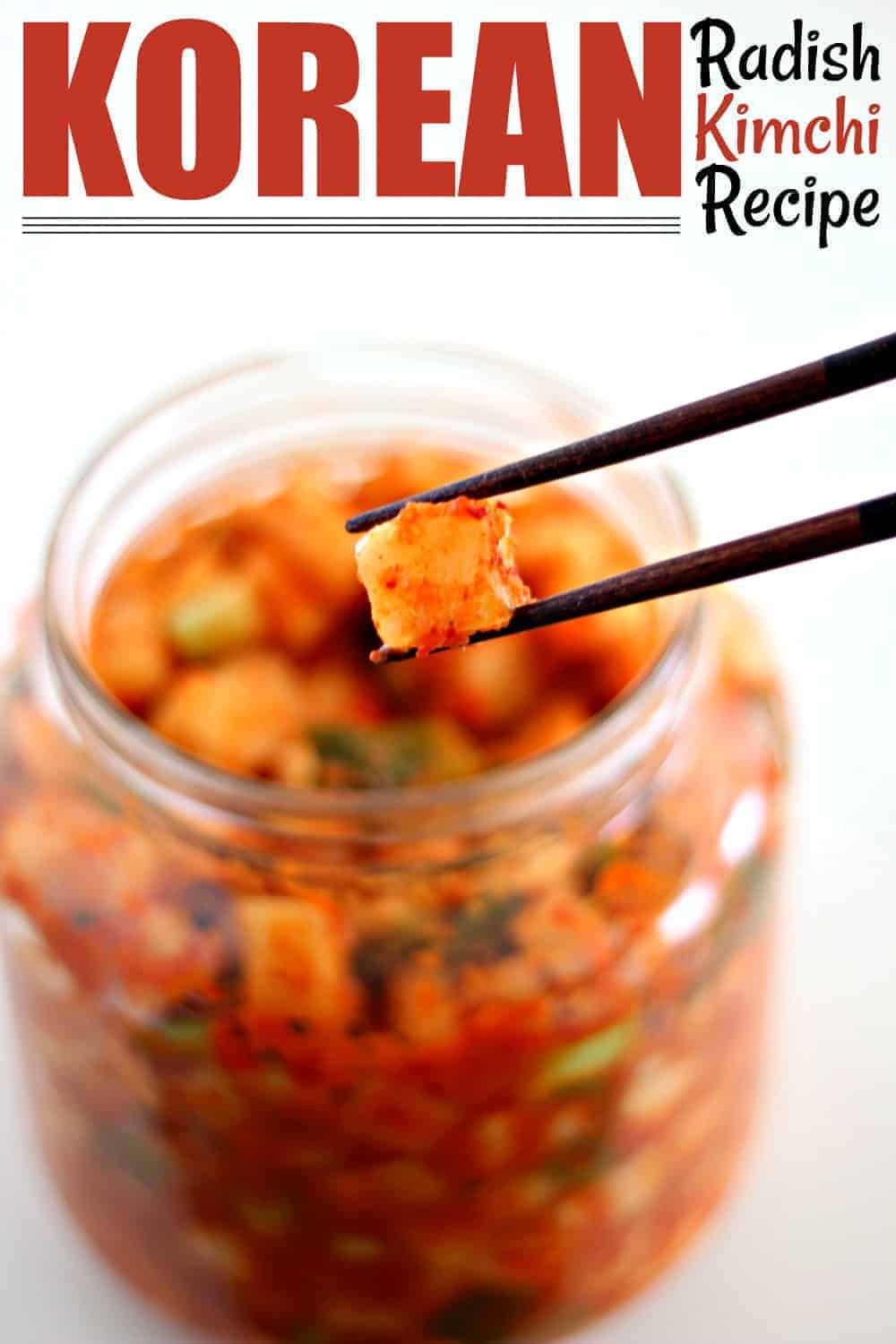 Radish kimchi health benefits.
Because it is fermented, it contains bacteria and probiotics that aid in digestion and gut health. Purportedly, it also has such benefits as lowering cholesterol, helping one to lose weight, preventing certain cancers, etc.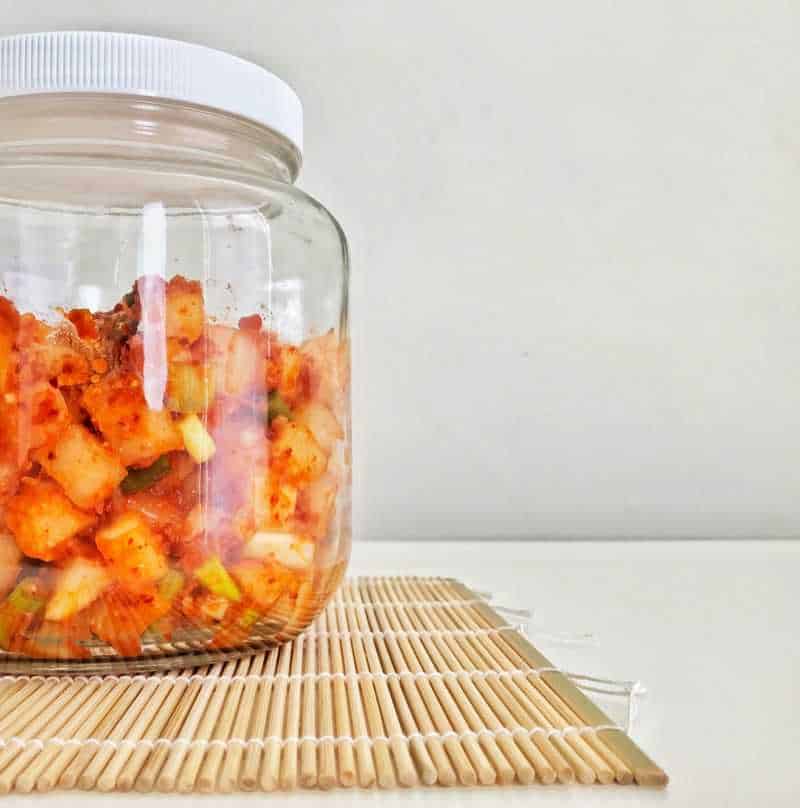 To make Korean Radish Kimchi you will need:
Here are the ingredients you need to make radish kimchi.
Ingredients:
2-2.5 lbs daikon
1/2 cup chopped green onions
1 Tbsp sugar
1 Tbsp salt
1/2 a red apple
1/2 small brown onion
3Tbsp fish sauce
3 cloves minced garlic
2 Tbsp + 2 Tbsp gochugaru (FYI, this is a pound of it!)
1/4 cup water
1 Tbsp rice flour
You are also going to need to have the following appliances and tools:
Tools:
Airtight jar (I used an old kimchi jar that looks exactly like this; DO NOT use plastic)
Colander
Several bowls of varying sizes
Food safe vinyl gloves
Authentic Korean recipes use raw sugar and rock salt, but because I like to keep things simple, I just use regular old Morton salt and white sugar. I have never had a complaint about the taste of my kimchi 😉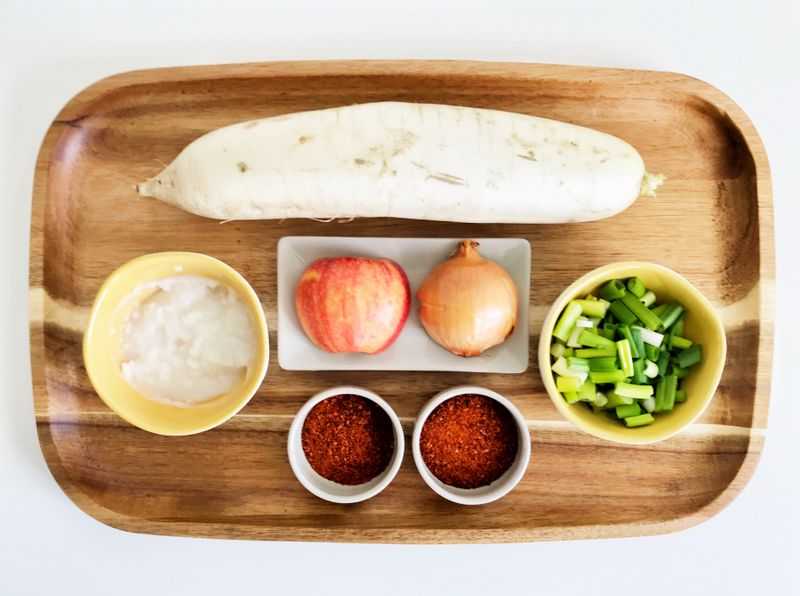 Preparing the radish kimchi base
When you are preparing the spicy kimchi base paste, you will first mix the rice flour into the water and microwave.
Before microwaving it will look like this:
After microwaving it will look like this.
Start with the first stated amount of time on the microwave and increase in small increments until you get a gooey consistency.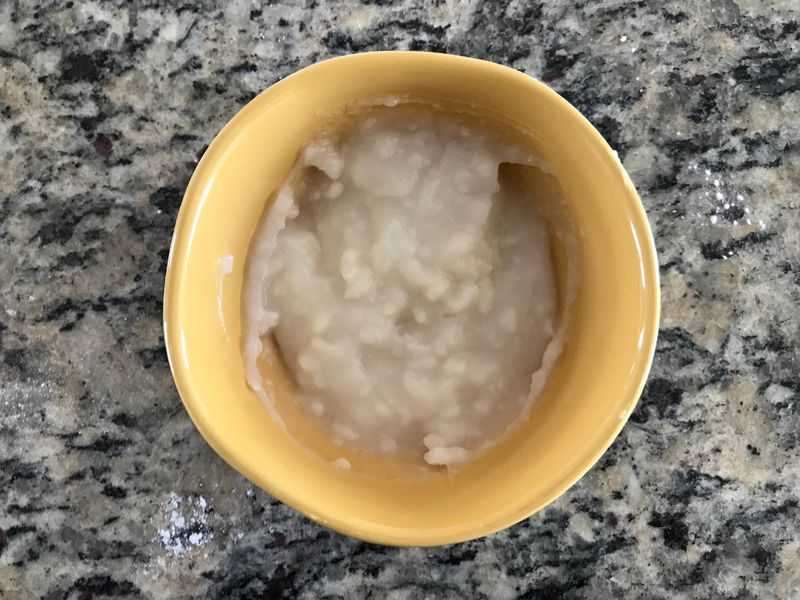 The secret to good radish kimchi
One key factor in making great radish kimchi is to make sure you get as much water out of the daikon as possible.
This is achieved by coating the cubed daikon in a salt/sugar mixture for an hour, which through the process of osmosis will draw the water out of the daikon. *Woohoo for science!*
Look how much water came out of my daikon from the salt soak!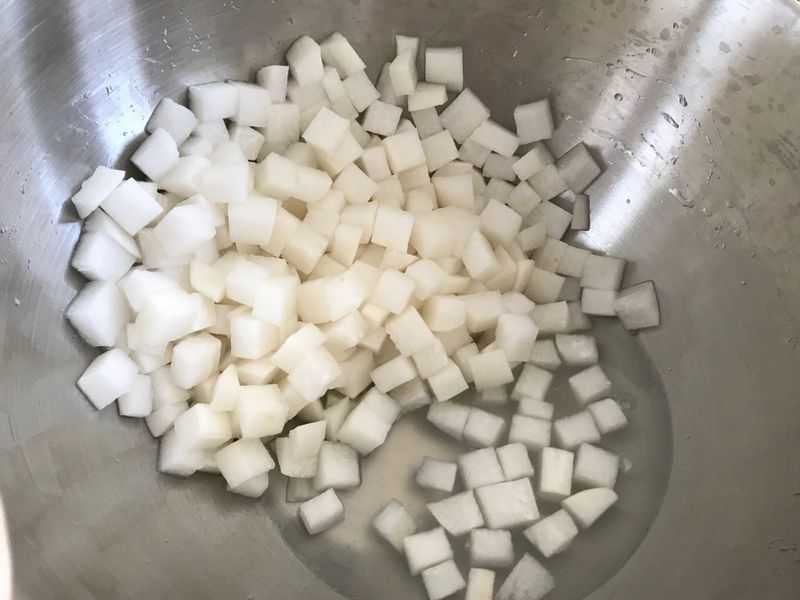 Removing water from radish kimchi
After the salt/sugar soak, you need to rinse the excess salt and sugar off of the daikon with cool water. You will still need to try and squeeze out as much water as possible out following that step.
My trick is to place it in a colander over a deep mixing bowl and use another bowl to push down GENTLY to squeeze out the excess water.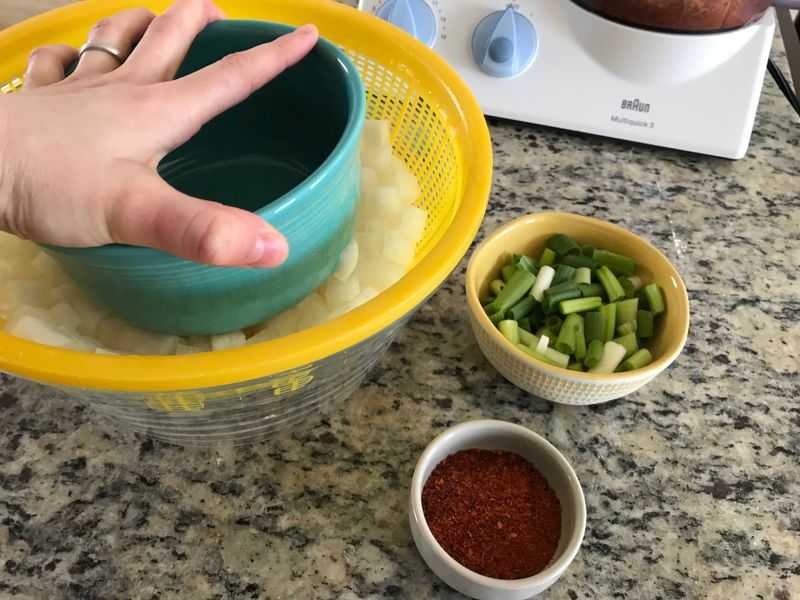 Gently is the key word here.
I was still able to get quite a bit of water out of my daikon with this extra step.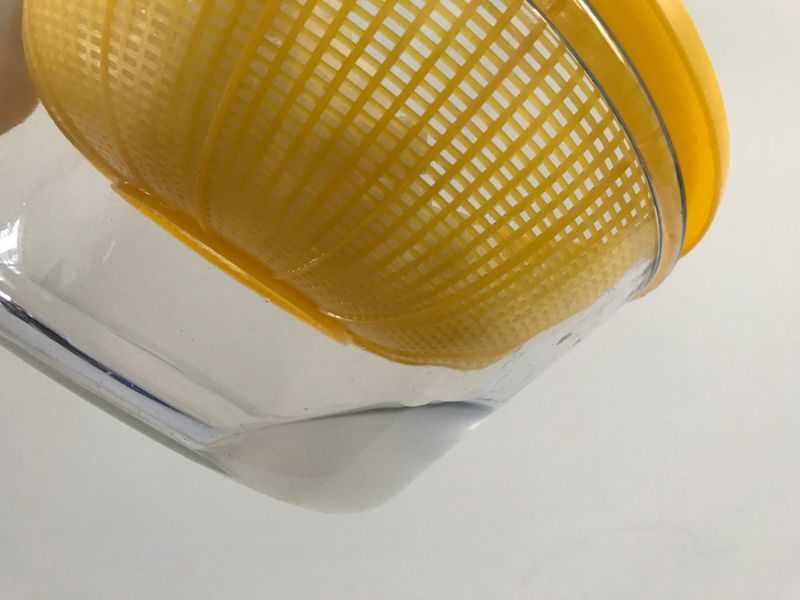 Separating the gochugaru
Also, you will notice that I had you separate the 4 Tbsp of gochugaru into 2 + 2 Tbsp.
The first 2 Tbsp will be mixed into the spicy base paste and the second into the daikon itself.
Now you are ready to make some awesome kimchi.
Make sure you share with you non-kimchi-loving friends to convert them into kimchi lovers 🙂
Pin it for Later!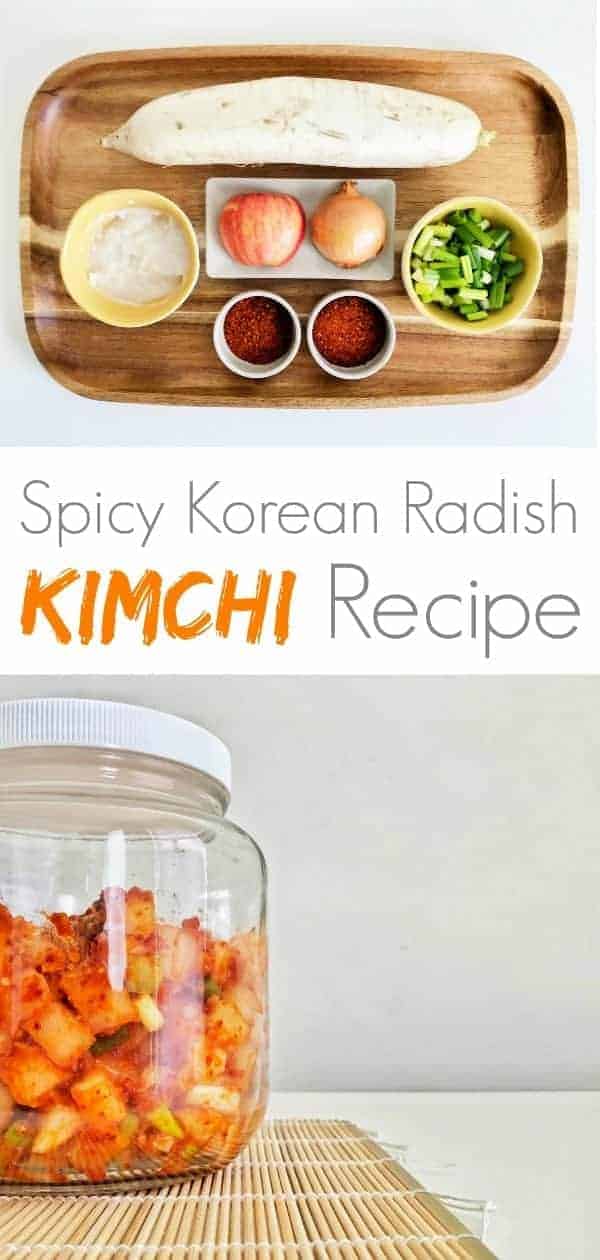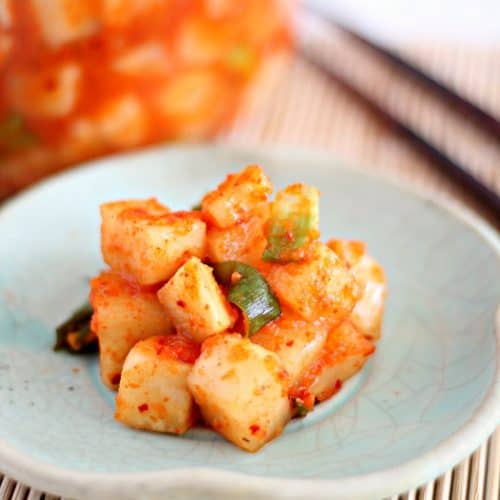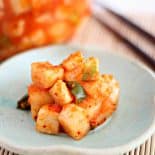 Korean Radish Kimchi Recipe (KKakdugi)
This spicy Korean Radish Kimchi Recipe (also known as kkakdugi) is salty, crunchy, and oh-so satisfying as a side or a quick snack. It also features gut-healthy probiotics and ingredients that boost your metabolism.
Prep Time
1
hour
10
minutes
Ingredients
2-2.5

lbs

daikon

1/2

cup

chopped green onions

1/2 inch pieces
Spicy base paste
1/2

small

red apple

peeled, cored, and chopped

1/2

small

brown onion

peel removed and chopped

3

Tbsp

fish sauce

3

cloves

minced garlic

2 + 2

Tbsp

gochugaru (Korean chili pepper flakes)

4 Tbsp total; keep seperated
Rice paste
1/4

cup

water

1

Tbsp

rice flour
Instructions
Prepare the rice paste
Mix the 1 Tbsp rice flour into the water and microwave for 1 minute. Remove and stir. If not solid, replace and microwave for another 30 seconds. Repeat until you have a semi-solid, gooey paste. Place aside to cool.
Prepare the daikon
Peel the daikon and cut off both ends. Cut the daikon into small cubes, about 1/2 by 1/2 inches.

Place the cubed daikon in a large bowl.

Mix the sugar and the salt together and add to the cubed daikon, stirring with your hands until combined and daikon is completely coated with the dry soak.
Prepare the spicy base paste
Place the chopped onion, chopped red apple, garlic, and fish sauce in the food processor and blend at fast speed until pureed.

Add the rice paste mixture and 2 Tbsp of gochugaru to the food processor as well and blend on medium speed until all ingredients are combined. Set aside.
Rinse the daikon
Once 1 hour has passed, rinse the daikon under cool water until all the excess salt and sugar have been removed. Drain in a colander and repeat several times.

Place the colander over a mixing bowl so that it it suspended over it without touching the bottom. Taking a smaller bowl, gently press upon the daikon so that all excess water is squeezed out of the daikon. Move the bowl all around while pressing to get all the water out. Be careful not to crush the daikon.

Leave to rest over the bowl to drain an additional 5 minutes.
Prepare the kimchi
Place the cubed daikon in a different bowl and add the remaining 2 Tbsp of gochugaru. Mix with a gloved hand until the daikon is coated with the gochugaru.

Add the green onions. Finally, add the spicy base paste and mix with your gloved hand until thoroughly combined.
Ferment
Place the kimchi in a large, airtight container on the counter at room temperature for approximately 6-12 hours. Then, place in the fridge.

Wait at least 1 day for the fermentation to improve the flavor of the daikon and enjoy with your favorite meal. Best after 3+ days.