Can't get enough of Korean food? This spicy Korean pork belly recipe is a knockout combination of tingling spices and rich pork belly. This easy recipe uses very few ingredients but is so satisfying — the pork belly just melts in your mouth!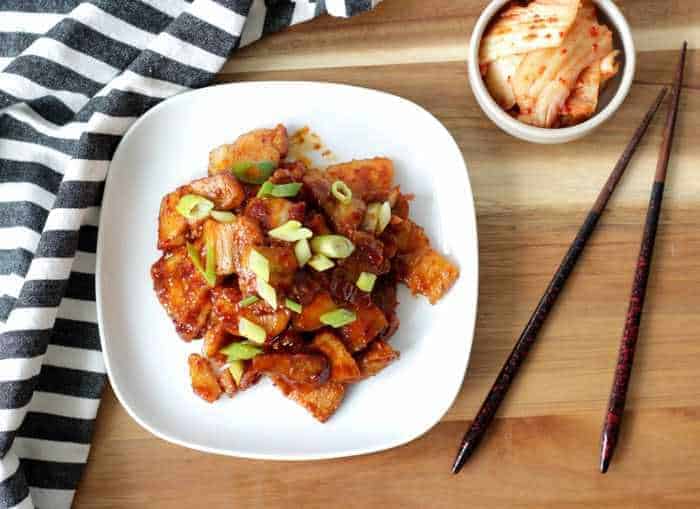 Spicy Korean Pork Belly
This pork belly recipe is actually a fusion between Chinese Twice-Cooked Pork and Korean spicy Samgyupsal. It just so happens that spicy samgyupsal is my absolute FAVORITE dish on the rare occasion we go out to eat at our favorite Korean restaurant. However, my husband objects to the restaurant pork…in his opinion, it isn't FATTY enough.
(We always joke that he is Jack Sprat, eating only fat and I'm the wife eating only lean, the exact opposite of the nursery rhyme.)
Related posts: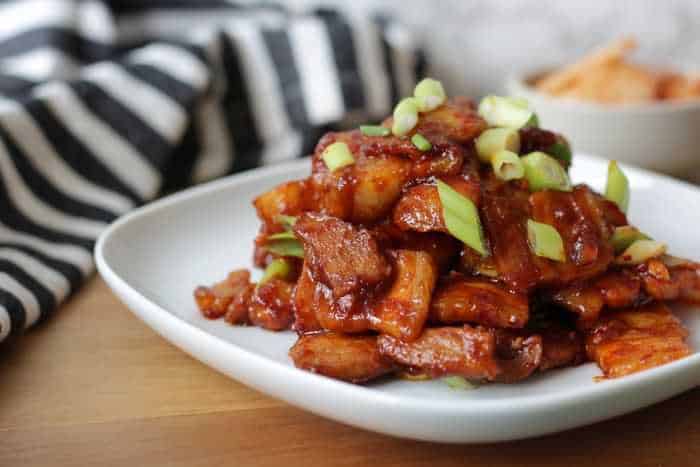 So I created this pork belly recipe
My husband gets that fatty pork he loves and I get the spicy samgyupsal I love. I might add I like my recipe EVEN MORE than the restaurant samgyupsal now 😉
Even though I am not a fat-fiend like my husband, I don't mind the fattiness of this dish. It just melts in your mouth, and the spices are right on point.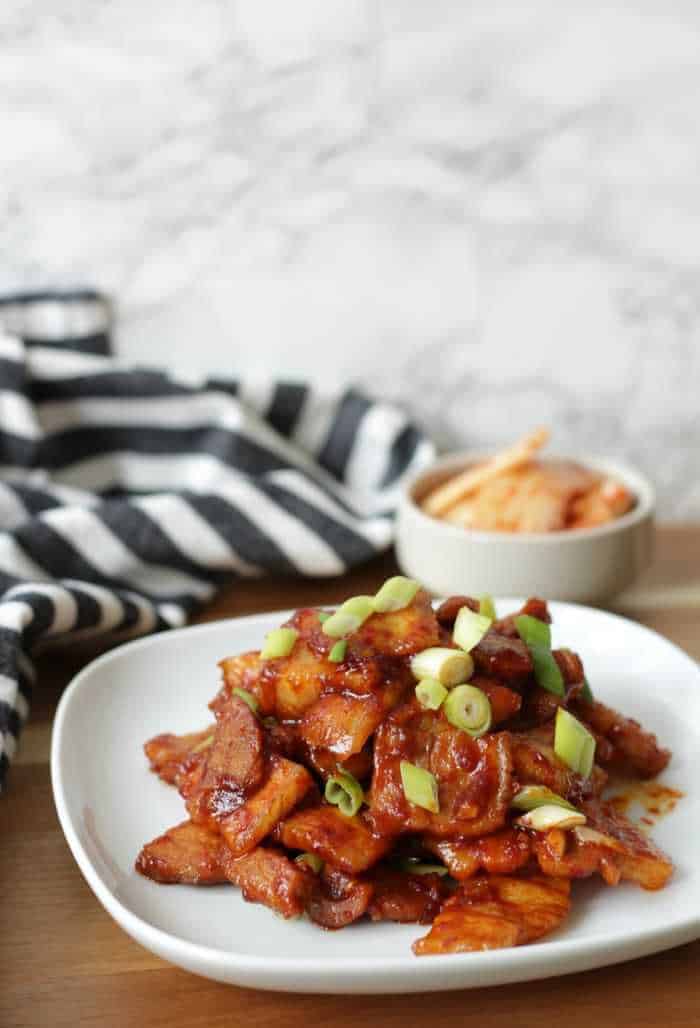 Pair it with rice and some radish kimchi for the ultimate dinner.
The radish kimchi adds a refreshing counterpoint to the heavy richness of the pork.
Here is what you will need to make this pork belly:
Gochujang(spicy chili paste)
Gochugaru (spicy korean chili flakes)
Agave or brown sugar
Mirin
Low sodium soy sauce
Garlic
Cooking oil (I used avocado oil)
Green onion for garnish
A pot and good quality wok (I use this one, has lasted me almost 10 years!)
(Note: my grocery store only carries cubed pork belly, but if yours is in a large block you can buy the larger then cube yourself as well.)
Rinse the pork belly and put in a large pot, adding water to cover.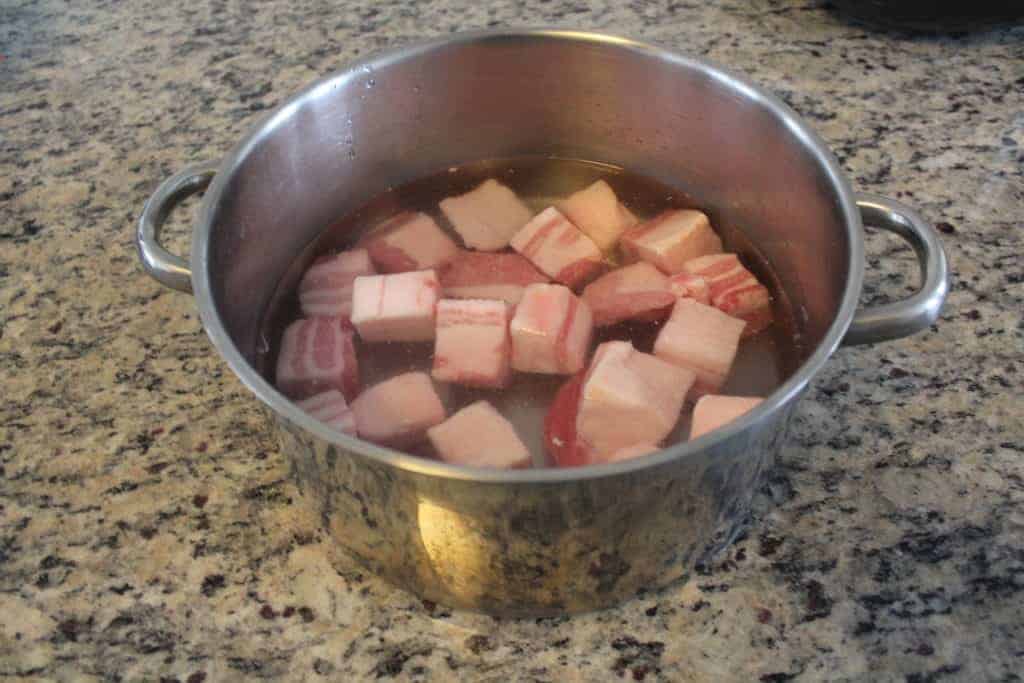 Put on stove over high heat and bring to a boil, boiling for 5 minutes.
While the pork is coming to a boil, assemble your ingredients. Combine them and mix thoroughly.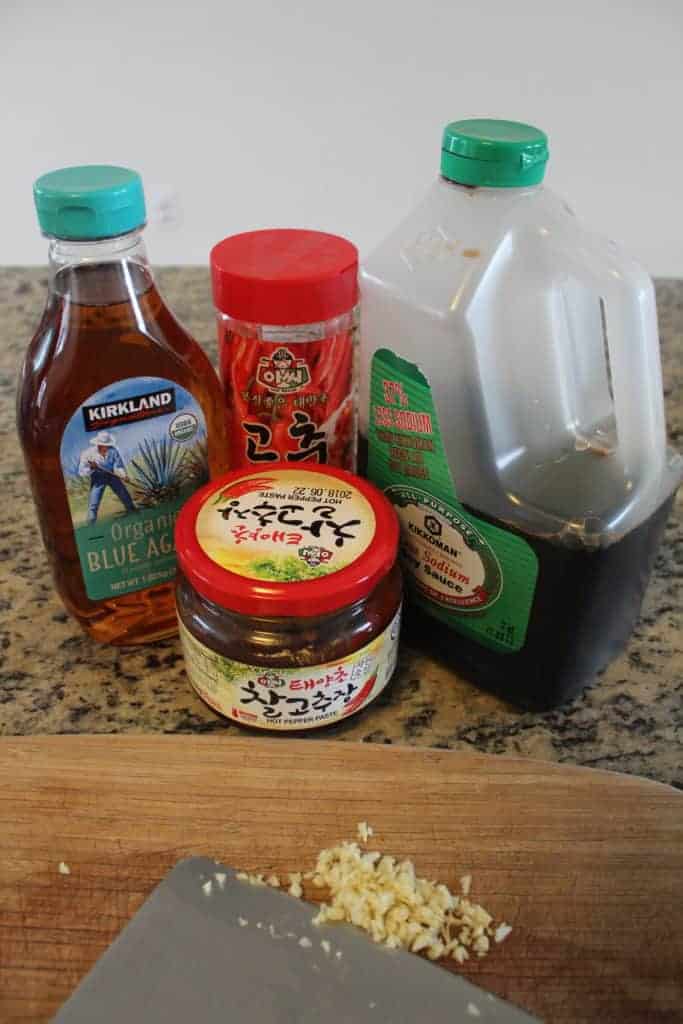 (I always use the Assi Brand gochujang and gochugaru…you should be able to find them at your local Asian market.)
After the pork belly has boiled for 5 minutes, take it out and rinse it in cold water right away. Drain well.
After pork is cool enough to handle, you are going to slice it vertically into 1/4 inch pieces, from the fat side down to the meaty side.
If you still see pink in the center, that is fine! We are going to cook it again.
Place a wok or pan over medium-high heat.
Once hot, add 2 Tbsp oil and wait until shimmering hot. Add the pork and cook until meat is just cooked through and no pink remains.
Then add the sauce mixture and stir to coat the pork completely.
Reduce heat to low and cook 2 more minutes, stirring occasionally.
(I would normally use brown sugar for this recipe, but hubby came home with two bottles of agave from Costco, so I tried to incorporate into this recipe and it turned out great! But if brown sugar is what you have BY ALL MEANS use that.)
Finally, remove from heat and add the green onions!
Here it is in my wok.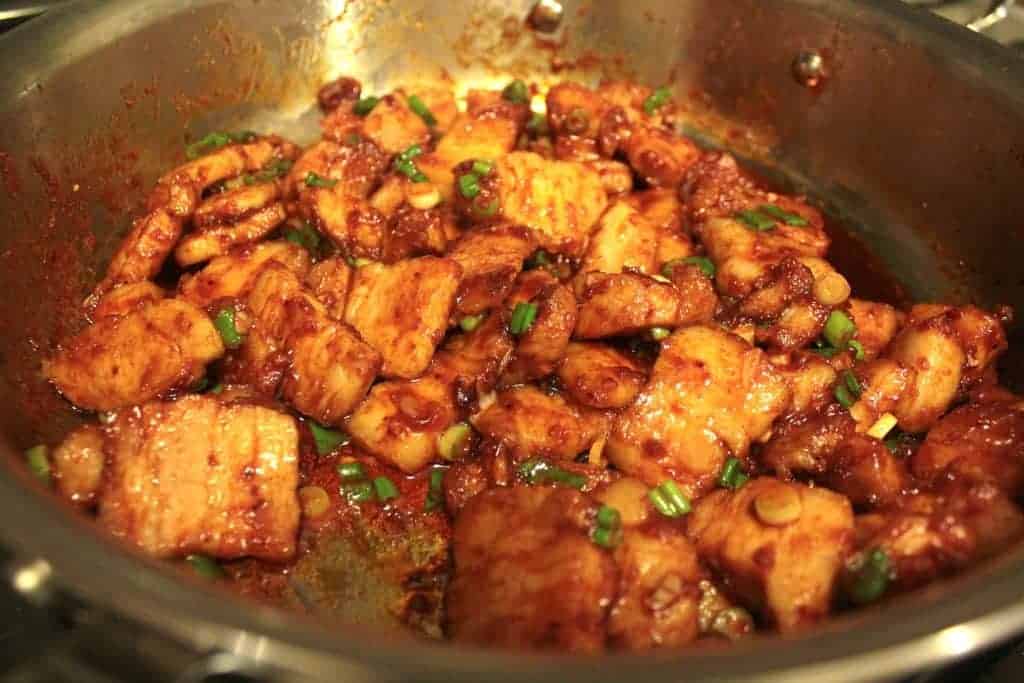 Now you are ready to serve!
Pin this!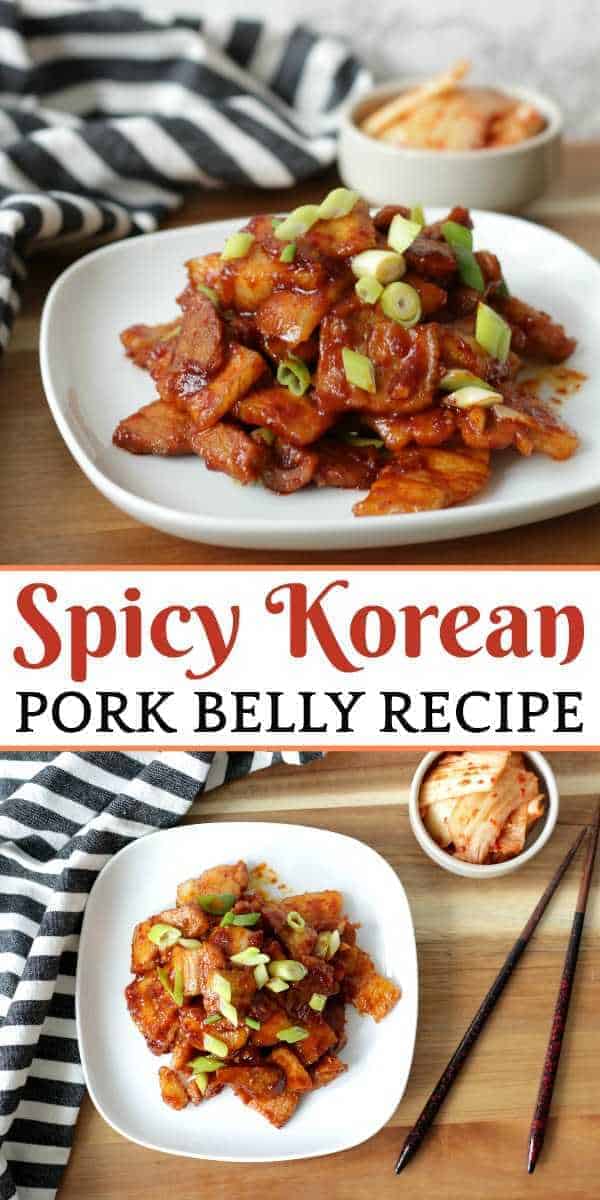 Spicy Korean Pork Belly
Ingredients
1.5-2

lbs

pork belly

1/4

cup

gochujang

1

Tbsp

gochugaru

1

Tbsp

agave OR brown sugar

I used agave

1

Tbsp

mirin

1/4

cup

light soy sauce

3

cloves

garlic

2

Tbsp

oil

I used avocado oil

3

stems

green onions

cut into thin rounds, green and white
Instructions
Take cubes of pork belly and place in a pot. Cover completely with cold water.

Cover and bring to boil. After reaching full boil, remove cover and boil for 5 minutes.

Remove from stove and drain, rinsing immediately with cold water. Set aside to drain and cool completely

While the pork is boiling, assemble the sauce ingredients (gochujang through garlic).

Finely mince garlic. Add all sauce ingredients (gochujang, gochugaru, agave/sugar, mirin, soy sauce, and garlic) together and stir until combined.

After pork has cooled enough to handle, slice each cube vertically (from fat side through to lean) into 1/4 inch slices. If there is pink remaining that is OK! We will be cooking again.

Place a wok or pan over medium high heat. Once hot, add 2 Tbsp oil and wait until shimmering hot. Add the pork and cook until meat is just cooked through and no pink remains.

Add the sauce and stir to combine with meat. Cook 2 more minutes.

Remove from heat and add green onions.

Serve with rice and kimchi.
SaveSave
SaveSave