Blushing brides everywhere are gearing up for wedding season and the ringing of wedding bells has never sounded so appealing (lol). That's because savvy couples aren't interested in going into debt over Jordan almonds and Louis Vuitton dresses anymore! If you are planning a wedding on a budget, read on to find out all the best budget wedding ideas that will help you save you big bucks and still get your dream wedding.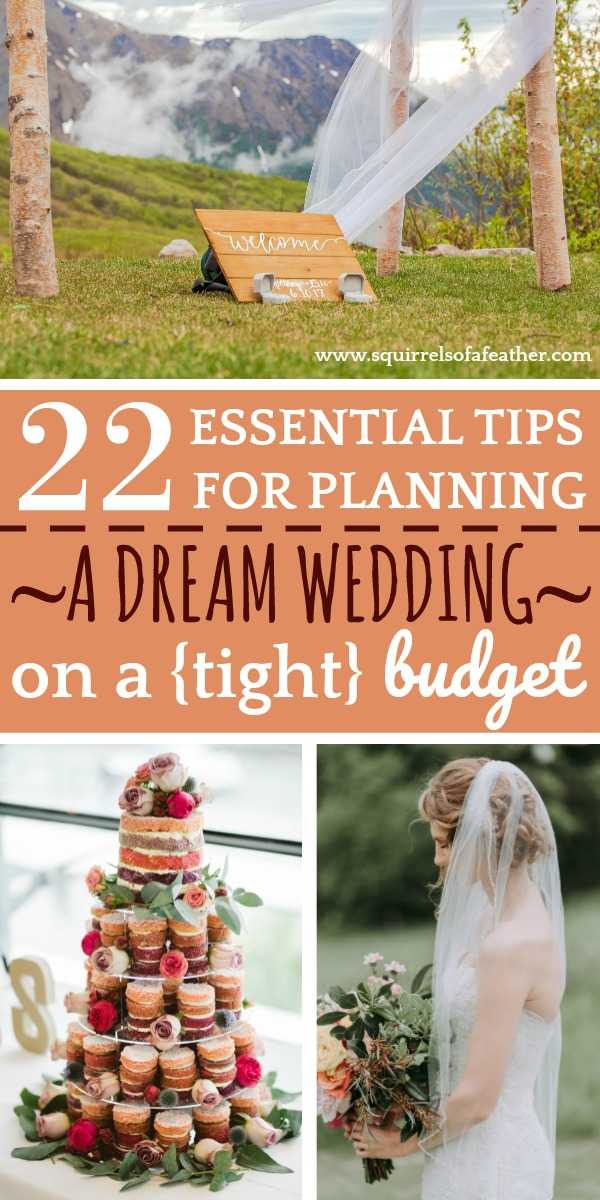 Planning a wedding on a budget
This isn't just a collection of wedding ideas scavenged from the Internet…many of these tips I used to save money on my own wedding (and others I wish I had used, in hindsight).
My husband and I were married in October of 2010 in Chicago, at a time when wedding costs in The Windy City had ballooned to over $53,000 (that's including the cost of rings and honeymoon).
I knew I was going to have to roll up my sleeves and come up with some great budget wedding ideas to keep our wedding costs low.
Since both my parents passed away a long time ago and my husband's family was in no financial position to help us, we knew we would have to shoulder all the financial burden of the wedding.
I want you to know it is ABSOLUTELY possible to plan a dream wedding on a budget — here are all the best tips. Pick and choose the ones that work for you.
This post may contain affiliate links for your convenience. That means that if you make a purchase, I will receive a small commission at no extra cost to you. I only recommend products or services that I fully believe in and use myself. Read more here.
Start saving in advance
If you are short on savings, make sure that you start stashing that cash right away!
How much should you save? Well, if you are starting from absolute zero ideally you should plan to save the total cost of the wedding, divided by how many months you have to save.
Therefore, if you are planning a wedding on a budget of $20,000 and will get married in a year, that means that you should aim to save around $1,667 per month to have enough saved up by your wedding date. (Don't forget that many vendors will require a deposit which will be subtracted from the final fee.)
Not doable? You have two options: you can either reduce the planned cost of the wedding or extend your engagement in order to save for a longer period of time.
For example, you would only need to save $834 per month for a $20,000 wedding if you plan to push the date back 2 years. Conversely, if you reduce the budget to $10,000, it will also only take you $834 per month to save up for a wedding in one year!
Write a budget
Brides nowadays have so many awesome tools at their fingertips that can help them plan ahead and save.
If you need help writing a budget you can check out the Wedding Cost Estimator at Cost of Weddings and see what wedding costs might look like in your particular area.
(Not confident in your budgeting abilities? Find out how to create the perfect budget in 7 easy steps right here!) 
Be your own wedding planner
Wedding planners can cost an arm and a leg. Plan your own wedding and save on planning costs — it's even possible if you are working a full-time job! (Trust me, I did it.)
You don't need a costly wedding planner — instead, simply invest in a good book that has all the organizers and checklists to help you map out every aspect of your big day!
Bonus! A book can't try and steal your husband à la The Wedding Planner.
(This is the newest edition of the book that I used to plan my entire wedding on a budget. My favorite part was the week-by-week planning checklist, which they provide for both short and long engagements!)
Identify your wedding must-haves
Sit down with your significant other and jot down a list of the items that each of you feels will be most meaningful to invest in on your big day.
Been dreaming of an amazing wedding dress since you were a child? Make that a priority. Want beautiful memories that you can share with your children someday? Put photography on that list. Dreaming of a destination wedding overlooking a beautiful beach? Write it down!
This is a great exercise for you and your partner to explore your wants versus needs and see how you can work together when it comes to financial planning. Make it fun by having the discussion over a bottle of wine or a cup of coffee.
Get married any day except Saturday
We chose to plan our wedding on a Sunday and saved several thousand dollars by doing so. One of my girlfriends got married on a Monday and cut costs by around 50%!
Bottom line: most people want to get married on a Saturday. Be flexible with your dates and you can save a lot of money!
Have an off-season wedding
Prime wedding season will vary from state to state and region to region, so you need to look at your particular area to see what months would be considered "off-season" for weddings.
We got married right at the fringe of wedding season when things were slowing down and it definitely saved us money (we lucked out and had excellent weather for the day).
If you decide to plan an off-season wedding, it's good to have a backup plan in case weather conditions put a kink in your schedule (like being able to move inside your venue if it rains).
Winter is the least popular time for weddings, so you can save big if you decide to go with a winter wedding.
(I can't image why — I mean, who wouldn't want the chance to wear a fur-lined cape like the one below to their wedding! Just imagine how amazing that would look against a snowy backdrop.)
Choose a venue that doesn't need much decoration
If you chose a location that is already beautiful, you won't need to spend thousands of dollars to decorate it!
Weight the cost of the venue and the amenities they offer (food prices, how much wait staff, alcohol included, etc) with how much you can save in other areas by choosing that venue.
Use space that you already have
If you have a nice house with a big backyard, why not use that yard and host your wedding there? Pop up some tents and you are ready to party!
If you have any friends or family that own picturesque property, reach out to them and see if they are willing to let you hold your wedding there. The money that you will invest will surely be less than an outside venue.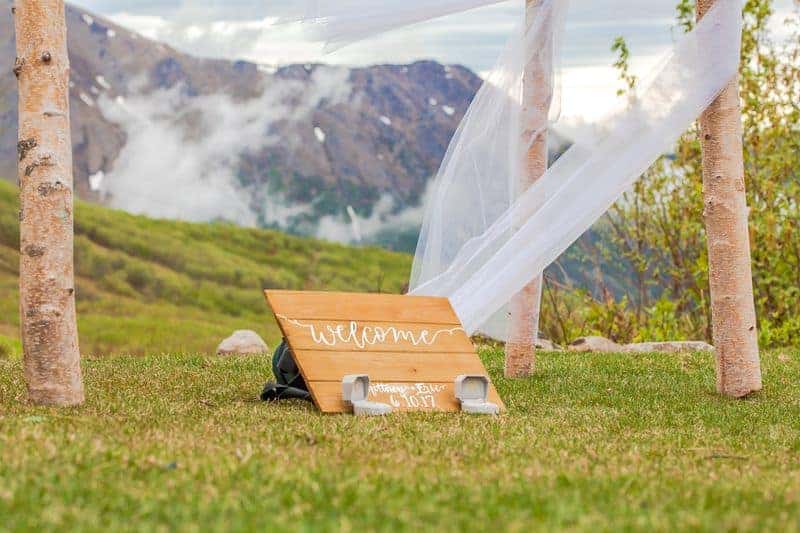 Shop around for a venue
If you don't own your own house or know anyone in your local area with any scenic property, you can shop around the local venues. There are all sorts of venues in all different price ranges!
A good place to start is at online wedding sites like Weddingbee and The Knot, where you can find local vendors and reviews from couples who have used their wedding services. Start by exploring the highly-rated venues in your price range.
Also, don't be afraid to explore outside of your areas! Living in a metropolitan area often drives up the cost of weddings, on everything from food prices to venue costs. Moving our wedding out of Chicago saved us a lot of money; we ended up finding a sweet little golf course in the suburbs to host our wedding (although my husband nearly got knocked out by a stray golf ball! Watch out for golf balls if you choose a golf course, FYI.)
Consider returning home to have your wedding if you are from a cheaper area or consider expanding your search outside of your expensive city.
Invite fewer people
It's simple math; fewer guests equal less food, flowers, alcohol, space, and everything else. Try and cut the guest list as much as possible and save across all categories.
Do you really need to dance the Cha Cha Slide with your father's best friends cousin twice removed?
Cut costs on flowers
Instead of purchasing expensive arrangements, brainstorm ways you can DIY your own floral arrangements!
Paper flowers can make stunning photography props and backdrops. Crafty brides have even made bouquets from things like vintage brooches or buttons!
Even purchasing glass cylinder vases in bulk and submerging a single flower can result in a show-stopping centerpiece!
DIY menus and cards
It pays to do-it-yourself! You can create place cards, menus, and any other necessities nowadays with your printer and some nice cardstock.
(I tried to make my non-English speaking family members feel welcome by creating table cards with Chinese characters on them.)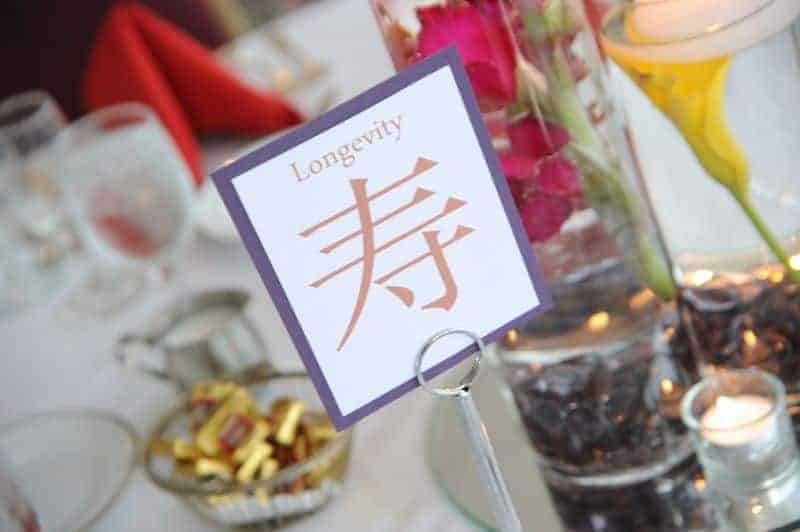 Hold the ceremony and reception at the same venue
Instead of getting married in a church and the driving to a separate location, cut costs by selecting a venue that allows you to hold the ceremony and the reception in the same place!
Shall we dine?
Think about ways to save on meals.
Sit-down dinners are more expensive than buffet-style meals. Or if you are hosting a backyard wedding, you can even turn it into a potluck! I know a girl in Hawaii who even hosted a luau-style wedding and roasted a pig, Hawaiian-style!
Email your save-the-dates
Even your 95-year-old Grandma Margie probably has a Gmail account now. Save money and the environment and send your save-the-dates by email.
That way you can save money and still follow up with formal invitations (or just email those too, I won't judge).
Shop second-hand or discount
You can find great deals on designer dresses by shopping at places like Poshmark, eBay, thrift stores, etc. Even online wedding sites like Weddingbee now have a Classifieds section where brides can get deep discounts on designer digs.
Prom dresses also cost much less than wedding dresses but can look just as nice. And don't overlook Amazon!
(Would I get married tomorrow in this dress? Yes, yes I would!)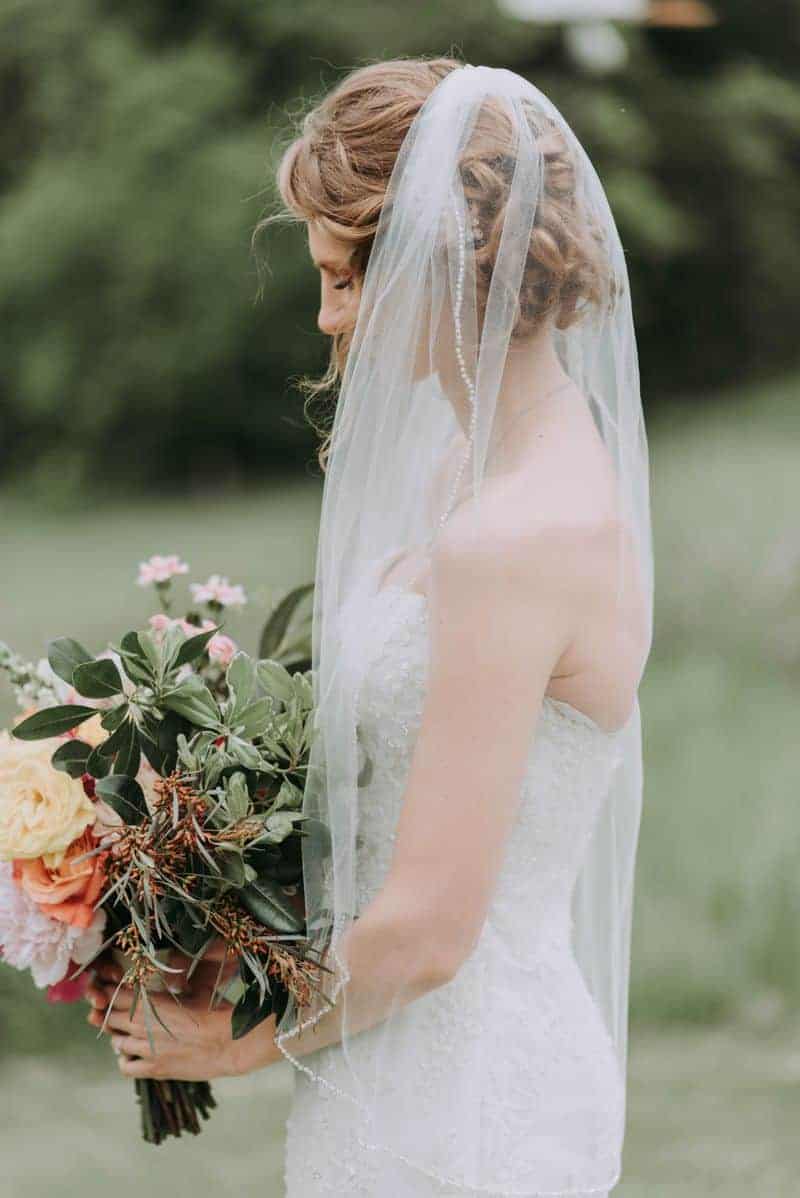 Have a friend marry you
Have a family member who is an officiant or even that odd friend who decided to get certified as a pastor in college?
Ask them to marry you and save on officiant costs.
DJ your own party
If boogieing to music isn't high on your priority list, you can drop the DJ and have a music-loving friend drop a beat instead.
Even if you invest in some outdoor speakers like these to hook up for your backyard wedding, you are still going to spend a fraction of what a DJ would cost!
Have your cake and eat it too
Are you or someone you know really into baking? Consider a DIY wedding cake or even a dessert bar featuring such goodies as cupcakes, s'mores, or even an ice cream station! Any of these options are sure to be winners with your guests.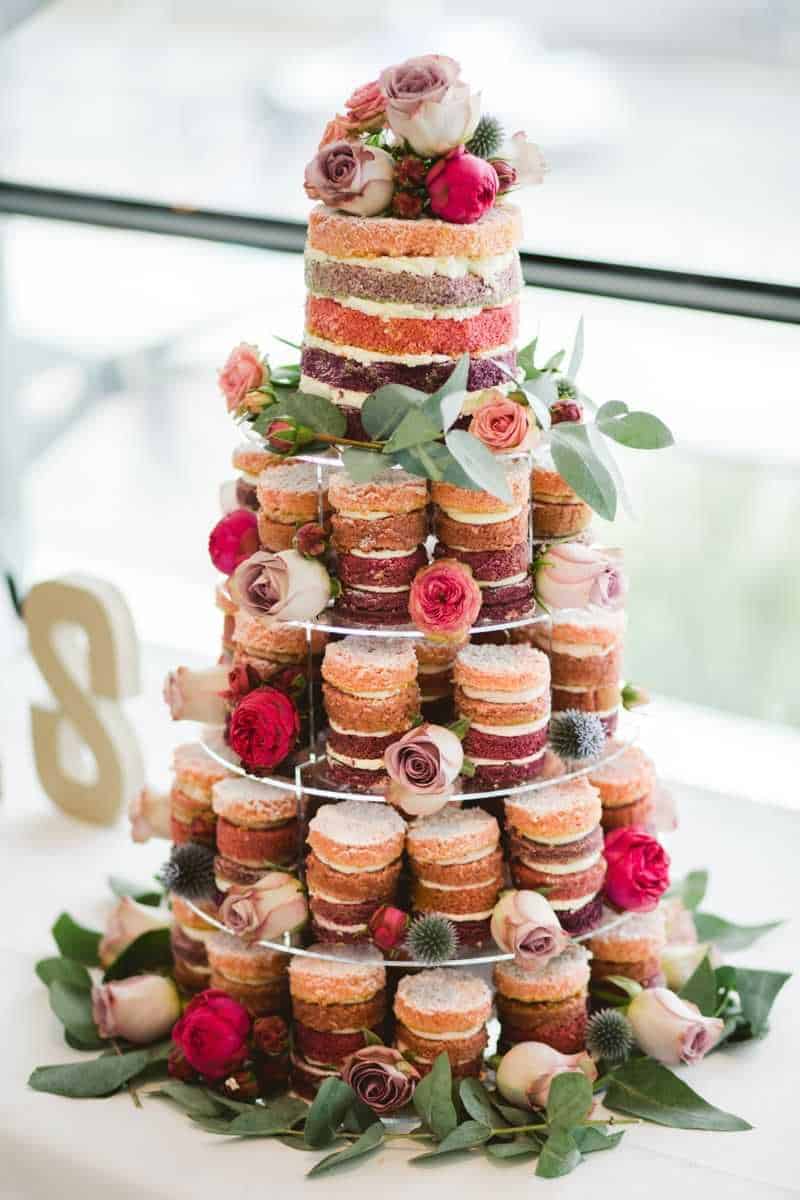 Recruit help
Have friends or family close? Recruit as much help as possible for your big day.
There is any number of errands that people can help with, from baking desserts to helping with the shopping and planning to transportation to and from the wedding.
Most of your loved ones would be honored to be a part of your big day. Don't be afraid to reach out!
Get married at the courthouse
Plan B; skip all of the above and just get married at the courthouse! The family that saves together, stays together after all.
Sell all the things
After the big day is over, most of the items that you have purchased for your wedding can now be sold if you don't want them anymore. I myself sold my wedding dress for $650 after my wedding!
Flower vases, decorations, clothing, DJ or photography equipment, etc can be sold if you decide you don't need it anymore. This is a good way to recoup some of your wedding spending!
(Read about how I have made over 10k by selling my old stuff online…and you can too!)
I hope you enjoyed these money saving budget wedding ideas! 
Let me know your favorite money saving tip for weddings in the comment section below.