Looking for cheap and easy dinner ideas that will make your wallet and tummy happy? Now you can tighten the belt on your budget without feeling like you are sacrificing any flavor with these 35 mouth-watering cheap dinner ideas.
Now creating a meal plan for your family with simple and affordable ingredients has never been easier.
These frugal dinners work great for singles or families, with great budget-friendly meal ideas for all diets and palates. Your monthly food budget will be thanking you.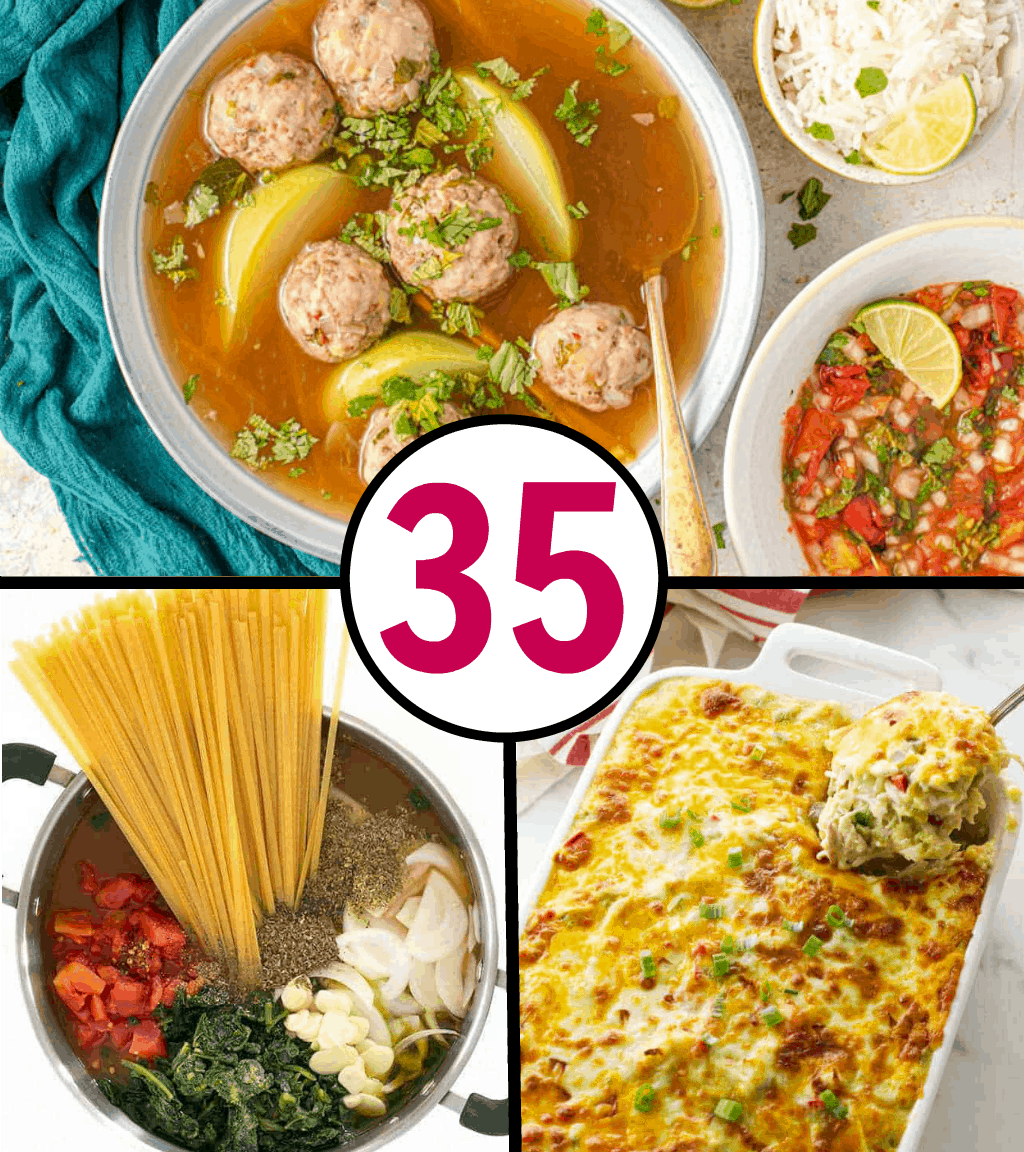 This post may contain affiliate links for your convenience. That means that if you make a purchase, I will receive a small commission at no extra cost to you. Read more here.
Cheap dinner ideas + ways to save money on food while still eating healthy
This list of budget-friendly recipes includes meals that you can prepare and eat at several budget-friendly prices points, including:
Meals under $1 per serving
Meals under $3 per serving
Meals under $5 per serving
Meals under $10 per serving
While these 35 cheap dinner ideas are a great place to start, there are plenty of other easy ways for you to save money on food when money is tight before you even start cooking.
In fact, you can start saving money right in your very own home before you even head to the grocery store!
SHOCKING!: 50 Small Things We Stopped Buying That Ended Up Saving Us $5,000+ a Month
Guide to eating well even when you are broke
Most of us have been broke at some point in our life.
No matter if you are a college student trying to juggle your studies and still eat a decent meal or if you are a family of four or more trying to stretch your food budget, saving money on groceries can be stressful.
That being said, there are steps you can take to make sure you can still eat yummy and healthy food, even when on a budget.
#1. Know the best foods to buy when you are broke
If money is tight, there are definitely certain foods that you can buy when you are broke that will help your money stretch further while still filling up your belly.
Because food is one of the biggest household expenses for most families, it pays to be as frugal as possible!
Here are some foods you can buy when you are broke but still want to eat well.
Many of these cheap foods are shelf-safe, so if you look for them when they are on sale, you can stock up for the tough times!
The 20 best foods to buy when you are broke are:
Lentils
Dry beans
Dry pasta
Oats and grains
Rice
Canned tuna
Peanut butter
Whole chicken
In-season produce
Potatoes
Onions
Carrots
Garlic
Frozen vegetables
Flour
Spices
Salt
Sugar
Eggs
Milk
There are so many cheap and delicious meals that can be made using a combination of these ingredients!
RELATED POST: Savory Leftover Rice Pancakes Recipe (It's So Cheap and Tastes Great!)
#2. Saving money by meal planning
Saving money on food and groceries starts before you even head to the grocery store.
The best way to save money on food every time you go shopping is to use meal planning.
You can create a basic meal planning menu around cheap staples, like the ones listed above, stocking up on those and then also buying more expensive items on sale and with coupons whenever possible.
After completing your shopping you can then go home, create a weekly menu, then start meal prepping for the rest of the week.
Meal prepping activities include things like cooking huge crockpot meals on the weekend (if your family is anything like mine, you will need the extra-large size) and putting it in containers for easy reheating the rest of the week or chopping veggies and fruits for easy-to-grab snack packs for your kids.
Kids are more likely to grab healthy snacks when they are presented in cute little packages!
Most grocery stores now offer online apps in addition to their weekly mailers of for-sale items; you can start by making a shopping list based on items that are on sale and also grab those that you need immediately to round out your supplies.
LEARN MORE: See how your grocery budget compares to the average family and find out how to plan your grocery on a budget from start to finish.
#3. Don't pay extra for "convenience"
Convenience can be expensive!
Buying frozen dinners and pre-sliced and packaged food often comes at a price — namely, a higher price point!
Grocery stores also like to play sneaky tricks to try and get you to spend more money, like placing the more expensive brand-name foods right at your eye level so you are more likely to buy.
Take the time to around and spot the better bargains; often the cheaper brands taste just as good or better than more expensive ones.
NEED MONEY HELP? Find out how we paid off $250,000 of debt in 5 years and reached debt freedom!
Now on to the cheap dinner ideas!
Here are 35 easy and cheap dinner ideas for every budget and diet, including some vegan, keto, and gluten-free options!
Remember, recipes can always be adjusted; if you don't like any of the ingredients you can omit them (which can also help save you moolah) or substitute something else!
These easy dinner recipes have been divided into categories by proteins so that you can find what you are looking for based on your meat selection (or lack thereof), including:
Chicken
Beef
Pork
Meat-free/vegan
Seafood
Cheap dinners with chicken as an ingredient
Instant Pot Chicken Fajitas are the kind of quick and easy make-ahead meal that's perfect for feeding a crowd.
If you're looking for a frugal meal that you can easily double or triple, these Instant Pot Fajitas are it.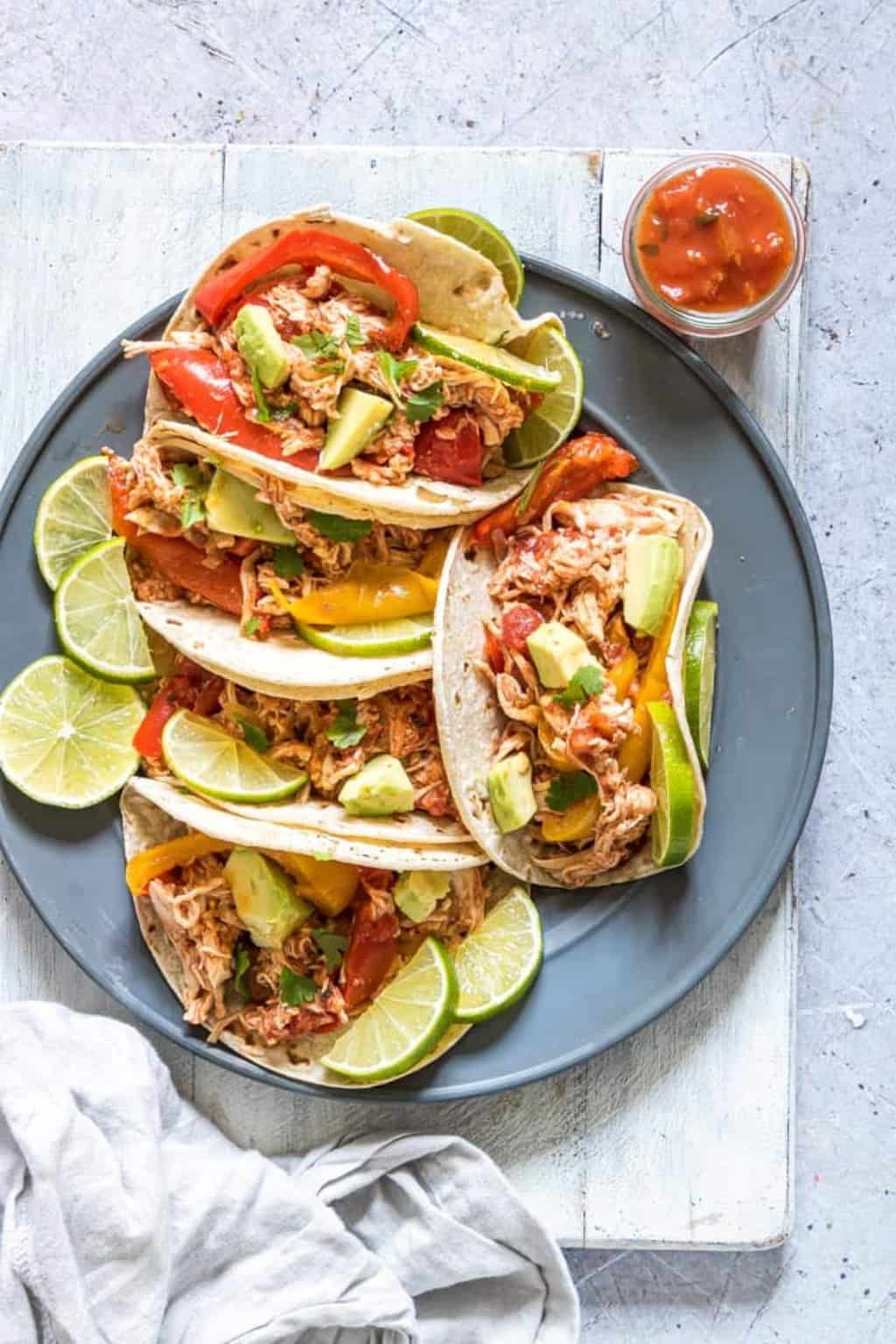 One-Pot Creamy Cajun Chicken –

Budget Bytes
Beth's website is THE go-to place for cheap dinner ideas, as well as side dishes, desserts, and other dishes that will make your mouth – and your wallet – happy!
Her one-pot creamy cajun chicken is a quick and easy dish that packs a powerful punch of flavor.
This cheap chicken dinner is creamy, smokey, spicy, all in one perfect weeknight meal.
However, if you don't like any of those flavors, Beth also offers a lot of custom variations to make it not-creamy, not-spicy, etc.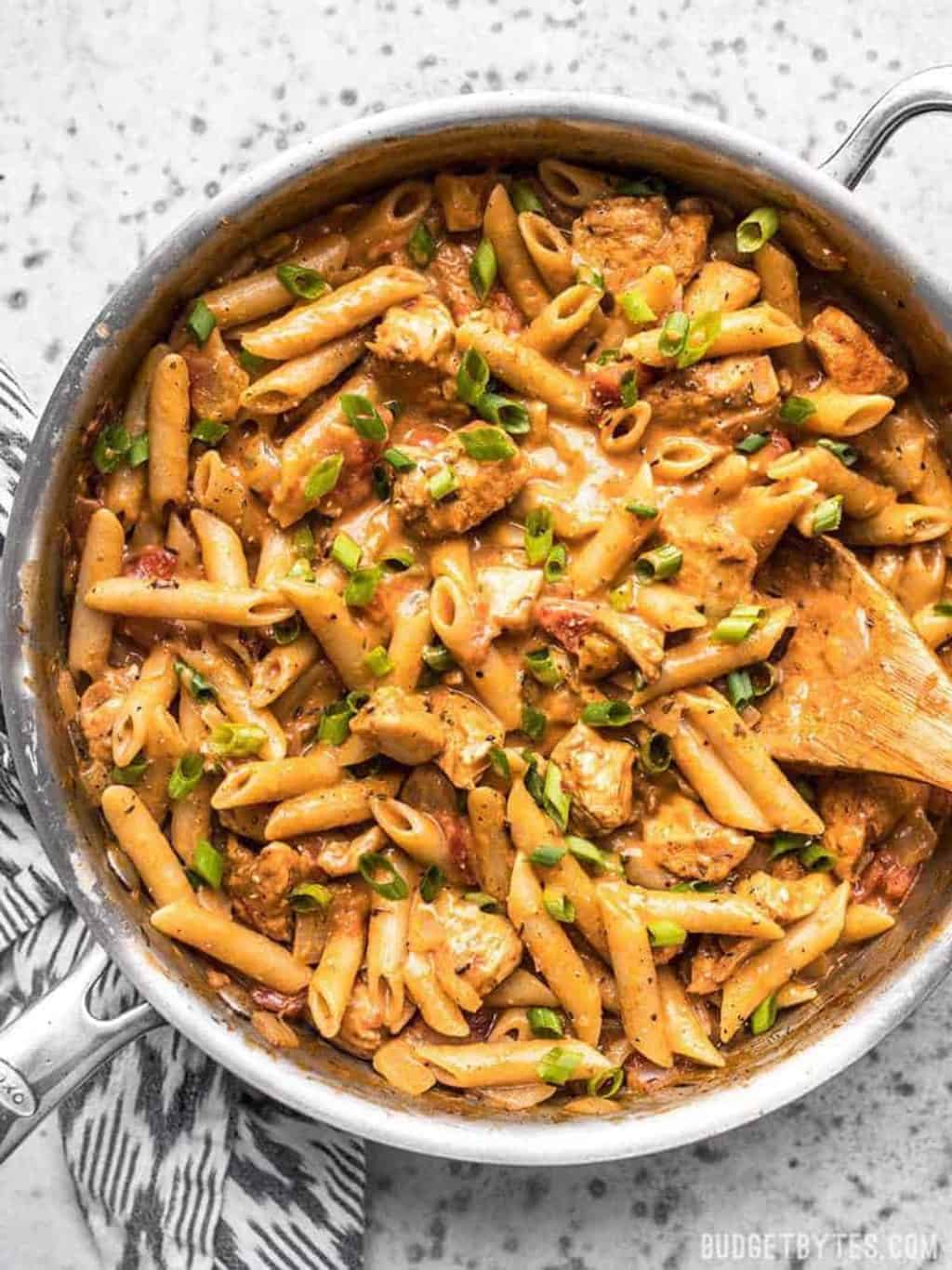 Chicken Tortilla Casserole –

Savor the Best
In just five minutes, these delicious chicken tacos are in the crock-pot and cooking away!
Ridiculously easy with just a few common, budget-friendly ingredients – and sure to become your go-to lifesaver!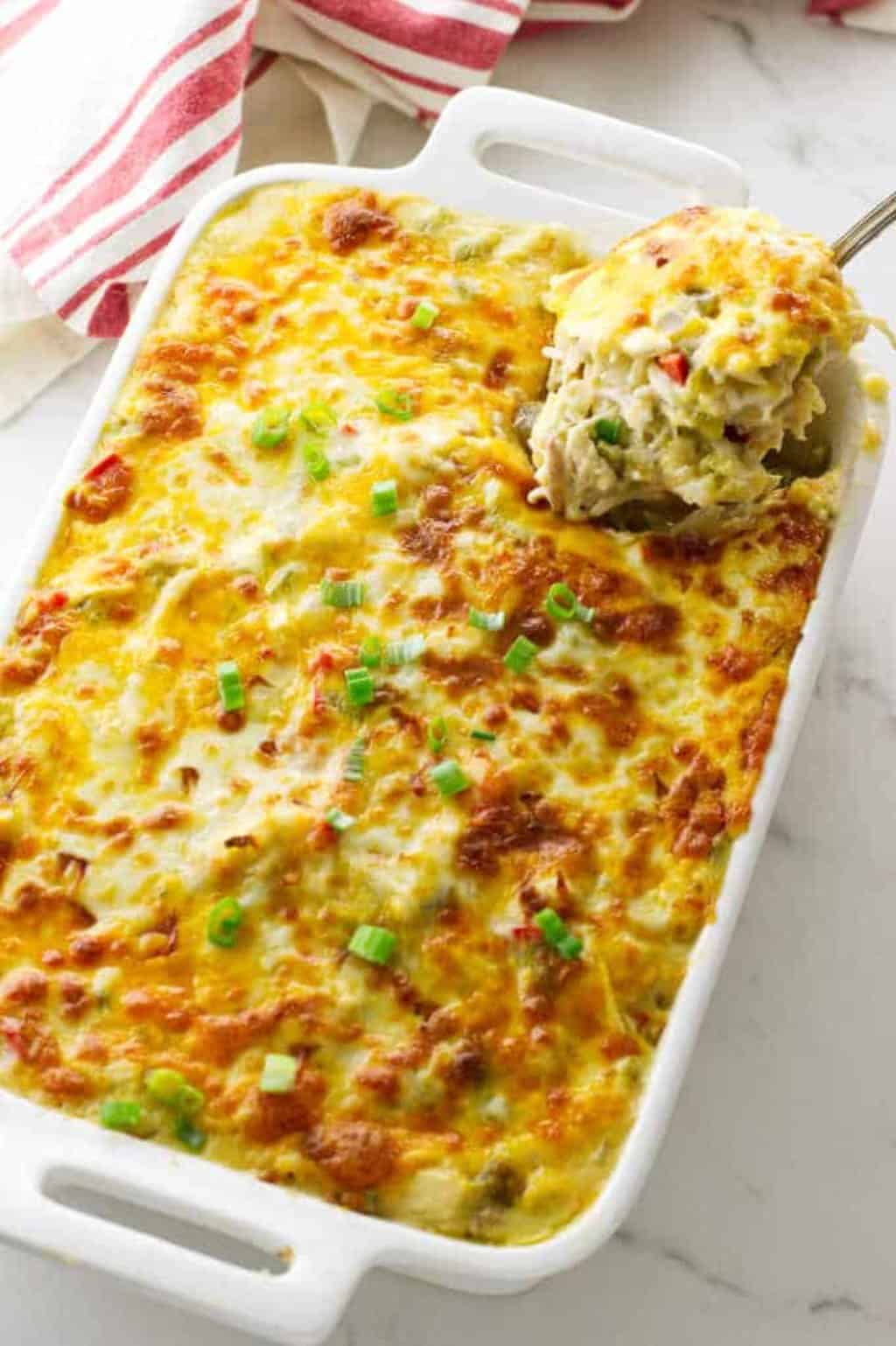 Ready in under 30 minutes, this White Chicken Chili is an amazing combination of chicken, beans, and veggies. This complete meal is totally customizable to suit your needs and can be frozen if you have leftovers.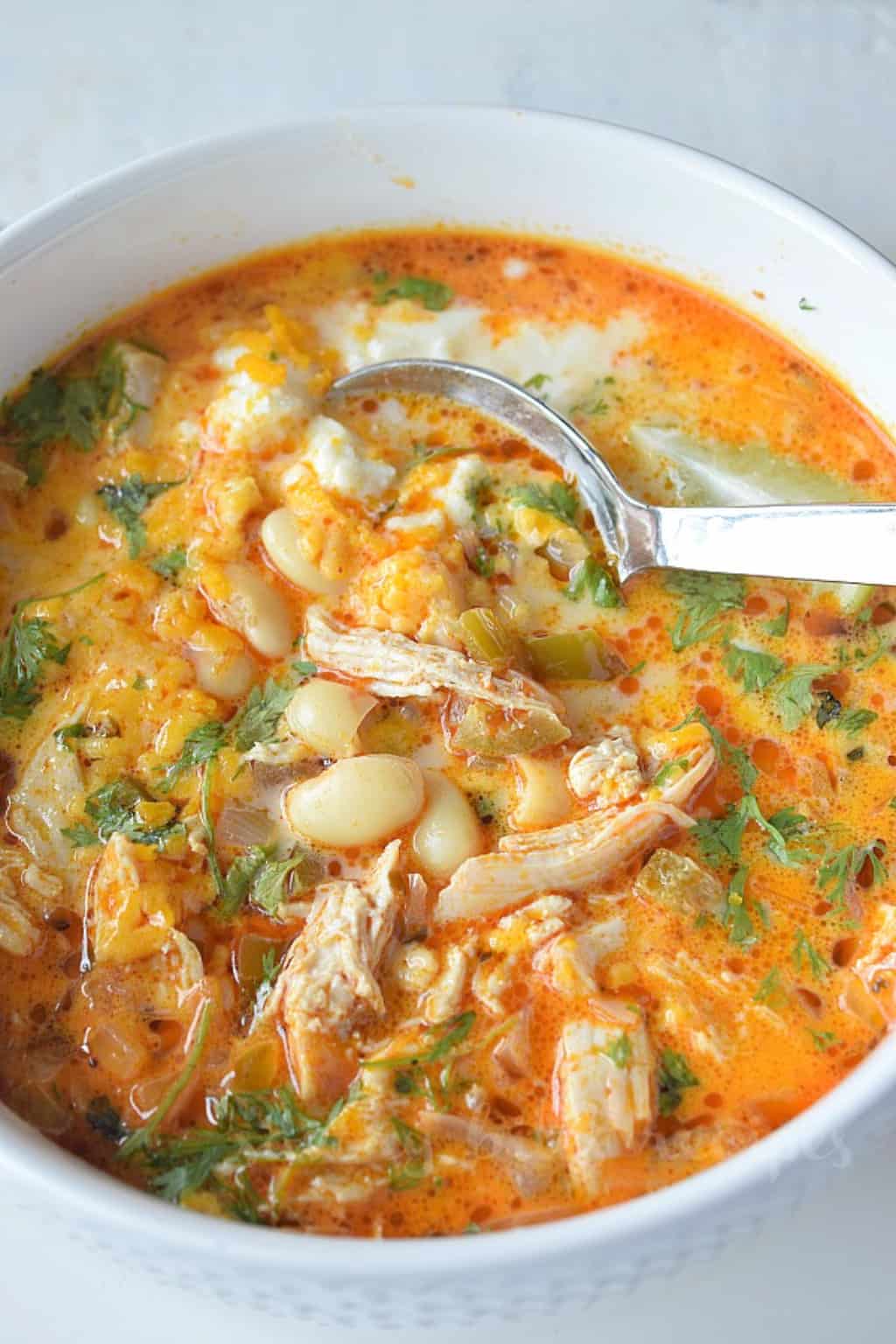 This one-skillet meal uses inexpensive chicken thighs and fresh lemons to get maximum flavor without a ton of cost.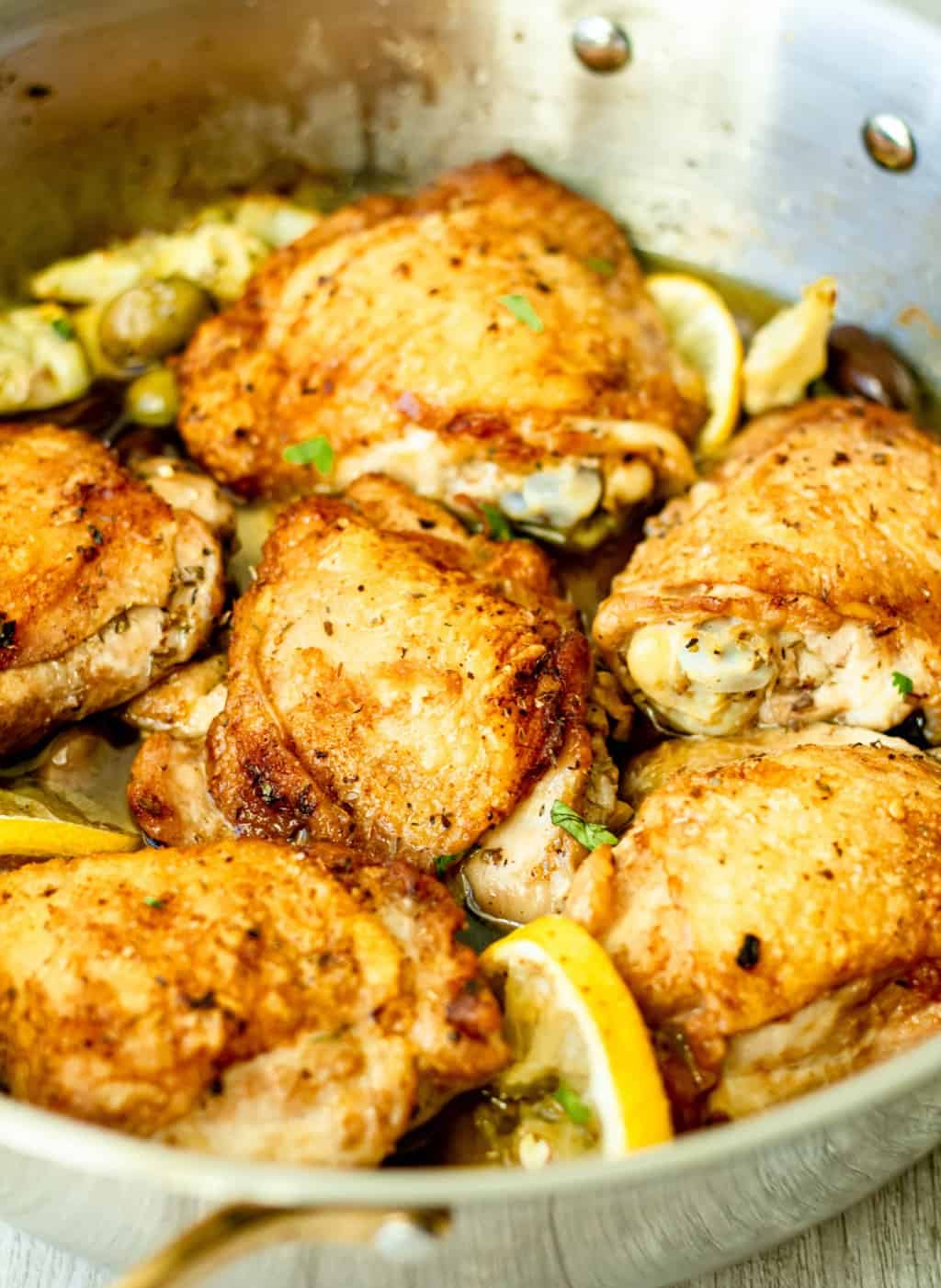 Chicken and Rice Soup is a complete meal and gets especially tasty on winter days. The best part: you can use your leftovers to make it.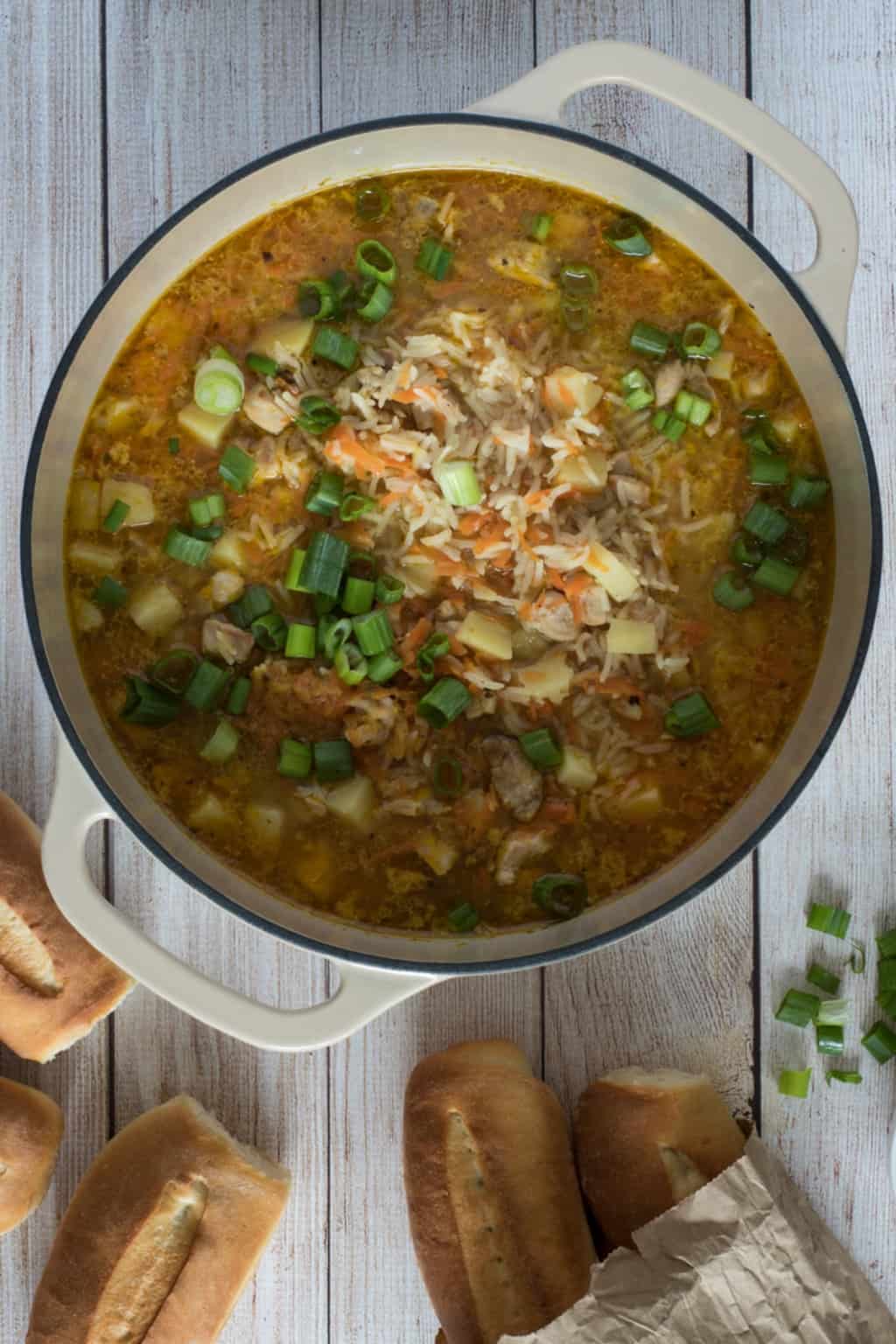 Joanie is going to show you how to get 5 dishes out of one delicious chicken.
Roasting a whole chicken is perfect for meal planning.
See how easy it is to roast a chicken in the oven with this easy recipe (she also provided several single-serving recipe ideas made with the leftover chicken to use throughout the week.)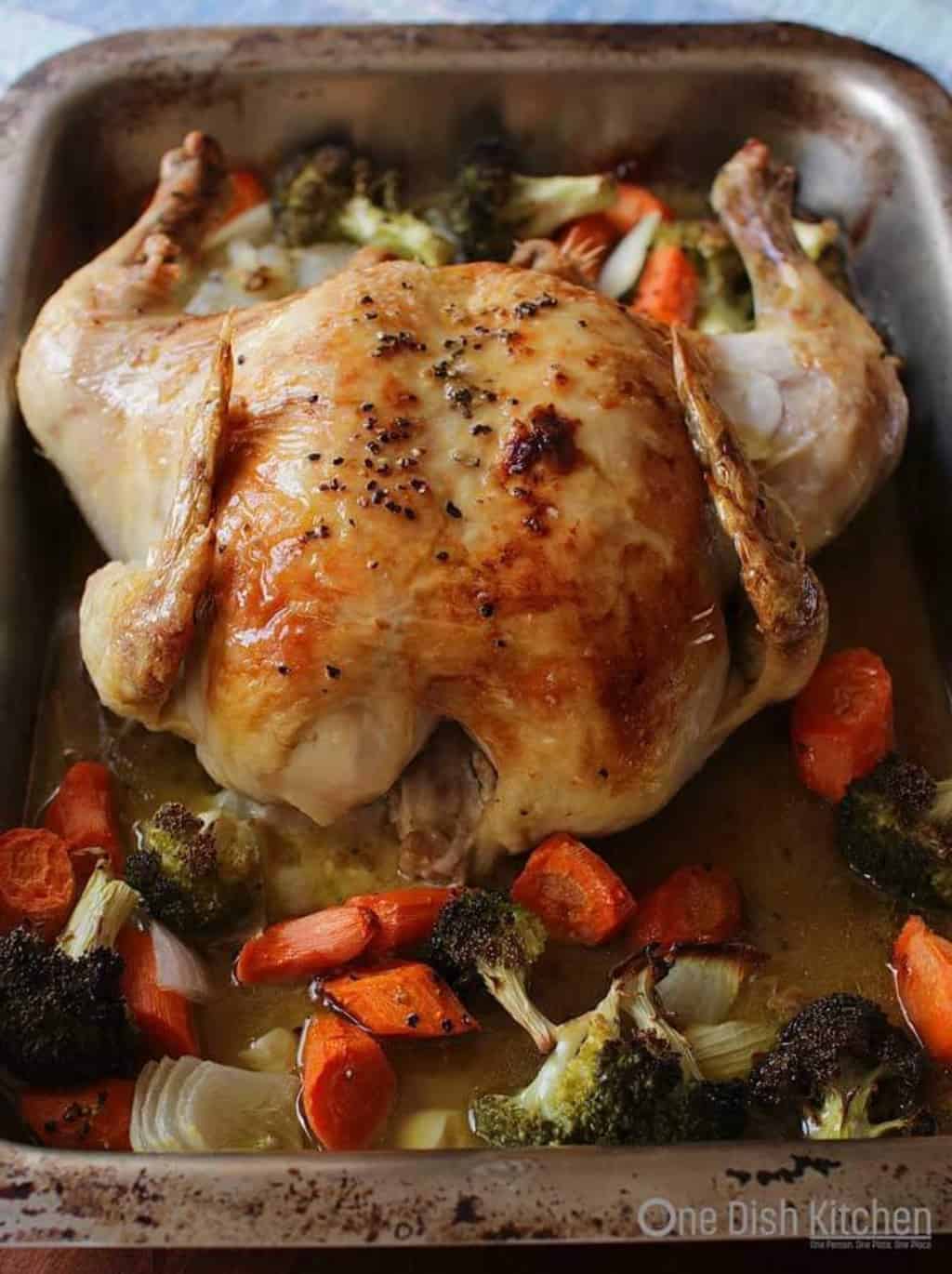 Rotisserie Chicken + Mac 'n Cheese –

Mighty Mrs
This Tuscan-inspired chicken and pasta casserole is just about as easy as making regular mac and cheese, but even tastier!
This dish easily feeds a big family or a small crowd – if you have any leftovers, they are great to take to work the next day!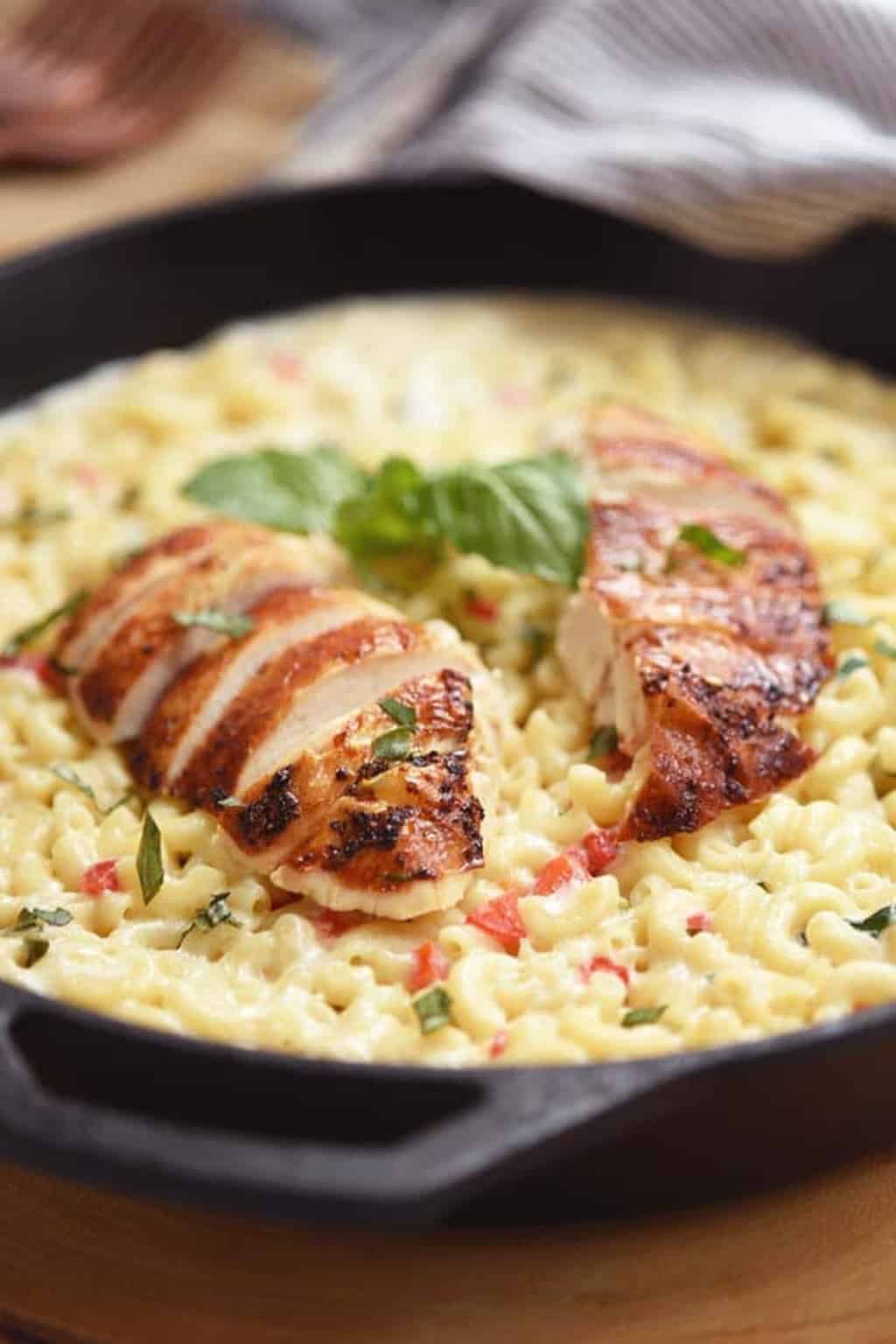 Rotisserie Chicken Enchilada Stuffed Peppers –

Key to My Lime
Using only four ingredients, these rotisserie chicken enchilada stuffed peppers are the perfect way to turn basic and affordable ingredients into an easy and delicious dinner.
With only 10 minutes of hands-on time and 30 minutes in the oven, you'll have dinner ready in no time!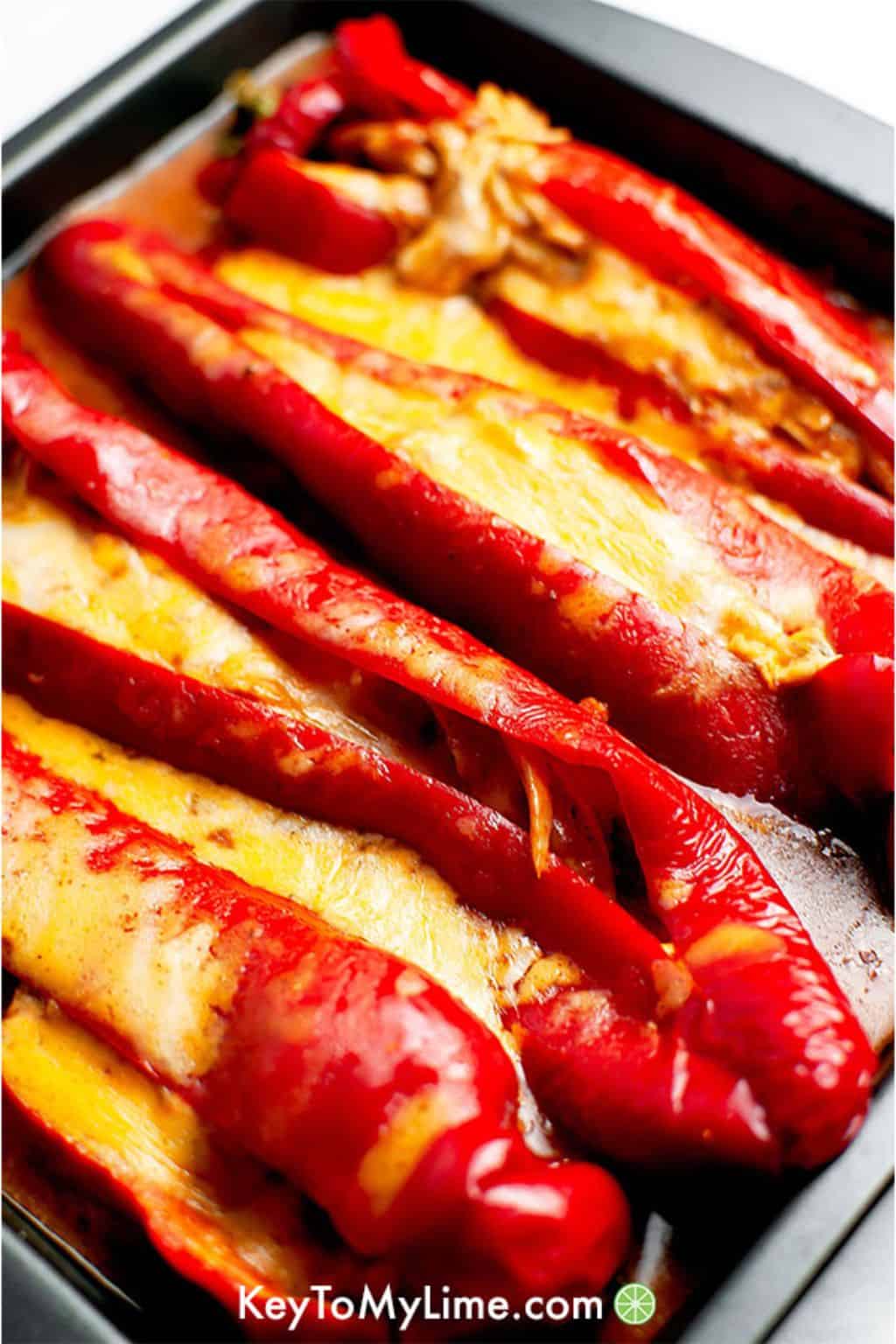 Easy One-Pan Roasted Cornish Hens Over Veggies – Squirrels of a Feather
I used to think that Cornish hens were only for "fancy" people who ate dinner seated at tables that were so long they had to shout 10 feet to talk to each other.
Then Costco introduced me to their 6-pack of bulk Cornish hens package; each WHOLE HEN for around $2!
By chopping up cheap potatoes and other veggies and roasting it all in a pan, this dish is super affordable and quite the dinner – our family of four could typically get two meals out of this one dinner!
Cheap dinners using beef as an ingredient
Homemade Sloppy Joes is a classic dinner recipe that is easy to make and economical too!
It takes less than 30 minutes to make and costs just $9.34 for a serving for six people!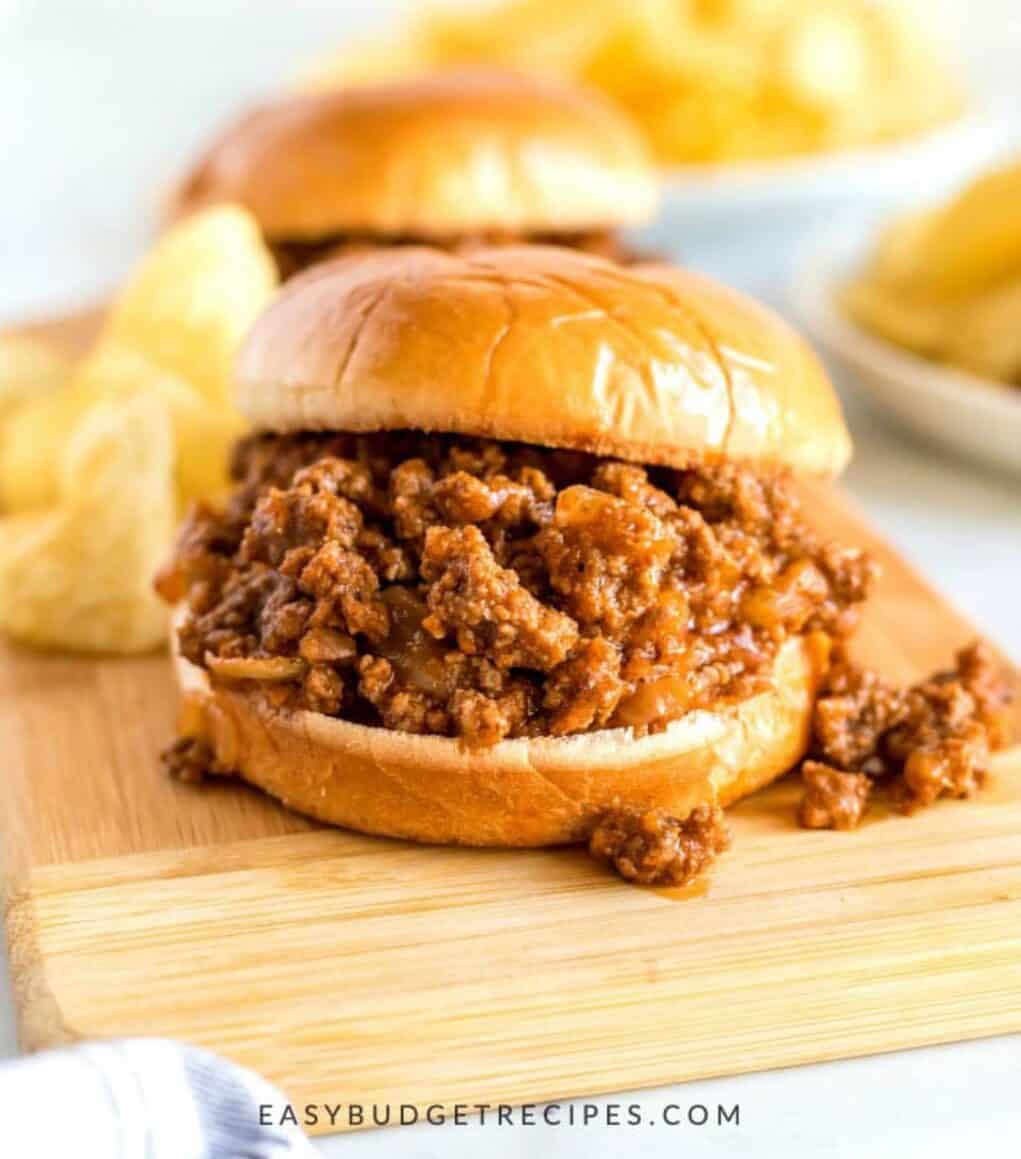 Now Hamburger Helper is even more satisfying!
The homemade Hamburger Helper recipe is classic comfort food that is a hit with everybody!
It's made with inexpensive pantry ingredients like pasta, cheese, and ground beef, and it feeds a crowd so it's a great budget-friendly meal.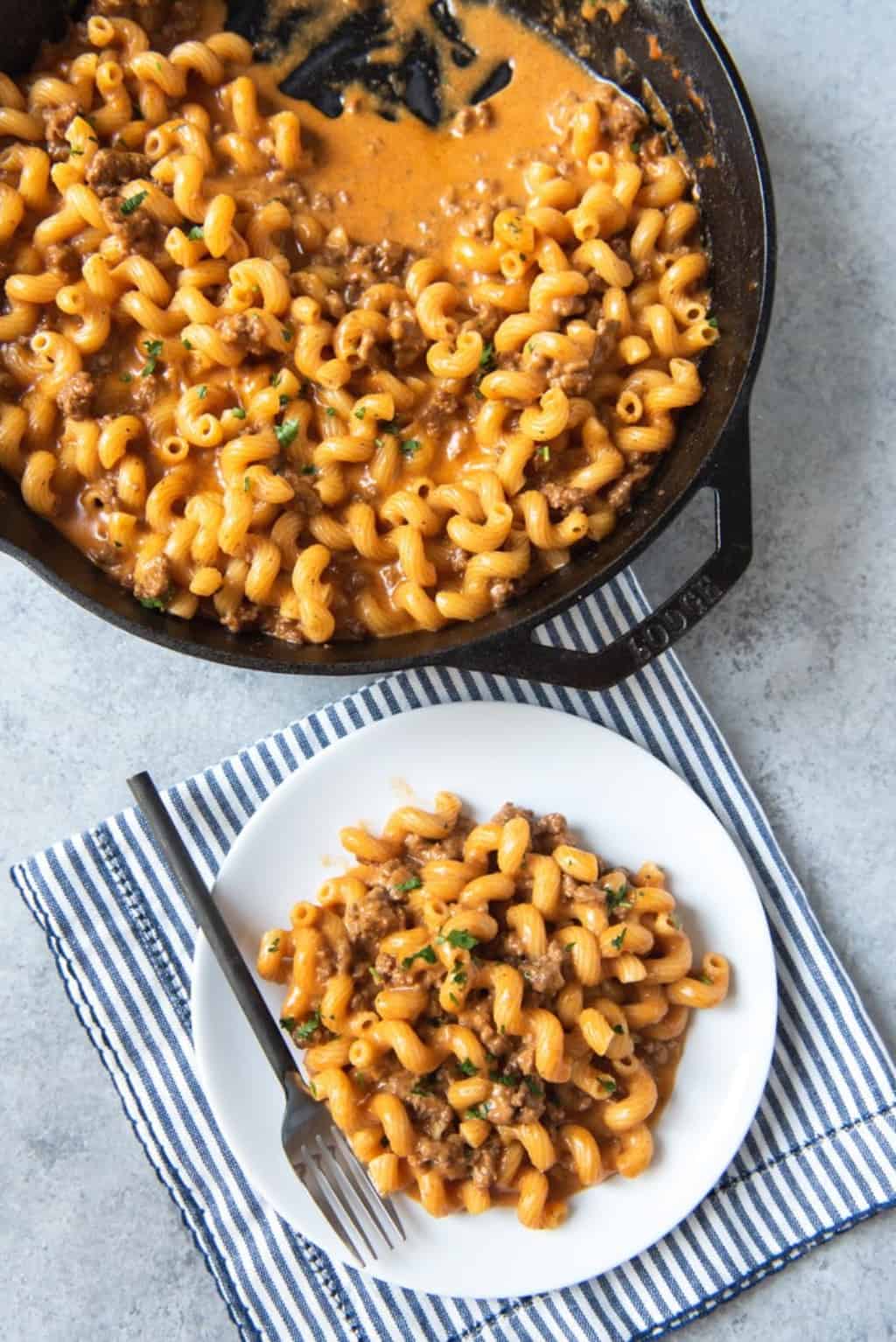 This hearty meatball soup — sopa de albóndigas — is popular as a midday meal in Guatemala, Mexico, El Salvador and with everyone who tastes it!
Made with economical ground beef and fresh vegetables in a beefy broth, this satisfying one-pot meal is an easy-to-make, comfort food that's very budget-friendly.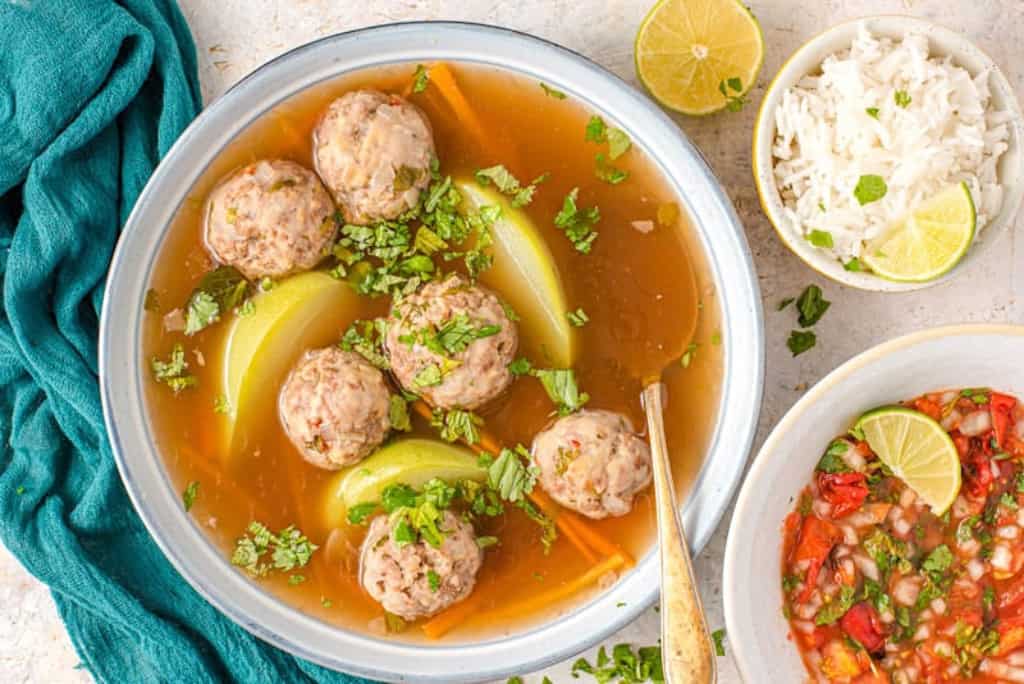 Cheap dinners using pork as an ingredient
Egg Roll in a Bowl (Paleo, Low-Carb, AIP Friendly) –

Whole New Mom
Whole New Mom brings you a whole new take on the egg roll!
This Healthy Egg Roll in a Bowl (aka Crack Slaw) has all of the great flavors of Chinese takeout egg rolls but in a sure-to-please One Pan Meal form; all the taste of egg rolls but without the carbs and expense of traditional egg roll wrappers.
This recipe uses the humble cabbage and carrot as the main base, so it's a super-frugal meal your whole family will love.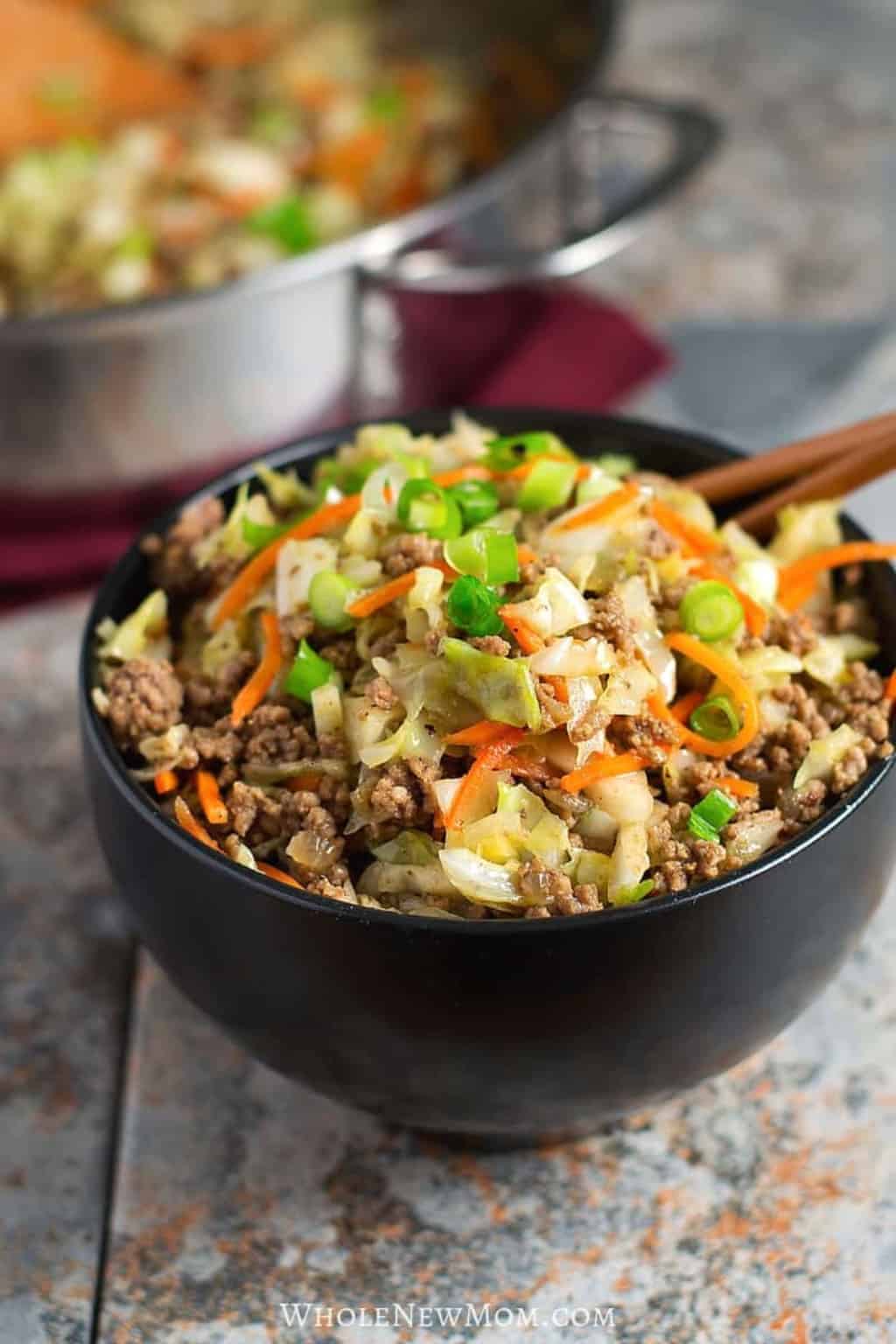 This One Serving Vegetable Pork Bowl is a simple stir fry meal that's packed with flavor and perfect for one!
Seasoned ground pork and vegetables in a delicious sauce come together in just 15 minutes with zero leftovers and no food waste.
It's a great dinner for single people dining on a budget!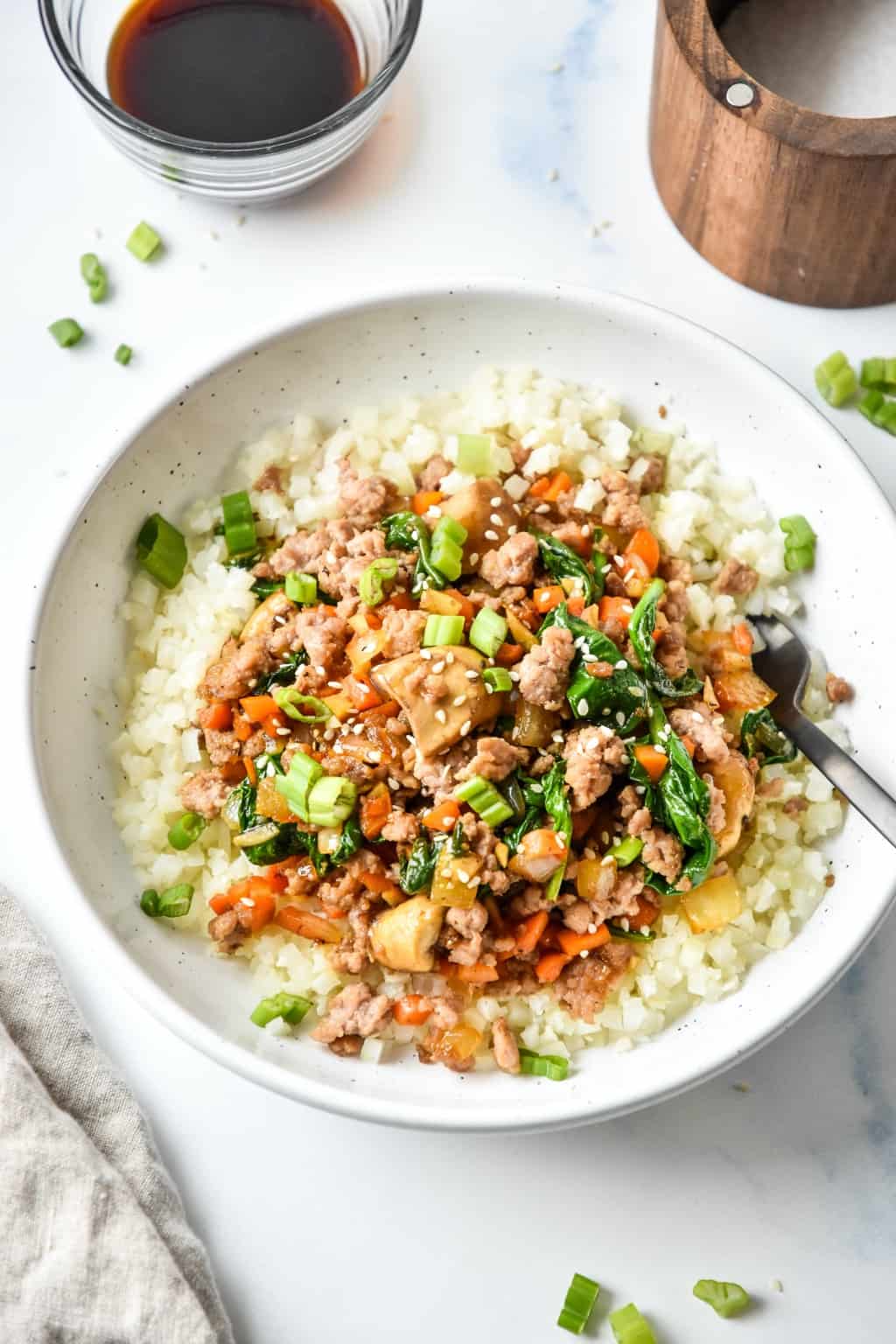 Keto + Crustless Pizza Casserole Recipe – Dr. Davinah's Eats
Keto can be budget-friendly!
Crustless Pizza Casserole gives you all the flavors of pizza in a low-carb & family-friendly package. This easy dinner uses just 8 ingredients, including meat you can easily get in bulk, and can last several meals.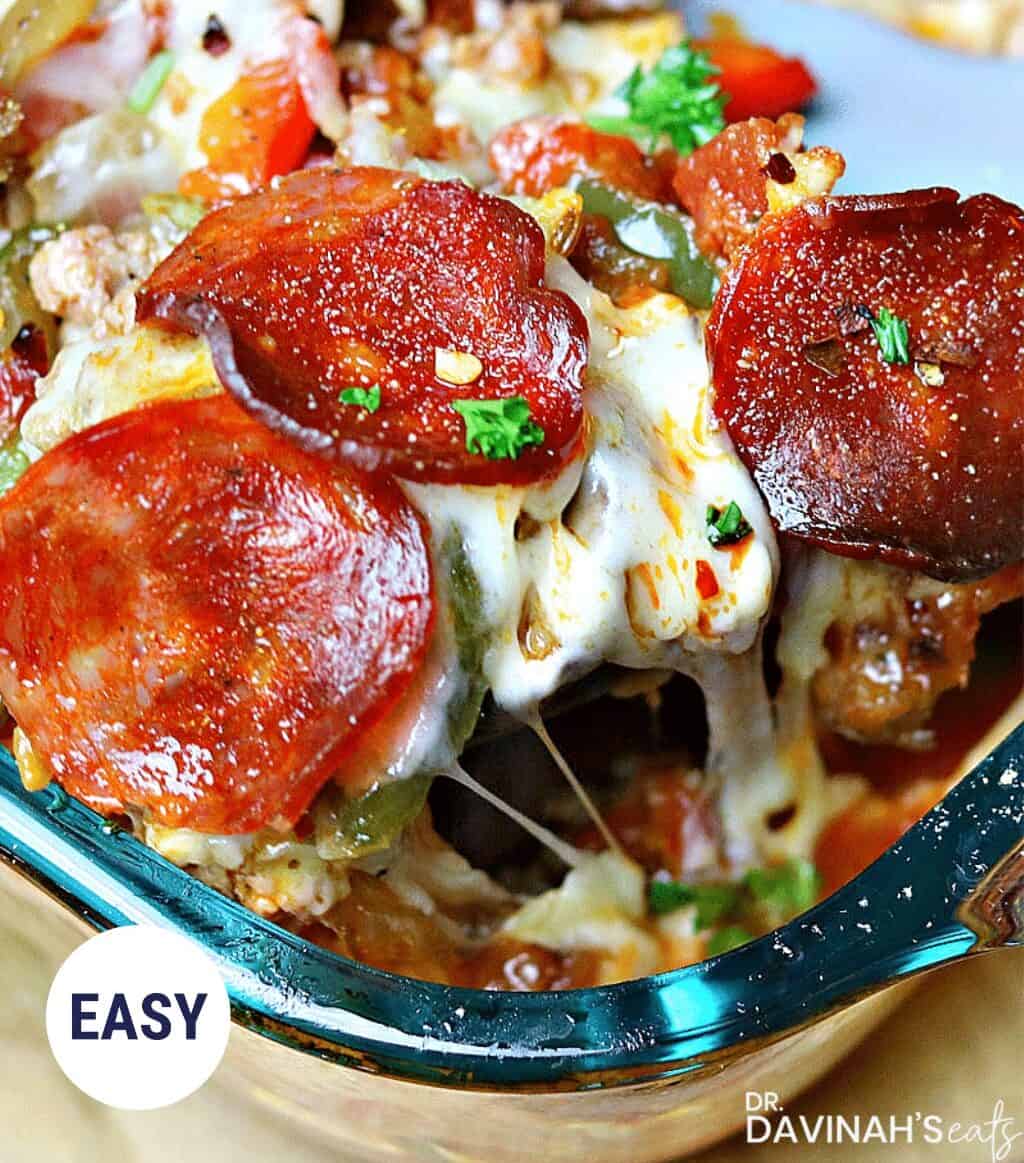 Whole 30 + Keto-Friendly Pulled Pork –

Amanda Seghetti
Amanda shares this pulled pork recipe along with 5 different ideas for how to meal prep using the pulled pork – if you grab it on sale like her and combine with in-season produce and dried goods like beans or rice, you can have an on-budget meal for under $15 ready in less than 2 hours.
Because it's so much food, it's probably close to$3 per serving!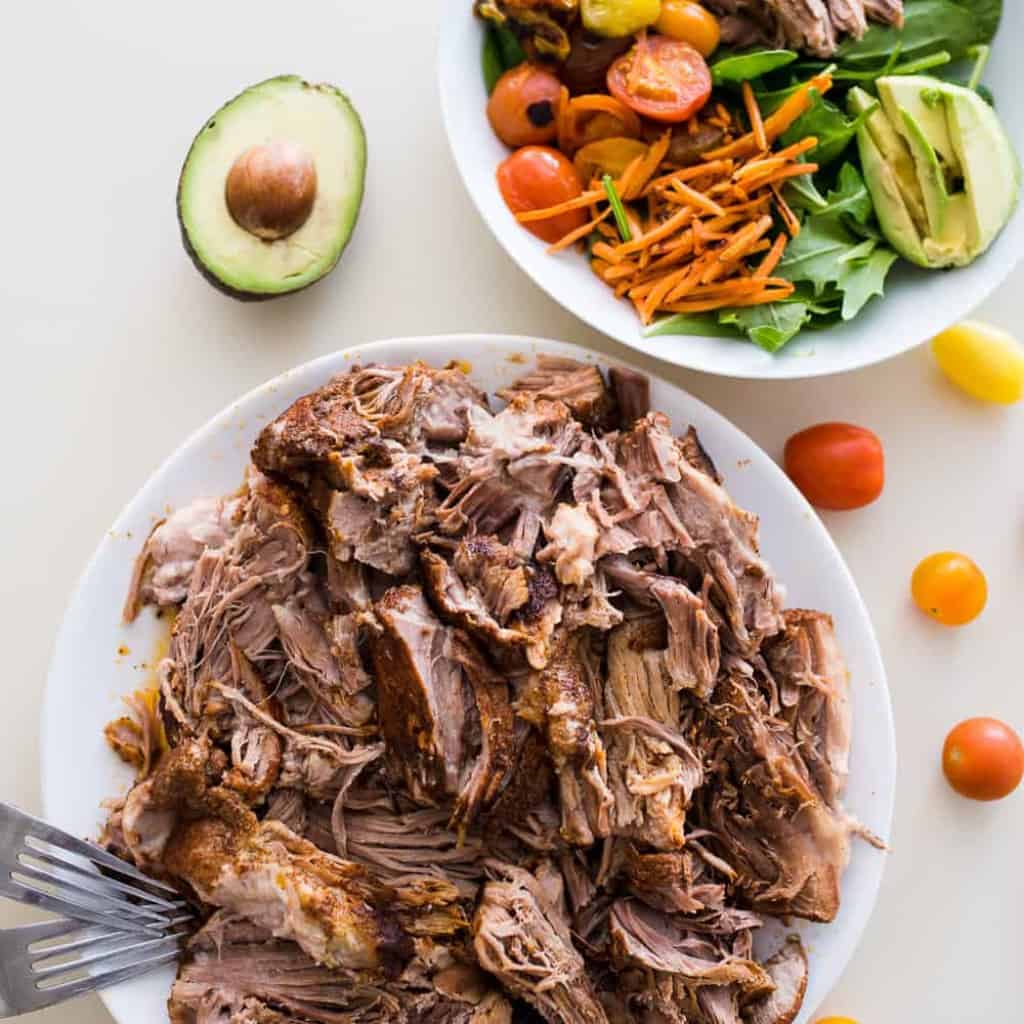 Kid and Toddler-Friendly Meatballs Packed with Veggies – Squirrels of a Feather
These kid-friendly meatballs are PACKED with hidden veggies, making them a very cost-friendly meatball recipe.
It's lighter on the wallet and your health because it uses turkey and lots of vegetables to lighten up both the fat and the cost.
You can even decide which vegetables you want to add to your meatballs – kale or broccoli make great options!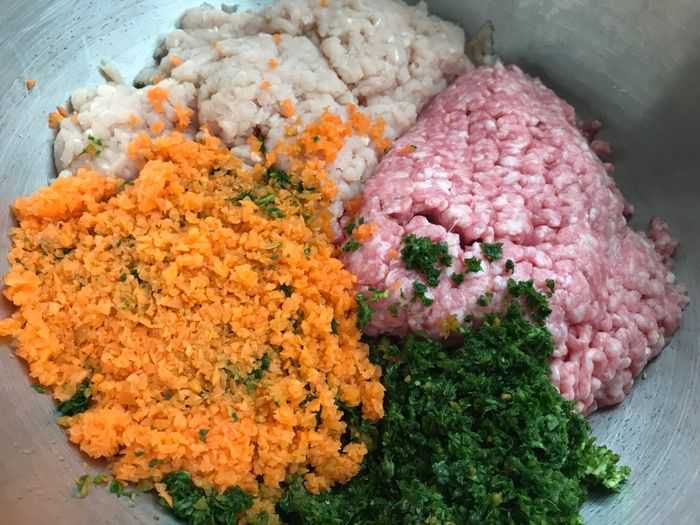 Cheap meat-free dinners (with vegan options)
Freezer-Friendly Black Bean Burgers –

Project Meal Plan
Black beans are a frugal and delicious alternative to animal proteins. You won't be able to resist these veggie-packed burgers filled with peppers, onions, garlic, and a can of black beans!
Freezer Friendly Black Bean Burgers are SO easy to prepare ahead, freeze, and reheat whenever you need a quick meal!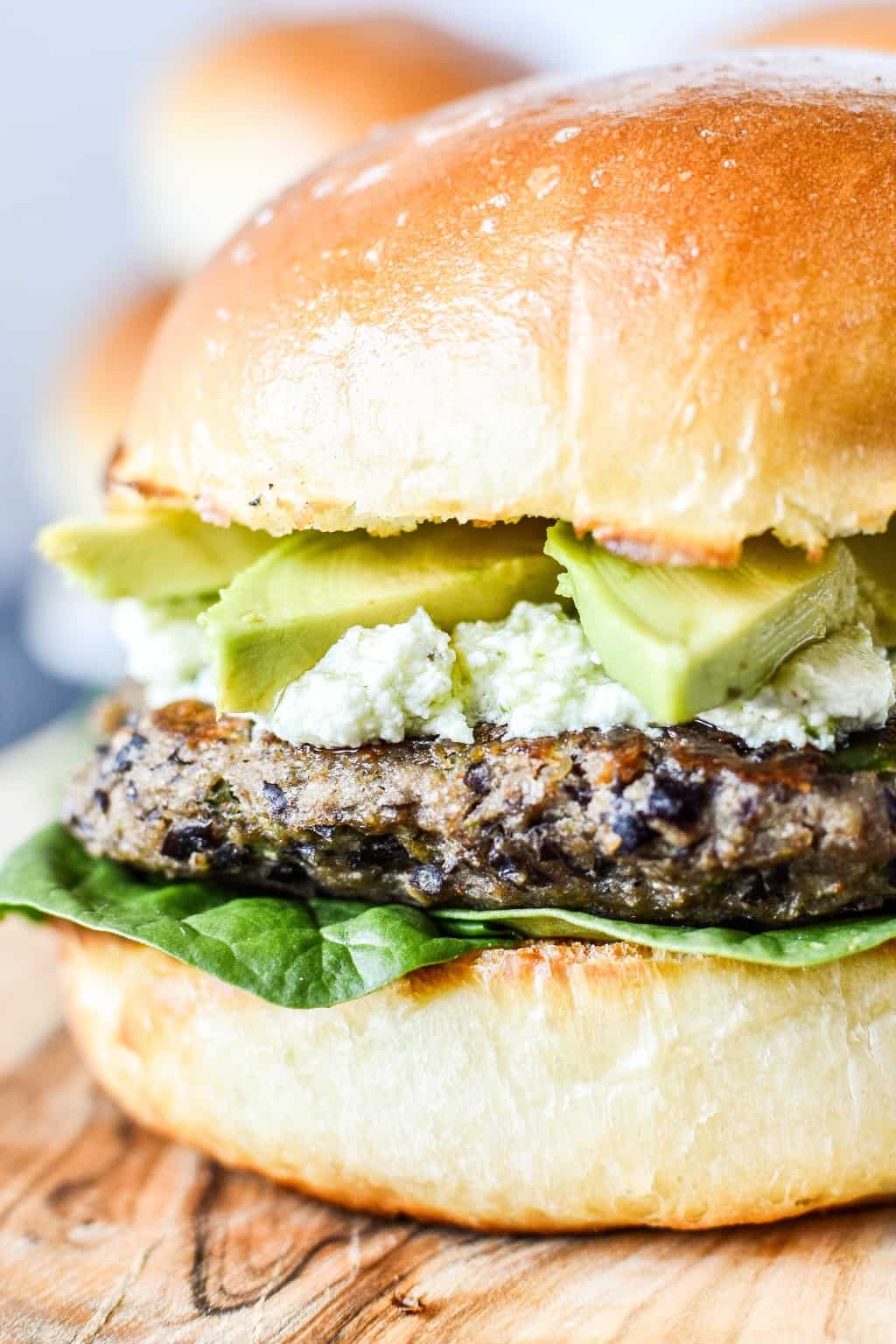 Choosing dried over canned is the way to go when you're looking save on your monthly food bill – you get so much bang for your buck than with the canned stuff (and it tends to be healthier, too).
This 4 Bean Salad is super healthy and fills you up right.
Go see which types of beans are used in this delicious recipe.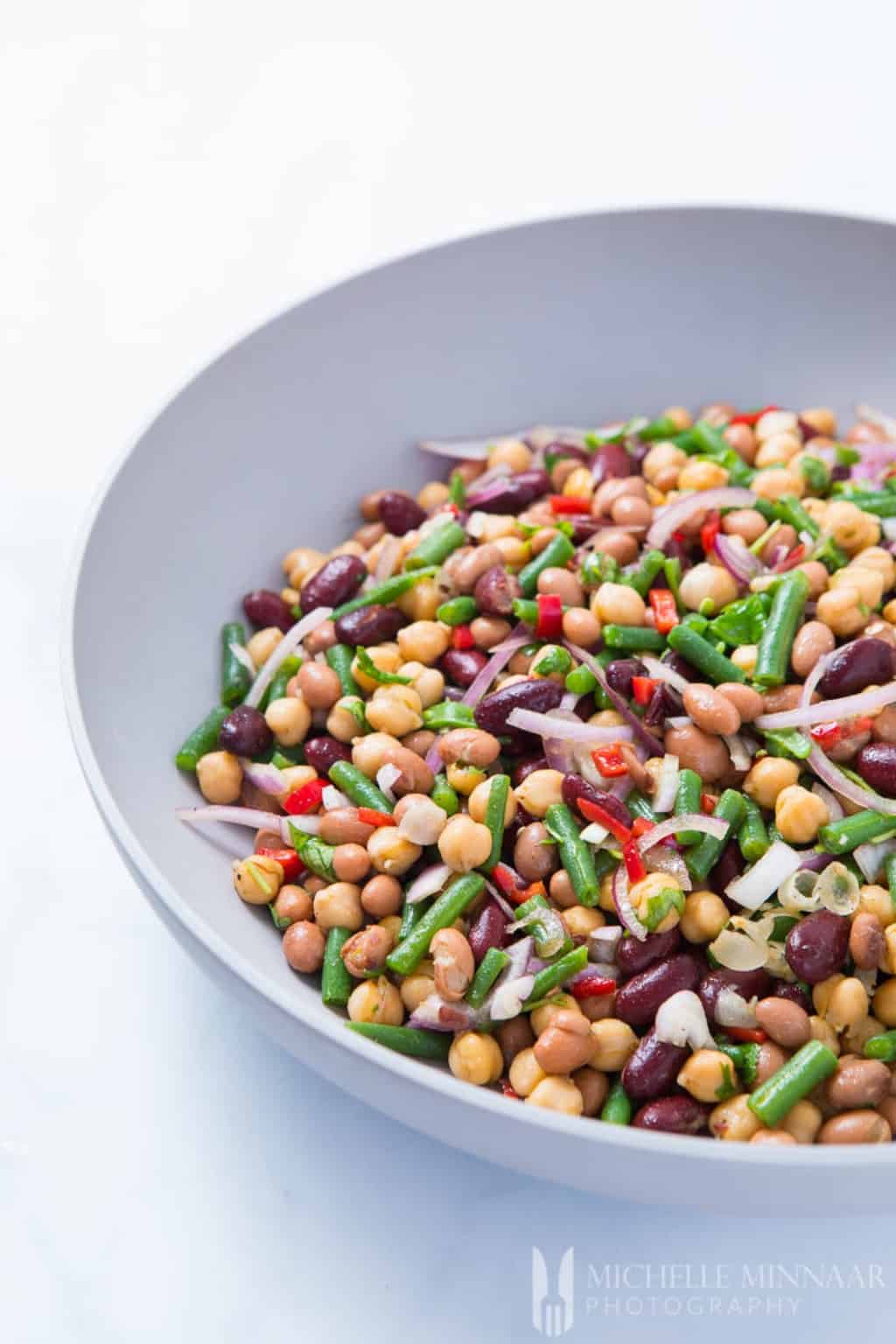 15-Minute Thai Vegan Thai Peanut Noodles –

Drive Me Hungry
This cheap dinner idea is vegan-friendly on a dime!
Even better, these easy, vegan Thai peanut noodles ready in 15 minutes!
This cheap and easy meal uses affordable spaghetti noodles, a handful of veggies, and a flavorful peanut sauce to create a fast and delicious dish that is sure to satisfy the whole family, sans meat.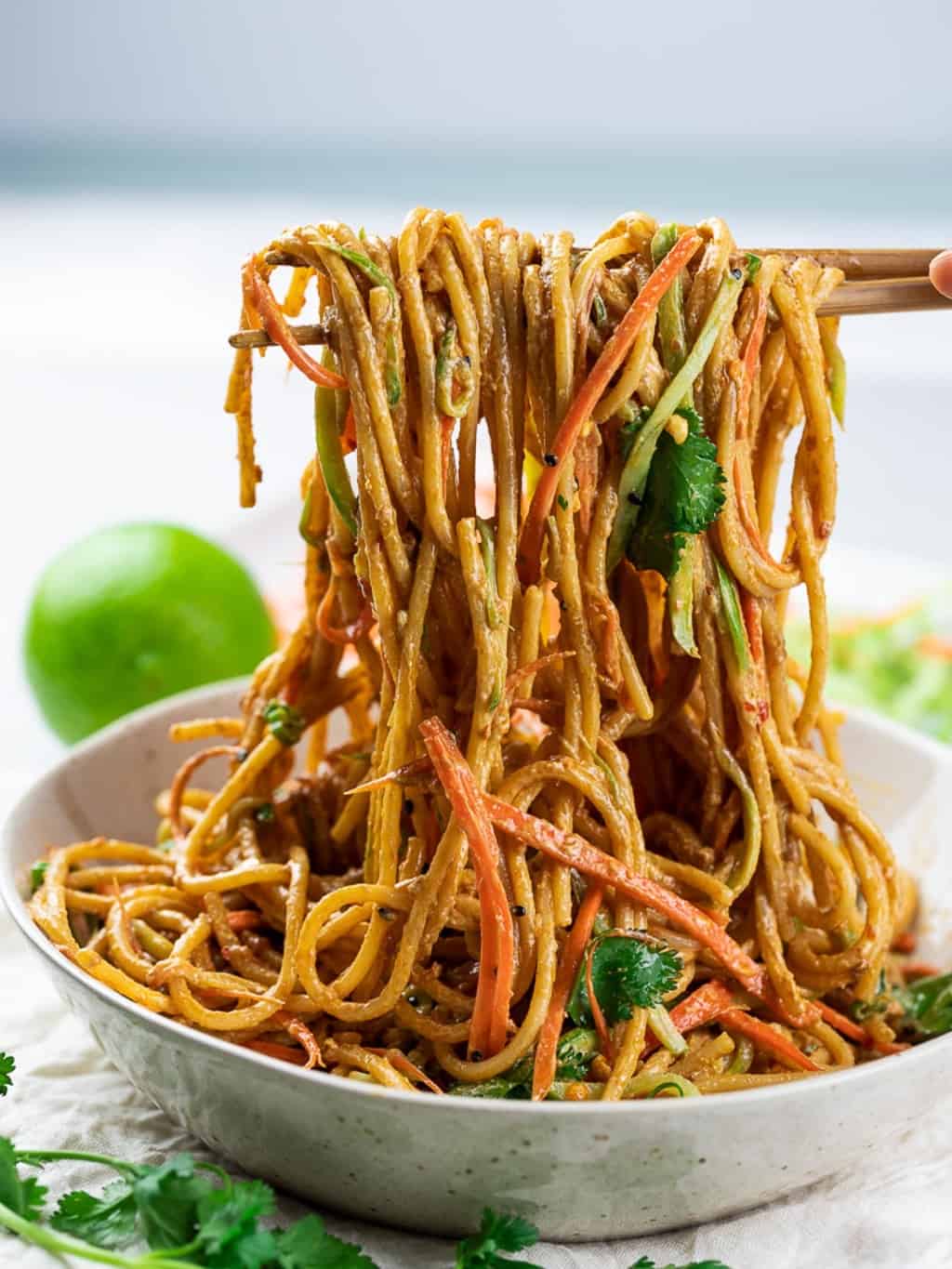 What to make when you've got next to nothing in the fridge?
This creamy and utterly delicious potato pasta is your go-to recipe.
It calls for a few humble and budget-friendly ingredients, takes less than 20 minutes of prep time, and comes out to around $1 per serving.
Winner, winner, potato dinner!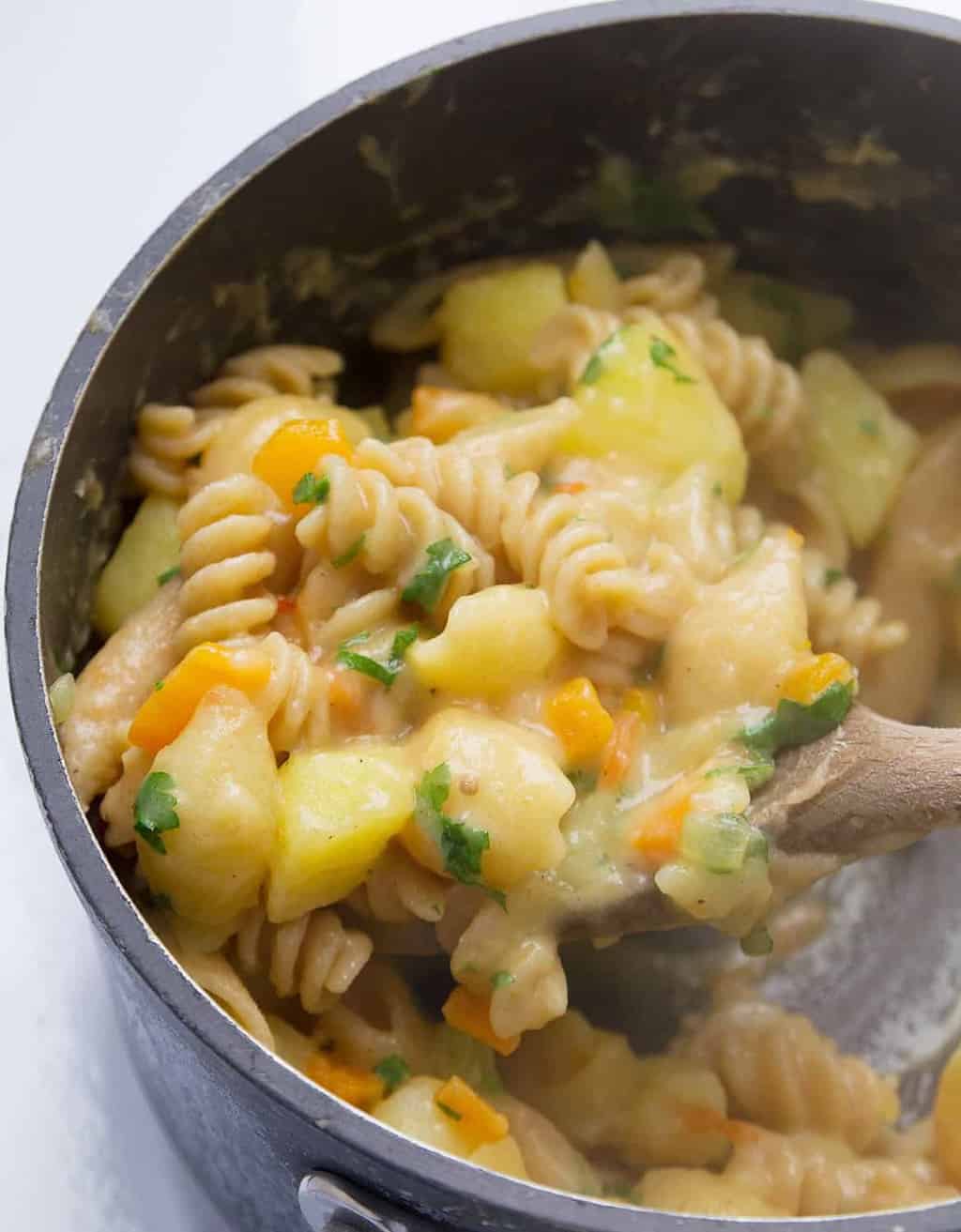 This easy Baked Ziti recipe is the best family dinner recipe. It is so simple to make.
I might be playing favorites here but I think this mostly one-pot recipe is the perfect pasta casserole.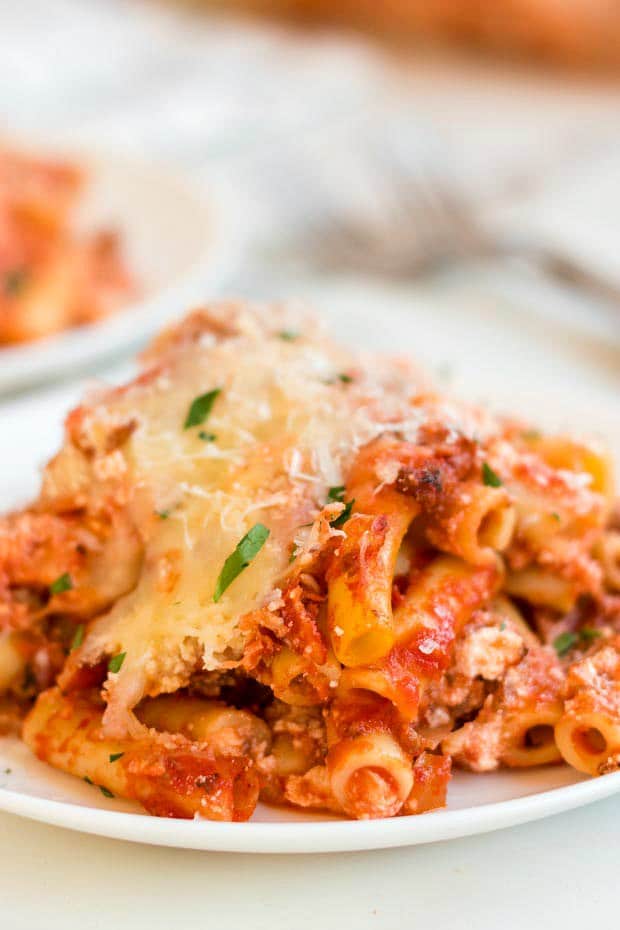 Fried eggs have never felt so fancy!
This easy weeknight dinner is so simple, yet feels really elegant. Pasta, breadcrumbs and a fried egg, everything you already have in your fridge and pantry make a great meal!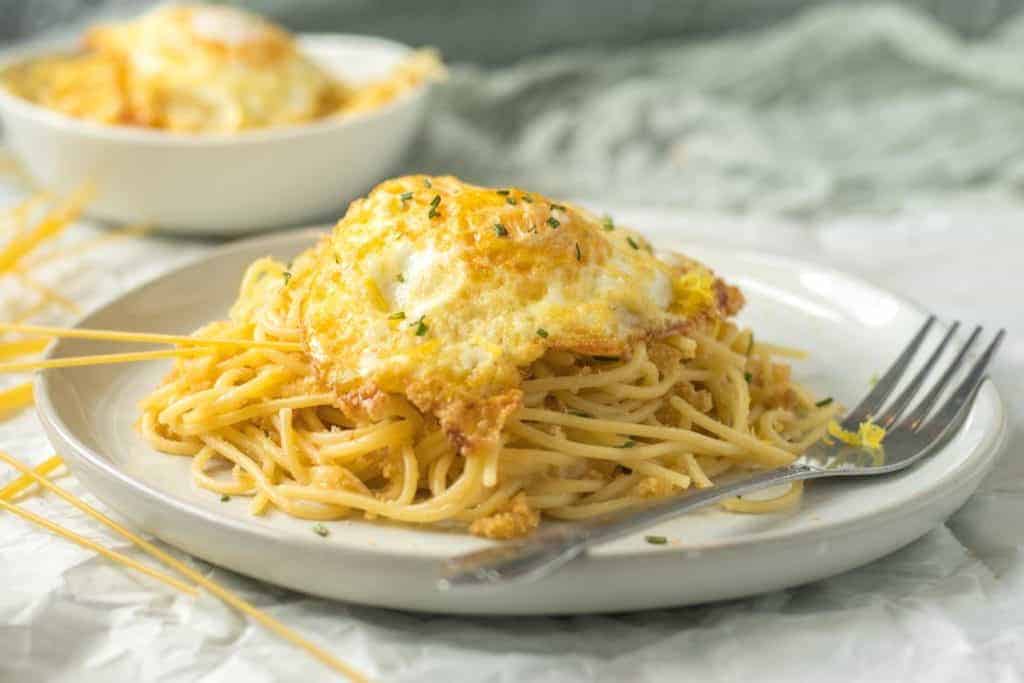 Coconut Red Beans and Rice –

The Food Blog
Dave Ramsey famously recommended red beans and rice as a money-saving cheap dinner – now this dish is going tropical!
Enjoy the warming Jamaican flavors of this easy Coconut Red Beans & Rice recipe; this dish can simmer in the slow cooker for a delectable meal in itself, or, a great side dish.
This hot take on the classic red beans and rice recipe will have you asking for seconds.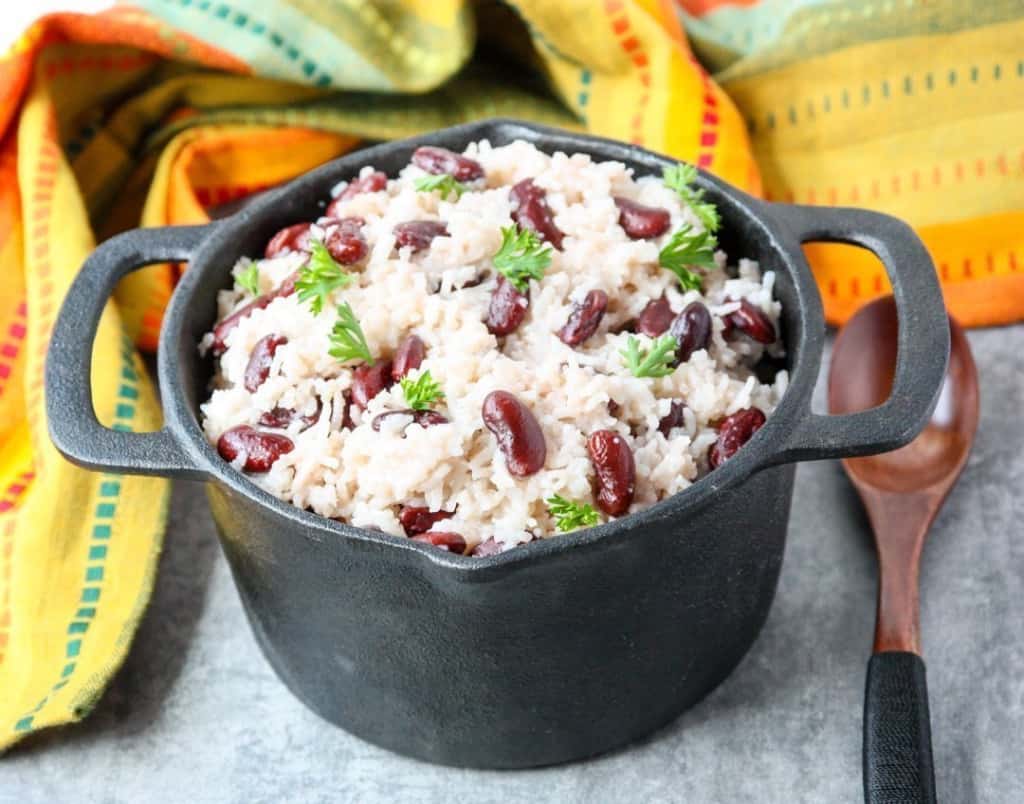 This one-pot pasta meal is magic in a bowl!
The Italian Wonderpost is easy, flavorful, and super easy to make.
You simply put all the ingredients as well as the right amount of liquid in one pot and presto! You get a perfect dinner with minimal mess and work (omit the cheese for vegan).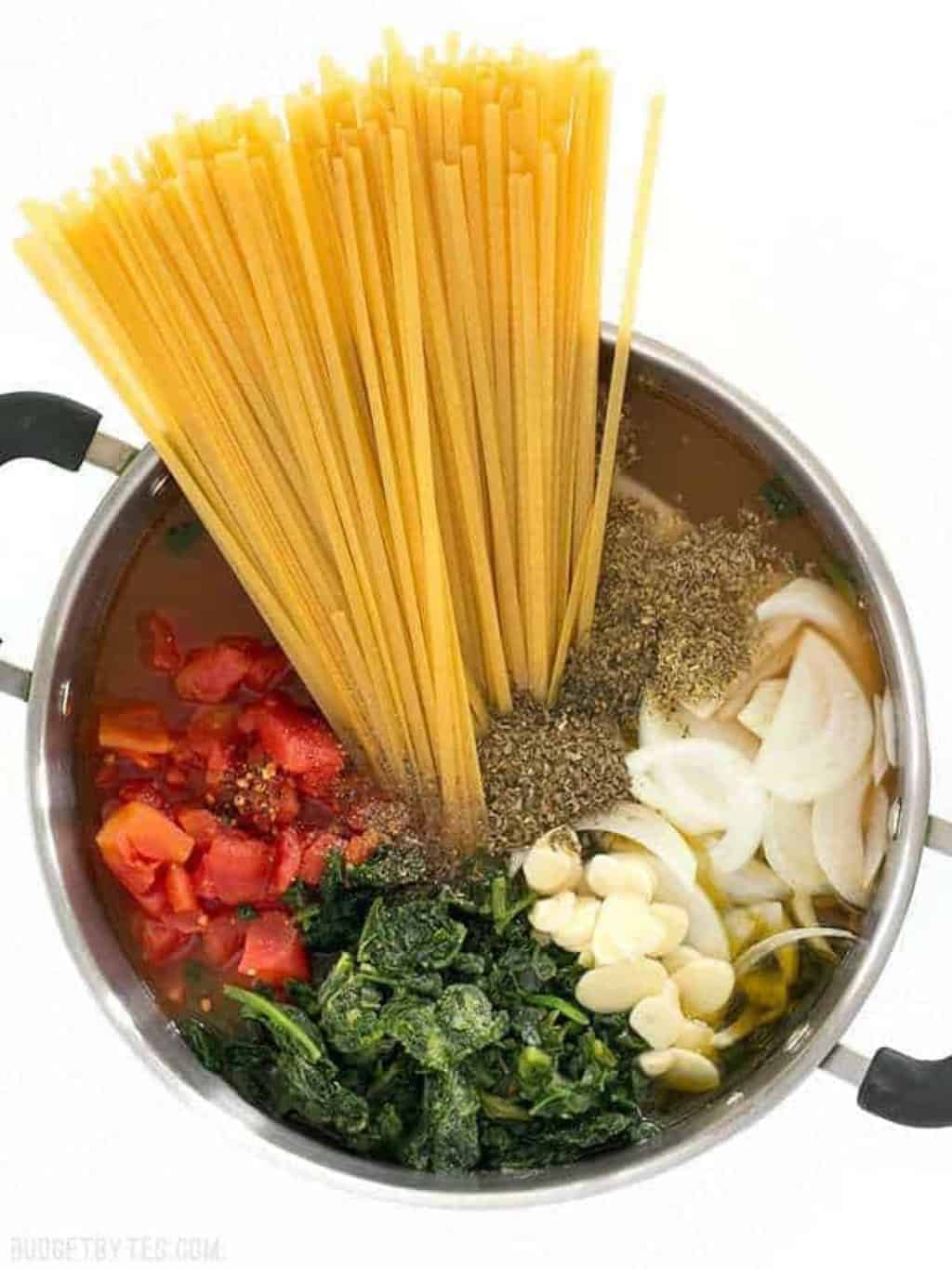 You can serve a family of 4 for less than $10 with this hearty soup recipe – that's $2.50 per serving!
Brown rice takes this soup from side dish to the main dish and it's super easy to prepare!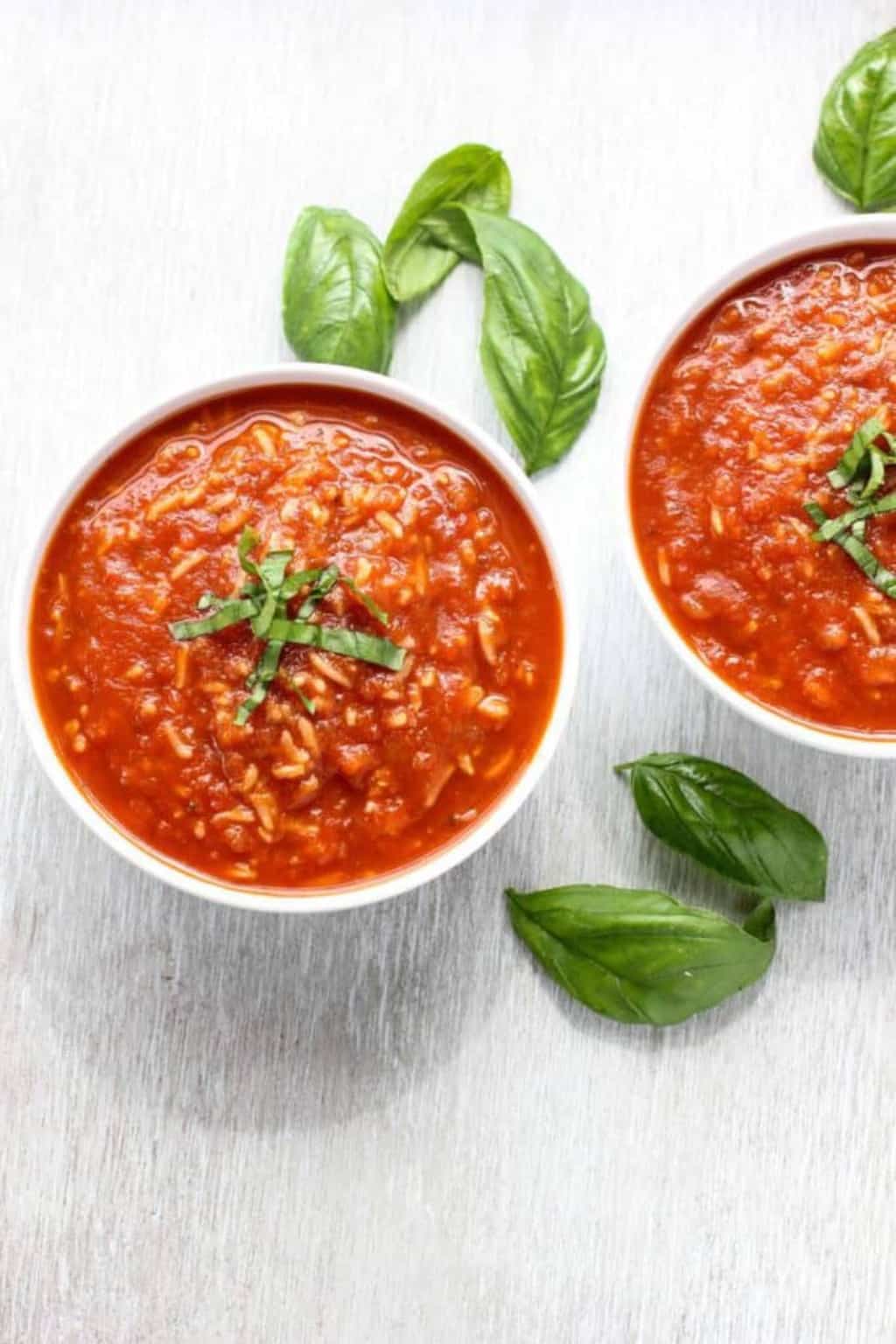 Easy Crockpot Potato Soup Recipe –

Kim and Kalee
Do you have a crockpot?
This Easy Crockpot Potato Soup Recipe is the ultimate comfort food!
You can throw it together in a few minutes, and it's so creamy and delicious! Plus it is meat-free, which makes it a cheaper family dinner!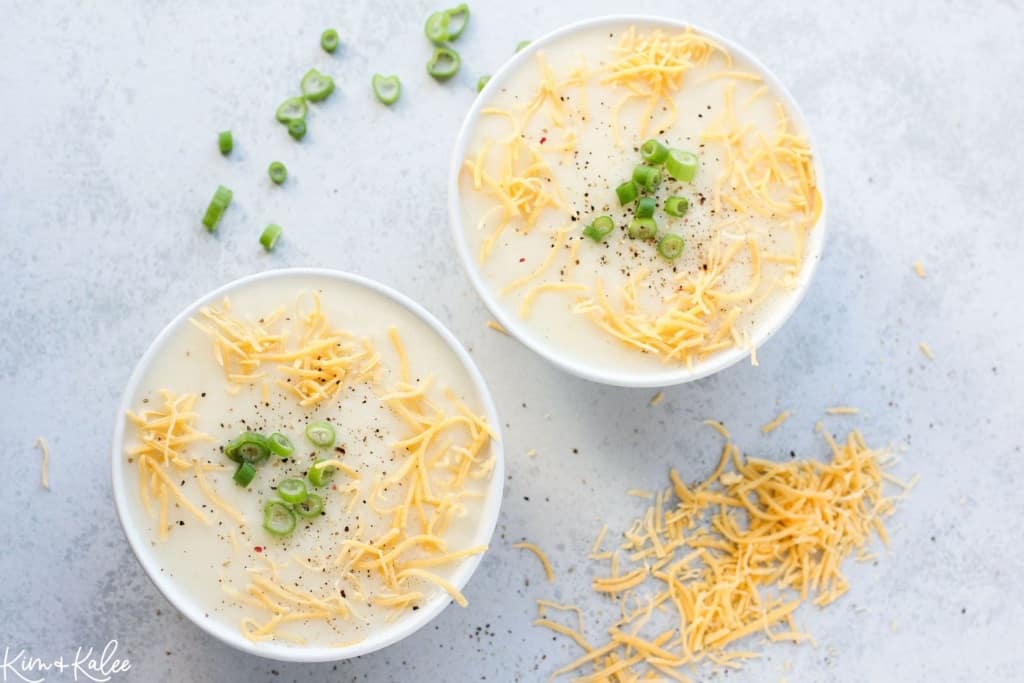 You don't have to be vegan to appreciate this dish!
Vegan Pho is a quick and easy way to enjoy a big bowl of delicious steamy soup.
It's packed full of veggies and loaded with flavor; best of all, it takes just 30 minutes to make.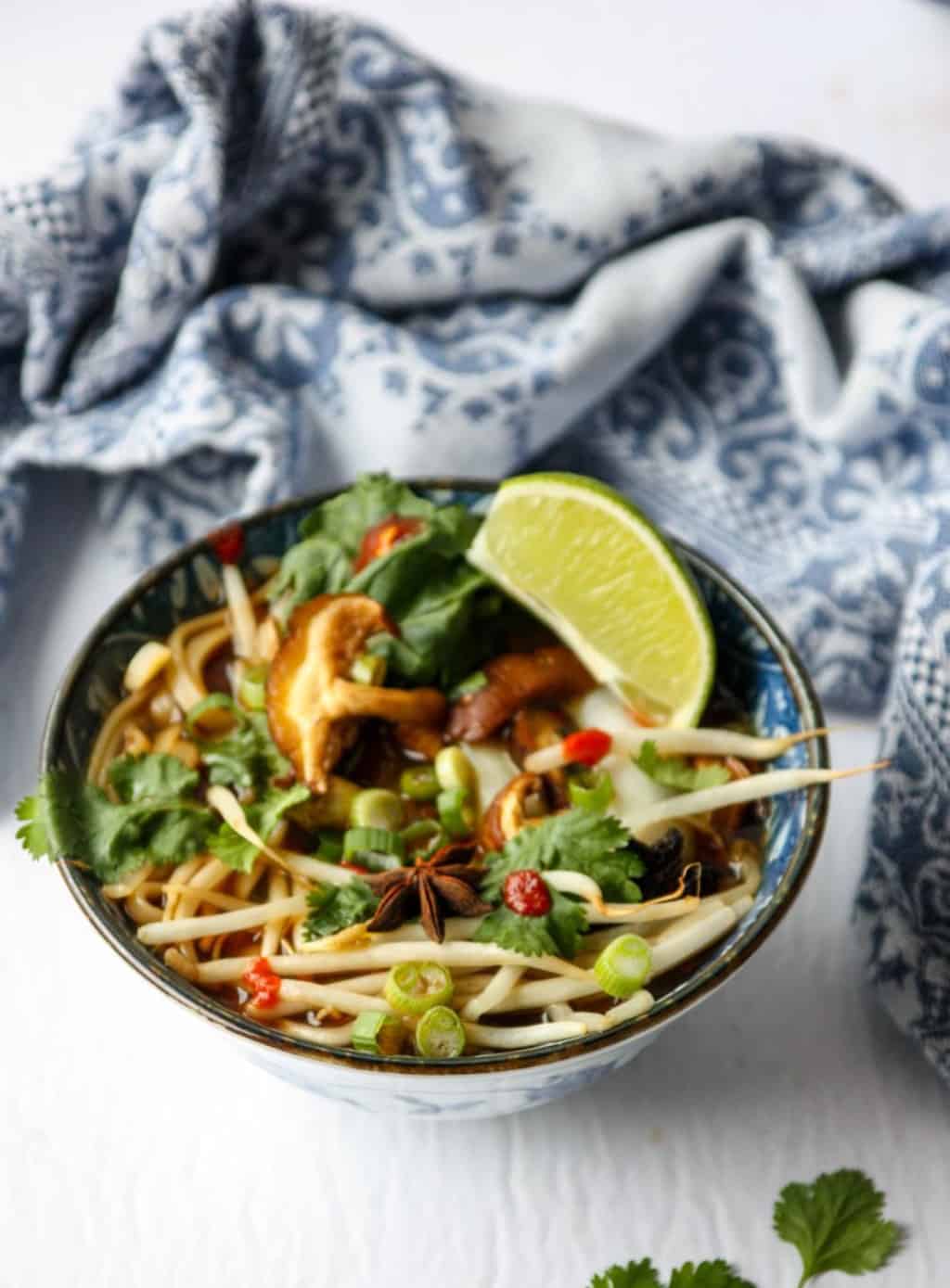 A simple bowl of garlicky spinach and white bean pasta gets a boost of flavor from a garlic oil made with a secret budget-friendly ingredient – anchovies!
Trust me, it adds a delicious nutty and umami flavor.
Parsley Parmesan Pasta recipe that takes 15 minutes to make and costs less than $4.
Blend the parsley with other simple ingredients to make a nut-free pesto sauce and then pour on top of pasta!
Your entire family will like this fresh parsley pasta dinner.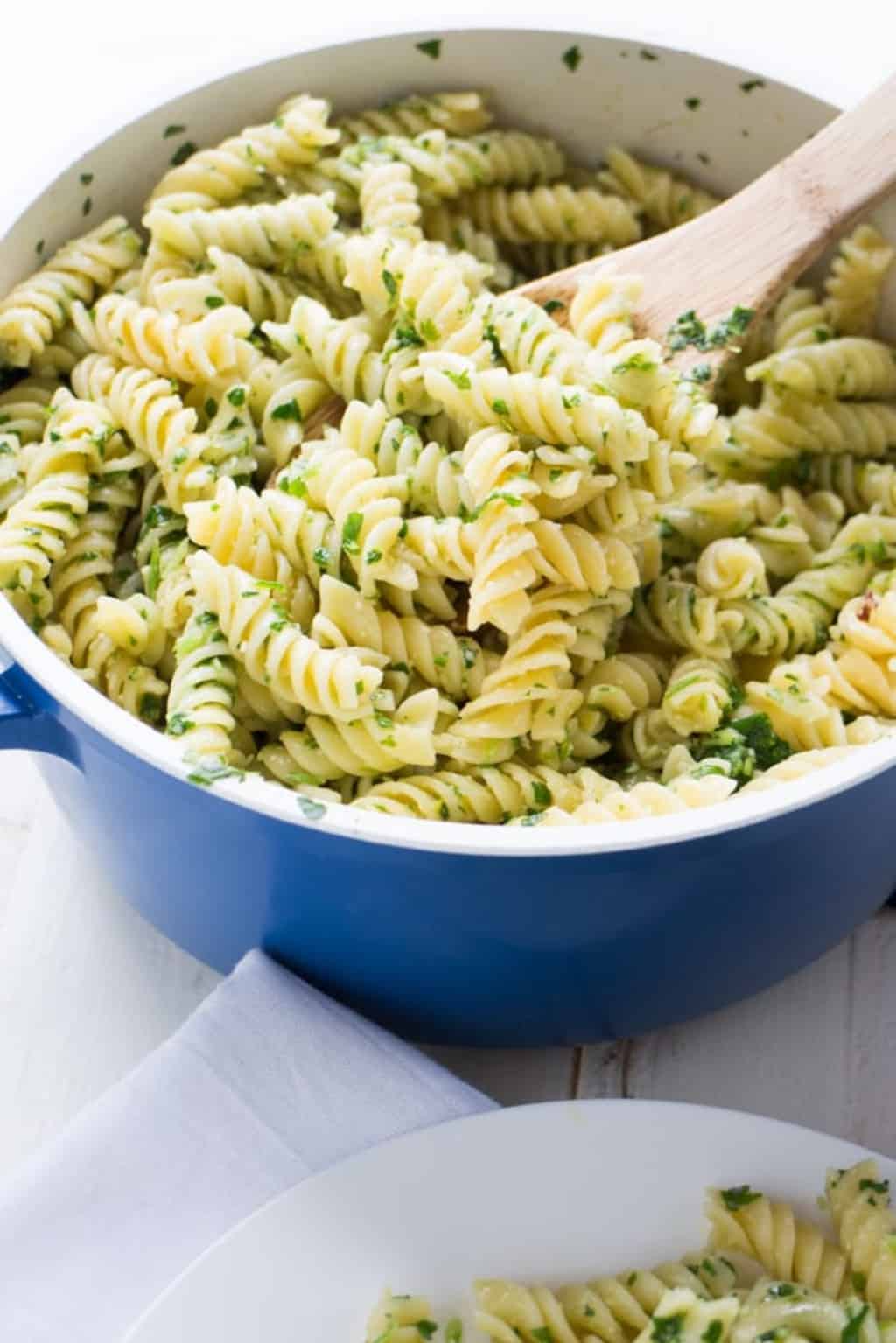 Never underestimate the power of BFD – that's breakfast for dinner, folks.
Just because you are eating on a budget doesn't mean you can't still have fun.
Now you can have your pancakes and eat them too with this quick and easy giant pancake recipe.
It's super easy, super affordable, and honestly a delight for the whole family; great for a budget-friendly Mother's Day or other holiday meals, too!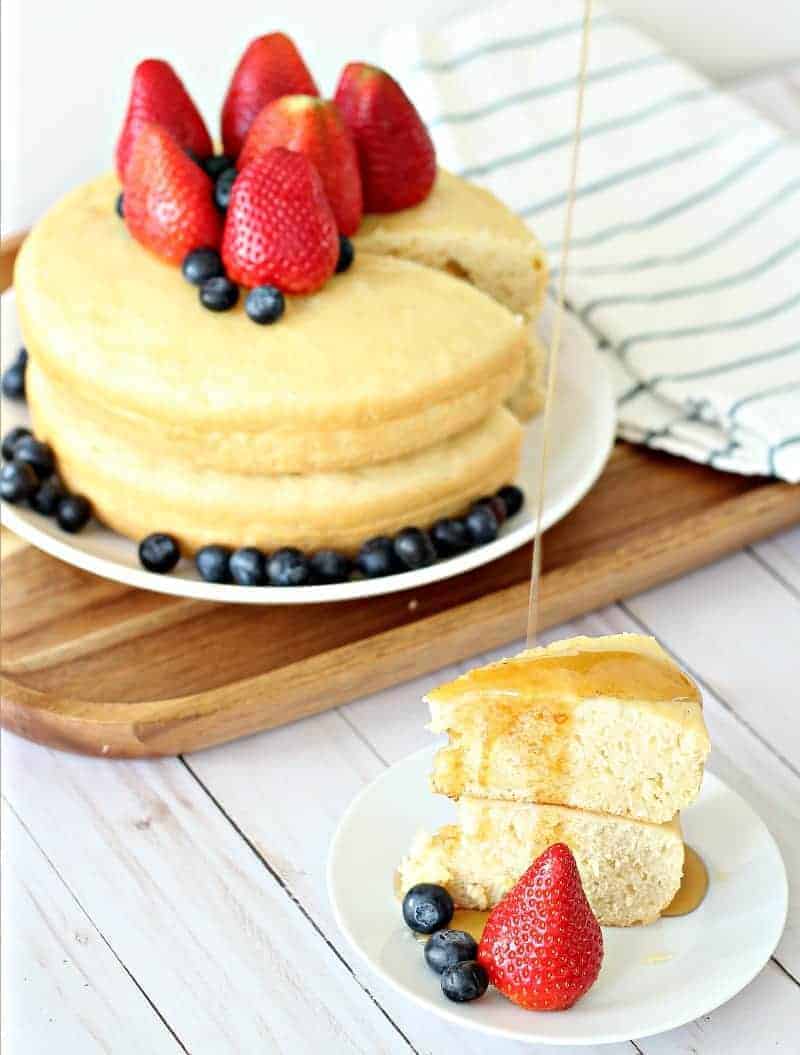 Cheap dinners using fish or seafood
Tuna is a very economical protein. This healthy pasta bake uses everyday cupboard ingredients, including cheap tuna and dry pasta, and is so easy a child could make it!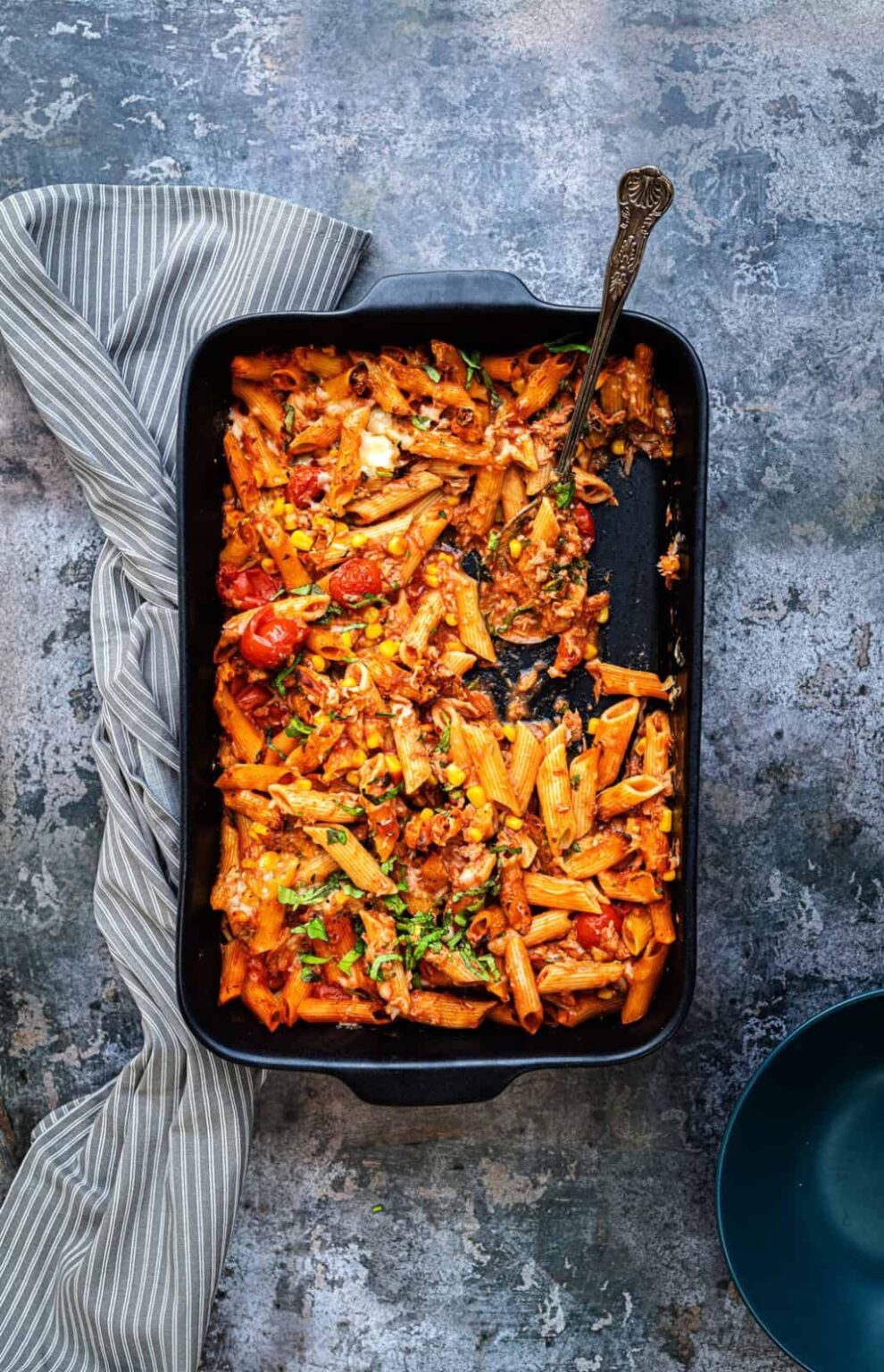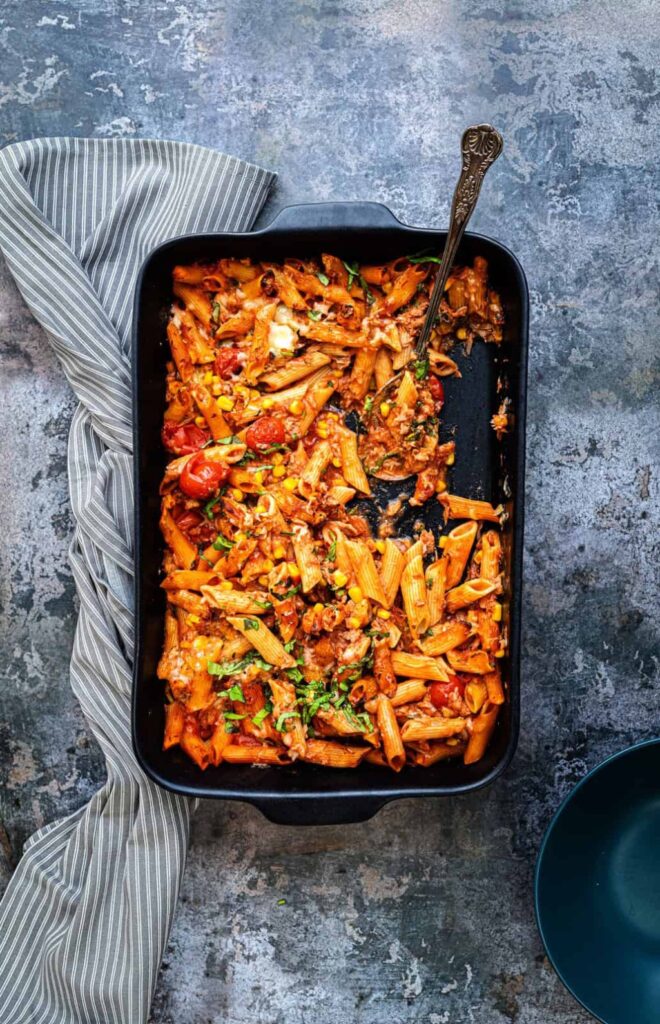 Meal Prep Shrimp Fried Rice –

Mom Advice
Meal prep shrimp and rice is oh-so-nice!
Leftover rice, veggies, or meat can all be put to work in a batch of fried rice for a family meal. Make this takeout special at home using odds and ends in your fridge!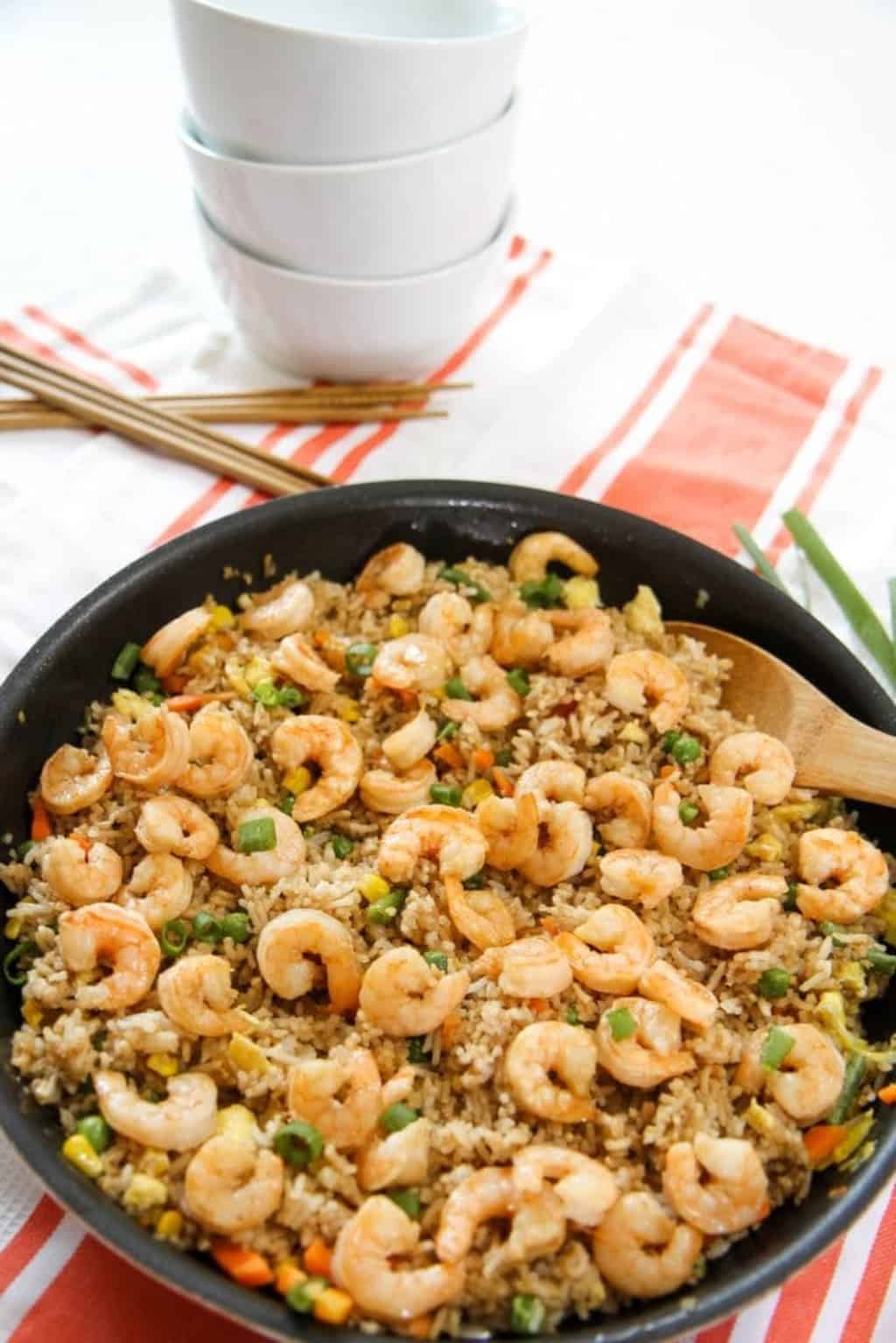 Tuna tomato pasta is a delicious healthy and easy recipe that only takes 20 minutes to make.
With just a few basic ingredients it's a budget-friendly dinner idea that is easy on your bank account!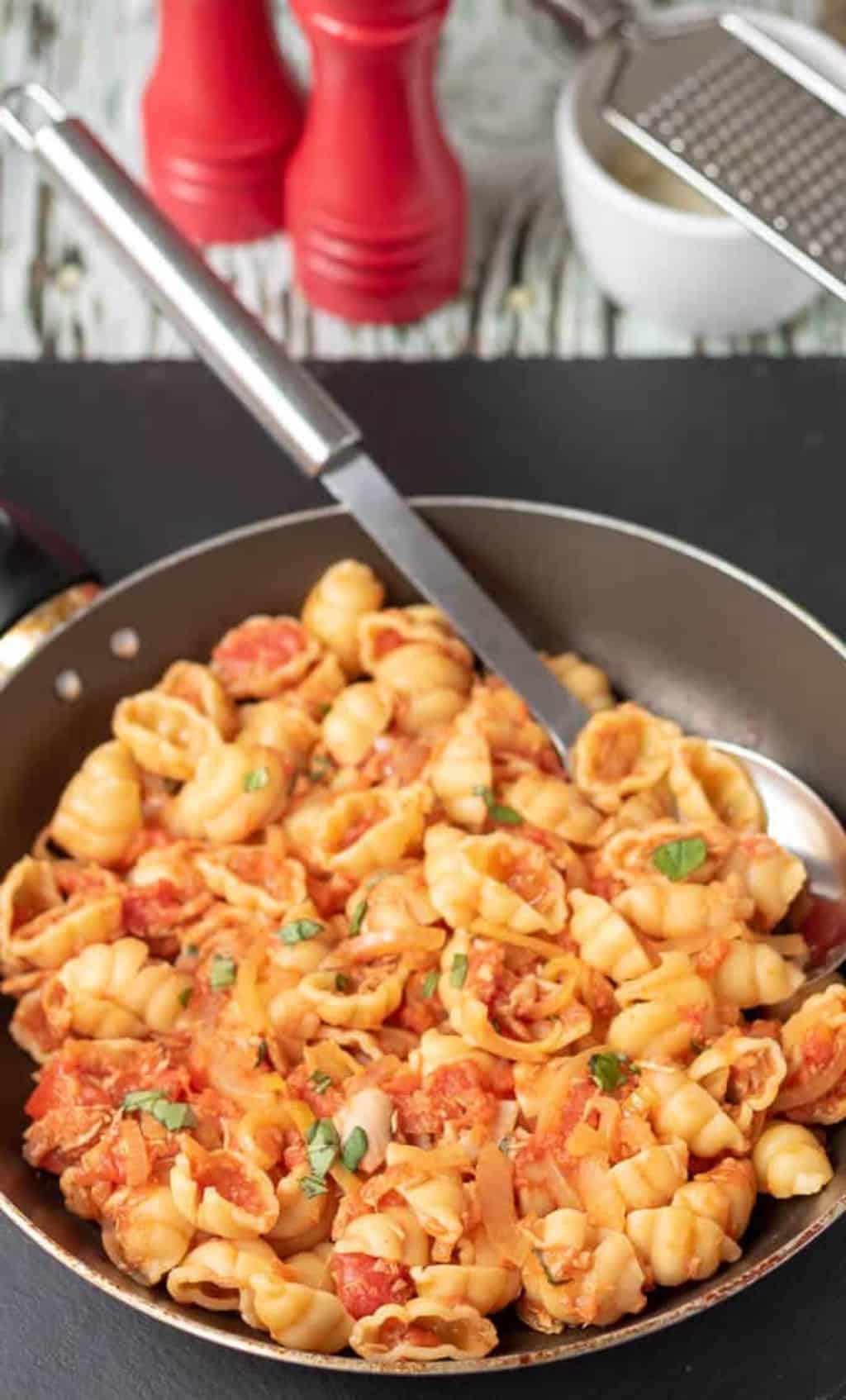 Pin these cheap dinner ideas for later!