The waffle iron just may be the most misunderstood and underutilized of all kitchen appliances. Step aside, slow cooker, and move aside, Instant Pot, it's time to make way for the waffle maker! Find out how to cook with your waffle iron — not just for breakfast, but also for lunch, dinner, and snack time! Yes, surprisingly you will even find recipes for waffle iron desserts!
Here are seventeen waffle iron recipes that will revolutionize the way you use your waffle maker.
17 Waffle Iron Recipes
Find out how to cook with your waffle iron for every meal of the day! Your waffle iron — not just for breakfast anymore!
Click the link in orange below to be taken to each delicious waffle maker recipe!
The melty cheese! The succulent pepperoni! Can you believe these tasty waffles can be made with only three ingredients? Find out how at Holly's blog, Spend with Pennies.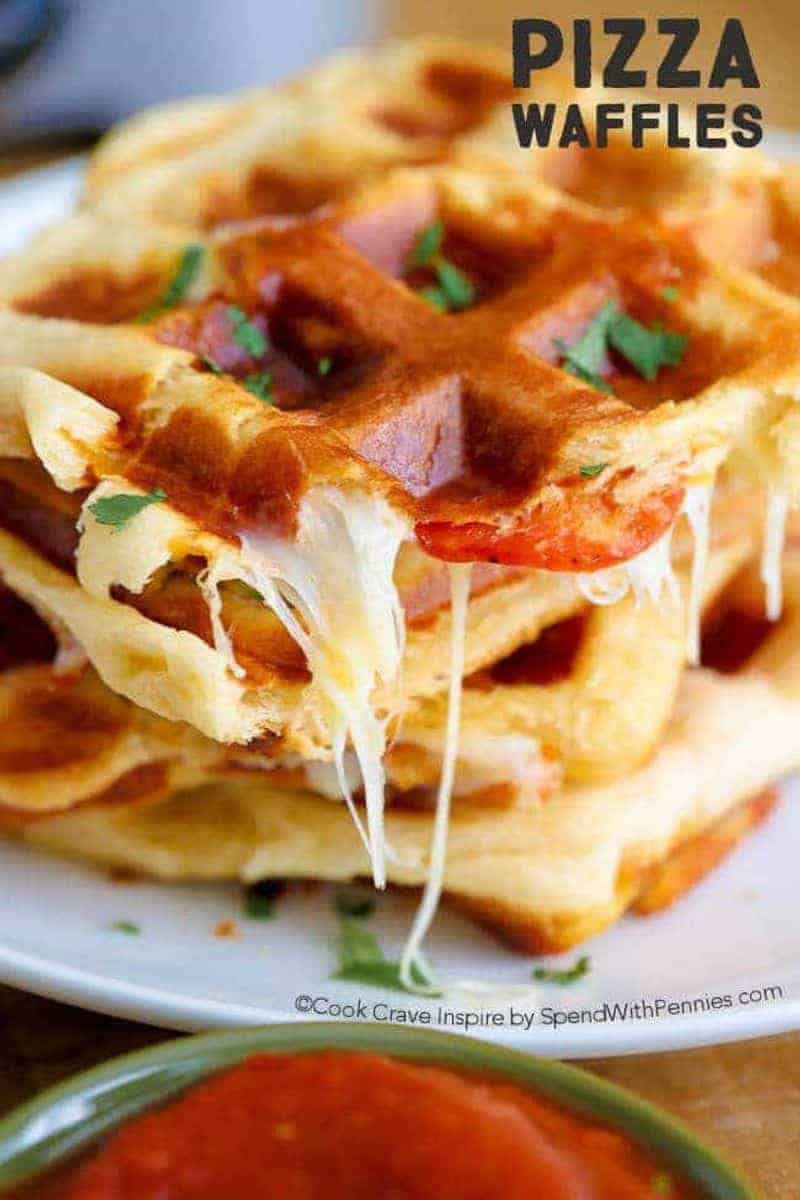 This post may contain affiliate links for your convenience. That means that if you make a purchase, I will receive a small commission at no extra cost to you. Read more here.
Cinnamon Rolls in a Waffle Maker by

Eating on a Dime
Instead of waiting for your oven to heat up at breakfast time, make these cinnamon roll waffles fast in your waffle iron! Find out how Carrie does it at Eating on a Dime.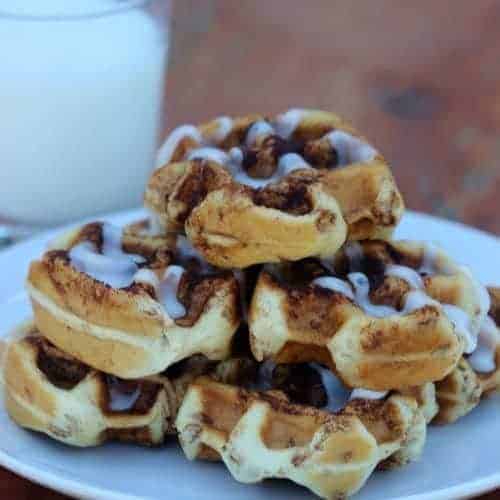 Just saying "falafel waffle" makes me unbelievable happy — I bet eating them is even better! Lucky us, Anvita & Soniya from The Belly Rules the Mind thought up this crazy-awesome rhyming recipe!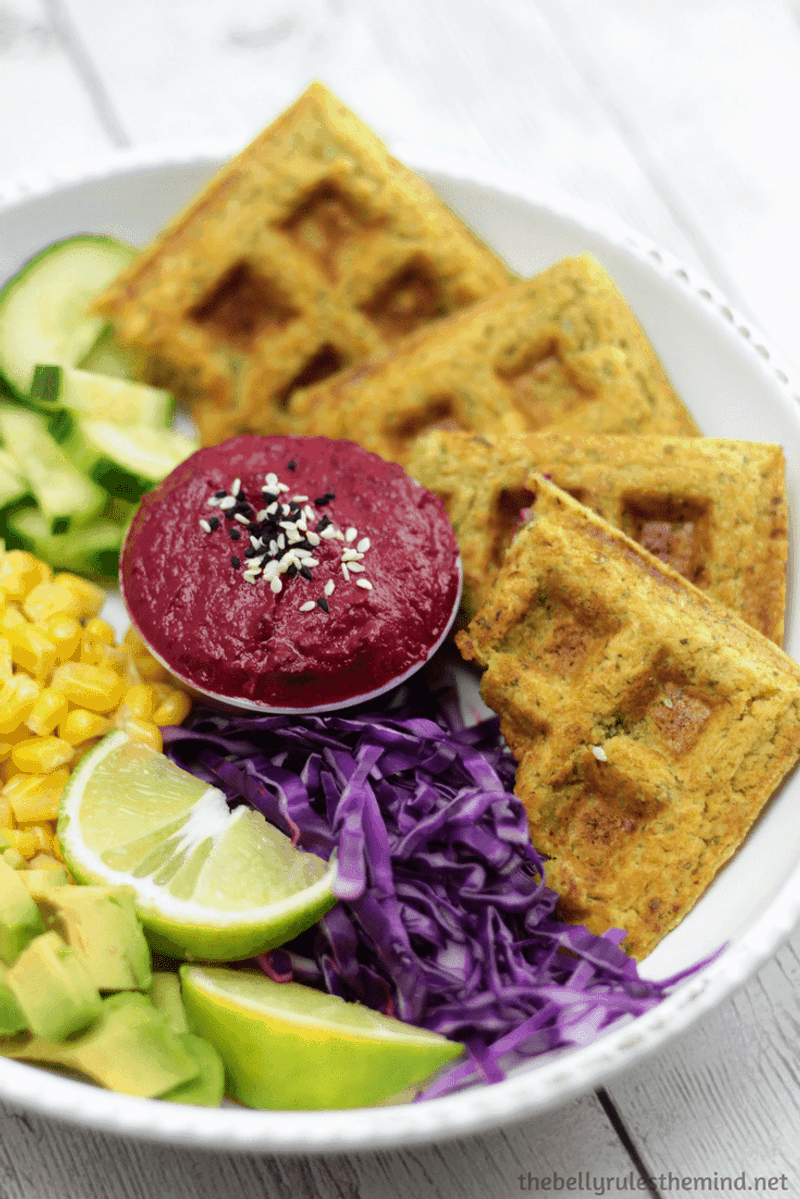 Mini PB & J Waffle Sandwiches (Gluten-Free + Vegan) by

Strength & Sunshine
Rebecca's mini peanut butter and jelly waffle sandwiches are extra cute, extra yummy, and extra easy to make! This is a great waffle maker recipe for kids and adults alike.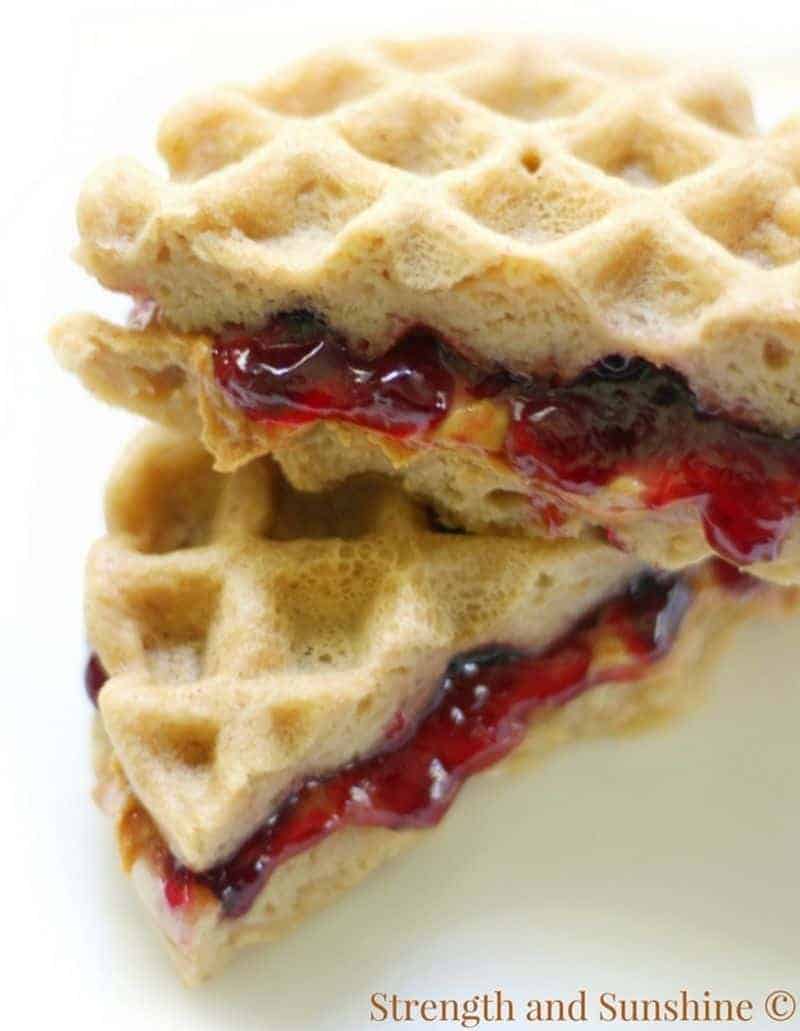 Apple pie = good.
Cream cheese = good.
Waffles = good.
Apple pie cream cheese waffle pockets = MIND BLOWN!
Seriously, this recipe from Carrie combines everything that is good in one place, right inside your waffle iron.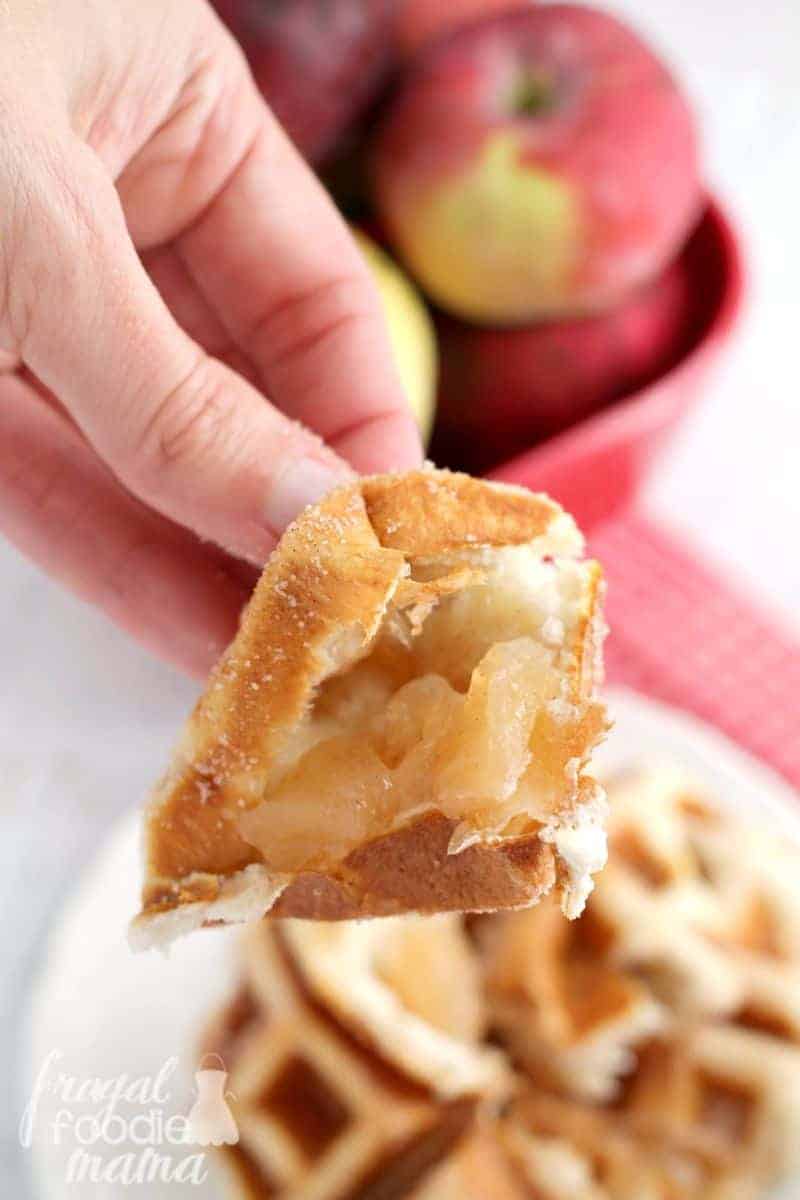 These amazing omelet waffles by Megan are packed with protein and are a great way to set up hungry kids for a long day of fun and learning by giving them tons of energy. Who could say no to a plateful of these?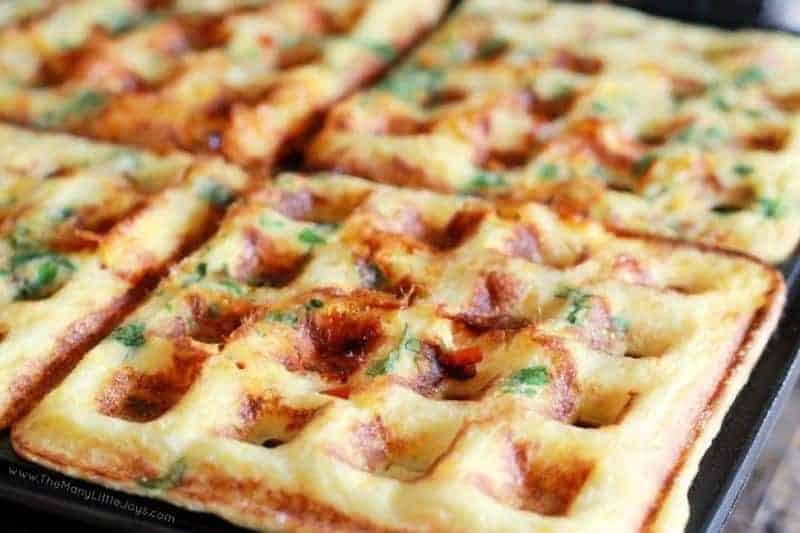 Spaghetti Squash Bowl with Smokey Waffled Tofu by

Spabettie
I can't wait to try waffling my tofu with this nifty recipe from Kristina at Spabettie. This recipe promises delicious, smokey tofu and a tangy dressing, all served up with healthy veggies in a bowl. This recipe makes eating healthy look good!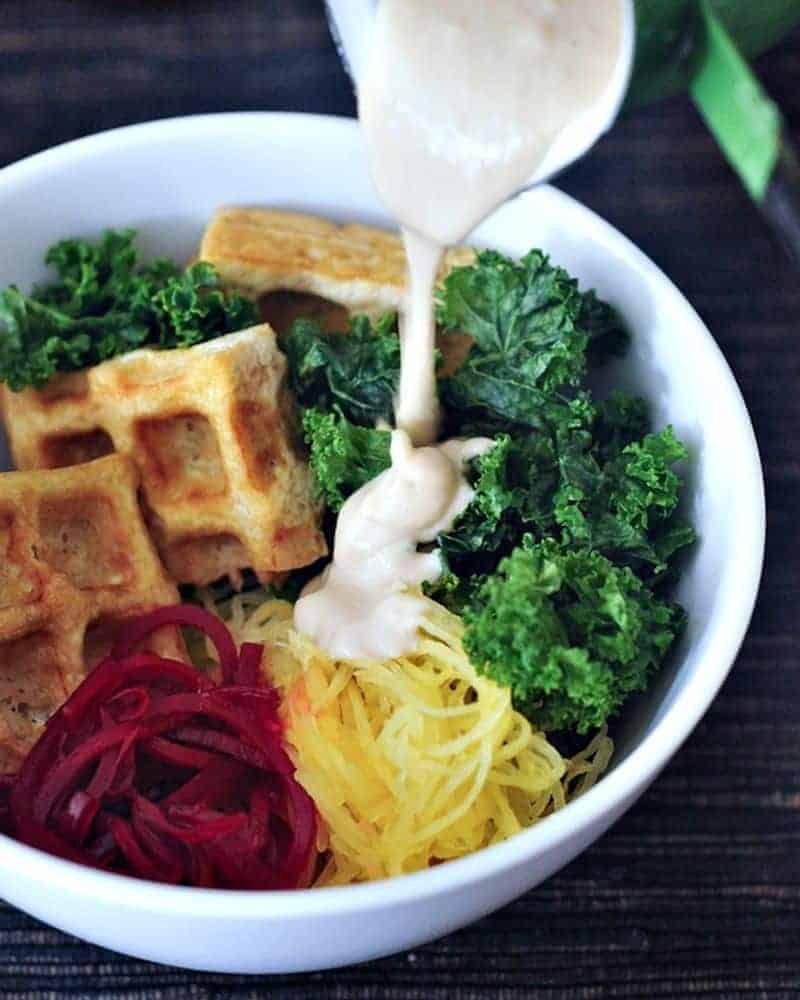 These crispy potato, egg, and cheese waffles look utterly delicious! Diana also includes a smattering of tomatoes for extra pop and flavor!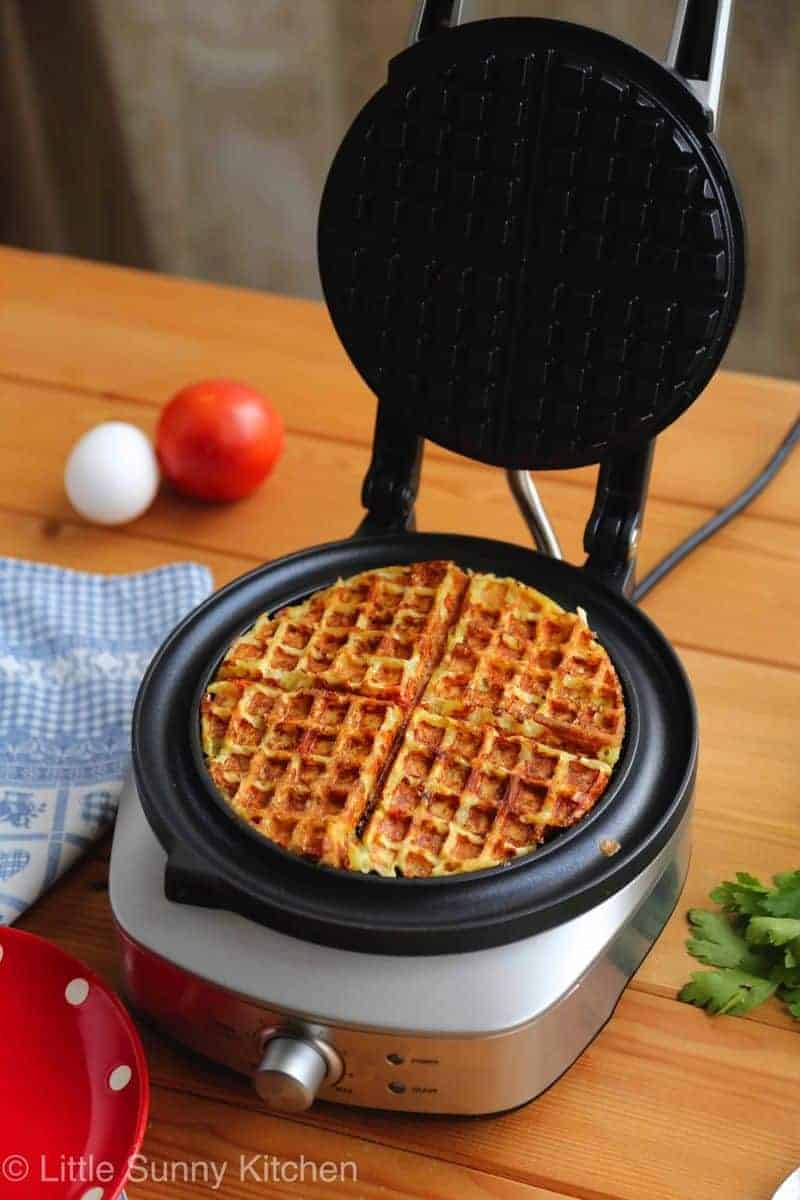 Waffled Chocolate Chip Cookes by

BetsyLife
Waffle iron cookies? Yes PLEASE! These chocolate chip waffle cookies look absolutely delish and are easy to make in any waffle iron (Betsy doesn't even have a temperature setting on hers!).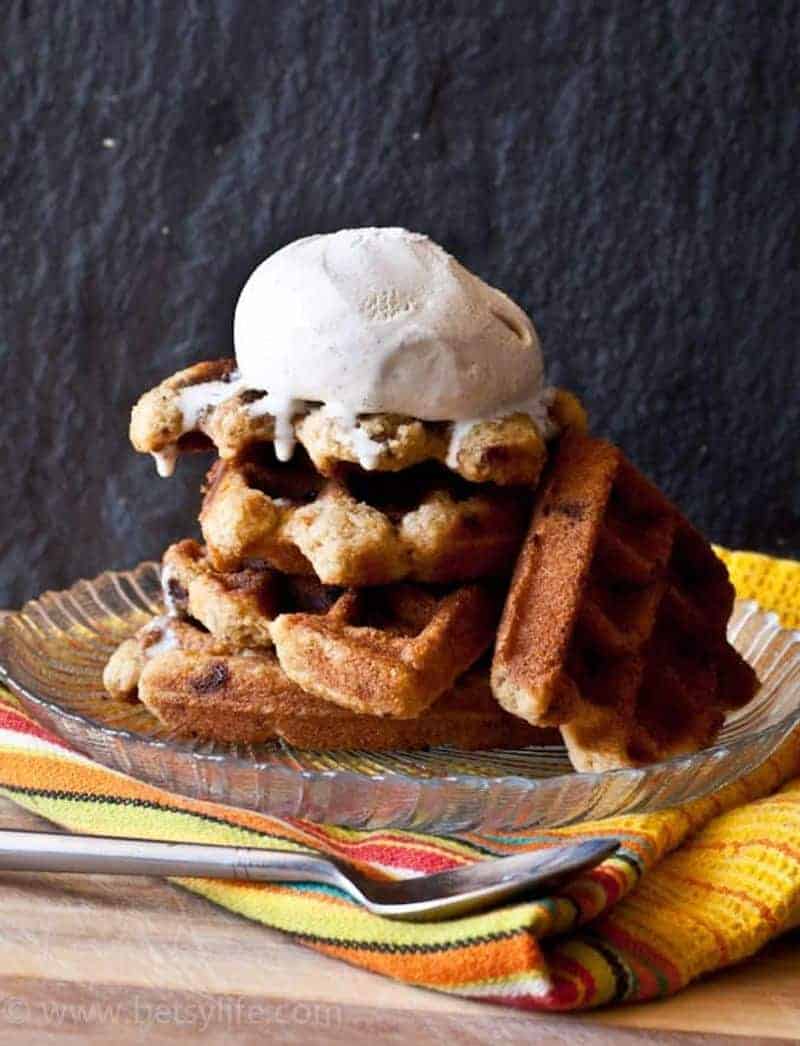 Easy Chicken and Cheese Quesadilla Waffles by

Souffle Bombay
We make quesadillas often in my house and I love that Colleen has created this recipe that lets you cook quesadillas a whole new way — in your waffle iron! I am going to try this with my kids ASAP.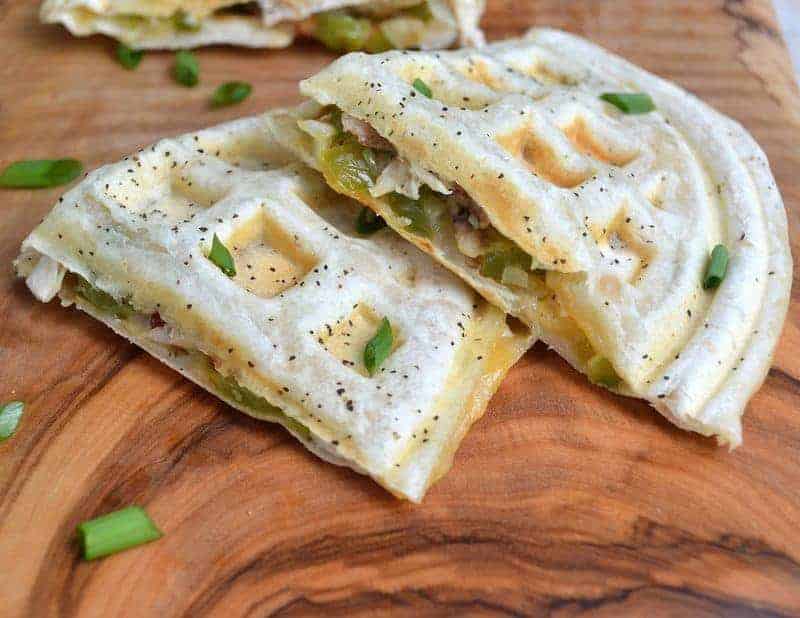 Waffle Maker Steak Quesadillas by

Souffle Bombay
If you are more of a steak versus a chicken person, Colleen also gives you a succulent steak quesadilla waffle recipe.
Can't choose between chicken and steak? Alternate one each day. 😉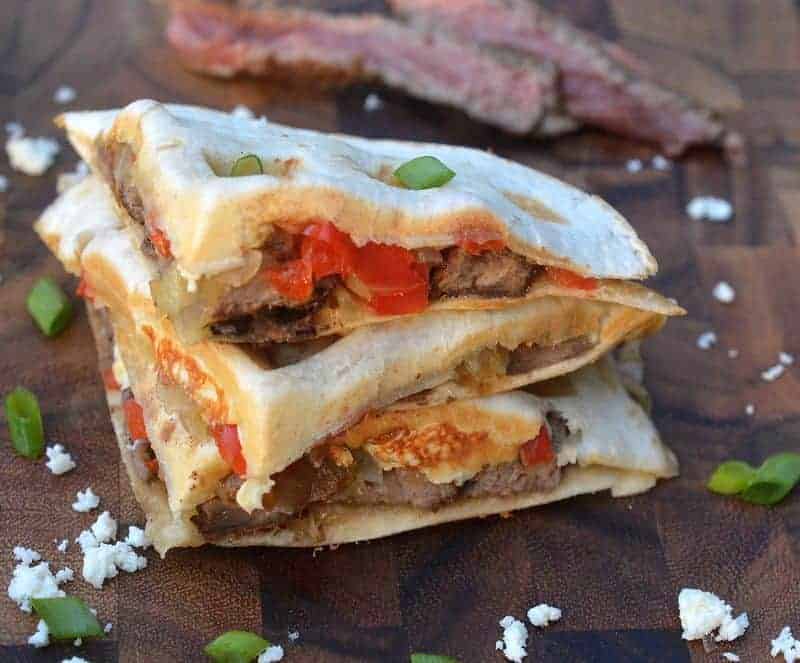 Got a lot of leftover mashed potatoes? This easy 15-minute recipe from Megan is a great way to use up those leftovers in a kid-pleasing recipe that tastes great!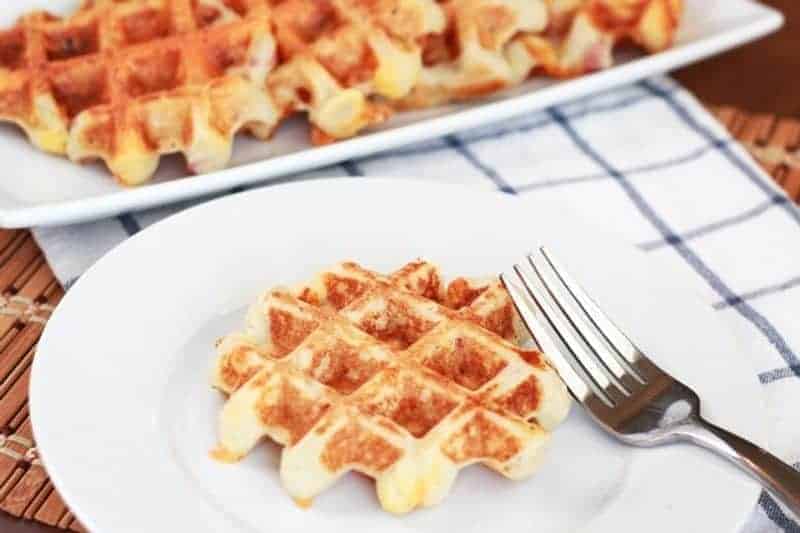 Healthy Eggplant Parmesan Waffles by

Tikkido
Everything that Nikki makes is pure gold and these eggplant parmesan waffles are no exception — they are lovely, golden, and tasty!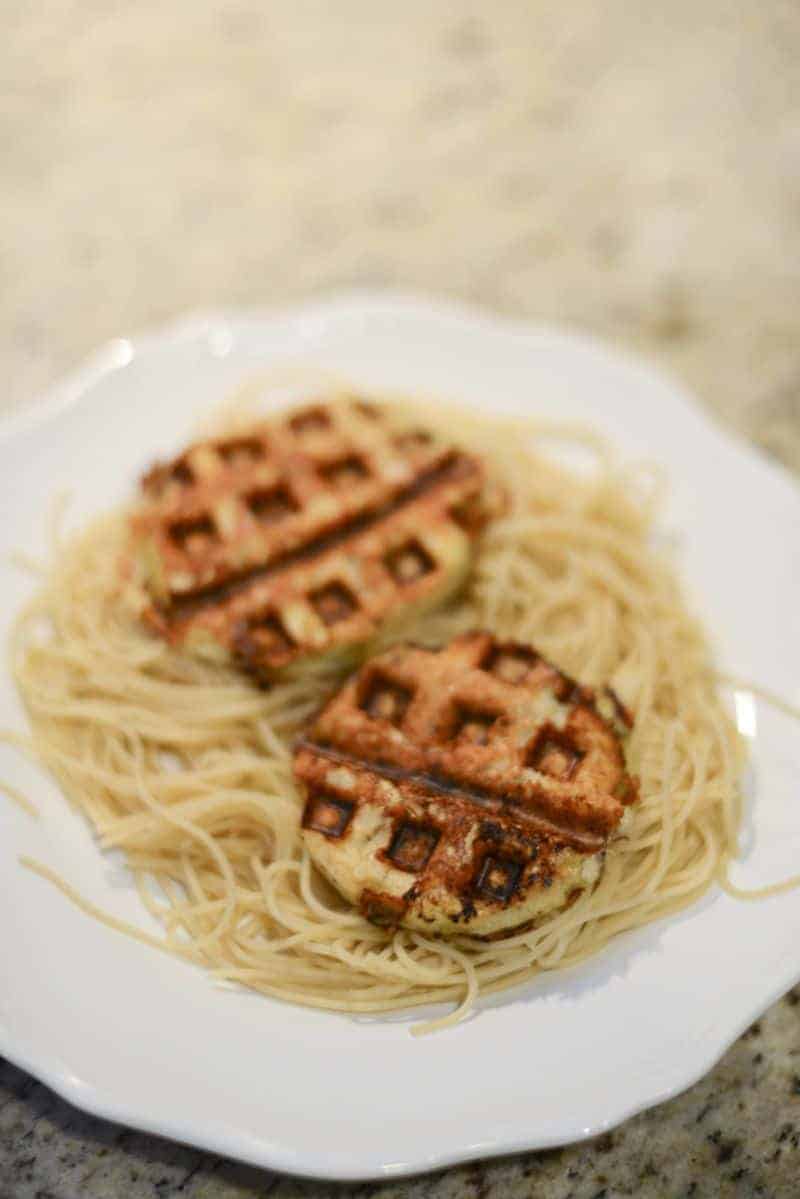 These potato rosti waffles are easy to make (you can skip the parboiling) and yield a tasty and crunchy potato waffle that looks similar to waffle hash browns. This recipe is a definite winner!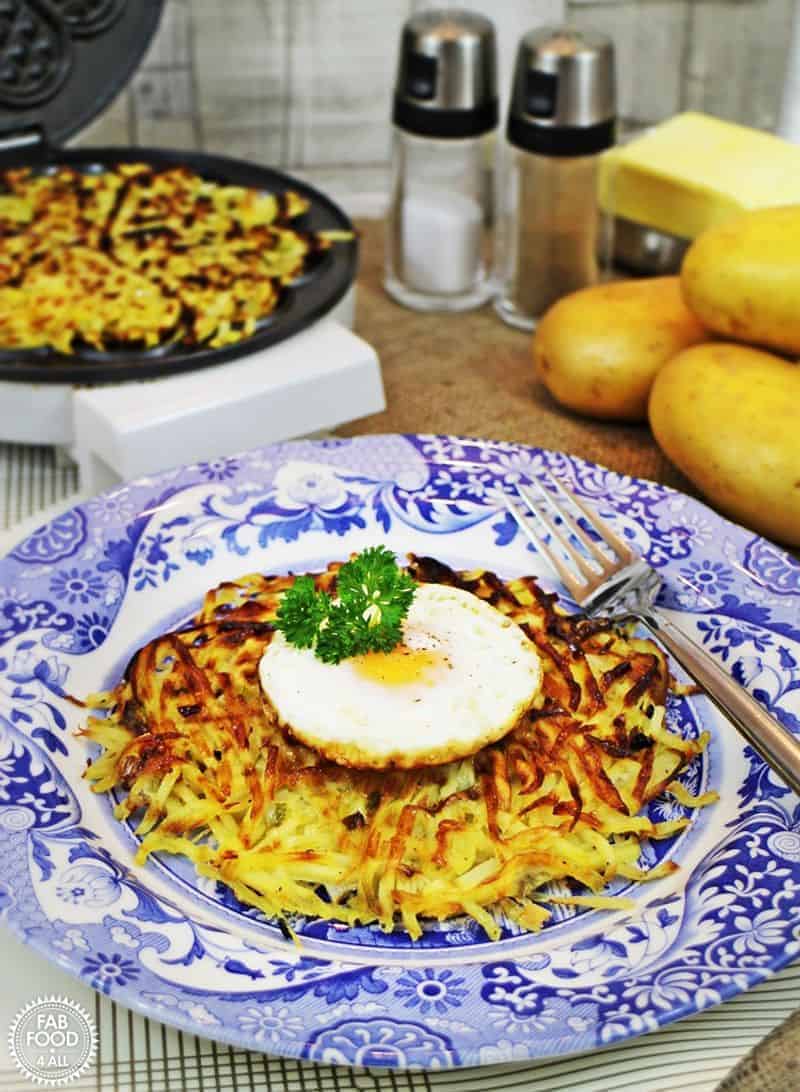 One Minute Waffle Iron Baked Apples by

Cupcake Project
Stef makes baked apples in less than a minute using this neat little waffle iron trick! This recipe is sure to be a pleasing and healthy snack for the whole family to enjoy together — especially if you have a lot of apples!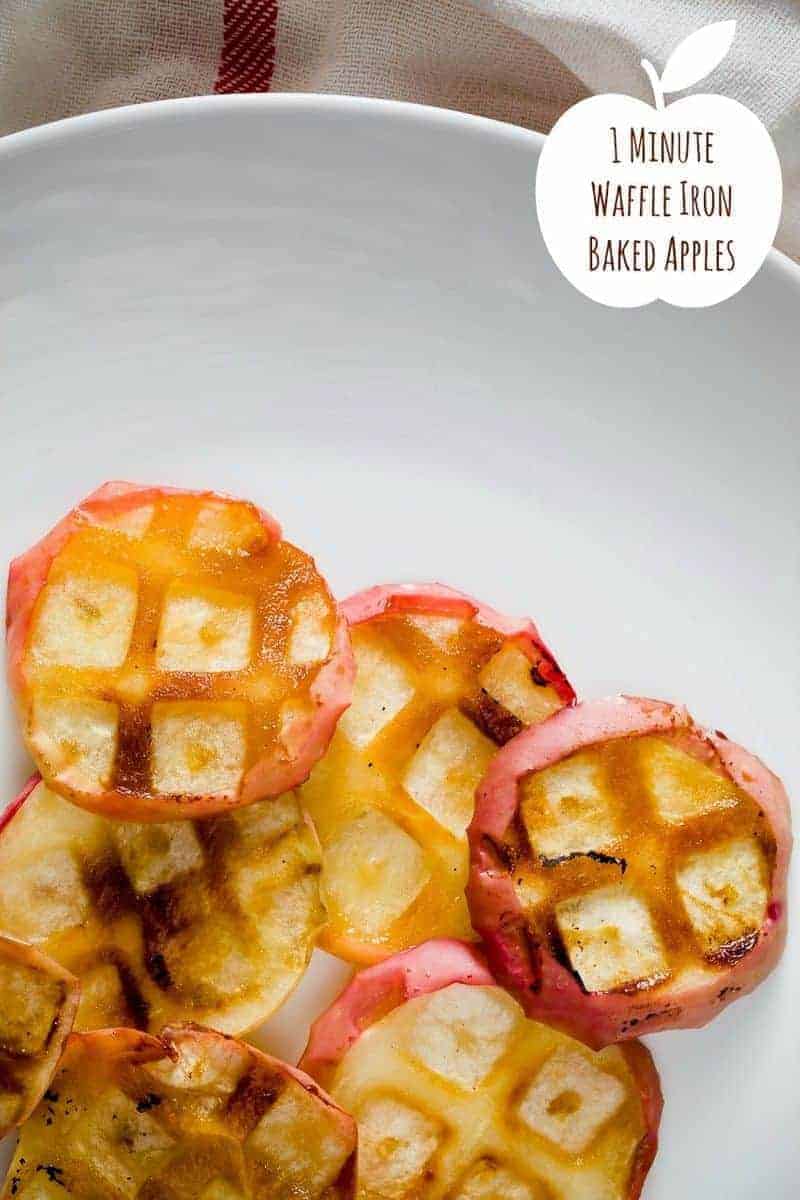 My buddy Shirley brings a whole new look to tired old cornbread by cooking it in the waffle iron! Her blog isn't called Intelligent Domestications for nothing, folks!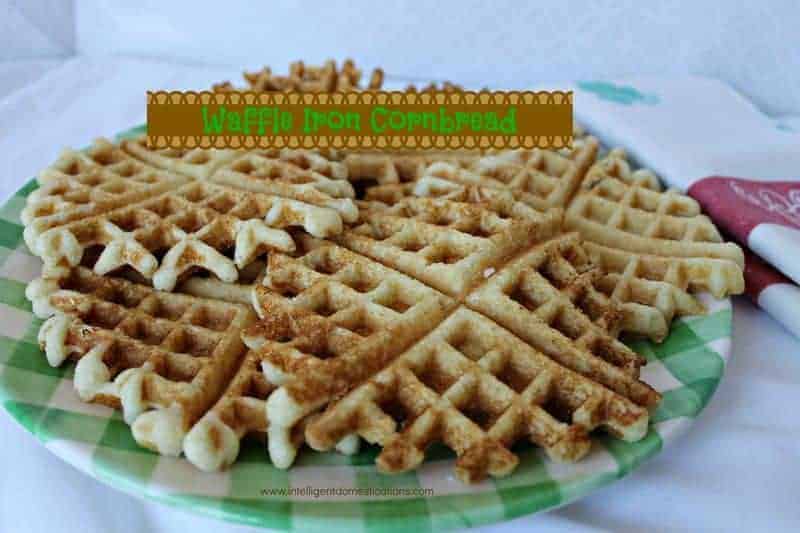 No-Fry Waffle Iron Donuts by

Cook Eat Go
Cut fat from fried waffles by making donuts in your waffle iron! Get all the easy and helpful tips for making donuts in your waffle iron from Jenny at Cook Eat Go.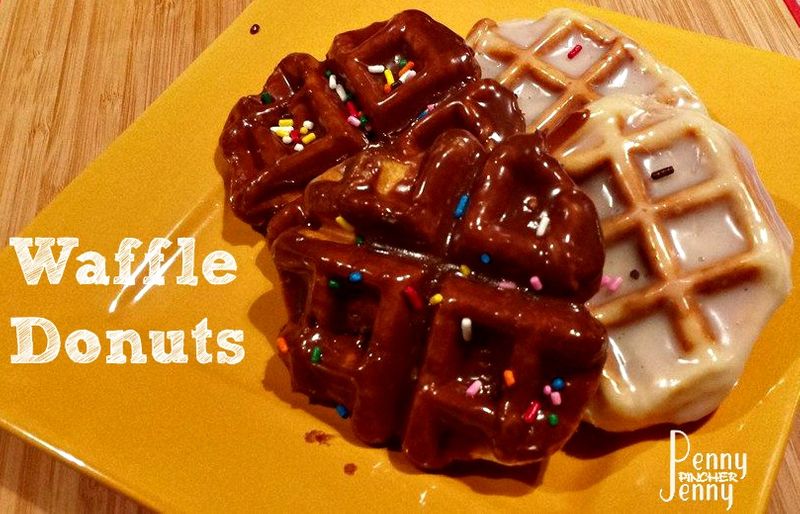 I hope that you enjoyed checking out these waffle iron recipes!
If you are looking for classic waffle recipes, you may like to try these chocolate chip waffles and the tastiest fluffy waffle recipe ever — all of which can be frozen and reheated for later!
Pin these ideas!