Fall is the perfect time to snack on delicious pumpkin seeds. You are sure to love this easy pumpkin seed recipe that breaks down all the steps for making the perfect pumpkin seeds!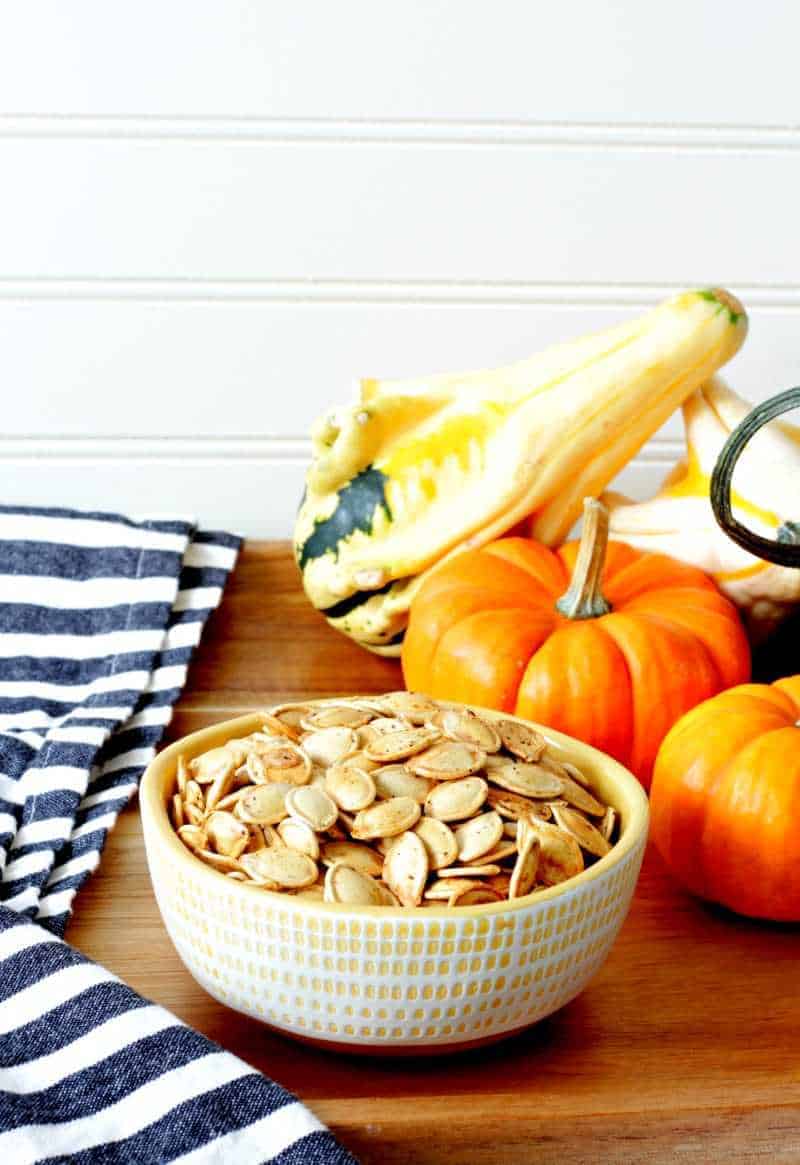 Pumpkin Seeds
Fall is the perfect time for roasting pumpkin seeds. People are decorating with pumpkins, carving them up for Halloween.
We prefer spooky pumpkins in this house, what kind do you prefer? Stick around to see how ours turned out. 😉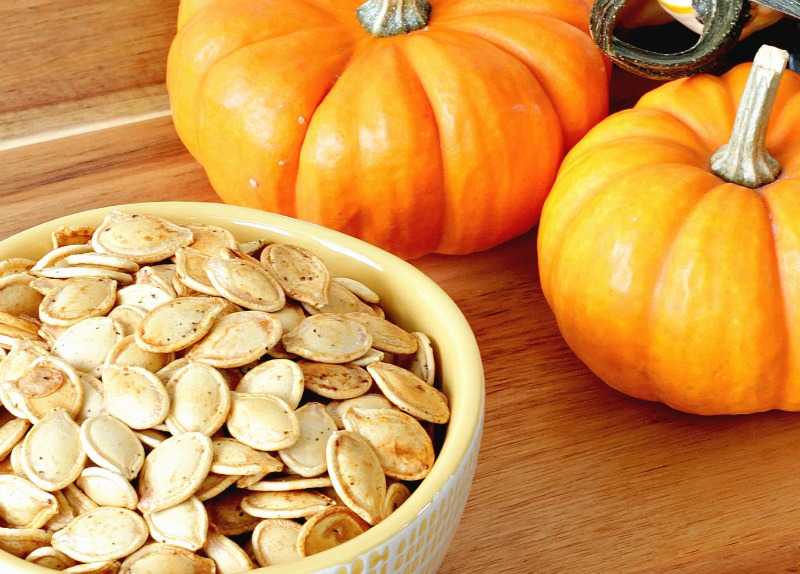 This post may contain affiliate links for your convenience. That means that if you make a purchase, I will receive a small commission at no extra cost to you. Read more here.
How to make pumpkin seeds
To prepare the pumpkins you need:
1 Large pumpkin
A large mixing bowl
A colander for draining
A large cookie sheet
Parchment paper
For this pumpkin seed recipe you will need:
Oil (I used avocado oil, but olive or canola works too)
Salt
Pepper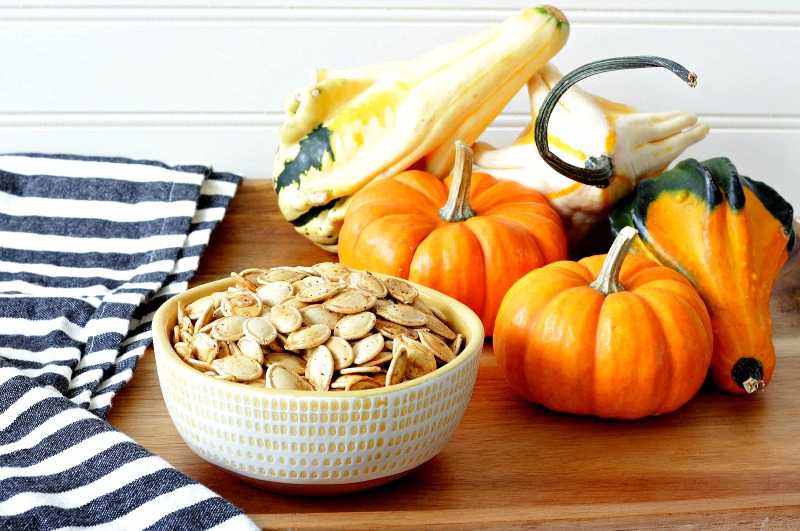 How to clean pumpkin seeds
There is a secret to getting your pumpkin seeds nice and clean! Lucky for you, it couldn't be easier.
After you have opened your pumpkins top for carving, scoop out all the pumpkin seeds and put it in your large mixing bowl. You want a big bowl with plenty of vertical space.
Remove as much of the flesh and stringy bits that you can and throw away.
When you are ready, take your pumpkin seeds in the bowl and place it in your sink. Fill the bowl half full with water. You will notice that the pumpkin seeds float to the top and the stringy flesh sinks to the bottom.
Use your hands to rub the seeds between your palms in the water and try and rub loose all of the stringy flesh. Scoop out the clean seeds and put into the colander. Some of the seeds will still be attached to the flesh; you can pinch them off and put in the water, rub, and pull out to put in the colander.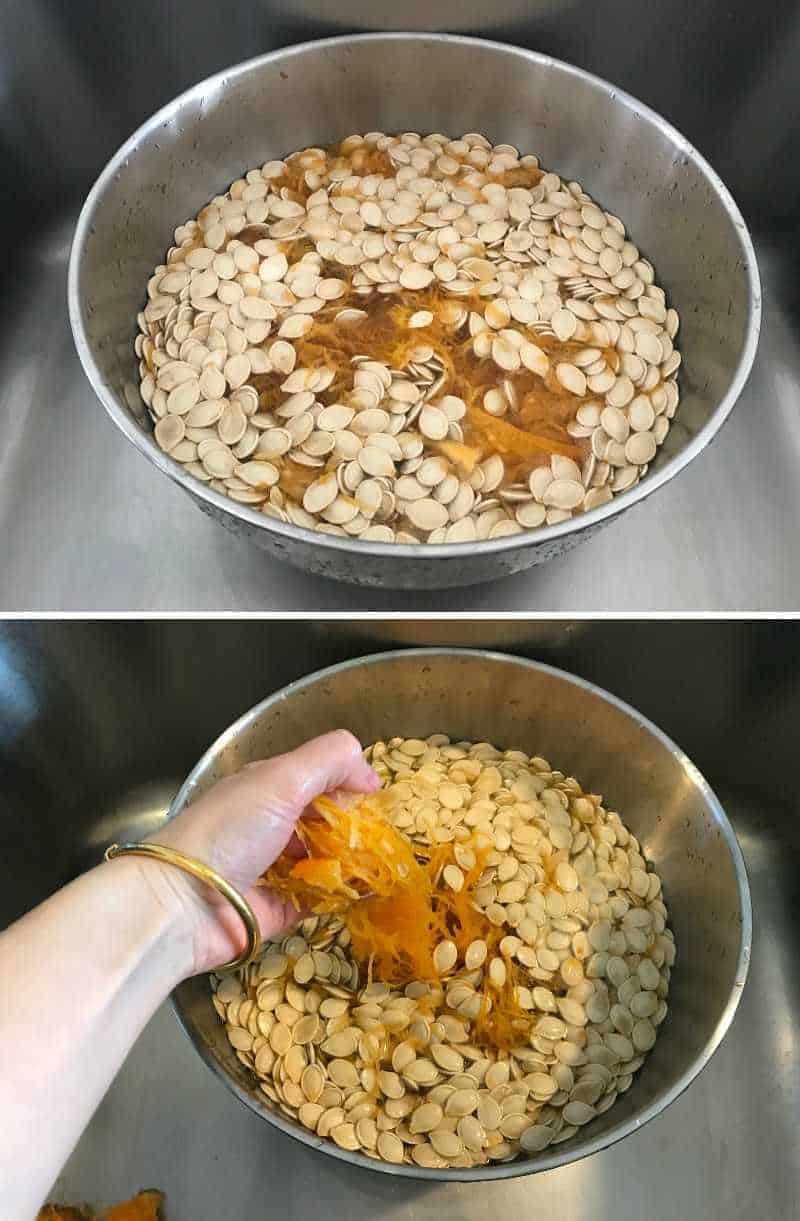 Keep doing this until all the seeds have been placed in the colander. Drain and discard the leftover flesh.
Use your hands to swirl the seeds around in the colander and leave to drain and dry about 15-30 minutes. It's ok if they are not 100% dry before roasting! They will still feel a bit slimy to the touch and that is okay as well.
(Side note: behold our spooky pumpkins!)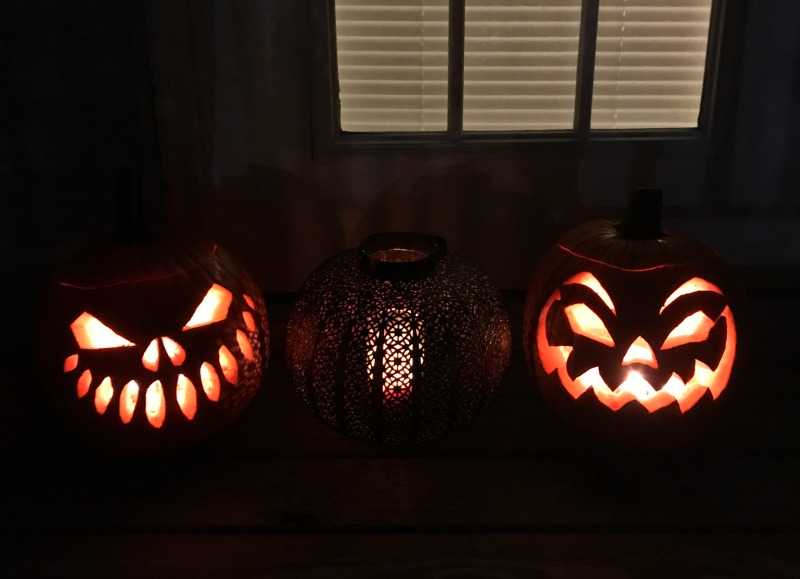 Roasting the pumpkin seeds
To roast the pumpkin seeds you will be tossing them with the oil, then with the salt and pepper and roasting them at 350°F in the oven.
While they are roasting, set a timer for 10 minutes at a time (I use my microwave timer). When the timer beeps, you are going to remove the seeds, give them a good stir, and replace them for another 10 minutes.
You will keep repeating these steps until the seeds are done.
Please note that cooking time will vary according to altitude, dampness of seeds and particular ovens, so you should keep an eye on them, and start watching for doneness around the 30-minute mark.
The pumpkin seeds will be done when they are slightly browned and cooked all the way through. Give one a munch test to make sure before you pull them out!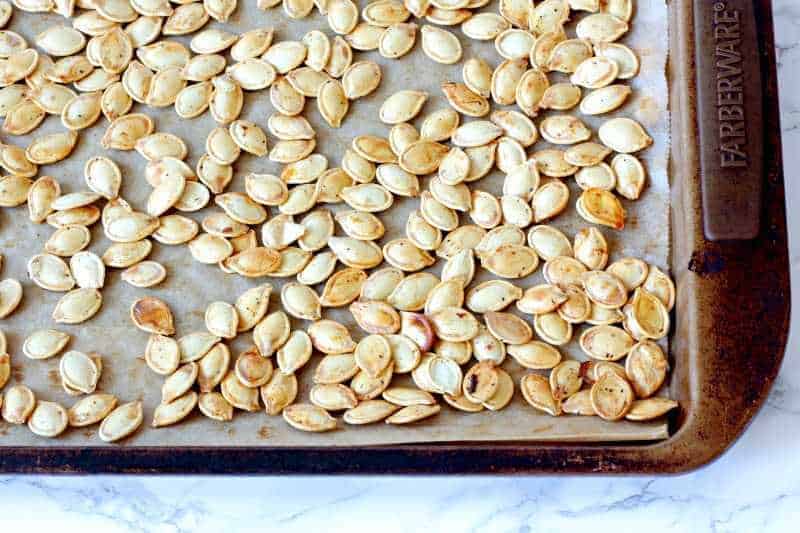 I hope you enjoyed this easy pumpkin seed recipe.
Make sure to leave a review or if you have any questions, drop a comment below! <3
(If you are craving more delicious fall recipes, make sure to check out my butternut squash and kale swirl breakfast muffins and this edible pumpkin spice latte recipe!)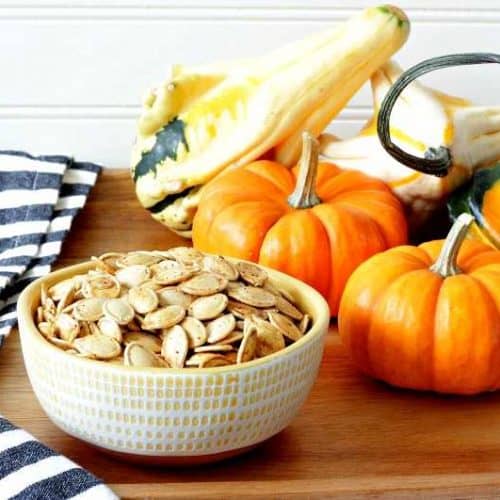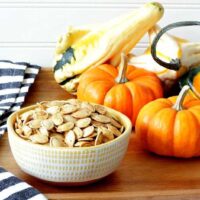 Easy Pumpkin Seeds
Total Time:
1 hour
30 minutes
Find out how to prepare and cook pumpkin seeds with this simple roasted pumpkin seed recipe. Pumpkin seeds that taste amazing using only three ingredients!
Ingredients
pumpkin seeds, from one large pumpkin
1/2 tbsp canola oil (or olive or avocado)
1/2 tsp salt
1/8 tsp pepper, or more to taste
Instructions
Clean the pumpkin seeds
Remove as much of the flesh and stringy bits that you can and throw away. Put pumpkin seeds in a bowl in your sink and fill it half full of water. 
Rub flesh from pumpkin seeds and remove to place in the colander. Remove pumpkin seeds from flesh by pinching them off and rubbing in the water to clean. Keep going until all seeds have been removed and then place in the colander and rinse again with clean water.
Set aside to drain for 15-30 minutes.
Roasting pumpkin seeds
Preheat the oven to 350°F. Place a piece of parchment paper on a baking sheet. Combine the salt and the pepper.
Put the seeds into a clean/dry bowl and add the oil, tossing with your hands to coat all seeds. Next, add the salt and the pepper and toss again to coat.
Spread the seeds evenly in one layer over the parchment paper and place on the top rack of the oven. 
Bake for 30-45 minutes. Set a timer for 10 minutes and when it goes off, remove seeds, stir, and then replace in the oven. Reset the timer for another 10 minutes. Continue this until seeds have been fully cooked and slightly browned.
Watch closely so they do not burn (test one for doneness before removing from oven). Cool and enjoy!
Recommended Products
As an Amazon Associate and member of other affiliate programs, I earn from qualifying purchases.
Nutrition Information:
Yield:

12
Serving Size:

1
Amount Per Serving:
Calories:

33
Total Fat:

2g
Saturated Fat:

0g
Trans Fat:

0g
Unsaturated Fat:

1g
Cholesterol:

0mg
Sodium:

100mg
Carbohydrates:

4g
Fiber:

1g
Sugar:

0g
Protein:

1g
Pin this recipe!