Eat your veggies! These healthy butternut squash muffins have a scintillating swirl of green kale goodness. This is the best butternut squash recipe, period! These butternut squash and kale muffins work great for holidays, breakfast, and snacks.
(If you are looking for other healthy recipes with hidden veggies, check out my hidden vegetable meatball recipe!)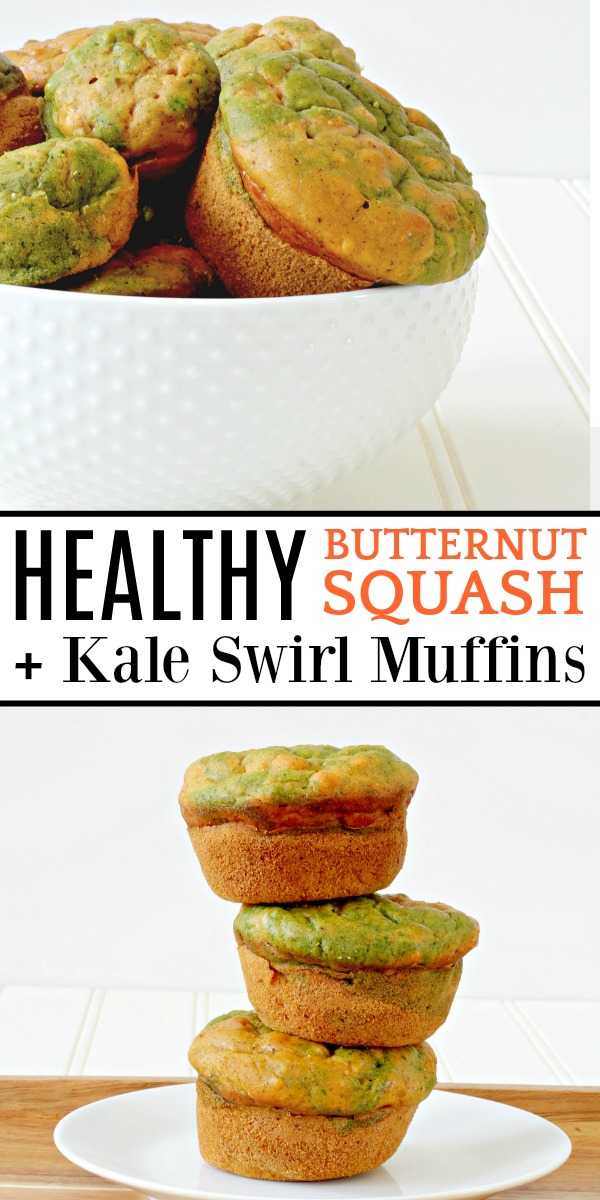 The best butternut squash muffins
Do you know that commercial for Hidden Valley Ranch Dressing? The one where the kids are happily eating broccoli like ice cream, Ranch dressing drizzled on top in lieu of chocolate syrup?
Yeeeeeaaaaaah…if that's your kids, congratulations!
For the rest of us mere mortals, getting kids to eat veggies can be an epic struggle.
Particularly in our family — getting Little Brother to eat his veggies is like trying to force a honey badger to wear a dress.
Not. Happening.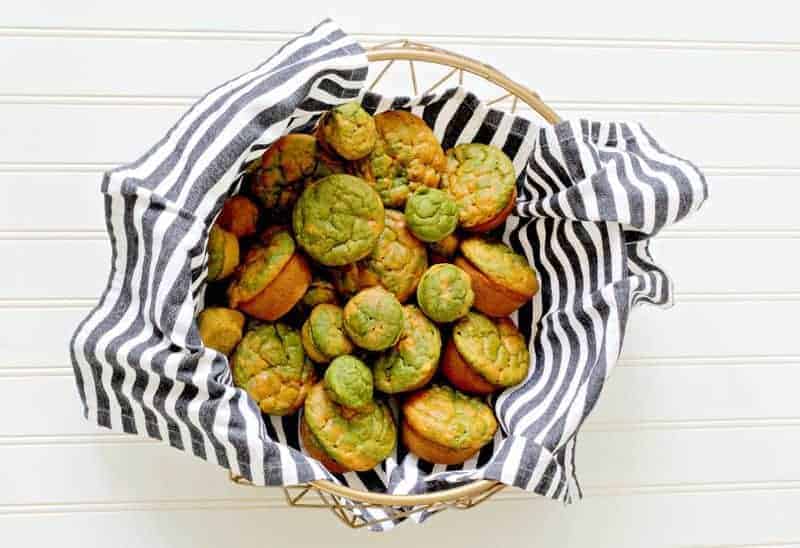 Enter the humble muffin.
I could put anything in muffin form and my kids would eat it up. Happily. Gladly. Raving about how great they are the whole time.
Today, I present you with the ultimate solution for moms of veggie-hating kids: healthy butternut squash muffins with kale.
They're pretty.
They're healthy.
They will make you and your kids want to eat your veggies.
Doubling this butternut squash recipe
I like to make a LOT of these butternut squash muffins at once so we can eat them for several days.
We eat them for snacks, breakfast, you name it. They can even be frozen.
This recipe is for one batch, but you can easily double it and use two muffin pans, which is what I did. I prefer to reduce paper waste and so stick with non-stick muffin pans like these:
(Amazon tells me I purchased the large muffin pan August 24th, 2013…I can't believe I have been making these muffins for that long! Long before I had to force my kids to eat vegetables, I guess I had to force myself to eat them too. 😉 )
You will also need a food processor; this is the newer version of the one that I use.
Love my butternut squash and kale muffin recipe?
Make sure to leave a review or a comment in the comment section below. I live for your feedback!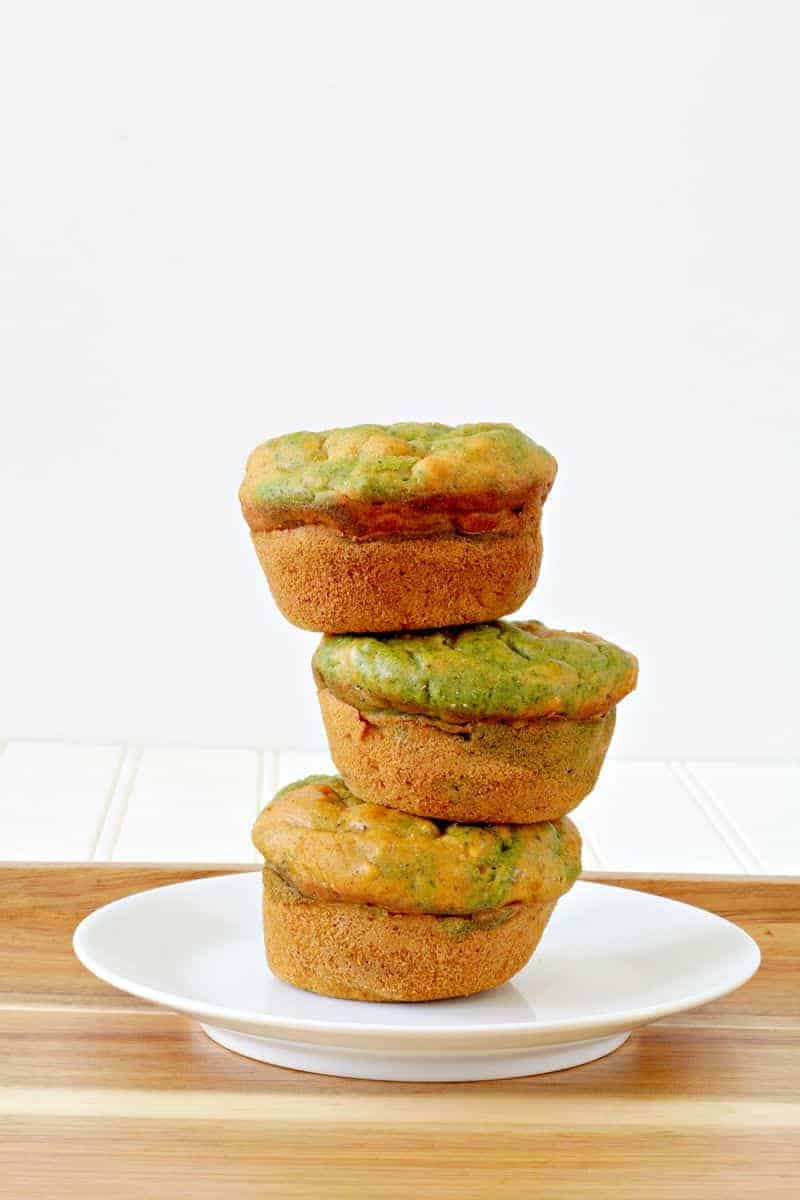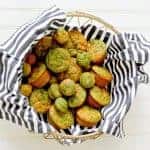 Healthy Butternut Squash and Kale Muffins
These healthy butternut squash muffins have a scintillating green swirl of kale. This is the best butternut squash recipe, period!

Ingredients
Dry ingredients
1 1/2

cup

flour

1/2

cup

old fashioned oat

or rolled oats

1/3

cup

brown sugar

1/4

tsp

salt

2

tsp

baking powder

1/2

tsp

baking soda

1

tsp

cinnamon

1/4

tsp

nutmeg

1/4

tsp

ground ginger

1/8

tsp

ground cloves
Wet Ingredients
3/4

cup

milk

1

egg

1

tbsp

butter

melted

1/2

tsp

vanilla extract

2

tbsp

canola oil

separated
Veggies
1

cup

butternut squash

roasted

1

cup

tightly packed kale

washed and drained
Instructions
Roast the kale
Preheat the oven to 350 degrees. Cut the ends off the butternut squash and then cut vertically from one end to the other into equal halves. Use a spoon to scoop out all of the seeds and stringy flesh.

Take 1 tbsp of oil and rub it all over the ends of the squash and the flesh of the halves.


Place the squash halves flesh down on a cookie sheet and roast for 45 minutes to 1 hour. Start checking around 40 minutes.

When the skin starts bubbling up and the edges begin to brown and carmelize you can check to see if the squash is cooked through by inserting a chopstick or knife through the thickest part of the squash. If it slides through easily with no resistance, it is done.

Remove and allow to cool.
Prepare the dry ingredients
Place all the dry ingredients in a bowl and mix to combine. Set aside.
Prepare the wet ingredients
Take 1 cup of squash and place it in the food processor when mostly cool. Puree until smooth. Then add the milk, eggs, and butter and 1 tbsp oil and mix at reduced speed until fully combined.
Combine wet and dry ingredients
Carefully add the dry ingredients to the wet ingredients into the food processor and stir at reduced speed until fully combined.

Remove 1/2 of the butternut squash mixture and set aside. Leave the other half in the food processor.
Prepare the kale mixture
Add the 1 cup of kale to the butternut squash mixture still in the food processor and puree at full speed until fully combined.
Baking the muffins
Preheat the oven to 350 F. Spray the muffin pans with non-stick spray or insert muffin liners.

Taking a small spoon, fill each of the 12 muffin cups spaces 1/2 full with the butternut squash mixture. Then, using a different spoon, carefully add in the green kale mixture, pressing it down into the center of the butternut squash mixture and fill to the level desired (I make mine really full).

Use a toothpick to swirl the butternut squash mixture and the kale mixture together. There's no fine art to this, just go for it! Even if you end up totally mixed, it will be just as tasty.

Place in the oven and bake for around 21-25 minutes, beginning to check at the 21 minute mark. The muffins are done when a toothpick inserted in the center comes out clean.

Allow to cool and serve as desired.
SaveSave