The temperatures keep rising but we are cool as cucumbers over here. That's because we have this cool ice sensory play activity to keep us chill; the Finding Dory Ice Rescue mission!
This frozen sensory play activity is a great way for kids and parents to beat the summer heat.
Your kids' favorite Finding Dory characters are reunited!
Friends reunited in this icy rescue mission to save Dory, her parents, and some ocean creatures after they have been frozen in ice!
Who doesn't love Dory, after all?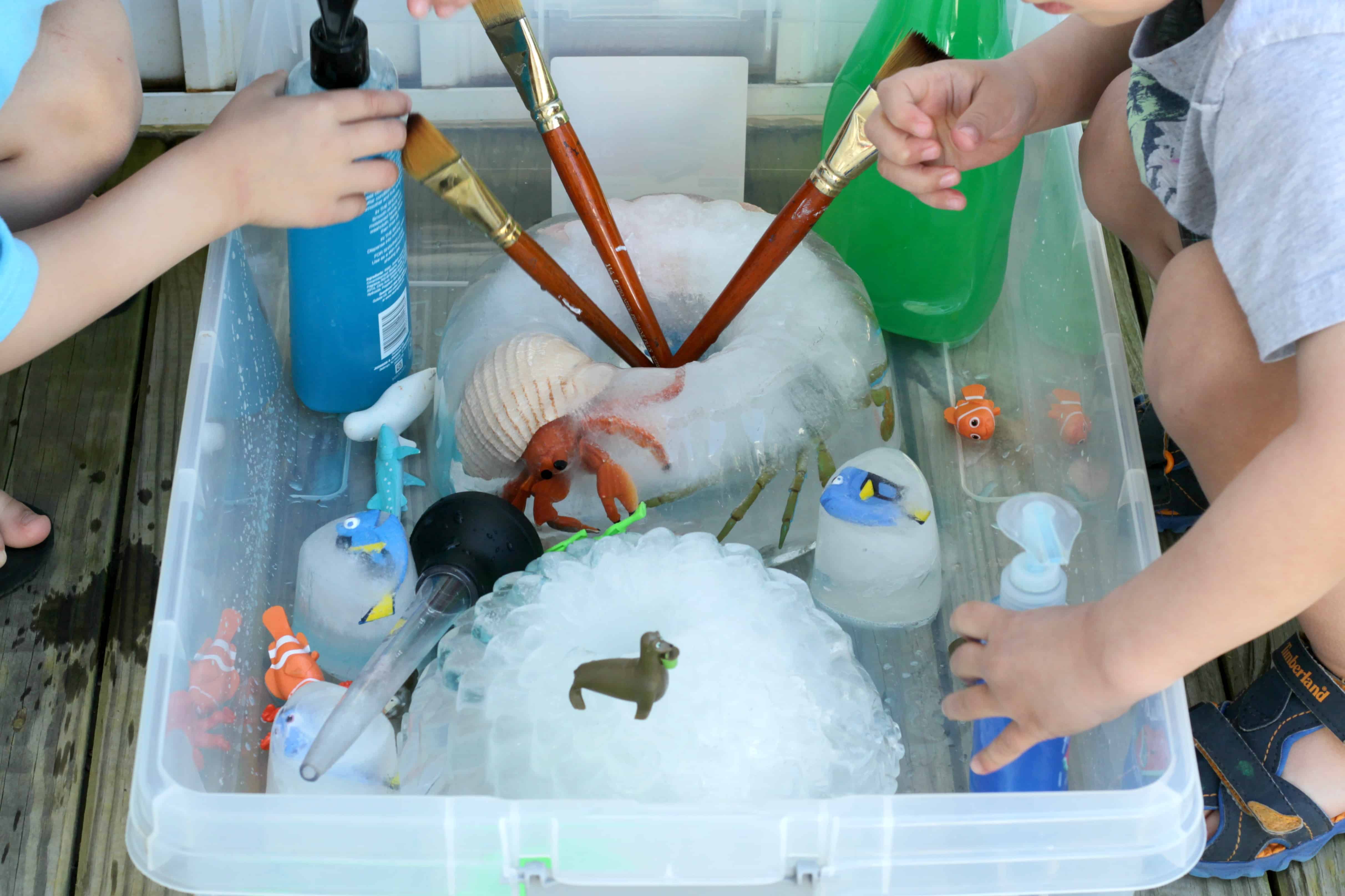 This post may contain affiliate links for your convenience. That means that if you make a purchase, I will receive a small commission at no extra cost to you. I only recommend products or services that I fully believe in and use myself. Read more here.
Just keep swimming, just keep swimming, swimming, swimming…
So catchy! I could sing that song all day long!
But!
Dory and her parents (Jenny and Charlie, dontcha know) are in trouble!
Dory has gotten herself into another pickle…rather, she has gotten herself, her parents, and friends are frozen solid!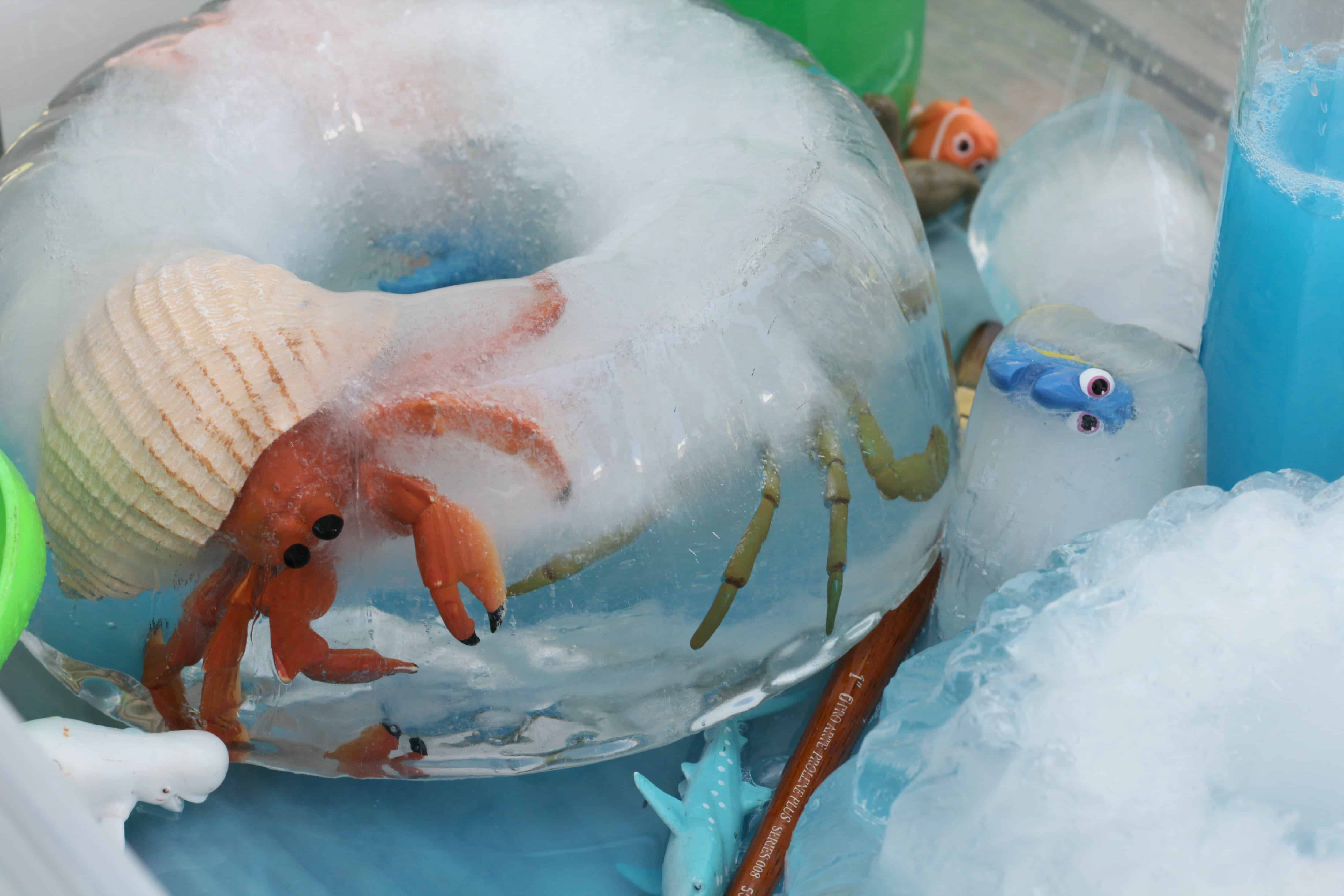 It's time to send your kids on a mission to rescue Dory, her parents, and some other creatures along the way.
What you will need:
Finding Dory characters (I like these Funko Minis even more now…they have Becky 😉 )
Large pots, cake pans, or other molds to freeze water
Leftover yogurt containers if you want to freeze individual characters
Empty plastic bottles (I used old ketchup and soap bottles)
Crayola Washable Paint in blue, green, and dark blue
Table salt
Turkey baster or other water toys
A large plastic container/bin to place everything in
Optional: other sea creatures like our jellyfish, blue crab, and hermit crab
Also optional: paintbrushes for excavating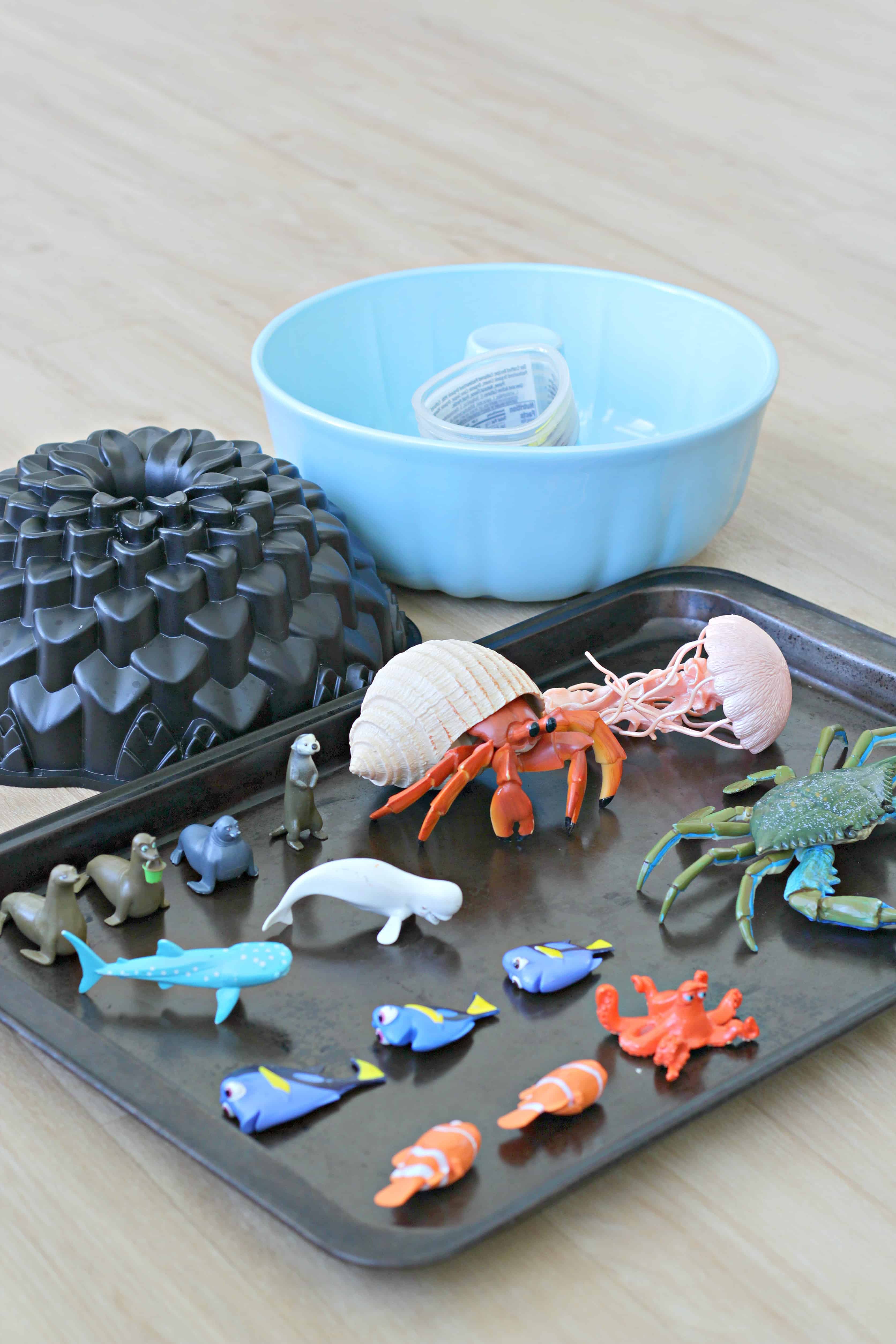 First, prepare the ice.
Make sure you plan ahead!
If you are using pots or cake pans, that water takes a good, long time to freeze. I put mine in the freezer the morning before to make sure they had plenty of time to freeze solid.
Also, don't be like me and think you have enough freezer space and then frantically have to clean things out!
It helps if you have a large cookie sheet to place everything on before you put it in your freezer, especially if your freezer has uneven ridges like mine at the bottom.
(I think the second level of our freezer nearly broke with the weight of everything on it, hahaha.)
Insert your creatures.
Put Dory and her parents each in separate yogurt containers. Fill the containers with water and set aside.
Next, place the other creatures that you want to freeze inside your pans.
I chose to put in our hermit crab, blue crab, and jellyfish and leave the Finding Dory friends out so they could "help" Dory and everyone else.
Pro-tip!
If you find some of your creatures are floating to the top, put a heavy butterknife or something else long and heavy on top of them to hold them down.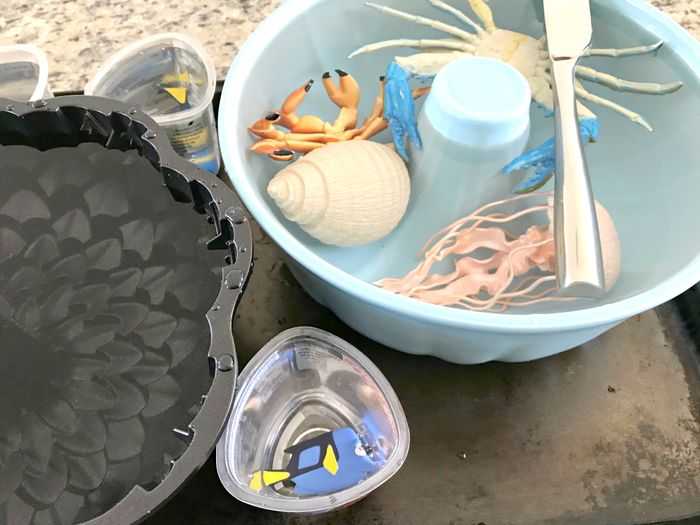 Then, when the ice is partially frozen, it's easy to slide the knife out and the creature should now be frozen nicely under the ice.
That's because the tops forms ice faster than the center (science FTW).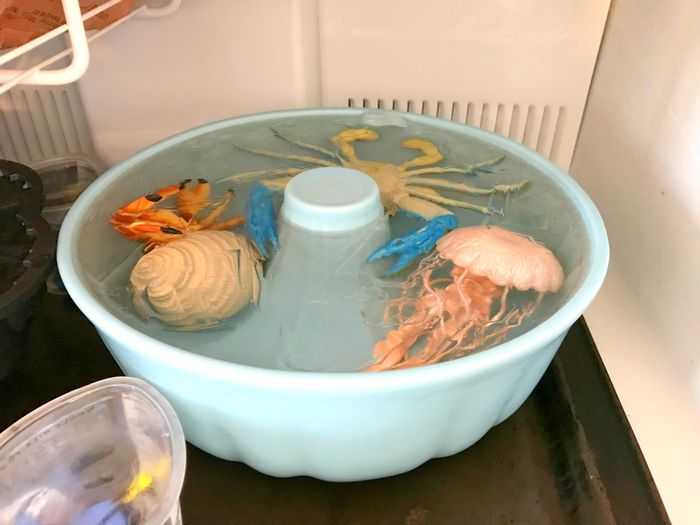 Close up your freezer and wait around 24 hours.
Prepare your accessories.
To rescue Dory the kids need to be able to melt the ice!
The next day after everything has had a nice chance to freeze up, get the empty plastic bottles that you have collected and add just a drop or two of the Crayola Washable Paint…it really only takes about 1/4 of a teaspoon.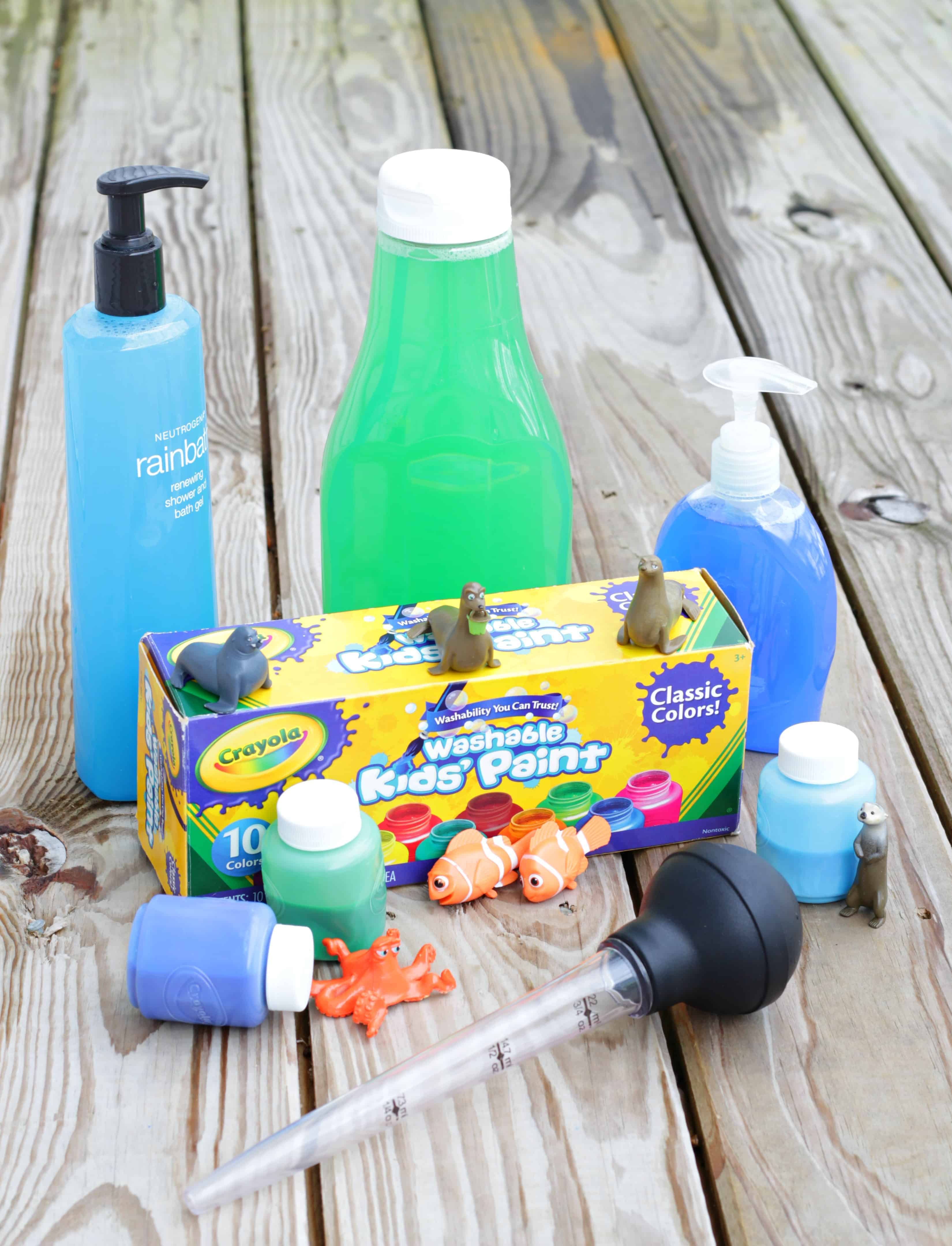 (I chose the washable paints because food coloring tends to stain clothing and wood if not washed off quickly. These paints wash off super easy; less worry and more play!)
After the paint is inside, add water until nearly full.
Then, add some table salt!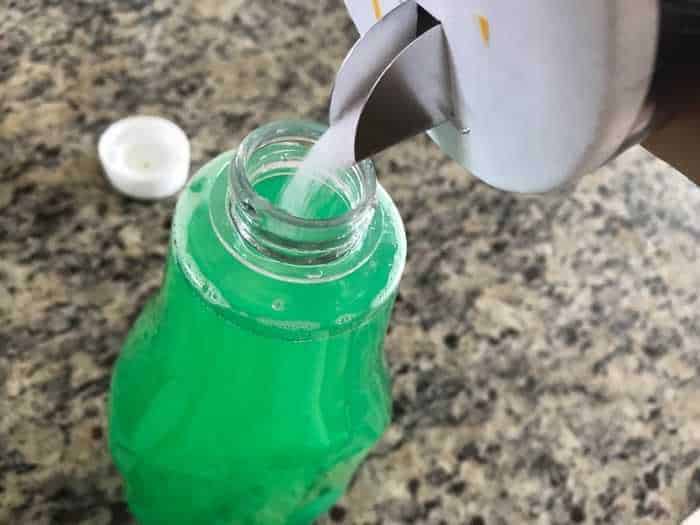 This little trick is going to help the ice dissolve faster.
Otherwise, it can take a loooong time to totally melt the ice.
Trust me on this. I know from experience!
Put everything in the bin and move outside.
There is the potential for a big, wet mess here; best to move everything outside.
Remove the large ice blocks from the cake molds and the smaller ones from the yogurt containers.
If they don't seem to want to come out, run the bottom of the molds and containers under hot water and the ice should release quickly (caution: do not do with glass or you risk cracking your glass mold!)
Place the ice blocks, the characters, and the colored saltwater bottles inside the giant plastic bin and move outside.
(Don't you love my paintbrushes? I found a huge lot of them in a rolled-up bamboo mat at Goodwill for $5…and one of the paintbrushes not pictured here was worth $100 itself! Goodwill, always a treasure hunt.)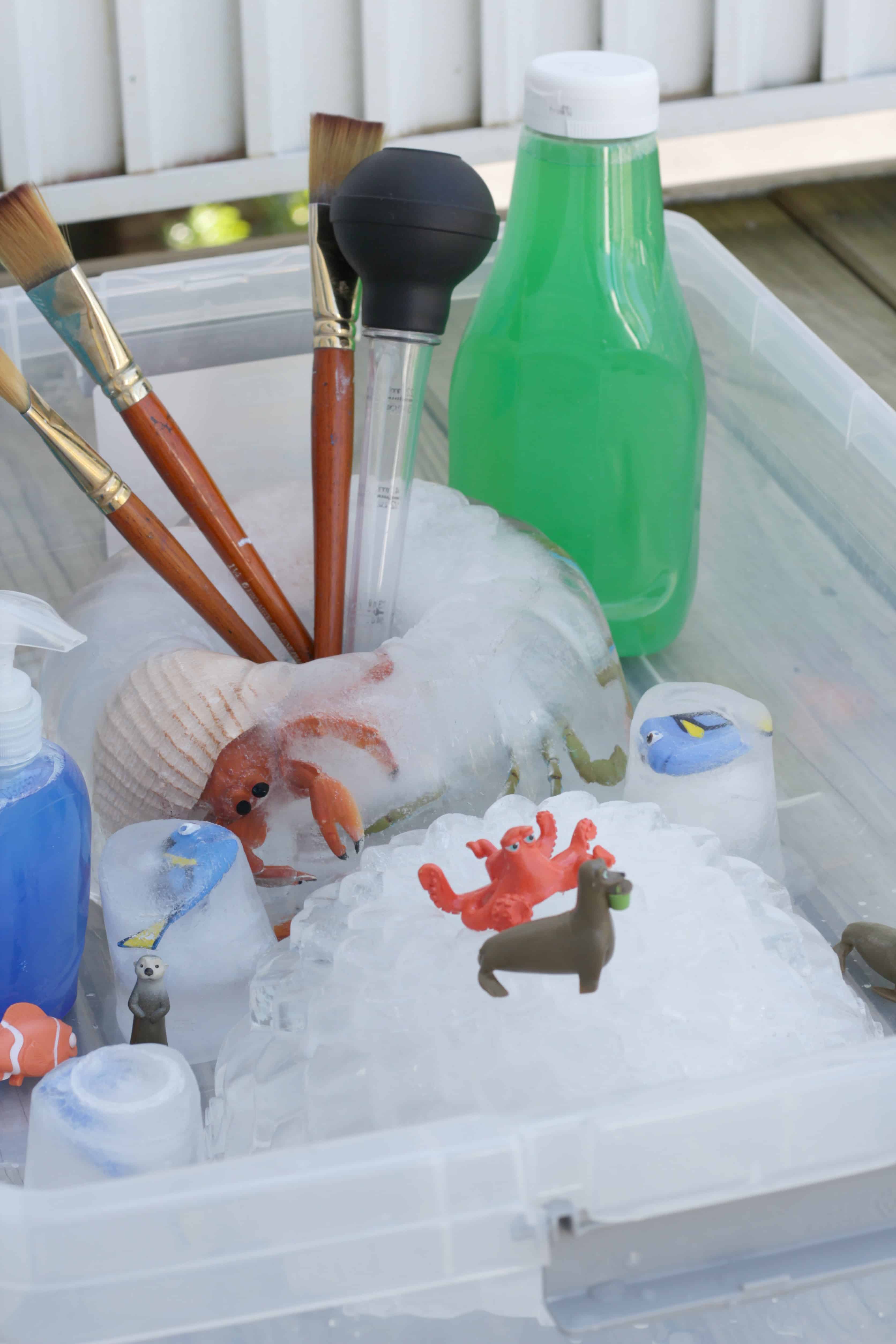 Now sit back and enjoy watching the fun as the kids rescue Dory!
They boys had so much fun playing with the ice and trying to get the creatures out.
I brought out my folding chair and sat back and just watched the fun.
(Your kids are probably going to get wet, so it also doesn't hurt to put them in bathing suits or swim trunks!)
Pin it for Later!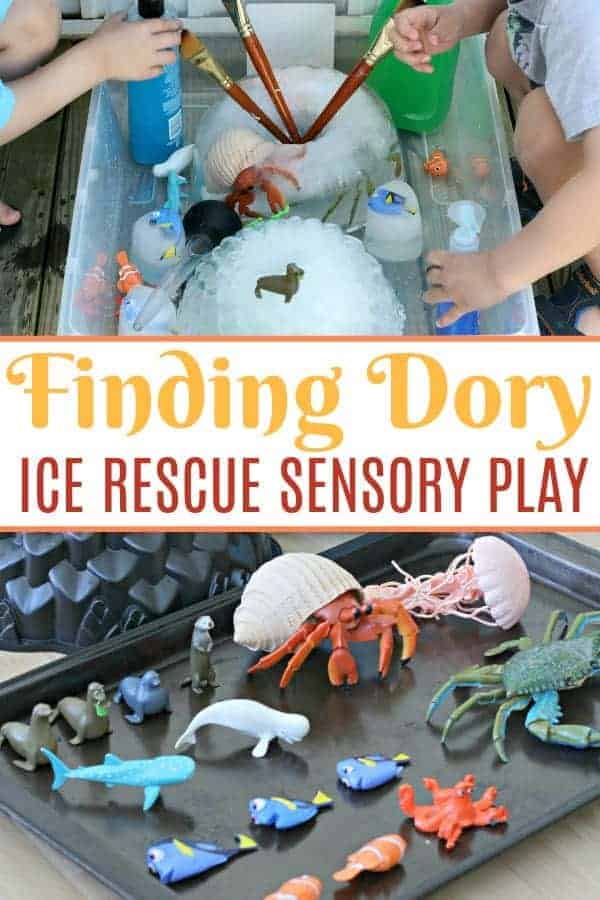 I hope that you enjoyed this summer ice sensory play activity!
If you are looking for some other fun or educational kids activities, check out my Gravity Drip Painting and Easter Find the Bunny Sight Word Game!